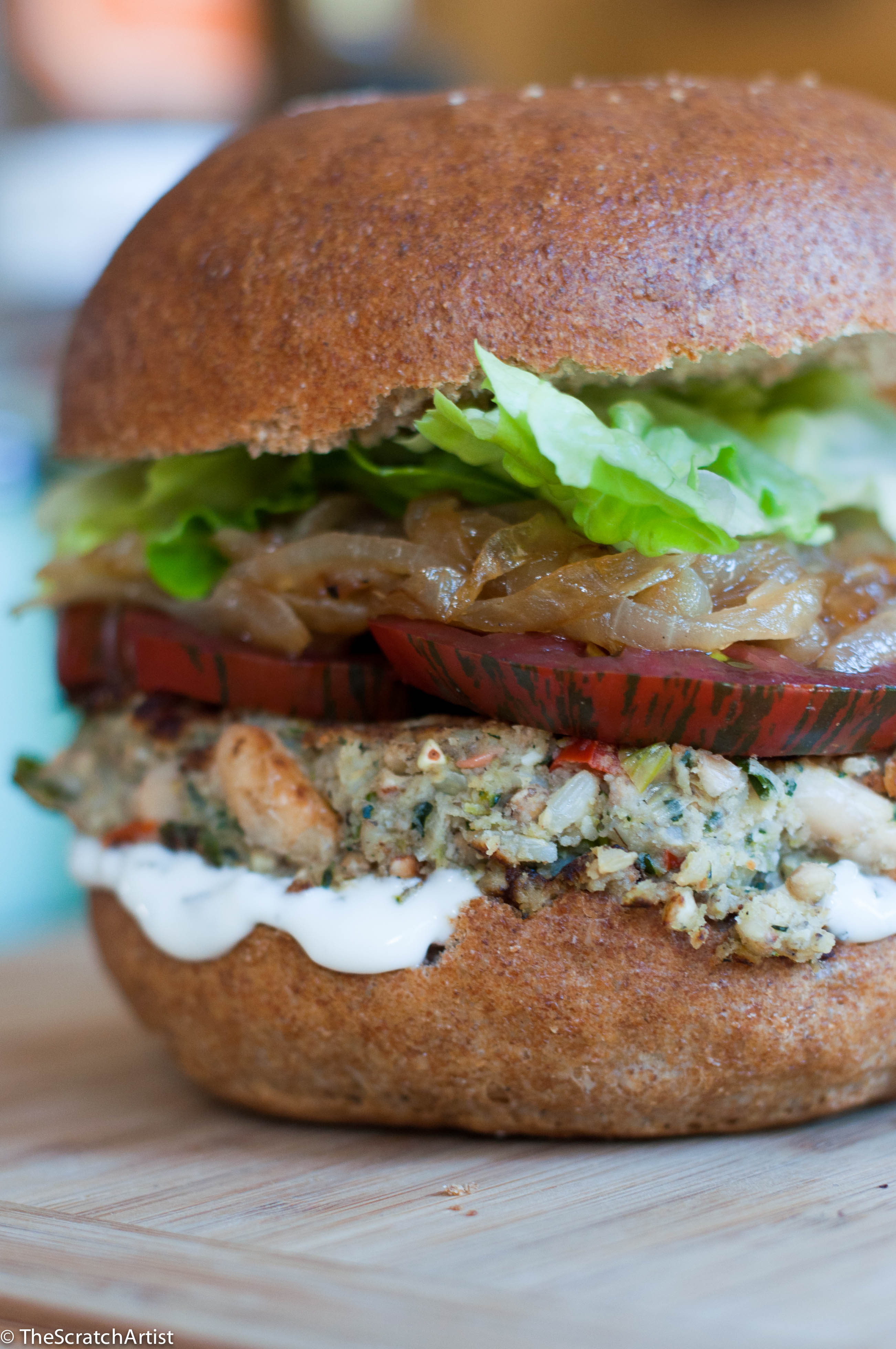 Who's in the mood for some ridiculousness?  Me meee MEEE!!  I have never made veggie burgers before, but I have had the frozen cardboard delights that you can find in your grocer's freezer section.  I think it is every vegetarian's nightmare to arrive at a friend's barbecue to find a package of these set aside for a meat-free option.  Ughhhh.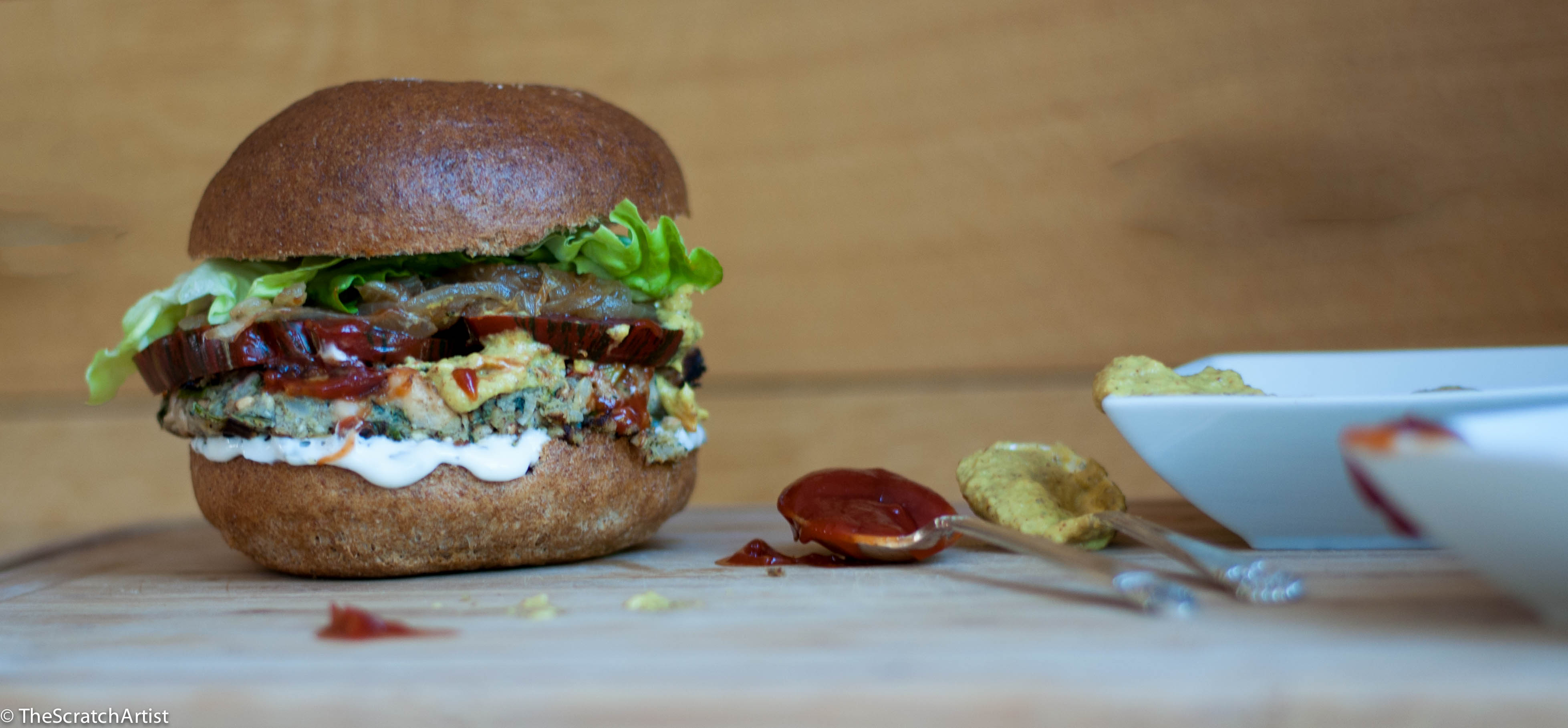 As you probably know, I'm not a vegetarian, but at most cookouts I have tended to select the meat-free options.  When I see how other people handle meat I want to curl up into a ball and disappear.  Salmonella!  E. coli!  Run!  So, vegetables for me, please.  As a bonus, I harvested our very own zucchini for these burgers!
I think my birthday grill inspired this recipe.  I wanted to grill something and I didn't want meat.  As I was forming these into patties, it became clear that they were not grill-stable, so I nixed the grill idea and pan fried them.  I already have some ideas about how to get these bad boys grill-stable, but they were too good to not share ASAP.  So, if you are looking for a really sturdy burger these will need some modifying.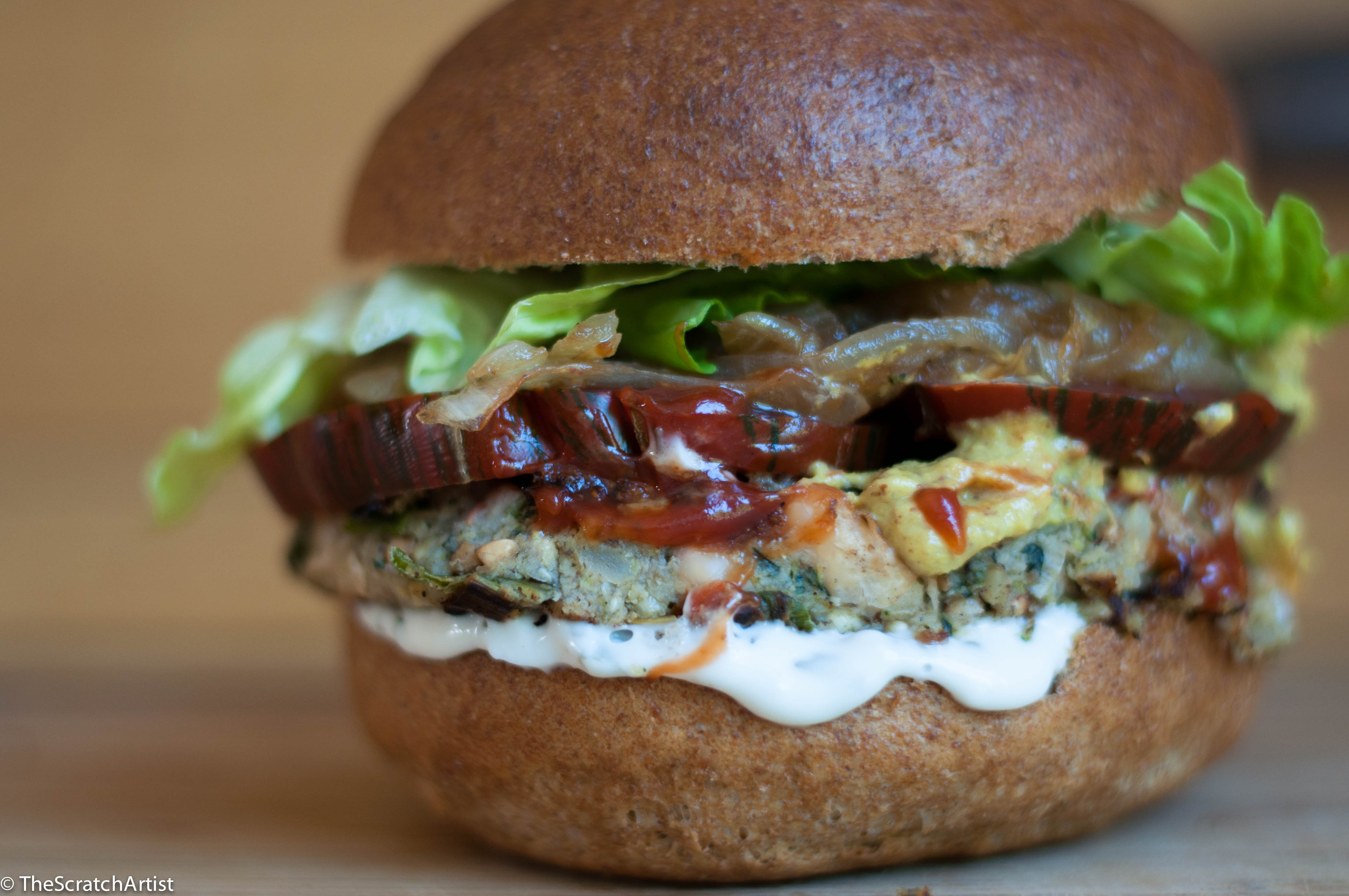 The size and ridiculous nature of these towering burgers probably speaks more to my inner world at the moment than to what makes an architecturally sound burger.  These are huge!  Too huge really, but like Carnegie Deli, my motto is, the bigger the better.  Every now and then it is good to eat a sandwich that is bigger than your head.  Today is that day.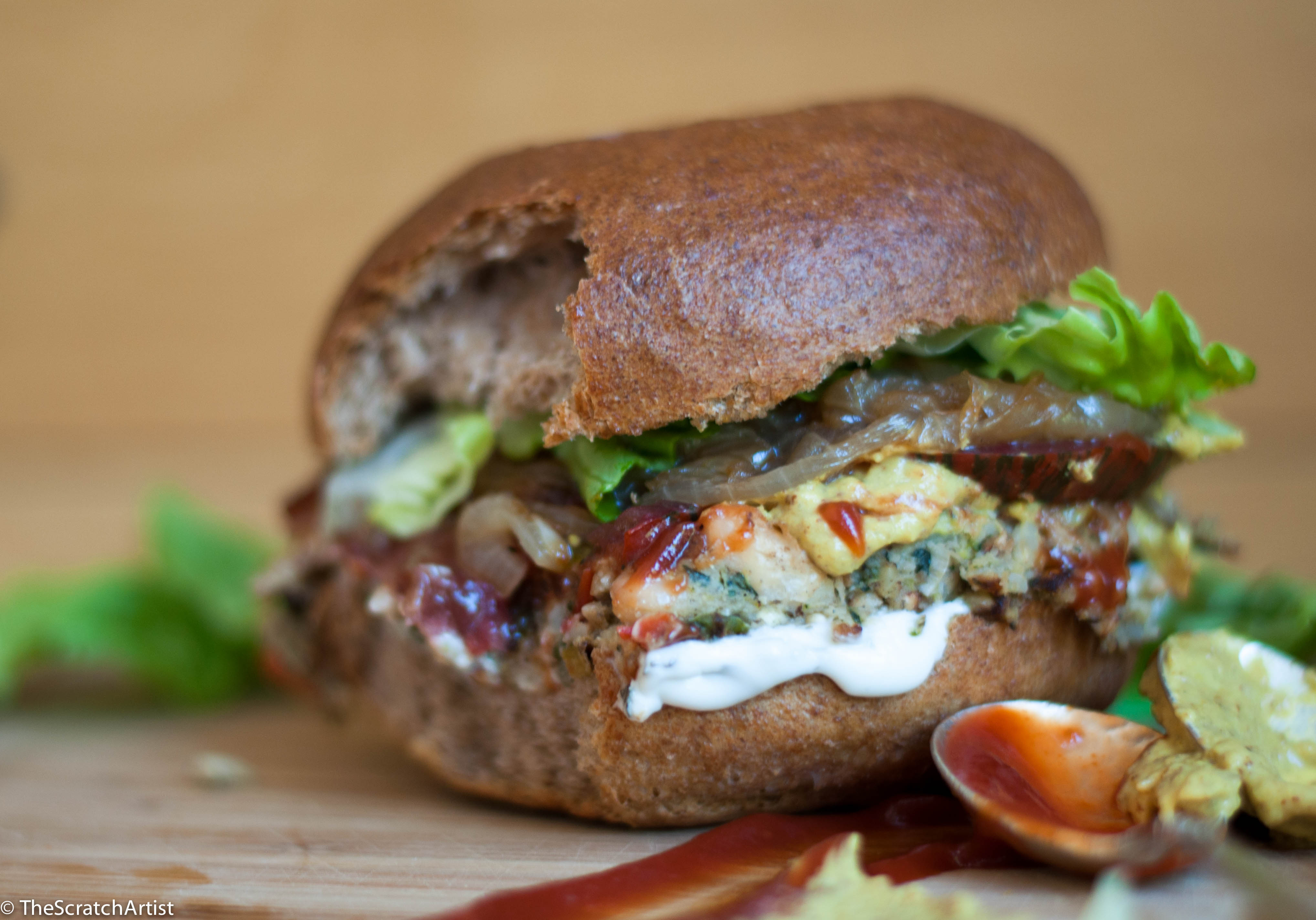 Recently I have been questioning my eating habits and why I eat what I eat.  More accurately, why I don't eat what I don't eat.  I was very much in the mood for a feast when I made these burgers over the weekend.  I usually hold myself back from feasting and force myself to approach food more moderately.  Unrestrained, I could eat a whole loaf of bread in one sitting.  E A S Y.
After losing 40 pounds about three years ago, I have seriously increased my consciousness with respect to how much I eat.  But it is by no means a done deal for me.  It feels natural for me to eat until I am stuffed.  We have a joke in our family: "How do you know when you are done?"  "When you are so full you can't move."
I am seeking a way of eating where moderation feels good and natural and requires no will power.  Will power, in my world, can be roughly translated as a futile arm-wrestle where I am both arms and therefore lose, no matter which side is winning at any given moment.  I frequently fantasize what it would be like to be a naturally moderate person.  My lack of moderation carries over into many areas of my life, which for the most part I appreciate. I think my intense style of living has me be passionate, exuberant, and head-first into life, which I wouldn't want to change, but as with all things it is a double-edged sword.
I question where I get my definition of moderation and if it is truly mine or something that I have picked up externally.  It is hard to sort out.  I often see-saw between eating more than I need then compensate by eating too little.  And then I am frustrated by the ups and downs.
Weight and body image come into play in this discussion for me.  I am 6′ tall and weigh 154 pounds and I have basically been that tall and weighed that much since I was in 8th grade (except for a couple years in college where I gained those 40 pounds).  I was always SSSOOO much taller and just plain bigger, in every way, than all of my friends in high school.  It was awkward, uncomfortable, and I thought I was an oversized freak, towering over my friends.   Ahh… the drama of high school.
I don't know how much of that experience I still carry around with me, but I think the ghost still lingers.  I was recently watching the Wimbledon finals with Serena Williams and I noticed how untraditionally fit she is.  Her legs are large and muscular.  Her stomach is not washboard flat.  And her arms are muscular.  And she is so beautiful.  I saw how my idea of what is fit and beautiful for my body still conforms to my high-school-years ideal, when I yearned to be twig-like.  No curves.  No bulges anywhere.  And basically nothing like my real body type, which is naturally curvy.
Realizing that this was going on with me, somewhat subconsciously, was disturbing, but it also allowed me to decide that I don't like that horrible framework.  I'm not a twig and I will never be a twig no matter what diet plan I choose!  My psychology however, seems to be stuck on repeat and refuses to deal with reality.  Acknowledging that I just simply do not have that body type is relieving, and it leaves a lot of room for me to accept the body type that I do have.  But when I am not in touch with this reality, my tendency is to think that I am doing something wrong and that's why I look the way I look.  I am eating the wrong things.  I am not exercising the right way.  I am failing.  So let this be the first place that I say, screw that!
I would like to lessen or eliminate the internal push-pull of:
"I want that" — "don't have that"
Today I am looking at what part of that equation needs to be modified.  The "I want that" side or the "don't have that" side.  Or as my high school math teacher would say, what you do to one side of the equation you must do to the other (super impressed with myself that I just came up with that metaphor).  And of course that is the answer.  Like with all things, I need to find a balance.  And I can only find my balance my way.  For now, that is going to take my being willing to experiment with quantity.  Which translates to being willing to have the number on the scale go up (or down, yeah rrrright).  But if my weight going up, in a healthy way, has me experience a greater sense of balance, then I'm in, despite how horrified my high school brain might be at the prospect of this.  Besides, that brain needs retiring anyway!
How about you all?  Anybody else share these challenges?  Still figuring out what is the right amount to eat and/or what your right weight is?  Have it figured out?  I'd love to hear from you.
If you make these burgers, let me know what you think.  We loved them!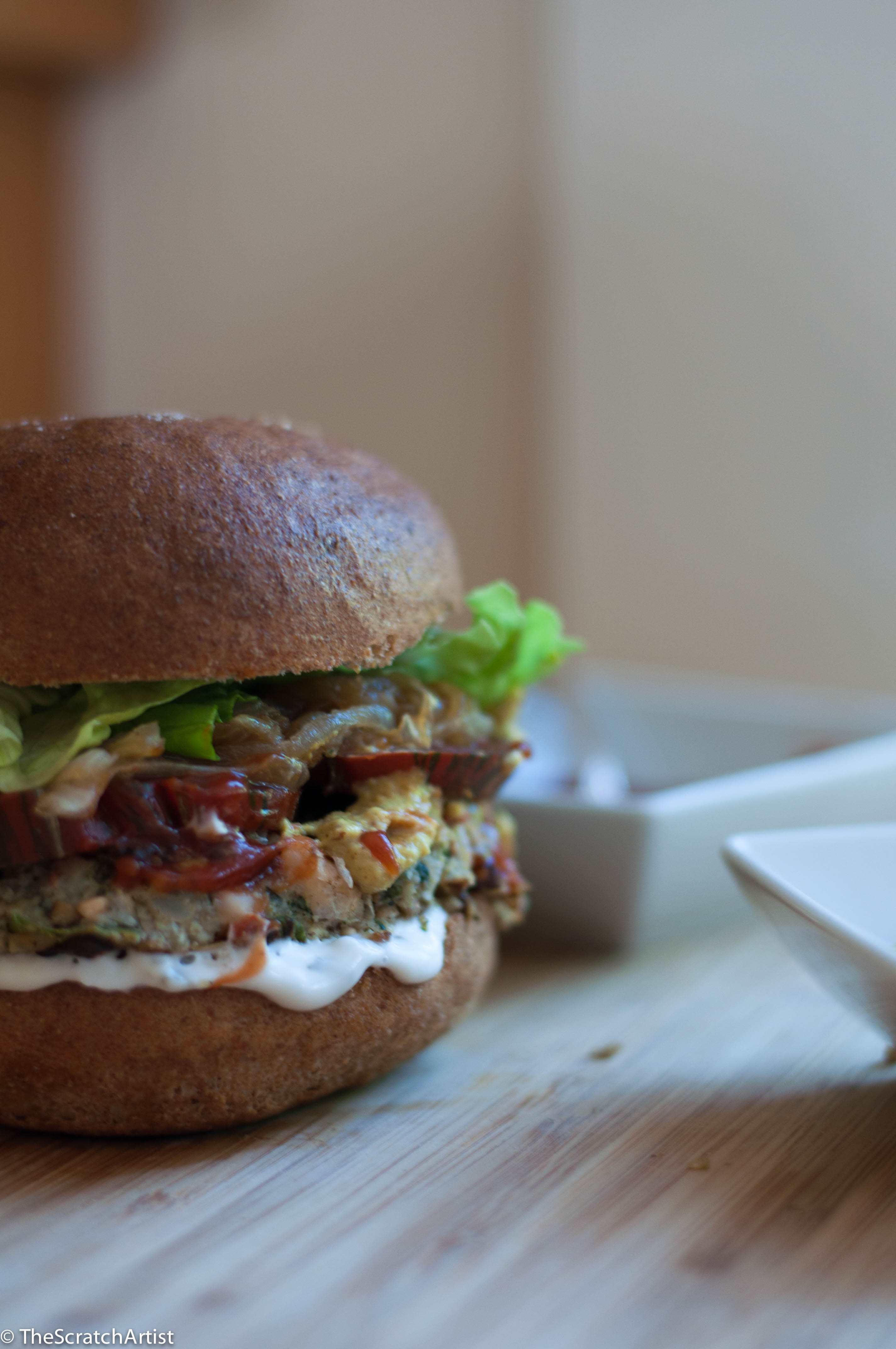 Zucchini Mushroom Veggie Burgers with Lemon Herb Mayonnaise
Makes six extra large burgers
Ingredients
Burger ingredients
½ Cup diced red bell pepper
2 Cups raw scallions
1½ Cup zucchini/mushroom puree (approximately 2 medium-sized zucchini and 8-10 button (white) mushrooms)
½ Cup toasted buckwheat groats
1 Cup cooked long grain brown rice (or whatever grain you like)
½ Cup almond meal (or other nut meal, walnut or pecan would probably work)
2 Cups cannellini/white beans
Burger Toppings
2 Medium-sized onions
1-2 Large heirloom tomatoes (or other large slicing tomato)
Lettuce leaves
Burger Buns
Herb Mayonnaise
⅓ Cup Vegenaise (or mayonnaise of your choice with varied results)
¼ - ½ Lemon juiced (depending on how juicy your lemon is)
1 Teaspoon dried tarragon
1 Teaspoon dried chives
Pinch salt
Instructions
Preheat your oven to 350F bake.
Cook your long grain rice as per instructions.
Slice your zucchini and mushrooms and lay out on a baking sheet. Spray with olive oil and toss with salt. Bake for about 30 minutes, until the mushrooms and zucchini are soft and fragrant.
While that is baking, slice your scallions and bell pepper and sauté with oil and salt.
Rinse, pick through, and toast your buckwheat groats over medium heat on a skillet until they brown, 5 - 10 minutes.
Slice your onion super thin and sauté until caramelized. These will be used on top of your burger. You could also use raw onion instead.
Measure out your beans without their liquid. If using canned, drain and rinse.
In a mini food processor, blend your zucchini and mushrooms together to form a thick paste.
In large a bowl, combine the zucchini-mushroom mix with the rest of your burger ingredients and blend well with your hands, making sure to evenly incorporate all of the ingredients.
Now form your mixture into patties. Make them into whatever size you wish. As you can see, I made them HUGE.
Preheat a skillet with oil and let it get really hot. You want the burgers to sizzle when they hit the pan so you get a nicely browned and crisp outer crust. Turn skillet temperature to medium once the outer crust has had time to form. Cook for 5-7 minutes. Spray the uncooked side of your burgers with olive oil before flipping. Cook for another 5-7 minutes until the burgers are hot and have formed a nice crust. Be careful when flipping so that the burger does not fall apart.
Slice your tomato and toast your buns while the burgers cook.
For the herb mayonnaise, combine all of the ingredients and stir until all of the lemon juice has been well incorporated. Taste and adjust as necessary.
Spread mayonnaise on your toasted bun and layer burger with tomato, caramelized onions, and lettuce.