I must sheepishly confess that I have not always loved beans.  Now, I mock my sister for not loving them as I do…just between us though, I do admit they were not always as close to my heart as they are now.  Until about four months ago, the only kind of bean I knew was from a can.  Maybe that accounts for our lackluster relationship.  I am not fan of slimy bean goo that accompanies all canned beans.  Gag reflex anyone?
Don't get me wrong, canned beans are good.  They are completely and unremarkably reasonable.  Obviously, some brands are better than others; reach for the ones with the fewest ingredients.  That being said, never eat canned beans!  Fresh beans are SO much better.  There really is no comparison in my book.   My bean obsession started when I began making them from scratch.  Thanks to Chef Cal Peternell over at Chez Panisse, I now consider myself a bean aficionado.  He is entirely responsible for inspiring me to enter into the dried-bean world and I have never looked back.  I highly recommend his book Twelve Recipes; I think it is the perfect book for both the seasoned and brand new cook.  All of my bean recipes are based on what he teaches in his book.
I use beans in many of my recipes and this post will serve as the reference for making all the beans mentioned in those recipes.  Bean preparation really couldn't be more simple.  With a few exceptions, the prep follows the exact same course:
rinse, soak, rinse, boil, taste, adjust, eat!
As a rule of thumb, 2 1/2 cups of dried beans yields approximately 6 cups of cooked beans.  Generally beans will stay good in your fridge for up to five days, but there are a lot of factors that can change this (fridge temperature, how often you take them in and out of the fridge, etc.).  When it comes to food safety, I trust my nose more than any label or listed parameters.  And when all else fails, I listen to my Grandmother's advice, "when in doubt, throw it out."
In terms of picking your beans, generally I find beans sold in bulk to be fresher (of course you have to assess the market).  If you live in an area where your grocer's bean selection appears to date back to the 1900's there are some online sources for beans.  I am not personally familiar with any retailers (I have great markets near me), but Cal Peternell recommends the following retailers in his book:
www.Ranchogordo.com
www.purcellmountainfarms.com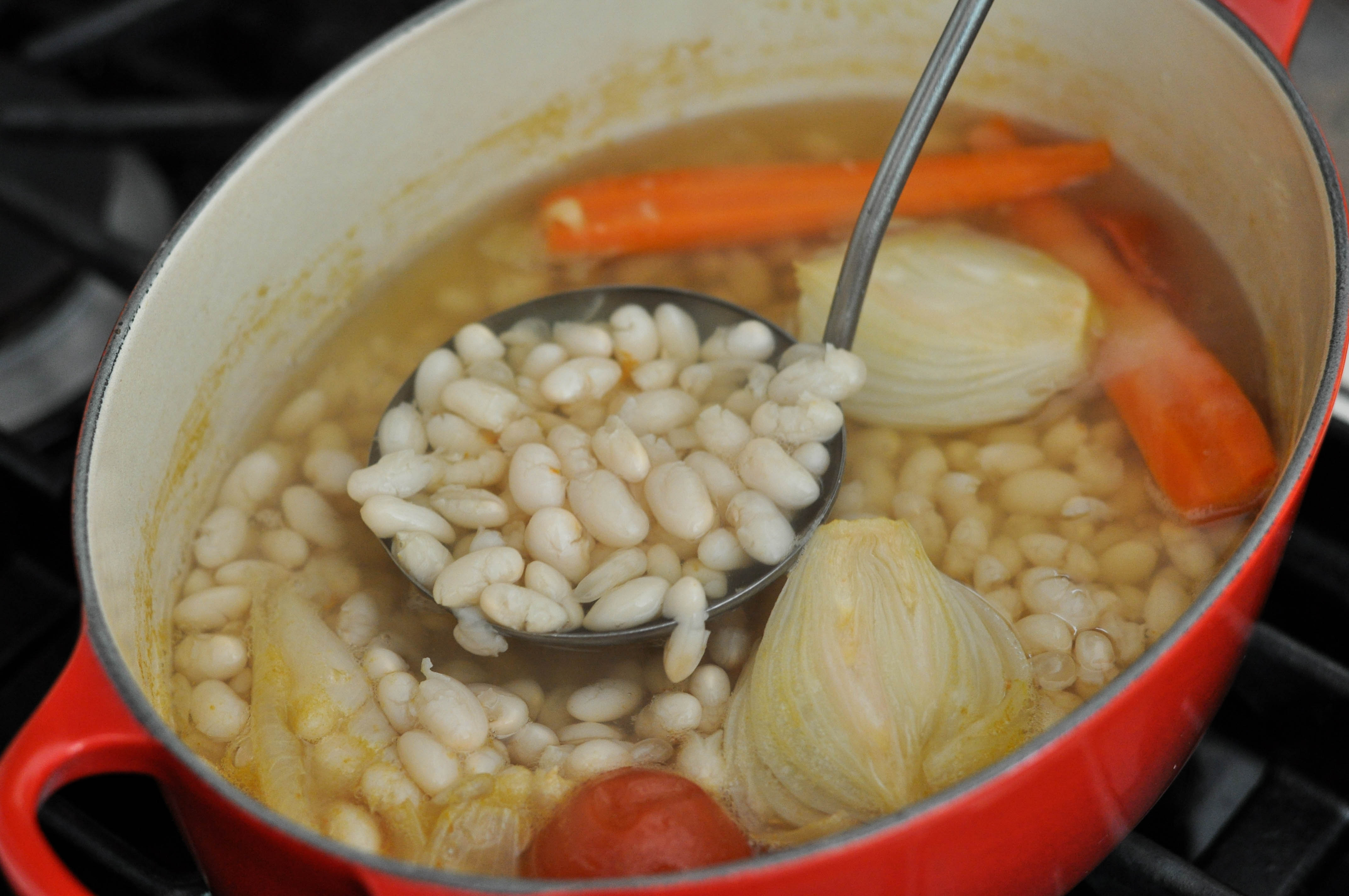 Here are some basic beans to start working with
Cannellini bean (white bean), Pinto bean, Black bean, Navy bean, Cranberry bean, and Chickpea

Beans, Beans, Beans
Ingredients
Beans
Any dried bean from the list above (use my quantity guide to determine how much you want to make)*
Optional flavorers to boil your beans with
½ Sweet or yellow onion
1 Carrot
1 Bay leaf
4-5 Thyme sprigs
1 Celery stalk
4-5 Parsley stems (stems only!)
1 Small tomato
Optional: Garlic clove (I don't use this because garlic doesn't agree with me, but don't let that stop you!)
Instructions
Wash your beans in a strainer and pick out any non-bean intruders! Place your beans in a large enough bowl to allow for bean expansion and cover with about 3" of water. Go do something for 12 hours. A watched bean never swells...or something like that.
Pour your soaked beans back into your strainer and gently rinse them again. Now, pick an appropriate sized pot for your beans; you don't want boil-over issues. Another factor to consider is bean crushing. If you pick a pot that is tall rather than wide, the beans on the bottom will get crushed under the weight of the beans above, and you will likely get some disintegrating beans at the bottom and some beans that are still hard at the top. The wider the pot the better.
Pour the beans into your pot and cover with about two inches of water. Set this aside for the moment while you prepare your vegetables.
Keep all of the vegetables in big chunks; they will all be discarded once the beans are finished cooking. If you don't want little thyme leaves breaking free and intermingling with your beans, use cheese cloth to wrap your thyme and parsley (I like to let the thyme roam free).
If you are missing any of the ingredients above, don't worry. You can make the beans with as many or as few of the ingredients as you like. You can even make them with plain water and salt if you truly have an empty fridge.**
Place all of the herbs and vegetables into your bean pot. Turn the burner on medium high and add a pinch of salt.
Leave uncovered and let the water come to a boil. Once you have a rolling boil going, turn the beans down to low. You will probably see a fair amount of white foam on the surface of your water. Use a ladle to remove the foam and discard it.
Taste the water and add more salt if needed. Cover the pot leaving the lid slightly ajar to let steam out.
Cook the beans for about three hours (more or less depending on the bean variety you are making. Chickpeas tend to take longer than other types of beans).
Gently stir the beans (to not damage them) every thirty minutes or so, tasting the water as you go. Add more salt if needed. If the water boils down, add more.
At the hour, hour and a half mark, start tasting the beans. A properly cooked bean should melt in your mouth and gently disintegrate with very little chewing. It should not taste chalky at all. They probably won't be done at this point, so come back and check on them in 30 minutes. If you are going to err with beans, always overcook rather than undercook.
Once they are done, the very first thing you should do is ladle them into a small bowl, sprinkle fresh herbs, salt, and drizzle olive oil over the top to properly savor your creation. There is absolutely NOTHING better than fresh beans with GREAT olive oil and fresh herbs. Do not miss this! As an added bonus, you can now call yourself a mangiafagioli.
Transfer your beans to a storage container, retaining all the liquid. The liquid can be used to season a wide range of delicious dishes (pasta sauces, soups, stocks, hummus, and much more).
Notes
*I use the same proportions of vegetables below regardless of how many cups of beans I am cooking. It sounds counterintuitive, but it doesn't seem to affect the taste; some chemistry principal at play, perhaps.
**This is a good way of experimenting and will train your palate to register the difference in flavor when one component is subtracted, doubled, or changed in some way.