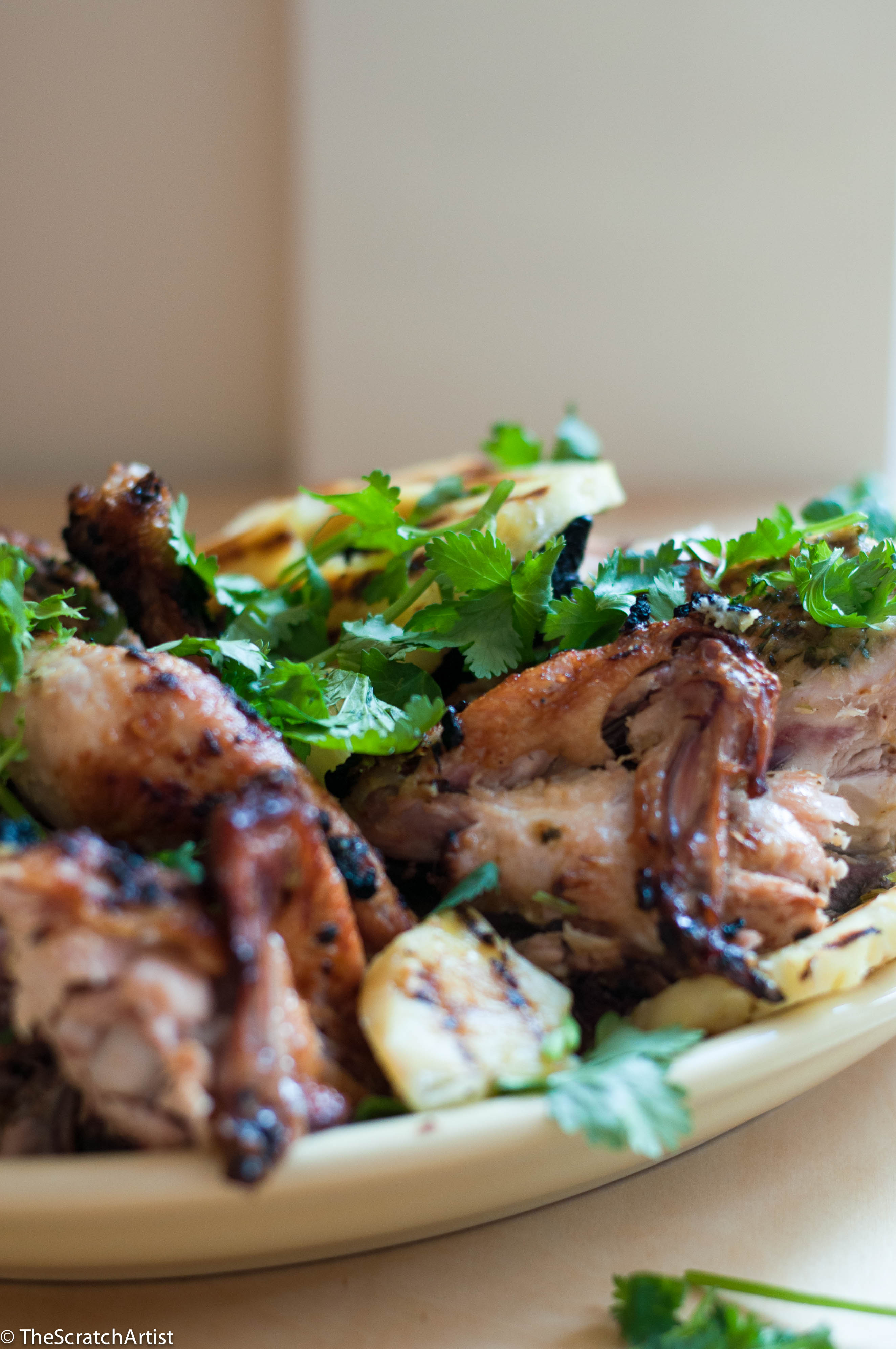 As promised, here is a great way to use all that pineapple you have been cutting!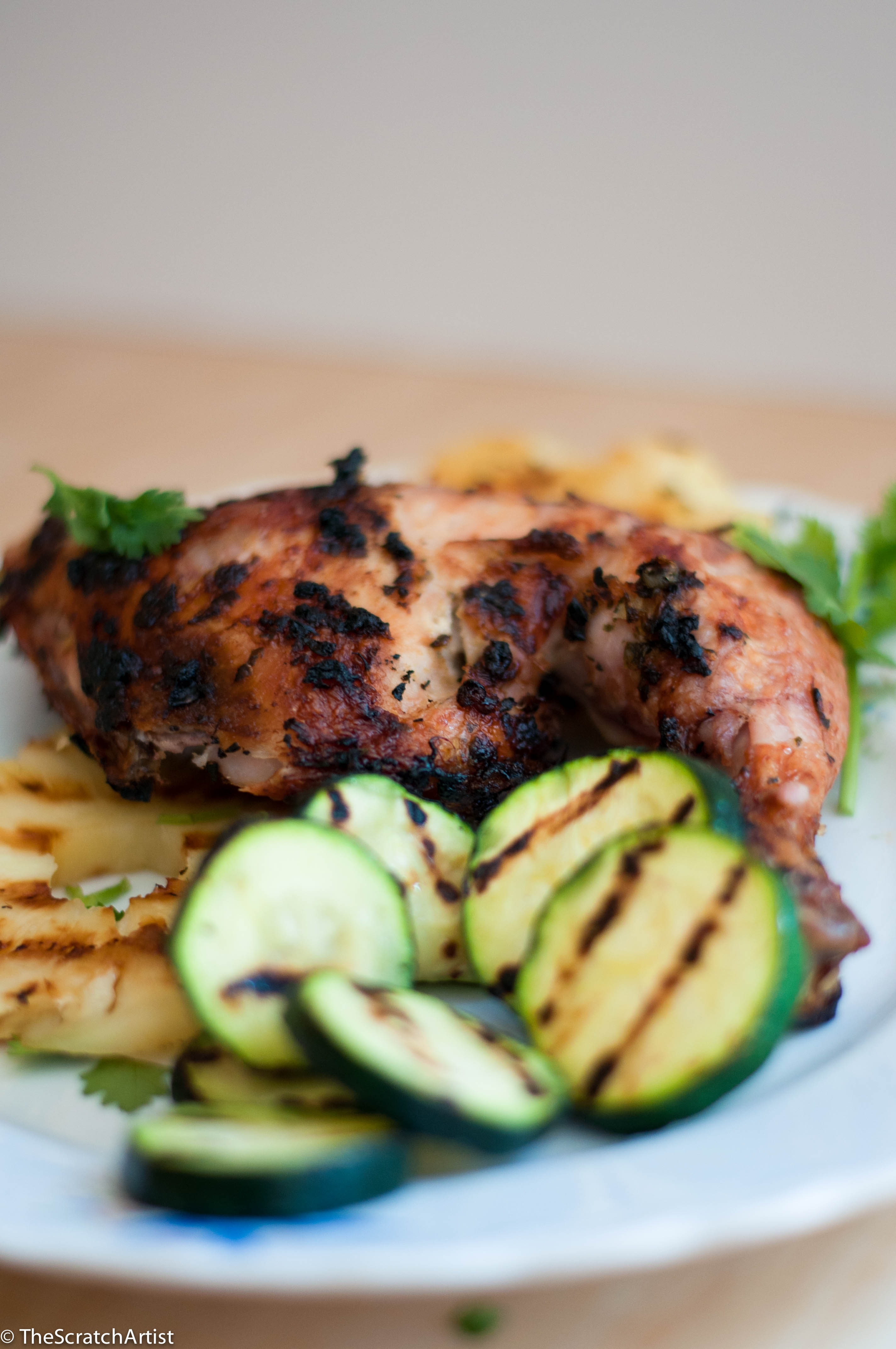 Get ready to love me.  This is THE BEST BARBECUE CHICKEN EVER!  And don't just take my word for it.
After everyone in my family finished hollering at me for delaying dinner by forty-five minutes, they were screaming my name in delight.  This chicken is sssssoo good!  One quick confession. I haven't actually had that much barbecue chicken (like maybe three times total in my life).  So when I say it is the best, it is not as if I have scoured the globe taste-testing chicken to arrive at this conclusion.  I'll just leave it with, this chicken was wicked good and you should try it.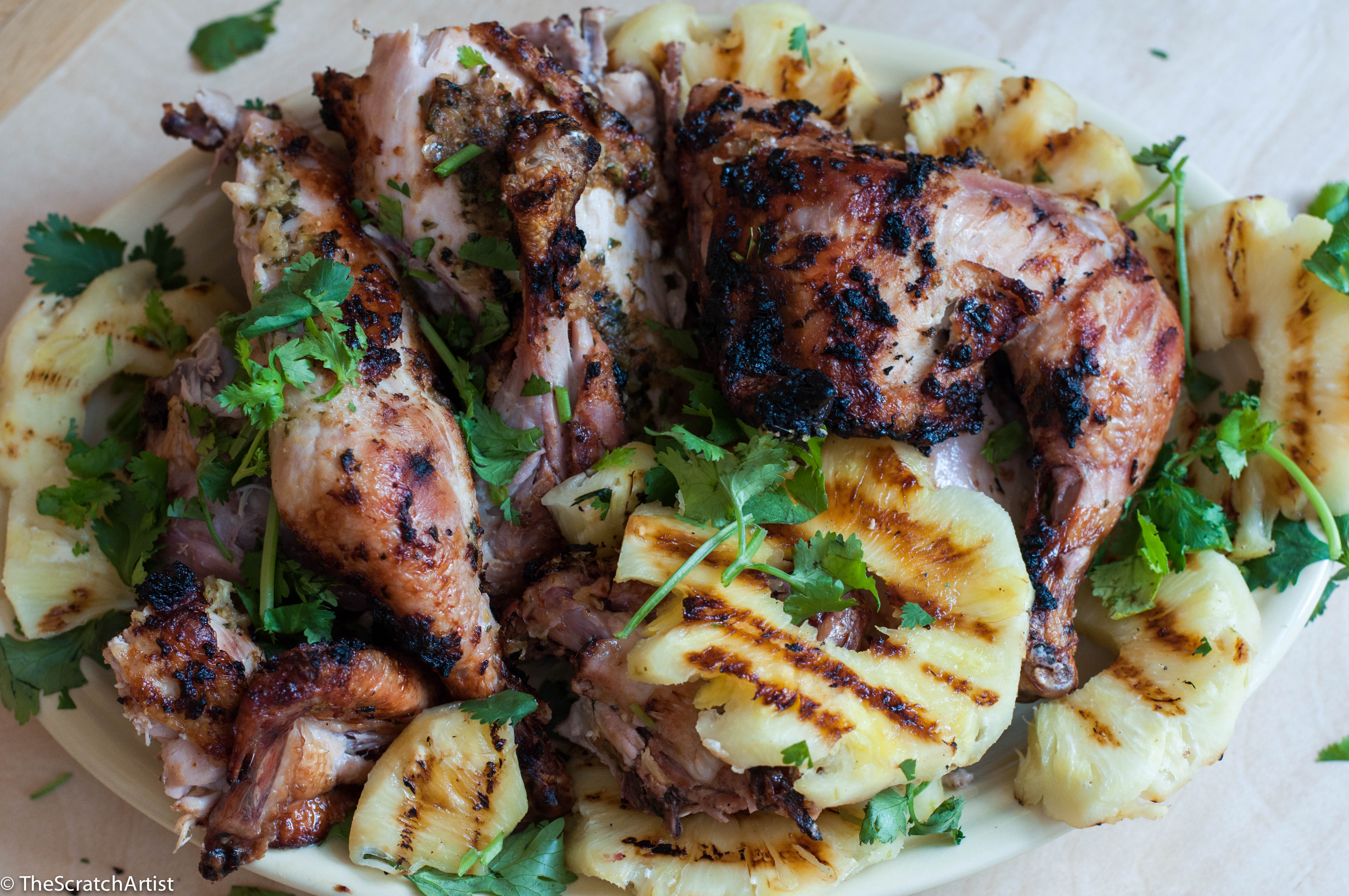 I wish I could insert a scratch and sniff feature on this post.  This is what my version of heaven would smell like… this AND homemade pie, and chocolate chip cookies, and cinnamon buns, and…
And why was dinner 45 minutes late?  Well you see, I have no idea how to use my grill.  Well, I HAD no idea how to use my grill.  Necessity = ingenuity!  That plus Google saves my life daily.  I got a Weber grill for my birthday (yay!) and I have been having my own little backyard adventures.  Coming soon: Kathryn Grills the feature length film (just kidding).  Although there would be some great outtakes.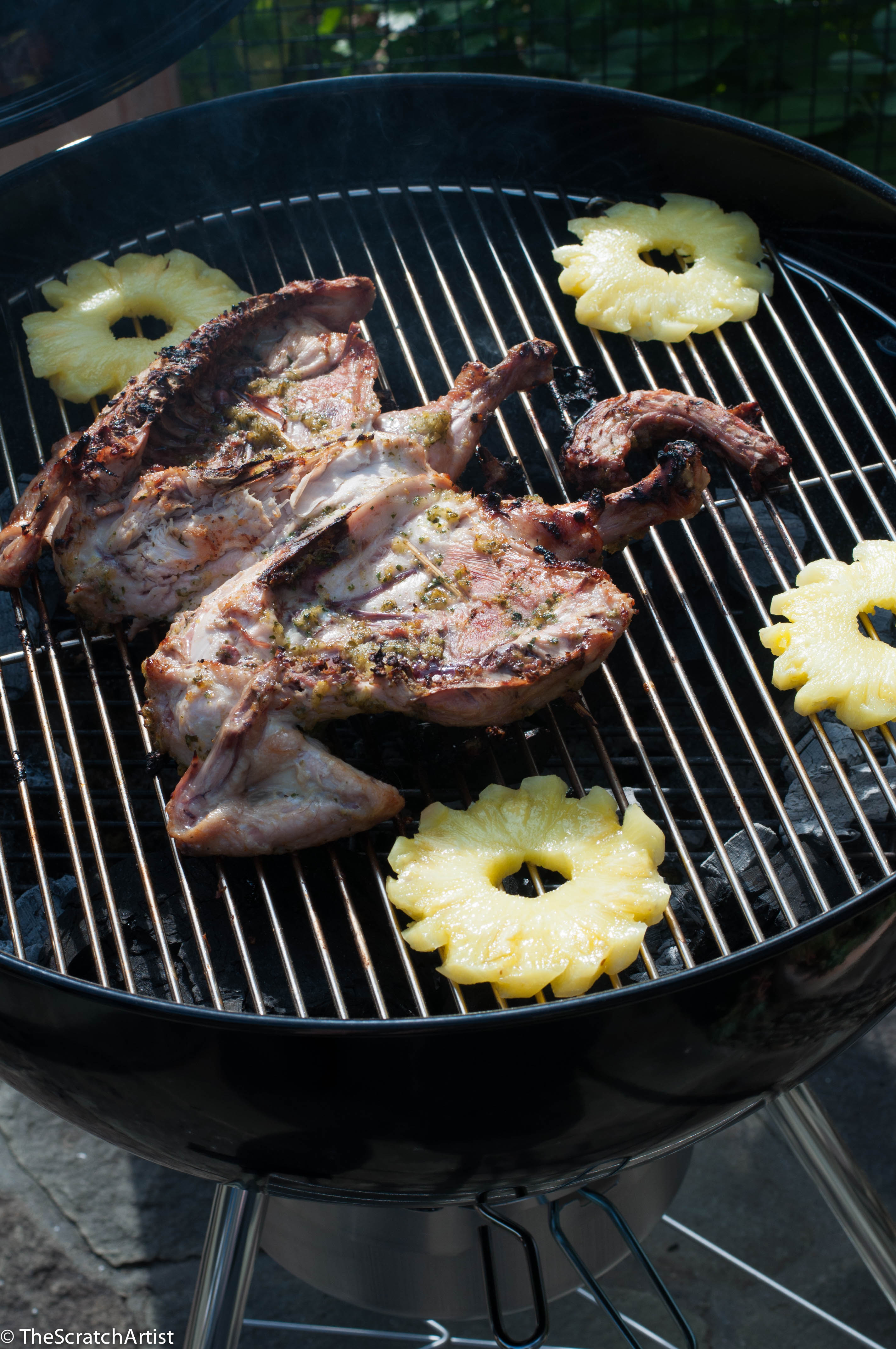 This chicken tested my non-existent grill skills.  But, thankfully for you, this blog pushes me to become an expert at things I previously knew nothing about, so that I can help you all recreate what I have done.
It forces me to learn the RIGHT way to do things rather than constantly cooking by the seat of my pants, i.e. following a make-shift, crazy, last-minute, someone-please-help-me, program.  Which probably does not technically qualify as a program.  Because program implies some sort of order.
To be fair, my previous method did have its benefits, i.e. coming up with unexpected, delicious ideas and dishes. However, if I continued my ways, I would never be able to write it up in order for you all to follow the recipe successfully.  And I very much want to share these delicious meals with you all.
This chicken is so worth making!  And, if you don't want to mess with your grill, or you don't have a grill, you can roast it in the oven.  It won't have that swoon-worthy smoky flavor, but it will still be excellent.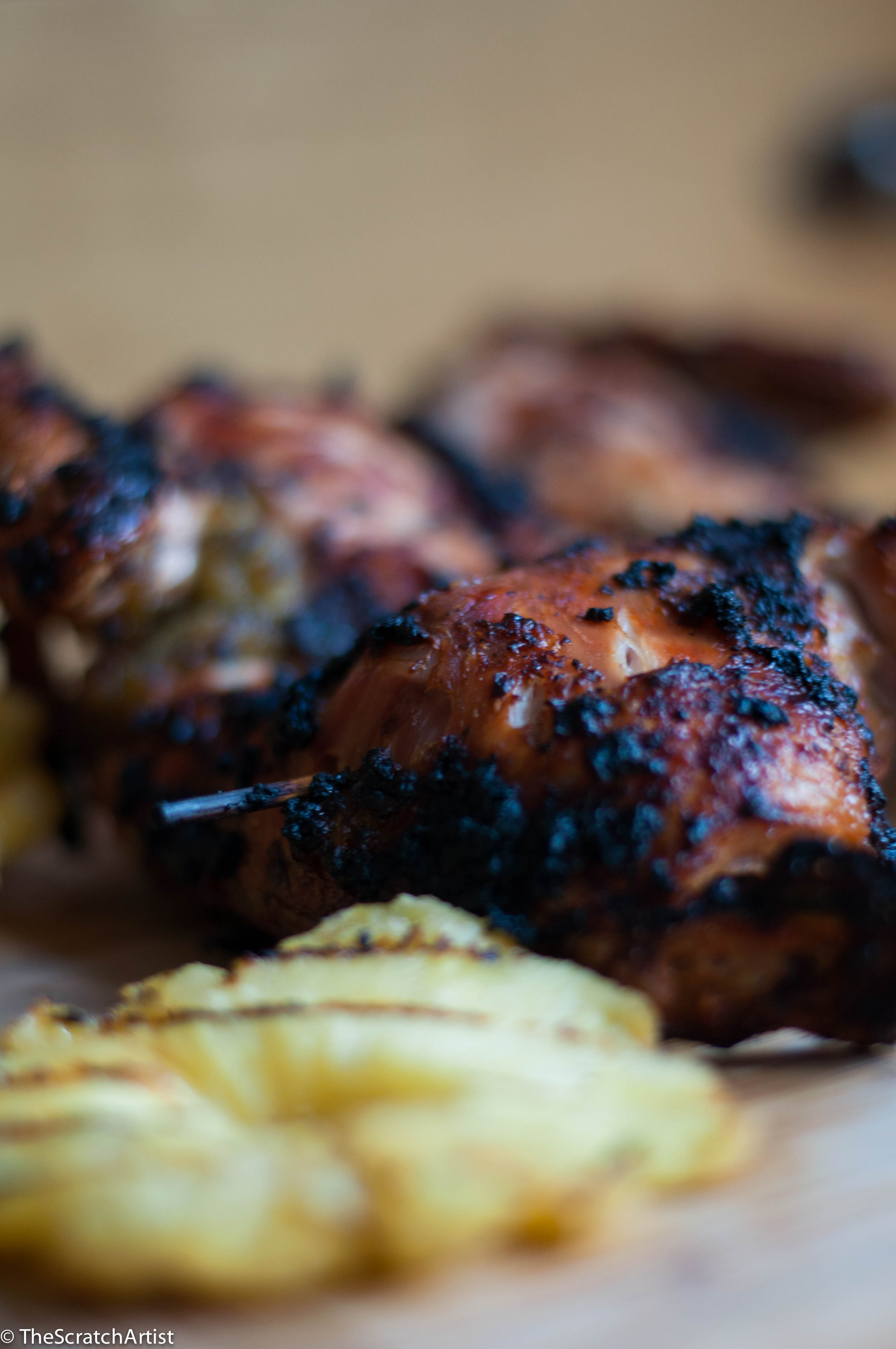 Barbecue Chicken with Ginger & Pineapple Rub
Ingredients
3½lb Chicken, butterflied
Olive oil
For the rub
2 Cups fresh pineapple with juice
1 Tablespoon fresh ground ginger
1 Large handful fresh cilantro
2 Small shallots (either raw or sautéed briefly)*
½ Teaspoon sea salt
Instructions
Add all of the rub ingredients to a mini food processor and blend until combined. Taste test and adjust as necessary. The ginger will give it a powerful kick. Reduce or increase as per your preference. Reserve some sauce to serve alongside the chicken.
Pass a long wooden or metal skewer through the thigh of your butterflied chicken, then into one breast, then the other, then the opposite side thigh. This will help the chicken lay flat on the grill.
Rub about a tablespoon of olive oil over the whole chicken. Then massage your rub on both sides of your chicken. Place the chicken back in the fridge to let it marinate for several hours. Take it out of the fridge an hour before you are ready to start cooking (If your house is very warm reduce the amount of time you leave it out).
Heat your coals or grill as per your normal technique. The temperature of your grill before adding your chicken should be around 400F.
Cook the chicken over indirect heat. I created two areas of coals on the sides and left the center area coal free. I then cooked the chicken over this center area so that is was not directly over the coals.
Slide your chicken onto the grill skin-side up. Cover and cook for about 30 minutes.
Flip your chicken over, skin side down, and place it on the hotter side of the grill once it is within 20 - 30 degrees of your final serving temperature. This will help the skin get deliciously crispy.
Serve with grilled pineapple wheels. And grill up any other vegetables you have on hand. We grilled some zucchini.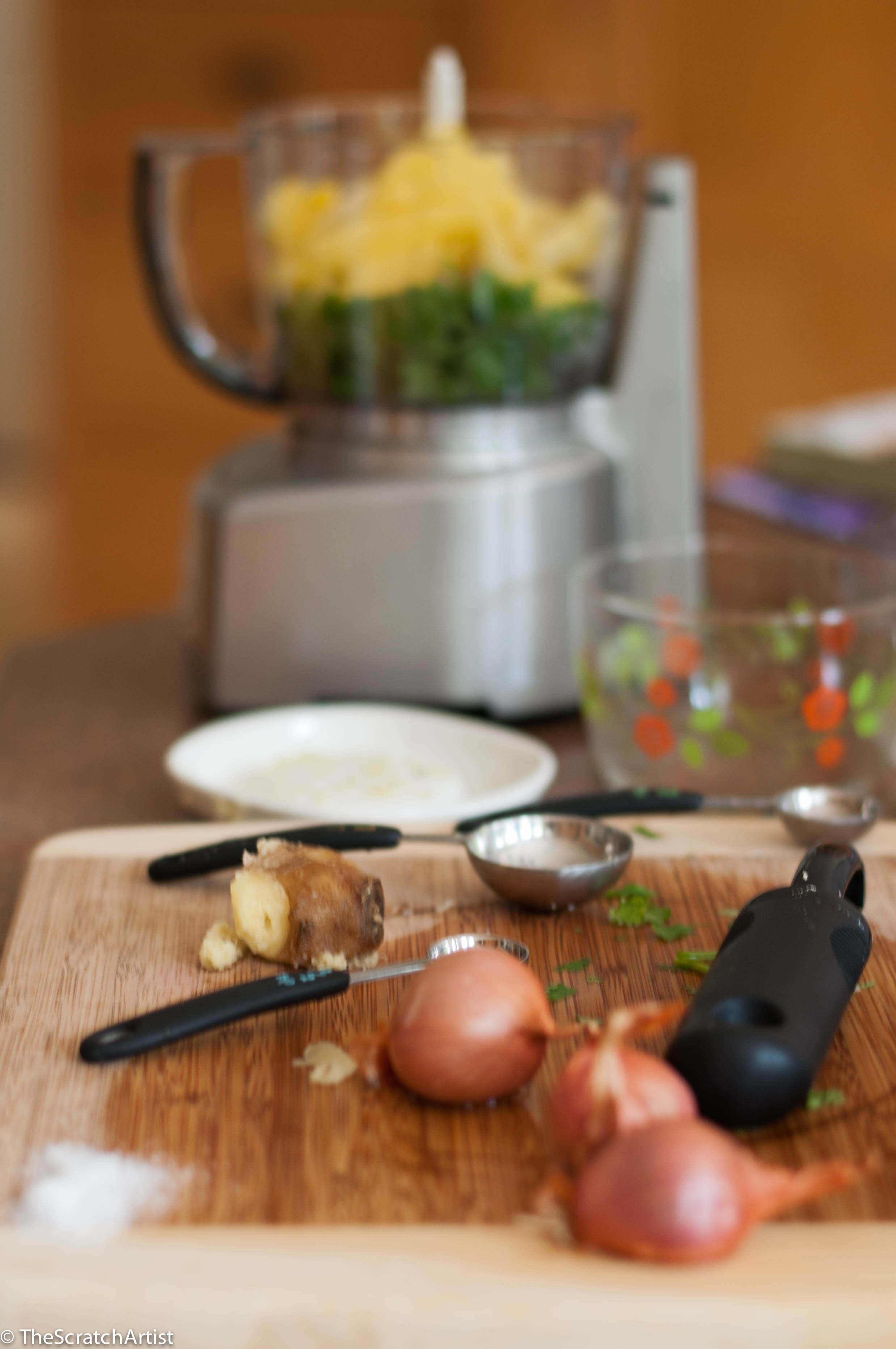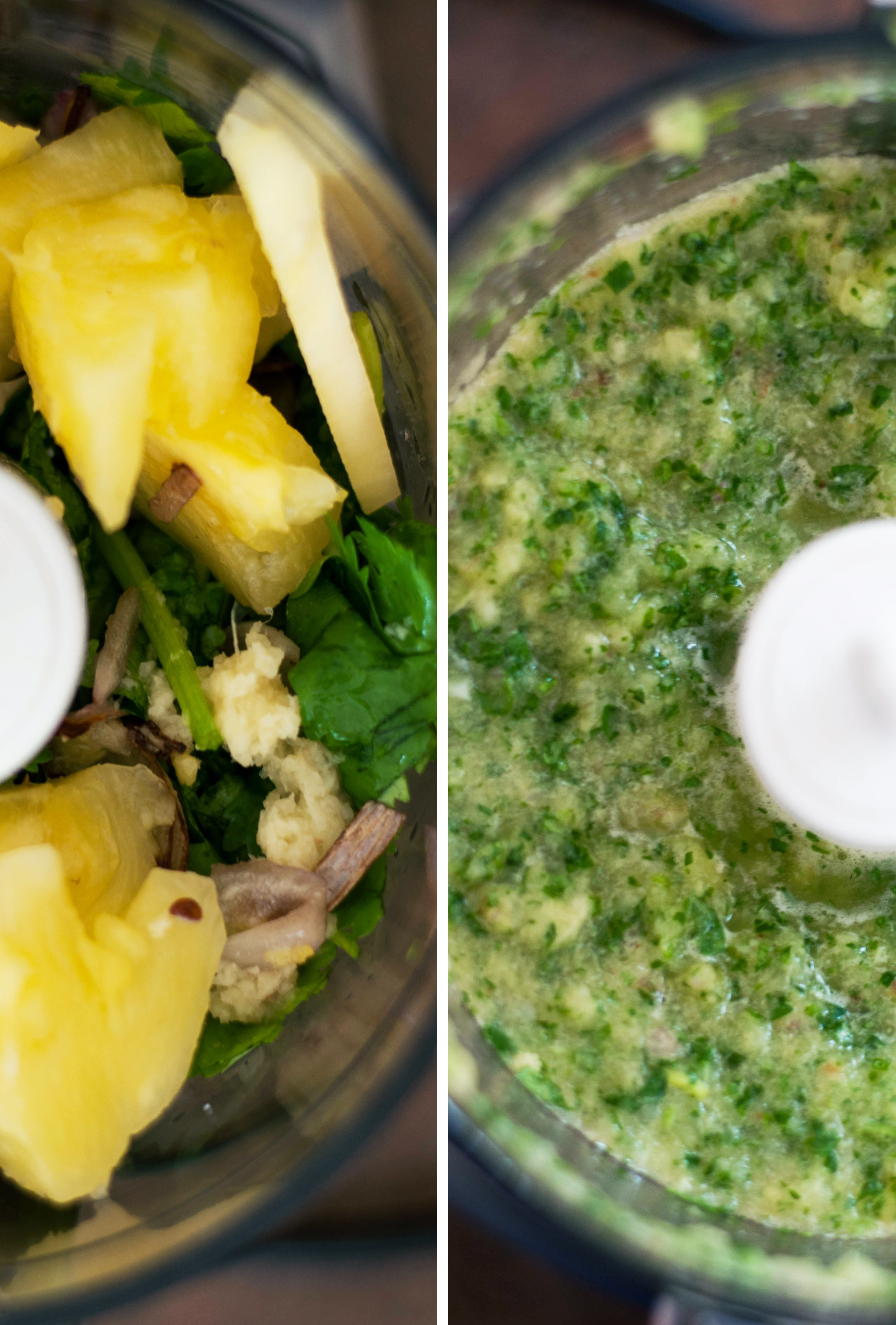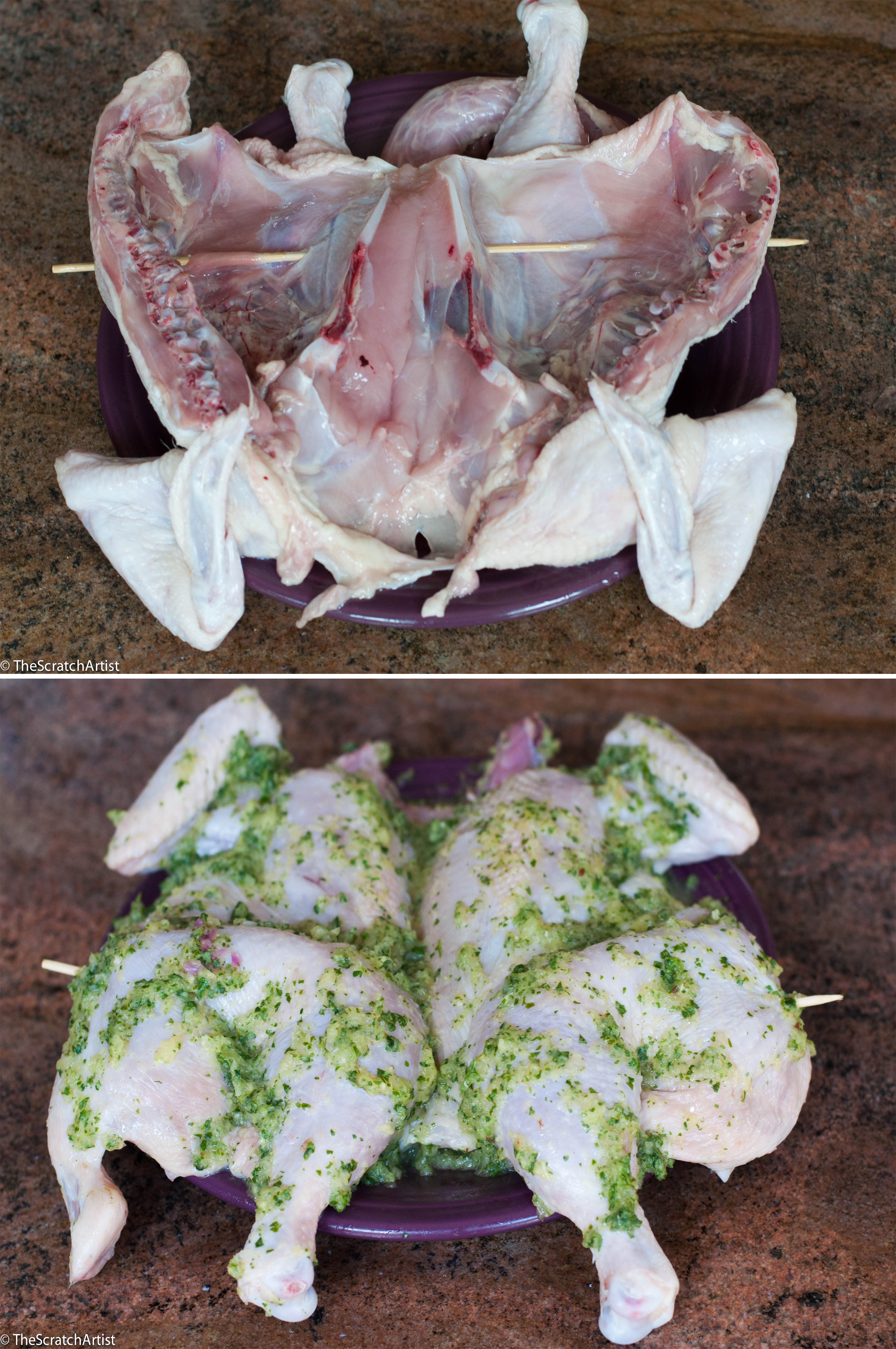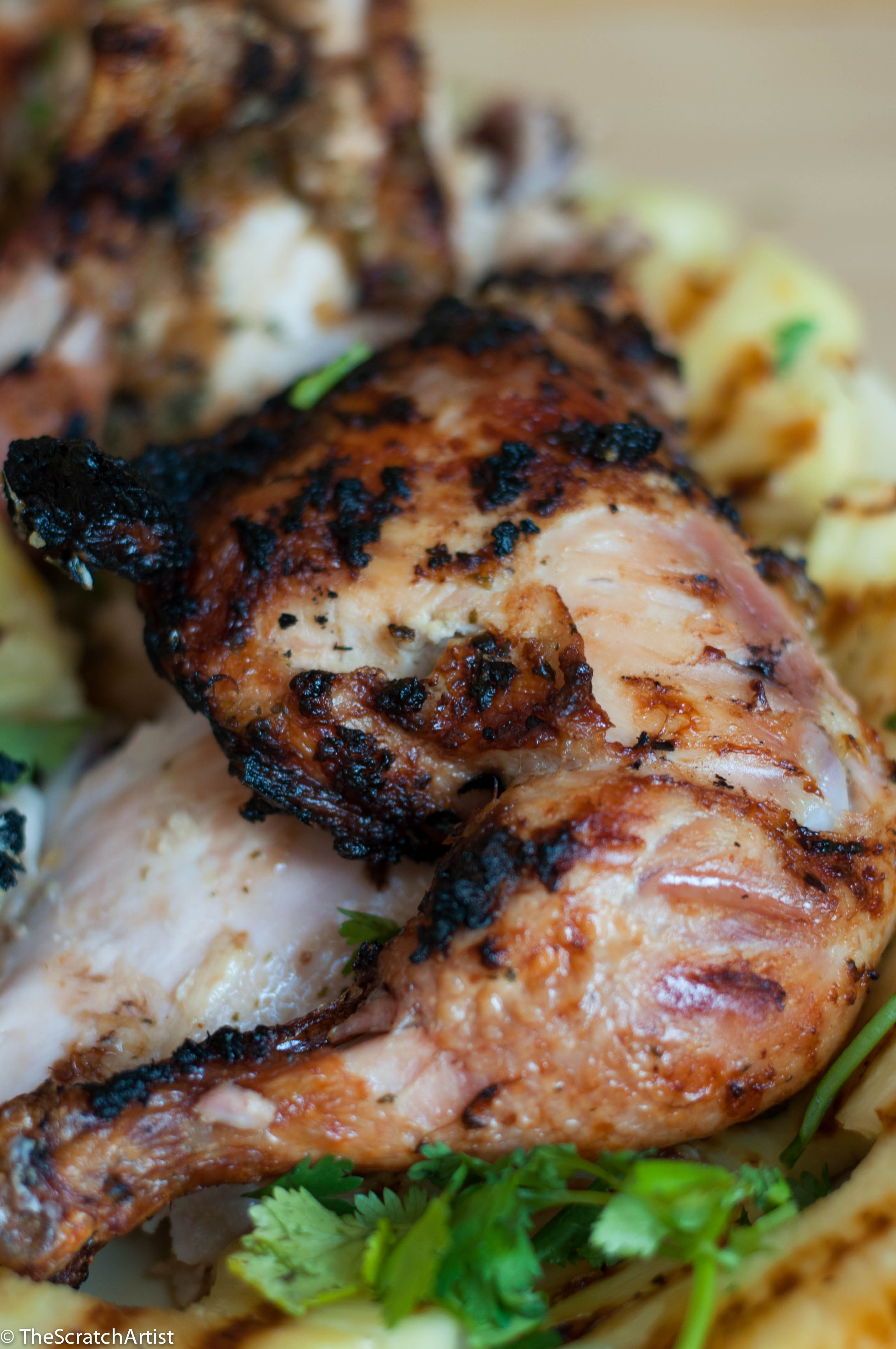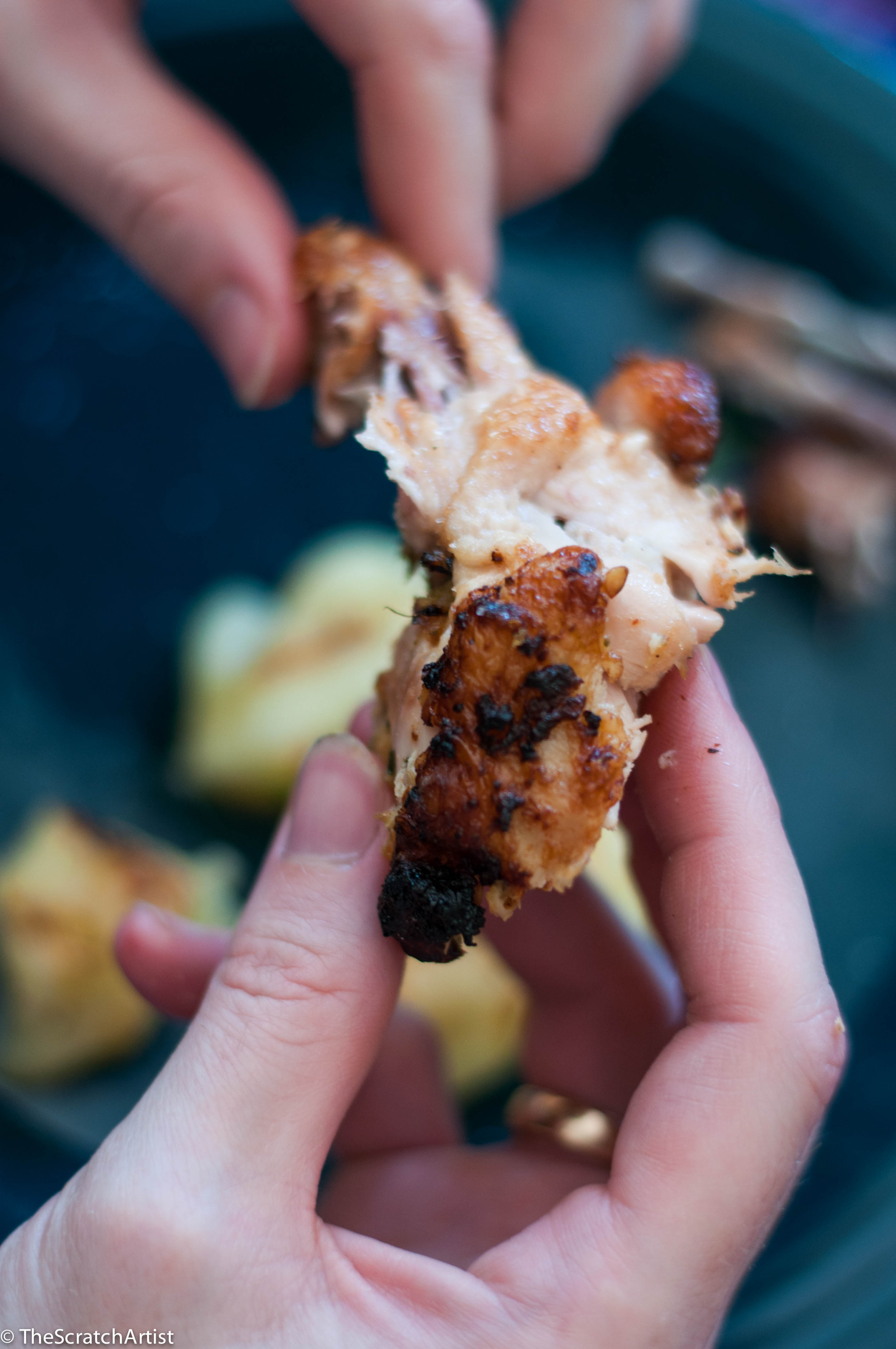 Tell me how it turns out if you make it.  Any of you carve a pineapple yet?  Here's your perfect opportunity.  Enjoy!
P.S. I was excited to write this post and tell you all how disciplined I was to NOT eat all of my pineapple while I was carving it.  My mouth was burn free…until dinner came around and I made up for it by polishing off all the extra pineapple wheels.  Drat!  Good luck protecting your mouths!
~Kathryn