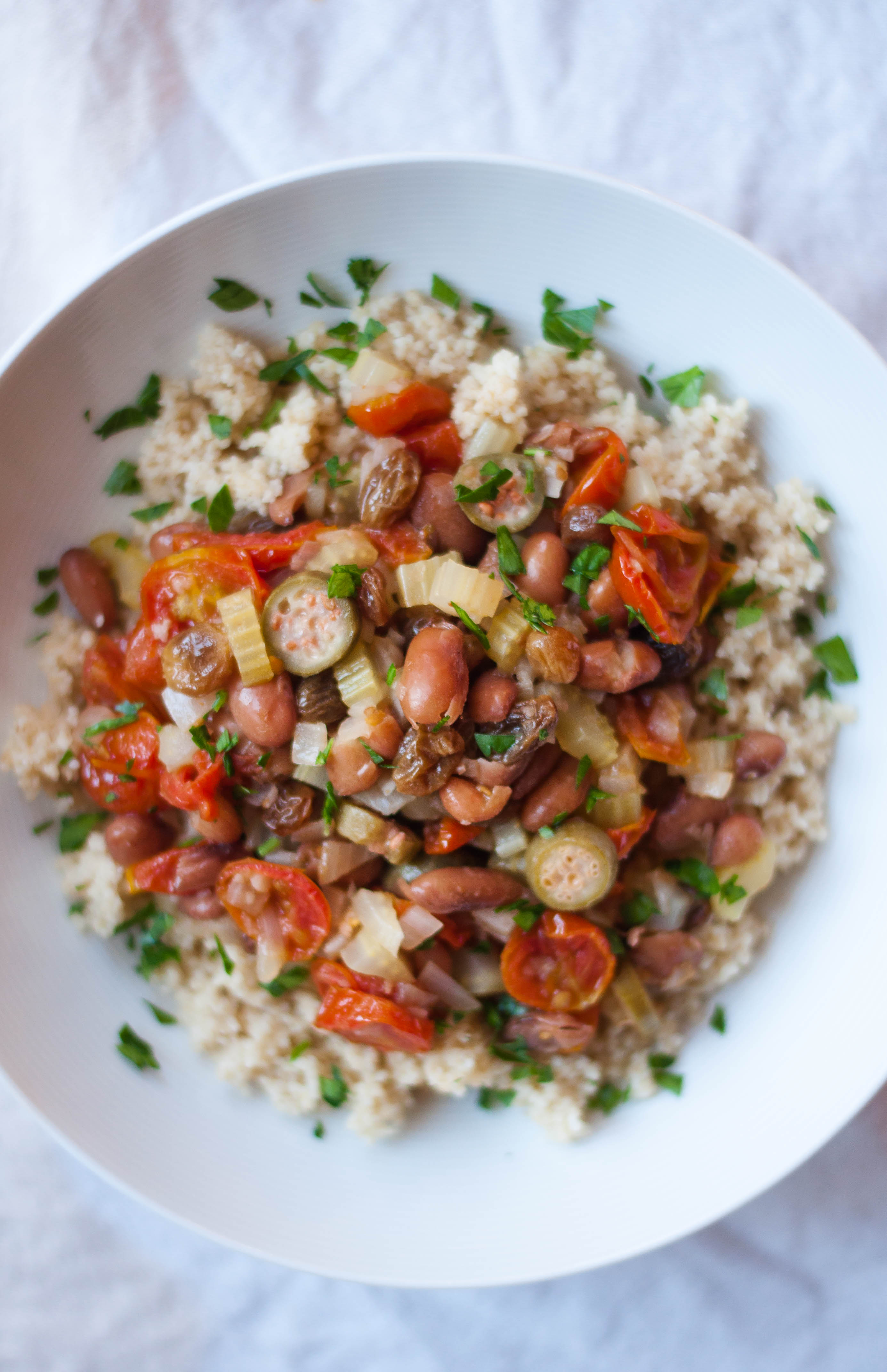 Do you ever stop to think about what inspires you?  I do all the time.  My answers are constantly changing.  I am definitely not the type of person who focuses on one thing.  I bounce around and follow both my heart and imagination.  I am exceedingly enrollable into any and all new ventures.  When I was younger, I bounced around at a much faster pace.  In the blink of an eye, I would be done with one thing and onto the next.  There was always such a drama about my passions, and to be honest, there still is a bit of drama (Life's no fun without some heat and impassioned discussions about which tomato variety to purchase, right?).  In a lot of ways, I love this quality in myself.  Especially now that I am older and the bouncing has become more focused.   Despite the fact that what I am doing at any given moment might change, I seem to have found a landing place in one particular field: Creation.
So, what is it that has you step forward and dive head first into life?  What is it that can get you to reach beyond where you dared not reach before?  The answer may or may not come immediately, or it may not come at all.  Be patient.  For me, it is creating.  My drive to create and share my creations has extended my reach time and time again.  This blog is a MAJOR example of that.  I travel in small circles (r e a l l y small), and have only a few very dear friends and close family members that I spend time with, and I have always been happy and satisfied with that.  But the internet and blog world are not small and insular.
If you want anyone to see what you've created, you can't wait around hoping someone will land on your site, you have to be proactive and create relationships.  This has not been my forte. Without my drive to create and share, I don't think I ever would have ventured outside of my previous mode of relating.  I have learned, and been exposed to so many people, foods, experiences, images, and tastes through this process, and I am deeply grateful for all of it.  (Not to mention it has made me more outgoing and inclusive of new people in my "real" life.)  Without my passion to drive me, I would have had no reason to muster the courage to change things and try something new.  Giving my passion the authority to hold the reigns, and not my personality and fears has made a huge difference.  My fears and personality can come along for the ride, but they don't need dictate where the car is going.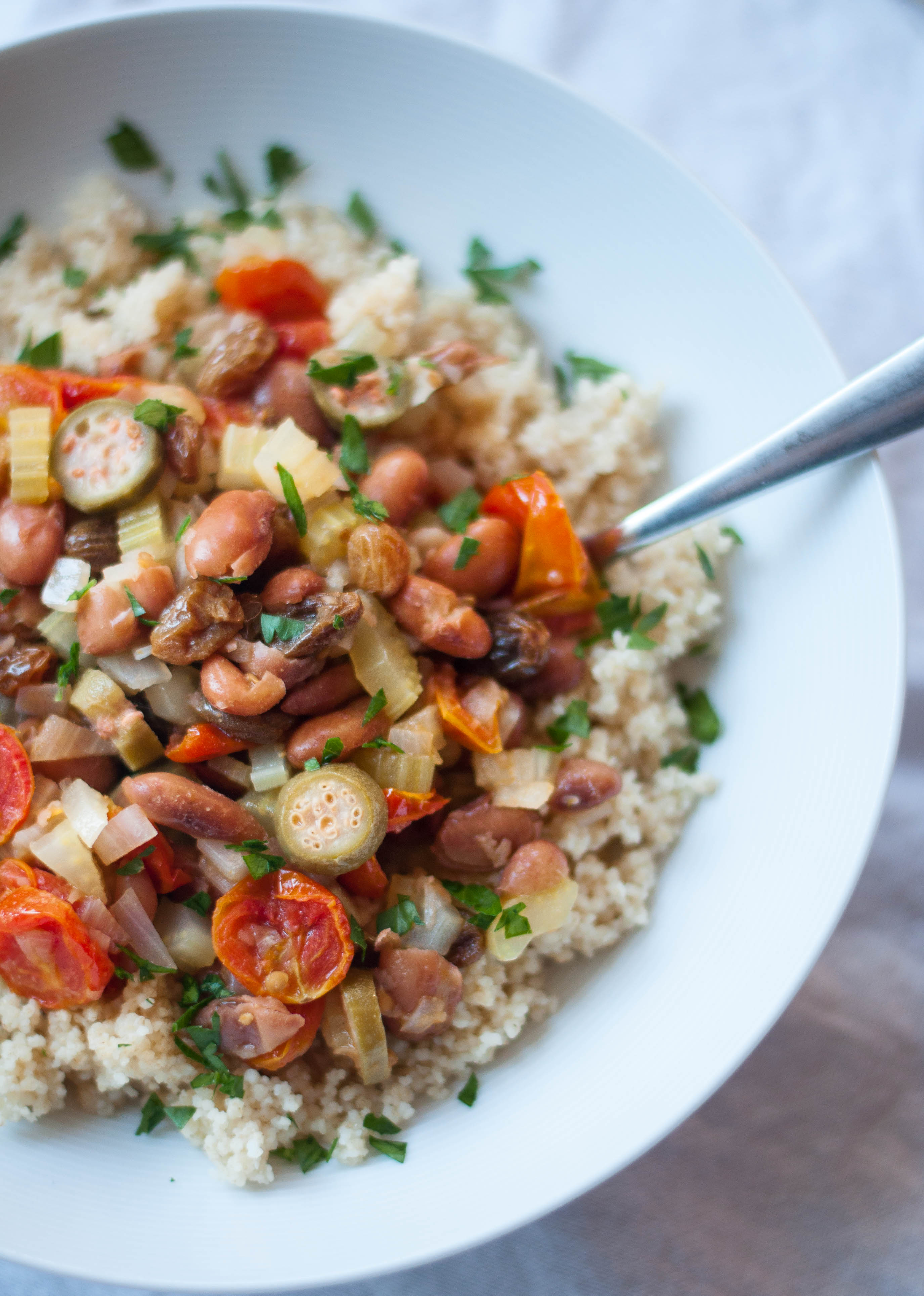 Here's another big question: if you know what you are passionate about, do you have the courage to follow that trail and continually pursue what brings you to life and life to you?  I say courage because, for most of us, we are frightened of truly being alive – full of joy, power, and vitality.  That might sound paradoxical, but I believe it to be so.  Have you ever had a really full and passion-filled experience?  Of course your answer is yes.  We all have.  But here's my question:  after one of those experiences have you ever noticed yourself retreating?  Emotionally, physically, or otherwise?  It is quite common.  When things in life are really good and we are passionately engaged in our endeavors, we can reach a point where we think it is too much.  I translate this to mean we are feeling more than we are comfortable with.  And we get scared.  We are afraid to feel this kind of power, joy, and passion.  These are the feelings associated with expressing ourselves in a deeply and uncompromisingly genuine way.  I could write a tome on the subject, but I will leave us with that for the moment…something for us all to think on and perhaps broaden our awareness of…
Now let's get back to me (my favorite conversation starter, hehe).  My answer to the above question right now is experiencing and sharing great tastes.  Creating a great taste for someone is a profound experience for me.  Watching their face change as the taste fills their mouth, mind, and body is magical.  I can see their state of being transcend, from the very cognitive to the spiritual, even if only for a brief moment.  And the greater the taste, the more dramatic the shift.  I live to create this experience.  I spoke about it in this post.  That "mmmmm" experience I refer to, when we taste something delicious, and our shoulders drop and heads roll back, has the power to push us outside of our daily realities and experience another type of reality.  A reality where feelings and sensations reign rather than thoughts.  This is what I search to create for myself and others.  A taste of the heavens.
Today's post is just such an experience.  We found a new restaurant recently and I have been eating my way through their menu.    The restaurant, Campagna, is in Bedford, NY, and the Chef has a distinct style that has opened my tastebuds to pickled flavors.  He makes a Branzino dish with a cranberry bean stew that blew my mind.  After several bites, I knew I wanted to recreate the bean stew in my kitchen.  Yet another thing that brings me to life, recreating great dishes in my own kitchen.  The process of working backwards to figure out how to achieve that flavor is like solving a puzzle.  It's my NY Times crossword puzzle.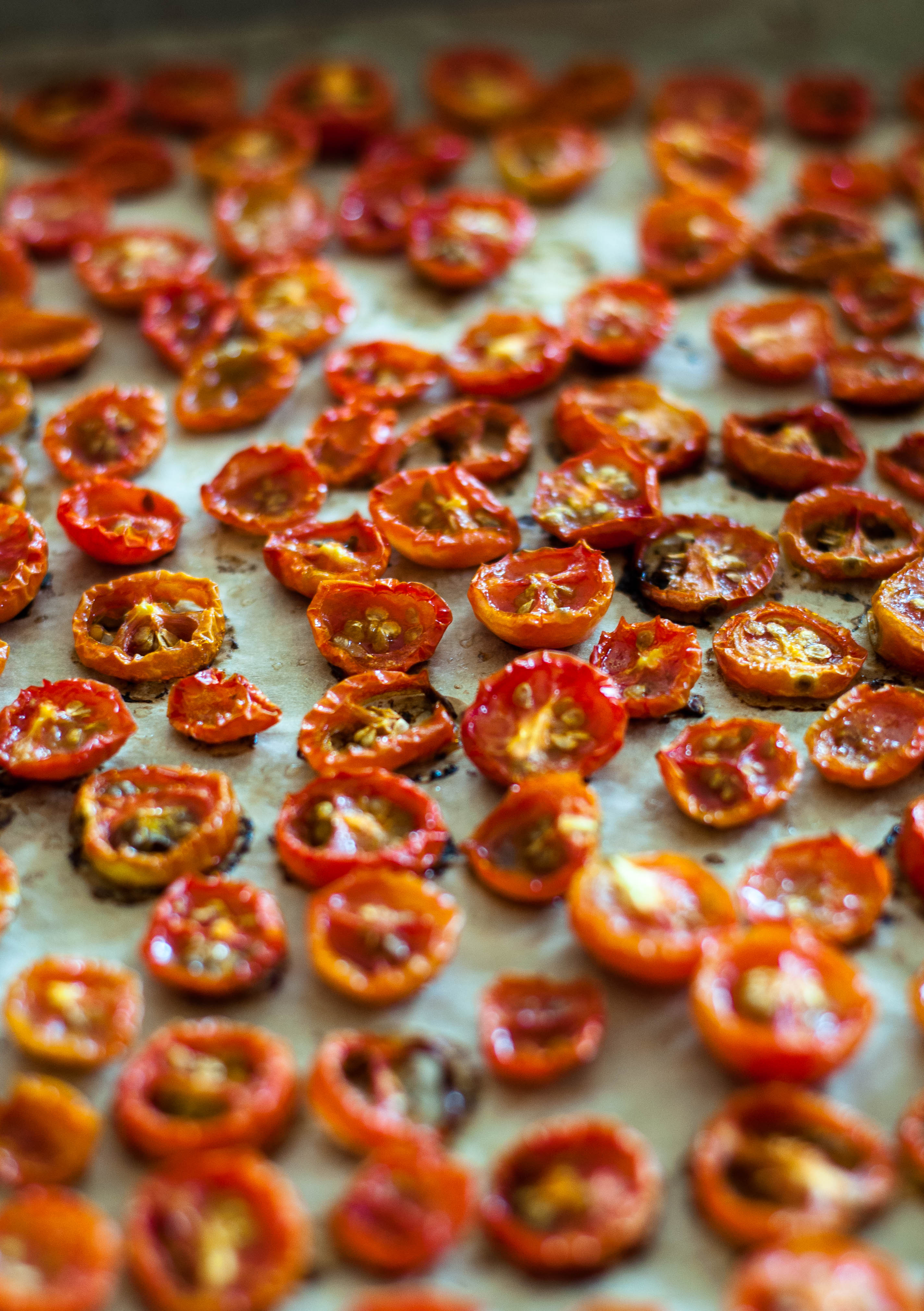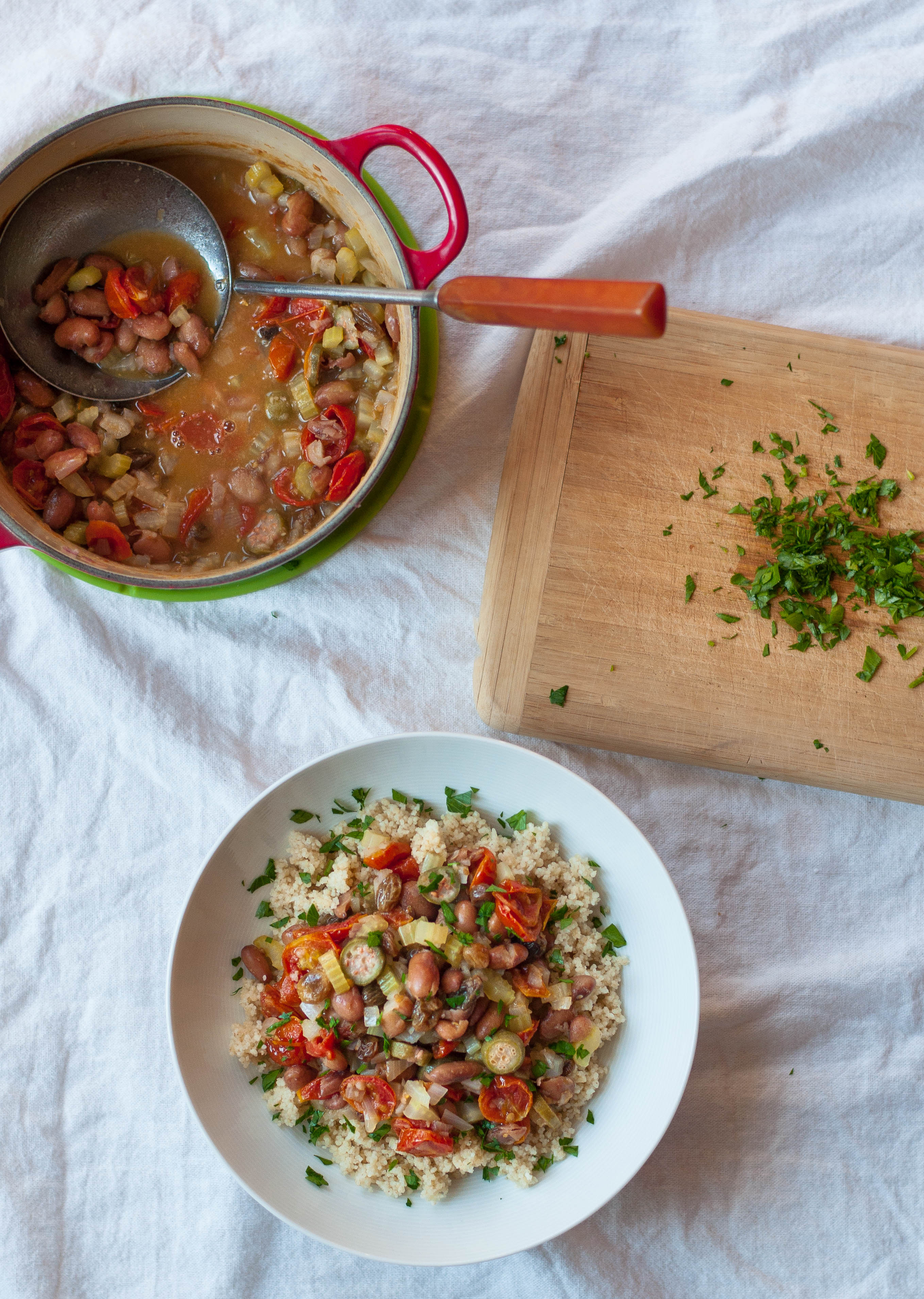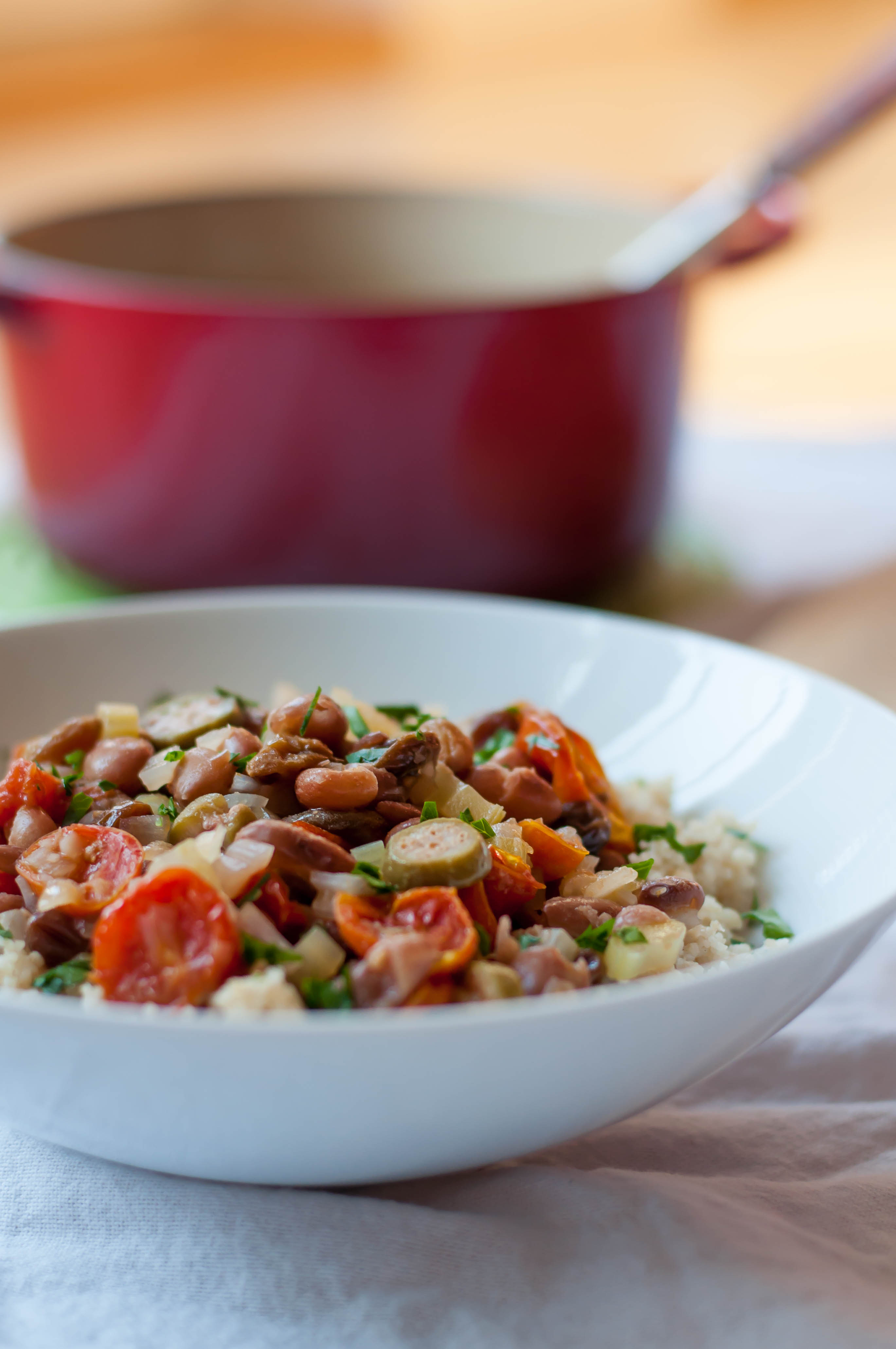 For my version, I decided to serve it over whole grain couscous.  You could use any grain or smother a piece of bread, or even have it all by itself in a bowl.  However you decide to enjoy it, I think the flavors will be delightfully different for your tastebuds.  I have never come across these combinations before.  The raisins are a perfect counterpoint to the caper berries and the cranberry beans themselves provide an amazingly rich flavor.  I love a good bowl of beans.
I hope you all enjoy!  I'll be busy this week eating lots of great food and sharing it with anyone willing to taste.  Here's to us all having the courage to follow our hearts and share what we learn, see, create, and become.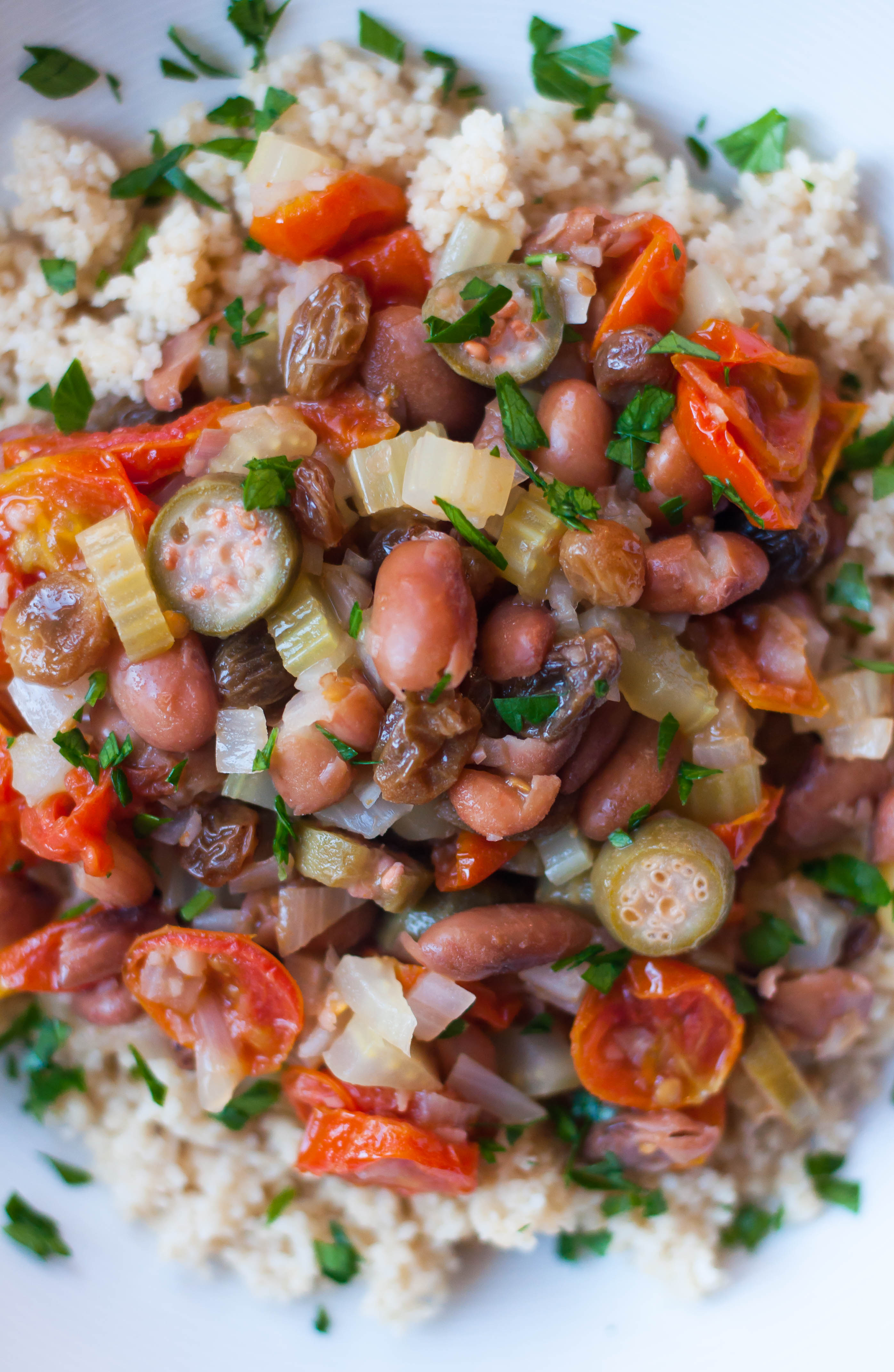 Cranberry Bean Stew with Caper Berries and Slow Roasted Tomatoes
Ingredients
1 Cup dried cranberry beans
5-6 Celery stalks
1 Container grape tomatoes (16 Oz.)
2 Shallots
8 - 10 Caper berries
½ - ¾ Cup golden raisins
Optional: Add some garlic for a great punch of flavor (I only left it out because it doesn't agree with me)
Couscous or grain of your choice (or serve atop toast)
Fresh parsley to garnish
Instructions
Cook the cranberry beans using your favorite method. I use two methods; one is a same-day method posted here and the other is a two-day method posted here. The beans can be made ahead and stored in the refrigerator (reserve bean liquid).
To roast the tomatoes, turn your oven to bake 350F and line a small baking tray with parchment paper.
Slice the tomatoes horizontally creating small circles.
Toss sliced tomatoes with some olive oil, a pinch of salt, and garlic if using. Lay out on the parchment paper prepared pan.
Place in oven for about an hour or until the tomatoes look well roasted and wrinkly around the edges. Check them frequently towards the end of the cook time to make sure they do not start to burn.
Prepare the grain you want to serve the stew on and cook according to package instructions.
Finely dice your celery and shallots while the tomatoes cook.
About 25 minutes before your tomatoes are ready, begin sautéing your celery and shallots in a large pot with some olive oil and a pinch of salt.
Sauté until they are soft. (If using garlic, add to celery and shallots just before mixing in the beans.)
Add in the roasted tomatoes and cranberry beans including some of the bean cooking liquid. Depending on how thick or loose you want the stew, add the appropriate amount of bean liquid.
Slice your caper berries the same way you did the tomatoes and add into the stew along with the raisins.
Taste and adjust seasoning as needed, adding more salt or other seasonings as you like.
Cook until the mixture is nice and bubbly and all of the flavors have had time to mix and mingle. About 25 minutes.
Serve heaping spoonfuls over your couscous and chop some fresh parsley to garnish.
Notes
Prep time does not include the time it takes to cook the beans.