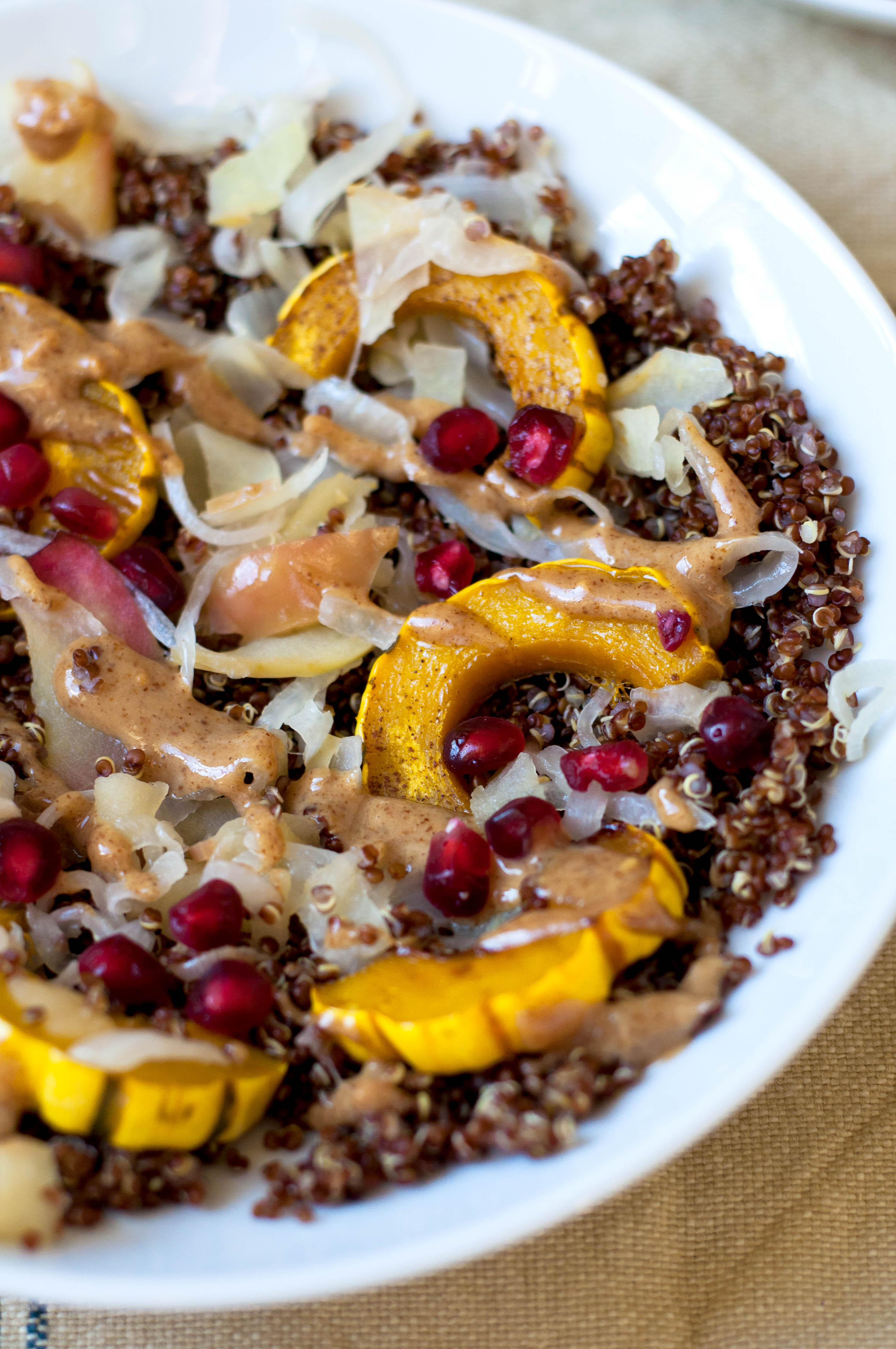 My fork pierces through a perfectly tender slice of delicata squash, and I strategically maneuver it through the quinoa mounds and apple & onion valleys, ensuring that I collect a perfect balance of ingredients before lifting it to my mouth.  As the flavors meet my tastebuds, I sigh in delight.  This I like.
I turn to my sister, "Mmmmm, taste this" I say, scooping up another bite and carefully passing her a loaded forkful.  "Mmmm!  So good!" she exclaims.  Her mouth still full of food.  I giggle.  She giggles.  We grab our forks and eat until our bellies are full.
"Mmmm, taste this" pretty much sums up what my life has been about thus far and what I want it to be about going forward.  Step 1: Love something.  Step 2: Share it.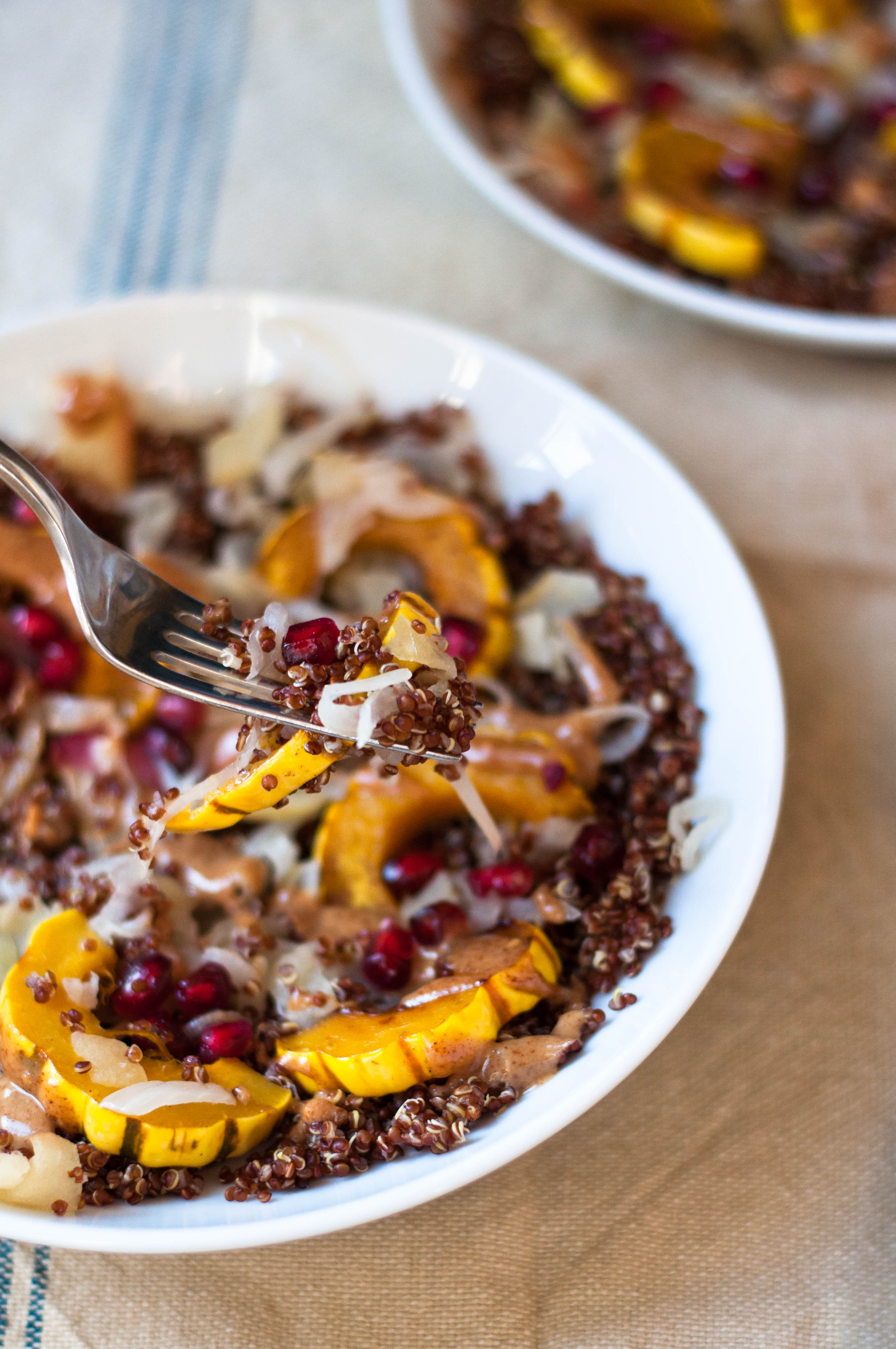 With the celebration of Thanksgiving coming to the US on Thursday, I feel particularly filled with gratitude.  And sharing is very much on my mind.  It is a time we can come together and share a meal with our loved ones and provide for those who don't have the means to feed their families on this traditionally abundant holiday.  It's a time that we can remember and share memories of those who still fill our hearts and thoughts, but that we can no longer hold and embrace.  It is a time to share joy, laughter, great food, ideas, and love.
This impetus to share is what gets me out of bed in the morning with a broad smile and a happy heart.  "Today I get to share something."  I know that might sound hokey.  Perhaps REALLY hokey.  And you might have just cringed a little bit.  But really, what could be better than the experience of sharing?  To first have something that you consider to be great and then to have the means, ability, and opportunity to give that to someone else; what is better than that?  Don't we all live for this?  Whether what's shared is an idea, or an image, or a delicious meal, or anything at all, both parties are made better.  After School Specials aside, sharing is the best!  Haters be gone.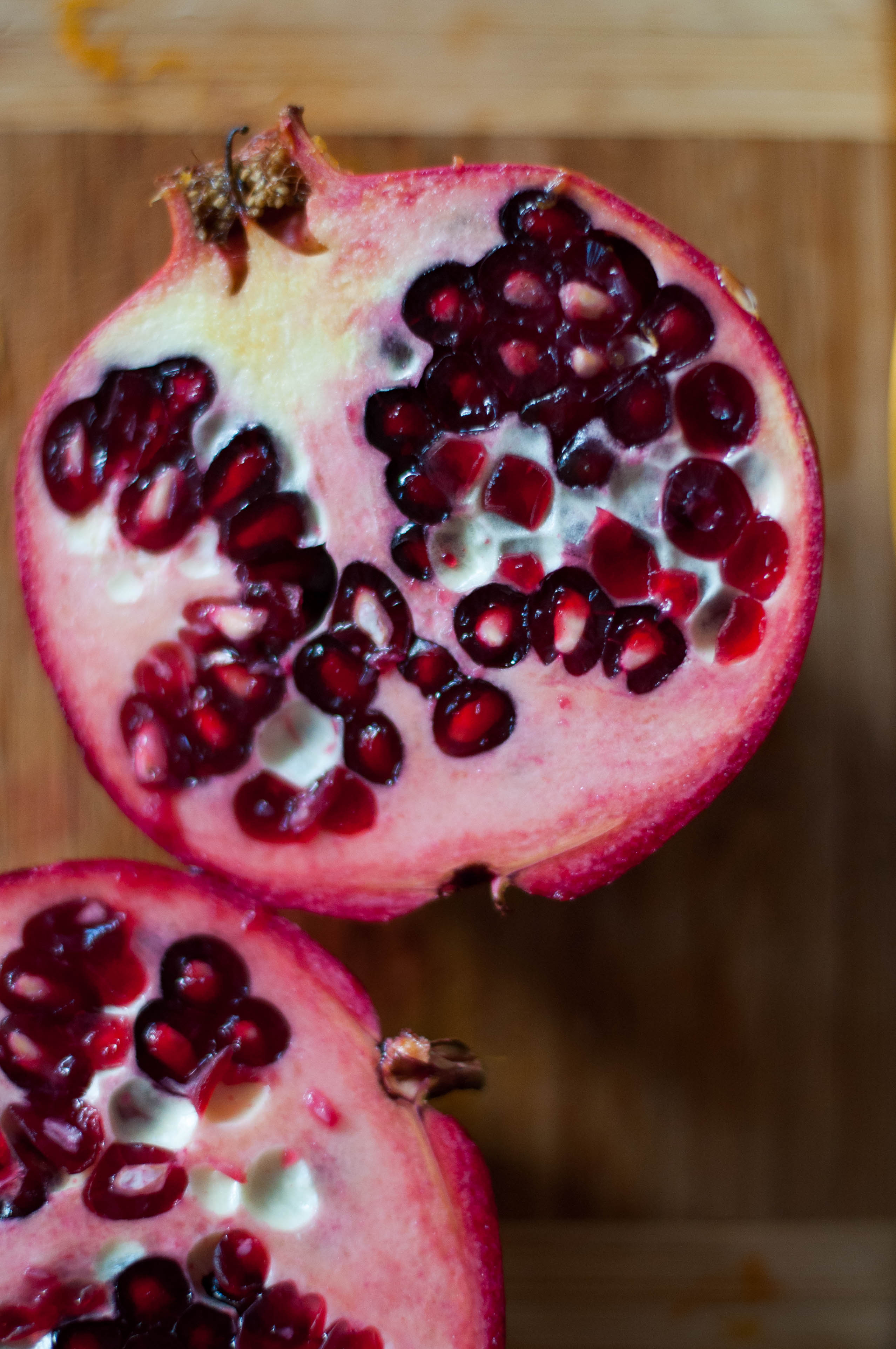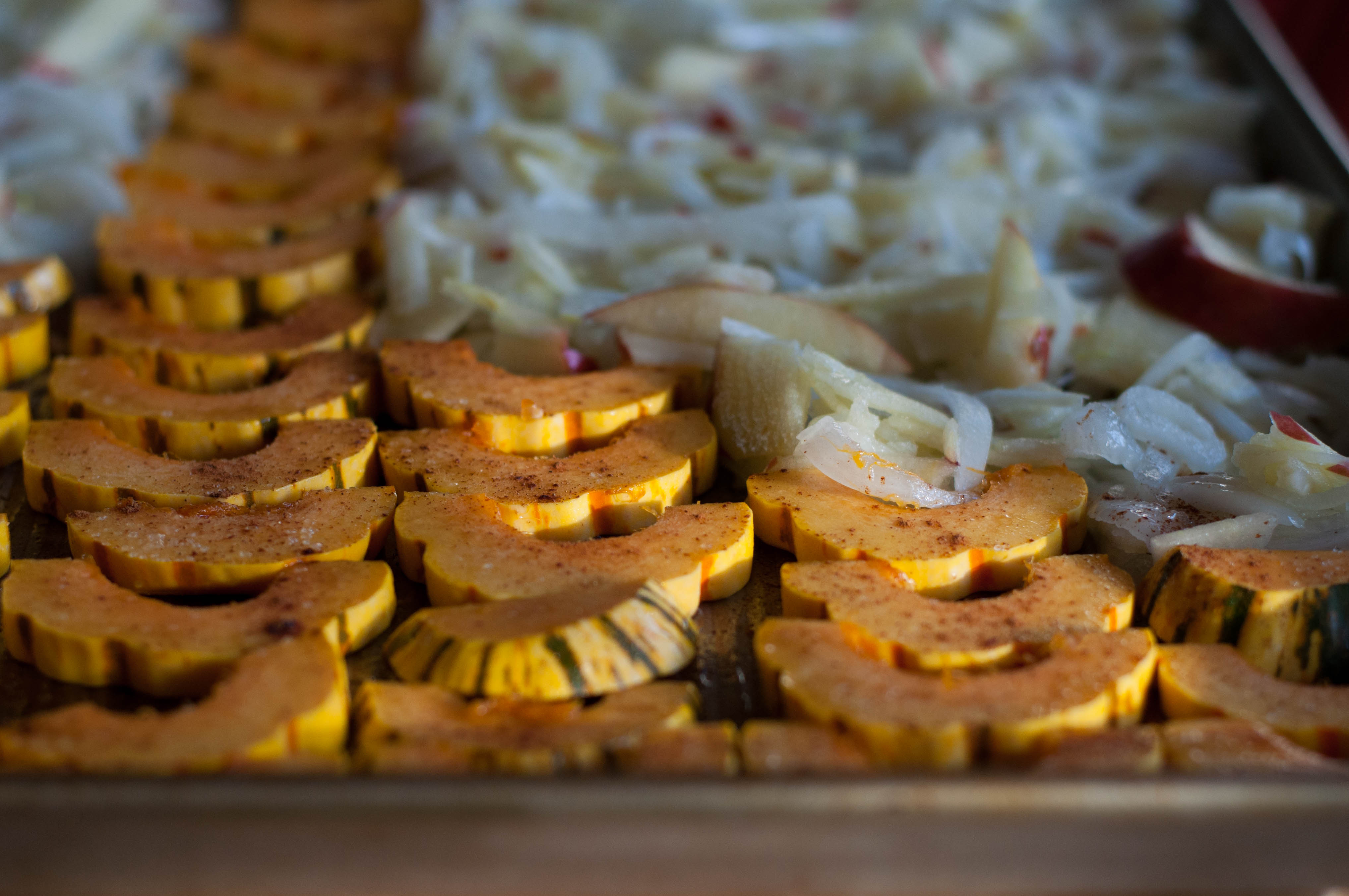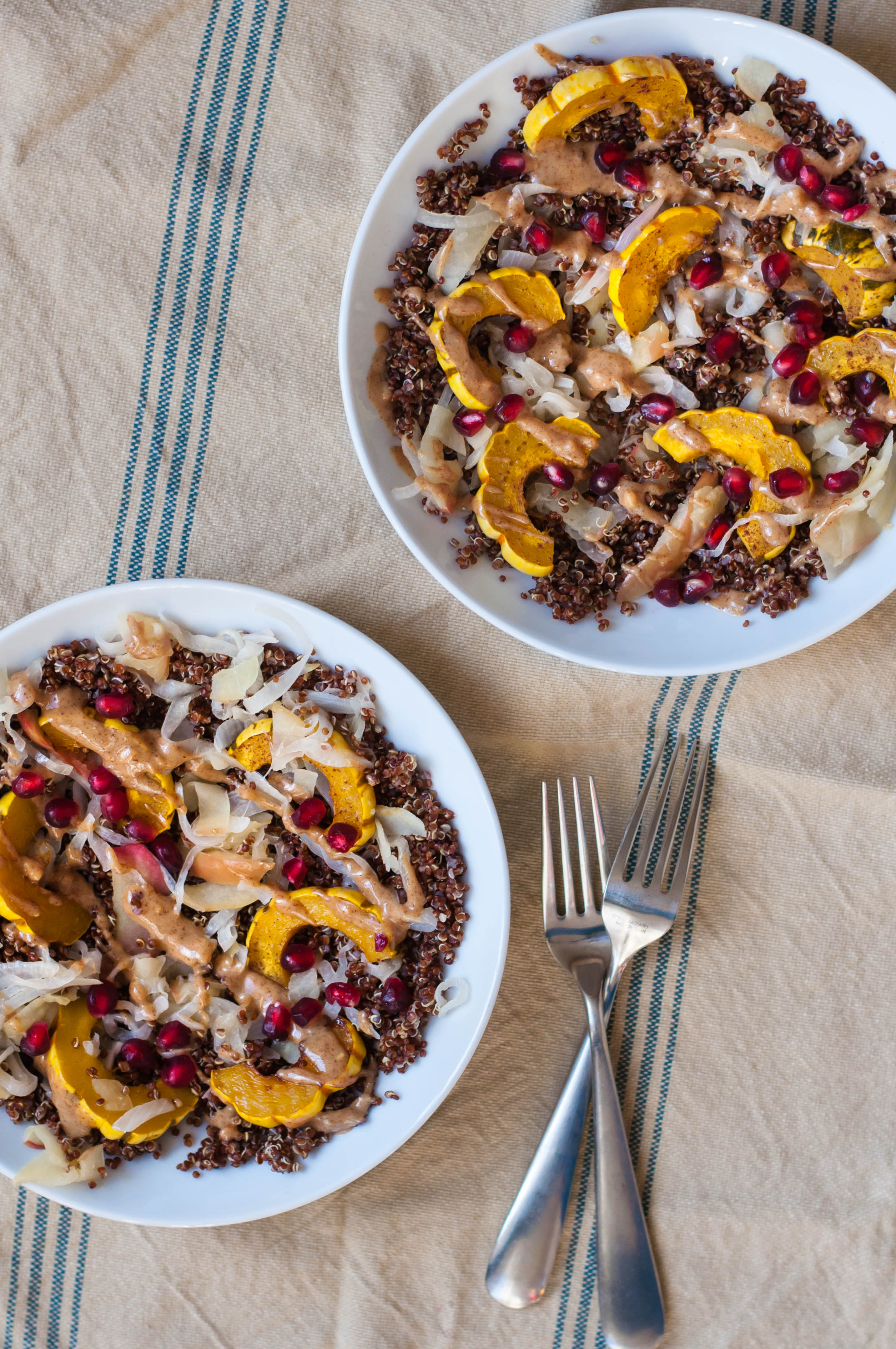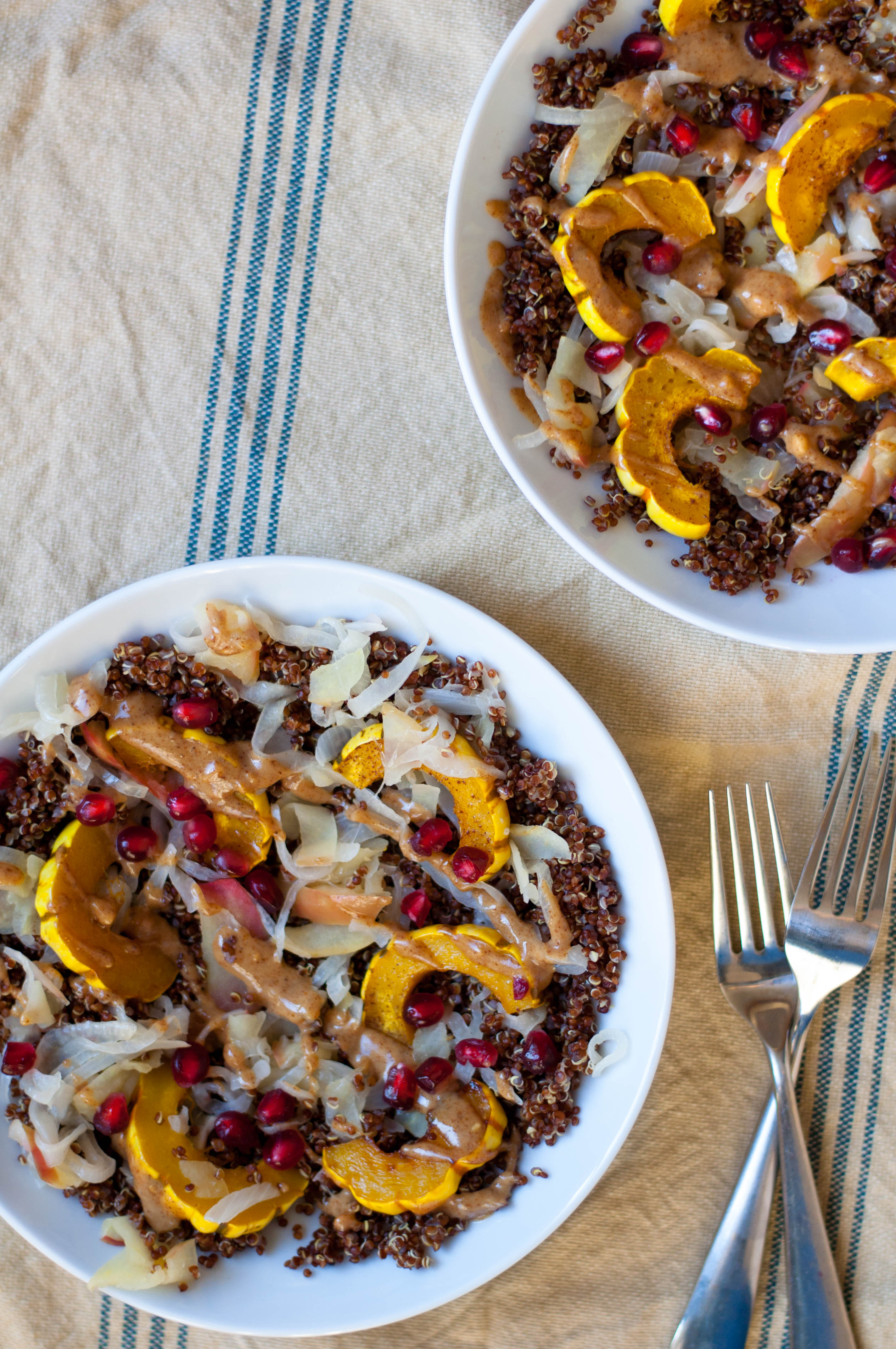 I love to cook (obviously) and experiment with flavors.  I also love inspiring people to discover a way of eating that feels right and good for them.  What do you love?  Whatever that is, I bet you love sharing it with others.  In that vein, I am sharing this vegetarian and vegan Thanksgiving dish with you today.  It is perfectly seasonal and conjures up some classic Thanksgiving flavor, while also putting a new spin on things.  It's an excellent option if you or any of your guests are vegan, vegetarian, and/or gluten free.  It is filling enough to be a main course and will also shine as a side.  The apples and onions are "pickled" with apple cider vinegar and the flavors are not to be missed.  I may or may not be obsessed with pomegranate.  OK;  I definitely am.  I threw it into the salad for a sweet and delicious crunch.  If you don't want to wrestle a pomegranate amidst the rest of your turkey day to-dos, no worries; this dish is delicious sans pom.
Happy Thanksgiving!  I hope you find new and deeper ways of sharing what it is that brings you to life, makes you happy, and inspires you.  The world needs more of you.  So go out there and share it.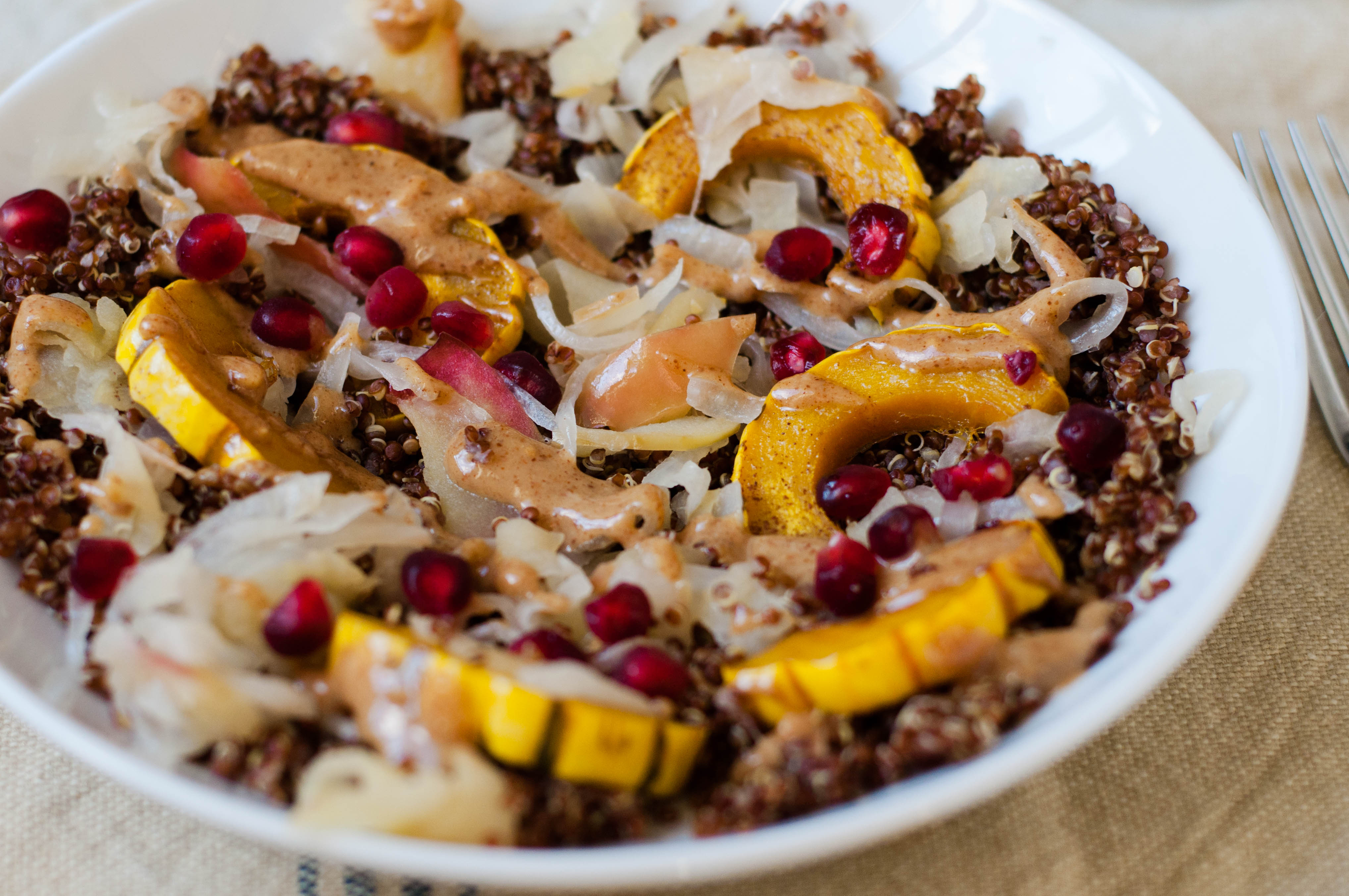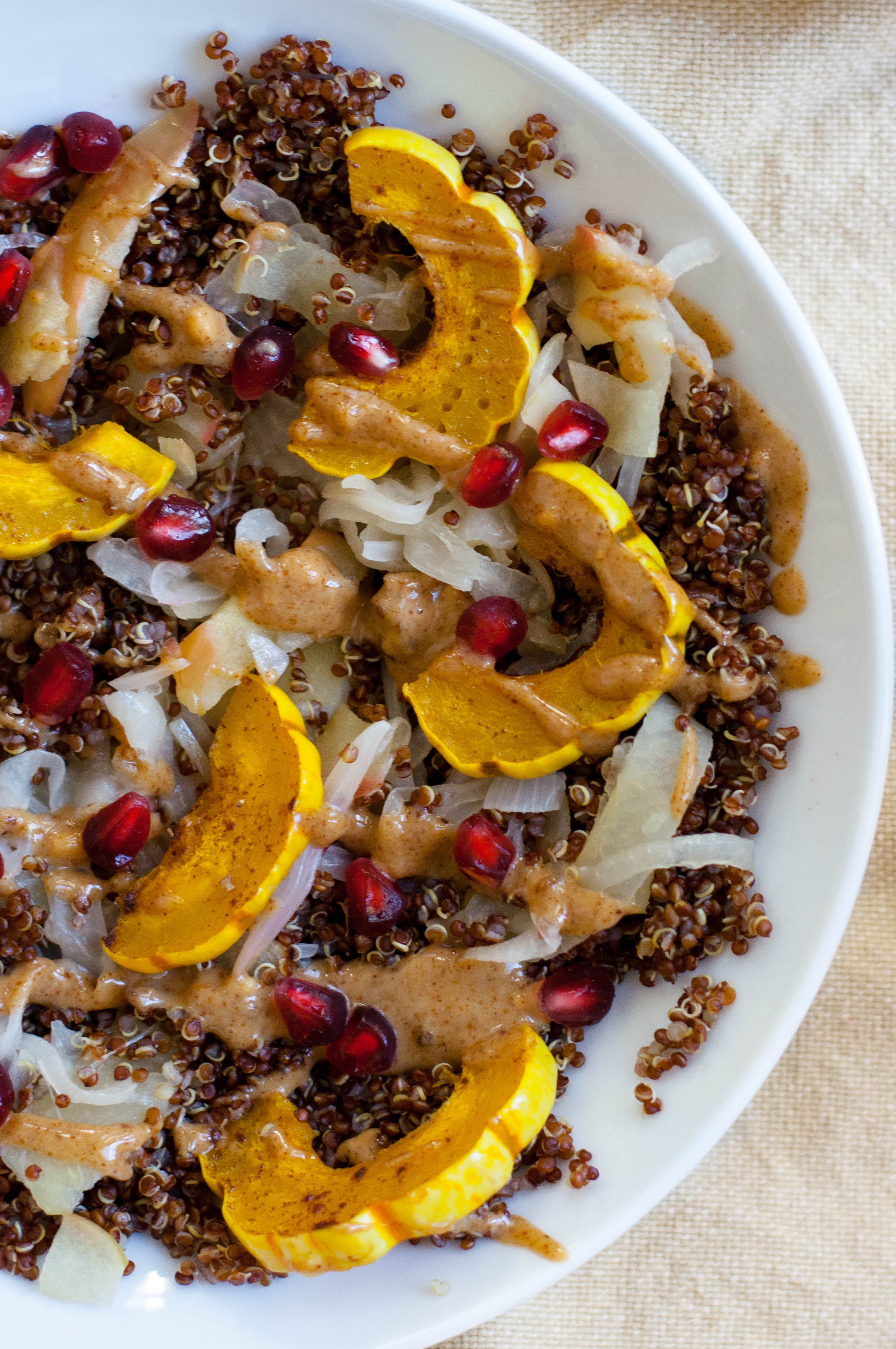 Toasted Quinoa Delicata Squash Bowls, Pickled Apples & Almond Butter Sauce
Ingredients
For the bowls:
1 Medium sized sweet onion
1 Medium sized honey crisp apple
1 Delicata squash
1 Tablespoon apple cider vinegar
1 Tablespoon olive oil
½ Teaspoon maple syrup
About 2 cups cooked red quinoa
Pomegranate arils
Salt to taste
For the almond butter sauce:
¼ Cup smooth almond butter
½ Teaspoon apple cider vinegar
¼ Teaspoon maple syrup
¼ Teaspoon cinnamon
Salt to taste
¼ Cup hot water
Instructions
To make the bowls:
Preheat oven to 375F bake.
Rinse quinoa and toast it in a skillet until it is dry and aromatic (about 5 minutes). Cook your quinoa according to package instructions.
Using a mandolin, slice your onion into thin coils.
Slice your apple into thin strips.
Combine apple, onion, apple cider vinegar, oil, maple syrup, and salt in a large bowl. Mix well and set aside.
Slice your delicata squash in half lengthwise. Scoop out the seeds. Then cut into ¼" slices.
Drizzle some oil over the chopped squash and toss with a pinch of salt. Lay out on a baking sheet and sprinkle with cinnamon.
Lay the apple and onion mixture on the other half of the baking tray.
Cook for about thirty minutes, turning and mixing the apples and onions halfway through the cook time. The squash should yield easily to an inserted fork when it's done.
To make the sauce:
Combine all sauce ingredients. Add the hot water gradually, mixing until a thick but pourable sauce is achieved. Taste and adjust seasoning as necessary. I like it salty.
Layer bowls as follows: quinoa, apples/onions, delicate squash, almond butter sauce, and pomegranate arils.