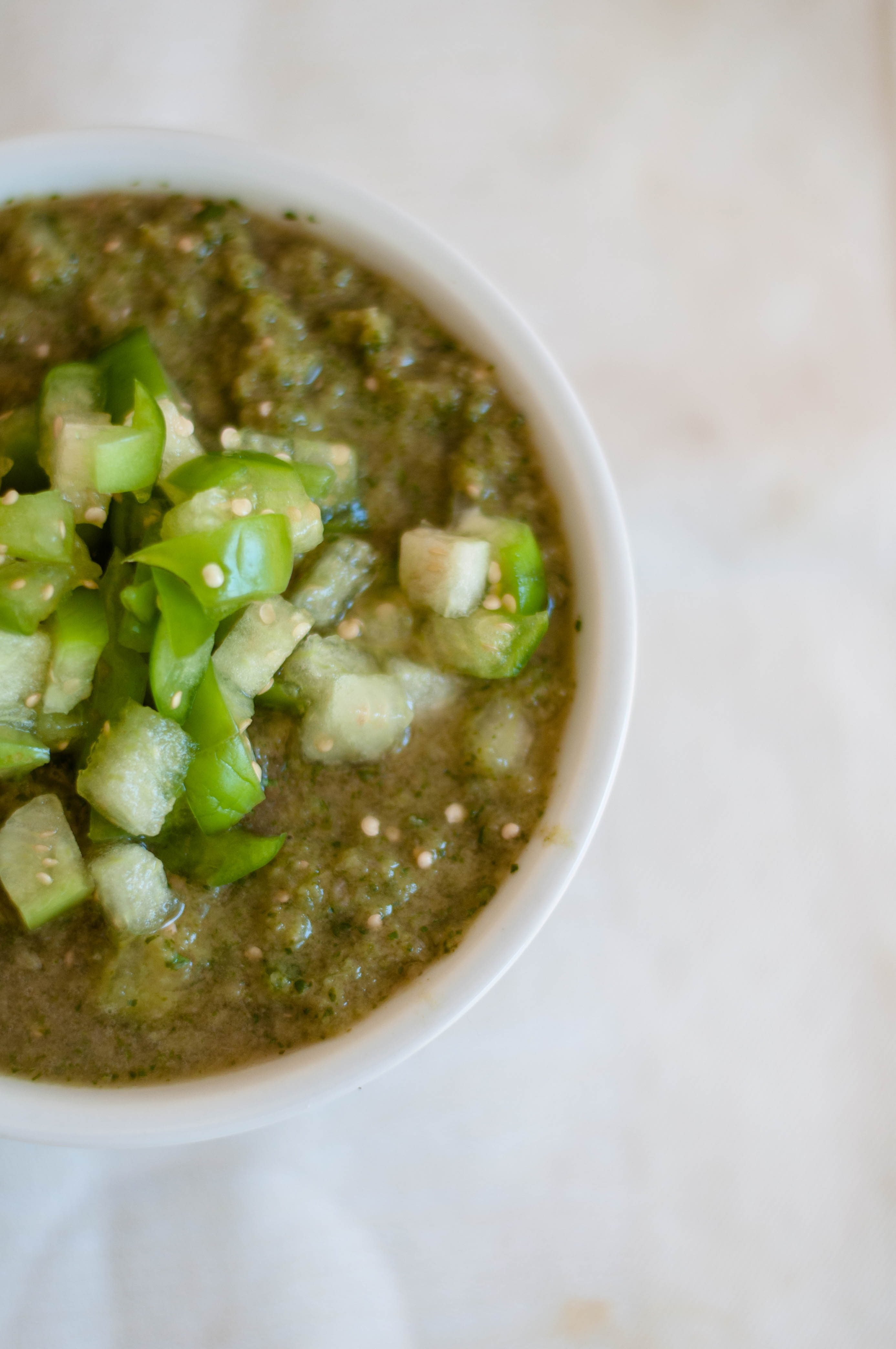 I haven't had salsa and chips for years.  Years!  This recipe is a revelation to my spicy-deprived tastebuds.  I am so happy I could shriek.  EEEeeee!  Shortly after college I developed a sensitivity to garlic, and subsequently to all things spicy.  It was terrible in so many ways!  Eventually, I came up with creative ways that I could still enjoy my favorite dishes sans garlic and chili.  But I always longed for the counterpoint that garlic and spiciness offered.  Enter THIS pepper and garlic-free salsa! EEEeeee!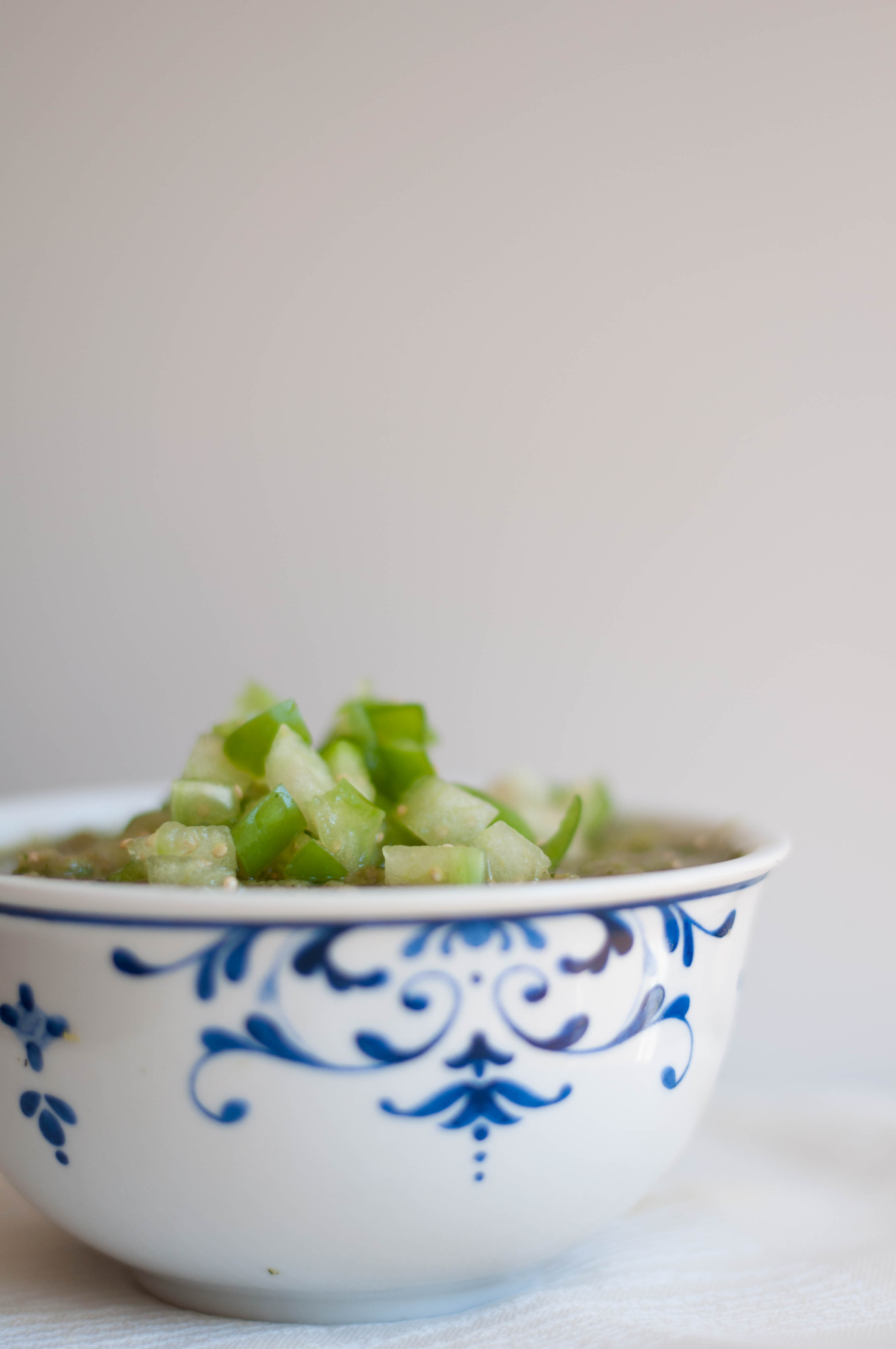 Tastebuds, meet tomatillo.   We (my tastebuds and I) are completely and totally smitten.  I can't get over how beautiful these green little martians are.  The way they explode from their shells is extraterrestrial.  And the taste!  Quite unlike anything.  Most importantly, I finally have that tangy, mystical, spicy, potent flavor that has been missing from all of my Mexican-style meals back in my life!  EEEeeee!  (Last shriek, I mostly promise…I might not be able to contain myself over the pita chips!)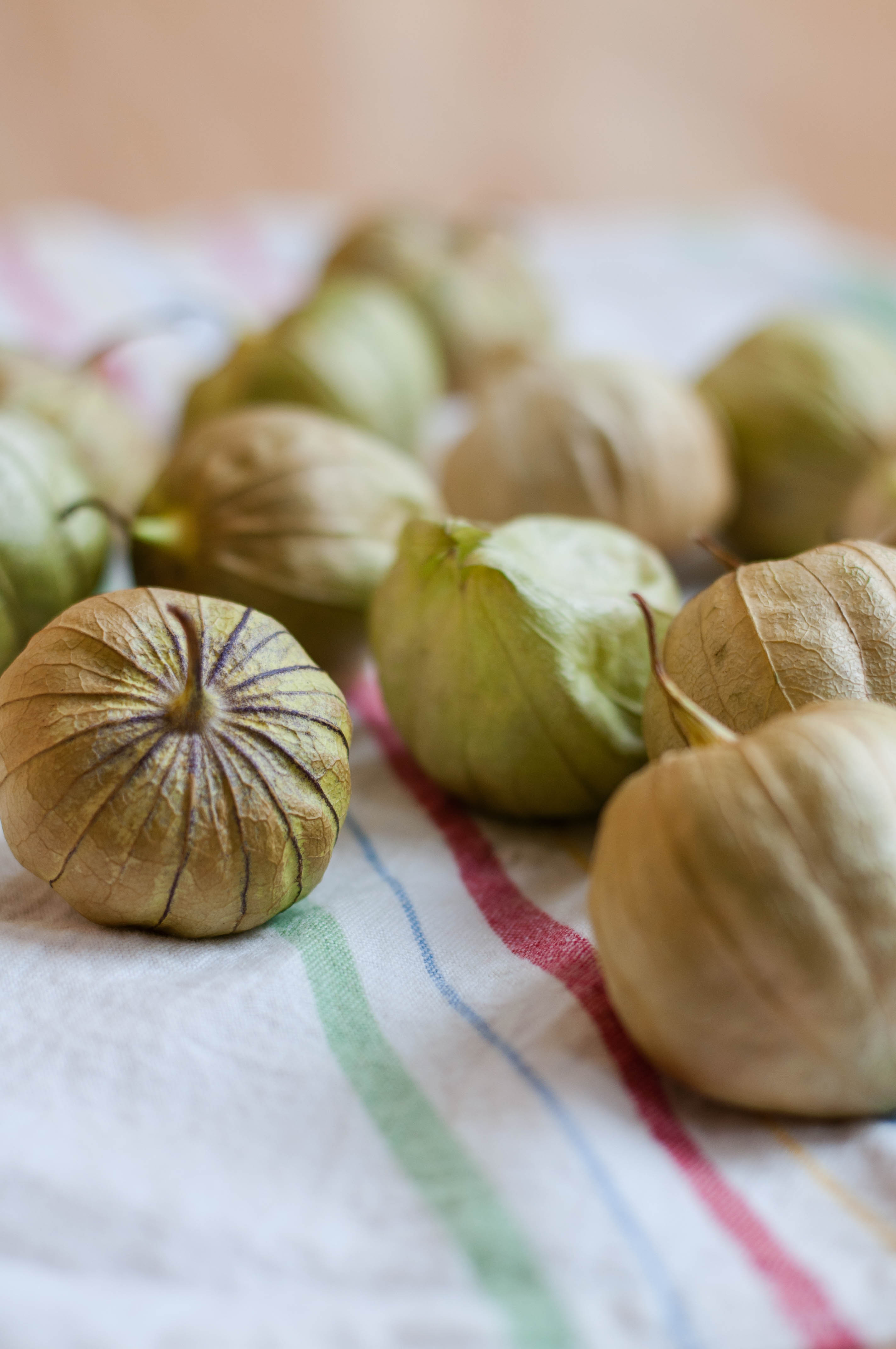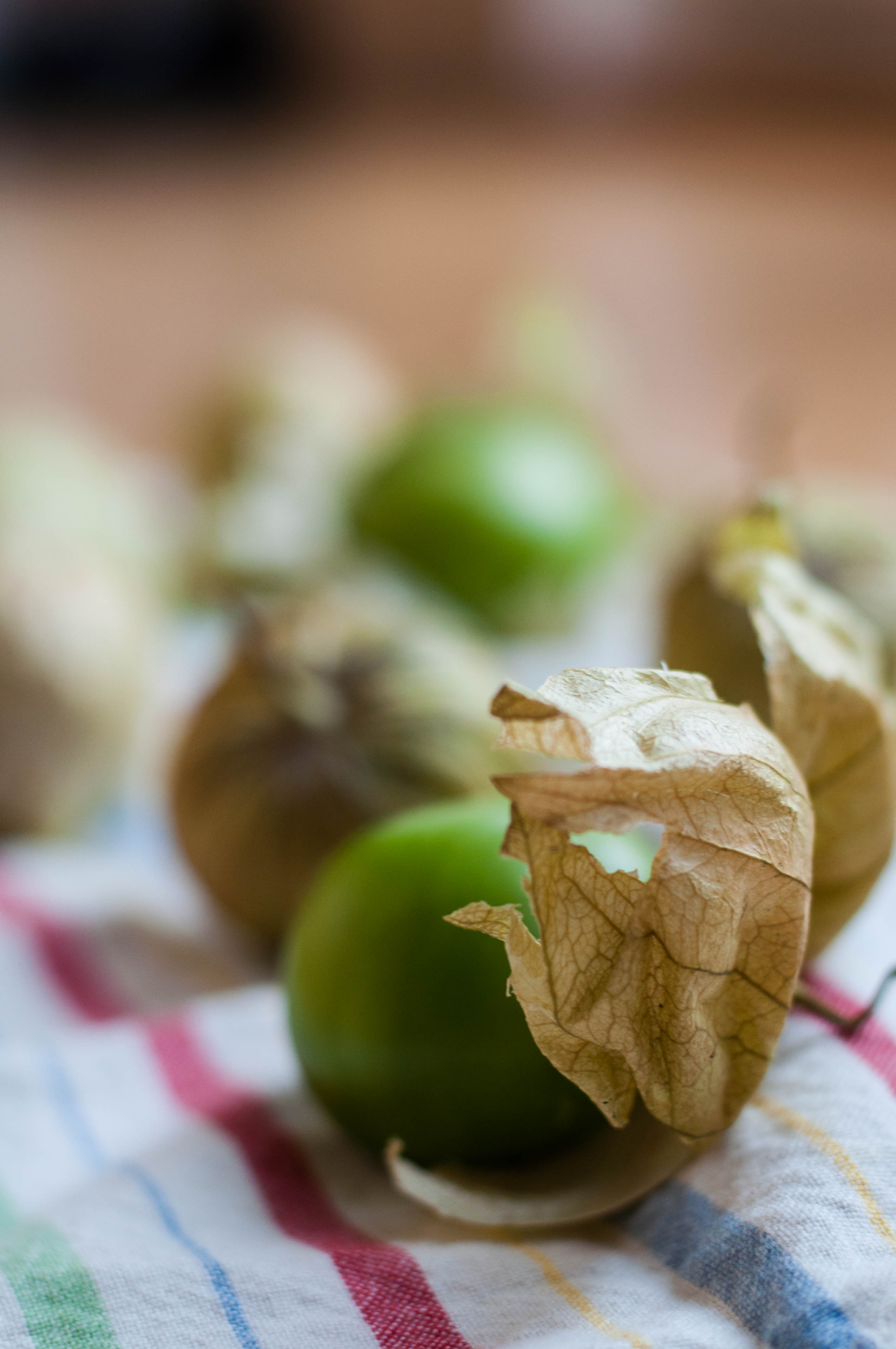 Don't get me wrong. I've heard of tomatillos countless times (the rock that I live under lets bits of light in occasionally), but I never took the time to investigate these fascinating…fruits?  Yes, tomatillos are fruits (xo Wikipedia).  Think tomato meets citrus.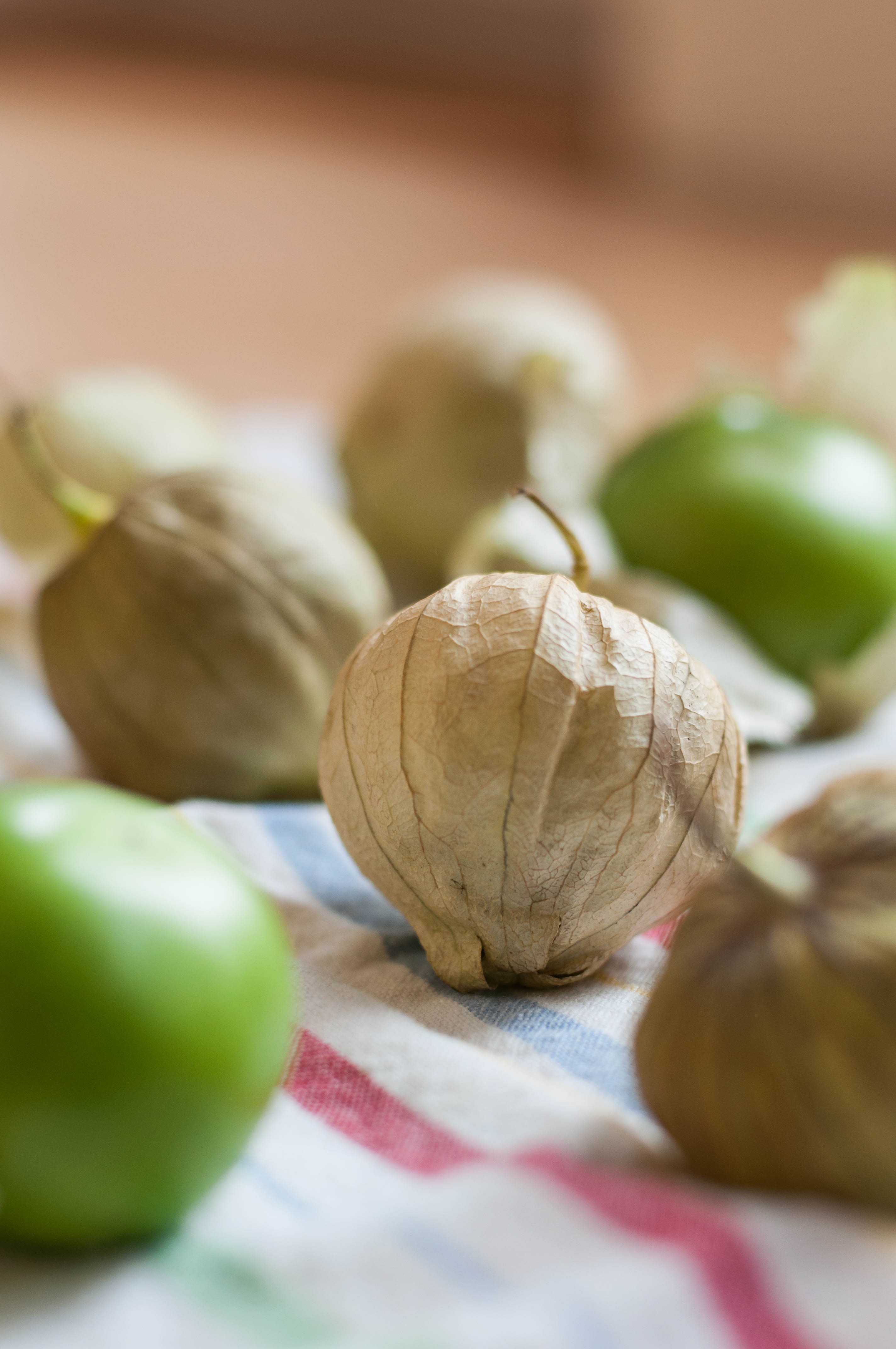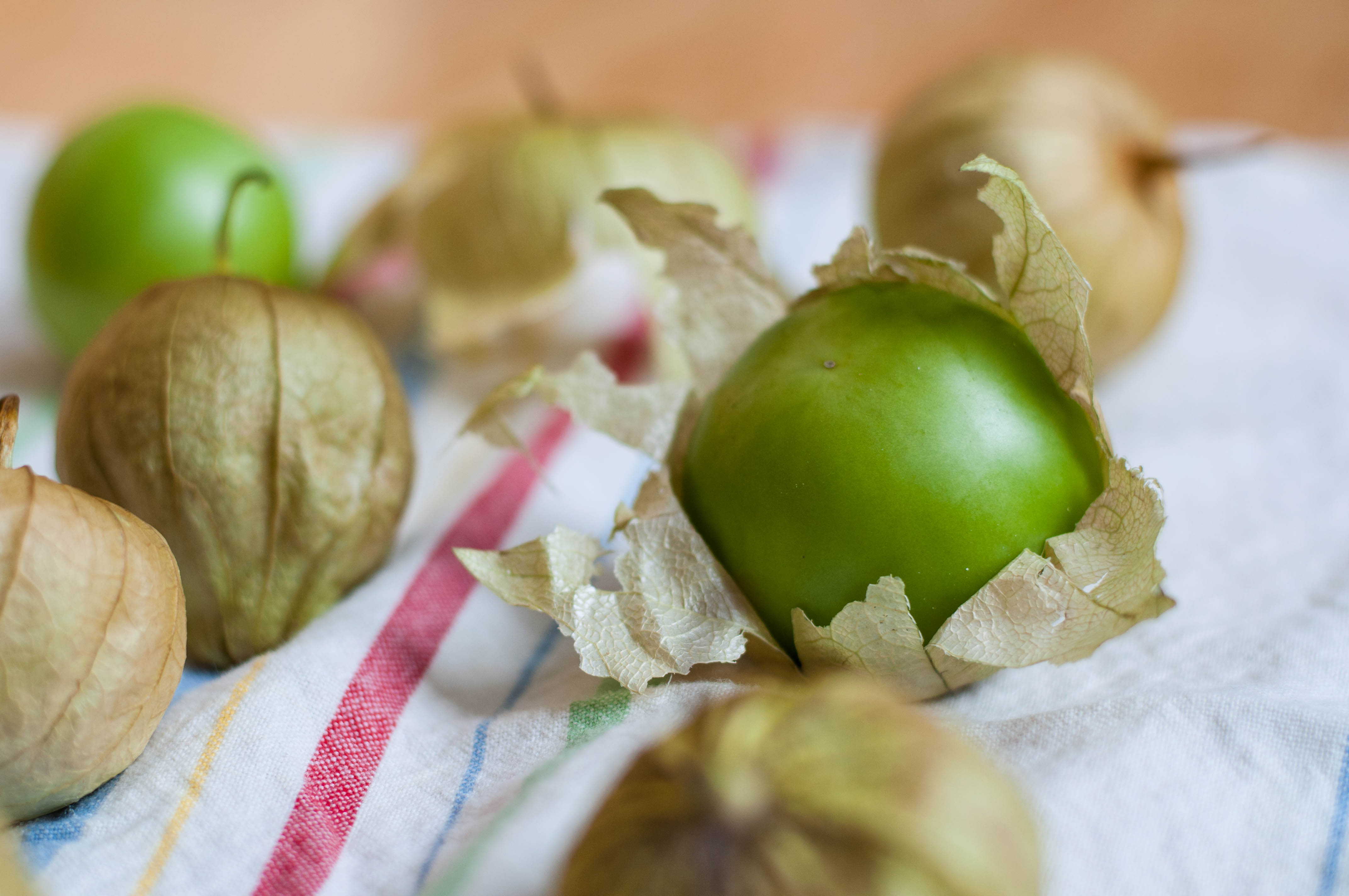 After unloading our giant farmers market haul last weekend, I came upon the tomatillos that I impulsively purchased. (I think farmers markets get away with charging so much because everyone is so excited to be there that we just fill our canvas totes with random vegetables and dreams of being Julia Child/Martha Stewart).  But that's OK.  Dreams of kitchen/creative prowess and supporting local farmers is a good way to spend a Saturday.
So, I slice into my tomatillo expecting to have a slightly exotic tomato.  Wrong!  The second I tasted it, my tastebuds screamed SALSA!  I hadn't had a flavor similar to this in years.  I was instantly bombarded with a hundred (OK, two) ideas.  After googling, I see that turning tomatillos into salsa has occurred to a few others (781,000 others, if you want to be picky about it).
Tomatillo salsa might be old news, but I think my recipe puts a new twist on the classic.  This salsa is for all those who can't enjoy garlic or jalapeños, or any other type of spicy ingredient.  Some of you might be thinking that I removed all of the best ingredients. (Sorry.)  But I think my sensitivity is actually quite common.  Check your local grocery store aisle for the insane amount of acid/indigestion medications!  I think there are a lot of people experiencing the same discomfort that I used to feel after eating spicy or garlicky meals, but instead of changing their diets, they medicate themselves.  I was and am unwilling to not feel good and equally unwilling to take a pill everyday for a condition that I was inflicting upon myself!  So, I offer this recipe for anyone who might have this same sensitivity, or for anyone who cooks for or knows someone who could benefit from a garlic/chili-free salsa.  There is a world of food out there that you can eat…AND feel well.  You just have to be willing to experiment.
I think you are going to be thrilled with this salsa!  It is delicious and tangy and inexplicably spicy without ACTUALLY being spicy.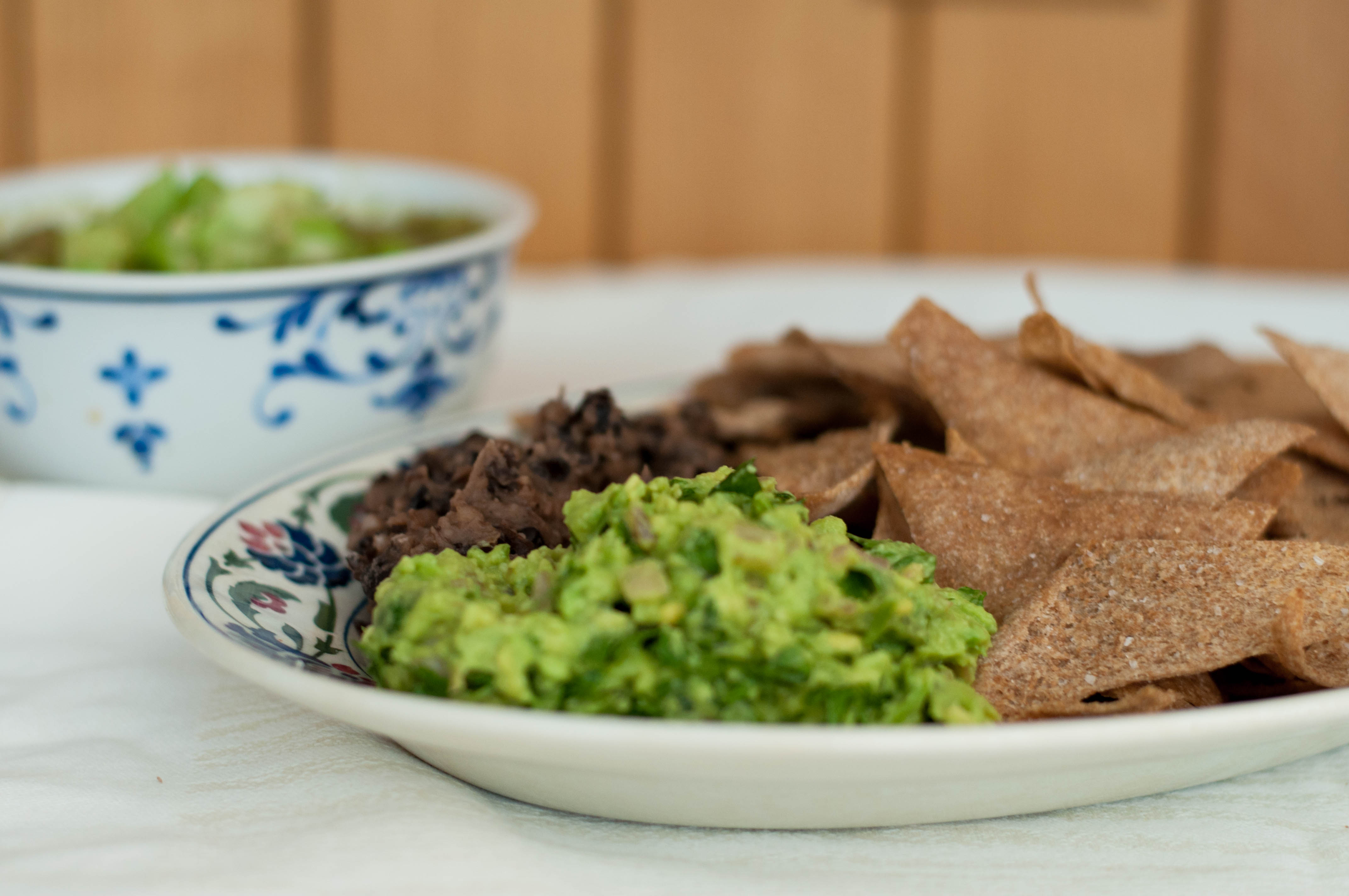 I made some pita chips out of my whole grain pitas to go along with the salsa and they do not disappoint!  So crunchy and flavorful.  You could make the chips from store-bought pita too, but believe me when I tell you the homemade version is WAY better, and I imagine it is difficult and expensive to find a good 100% whole grain pita at the market.  My way is inexpensive, tastes better, and is really homestead-y (I even grind my own flour)…you'll feel like a kitchen rockstar after watching your first pita puff up into a balloon in the oven.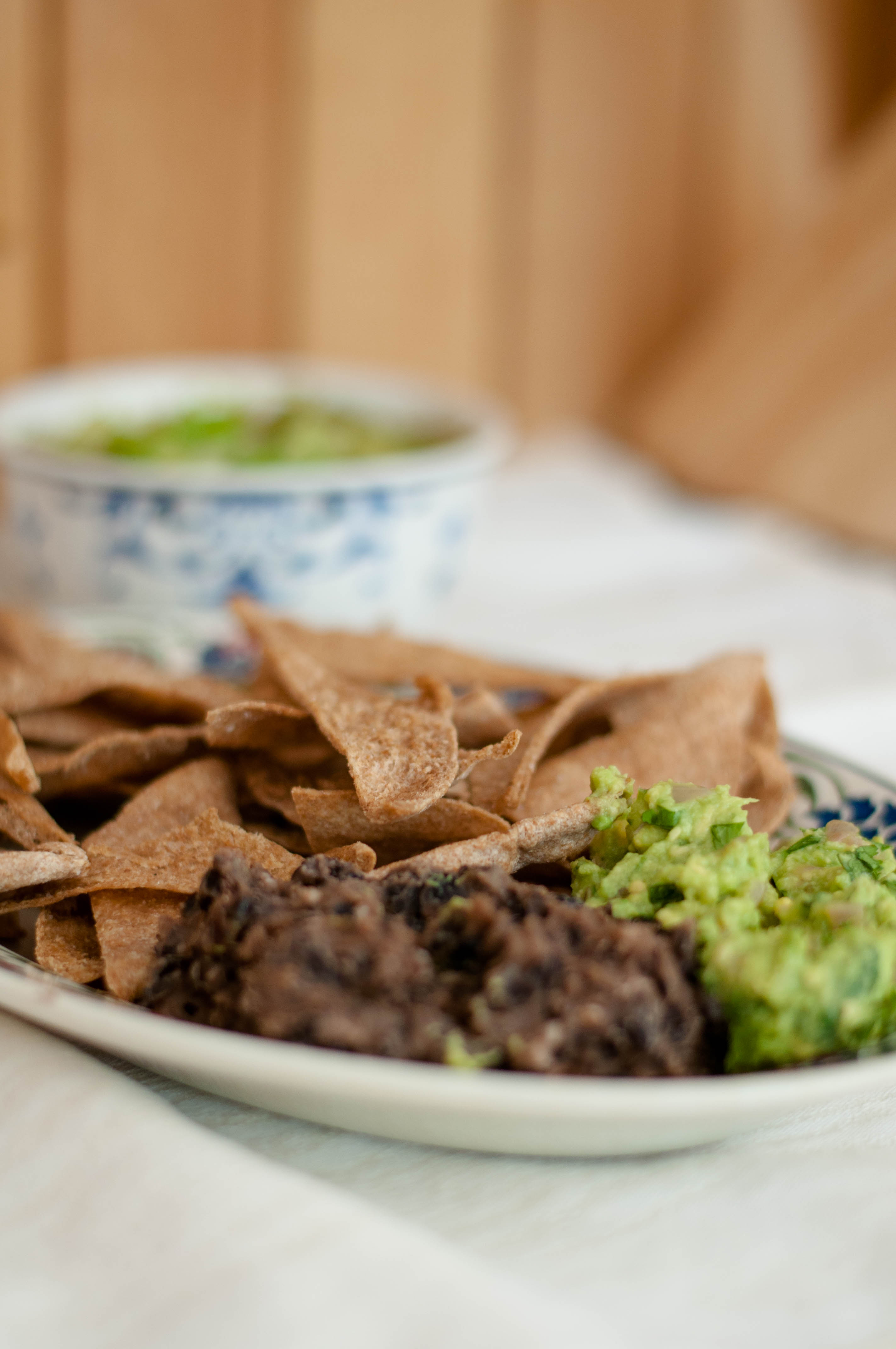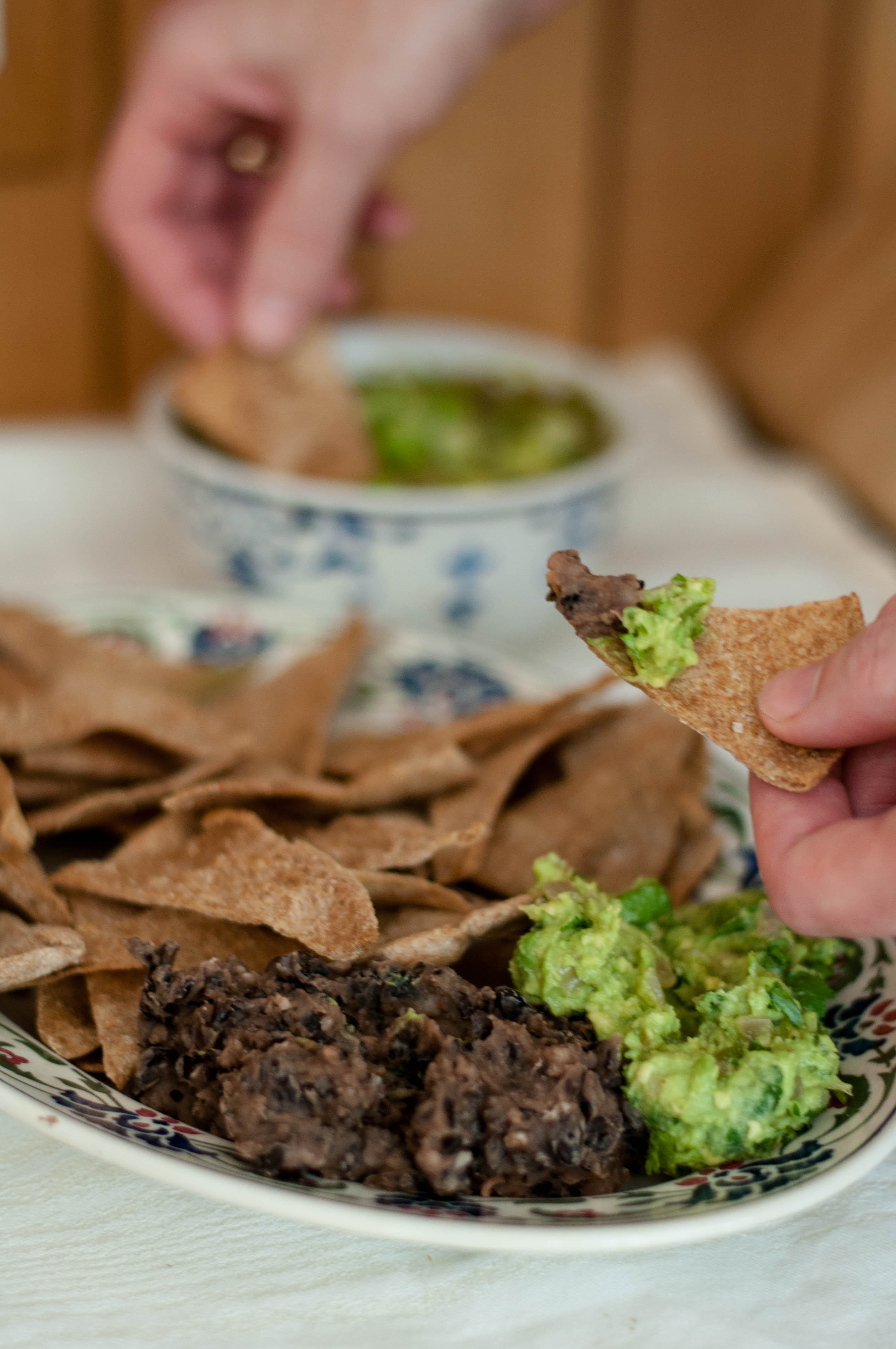 To go along with the salsa, I made guacamole and a black bean dip, both spicy free.  Just as with the pitas, I recommend making your beans from scratch.  The difference is significant.  I had sworn off black beans several months ago.  The variety I was getting had an awful secondary taste that disrupted every dish they were added to.  I shared my dislike with my mother, and being the delicious and wonderful mom that she is, she found a new variety of black beans for me.  The variety is Black Valentine and I get them from Purcell Mountain Farms . They are EXCELLENT.  I highly recommend them (and no, this is not a sponsored post).
I tried a new method for making the beans that doesn't require soaking the beans the night before.  Occasionally I am caught off guard by my desire for beans, and having to wait 12 hours for them to soak is a major downer.  With this method, they are done in about four hours (see recipe notes).  So far, I have only tried the method with black beans.
Chips and salsa back in my life!  EEEeee!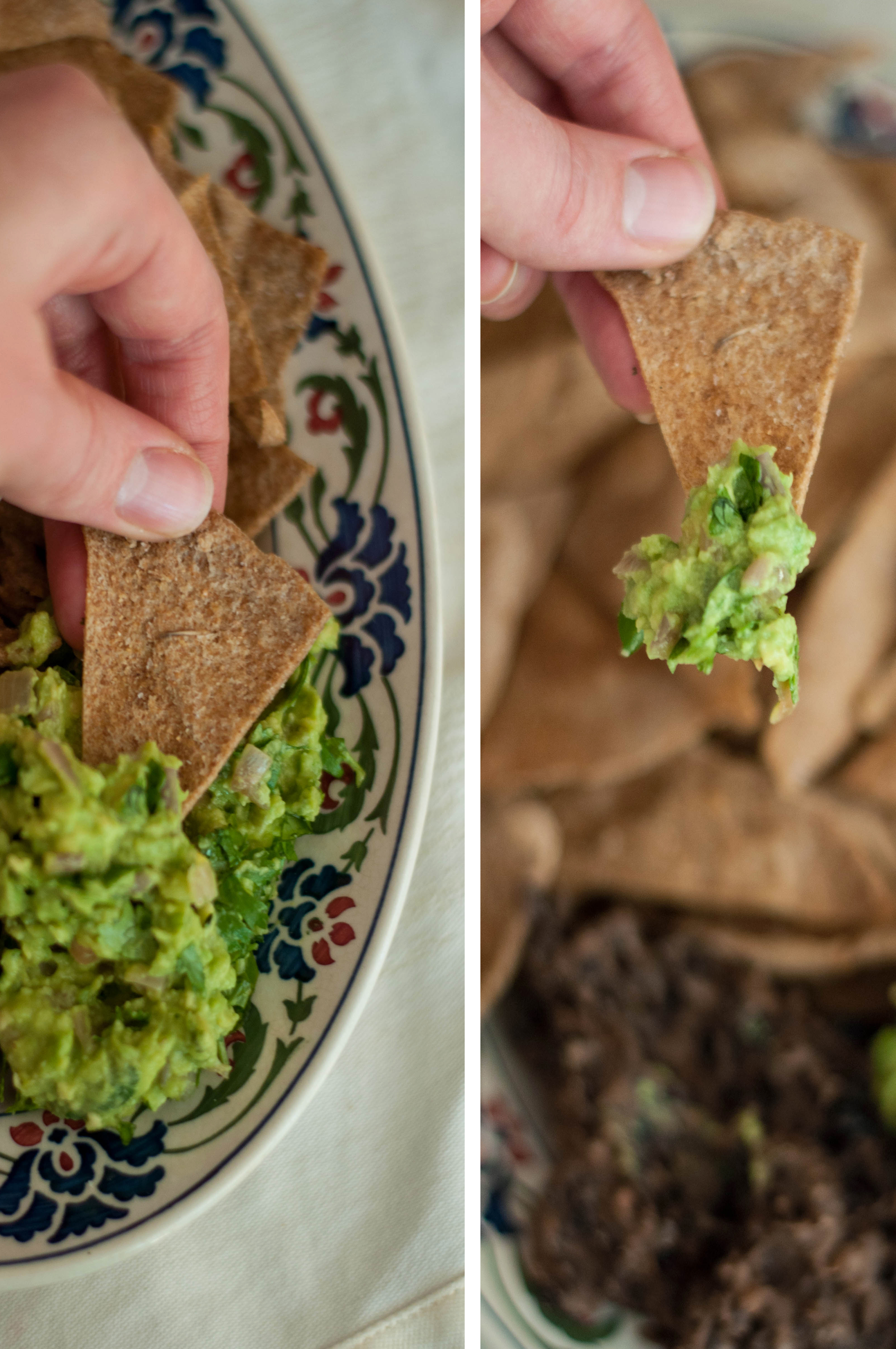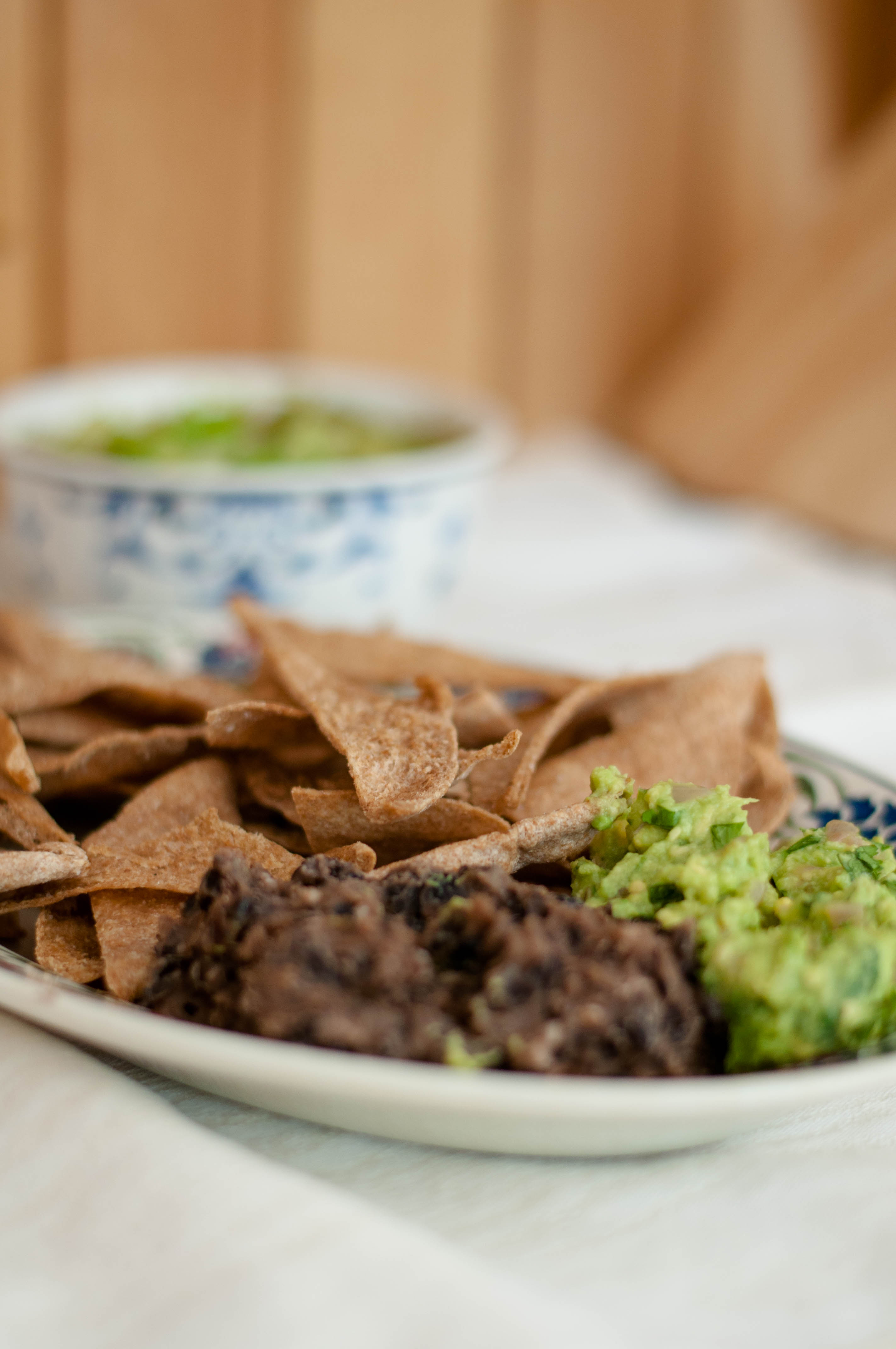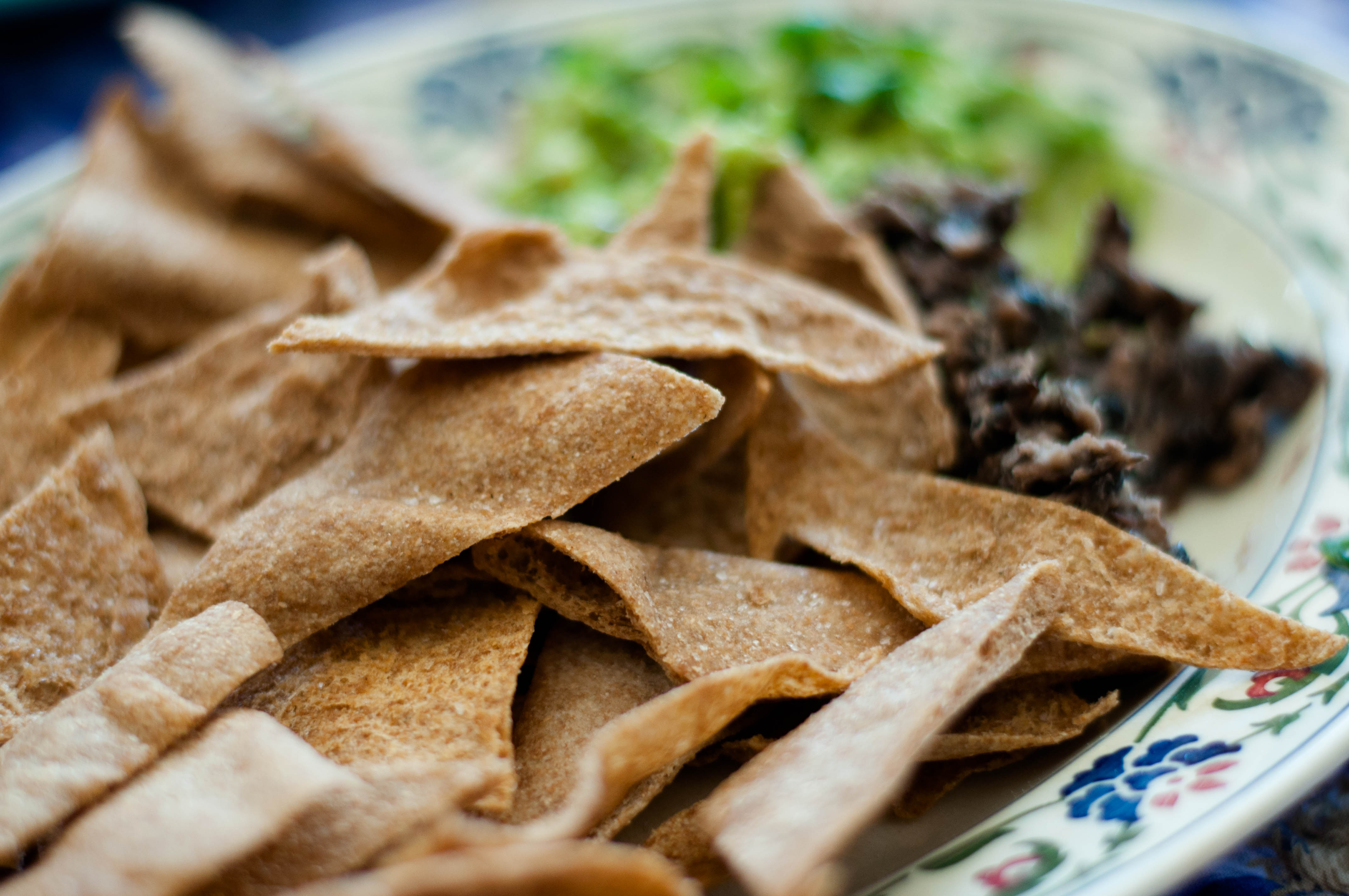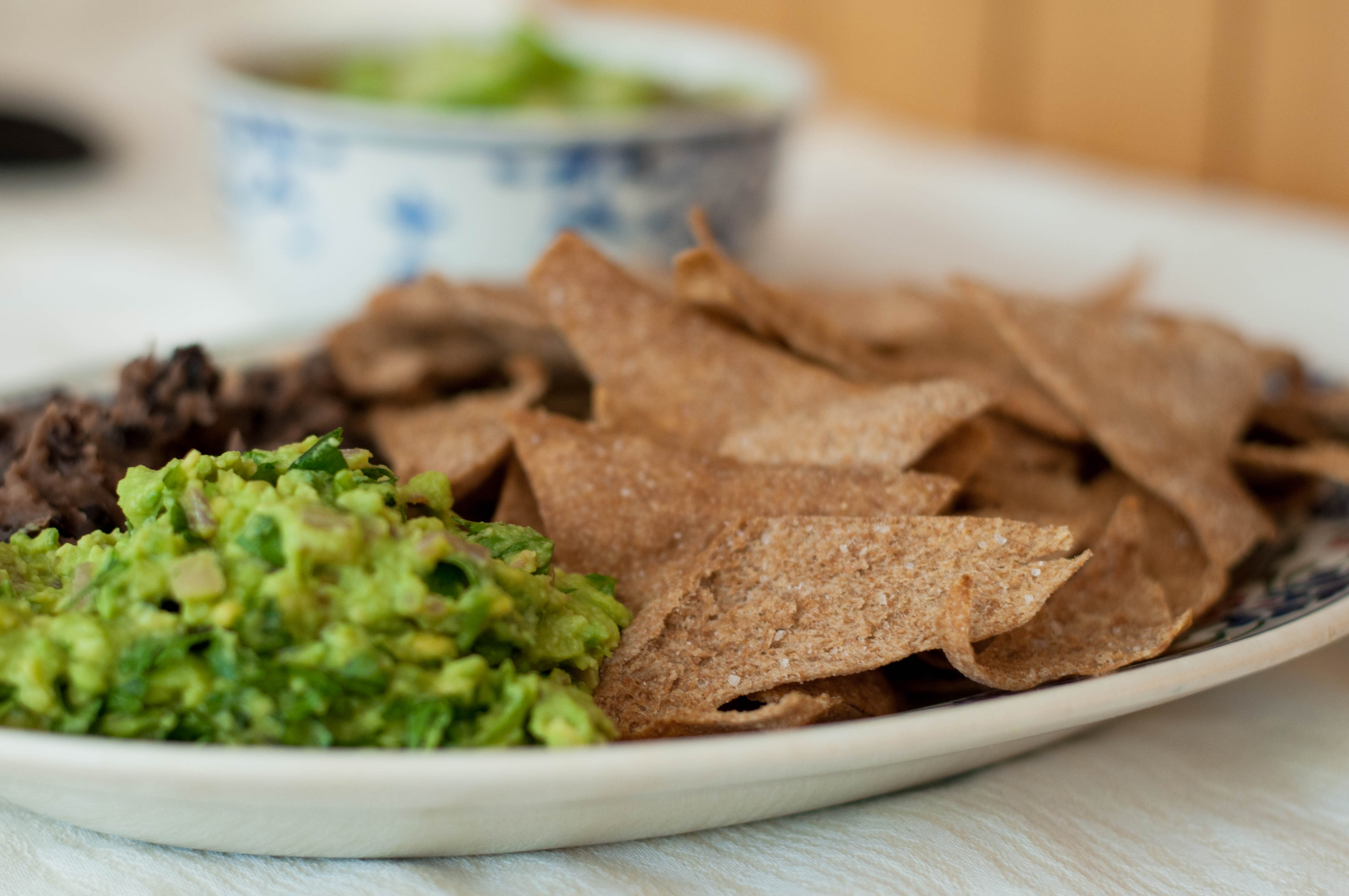 Tomatillo Salsa with Pita Chips, Black Bean Dip, and Guacamole
Ingredients
For black bean dip
1 Cup cooked black beans with some of their cooking liquid
¼ Teaspoon cumin
½ Teaspoon freshly ground ginger
Salt to taste
For guacamole
1½ Avocados
1 Medium sized handful Cilantro diced
½ Tablespoon - tablespoon fresh lime juice
1 shallot diced and sautéed briefly*
Salt to taste
For tomatillo Salsa
5 Tomatillos
1 Large or 2 small red onions briefly sautéed until just starting to brown*
1½ Cups roughly chopped cilantro
¼ - ½ Teaspoon salt
½ Tablespoon - Tablespoon fresh lime juice
Instructions
To make the black bean dip:
Combine all bean dip ingredients and mash together with the back of your fork. Add more bean liquid as needed until you have a good dip consistency.
Taste and adjust seasoning as needed. I like to add extra cumin. Set aside.
To make the guacamole:
Using the back of your fork, mash your avocado along with lime juice and salt. Sprinkle in cilantro and shallots and stir. Taste and adjust seasoning as needed. Set aside.
To make the tomatillo salsa:
Place all ingredients in a blender. Blend until thoroughly combined. Taste and adjust seasoning as necessary.
To make the pita chips:
Preheat oven to 375 Bake
Using a scissor cut the pita along the entire perimeter.
Slice into chip-size pieces.
Spray generously with olive oil spray and sprinkle with salt and pepper to your liking.
Bake for 10 - 15 minutes watching carefully so they don't burn.
After about five minutes gently jostle the chips, flipping them over as best you can. Continue baking.
Remove from the oven once the chips are crispy and snap when broken. Let rest for several minutes before serving. They will get even crispier as they cool.
Grab your favorite chip plate and have a party!
Notes
*I sauté anything I cook in the onion family briefly to remove some of the kick. If I eat them raw I don't feel well. It is a good trick to get the flavor of onion without experiencing any of the aftereffects of eating raw onion.
Alternate bean making method
: Rinse beans well, picking through and discarding any that are cracked or don't look right. Place in pot with 2" of water above the beans and bring to boil. Remove from heat and leave covered for one and a half hours. Drain and rinse. Cook beans as you would per
overnight soaking method
adding whatever vegetables/herbs you like.