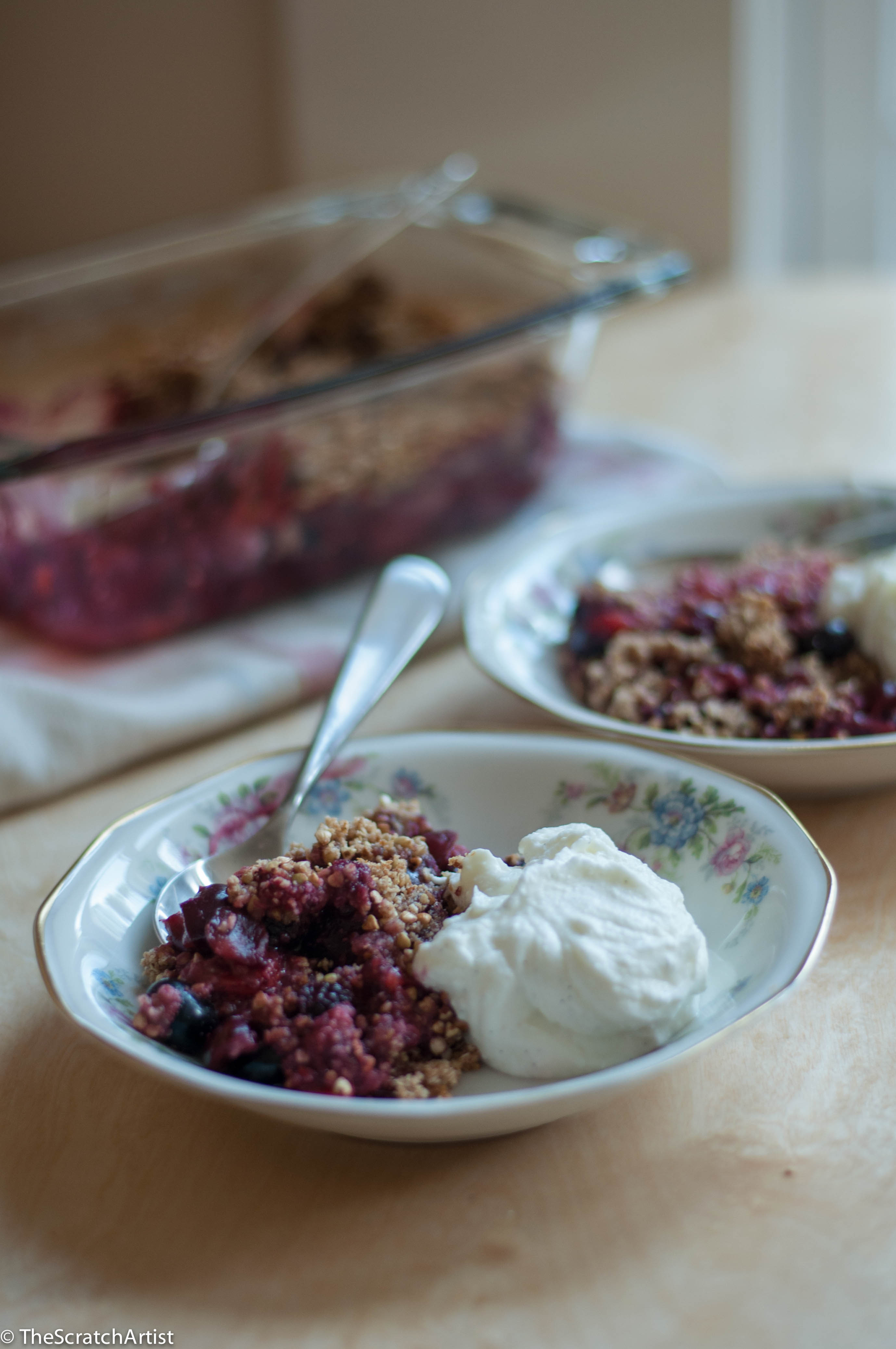 I have been so excited to share this recipe with you all.  I made this two weeks ago and I am in love.  Head over heels.  This is everything you want for and from summer.  Berries?  Yes!  Tart and sweet?  Yes!  Refreshing?  Yes!  Minimal prep and cook time?  Absolutely.  Waist-line decreasing?  I hope so…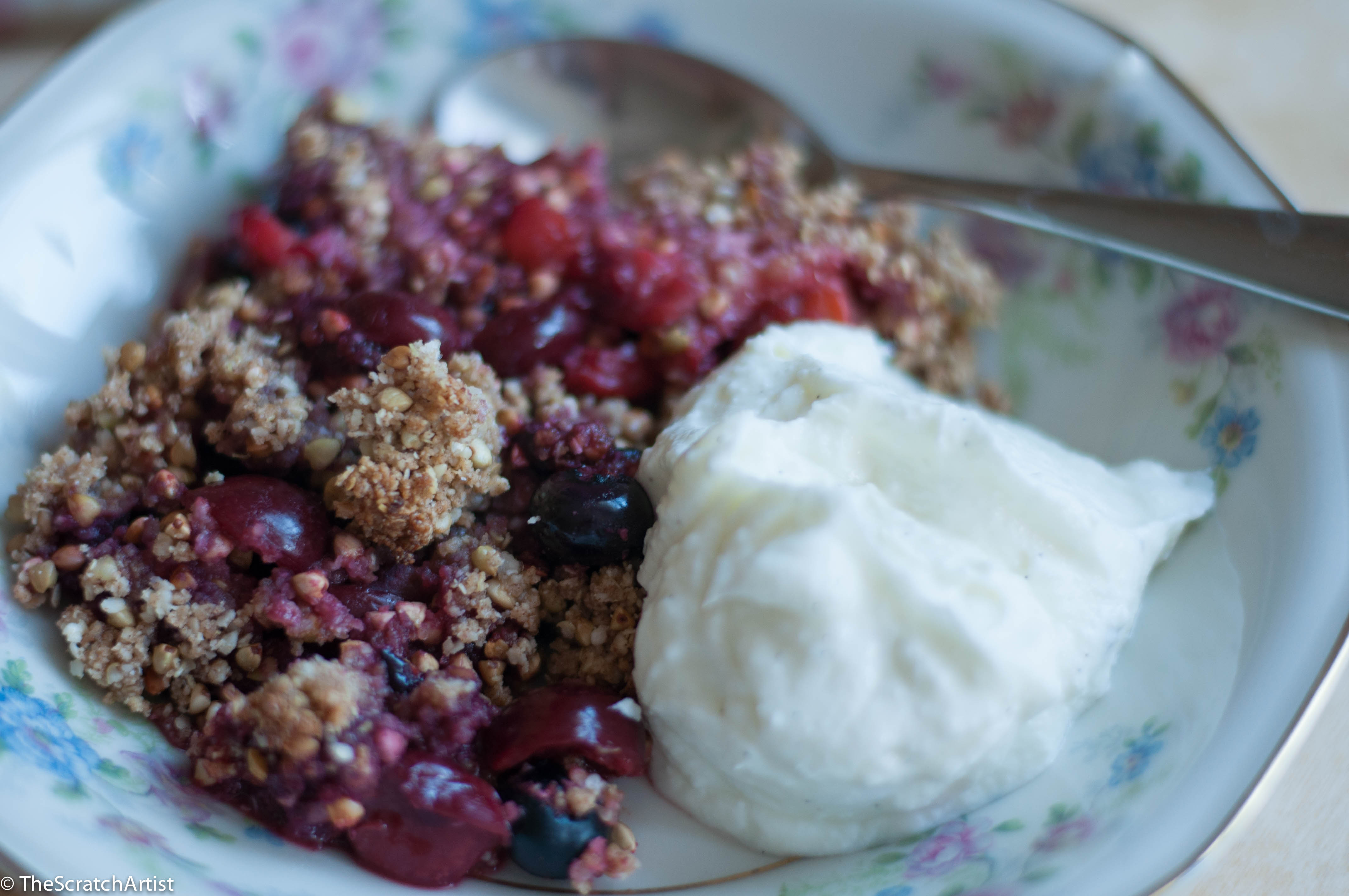 It took me a while to get it up on the blog because I couldn't get the darn photos to look "right."  So, after several failed photo shoots and my having to eat a lot of this berry crisp (along with my fellow food martyrs), here it is!  The more I post, the more critical I become of my photos.  I am still not completely thrilled with these, but enough is enough already!  Sometimes I have to remind myself that you are not all analyzing these photos with a magnifying glass.  And if you are, tell me!  I would love your feedback.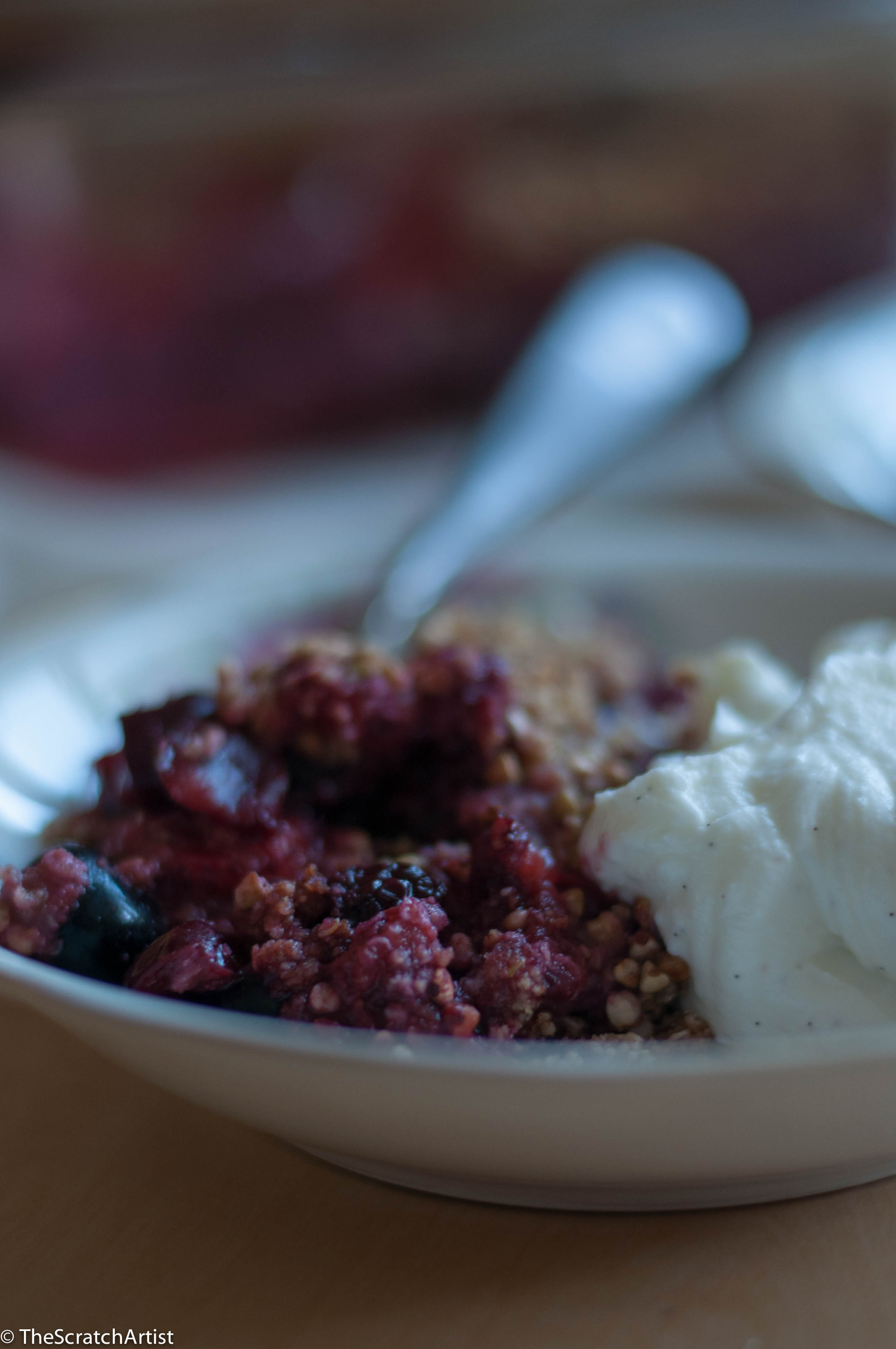 Before I started this blog, I snapped photos of my food constantly.  Photojournalist style…or rather amateur photojournalist style.  Sometimes using my serious camera (that I had no idea how to use), but mostly using my iPhone.  It was all about capturing what was made, for my own little foodie time-capsule.
Now, it is about capturing how it was made and enticing someone else (you) to want to make it and be engaged.  And to want to share it with those that you care about.  Totally different.  As a result, the photos and process of taking/editing them have become a major source of self-expression and creativity.  Another blogging benefit.  Go me.
The technical challenges of mastering my camera's settings are daunting, and sometimes I want to switch it back into automatic mode and just take the F*%&(#$ picture already.  But, the more I learn, the more creative license I have, which makes it worth it.
It doesn't help matters that I am endlessly impatient when I have a great dish in front of me and alllll I want to do is EAT!  And I can feel everyone around the table breathing down my neck to give them their dinner already!  This is especially difficult the first time that I make something. Inevitably I get super frustrated that I can't get the image I want instantly and every "missed" shot is another second wasted where I'm not eating.  Not a happy combination.
Anyway…back to this delicious crisp.  I don't have much philosophy for you today.  Is that a good or a bad thing?  Well, regardless, first and foremost, this blog is about self-expression.   So, no offense, but whether you like my philosophy or not, I am going to keep plugging away because self-expression is my way to well-being and peace.  And it is what I want to inspire in others.  Ooops, that was a bit of philosophy.  But really, this post is about the crisp and you making it this lovely weekend.  Because I really think you should.  Unlike some of my recipes, which might have you slapping your forehead over complexity, this is easy and so refreshingly delicious.  You and whomever you are with this weekend will thank me.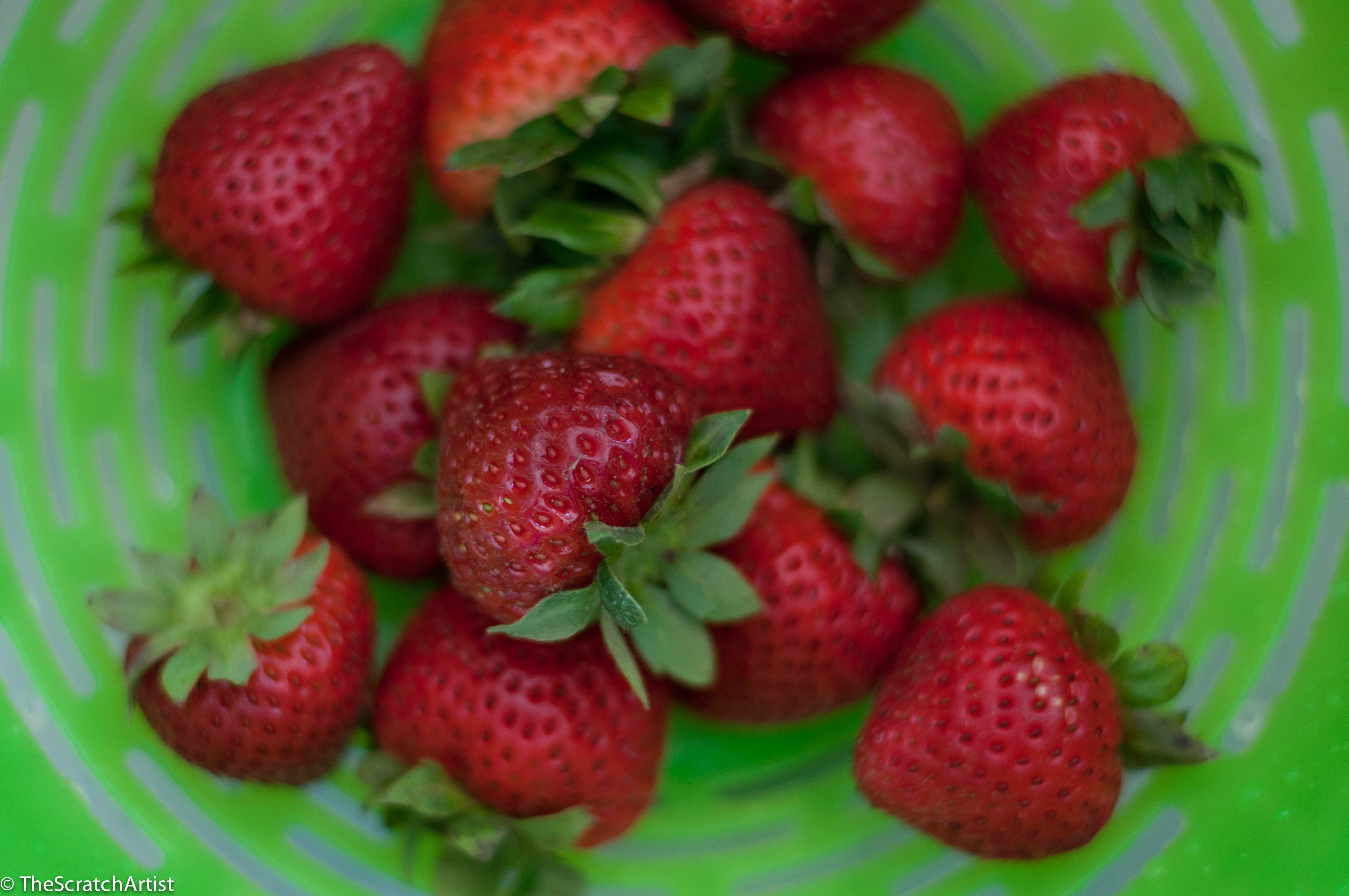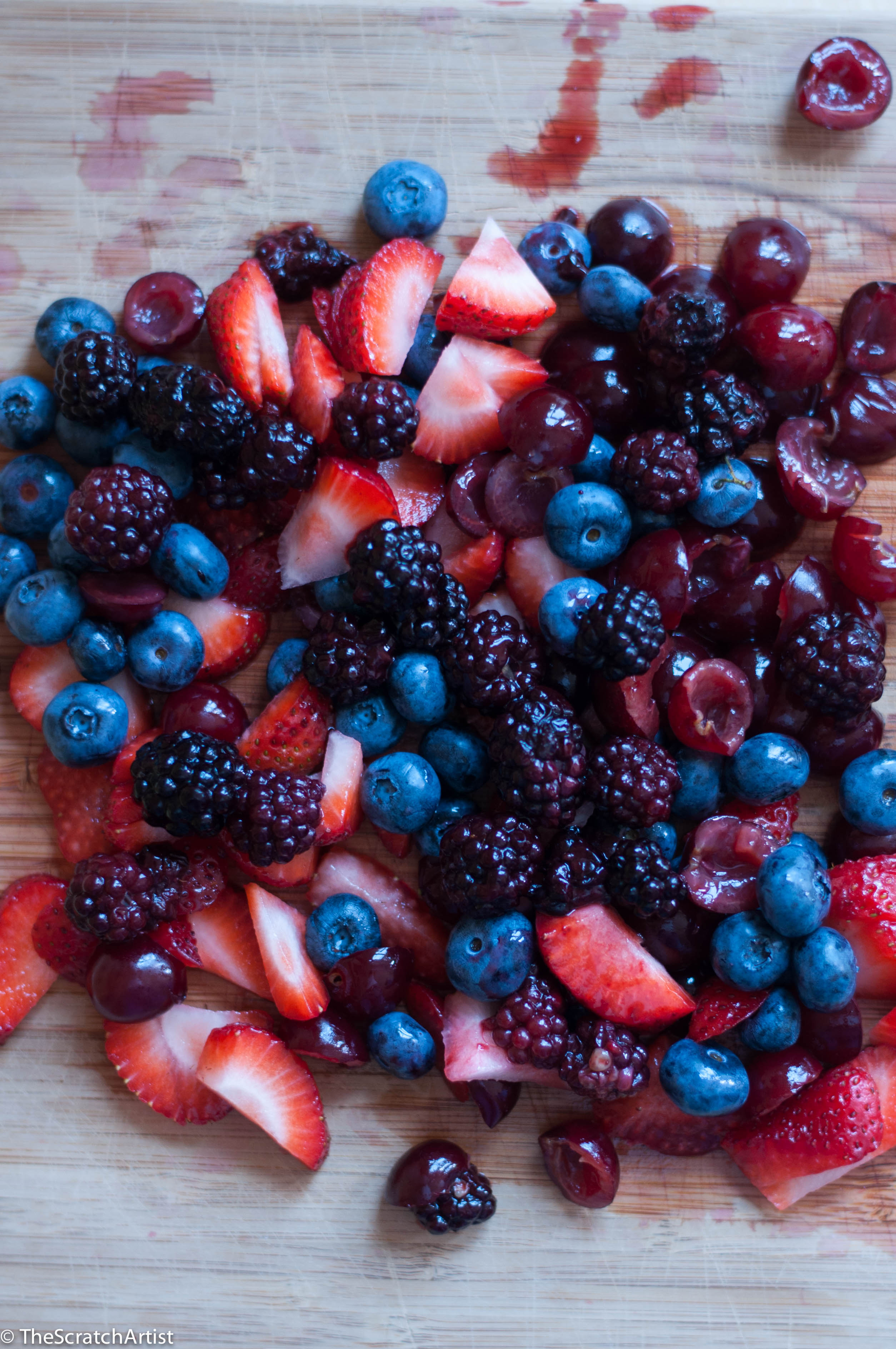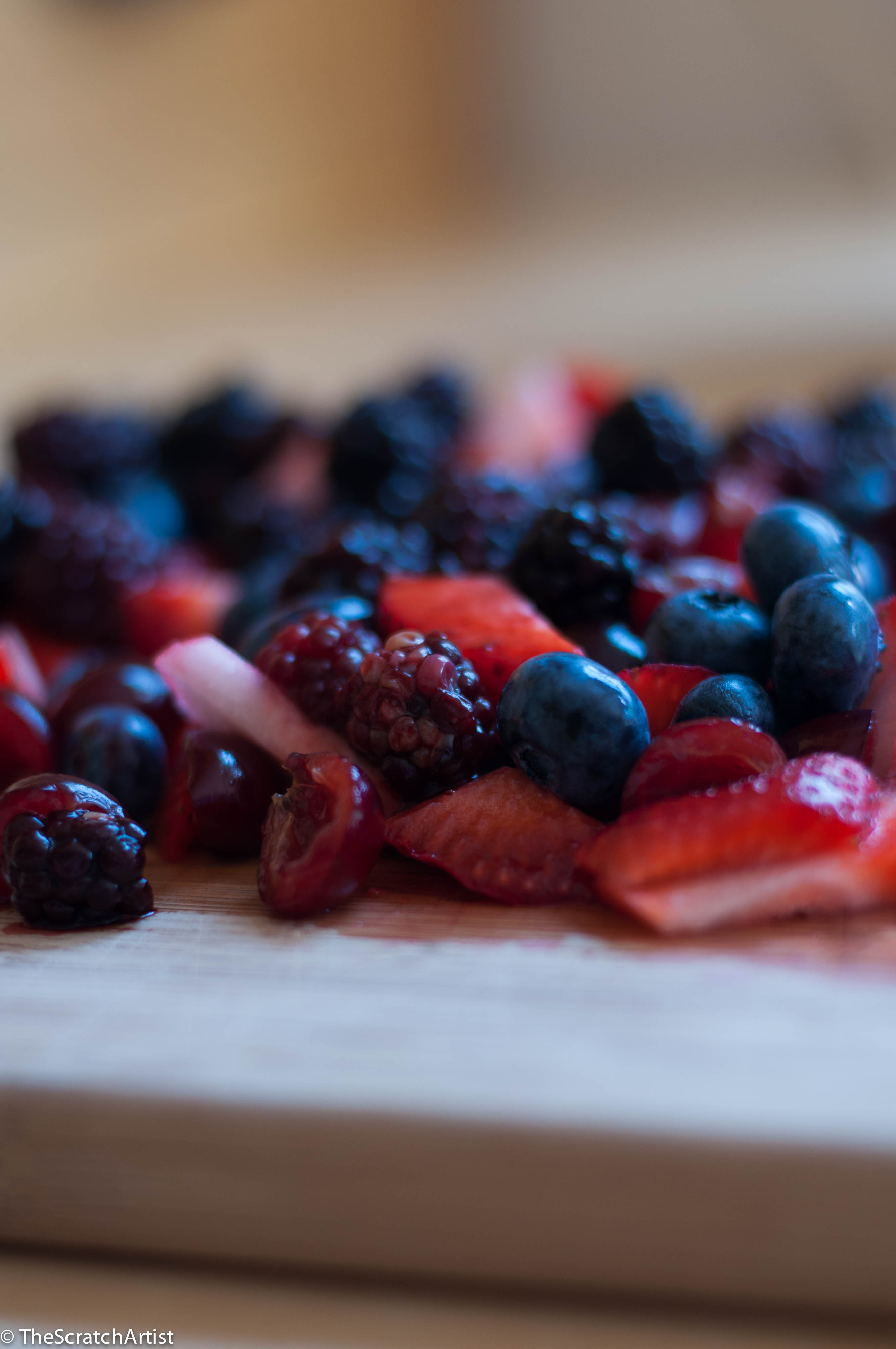 I used buckwheat groats in this recipe, which for those of you unacquainted with this cherub-like grain, please let me introduce you to my new pal, the groat.  They are my new favorite addition to umm…everything I eat… go out and get these now!  They are such a wonderful grain to have on hand to throw into a baked good, yogurt, salad, whatever…(my only note is to toast em' first).

Summer Mixed Berry Crumble Gluten Free
Ingredients
For The Crumble:
⅓ Cup toasted buckwheat groats
¾ Cup almond meal
¼ Cup quinoa flakes (or millet flakes with varied results)
¼ Cup gluten free oats
½ Teaspoon sea salt
1 Teaspoon cinnamon
1 Tablespoon maple syrup (or other liquid sweetener)
2 Tablespoons Ghee (or butter)
For The Fruit Filling:
3 cups berries or any fruits of your liking (fresh or frozen)
1½ Teaspoon lemon
½ Teaspoon cinnamon
¼ Teaspoon ground ginger (optional)
1 Teaspoon maple syrup (optional)
Instructions
Preheat oven to 375F bake.
Rinse groats and toast on a skillet until they turn slightly brown (5-10 minutes).
Combine the dry crumble ingredients and mix well.
Add maple syrup and ghee and mix using you a fork to cut the solid ghee (or butter) into the crumble.
Once the bits of ghee are quite small, use your hands to mix. The resulting mixture should clump in your hands when you make a fist. Add more ghee if necessary.
Chop your fruit into bite-sized pieces (I used sour cherries, strawberries, blackberries, blueberries, and plums). You can use whatever you have in your fridge or freezer.
Add your chopped fruit and the remaining filling ingredients to a loaf pan or any pan you have around that is of similar size. A cake or brownie pan will work (although your crumble layer will be thinner than mine).
Mix the filling ingredients with your hands.
Now add the crumble layer to the top. Press down a bit so a little of the fruit peeks out over the crumble.
Place in oven and bake for about 30 minutes or until the fruit juices are bubbling out over the crumble. For an extra crispy top, turn your oven to convection bake for the last 5 - 10 minutes. Keep a close eye and watch that the crumble does not burn on top.
Serve with greek yogurt, ice cream, or eat it just as is. If you are feeling fancy you can stir a little vanilla into your yogurt for an extra pop of flavor.
Let me know if you make this berry delight.  This recipe is more of a suggestion.  You'll see once you make this the first time that you can change up everything.  This is a recipe that you can really experiment with.  The only thing to keep in mind is to make sure you use enough liquid ingredients in your crumble so that it forms a a nice crust.  If not, it will end up powdery.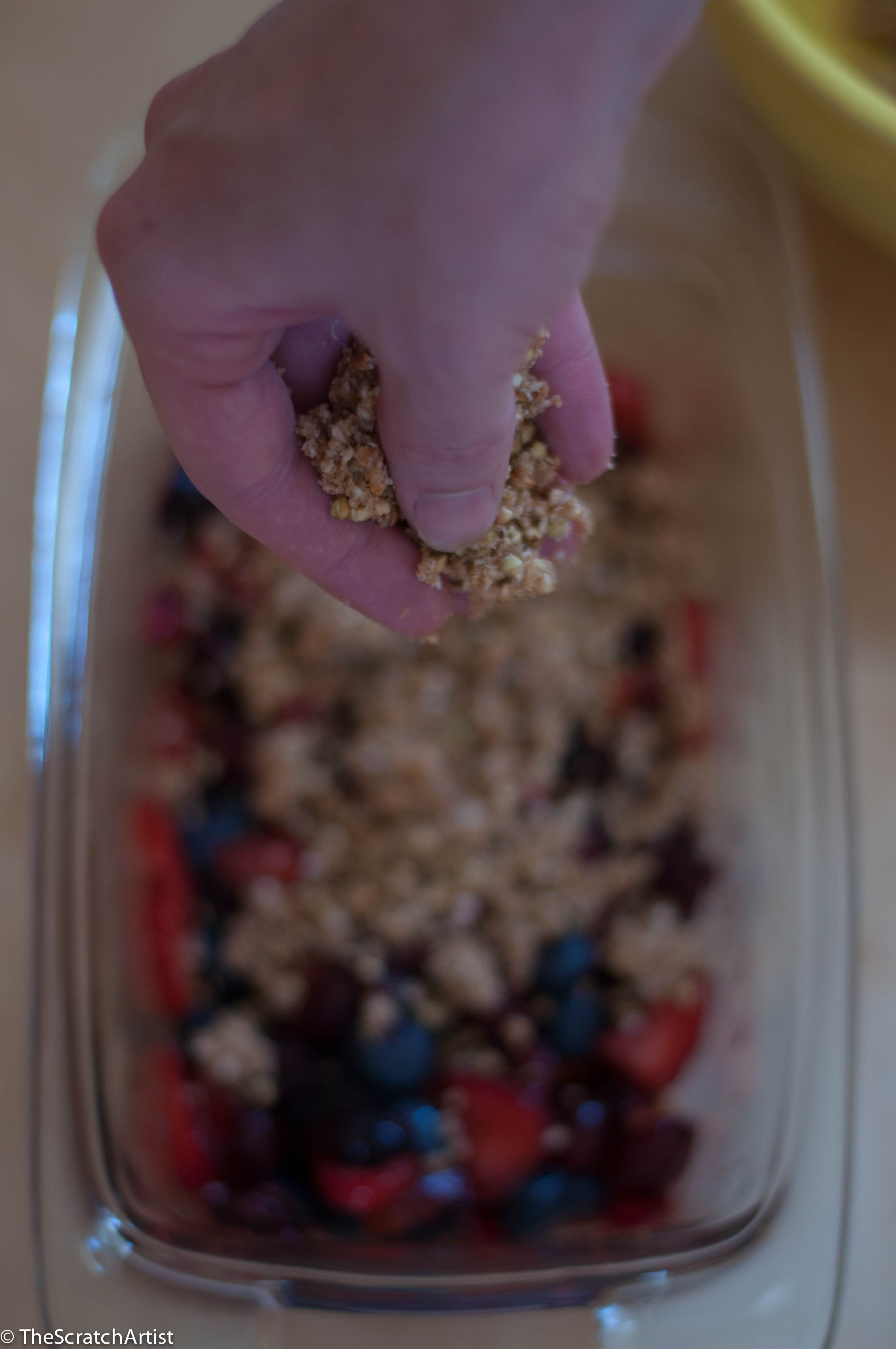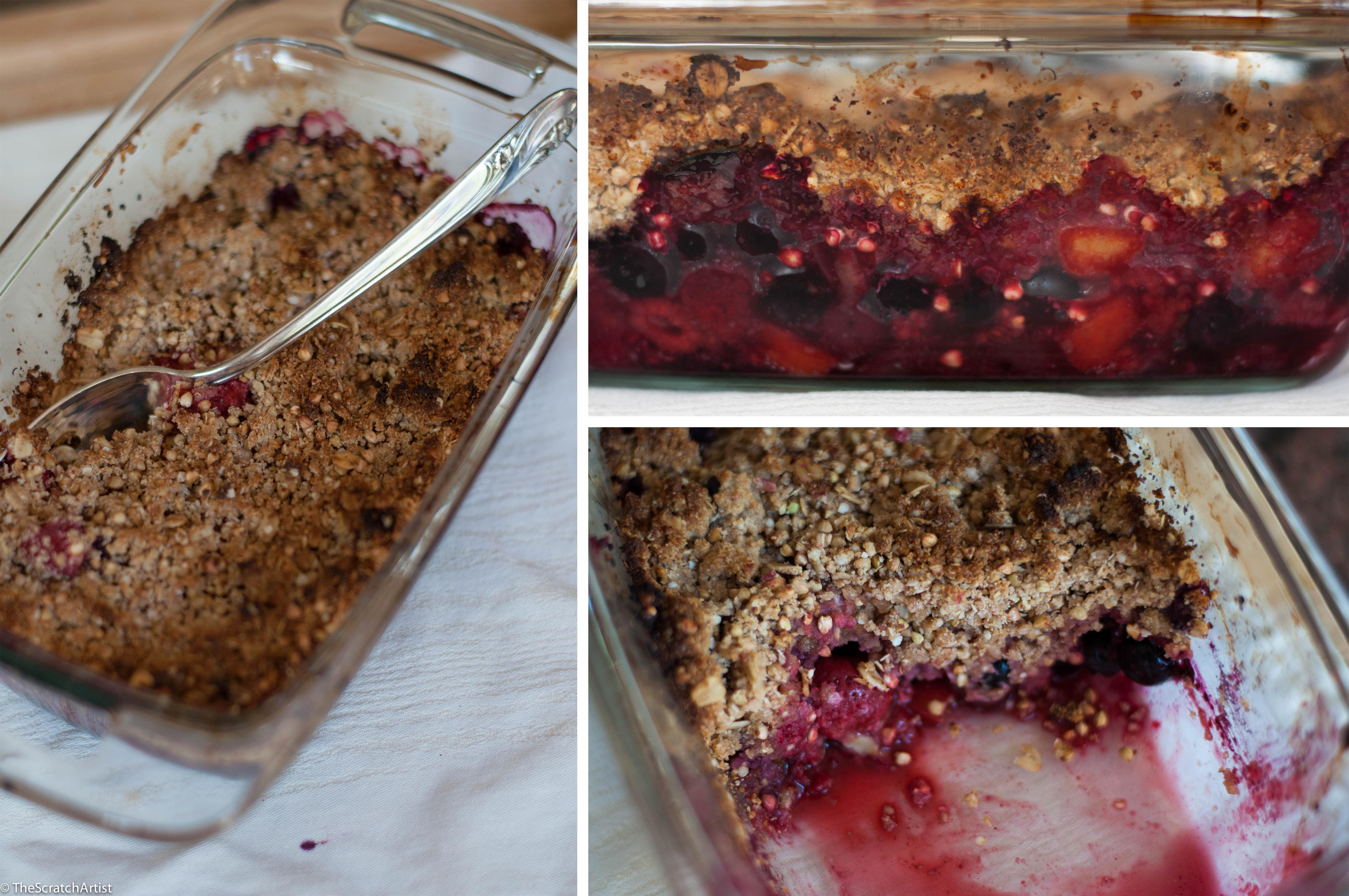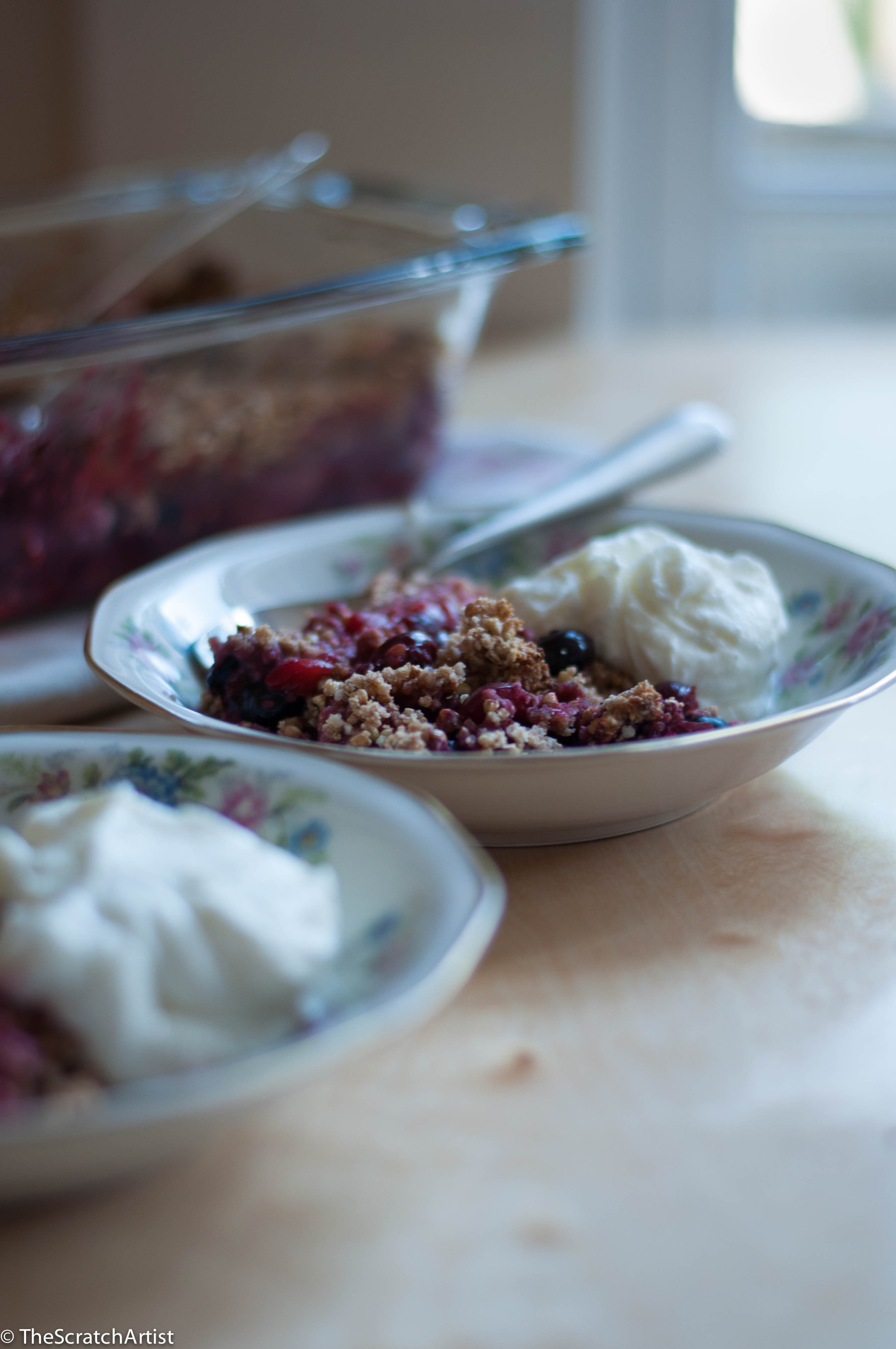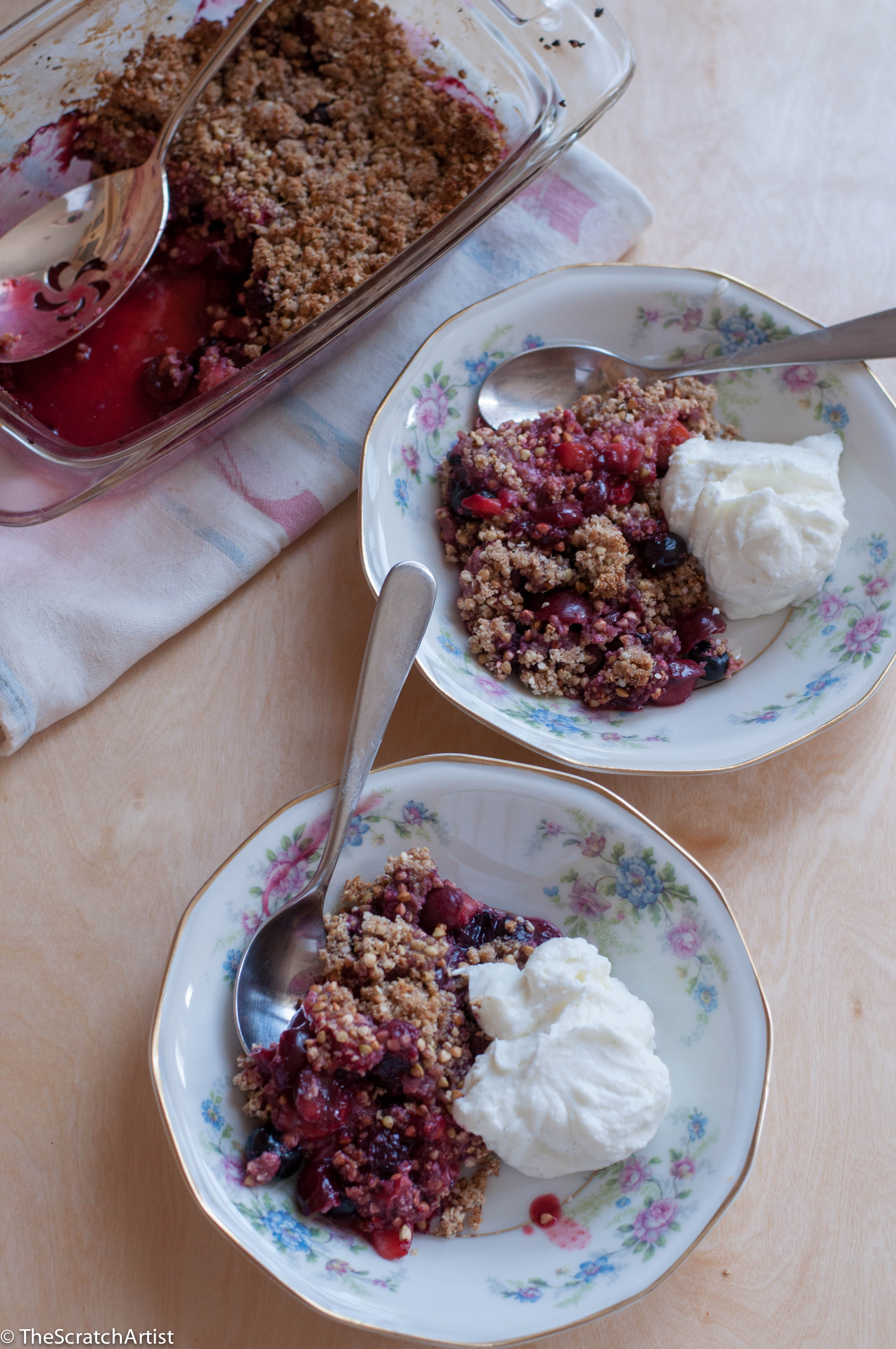 In the mood for a single serving?  Chop up enough fruit to fit into a ramekin of your choice.  Mix together some of the crumble ingredients and voila!  Single serving.   This dish is a no-fail situation!