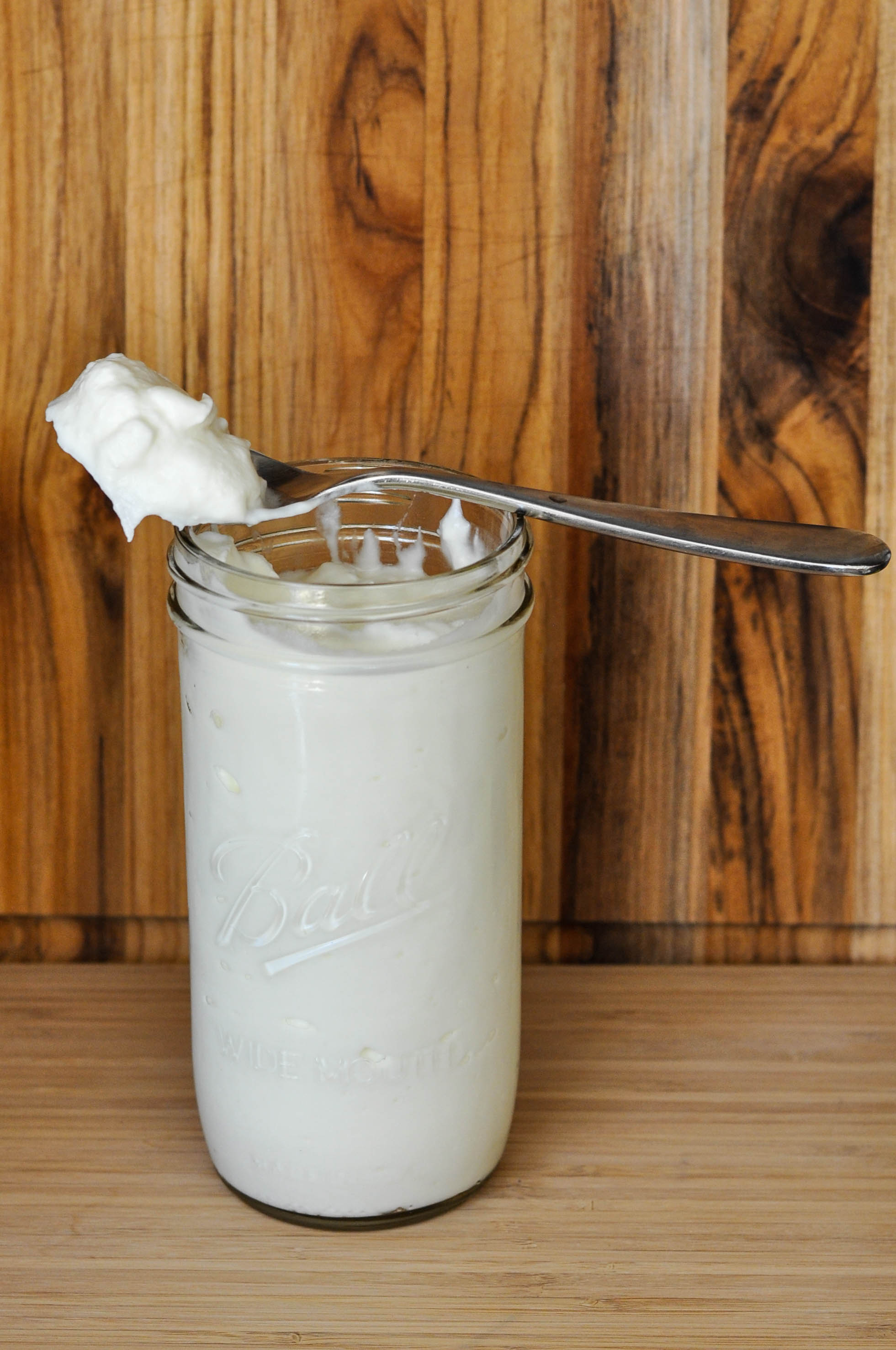 There are a million (since writing this a million and one) recipes for homemade yogurt on the internet and essentially everyone's recipe is the same.  So instead of reinventing the wheel, I am going to share some of what has worked well for me and hopefully encourage anyone who is overwhelmed with the process.
The biggest hurdle for me in tackling this task was convincing myself that I was not going to be making a bacteria-filled concoction that would kill everyone in my family.  Once over that *small* hurdle I was ready to go!
Like making your first loaf of bread, your first batch of yogurt is a transcendent experience.  For anyone not raised on a farmstead with a craftsy, canning mother who could do and make anything, the idea of m a k i n g  yogurt is equivalent to finding your long-lost childhood dog on your vacation in Budapest: completely and utterly unfathomable.  Prior to all of my scratching endeavors, if someone had told me they made their own yogurt, my response would have been "you made what?"
Yogurt could not have been less on my radar as an item a person could actually make.  I know that sounds ridiculous…who did I think made it, robots?  But really, there are some things that I had never considered were actually made, until I did a magical thing…I thought about it.  I know, where do my talents end!
Whether this yogurt tasted better than store-bought yogurt (it did) was pretty much irrelevant to me when I saw my pot of milk turn into a thick, luscious yogurt.  I am so thrilled with myself that I plan on bragging about this for a long time to come.  It's one of those things that you can *easily* work into any conversation.  My UPS driver came to my door the other day and asked if I had anything going out.  I responded, off-handedly of course, that I hadn't had time to get my packages ready because I was making yogurt all morning (my father has always taught me that a good story should always be embellished).
But, back to the matter at hand…homemade yogurt does taste better.  I found it a bit richer, not as sour (although that can be modified by how long you let it set), and more clean tasting.  I am suspicious of what I mean by clean tasting, perhaps my mind is playing tricks on me, and the fact that I know I made it from scratch makes it seem more pure, but I share it nonetheless.
As far as the time commitment, once you develop a routine, you could probably get away with one-hour of hands on time (over two days): forty-five minutes to get the yogurt going and fifteen minutes to get it sealed into jars and all the dishes done.  The yogurt has to set for at least four hours, more if you like it thicker and tarter.
UPDATE:  I have now made about 5 batches of yogurt and it is WAY better than the stuff you buy at the store!  My lovely sister used to hate yogurt, literally loathed the stuff, and now she eats it for lunch every day.  Hers is a testimonial you can trust.  Check out my other yogurt post so you can see what we've been putting in our yogurt…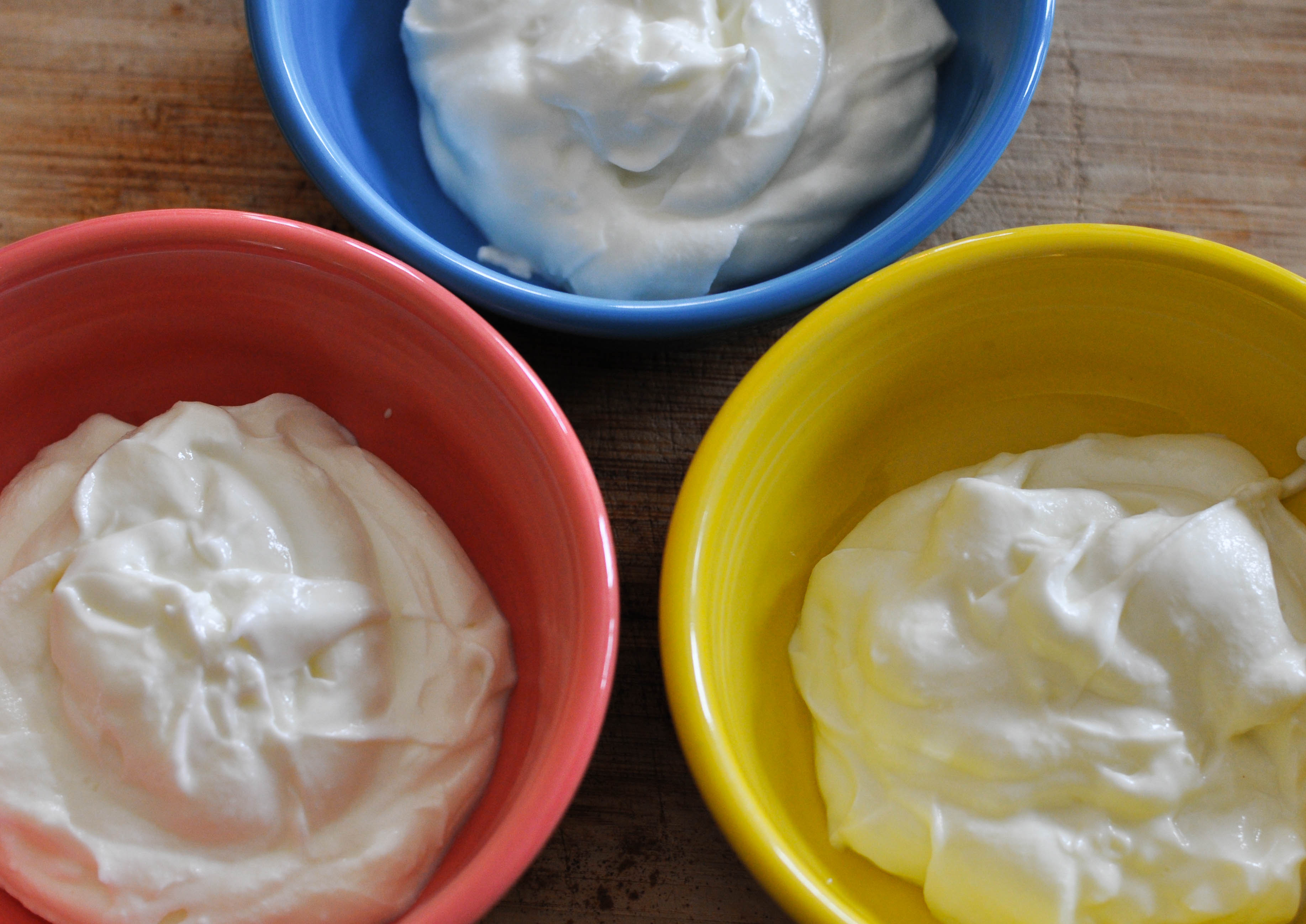 Homemade Greek Yogurt
Up to 8 hour set time. This recipe will yield 2¼ cups of very thick yogurt. To increase your yield, strain your yogurt for less time.
Ingredients
Ingredients
½ Gallon skim milk*
½ Cup yogurt with active cultures

Equipment
3½ Quart Dutch oven**
Whisk (if you have a pot with a ceramic base use a whisk with silicone blades so you don't scratch your pot)
At least 2 Cup pyrex measuring cup
½ Cup dry measuring cup
Digital thermometer
Ladle
Bath towel
Instructions
Getting things clean:
Fill your Dutch oven with water and bring to boil.
While the water is heating, gather the equipment listed above and wash thoroughly with a clean sponge and very hot water.
Set your "equipment" aside on a clean towel.
Once your water is at a roiling boil, turn your burner off and carefully place all of your equipment into the Dutch oven with the water to sterilize. Make sure not to get the handle of your digital thermometer wet. If your Dutch oven is not large enough to hold everything, place all of the equipment in a large heat-resistant bowl and carefully pour the boiling water over all of your utensils.
Let sit for five minutes.***
Carefully pour out the hot water and place all utensils on a clean dry towel.
Making the yogurt:
Pour the milk into your Dutch oven and turn your burner to medium high. Heat until the milk reaches 200F.
Using a whisk, stir the milk frequently to prevent scorching as you bring it to temperature.
While the milk is warming, prepare a tray that your pot will fit in with ice cubes and cold water (an ice bath).
Once the milk reaches 200F (about 15 minutes), remove from heat and place the pot in the ice bath. Continue to stir frequently and monitor the temperature until it reaches 115-120F.
While the milk is cooling, measure out the yogurt with the dry measuring cup and place into the Pyrex measuring cup.
When your milk reaches 115-120F remove the pot from the ice bath and ladle out about 1 cup of milk into the Pyrex measuring cup (that now has the yogurt).
Using a whisk stir together the yogurt and milk.
Pour the yogurt and milk mixture back into your Dutch oven while gently stirring with your whisk. Check the temperature of the milk mixture; it should be between 110-115F. If it has dropped below this temperature, put it back on the burner for a moment or two, until the temperature is back up in that range.
Once it is at the proper temperature, cover your pot with a lid and wrap in a bath towel.
Place your wrapped pot in the oven and turn the oven light on.****
Let set for 4-8 hours. The longer you let it set, the firmer and tarter it becomes. Finding your preferred tartness and thickness comes down to trial and error. We like 7 hours.
Carefully remove your yogurt from the oven when it has set to your liking (don't open and close the oven or pot lid while setting. Keeping the temperature consistent is critical). Be mindful not to jostle the pot when removing it from the oven. The pot should be quite warm to the touch. Ideally your yogurt has maintained a temperature of 110F. It is OK if it drops a bit below that. When you peak inside you should see a layer of whey above your thickened yogurt.
As long as your pot is not too hot, place it in the refrigerator and let it sit overnight. This will help the yogurt to set better. You could also start straining out the whey at this point, but I like to let it set in the fridge first.
In the morning, set out a bowl large enough to accomodate your biggest strainer. Set the bowl under the strainer and line the strainer with cheese cloth (all of your whey will drip into the bottom bowl).
Unveil your yogurt and ladle off the top layer of whey (or mix it in with a whisk for regular yogurt. You could eat your yogurt as it is now. The straining is what makes it thick, Greek-style yogurt). The whey can be saved and used in hundreds of ways. I use it to make bread by substituting it for the water.
Scoop your yogurt into the strainer. If you don't have a large enough strainer you will have to do several rounds of straining.
Give the yogurt, resting in the strainer, a gentle whisk or two in order to eliminate lumps. This will yield a smoother end product.
Cover the bowl with plastic wrap and place your whole set-up in the fridge.
Once it has reached your desired thickness, scoop out your yogurt and fill your sanitized containers. I strain for 8 hours; I like it very thick. If it comes out thicker than you like, just mix some of the whey back into the yogurt.
For the bowl, strainer, and yogurt containers, I sanitize by using very hot water and soap.
Notes
After much reading and research I followed the recipe the bloggers over at
The Kitchn
created the first time I made yogurt. I have modified a few things to suit my needs, but they did a really nice job explaining the process.
*I first made this yogurt using 4 cups of skim milk and a ¼ cup of yogurt because I wasn't sure how much of it we would eat. Modify as you like, just keep the ratio consistent (for every 4 cups of milk add ¼ cup of yogurt. I am now using a gallon of milk and ½ cup yogurt). Once you have made your first batch of yogurt you can use YOUR yogurt to make all future batches. Doesn't get more from scratch than that! Unless you have cows...
**if you don't have a dutch oven use something comparable. You want a pot that will retain heat and maintain a consistent temperature.
***I read a lot about how to make yogurt safely and there are really no guidelines, so I made this up. This is JUST what
I
came up with, and I do not guarantee or even recommend this as a method to sterilize your equipment. I can only attest to that it has worked for me.
****I find it easier to lay my towel out on my oven rack and place the dutch oven onto the towel and then wrap it in the oven.