If I were better at using photoshop, this would be the Top 10 best yogurt toppings, but I refuse to take more time to figure out how to format my photos correctly.  So, top six it is!  Despite how random that sounds.  Six is great, because if you spend your week working your way through all of these options, on the seventh day you should definitely not have yogurt.  Heat up your skillet for some french toast.
Step 1 – Make some greek yogurt.  Store bought is good, but fresh made is so much better.  I love making my yogurt REALLY thick by straining it through cheesecloth.  It ends up, texturally speaking, more like a dessert than a dreaded diet food.  I get it so thick that it is spreadable.
Step 2 – Cover your delicious yogurt with anything and everything you can think up.   I have two mandatory ingredients that must be present in all yogurt bowls: 1. something crunchy (nuts, granola, cereals, and the like) 2. Something sweet (fresh fruit, frozen fruit, jams, preserves, and the like).  If you have both of these components you are guaranteed success.
Let me break down the photos for you starting from the top left:
#1: Apples covered in cinnamon and sautéed in a skillet for five minutes, pomegranate seeds, and toasted pecans.  It is super important to toast your nuts.  The difference in taste is huge.  You can toast your nuts right alongside your apples to conserve on pans.  Your nuts are toasted when they are nicely fragrant.  Let your nuts completely cool before serving.  If they aren't completely cool they won't be snappy and crunchy.  And believe me you want them snappy and crunchy!  Omit the pomegranates and you have an apple pie like concoction on your hands.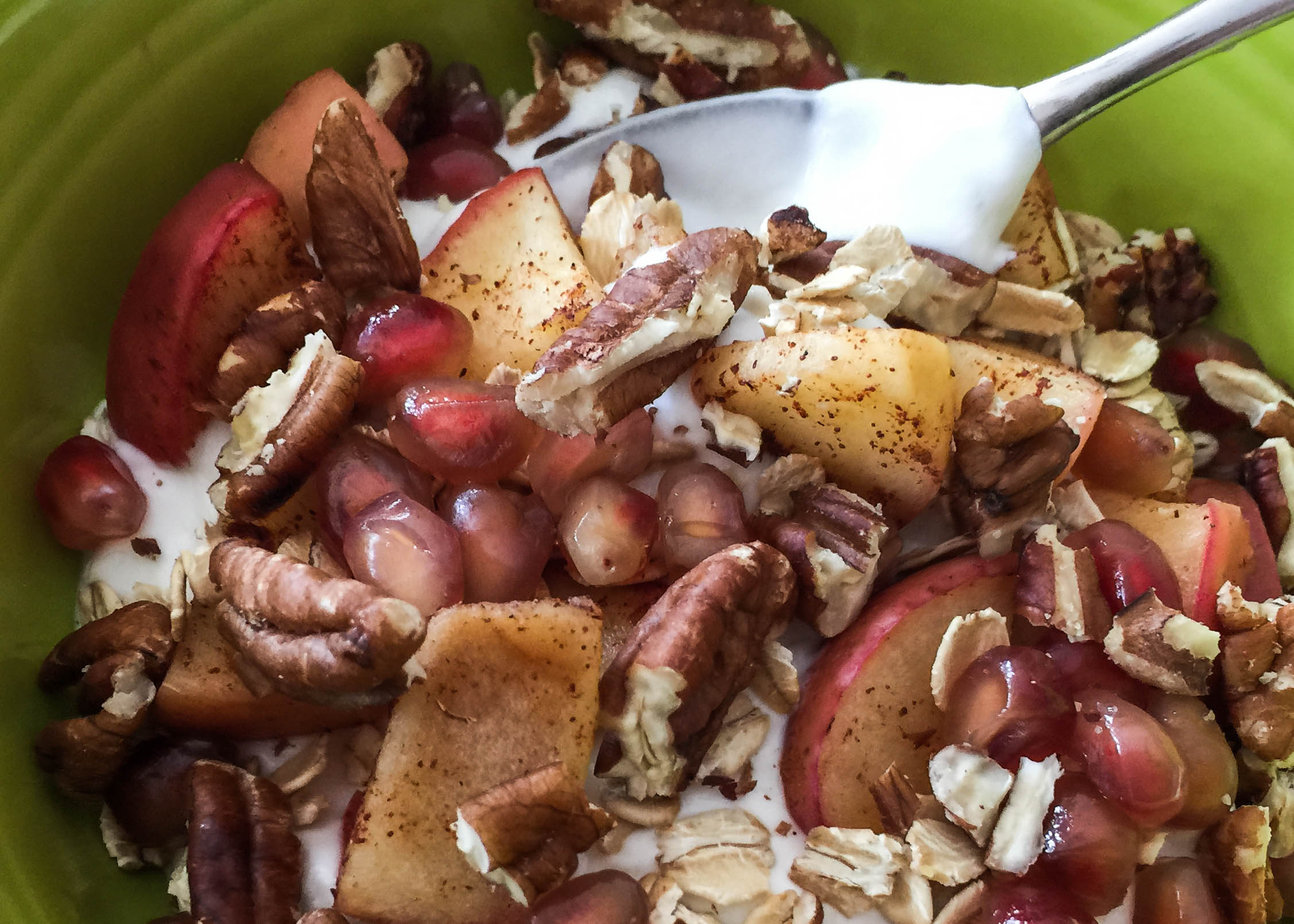 #2: Pistachio nuts, raspberries, and honey.  Mix your honey into the yogurt.  How much to use depends on how sweet you want it to taste.  I use it very sparingly, but I like my yogurt tart.  Do it as you like.  I kept some of my raspberries whole and ripped some in half.  Toss the pistachio nuts and raspberries into your honeyed yogurt, then dip a fork into your honey and drizzle some more over the top of everything.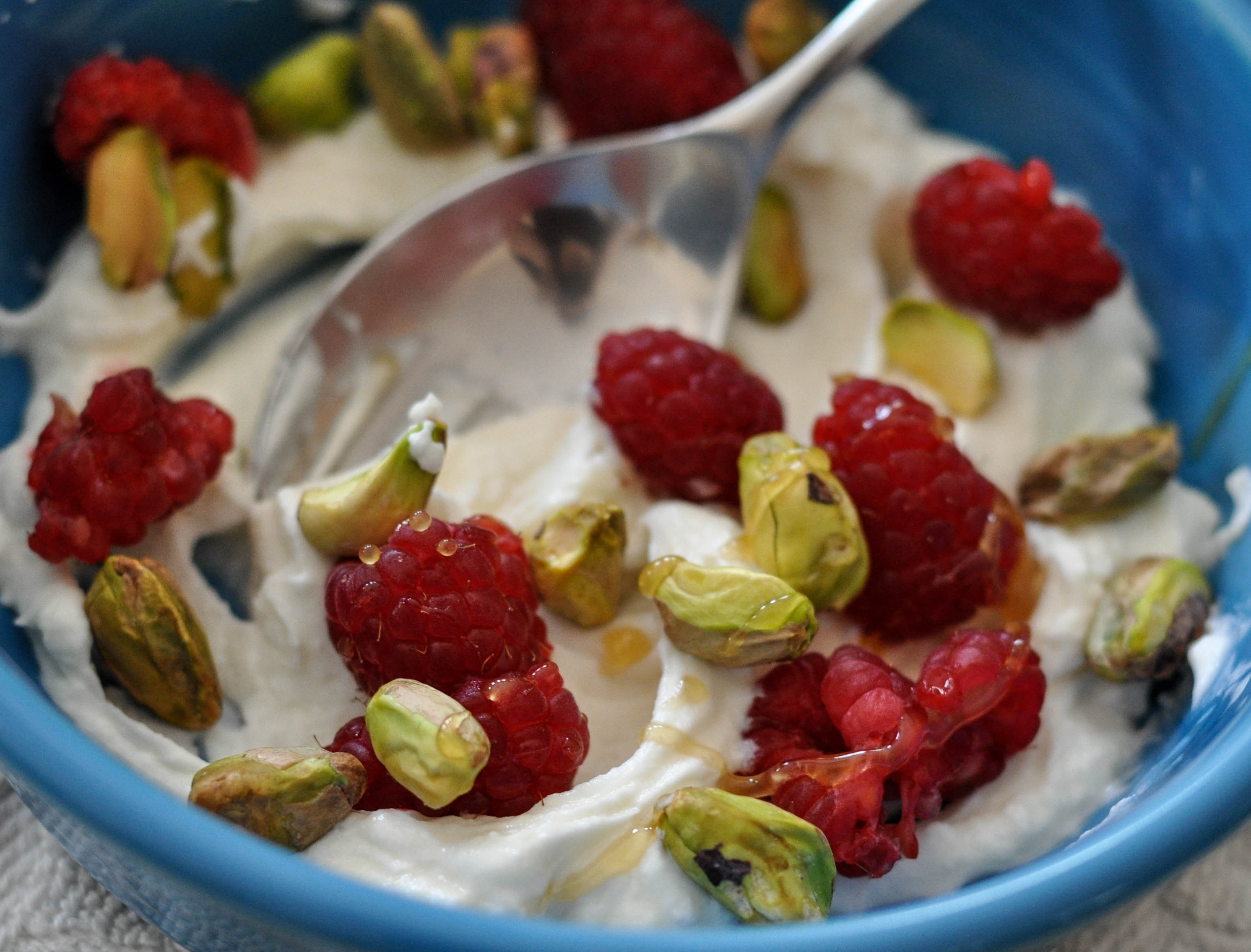 #3:  Fresh blueberries, chopped almonds, and blueberry jam.  I like my blueberries more tart than sweet and, except for a few months out the year, I can always get them fresh from the market.  They may be imported from South America, but they are "fresh."  Make sure to swirl your jam into the yogurt.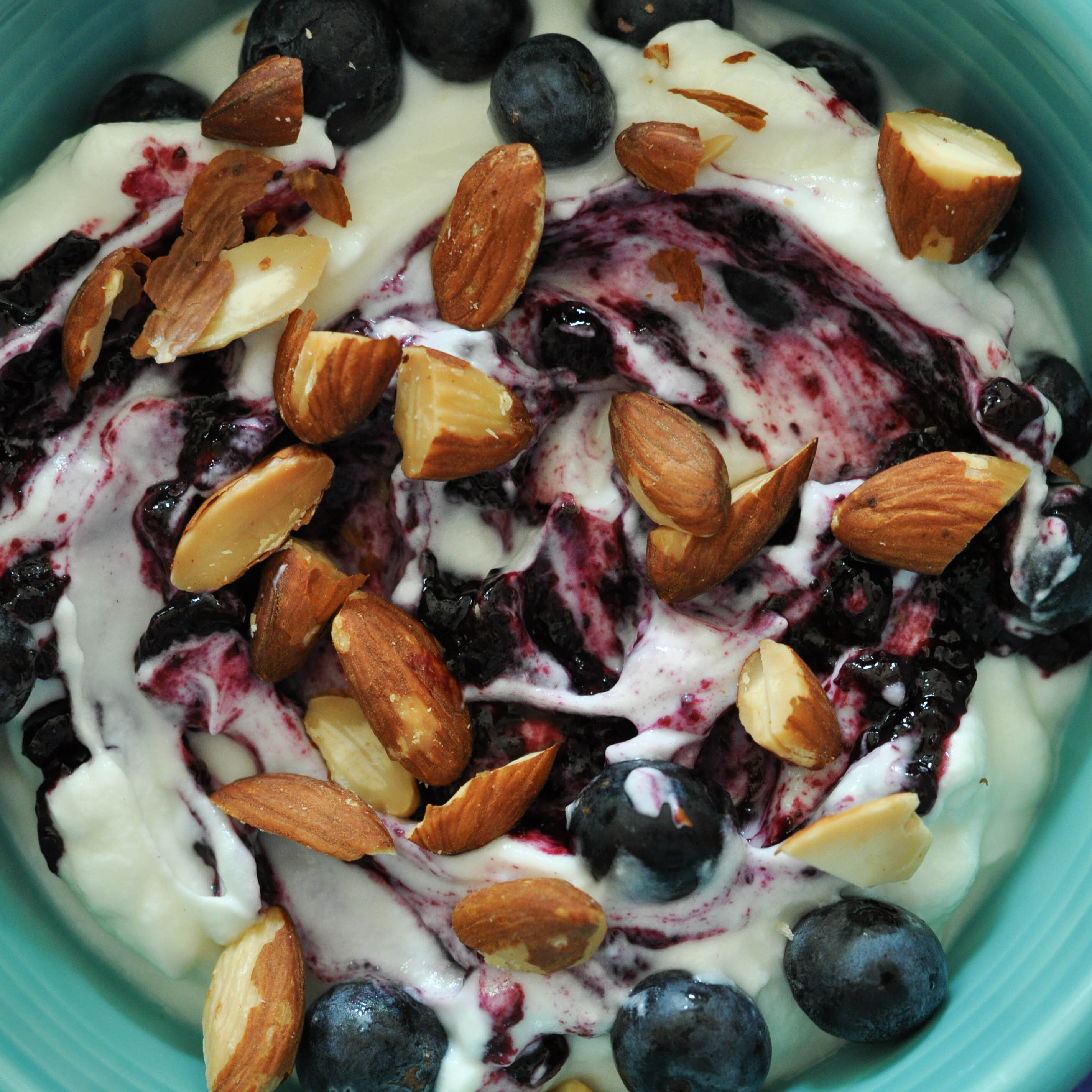 #4:  Strawberries, banana, and granola.  Classic yogurt toppings and steadfastly delicious.  If you use frozen strawberries and microwave them, don't miss pouring the fresh strawberry juice over the yogurt.  Despite the fact that it is just strawberry juice and water, it tastes like a decadent syrup.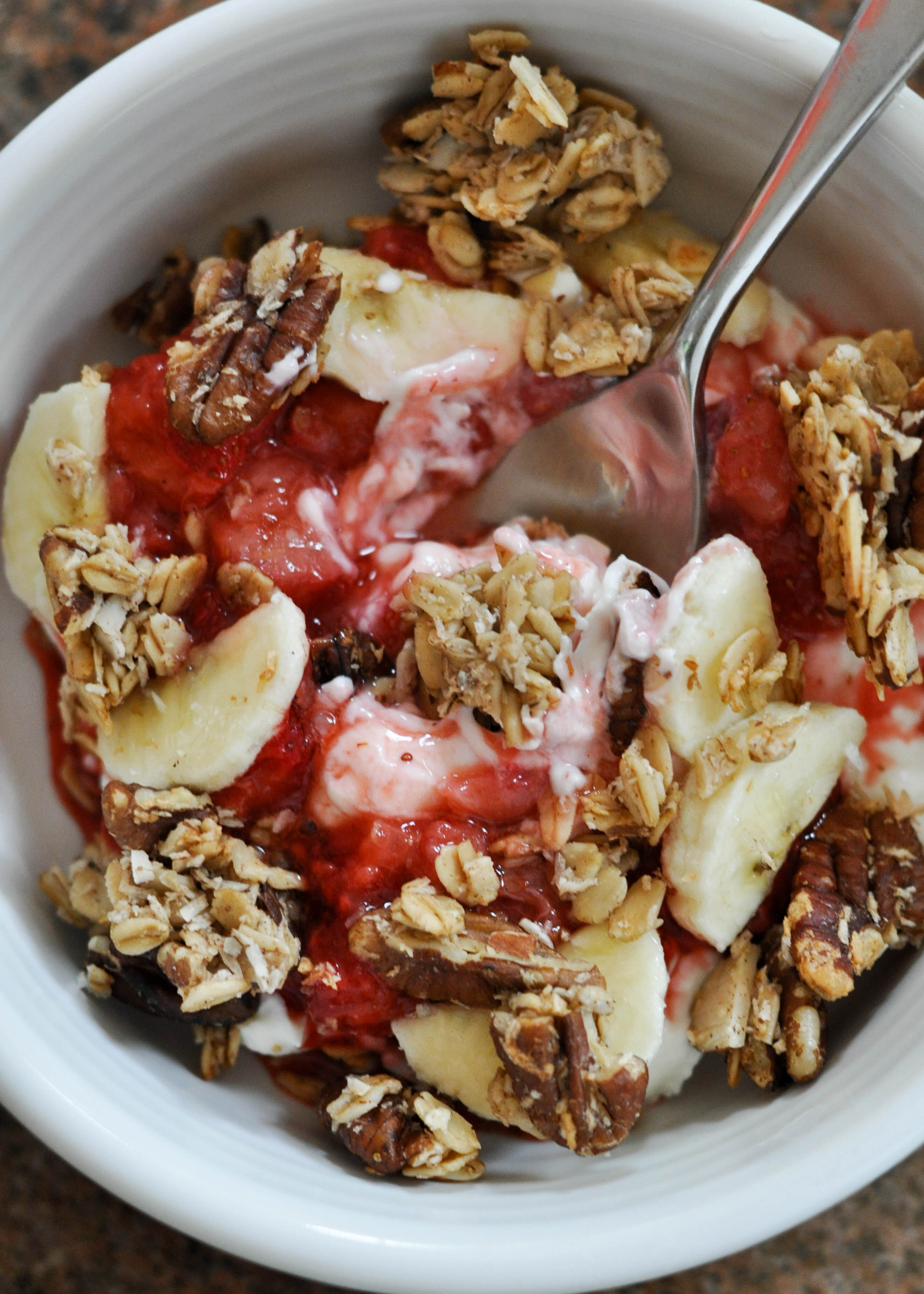 #5:  Strawberries, peaches, and toasted pecans.  I use frozen strawberries and frozen peaches.  I microwave them for about 3-4 minutes.  Cut them up, mix them up, and then pour the whole thing over your yogurt.  With frozen fruits you get all the sweet flavored juices that seep out when they are microwaved that lend a great flavor to anything.
I know frozen fruit seems antithetical to my endeavor to make my food from scratch, but over the years I have thrown out an upsetting amount of fruit.  The window to eat fresh fruit is small, and I have a special talent for missing that window.  From a taste perspective, frozen fruit is pound for pound tastier than fresh.  Yes, the best fresh fruit is MUCH better than frozen, but the average fresh fruit is much worse than the frozen.  If I can get my hands on great fresh fruit I will always choose it over frozen, but often the grocery store sells rock hard peaches and sour plums.  If it is in season locally, that's when I grab it up, otherwise I head to the frozen section.  Of course, check that your frozen fruit is simply frozen and not mucked with somehow.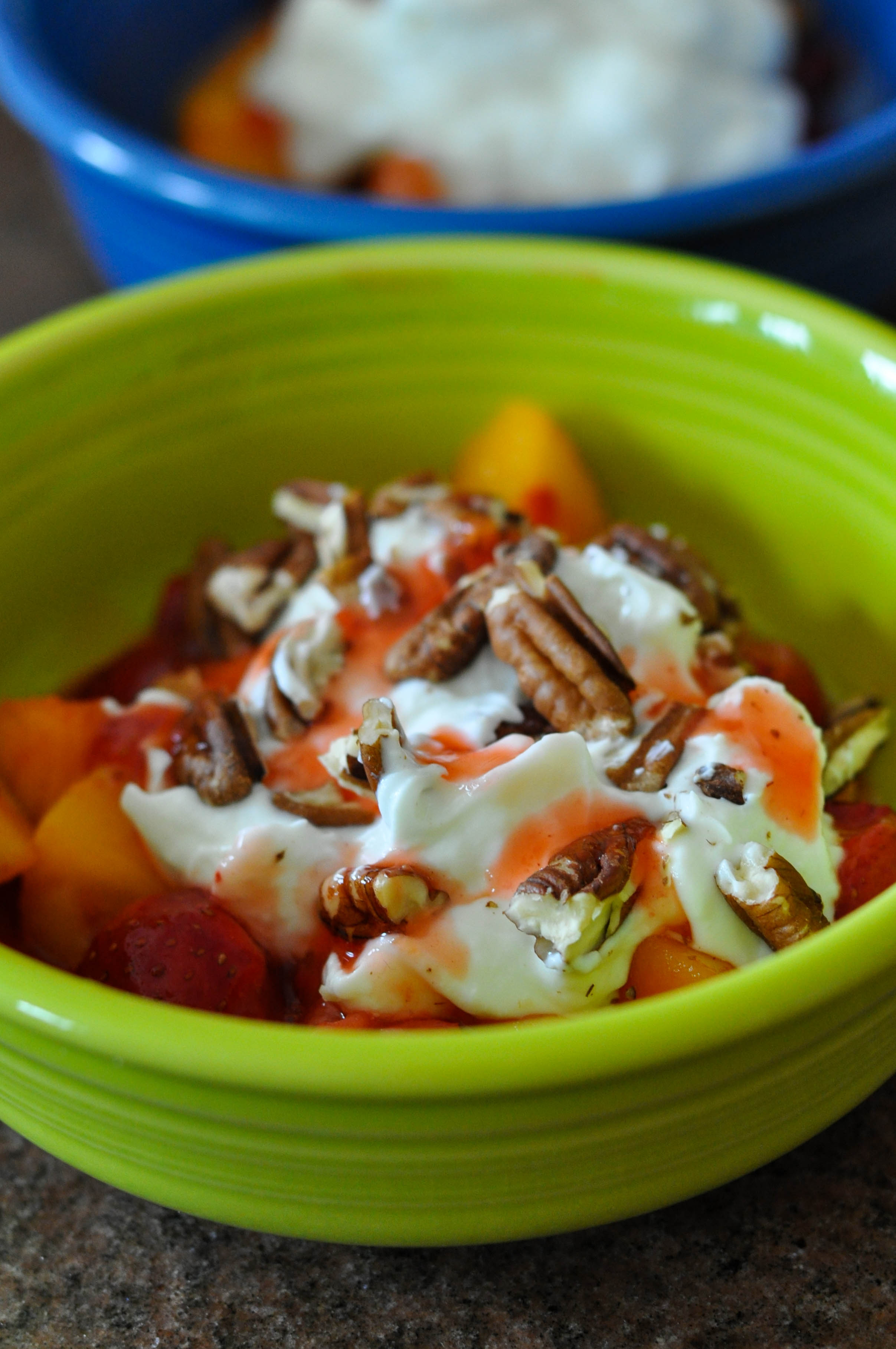 #6:  Brown rice puffs, chopped dark chocolate, banana.  When I was a kid I used to eat chocolate crunch Yoplait yogurt, you know the one with the separate container of chocolate crips on top.  This is my remake of that childhood treat.  The banana makes it sweet, the rice puffs make it crunch, and the chocolate, well, the chocolate is the chocolate.