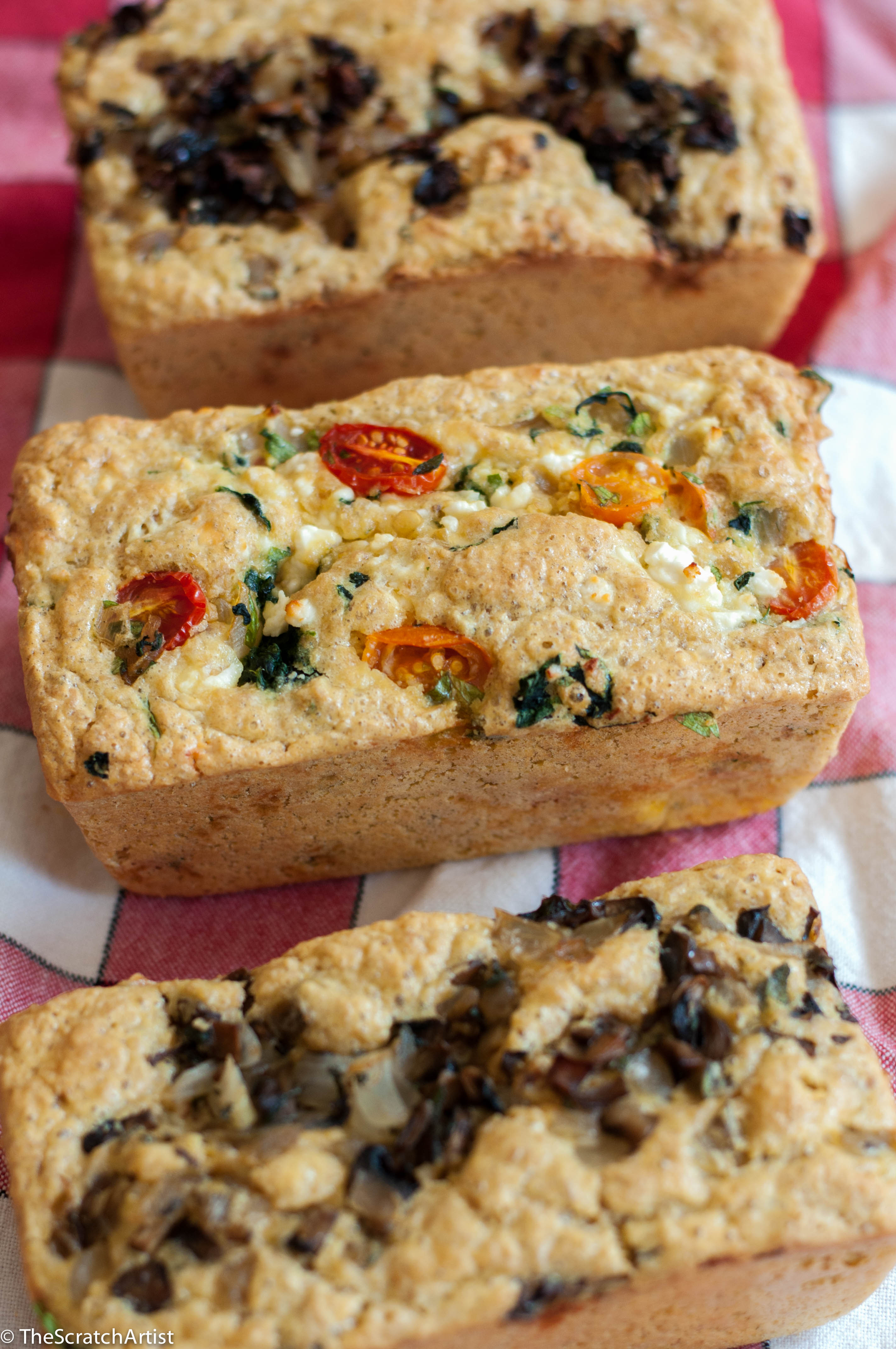 These cutie-pie mini-loaves were part of a grander plan.  This post was going to tie in brilliantly with my exercise update.  Yes, brilliantly.  The plan was to talk about these filling, nutritious, quick-and-easy breakfast breads as my new, perfect, pre-dawn exercise breakfast.  See, brilliant.  However, as you might have noted from my use of the past tense, things did not go as planned.  And by things, I mean moi.  The loaves happened.  The early morning workouts did not.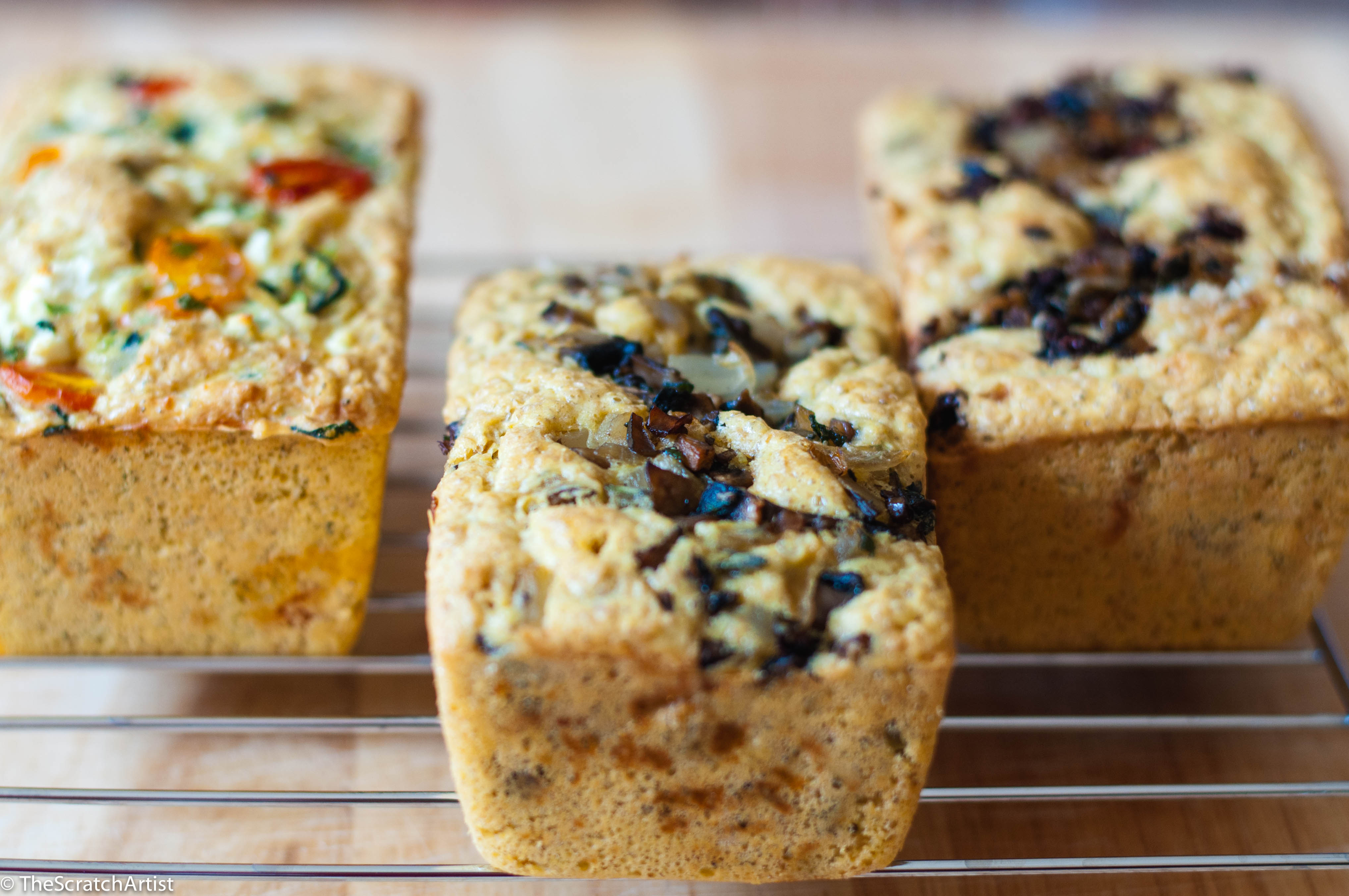 I am still fantasizing about eating these before working out…alone in my kitchen, in complete darkness, because it is 5:00 AM! (I wish I could capitalize numbers to emphasize that I just screamed "5:00 AM").  My body still remembers sophomore year of college, back when I was still idealistic and had the romantic notion of starting my day off in the gym…it turned out being as romantic as that chewing tobacco scene from the movie, The Sandlot (google it).  I won't get graphic, but I have avoided early morning exertion like that one restaurant where you once had food poisoning.
I'm curious what it says about me that I planned and created a recipe for my workouts, made the recipe, and then slept through the workouts.  There is something in there…and I don't think it requires much digging.  But, I have not given up yet!  I am slowly working my way up to this early morning vigor.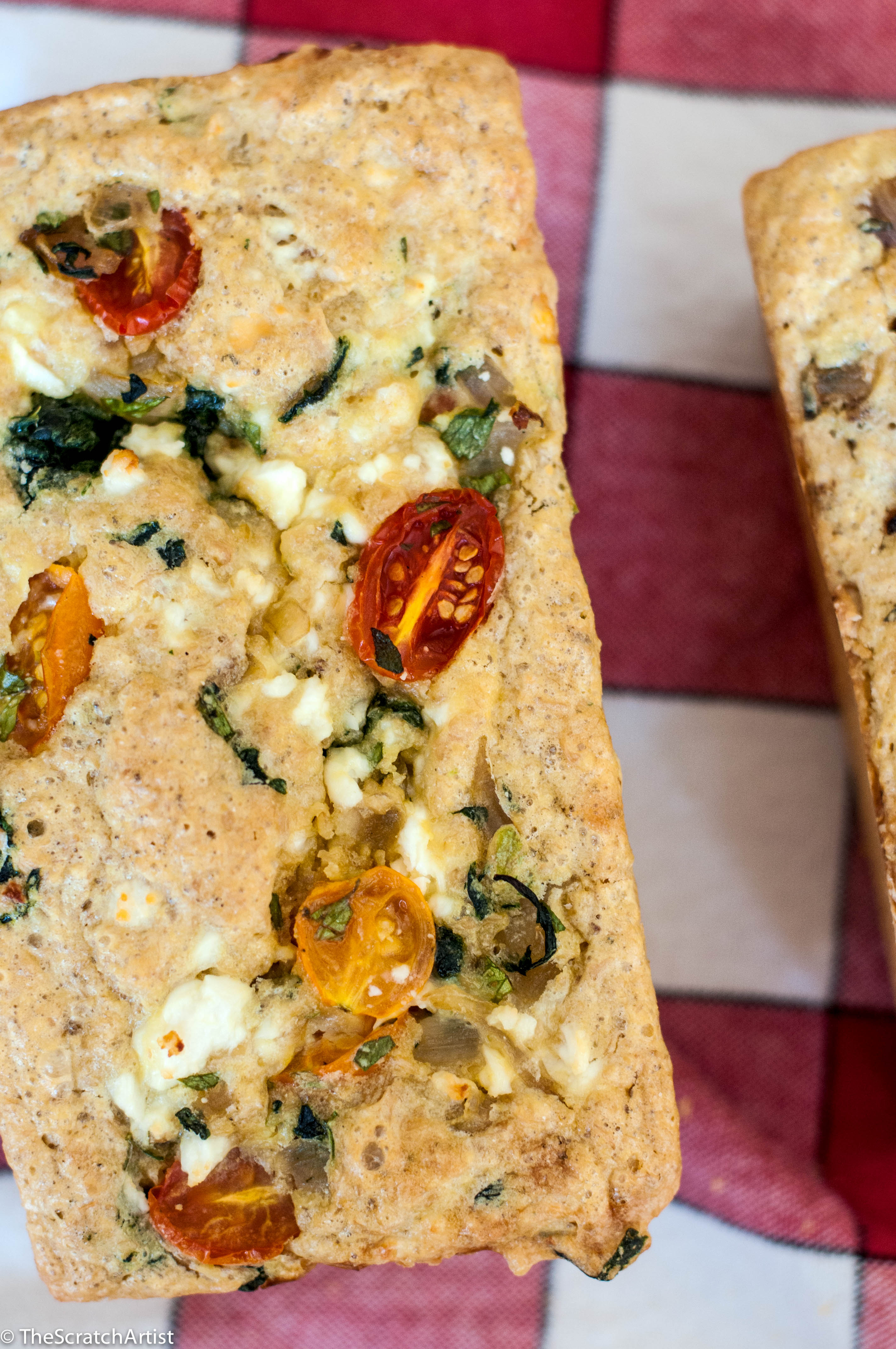 Now about these adorable pocket-sized loaves.  They are made from golden flaxseed meal and garbanzo bean flour (making them deliciously gluten-free), and I think the combination is phenomenal.  They are savory, filling, and pack a powerful protein punch.  The garbanzo bean flour gives a richness of flavor that the plain flaxseed meal lacks.  (If you are interested in 100% flaxseed meal bread, I have a recipe posted here).  Think of these like quiche in bread form, minus the milk/heavy cream.  I couldn't pick just one filling to share, so I made three.  There are so many good combinations.  My three favorites so far are: spinach, feta, and grape tomatoes; mushroom, onion, and sage; sun dried tomatoes, onion, parsley, and Parmesan cheese.  The wonderful thing about these loaves is that they are easily customizable.  Whatever you've got in your fridge, chop it, sauté it, and throw it into this batter.  They make great muffins too!  If you are just interested in getting your hands on this recipe, scroll down for a printable version.  However, if you want to hear how a self-proclaimed hater of all things exercise became that person who likes a good run (whhhhat?), keep reading.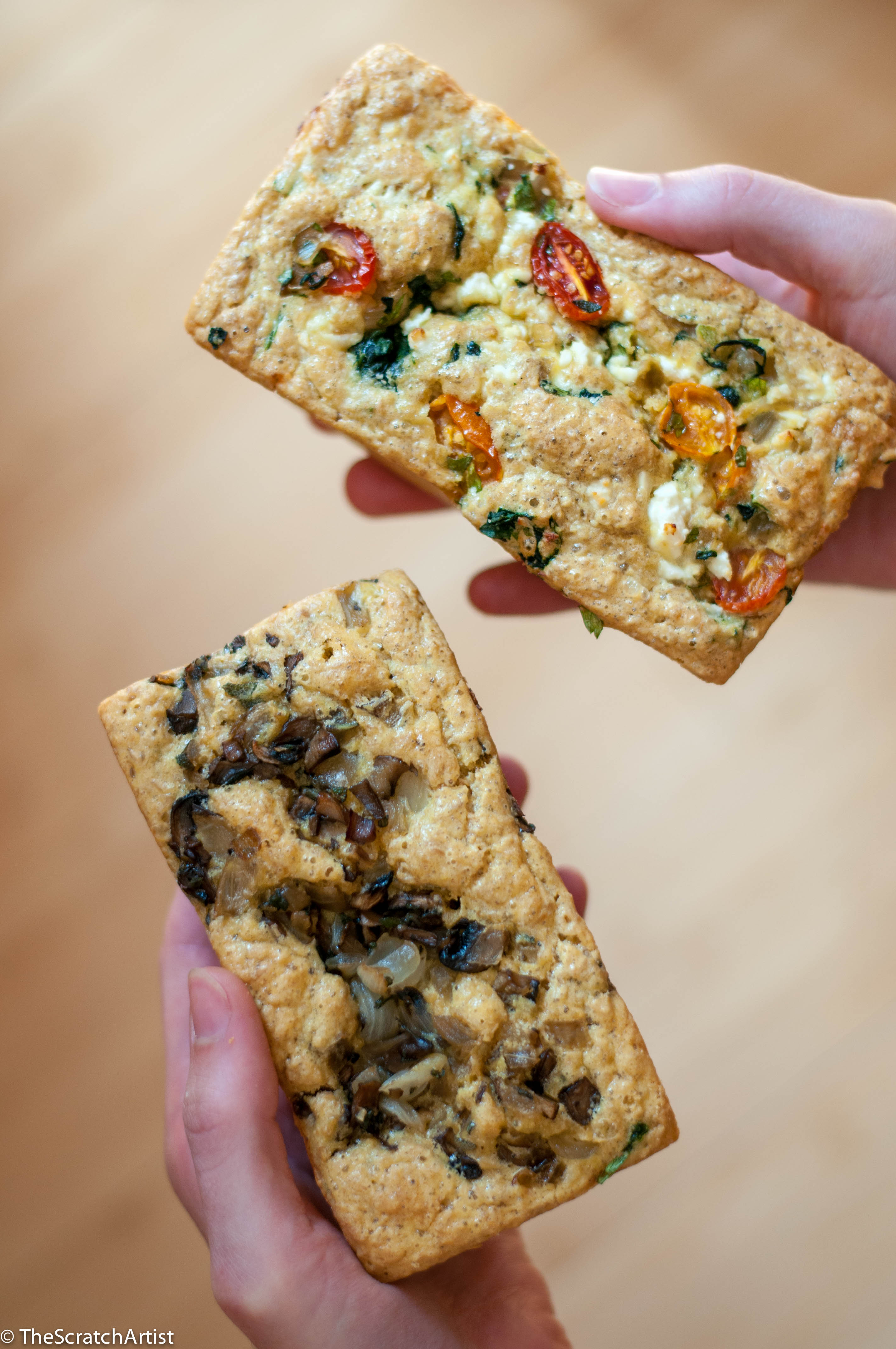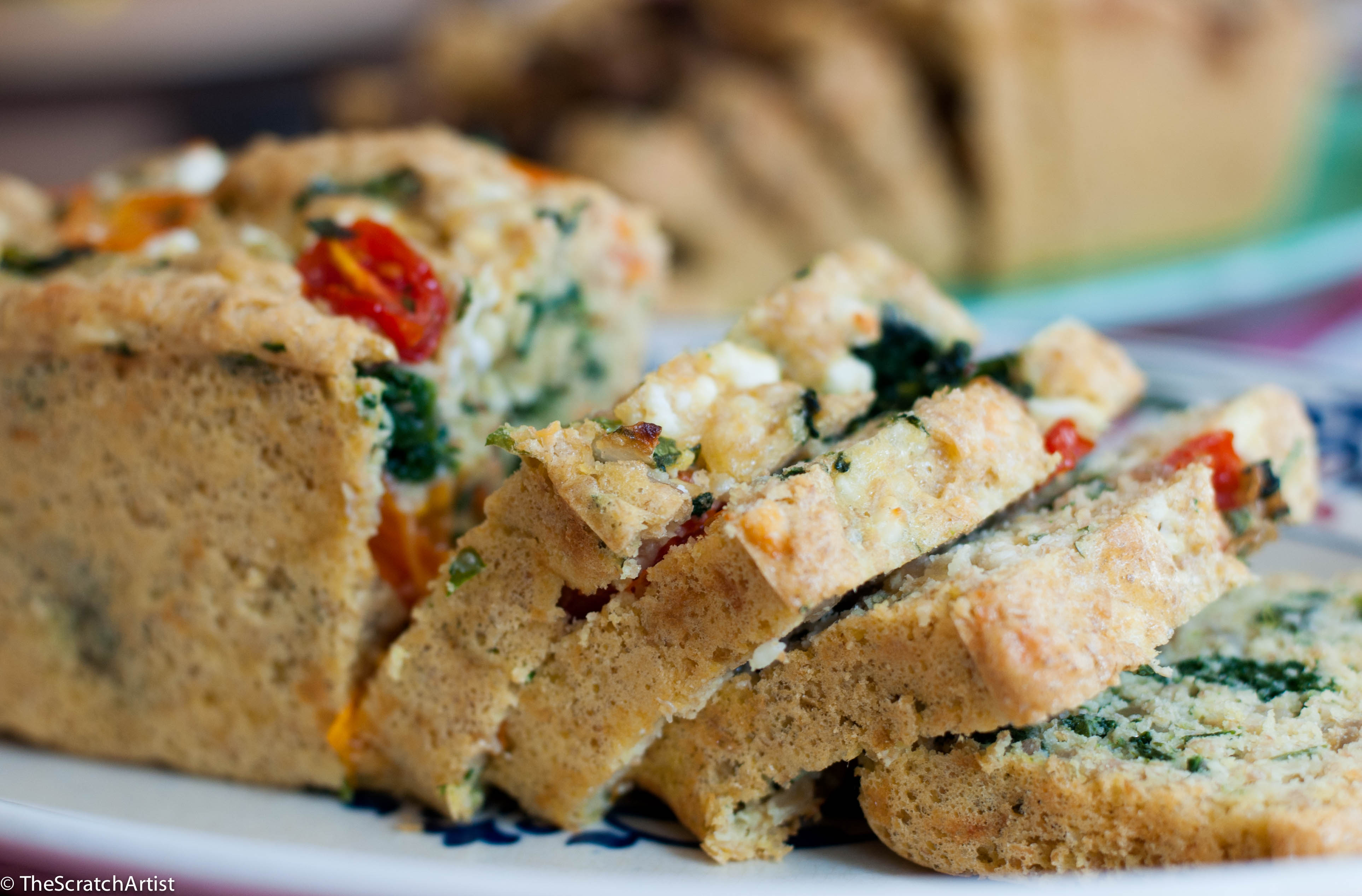 Despite what I might have led you to believe in my opening paragraphs, I have in fact been working out 5-6 days a week, running an average of 2/2.5 miles a day, and doing other strengthening exercises (just not in the morning).  The experiment laid out in this post has been going on now for four weeks.  So far, I would say it is a complete success.  What usually happens when I set out to bring exercise into my daily schedule is a week-long push that fizzles out in sore muscles and an angry question to myself, "What am I doing this for?"  Which is swiftly answered, "This is crazy.  I'm not doing this anymore!  I need some peanut butter!"
I am very happy that pattern has not been repeated!  The idea and approach to exercise that I laid out here (synopsis: treat exercising as simply a way to move and express myself physically, not solely as a means to an end) has made a tremendous difference.  I am still in disbelief over how much this shift in perspective has changed both my experience while working out and my anticipation of it.  I'm afraid to say it for fear of jinxing myself, but I am actually enjoying running.  This is from the kid who chose to play goalie so that I wouldn't have to run laps with the rest of the team.  Yes, I chose to have objects hurled at me over running.
Before I go much further, I want to make clear my intention in sharing all of this.  It is quite simply to help you, me, everyone.  My hope is that what I share here reaches someone in a similar situation as mine.   I learn and grow by watching and listening to others.  I can see in others what I have not yet had the courage to be or express.  Sharing myself here is all in the hope that I write something or phrase something in a particular way that can help someone else, maybe even you.
Back to exercising:
I now approach exercise one movement at a time.  I demand of myself to simply do that one thing.  Of course my mind wanders back onto familiar trails and into familiar ruts, but I now know where to steer my thoughts in order to get back on course.  While running, I can sometimes hear the voice in my head trying to figure out how much longer this is going to go on for?  How far have I gone?  I can't do this much more!!!  Then I softly and measuredly remind myself that what I am doing right now is running.  I am not timing myself.  I am not measuring the distance I go.  I am simply running.  How does it feel to be running right now?  The answer to that question 9 out of 10 times is, it feels fine.  Occasionally the answer is, I feel great.  And occasionally the answer is, I need to stop (in which case I do).  I realized that, in reality, I am fine running.  I am not genetically aberrant in my poor running skills.  I am not a worn-out, haggard, and unfit person.  All of that is just a story that I have told that interferes with my ability to run.
Spending zero time forecasting while I workout has been THE most important factor.  I don't know how I am going to feel a minute from now, but that is irrelevant.  All I need to focus on is RIGHT NOW.   I can keep running right now.  I can lift my leg and run one more step.  And that is all I need to concern myself with.  It has been transformative.  (To be clear, I am not saying there is anything wrong with measuring how far or fast you run.  I always mark down how far I went and how long it took me.  But I find that keeping track of this during my run was completely counterproductive for me.  I started setting an alarm clock that goes off when I run for a certain amount of time).
Don't hear the above as though I have this all figured out.  I don't.  It is incredibly challenging to not check how much time I have left or how far I have gone.  I can almost feel my skin crawling wanting to check the time or mileage.  Ten out of ten times when I check my watch, or look to see how far I've run, in the middle of my workout the hellish way that I used to feel about exercise returns.  I scream at the clock that is moving UNBELIEVABLY slowly.  I protest in disbelief that I have only run half a mile so far.  All of these things take me out of the moment.  I am no longer listening to my body, but rather I am predicting what this is going to be like for the next ten minutes.  Not good.
Because this post is already seeming too long and I can feel your mouse hovering over the back button, let me shut up and share with you some things that have really helped me to run more effectively.  (This is solely my opinion and what has worked for me and is NOT a recommendation.  We all have to find what works for ourselves):
Keep good posture – The more tired I get the more slumped my shoulders get and the more my gaze shifts to the sky.  Paradoxically this posture makes me even more tired.  If I keep a straight back and look forward, I feel much stronger.  Shifting my gaze skyward also flattens my trachea and makes it harder to breathe.
Keep my breathing even and balanced – my focus has been on building up stamina to run farther distances.  With this in mind, I have found it extremely useful to keep my breathing steady and consistent.  I know I am running too fast if my breathing becomes unbalanced and labored.
Listen to the right music – this might seem like a minor thing, but it has made a HUGE difference to me.  I like to pick music that has the same tempo as my stride.  For me, it is important to mix up some low intensity songs with higher intensity songs.  I don't think I have ever experienced runner's high, but I have had great song highs!
Don't let your earbuds fly around! – there is not a person on this planet who is not driven nuts by having their earbuds go flying out of their ears every eight seconds.  Instead of putting up with it, and ruining your entire run, either get new headsets or create something that will hold them in place.  I wrap a thin headband around my head that holds the earbuds in.  If you exercise in public, you might have to come up with a new solution, 'cause I look kind of funny…funnier than usual.
Create an environment that works for you – I don't know why, but I am super sensitive while I am running.   If my hair is not tied back right, if I set-up the wrong music, if my earbuds are loose, if I am wearing uncomfortable clothes, or if anything else is awry, I feel like a kid having a temper tantrum (internally of course…I'm not wailing and kicking as I run, although that would be a sight).  Normally these things would be a zero on the upset scale, but somehow the intensity of the run creates a hypersensitivity in me that makes me a bit irrational.  So I make sure I get everything set just right before I start my run.
Find outside support – either a running buddy or someone who you can talk with about what you are doing.
And to this final point, I am about to throw a whole bunch of links and shout-outs your way because without the support of the following people, I don't think I would have run one mile:
Huge, tremendous THANK YOU to my friend Sara, who has provided so much support and so many tips.  Sara's enthusiasm for exercise inspired me, and continues to inspire me, to explore and discover what is possible for myself physically (she is one of the few people I spoke with who expressed a genuine love for exercise and her workout routines…rather than the more common response, "the best part of my run is when it is over," uhhh, thanks for the inspiring words…).  Sara is also helping me to not be such a cry-baby about waking up for early morning workouts.  She recently wrote a guest post for Alex & Sonja, from A Couple Cooks, about exercise.  I would highly recommend reading it.  To get to know Sara more (and believe me you want to) check out her incredibly creative and uniquely artistic blog, Cake Over Steak.
Jenny from Dinner: A Love Story posted a wonderful piece about running shortly after I decided to start working out again.  Reading her experiences inspired me right when I needed it, at the beginning of this journey.  She recommended Murakami's book, What I Talk About When I Talk About Running that I have since purchased and am already half-way through, also really helpful!  All of the comments you all left on this post helped me to see that I am not alone in my endeavor to find a way of exercising that works for me.  For my strength training, I have been following the ladies over at Tone It Up.  I can't say that I recommend them yet.  A lot of the videos and workouts are above my skill level and I am working on getting more in shape so that I can really follow along with them.
And now for the non-internet friends:
I discovered two very dear friends of mine had run multiple marathons.  The fact that I did not know this about them speaks volumes about how all-encompassing my resistance to all things exercise had become.  In a very non-linear way, a conversation that I had with my dear friend, Ken, had my perspective of what I was capable of in terms of distance and endurance change dramatically.  After one conversation with him, I somehow managed to shave 1 whole minute off of my previous 2 mile time.  I have learned that so much of what holds me back physically is really just a mental issue.  One of the shifts that occurred was the consideration that if he could do it, so could I.  What one man/woman can do, another can do.  Thank you, Ken, for helping me see what is possible.
And to my usually extremely supportive family, I give a giant goose egg in the support category.  I cannot tell you how many times in the course of these four weeks I have heard: "Sit.  Eat something,"  or alternately "Don't hurt yourself,"  followed by a pleading look not to leave and break a sweat.  I can't blame them though.  I know they just love me and want to see me well.  For them, this means me being outstretched on the couch reading a novel, not sweating and grunting my way through difficult exercise routines.
That's all for now.  Anyone else discover anything new about themselves and their workout routines?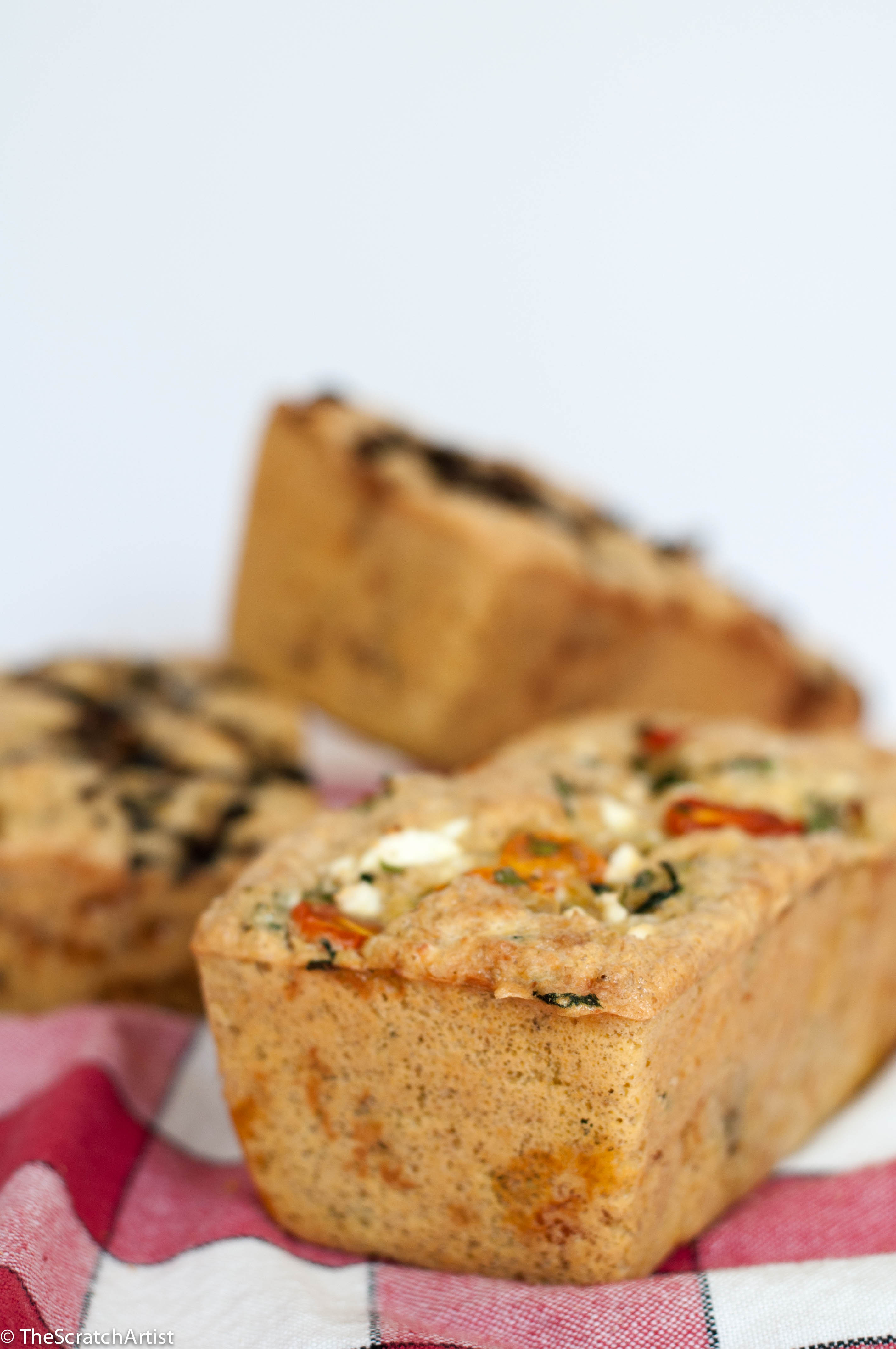 Gluten-Free Mini-loaves for Breakfast
Ingredients
For the bread batter:
1 Cup ground golden flaxseed meal
1 Cup garbanzo bean flour (chickpea flour)
1 Tablespoon baking powder
1 Teaspoon sea salt
5 Large eggs
½ Cup water
¼ Cup rosemary infused olive oil (just drop fresh rosemary into some evoo and voila, rosemary oil)
For sun dried tomatoes, basil, and Parmesan loaf:
¼ Cup chopped sun dried tomatoes
⅓ Cup diced and sautéed sweet onions
¼ to ⅓ Cup grated Parmasean cheese
4-5 Basil leaves, minced
For mushroom, onion, and sage loaf:
⅓ Cup diced and sautéed sweet onions
⅓ Cup diced and sautéed button mushrooms
½ Tablespoon to 1 Tablespoon sage, diced and briefly sautéed in oil
For spinach, tomato, and feta cheese loaf:
¼ Cup steamed spinach, diced
¼ Cup onions, diced and sautéed
½ Cup sun gold or other grape tomatoes, halved
1 Tablespoon fresh parsley, minced
¼ Cup feta cheese, crumbled
Instructions
Prep all of your vegetable fillings by sautéing or steaming with your favorite seasonings and set aside. I provided the measurements for the fillings above as a guide, but basically just add whatever you think will taste good in whatever proportion you like. This is a no-fail situation.
Preheat oven to 350F. Spray 3 mini loaf pans or a muffin tray with olive oil and set aside.
Place your eggs, water, and oil in a bowl and beat vigorously until the eggs are foamy.
In a separate bowl, mix all of your dry ingredients.
Combine wet and dry ingredients.
Using a spatula, gently fold the two together and whisk out any lumps that remain.
Line the bottom of each pan with batter. Add in some of your filling, gently mix for even distribution, pour in more batter and add your remaining topping ingredients.
Bake 20 - 30 minutes. The amount of filling you have in each loaf will extend the bake time. The loaves are done when a toothpick inserted comes out clean. Store cooled loaves in refrigerator. They freeze well also!
These make great muffins too. And they taste great plain, without any toppings.