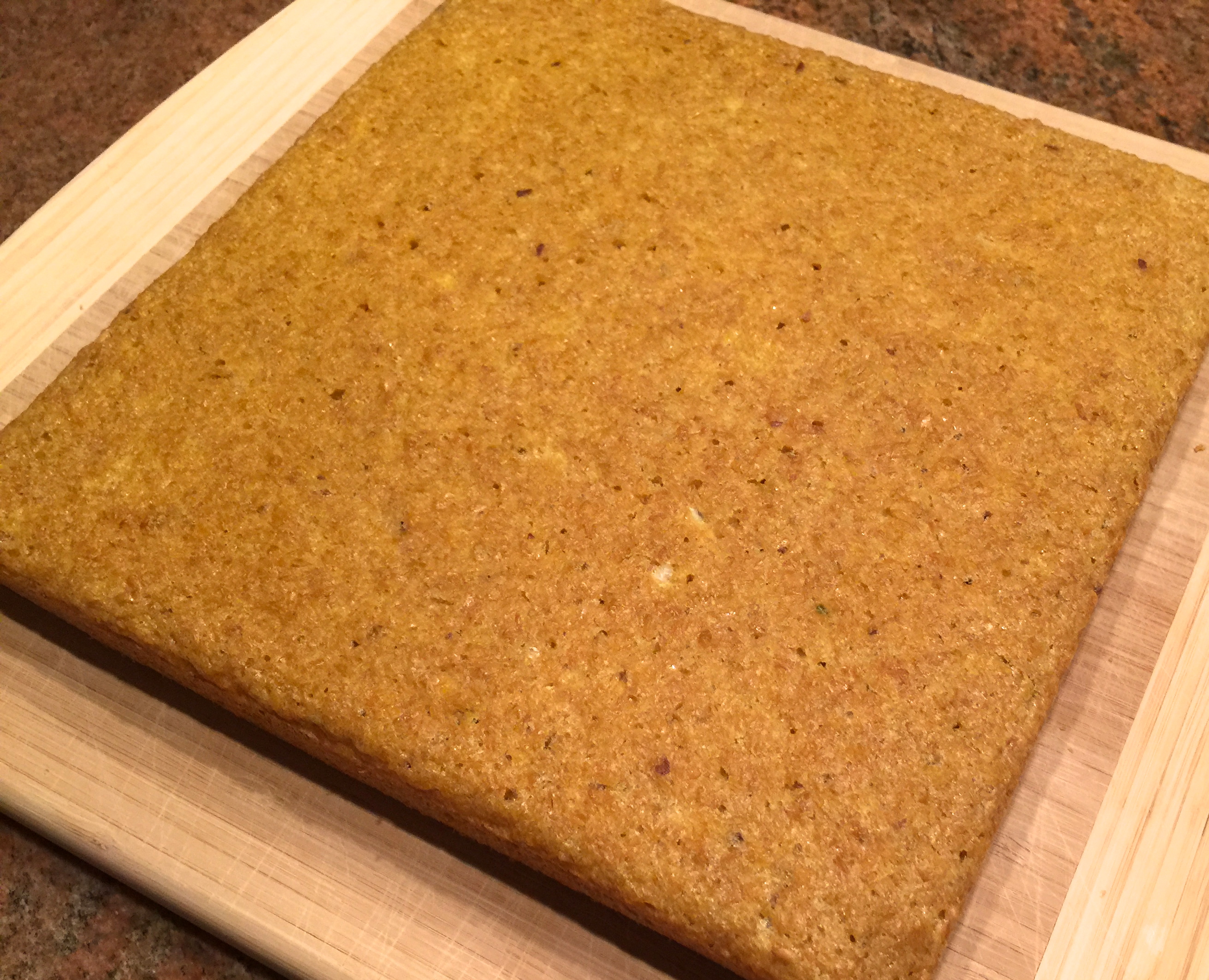 This Golden Flaxseed bread is delicious with so many things: eggs, jelly, peanut butter, sliced turkey and tomato, all by itself…It's all good.  It also happens to be very easy to make.  Ease of preparation is not something I seek out, per se, but when a dish is easy to make without having to cut corners or make sacrifices in flavor or creative license, then I am all for it!  I like to have my cake and eat it too.
This flaxseed bread is a staple in our household because it is the critical component of the flaxseed sundae.  I can't seem to go more than a day without having one!

Golden Flaxseed Bread
Ingredients
2 Cups ground golden flaxseed
1 Tablespoon baking powder
1 Teaspoon sea salt
5 Large eggs
½ Cup water
¼ Cup light olive oil or canola oil
Instructions
Preheat oven to 350F.
Select the pan size you want to use (I've used a 9x9 pan and a muffin pan). If the pan you choose varies the thickness of the bread from what I made, you will have to adjust the cook time accordingly (thicker = longer cook time). As with all baked goods, you want your finished product to be jiggle free when gently shaken, and an inserted toothpick should come out clean.
Place your eggs, water, and oil in a bowl and beat vigorously until the eggs are foamy.*
In a separate bowl, mix all of your dry ingredients.
Pour your whipped eggs, etc over your dry ingredients.
Using a spatula gently fold the two together. Don't over-mix. Mix just enough so that everything is incorporated. You should have a very airy, puffy-looking batter.
Pour your batter into your pan and let it rest for 5 minutes or so before putting it into the oven.
Bake 20 minutes (time will vary depending on the pan you use). The top should look nice and golden when it is done.
If you want it extra crispy add 5 minutes to the baking time. If you are baking for a multitude of taste preferences you can toast individual slices in the toaster (highly recommended).
Notes
There is a lot of oil in this recipe so you don't need to spray your pan or use parchment paper (unless you know you have a super stick-prone pan). I use the USA Pan Company for all of my baking. Nothing has ever stuck to them, in fact if you spray them you get a gunky build-up, so I don't spray.

*For blending your eggs you could use a hand held electric mixer or a blender in this step. I am a bit over the top about food safety. The first time I made this bread I used a hand held electric mixer and the super-powered whisk blades spit out little bits of egg splatter all around my kitchen. Gack! After that, I relied on my own brute strength to whip the eggs. They were just as fluffy as with the blender and I was less paranoid. Win-win.

When I make this in a sheet pan, I cut it into long strips, wrap the strips in plastic wrap, and place them all in one Ziploc freezer bag, and freeze. For muffins, place what you aren't going to eat right away, into Ziploc freezer bags and store in the freezer. To thaw place in refrigerator for several hours or thaw in your microwave.

I adapted this recipe from Laura Dolson's about.com Focaccia-style Flaxseed Bread
I use Bob's Red Mill Ground Golden Flaxseeds.  I have considered grinding my own flaxseeds.  There is a lot written online about grinding your own seeds.  Supposedly the flaxseeds go rancid very quickly when they are ground and stay fresher when kept whole (makes sense).  I store my ground flaxseeds in the freezer and have never had a problem with them going rancid, but I do use them up quickly.  I don't notice any difference in taste between fresh ground whole flaxseeds and pre-ground.   It is a bit of a pain to grind them, unless you have an electric grinder.  I used a mortar and pestle and my hand was ready to fall off at about a 1/4 cup worth of grinding.  So, this is one ingredient that I don't suffer any loss of creative license by buying pre-ground, but experiment for yourself.