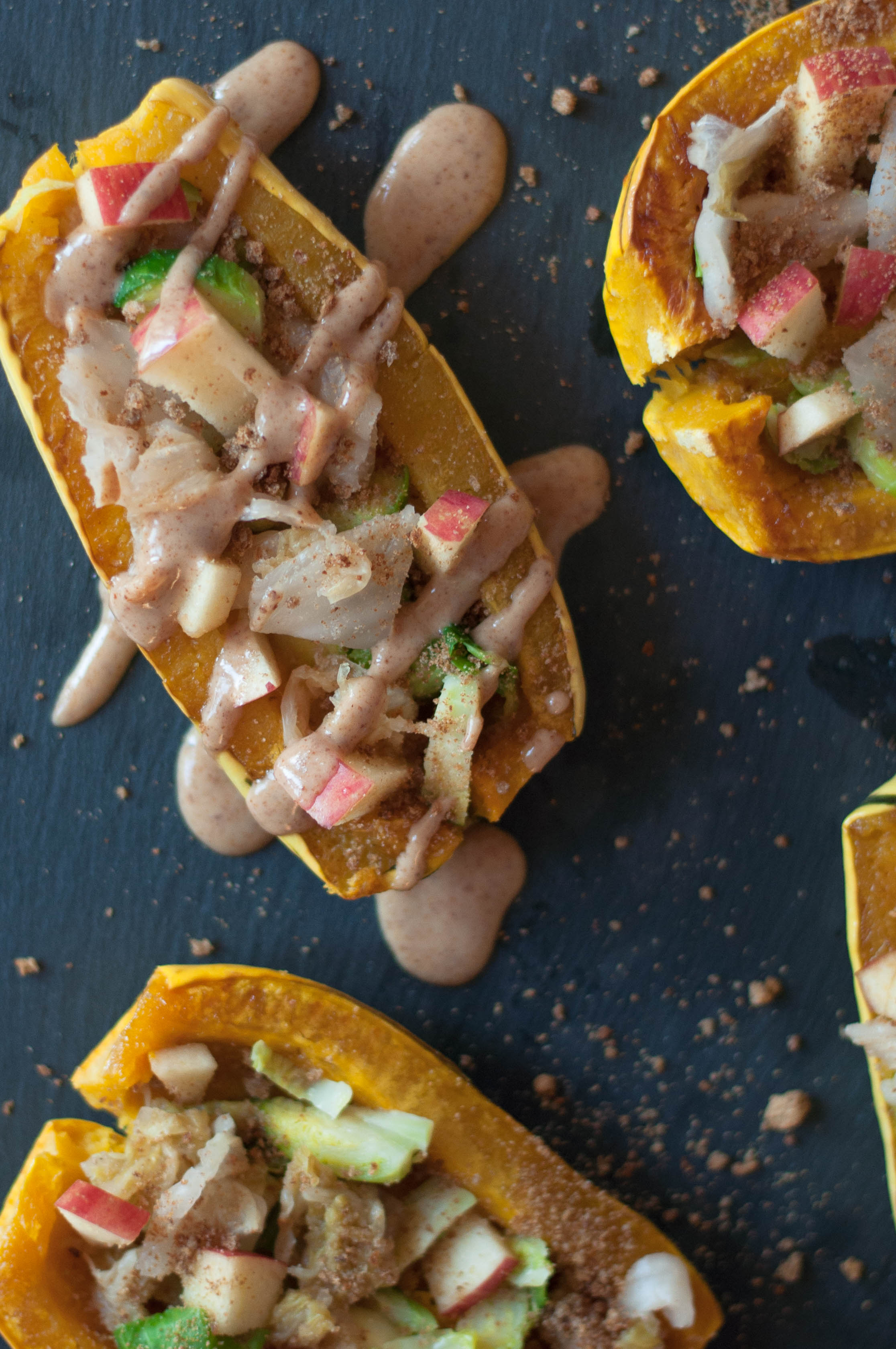 Do you like to eat out of edible dishes?  Me too.  It makes me feel like a kid again, when food was playful and sometimes looked like cartoon characters.  I think we could all, no matter our age, use a hefty dose of playful in our lives.  If you aren't into eating your dinnerware, you can be an ol' stick-in-the-mud and chop the squash into chunks and then bowl-it-up like a grumpy old grampa.  But if you did this and were eating with me, I would take this as a challenge, a gauntlet, to make you laugh so hard that your chichi adult beverage would pour out of your nose and into your fancy bowl, so beware.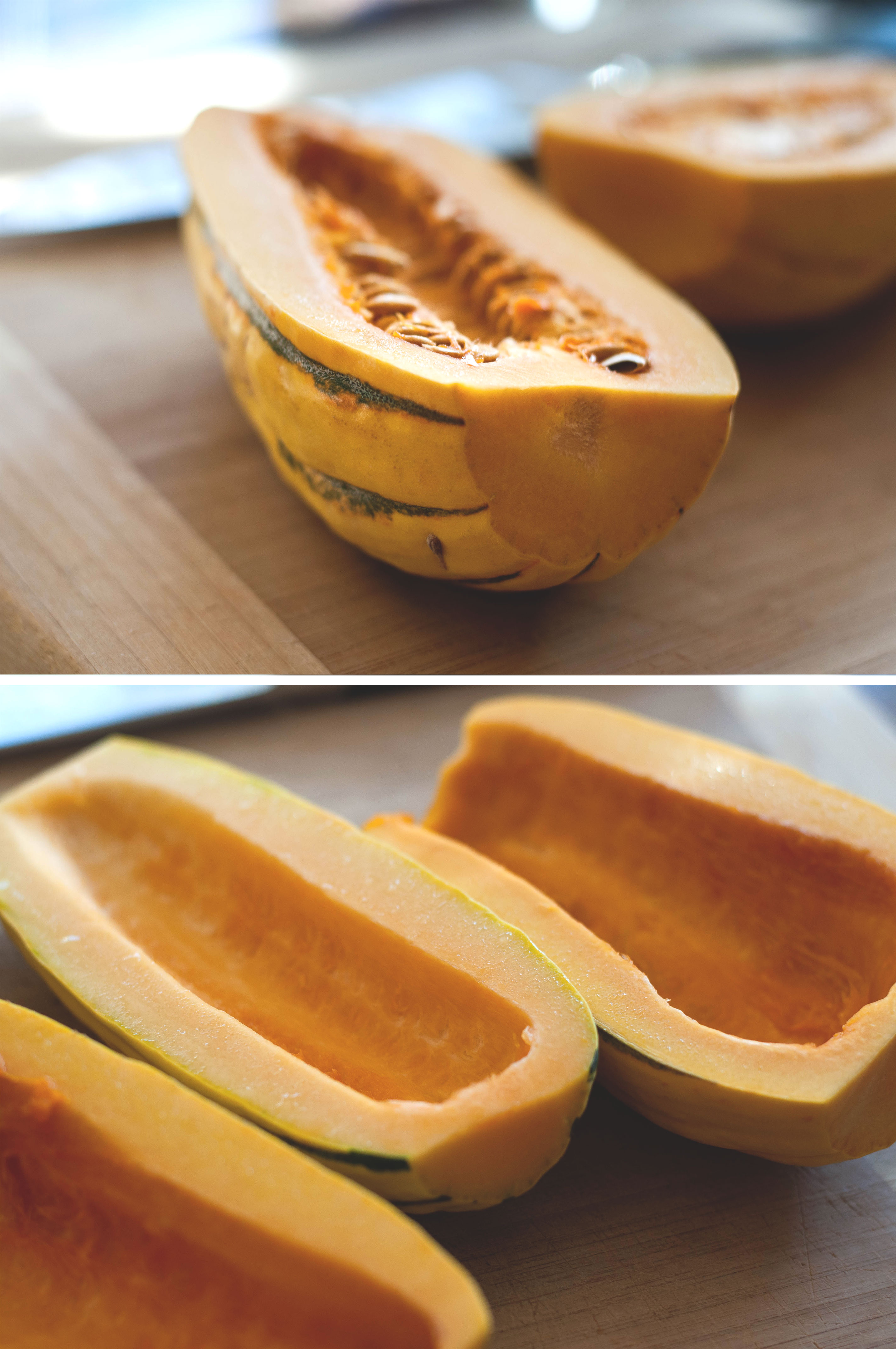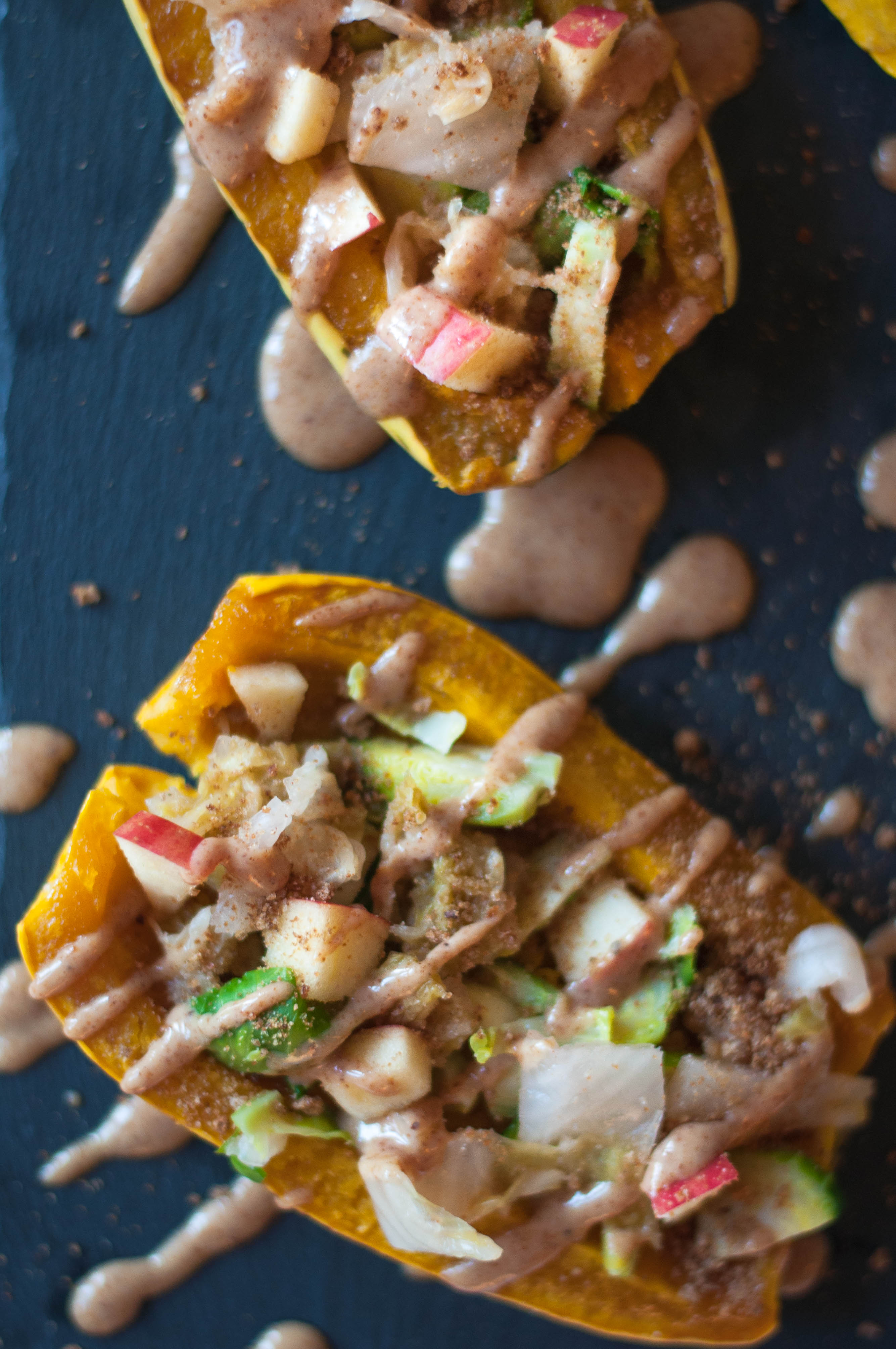 I am an advocate for all things playful (Advocate?  Just go with it.).  And while we are on the subject, I champion silly too.  Sure, young, and I mean young, kids are allowed to be silly within certain parameters, but soon enough we are told to "grow up!"  Not only by our elders, but by our peers and partners too.  I never see a group of business men/women bent over in laughter as they catch a breath between meetings.  When was the last goofy and rambunctious bank teller or store manager you came across?   I don't know about you all, but I need silly in my life.  Tax season?  Mortgage due?  Layoffs next month?  These heavy times call for some good old fashioned silly.  Think about the way you were in middle school and high school (before you started thinking you knew everything).  Couldn't we all use some uncontrollable giggling?  Some inside jokes or well intentioned pranks?  Don't you miss the days of yelling, "gotcha!" and breaking up into hysterics with your best friends?  So let's play a little (or a lot) and eat our bowls tonight.
Speaking of playful, these flavor combinations are straight out of a carnival.  If you cocked your head in disbelief as you read the recipe, you would not be alone…you would be me as I put this together in my head.  Can you surprise yourself?  It gets a little existential, but I really don't know where some of my ideas come from.  Kimchi, squash, and almond butter?  I've never even had kimchi until making this dish.  Explain that!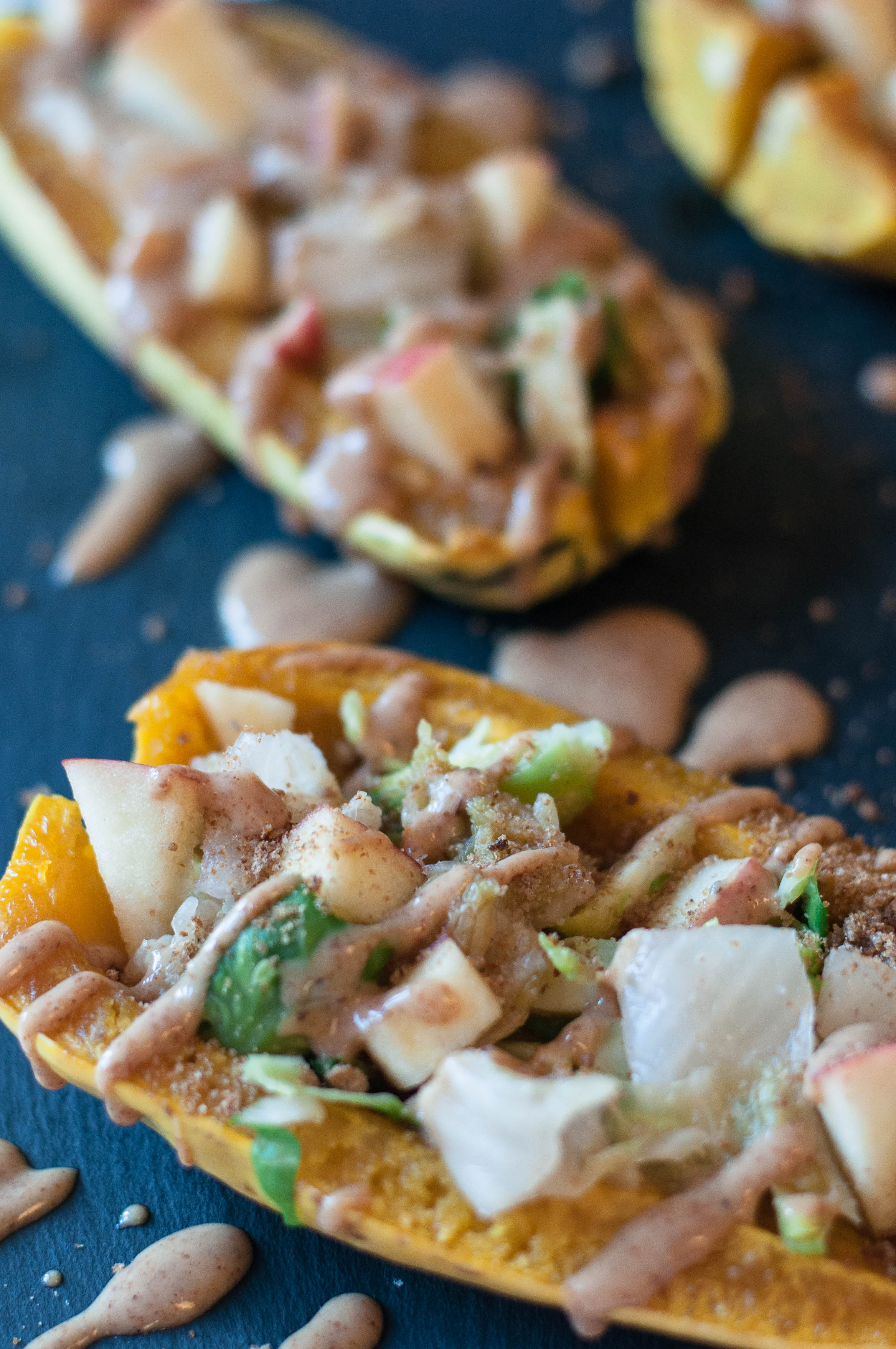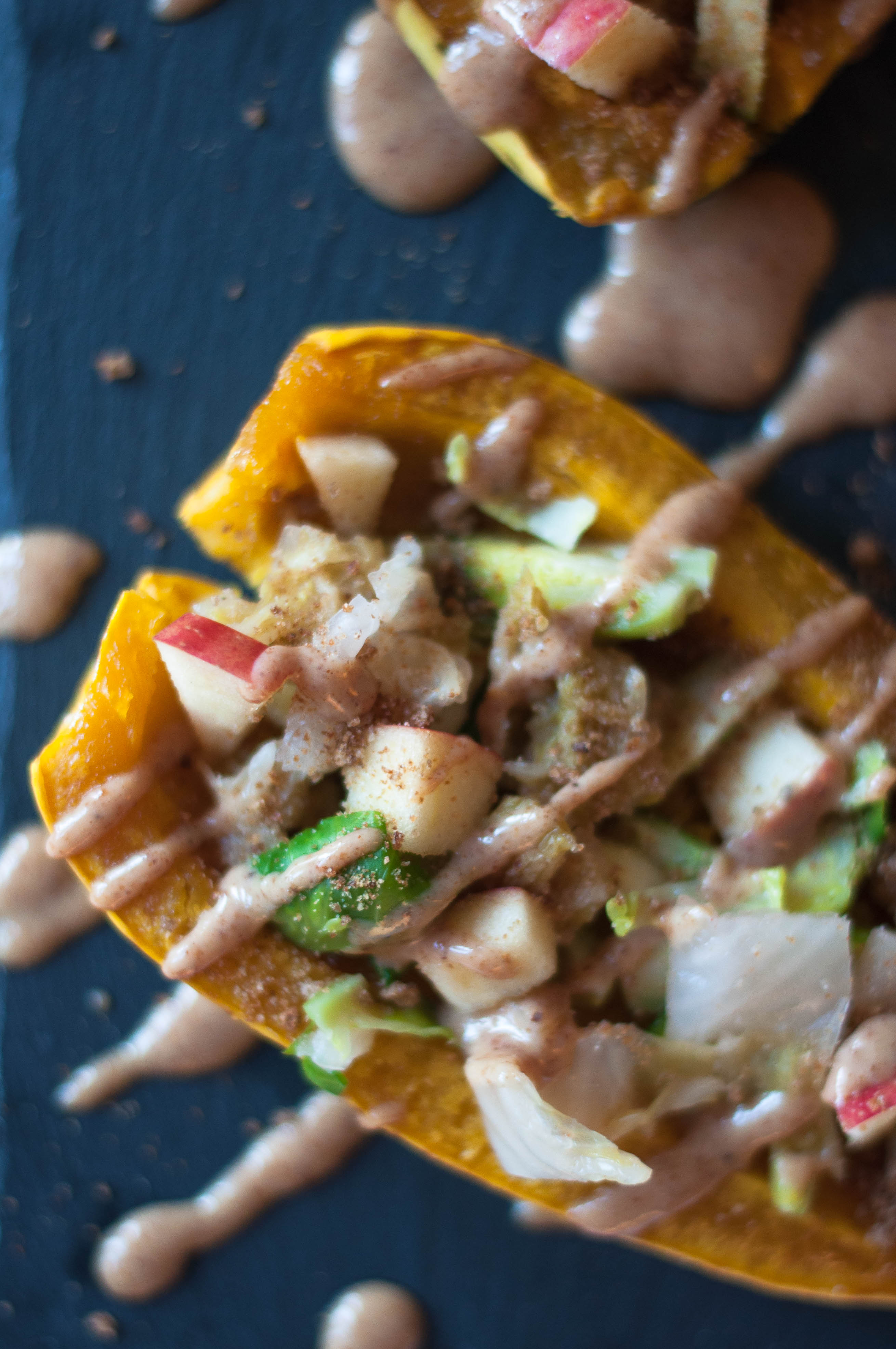 I first served this as deconstructed components, a make-your-own, mishmash style meal.  That way, if everything didn't work together, no one could blame me.  Hey, I didn't say to eat them together, hehe…tricks of the trade, folks, aka plausible deniability.  But everyone was reaching and scooping and combining, so much so that I got complaints that I didn't just serve it as one dish.  I tried to keep a straight face.
The sour/spicy tartness of the kimchi with the sweetness of the squash harmonize.  Hard to explain; just try it.  As I said, I am new to kimchi and I'm in love.  I have already been dreaming up more ways to use this incredible flavor.  There is definitely a homemade batch of this coming up soon.  I've got my eyes on these recipes My New Roots and TheKitchn.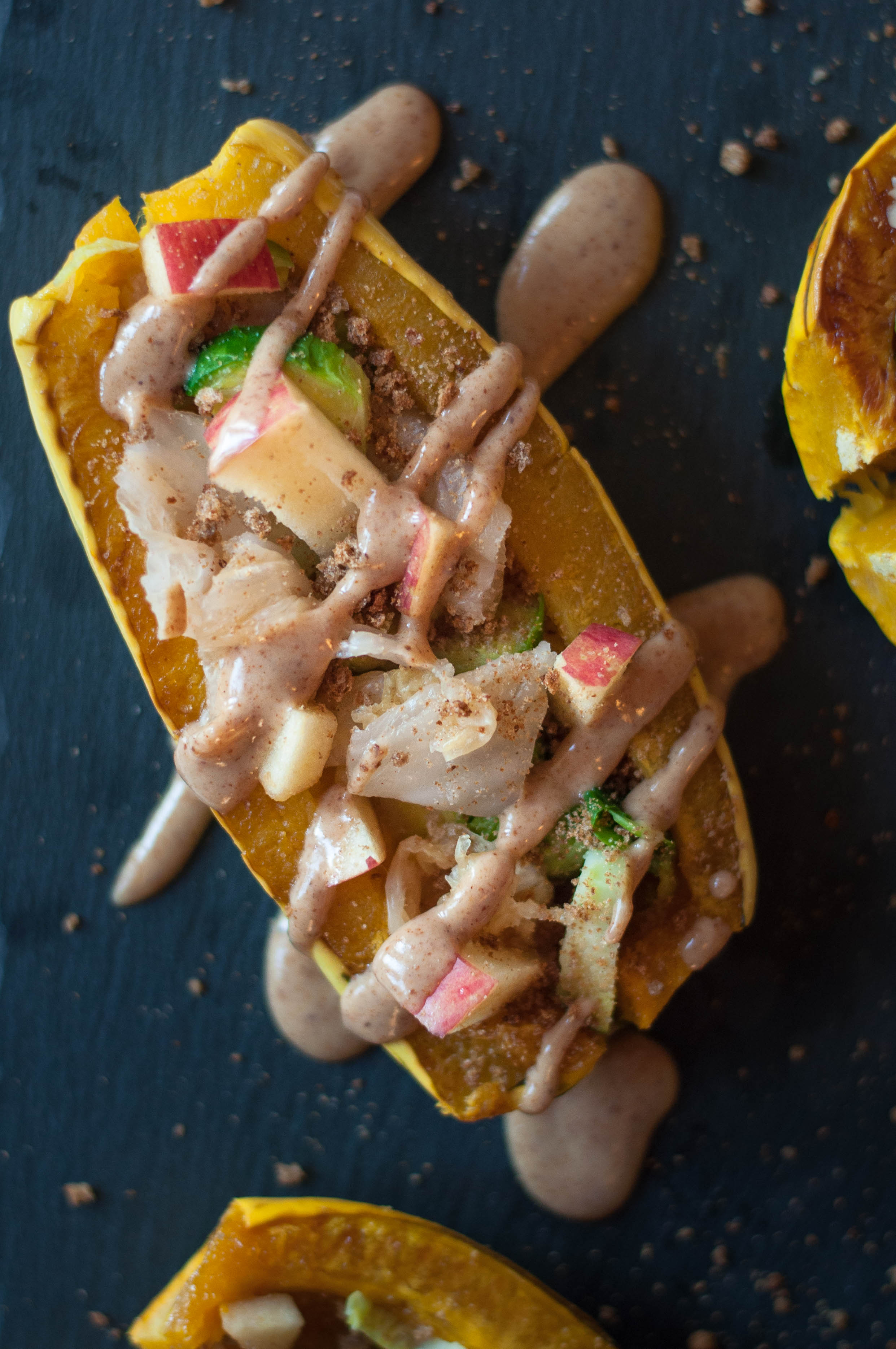 Delicata Squash Kimchi Bowls with Almond Butter Sauce and Breadcrumbs
Ingredients
Squash Bowls:
2 Delicata squash
3 oz (little less than ½ cup) Kimchi (mild or spicy depending on your preference)
1 Cup steamed Brussel Sprouts
¾ Cup diced honey crisp apples
Two standard slices of whole grain bread (for making bread crumbs)
Almond Butter Sauce:
3 Tablespoons creamy almond butter, salted (make your own)
1 Teaspoon apple cider vinegar
¼ Teaspoon maple syrup
Pinch of cinnamon
Pinch of salt (or more to taste if you are using unsalted almond butter)
Hot water to thin
Optional:
For added spiciness drizzle some sriracha on top
Instructions
Preheat oven to 350F.
Slice end stem off each squash. Slice in half lengthwise and scoop out seeds.
Lightly spray or coat with olive oil and sprinkle insides with salt.
Bake in oven for 30 minutes or until flesh yields easily to a fork.
While your squash cooks:
Slice two standard sized pieces of whole grain bread into small cubes. Lay out on a baking sheet and lightly spray with olive oil and sprinkle some salt. Place in toaster oven until the bread is crispy, hard and browned, about 5-7 minutes. If you don't have a toaster place in the oven with the squash and keep a close eye on them so they don't burn. Once crunchy and browned, remove from oven, they will crisp up even more. Once they have cooled, place inside a blender or food processor and blend until only crumbs remain. Set aside.
Chop your kimchi and apple into bite-sized pieces.
Steam your brussels sprouts, as per your favorite method. I microwave them with a drop of water for about 5 minutes or until tender, mixing halfway through. Divide into halves or quarters. Set aside.
To make the sauce:
Combine almond butter, apple cider vinegar, maple syrup, cinnamon, and salt. As you mix, slowly add hot water until the mixture is pourable.
To assemble your bowls:
Layer brussels, apples, and kimchi into the delicata squash wells.
Sprinkle breadcrumbs generously over the top of each squash. Either pour sauce directly over each "bowl" or place the assembled bowls back in oven for a quick five-minute reheat to get everything a warm and crisp up the breadcrumbs. Be very careful not to burn the breadcrumbs.