Happy Father's Day!  I have two fathers to be grateful for today.  How lucky am I?  It's a very long and wonderful story, which is probably best told at another time.  Bottom line, I am one grateful, happy girl on this beautiful Father's Day.
I made this bread for each of them to enjoy on their day, so I thought it a fitting post for today.  And to the two of you, who faithfully support me and my blog, thank you for all that you have helped me learn, see, be, and dream.
And now for the bread…
A whole grain no-knead bread!  Well sort of…Does folding count as kneading?  I don't think so.  Regardless, this is the s i m p l e s t bread to make.  Well, it is the simplest now that I have perfected the method.  If you don't want to see the labor pains, scroll down to the bottom to see the recipe.  But if you want a good laugh, keep reading.
The only "strenuous" aspect of making this bread is the amount of time you will need to be homebound.  On the bright side, if you're a homebody like me, this is a plus.  "Sorry, my bread is rising…" is the perfect excuse for declining an unwanted invitation.  Try it.  You'll be surprised how effective it is.  Most people have a natural respect for bread rising.  Now that's a sentence you don't hear every day, but it's true, believe me.  Either they have never made bread and they are so in awe of you that they are speechless OR they have made bread and they completely understand.  (And, it's a great conversation starter should you want to spread the word about the benefits of scratching.)  Either way, you end up not having to go out AND you get to make the best bread ever. Cha-Ching.
Another thing to bear in mind here is that your time investment is only for the bread to rise, not for you to be working.  So, for the seven hours that your bread is rising, you can watch a Downton Abbey Marathon, pausing it only to deflate your bread a couple of times.  Come now, this is an offer you cannot refuse.
As with most folks out there, I discovered the now-famous No-Knead Bread from Mark Bittman's NY Times food blog.  The first time around, I followed his exact instructions, just substituting whole grain flour for all-purpose flour.  I like to refer to this as ROUND 1.  A picture is worth 1,000 words.
Round 1:
Ohhhhh-K, try, try, try again.
Round 2:  Have you ever seen the episode of I love Lucy where she learns to bake bread?
Aaaand…that would be me!  The dough from round 2 was LITERALLY The Blob (the 1958 version).  I was hysterical when I opened the oven to find this:
Round 2: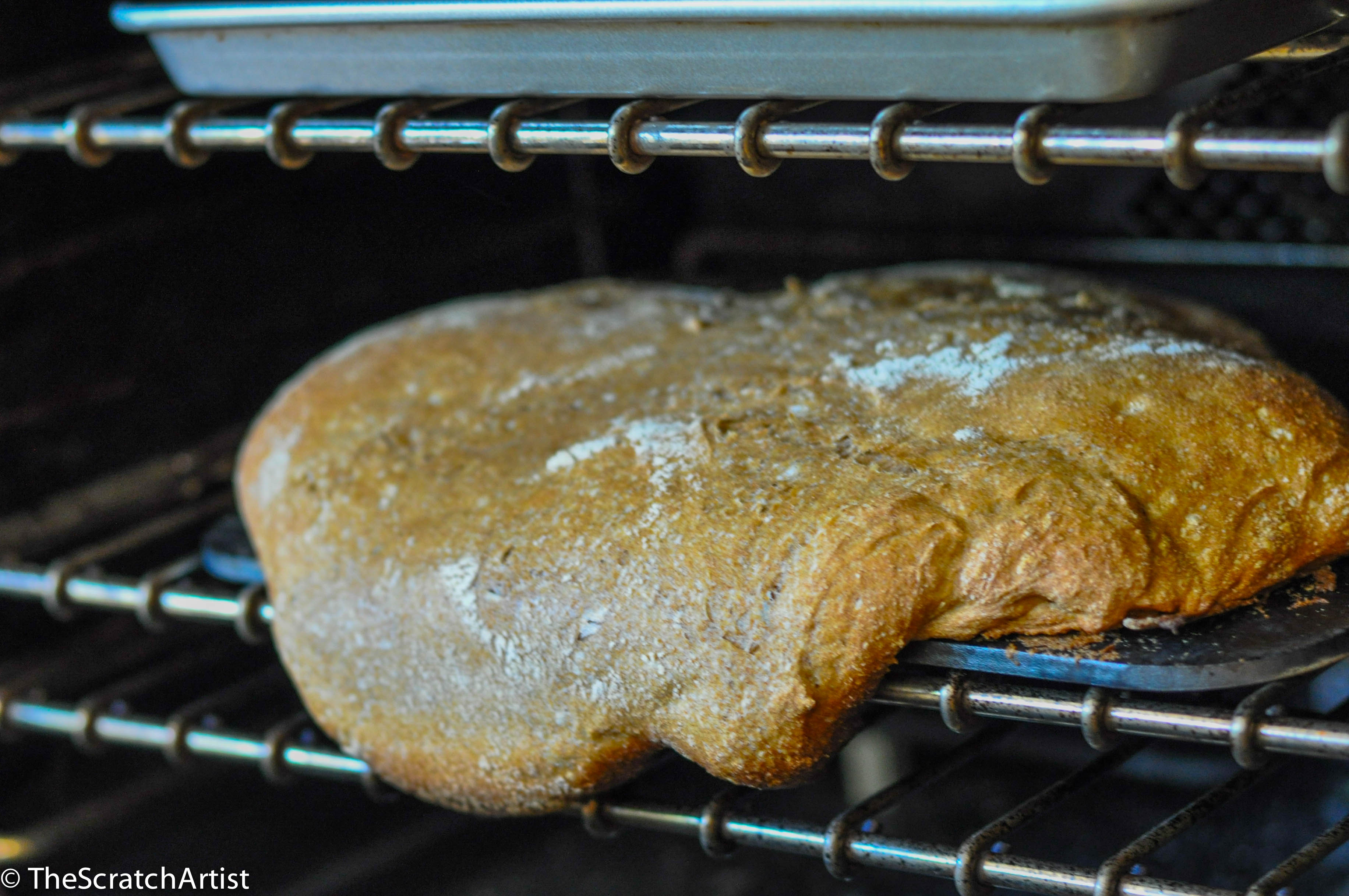 Its alliiiive.  Its ALLLIIIVE!
OK, it was definitely time to get serious.  From my frisbee to my blob, I had some serious issues to address.  However, unbelievable as it may seem, they both tasted great!  Like, really and unbelievably, seriously great!  They were essentially all crust.  After toasting, the sound it made inside my head and around the table as we ate was unreal.  CRUNCH, CRACK, SNAP!!!  Mmmmmm, so good!
Despite the delicious taste, I knew I could get this bread to behave itself and act like the boule it was intended to be!  It was time to show who was boss.  Fingers crossed that was going to be me…
I came up with a strategy to give the bread more structure.  The bread had such a high water content, which gave it a great bubbly interior and crunchy crust, but did not give it much form.  The gluten had no strength.  Anytime I moved it, to try and get it into the oven, it completely deflated.
So, instead of letting it rise for 12-18 hours, as Mark Bittman does, I let it rise for 3-4 hours, then deflated it and folded it over on itself several times, and shaped it into a boule.  I then let it rise for another hour.  I repeated the deflate, fold, shape, and rise process two more times, and then baked it.  After each consecutive rise, the bread had more structure and better gluten development.  This allowed it to hold its shape and rise once it hit the heat of the oven, rather than deflate.  Success, sweet delicious success.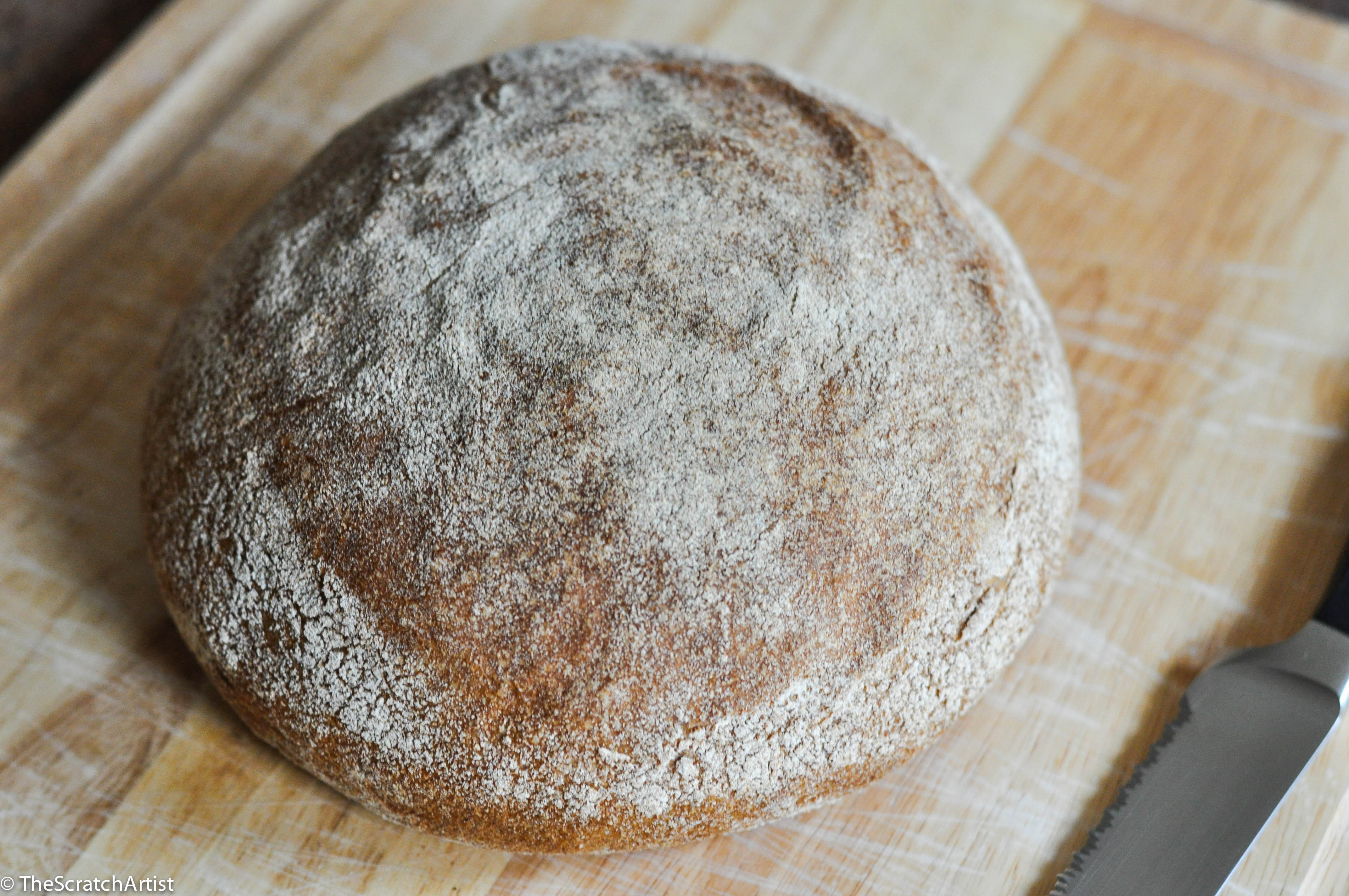 100% Sprouted Whole Wheat No-Knead Bread
7-hour rise-time, 35 minute bake-time
Ingredients
3¼ - 3½ Cups sprouted whole wheat flour (or substitute any whole grain flour. I've used mixtures of white whole wheat, quinoa flour, and sprouted whole wheat)
¼ Teaspoon SAF yeast
1¼ Teaspoons kosher salt
1⅔ Cups 115F water
Equipment
Dough scraper / bench knife
Banneton or colander
3½ quart lidded Dutch oven
Instructions
Measure your flour, yeast, and salt into a mixing bowl and stir together. To begin, add only 3¼ cups of flour.
Pour in the water. Make sure that the temperature of the water is between (110-115F). This will make for happy yeast.
Stir until you have a sticky but dough-like mixture. Add in the remaining ¼ cup of flour only if the dough seems too loose. The dough should be loose and not firm.
Cover your bowl with tight-fitting plastic wrap.
Let rise for 3-4 hours. This is not an exact science. It should have doubled in size within 3-4 hours. When in doubt, let it rise for the full four hours.
Scoop your dough out of your bowl onto a floured work surface. It will look stringy and very loose.
Sprinkle flour over the top of your dough, and using your scraper, fold the dough in half over itself. Then, quasi-knead by folding it randomly a couple more times with your scraper. The dough should feel quite sticky. Use more flour as needed to keep it from sticking to everything.
Create a rough-looking chubby flat circle. Fold the side furthest from you towards you, then the left and right sides over that, and then the side that is closest to you over all three folds. Now turn the dough over and pull it towards yourself shaping it into a tight round ball. (Watch this video and fast forward the video to 1:25 for how to make a boule shape.) A video is worth 10,000 words. When shaping your dough, it is key not to have too much flour on your work surface so that you can create enough tension to pull the dough into a round shape.
Using your scraper, lift up your shaped dough and place it back into your bowl to rise for an hour. Cover the bowl with plastic wrap.
After an hour, the dough should have doubled again. Scoop it out of your bowl onto a floured work surface, deflate the dough, and fold and shape as before (use just enough flour to prevent it from sticking to everything).
Place the shaped boule back in your bowl, cover with plastic and let it rise for another hour.
Shape your dough one last time and place it upside down (seam up) in a banneton or a colander lined with a well-floured towel. Sprinkle flour over the top of the dough and cover with a second towel. Without the flour, your risen dough will stick to the towel. Let the dough rise for an hour.
Turn your oven to bake 475F and place a 3½ quart Dutch oven (with heatproof handle) into the oven while the dough rises.
When your dough has risen for the final time, get an assistant to come stand at the ready for your instructions.
Take your hot dutch oven from the oven. Pour some olive oil (scant tablespoon) into your pot and very carefully, with a silicone paint brush or similar tool, swirl it around to coat the bottom and sides of the pot. Remember this pot is VERY HOT.
Now direct your assistant to GENTLY flip the risen dough out of the banneton, or colander, into your hands. Do this very gently so that you do not deflate your dough.
Once you are holding the dough, in both hands, line yourself up directly over the pot and release the dough, dropping it directly into the pot. This will take finesse. If you miss and the dough is not perfectly centered in the pot you can adjust it by gently shaking the pot. Remember the pot is VERY HOT. Only handle it with protective mitts.
Place your lid back on immediately and place in the oven.
Bake for 30 minutes.
Remove pot lid and bake for another five minutes.
Carefully slide your bread out of the pot and test the temperature of your dough with a Thermapen (or any thermometer). It should be in the 200-205F range. Place it on a wire rack to cool.
You might think you are done at this point, but think again. Let's say you finished baking this in the evening because you want some fresh bread for breakfast (you're so smart). Overnight, leave it cooling on the wire rack. The next morning, about 30 minutes before you want to eat, turn your oven to 350F. Once the oven is preheated, put your entire loaf in the oven for ten minutes. Remove it from the oven and slice off your portions. Did you hear that crunchy crust!? That is why you heat it in the oven the next morning! At this point I leave it to you, toast it or eat it just as is.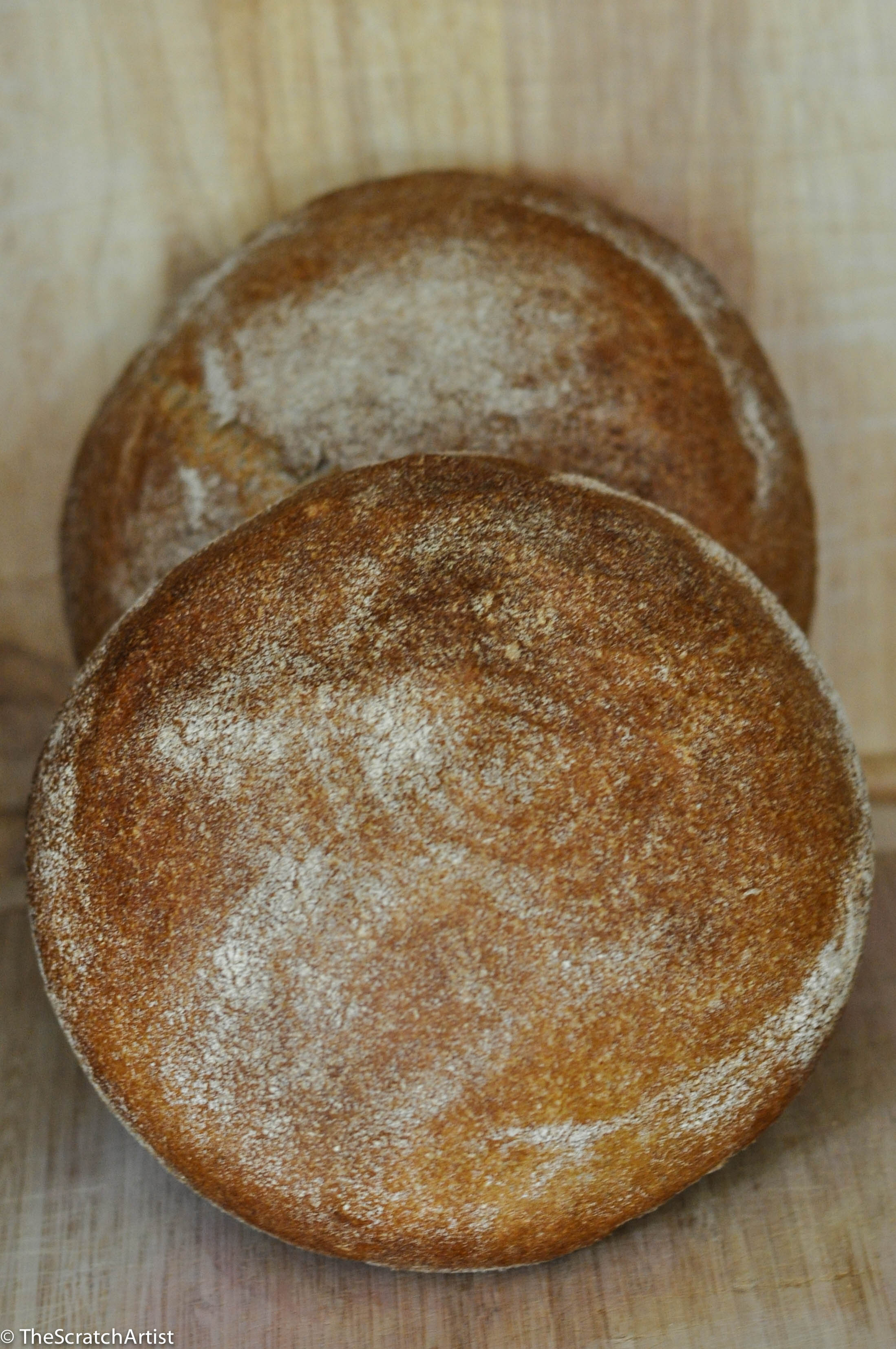 Have you ever had sourdough bread from Boudin Bakery?  Well, you should.  We learned the technique of warming a loaf of bread in the oven before slicing and eating from Boudin.  For a while, we ignored the instructions they print on all of their bread packages.  We didn't want to have to eat a whole loaf of bread in one sitting!  So we sliced off pieces and toasted them individually.  We thought everything was peachy.  The bread was great.  No complaints…
One unforgettable, now-hallowed morning, my father decided to follow the instructions (who'd a thunk).  HOLY MOLY!  This is the only way to eat bread!  Baking it for ten minutes transformed the bread from great to transcendent.  And you don't need to worry about having to eat the whole loaf, it will get eaten all by itself!  You may want to eat the whole loaf, but after heating it you can store it just as you would any other bread.  Heating does not affect the life of the bread!  We slice off what we want to eat and store the rest in our bread keeper.  The next morning, we reheat what is left the same way, and it is equally delicious.
Topping suggestions: butter, honey, and salt, peanut butter and jelly, poached egg, deli meat.  You get the point…anything that you love eating will taste better on top of this bread!
Plan on making the bread?  Already made the bread?  Let me know.  Post a comment.  Ask a question. Or just say hi.  I'd love to hear from you.  Love the photos?  Follow me on Pinterest.  Thanks for stopping by.
~Kathryn