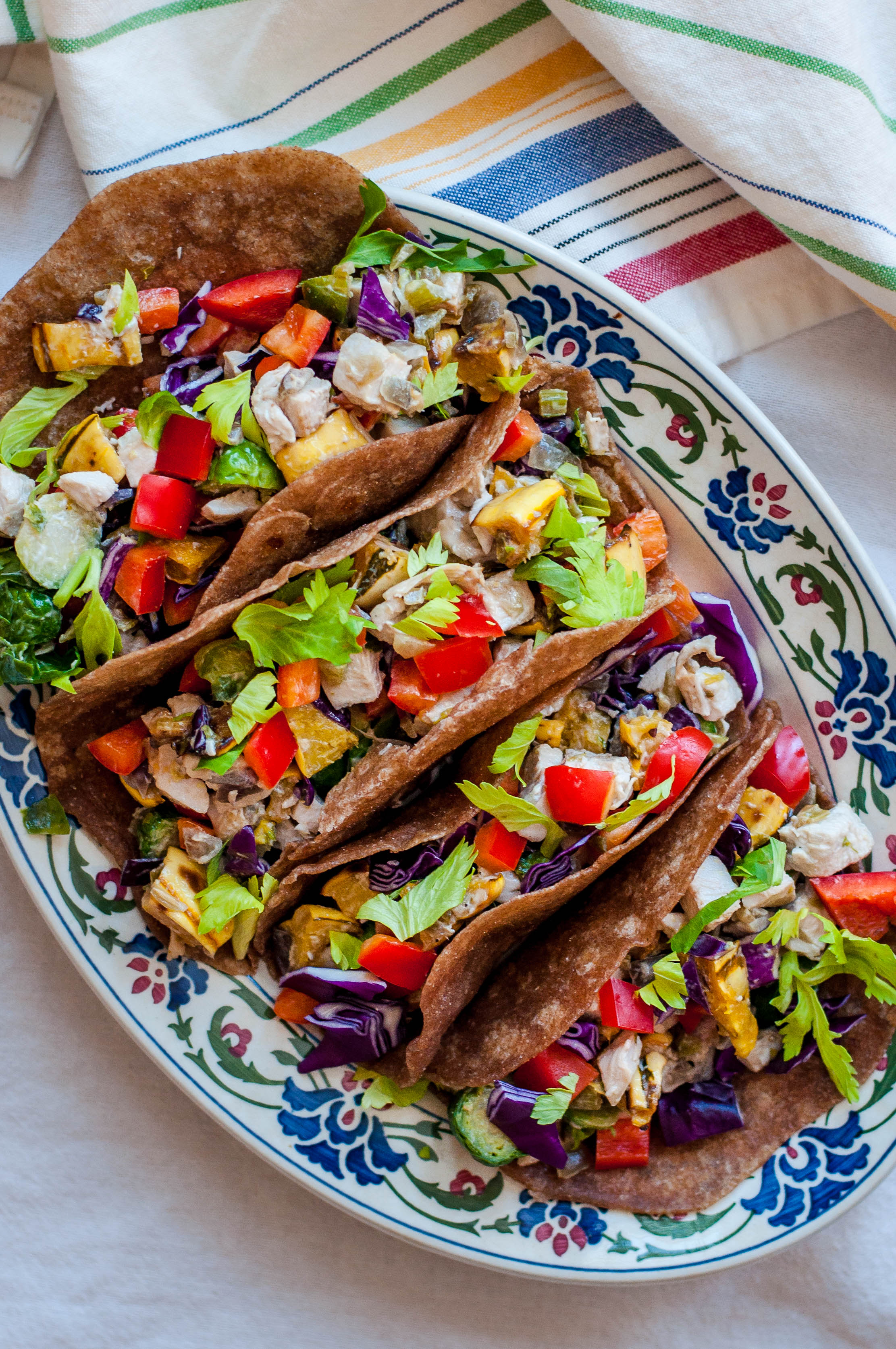 Everyone here went pretty nuts for this salad.  I truly have not stopped hearing about it, which is probably a hint that I should be making it again soon.  So, it's well-tested for y'all.  The mix of the sweet squash combined with the unique and delicious bitter-savoriness of cabbage and brussels just works.  It was a lick-the-bowl affair around here.
After the first time I made this, it occurred to me that the only thing that would make this dish better is if it were wrapped in a homemade tortilla…so I did that, and I was right.  Frankly, what isn't better wrapped in a tortilla??…Nothing.  I kind of wish I was wrapped in a warm, fresh-off-the pan tortilla, but the intricacies of that fantasy are probably best saved for another post or a psychiatrist's couch.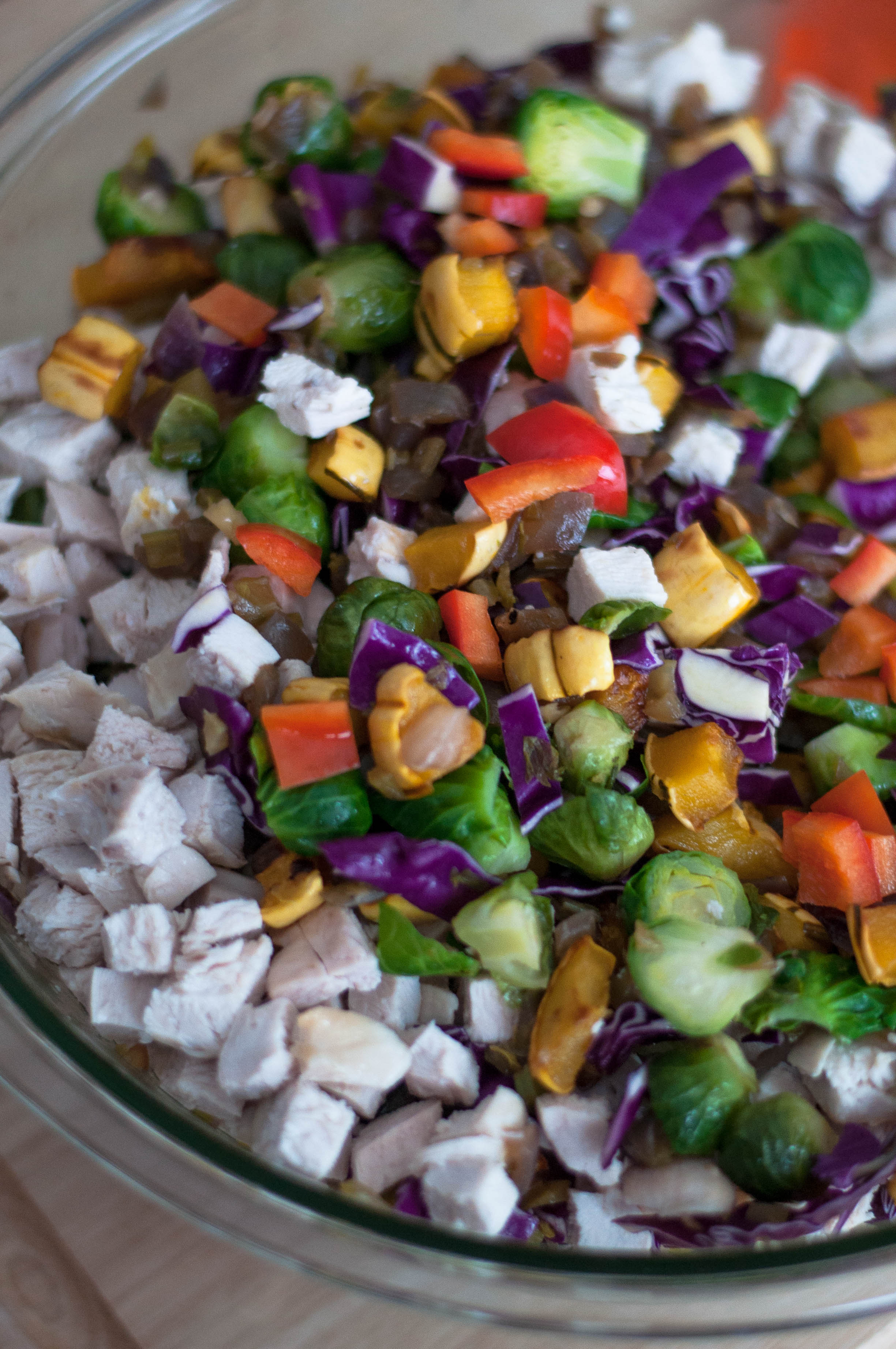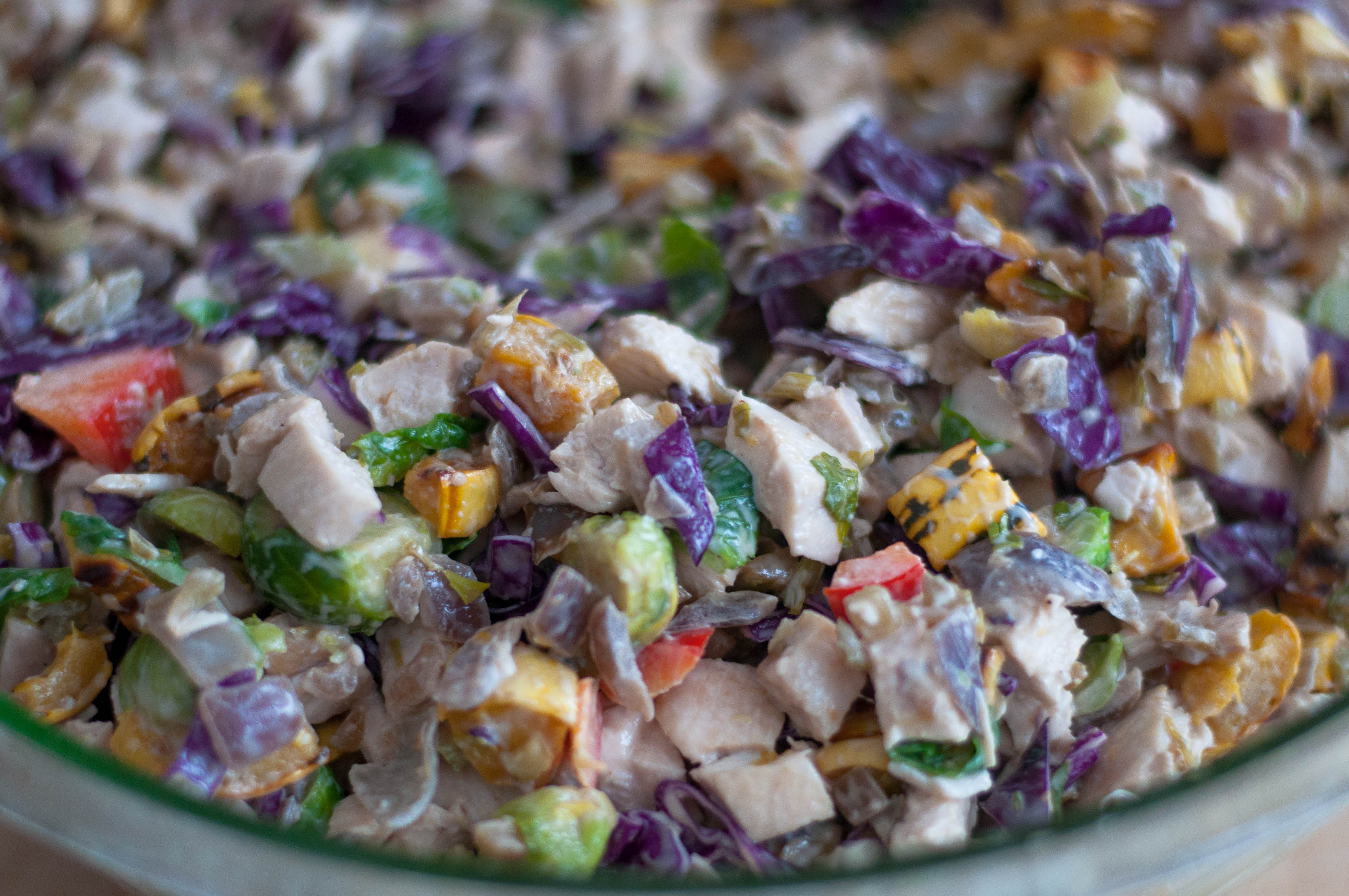 I adore how colorful this salad is, especially as winter settles upon us.  It is nice to have some bright cheery colors looking up at you.  Obviously, if you are not a meat-eater, just omit the chicken and this would make a delicious vegetable slaw.  At its heart this salad is really an empty-your-fridge kind of salad.  It is very minimalist, which lets each ingredient excite your taste buds without the interference of a heavy dressing.  This also means that the vegetables you choose must be fresh and top notch.  The Brussels sprouts around here have been incredible these past few weeks.  Get creative.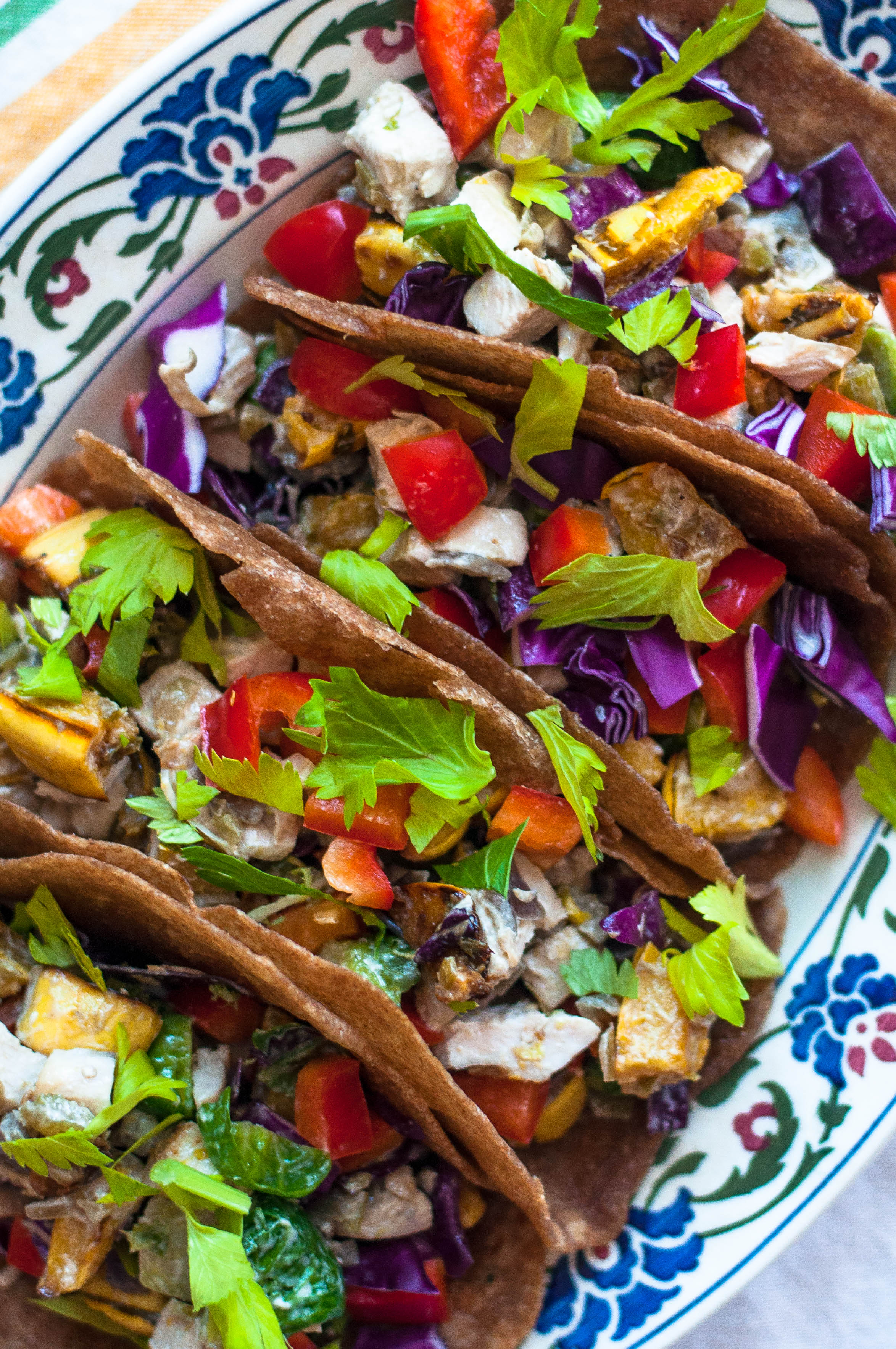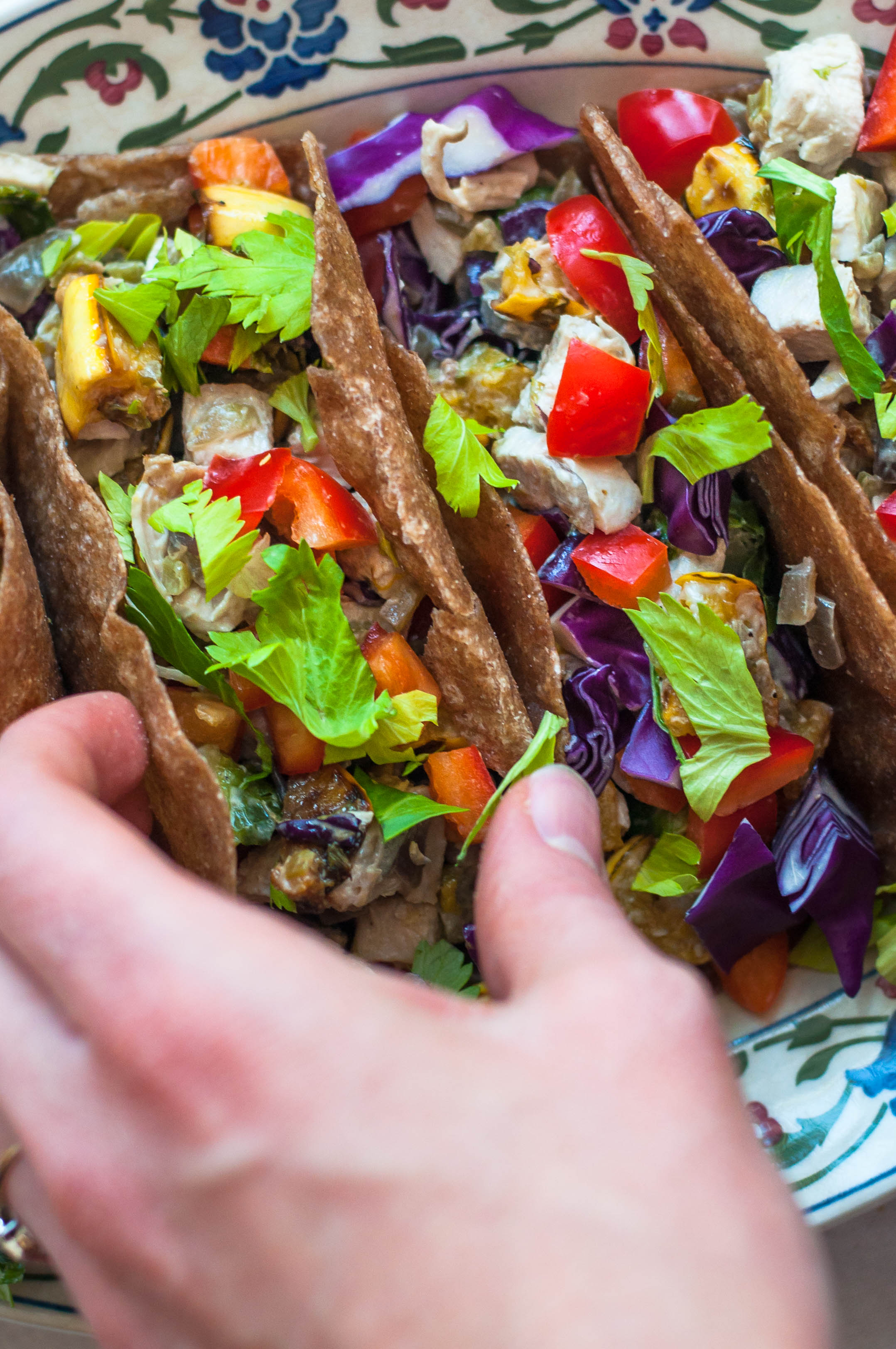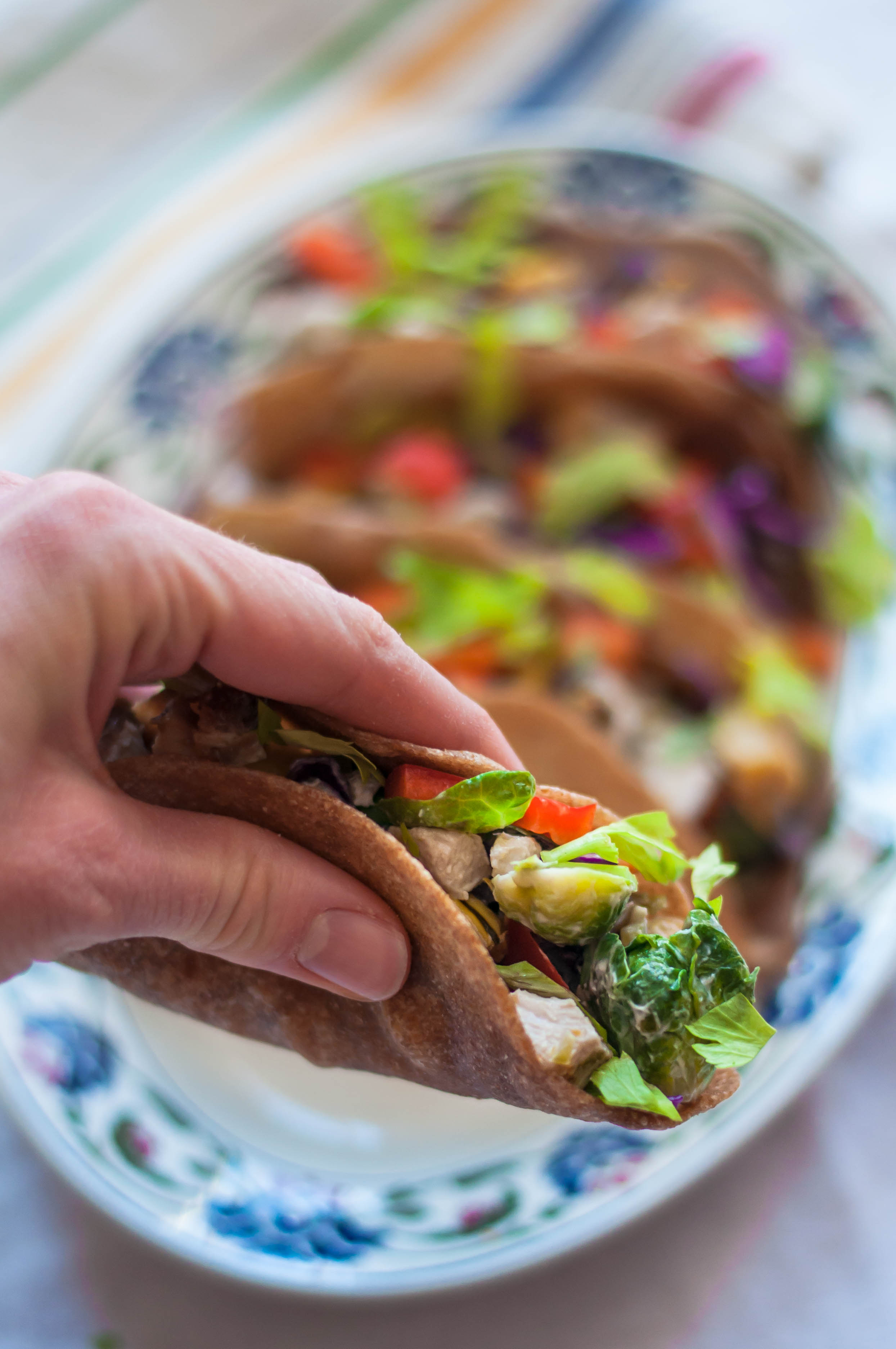 Now for these  h o m e m a d e  tortillas.  If you are thinking, "that is a whole lot of work and lots of powdery flour getting on everything," you would be partially correct.  It takes about 45 minutes to roll them out and get them cooked.  And yes, you should wear an apron and not scratch your face with your floury hands, but really not that much clean up, folks.  So that's the investment, just time and a light flour dusting for you and your Julia Child-esque kitchen.  After that, you get to feel like a kitchen rockstar.  Homemade tortillas, everyone likes the sound of that.  And you can freeze the leftovers and have fresh, so incredibly delicious, homemade tortillas in minutes.  Just slip one out of the freezer, microwave, and voila, homemade tortillas – like they were pizza bagels – only better.  It's worth it.  Really.  And now you don't have to worry about all of those not-so-great ingredients in most packaged tortillas.  AND (last one, I promise) they are not only whole grain, but sprouted whole grain.  Cha-ching.  Get going on this.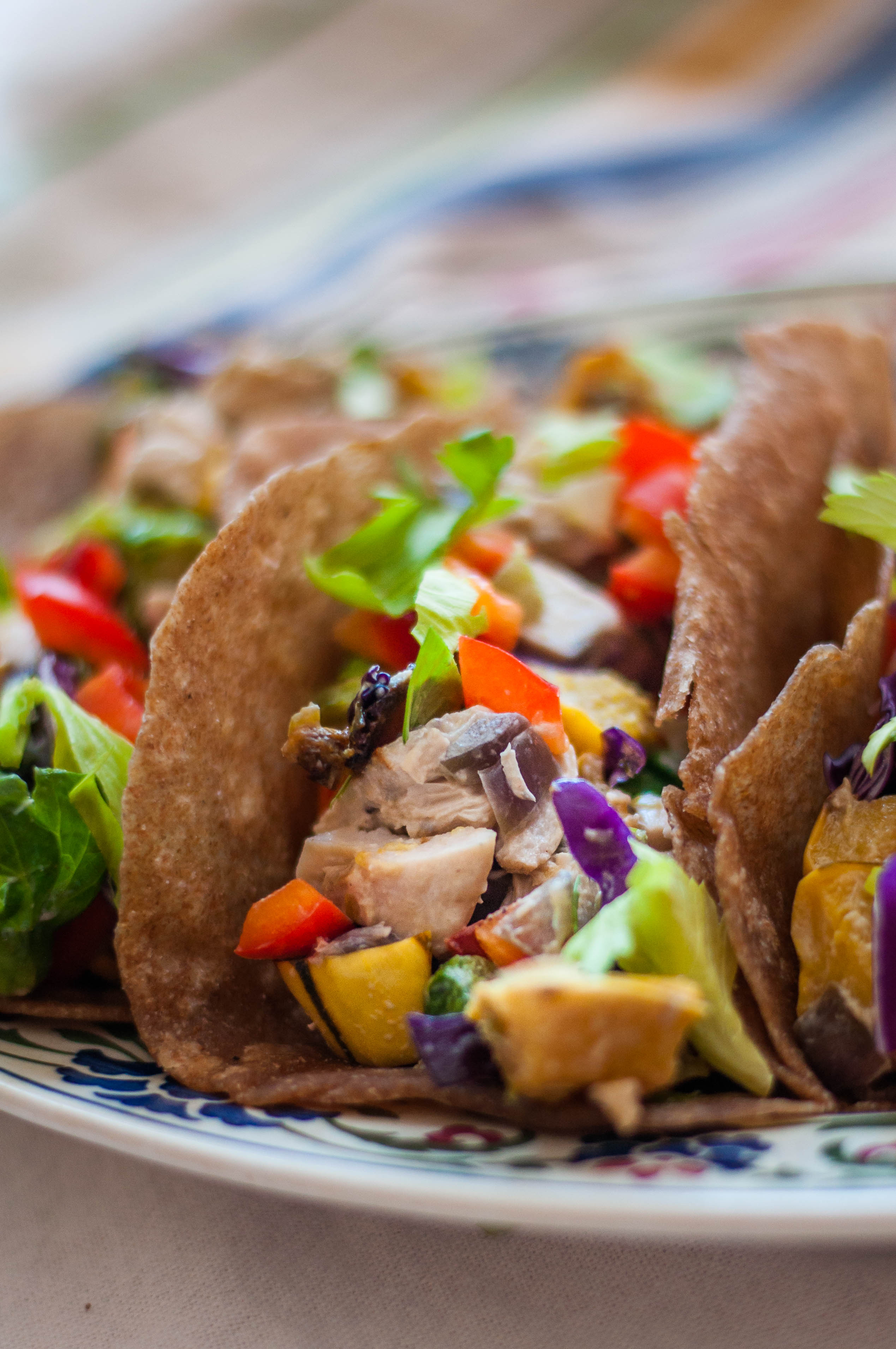 Rainbow Chicken Salad Wraps
Ingredients
2 Cups cooked chicken breast, chopped into cubes
1 Cup steamed brussels sprouts
1 Cup raw red cabbage, diced into medium-sized chunks
½ Red onion, diced
1 Cup celery, diced
1 Red bell pepper, diced
1 Delicata squash cubed
5 Tablespoons Vegenaise (or substitute mayonnaise of choice)
Salt & Pepper to taste
8 six inch Whole Grain tortillas
Instructions
To prep all of your vegetables:
Preheat oven to 350F.
Slice your delicata squash in half, scoop out the innards and cut into ½" cubes. Leave the outer skin on. Lay out on a baking sheet and season with salt and a spray of olive oil. Cook for about 30 minutes or until the squash yields easily to a fork.
Begin by sautéing onions with oil and salt until beginning to brown, then add your pepper and celery. Continue sautéing until peppers and celery are beginning to soften and the onions are nicely browned.
Slice your brussels sprouts in half and steam them using your favorite method. I like to microwave them in a glass dish with a tiny splash of water (it takes about 5 minutes total).
Slice your red cabbage into bite sized pieces. Set aside.
For the chicken:
Bake the chicken breasts using your favorite method. I bake at 420F for 20 minutes (depending on the how thick the breast is).
Allow the chicken to cool and then slice into ¼" cubes.
After both the vegetables and chicken have cooled completely, combine and mix well. Alternatively you could serve this salad warm.
Add your Vegenaise, salt, and pepper, and mix thoroughly. Taste test and adjust as needed.
Spread Vegenaise on inside of tortilla and fill with chicken salad. Serve alongside a salad or on their own.