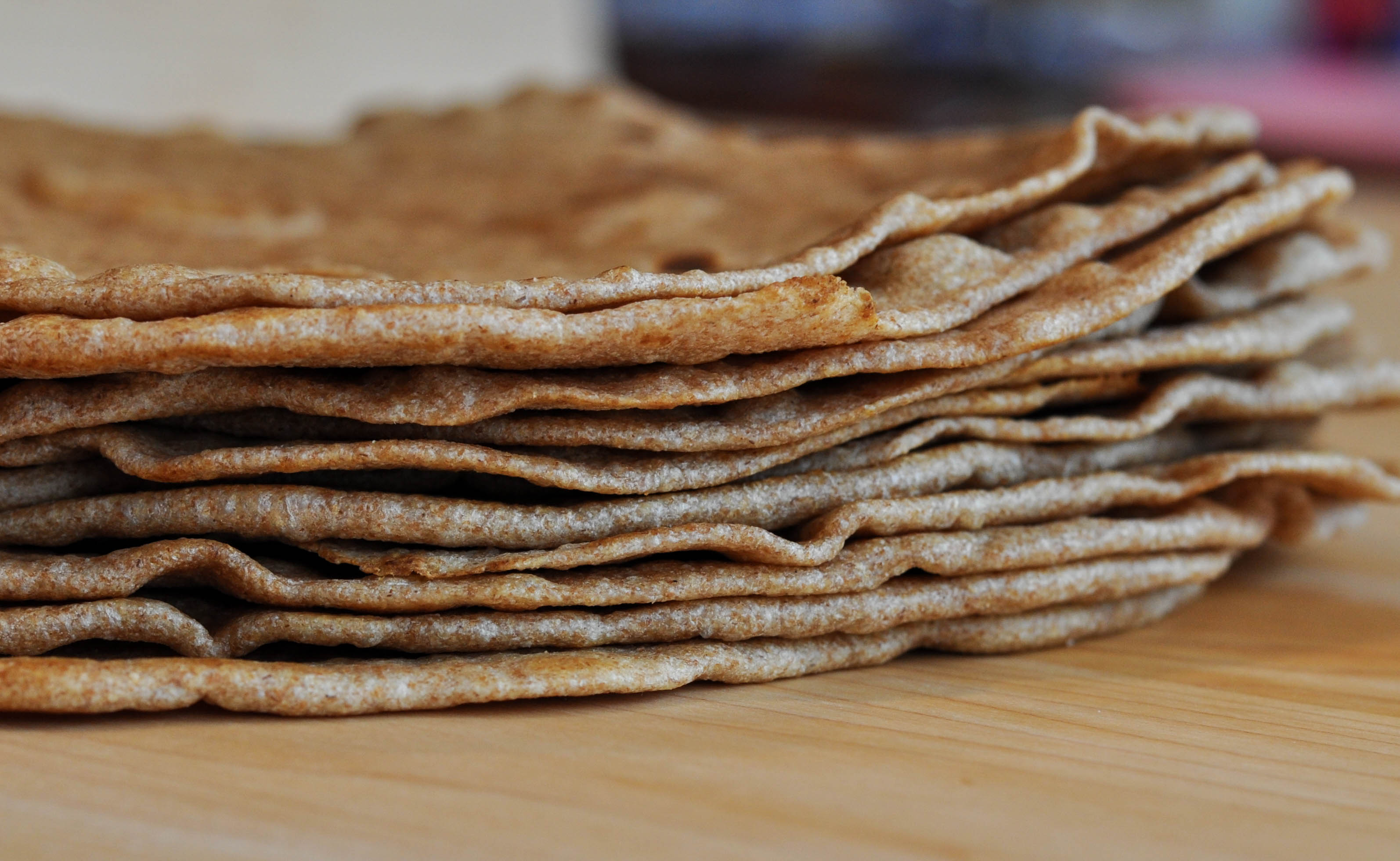 You know those flat brown discs you find in supermarkets?  They are usually sold in stacks of 12 and wrapped in clear plastic bags.  If I may read your mind, "Oh you mean tortillas?"  No, no I do not mean tortillas.  Tortillas are lusciously soft and layered in flavor and textural nuances.  They are unique in the bread world.  They are not buttery or flaky, they are not chewy like a yeast-risen bread, which will make you work; they are chewy in a melt-in-your-mouth way.  They fit into their own perfect niche.  What is sold in the grocery store and passed off as "authentic tortillas" are leathery, tasteless, either too thick or too thin, and usually full of unnecessary ingredients and fillers.
If you have never thought about making your own tortillas, hopefully I have convinced you to give this a try; if you have written off the possibility, thinking the process is just too complex, let me just say, making tortillas is SIMPLE! 

Sprouted Whole Wheat Skillet Tortillas
15 minute rest time
Ingredients
2½ Cups sprouted whole wheat flour (substitute whole wheat flour, whole wheat white flour or a mix of all three)
¼ Cup + 1 Tablespoon avocado oil (you can substitute other oils. I don't recommend olive oil as it will be a bit heavy)
1 Heaping teaspoon salt
1 Cup warm water
Optional: 1 Teaspoon baking powder*
Equipment
Cast iron pan
Rolling pin
Instructions
I use my Kitchenaid stand mixer to make these, but I am convinced you can be successful using either a hand held mixer (use the heavier duty whisk attachments) or even a handheld pastry blender (this will take a bit longer). The following instructions assume you are using a stand mixer, but they are easily adaptable to your equipment.
Measure out your flour and baking powder (if using) into the mixing bowl.
Using your paddle attachment, turn your mixer on to setting one and slowly pour in your oil in a steady stream. Scrape down the sides as necessary.
Continue this for several minutes until the oil is incorporated into the flour and you have lots of crumbly little flour balls.
Turn your machine off and measure out 1 cup of warm water (100-105F). Whisk your salt into the water.
Using the paddle attachment, keep the machine running as you slowly pour the water into the bowl.
Turn mixer up to speed 2 or 3 until a soft dough forms. This will take several minutes. You may not need to use all of the water. The dough should be soft, supple, and tacky, but not sticky. Add more flour or water as needed.
I shape my dough into a long log and then cut it into however many tortillas I am planning to make.**
Roll each of the dough pieces into balls. Shape them as you would a dinner roll. Watch this great video to see how. Skip forward to 6:07 to see the tutorial on rolls.
Lightly dust a cutting board with flour and lay the balls out on the board.
Cover the dough balls with plastic wrap and let rest for at least 15 minutes and up to an hour.
When you are ready to start rolling out the tortillas, turn your skillet on high. You want a HOT pan.
Sprinkle some flour on a cutting board and rub your rolling pin with flour***
Place your first ball of dough on the cutting board and press it down with the palm of your hand. It should look like a chubby circle.
Roll your rolling pin over it in one direction then pick it up and turn it a ¼ turn, roll over it again. Continue gently lifting the tortilla, turning it a ¼ turn and rolling it over with the rolling pin until you reach your desired thickness. Use more flour if the tortilla is sticking to the pin or board.
Spray your heated skillet with oil (the more oil you use the more crispy and fried the tortilla will come out).
Lay your first tortilla down in the skillet. This will take some finesse. Don't be discouraged if your first several end up crunched or folded onto themselves; you'll get the hang of it.
The top of the tortilla will start to bubble after about 30 seconds to a minute (depending on how hot your pan is). Flip it at this point. Cook the other side the same way. I like the flavor of a few darker, burnt-ish spots. Cook to your tastebud preferences.
Stack finished tortillas with paper towel between each layer as they cool. Eat them immediately, refrigerate, or freeze after they cool. Or do all three! Definitely don't miss eating the tortillas fresh if this is your first time making them.
Notes
*Adding the baking powder will make the tortillas more puffy and a bit thicker. The taste is great either way.
**This recipe will make (12) 11" round tortillas or you can make (24) mini 6" tortillas. I tend to make a mix of sizes so I am prepared for all sorts of different dishes. You can modulate the thickness of your tortilla to your texture preferences. I like them on the thinner side. If you make them thicker make sure to cook them a bit longer, so that you don't have a doughy texture.
***Use the smallest amount of flour possible when rolling out your tortillas. You don't want a raw flour taste on your tortillas.
These keep really well in the freezer. I always have them on hand to go along with soups, make wraps, pizzas, and burritos; the possibilities are endless. They take less than 30 minutes to completely thaw on the counter.