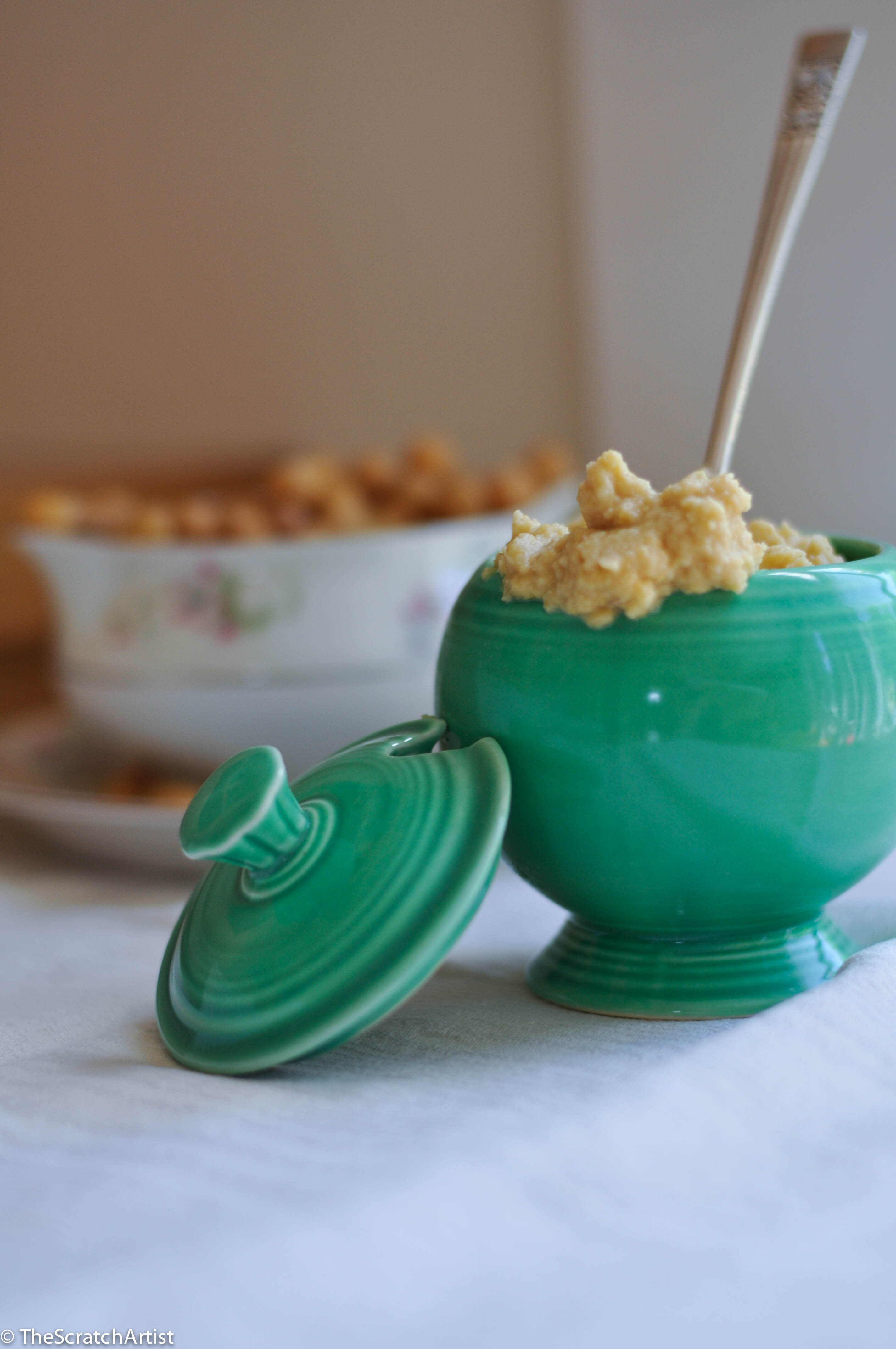 Oh Chickpeas, how I love thee…I love you in salads, I love you mashed on toast, I love you when you turn into hummus, I love you plain by the spoonful, I LOVE YOU.
This might sound a bit over the top, but this stuff is like nectar of the gods to my taste buds.  I used to eat my hummus by the spoonful (it might have been a ladleful, but who's counting?), until I learned a very important lesson.  Just because it's not chocolate cake, doesn't mean you won't gain weight from it.  Wait, what!?
I was eating this hummus like it was a completely neutral food, you know like water or lettuce, that would have no effect on how ginormous my hips could get.  THEN, I googled how many calories are in chickpeas (somewhere I knew), and horror of horrors, 1 cup of chickpeas is 729 calories!  Oh no, you didn't!  Google, I thought we were friends?  I googled it a couple more times to check.  Nope, same answer, all five times.
Hummus is supposed to be synonymous with granola, and healthy eating, and being one with the earth.  If being one with the earth causes me to LOOK like the earth, I'll pass.  How could these little delicious beans be so high in calories!?  My seven-year-old self moaned out a plaintive whine, "but that's not fair!"
So I read more and I received the usual spiel about fiber, fat, nutrients, and balanced eating.  Chickpeas, in fact, are known as a good weight management food; they are filling, low in fat, and high in nutrients and fiber.  The soluble fiber in them causes your stomach to absorb more water, which results in your stomach signaling your brain that you are full.  Hmmm…my stomach didn't send the message!  How much hummus should cause one to be full?  That might be one of those Zen questions.
But I was still waiting for the other shoe to drop; what about all the calories?  After all the many attributes of the chickpea were enumerated, the final "thing to note" hit like a hammer: "just keep your portion size in check."  And there it is!  Ohhhh right, moderation.
I guess the conclusion is, don't eat hummus like a maniac; just eat it like a normal person.  Well, that rules me out.  I can't eat peanut butter like a maniac, I can't eat hummus like a maniac; what is the world coming to?
I think my biggest realization about weight management is that I can't eat anything endlessly.  I had some cockamamie fantasy that as long as it was "good" food, I could eat as much as I wanted and it would have no ill effects.  Bottom line, I can't eat anything as much as I want, because my ability and propensity to want is so large and abundant.  I love food, I love making it and eating it and sharing it and I never have enough of that experience.  I always want more.  The trick, for me, is not to be dissatisfied in my desire for more.  Can you want more and still be satisfied with what you have?  My answer is yes.  I never want to stop wanting more.  Wanting more life, experiences, relationships, dreams.  I love wanting those things and I love striving and moving forward in life to get those things.  My question and challenge is how to maintain all these wants without an experience of loss at not having them.  It's a "have your cake and eat it" kind of challenge.  There is one avenue of thought that says, remove wants and then you will be satisfied.  But what if I want my wants?  I like my wants.  I want my wants AND I want to be satisfied.  I say I can have both.
So…I guess to apply this to hummus (because why not apply the complex abstract of human satisfaction to pureed beans?), I can want to eat a whole bowl of hummus, whilst simultaneously being completely satisfied with eating a "human" portion.  In other words, an amount that will be supportive of feeling and being well.  I think I wrapped that up pretty nicely.  Now it's just a matter of turning all that philosophy into reality.
I can't help thinking that I have just turned all of you off to eating hummus.  I don't mean to because hummus is delicious and wonderful.  The takeaway for me is: enjoy the hummus, but don't live in a fantasy world where I believe I can eat as much of it as I want.
Now, on to the making of this wonderful hummus.   The hummus recipe posted below is the one I use for all of my various hummus dishes (coming to the blog soon).  Once you make this, you won't have any trouble figuring out what to spread it on, it goes with everything, much like peanut butter.  The absolute best time to make this hummus is an hour after a pot of your chickpeas finishes cooking.  The chickpeas will be perfectly warm.  Warm hummus = good.  OHHHH MY GOD good!
Lemon Onion Hummus
Makes 4 cups of hummus
Ingredients
3 Cups cooked chickpeas
½ Lemon or 1 small lemon, juiced
2 Tablespoons of your best olive oil
Sea salt (amount varies based on taste preference; I use close to a tablespoon)
½ onion sautéed
Optional (crushed garlic clove, Tahini)*
Optional (parlsey and/or cilantro for herb hummus)
Instructions
Ladle out three cups of chickpeas, including some of the liquid they were cooked in, and place in a food processor. Depending on how thick you like your hummus, add more or less of the cooking liquid.
Squeeze half a lemon into a measuring cup. Don't squeeze directly over your chickpeas or you'll be picking out lemon seeds for twenty minutes (Yeah, I learned that the hard way. Is there anything more slippery than a freakin' lemon seed! My fingers repel them!).
Pour your seed-free lemon juice, sautéed onion, best olive oil, and some sea salt into the food processor with the chickpeas. Blend, blend, blend.
Continue until you reach your desired consistency. I like my hummus very smooth, so I blend it thoroughly.
Now taste-test. Adjust as necessary.
If you don't have a blender, you can make a thicker style hummus by using the back of a fork and brute strength. You probably don't quite need brute strength, just some strength. They are chickpeas after all.
Notes
*Garlic does not agree with me, so I do not use it. However, hummus is traditionally made with garlic and it is a delightful substitution for the onion that I use or an add-on. The Tahini adds a nice flavor; think of a concentrated sesame flavor if you have never had it before. For me, I have to be in the mood for it, and I tend not to be. I love hummus a little bit tangy (lemon) and a touch sweet (onion). Experiment for yourself and make YOUR perfect hummus.