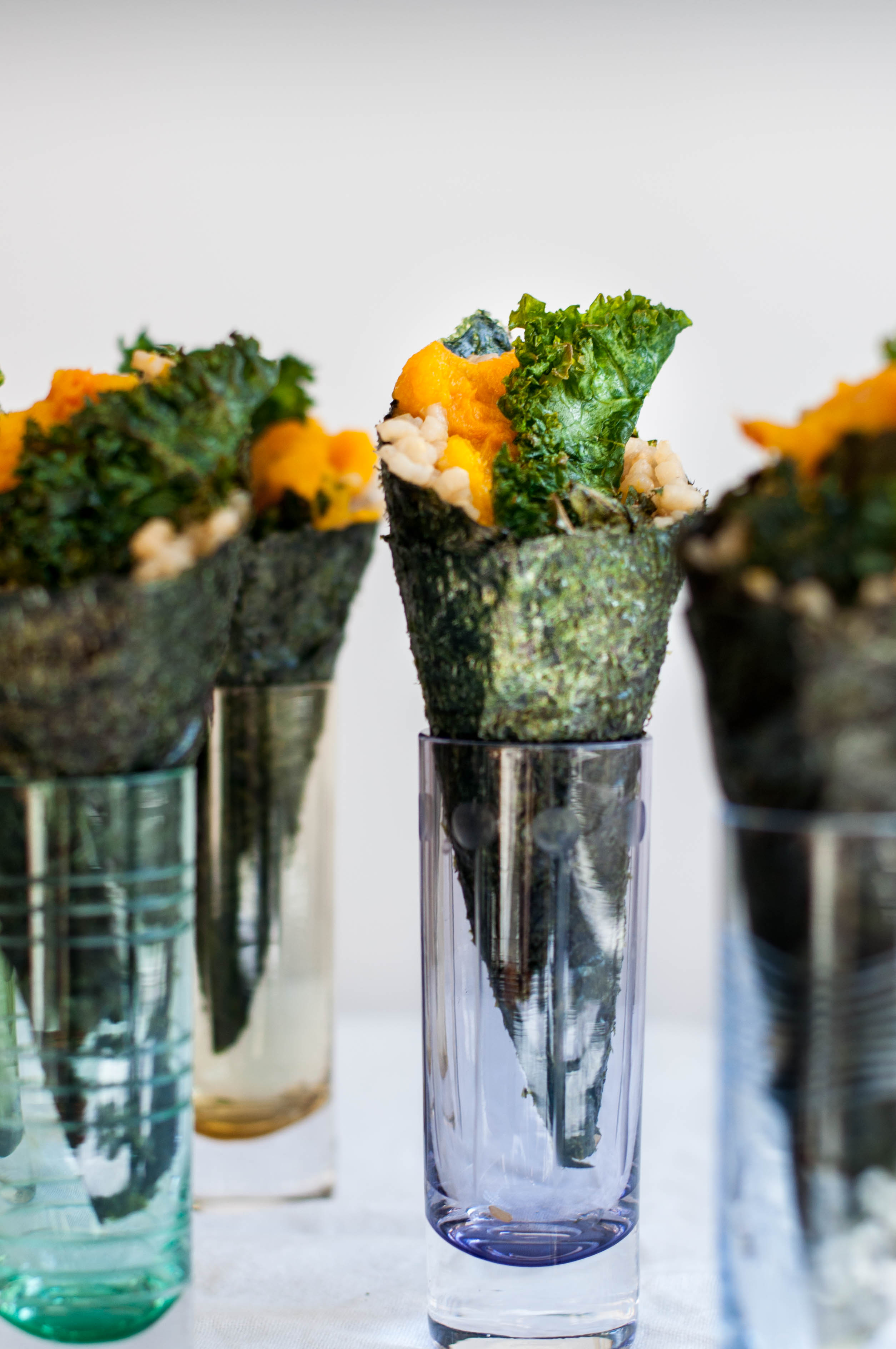 Today is pumpkin day!  The amazing Sara from Cake Over Steak has organized a pumpkin bonanza.  Over seventy amazing food bloggers are going to be bombarding the internet today with their best pumpkin recipes (see link list below)!  It is the official #virtualpumpkinparty and I think I will officially only be eating pumpkin until Christmas after seeing all of these amazing recipes!
Before I share my Halloween story, let me tell you about these pumpkin temaki (hand rolls): sushi rice, wasabi, kabocha (Japanese pumpkin), and ginger kale chips all wrapped in a crisp nori sheet.   If you're thinking this flavor combination is weird, you're right…but it's good-weird.  And good-weird is even better than regular good, am I right?  The vinegar flavor of the sushi rice with the sweet kabocha is a surprisingly delightful combination.  The nori wrap, with its uniquely savory flavor, only serves to elevate the flavor combination even further.  And the crispy, crackly ginger kale chips round out the asian and fall flavors in perfect harmony and add such a spectacular crunch!  If you are not familiar with the wonder that is the Japanese hand roll, be prepared to be happy.  It is like your own savory ice cream cone.
I've racked my brain for ways of celebrating this virtual pumpkin party without talking about Halloween.  But there is clearly no way around it.  Pumpkins = Halloween.  And Halloween = traumatic childhood experiences (bwahahaha).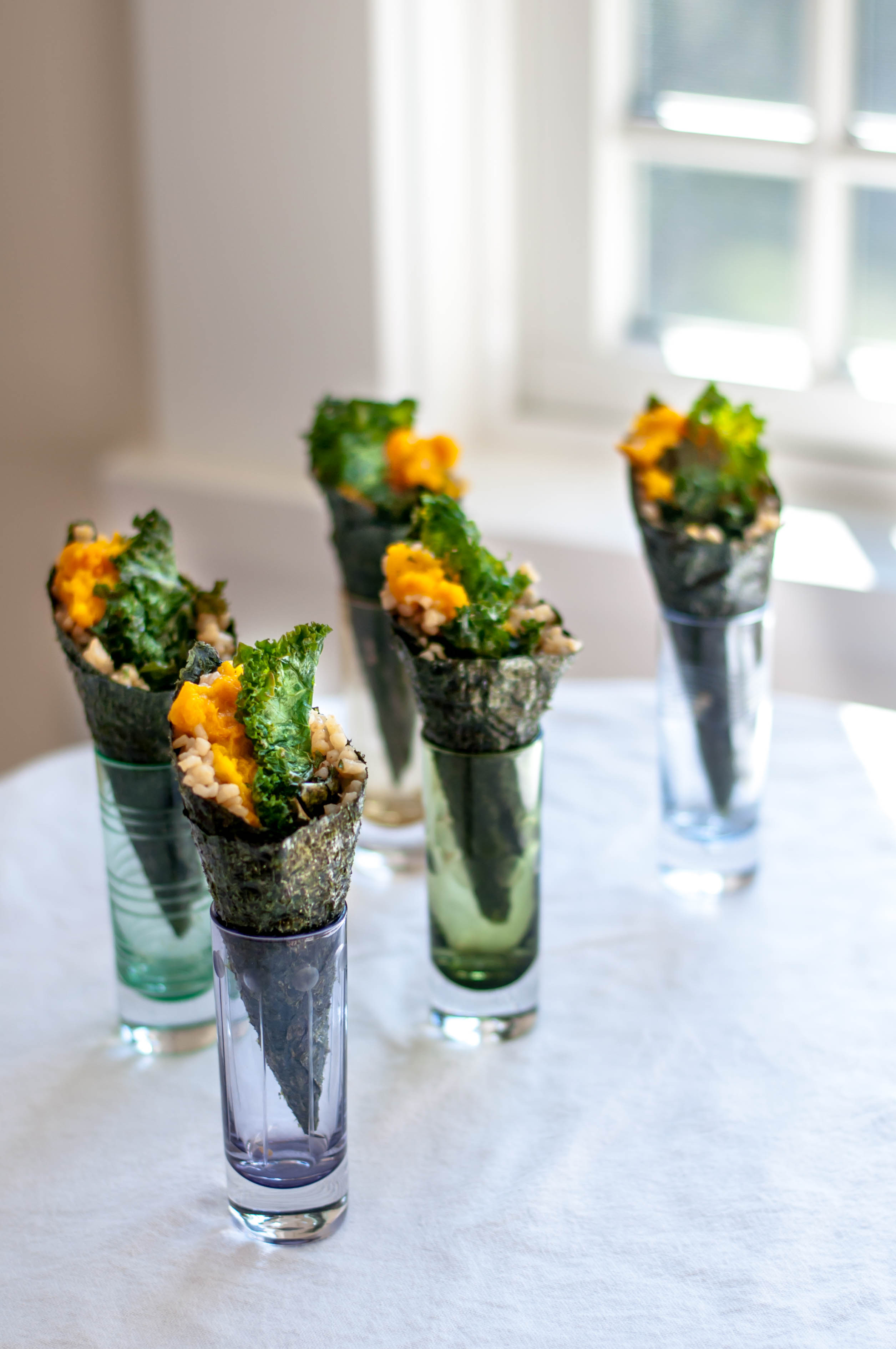 Halloween has never been my holiday; sorry Halloween lovers.  When I was a child, I lived in rural New Hampshire.  The closest house (with candy) was MILES away.  Between the houses was nothing but absolute darkness AND howling, hooting animals: real Halloween spooky stuff!  Despite the fact that Mother Nature was against me, I did always put in the effort to celebrate the holiday.  And effort it was.  My sad little costumes were makeshift or hand-me-downs that had ZERO sass or personality.  My mom never wanted to spend money on costumes (probably knowing no one was going to see them), which would have been fine if she were craftsy, but she was REALLY not craftsy (sorry mom).  I vaguely remember her giving me a piece of colored cloth to wear as a cape over my regular clothing.  To the question, "What are you supposed to be?" I genuinely never knew!  So there I was in my costume-ish get-up, with a pumpkin shaped trick-or-treat pail at my side, MILES away from any other children and homes with candy!  It was sad.  Really, sad.
When my parents did drive us into civilization to trick-or-treat at houses that were a mere 1/2 mile apart, my mom was so super-paranoid that the candy had been poisoned, that we weren't allowed to eat it before it was inspected.  The spontaneous joy of smashing a piece of candy into my mouth, running through the night pretending to be a princess or super-hero, and giggling with other like-minded ghouls was a thing of fantasies.  I longed for an authentic city-kid trick-or-treat experience.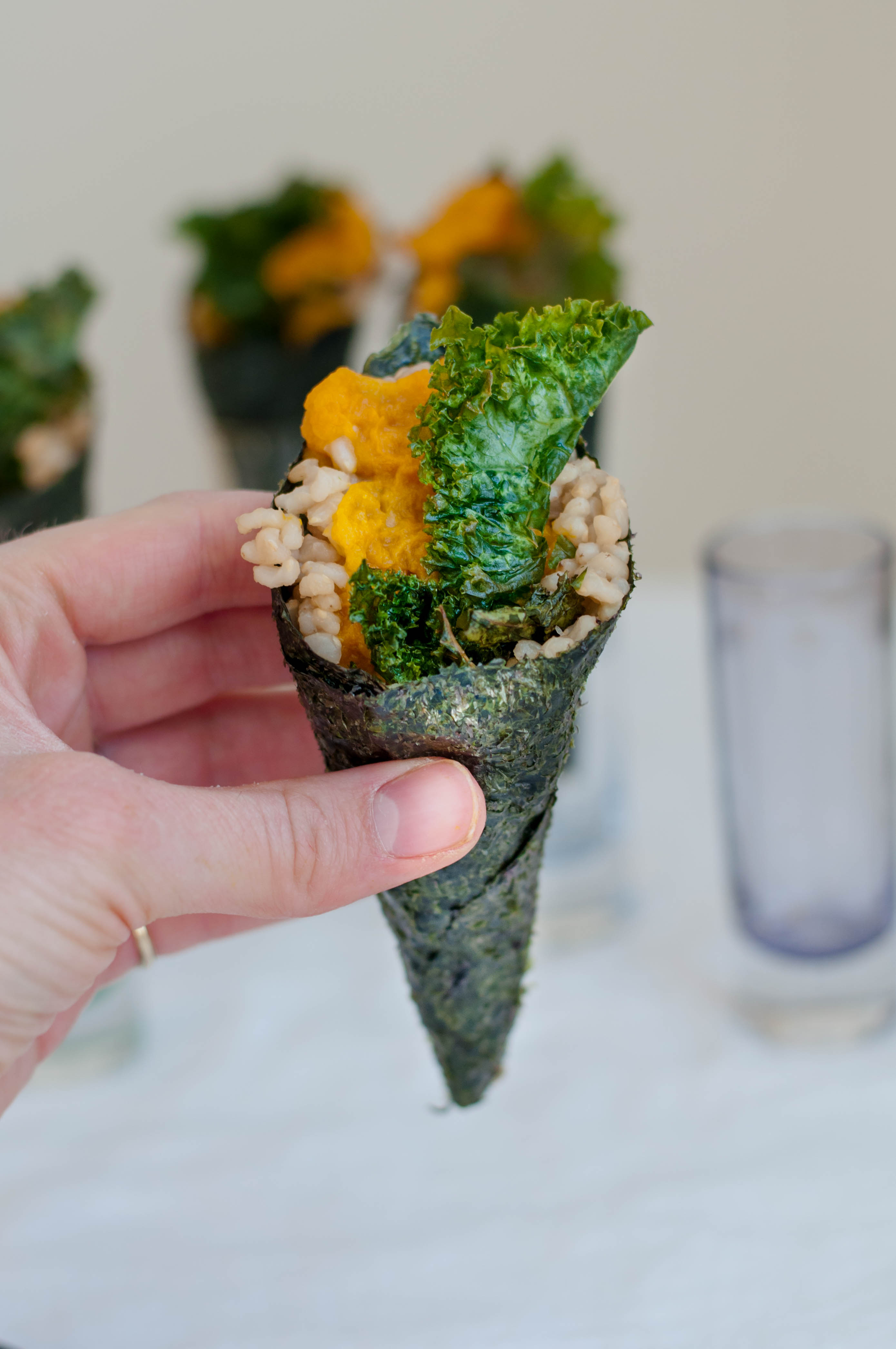 OK, fast forward a few years and we move to New York! Yay! City-kid Halloween here I come!  October hit and I was all set for my authentic Halloween experience.  We were going to go trick-or-treating in an apartment complex!  Door, after door, after door, all within feet of each other!
Tiny bit of background needed in order for me to continue telling this story.  I'm tall (six feet to be exact).  It has been my identifier, for better or worse.  Hi, I'm Kathryn and I'm tall.  Anybody reading this who is tall knows what I mean.  The most common question I am asked by complete strangers is "How tall are you?"  Sometimes I like to catch people off balance and answer 5'1″.  Their face contorts in disbelief until simultaneously they realize I'm joking and their question was pretty lame.
I have always been WAY taller than my peer group.  Like a whole head taller.  Every childhood picture features me crouching down or hunching over to fit in the frame.  This information might be seeming really irrelevant, but trust me it will tie back in.
So to set the scene, I'm a country kid, equipped with a New Hampshire accent, country clothes, and country ways, who is also a freakishly tall middle-schooler.  Sounds fun, right?  A group of girls at my new school decide to dress up as the girls from the movie Grease, and I'm elected to be Jan.  I was such a country bumpkin that I had never even seen it.  I did ascertain that Jan was the least attractive and awkward of all the girls.  Grrreat…I'm not sure I need a costume for that.
So we arrive at our first door.  The door that is going to welcome me into my first authentic Halloween experience!  A nice looking elderly women comes to the door and oohs and ahhs over the other girls' costumes.  She takes one look at me and says in a nasty tone, "Aren't you a little too old to be trick-or-treating?"  Lightning strike me now!  I wanted to die.  Right there.  God, please evaporate me.  I sheepishly turned away, turning ten shades of red, while the other girls giggled and ran off with their treats.  I HATE HALLOWEEN!  I was done.  Halloween you win, I'm out.
As I reflect now, why in the world was I so embarrassed?  I was, in fact, 11 years old!  I wasn't some strange over-aged trick-or-treater!  In reality I had nothing to be embarrassed about.  But that lady pointing out how different I looked, and how odd I was compared to the other girls, ripped through me like a knife.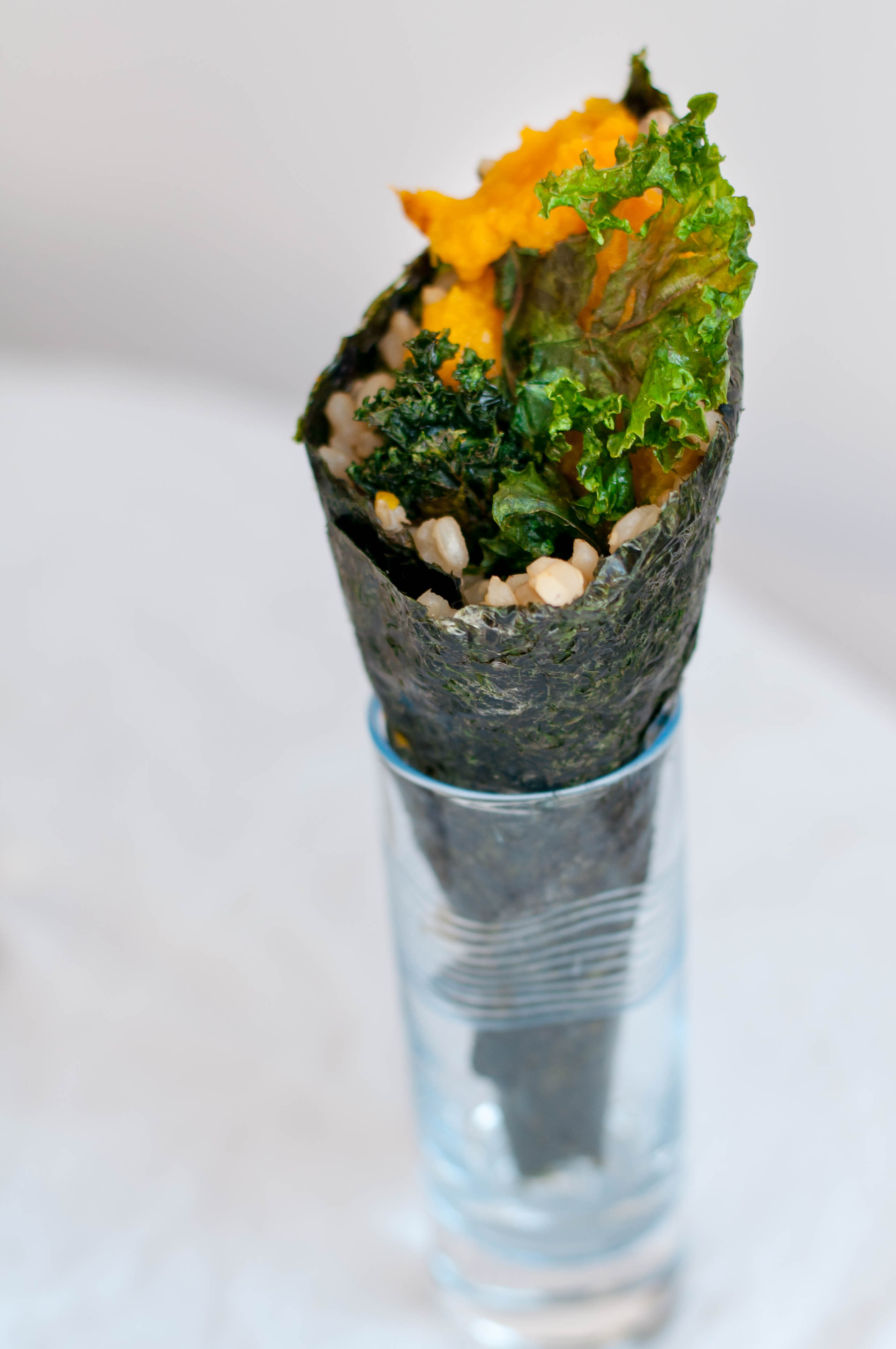 So, Halloween has never been my thing, but pumpkin definitely has.  I love carving pumpkins.  I even won a contest once (booh-yah).  This year I discovered the Japanese pumpkin, kabocha, which is now my favorite.  I love a good sugar pumpkin, but let's face it, there are a lot of dogs out there.  If you get a locally grown, fresh sugar pumpkin, you will probably be very happy.  But if you grab one off the grocery display, you have 50-50 chance of getting a pretty tasteless, texturally unpleasant basketball.  Every single kabocha I have bought has been delicious.  The flavor is like pumpkin + sweet potato, and the texture is like velvet.  It is everything you want pumpkin to be, but isn't.  (Don't get me wrong.  I love pumpkin).  But I couldn't eat pumpkin three hundred and sixty five days a year.  I could eat kabocha 365, no problem!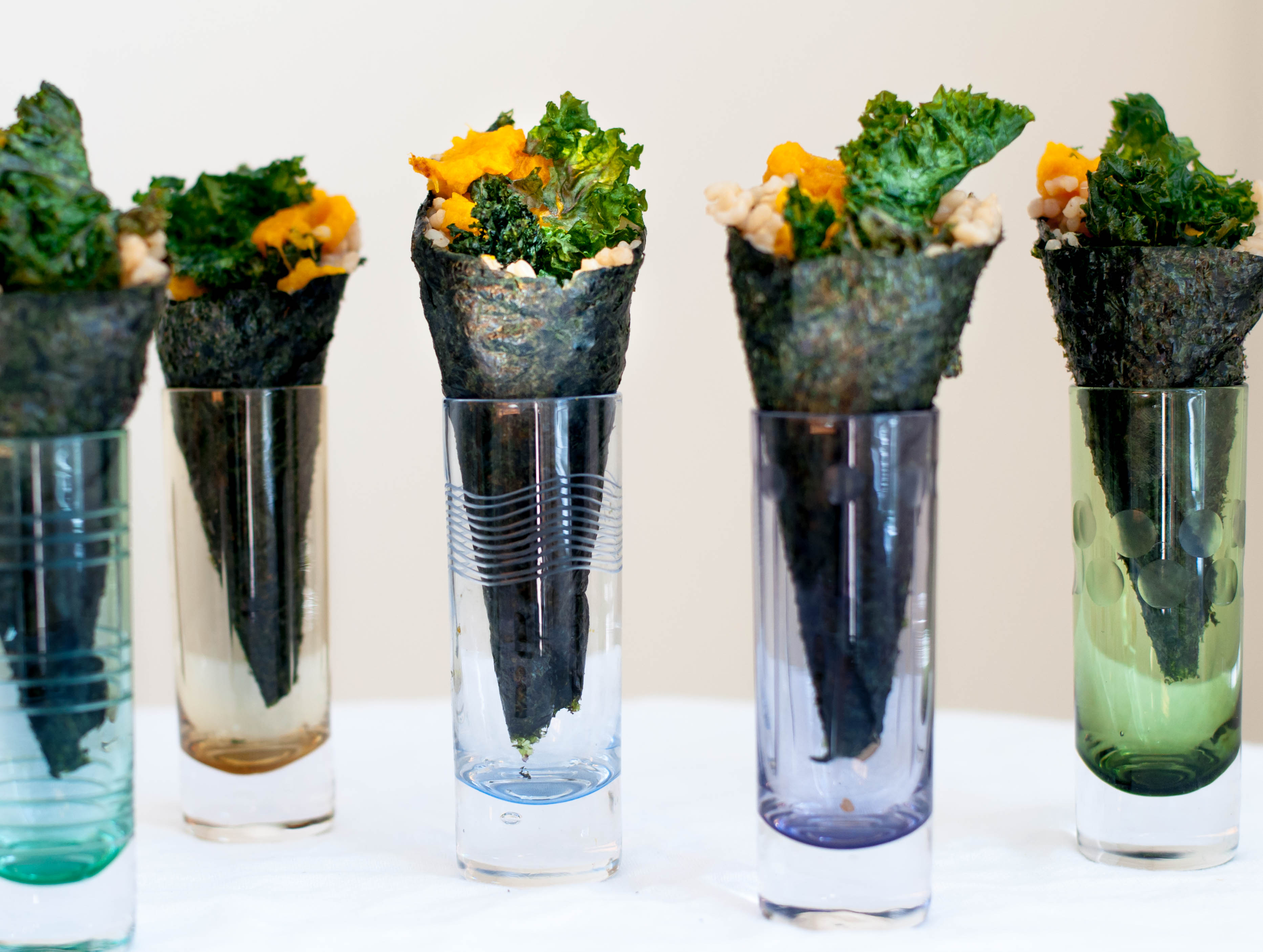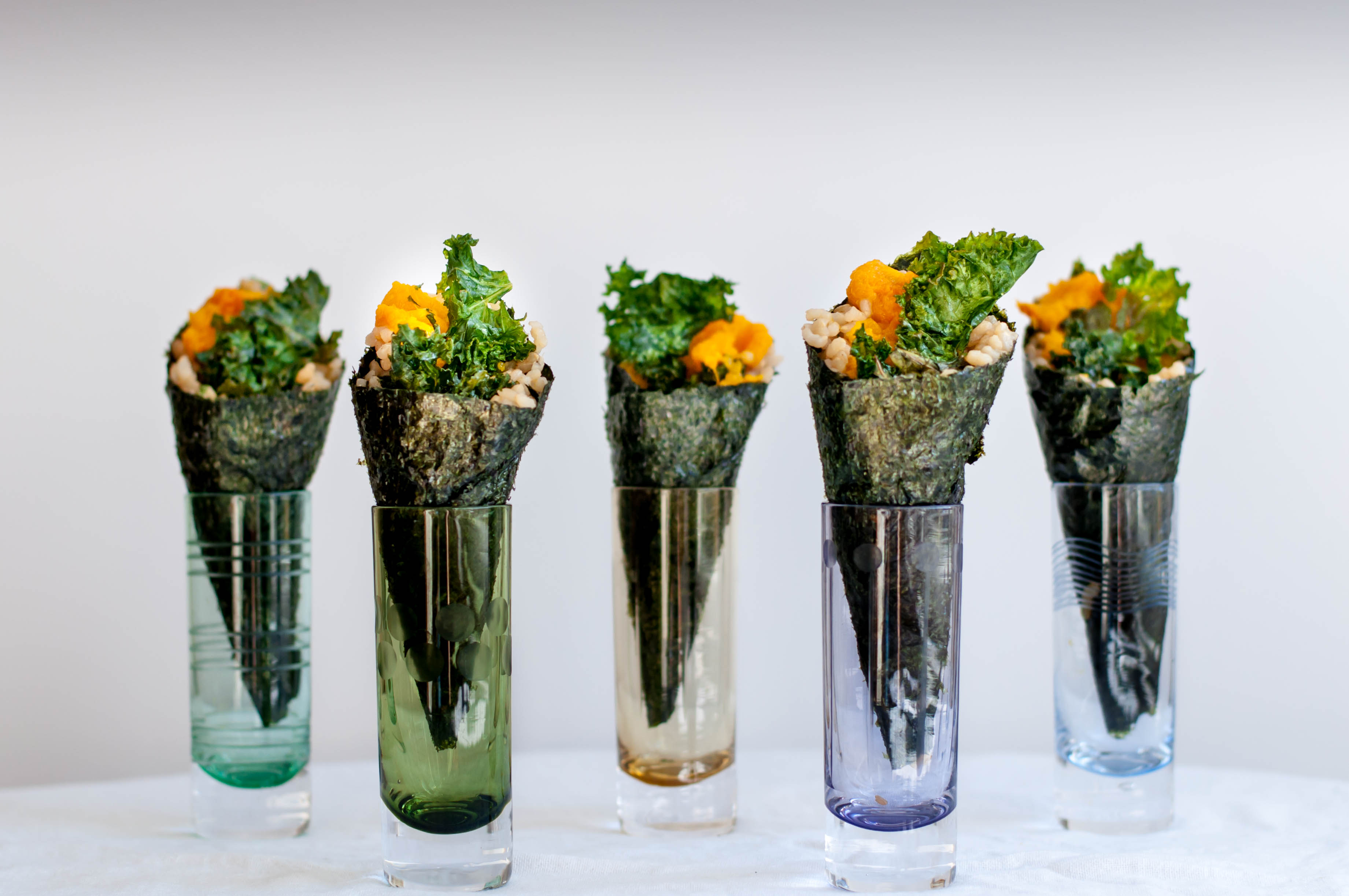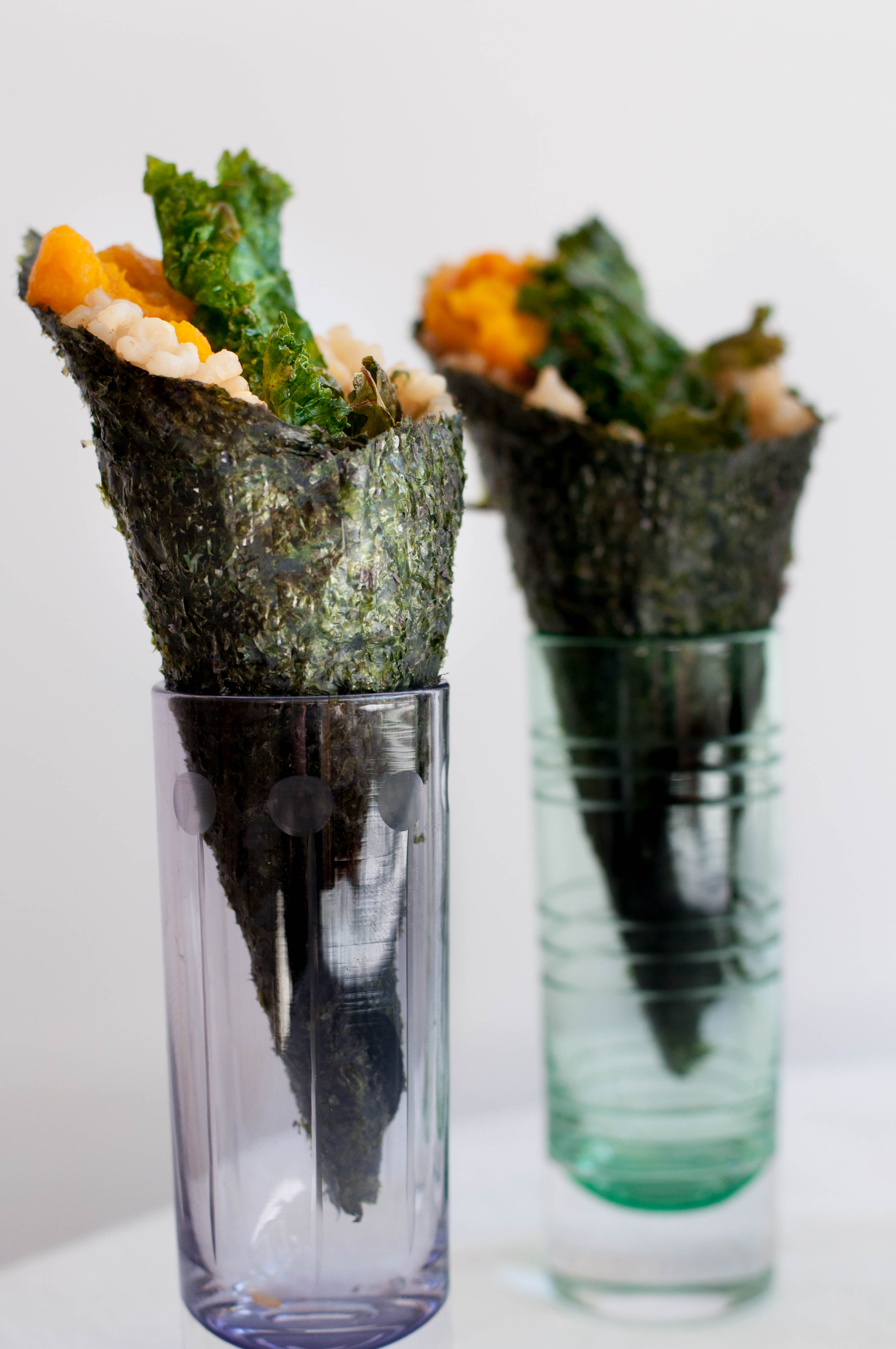 I hope you enjoy these pumpkin temaki as much as we did!  Am I disturbed for fantasizing handing these out to trick-or-treaters?    The poor kids on my street are all going to end up with a kabocha temaki instead of Snickers.  Even though Halloween hasn't been so kind to me, I couldn't do that to the next generation.  Don't worry kids, it's Reese's all the way!
Here is the list of amazing food bloggers who are showing their best pumpkin recipes today: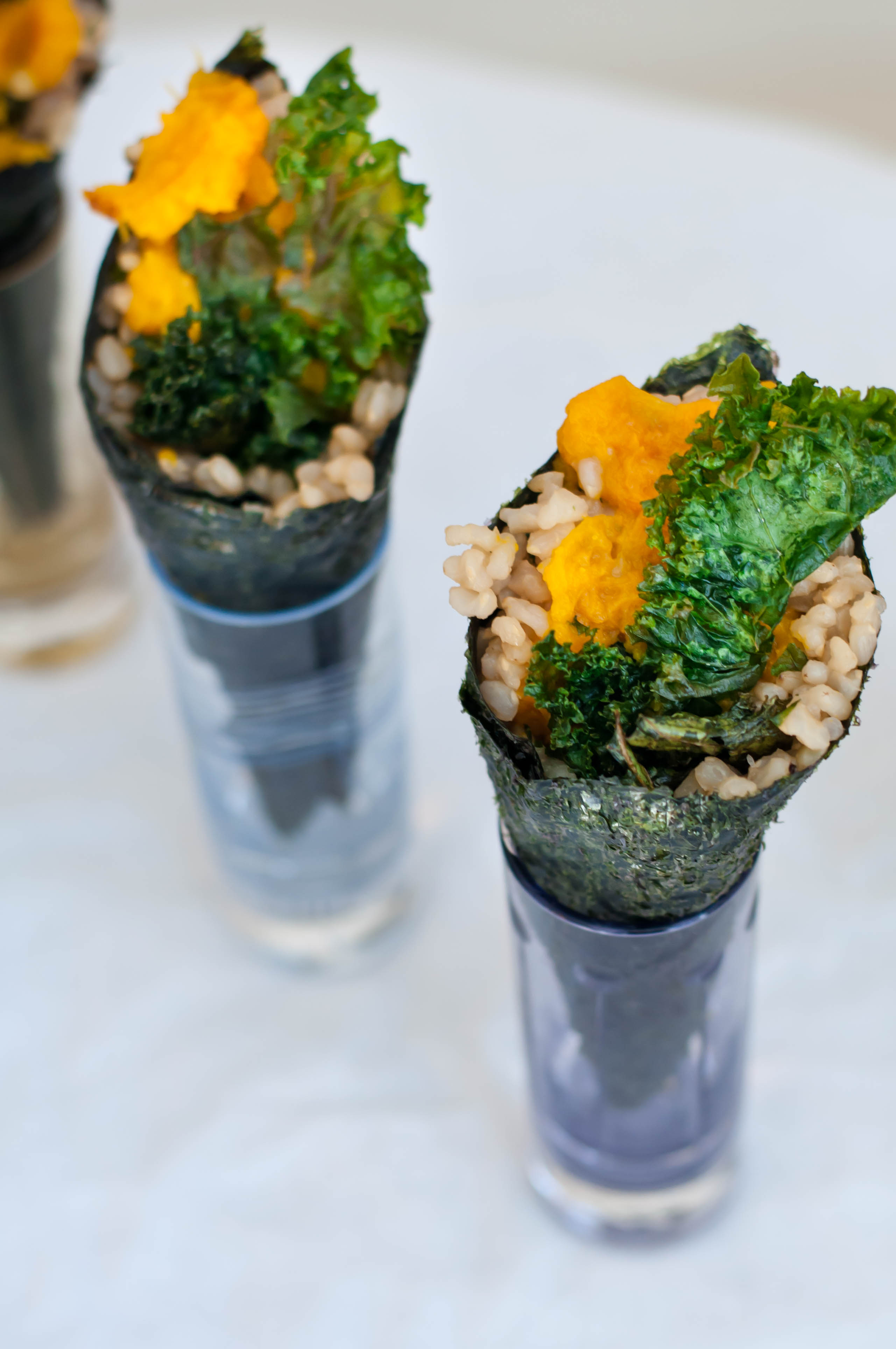 Japanese Pumpkin Temaki with Ginger Kale Chips
Ingredients
For the rice:
⅔ Cup short grain brown rice (this is enough rice to make about 6 hand rolls)
½ Teaspoon soy sauce (wheat-free tamari for gluten sensitivities)
1 Cup water
For the sushi vinegar (it is best to use a kitchen scale for accuracy):
¼ Cup rice vinegar (60 g)
1½ Tablespoon raw turbinado sugar (20g)
1¼ Teaspoon sea salt (5 g)
For the kale chips:
3½ to 4 Cups curly kale chopped into chip sized pieces with stems removed (about one medium sized bunch)
½ to 1 Tablespoon olive oil
¼ Teaspoon freshly ground ginger (use a ginger grinder or microplane)
For the hand rolls:
3 Full sheets of nori
¾ Cup kabocha (about ½ of an average sized kabocha)
½ Teaspoon soy sauce (wheat-free tamari for gluten sensitivities)
Ginger kale chips
Sushi rice
Wasabi
Instructions
To roast Japanese pumpkin (Kabocha):
Preheat oven to 375F.
Wash, dry, and divide pumpkin in half. Remove all of the seeds. Place face down on a parchment lined baking sheet and cook for 45 minutes to an hour, or until the flesh yields easily to a fork. Combine ¾ cup of pumpkin flesh with ½ teaspoon soy sauce. Using the back of your fork mash until a consistent mixture is formed.
To make the sushi rice:
Rinse rice well. Place rice, water, and soy sauce in a pot and bring to boil. Once boiling, turn heat down to simmer and cover. Cook for 40 minutes or until the rice is soft and has absorbed all of the water (use a fork to peek at the pot bottom to check if all of the water has been absorbed). Let sit, covered, for ten minutes.
While the rice is cooking, combine rice vinegar, sugar, and sea salt in a saucepan and heat until the sugar and salt have dissolved. Set aside to cool.
It is very helpful to have a kitchen scale when making sushi rice. A useful guideline for the proportion of sushi vinegar to rice: 12% of the weight of the cooked rice = the amount of sushi vinegar to use. If you don't have a scale and you make the amount of rice that I specify above, you are going to need about ⅓ cup of sushi vinegar, but it is really best to use a scale and do the calculation suggested above.
Pour the sushi vinegar over the rice. While stirring the vinegar into rice, gently fan it. This will help remove excess moisture from the rice. Continue mixing until all of the sushi vinegar is incorporated (1-2 minutes). Taste and adjust as necessary. While the rice is warm the taste of the vinegar will be stronger, so keep that in mind.
To make the ginger kale chips:
Preheat oven to 300F
Mix ½ tablespoon olive oil with ¼ teaspoon freshly ground ginger. Massage your oil mixture into your kale, making sure that you have covered all of the nooks and crannies of the kale with oil. If you need more oil to cover all of the kale, add up to ½ tablespoon. Be mindful not to over-oil the chips. They only need a thin coating.
Bake for 10 minutes. Rotate pan and put it back for another 7-10 minutes or until the chips are dry and crispy.
To construct the hand rolls:
You want your sushi rice, and kabocha filling to be just over room temperature.
Cut your full sheets of nori in half.
Lay a half sheet on a cutting board and place a single layer of rice on the left half of the nori.
Put a single line of wasabi diagonally from the upper left corner to the lower right edge where the rice ends.
Place a tablespoon of kabocha filling and a handful of kale chips over the wasabi line.
Now fold the lower left-hand corner to the upper right-hand corner edge of where the rice ends. Tuck and roll rotating down to the lower right-hand corner.
Place a couple of grains of rice on the lower right-hand corner to seal the roll. Repeat for remaining five rolls.
Best eaten right after they are rolled. The nori should still be crisp. Serve with soy sauce and wasabi.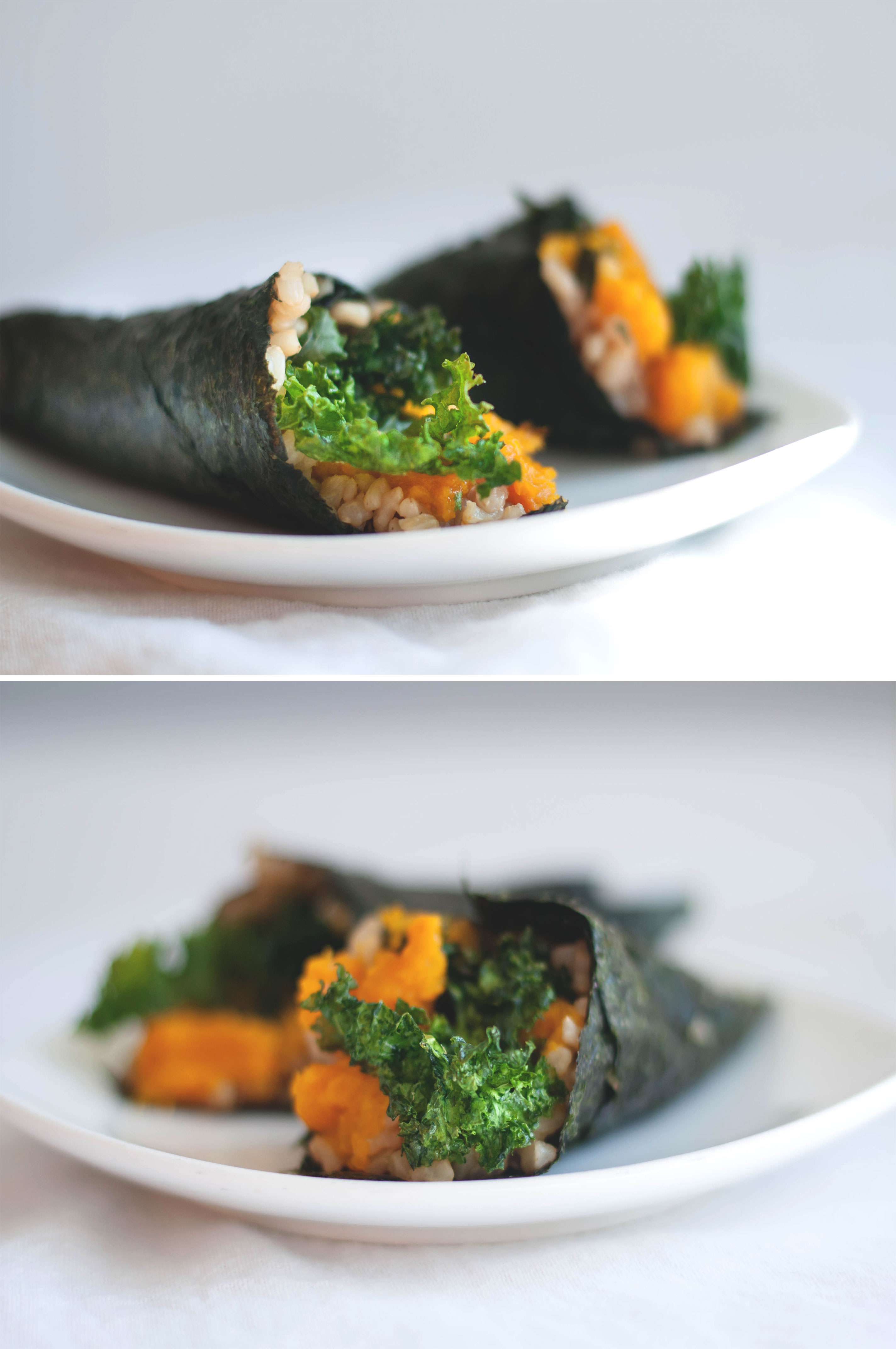 I added a little video so you could see a tutorial on how to properly wrap a hand roll.  I have wrapped so many of these in this past week that I can do the whole thing holding it in the air in one hand, like the pros, but it took many rolls to get to that point.  I recommend starting out the way I demonstrate on the video.  I hope it comes more naturally to you than it did me.  I took an aptitude test once and it was determined that I have ZERO ability to visually manipulate objects in my mind.  ZERO.  This ability helps when figuring out how to roll a hand roll, apparently.  My first few attempts were more like sushi tubes than sushi cones (it's harder than it looks!)  Luckily I have several family members who are GENIUS when it comes to figuring this stuff out.  After several walk-throughs, I had it knocked.  What I lack in spatial ability, I more than make up for in finger dexterity.  You may not think that is a real thing…but that was part of my aptitude test too.  I scored in the 99th percentile in finger dexterity…of all the things to have scored high on!  On the test they actually refer to it as "tweezer dexterity," as in your aptitude for working a tweezer!  I am a world class tweezer operator.  If I had the spatial skills to make it through medical school I could have been a brilliant surgeon, however I am stuck plucking the stray splinter.  Shame you can't pick your aptitudes.