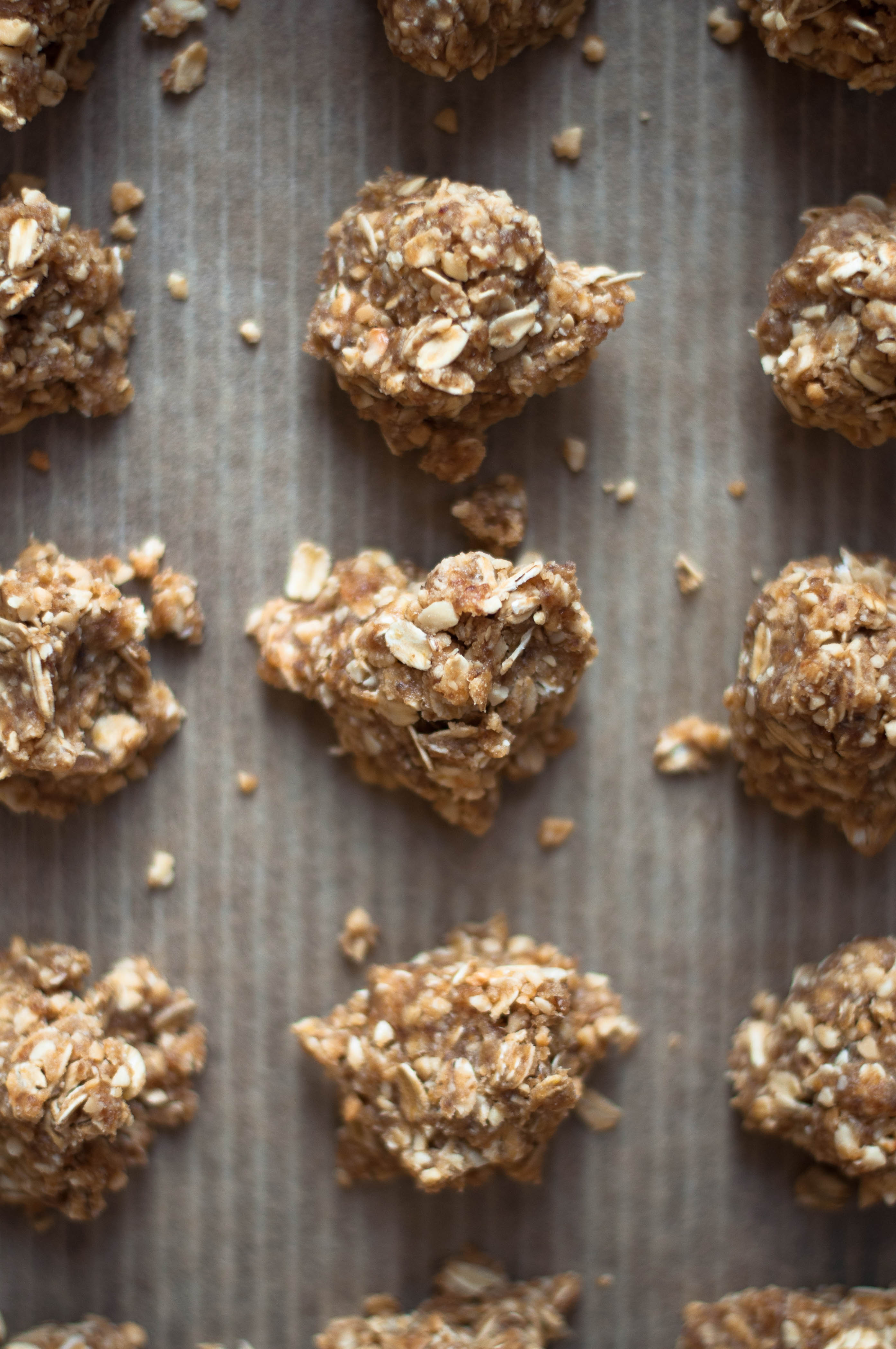 About a week ago I had the idea to turn granola bars into bite-sized single-serving pieces.  I gave myself a hearty pat on the back for being a super inventive chef-blogger extraordinaire.  And then I realized that there are a billion (and one) granola bar recipes and half a billion of them are bite-sized, no-bake 'granola bar bites'.  Not only was my idea not original, but my super-catchy, slogan-worthy name is already overused and eye-roll worthy.  Sigh…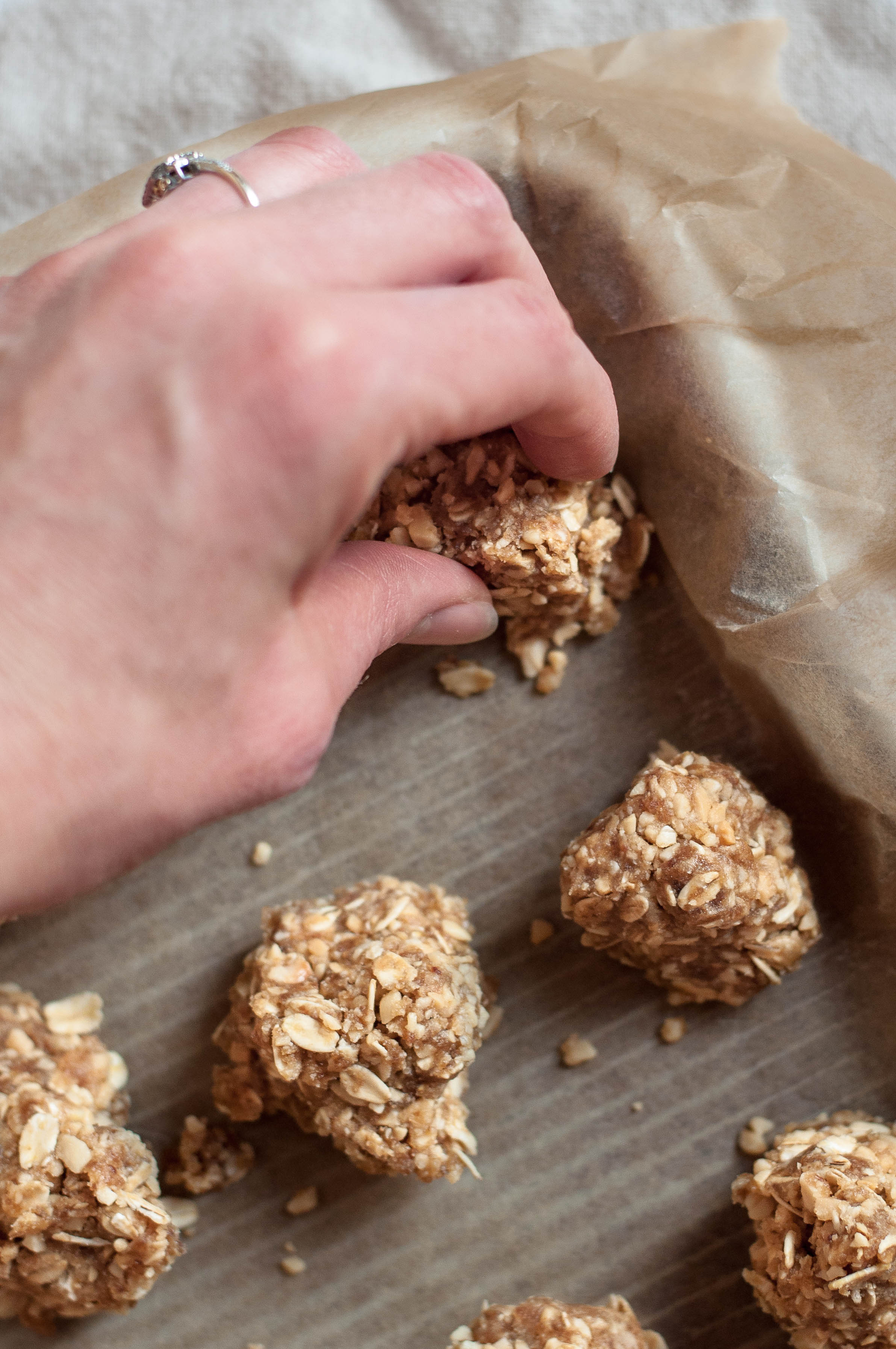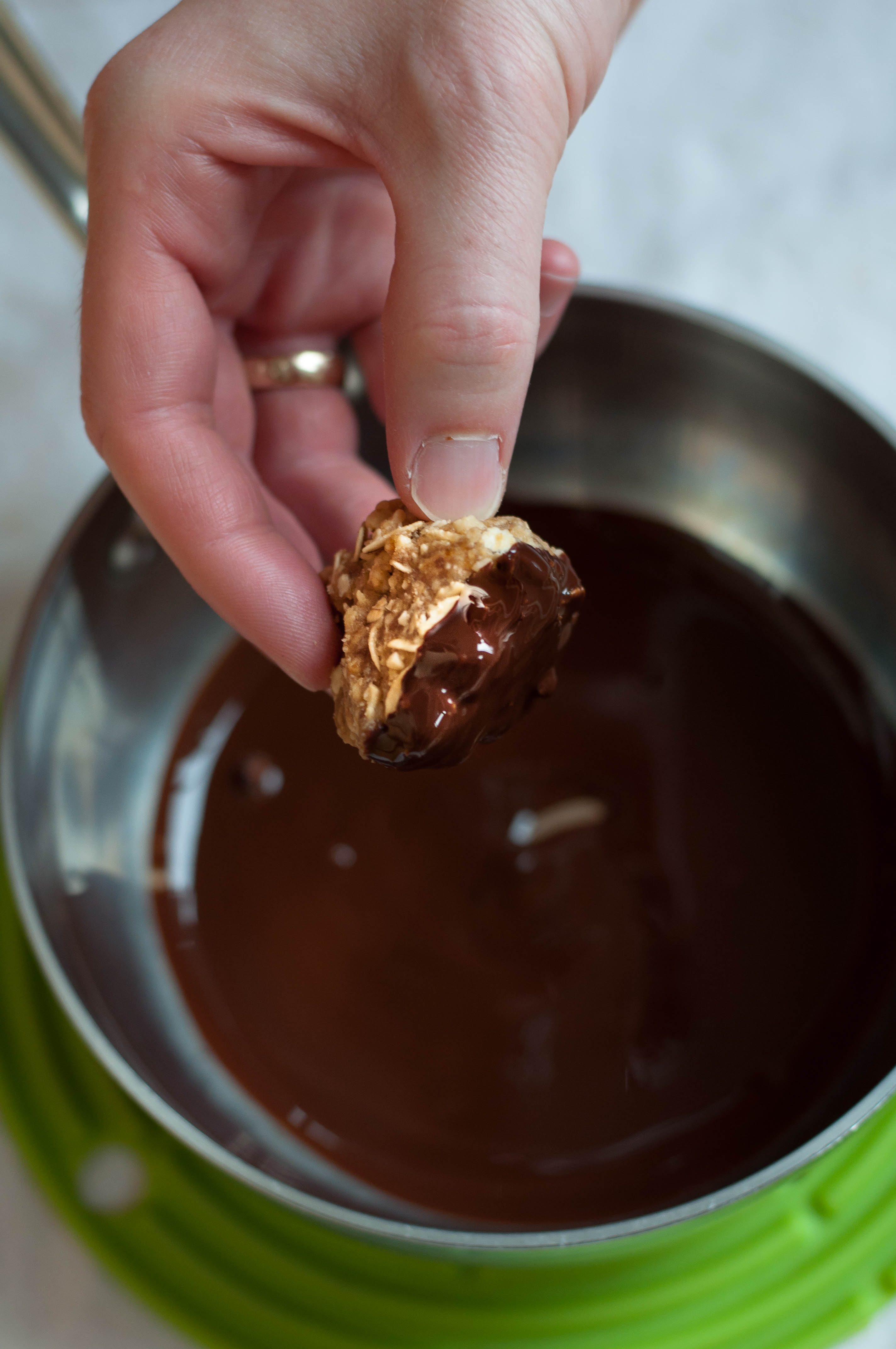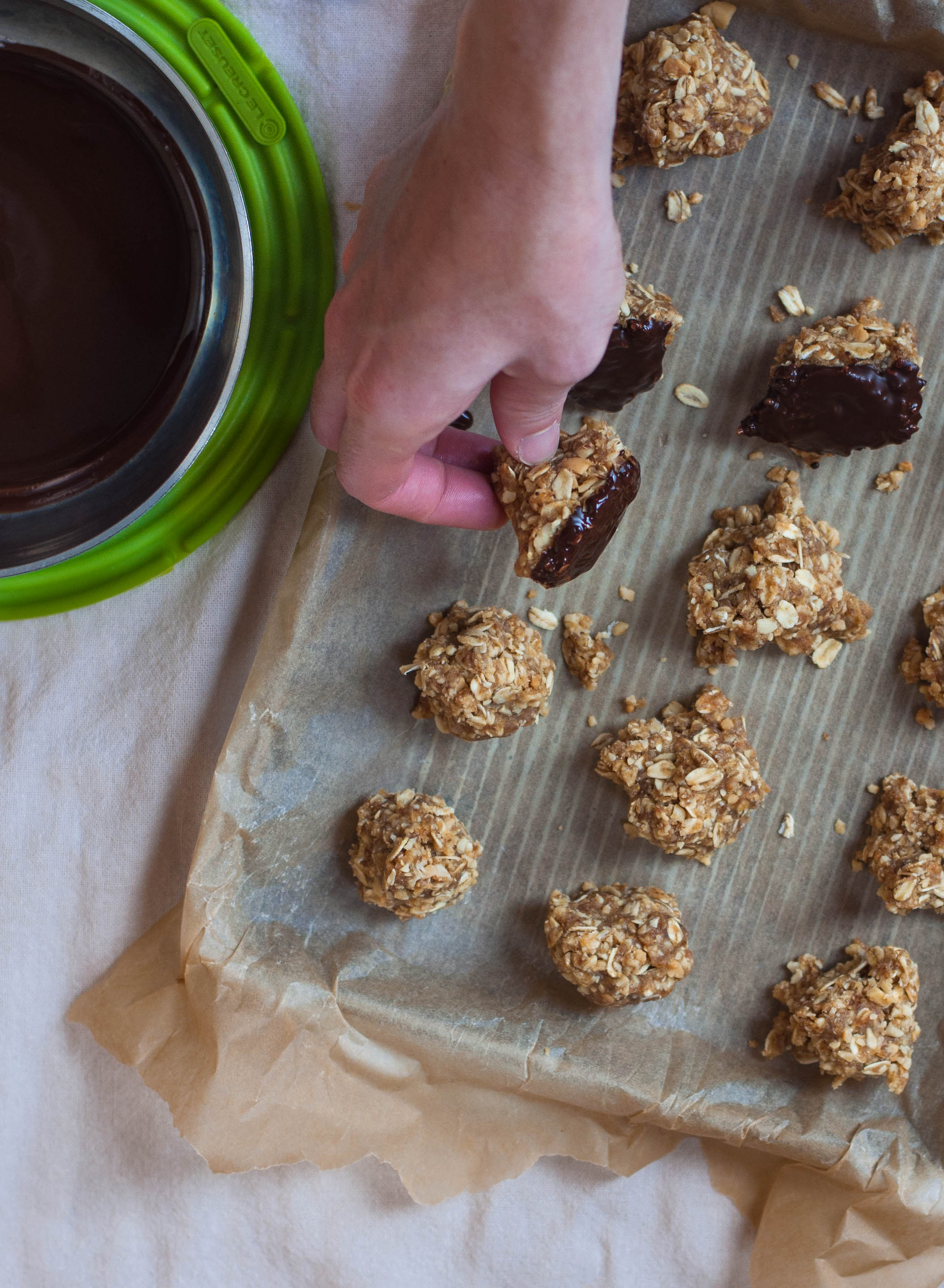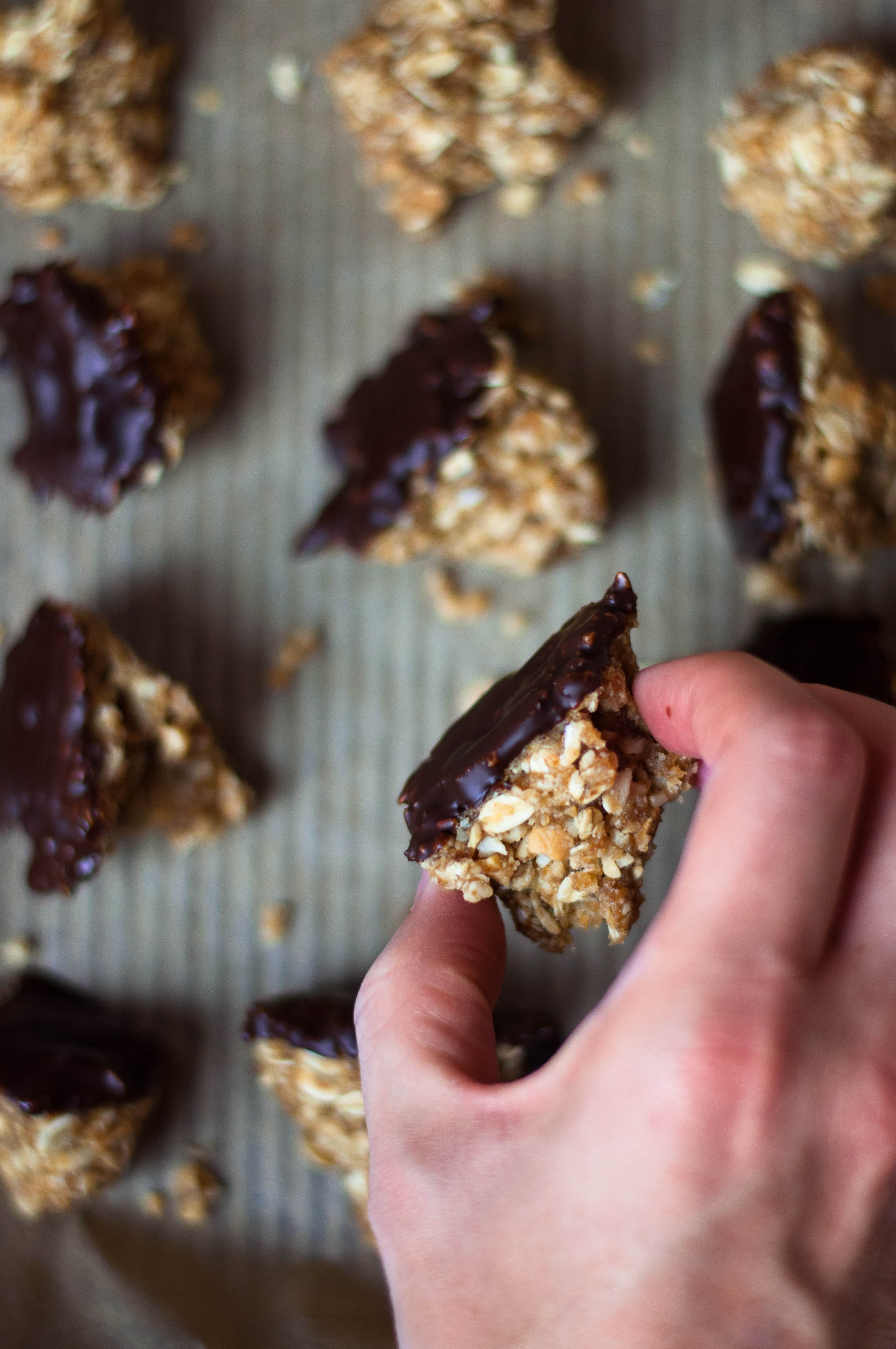 There is not much new under the sun when it comes to food.  Someone, somewhere has done it.  If I had realized how hackneyed my dish was before taking a million pictures and playing around with recipe ideas, I probably would have just abandoned this post.  But here we are.   I share this with you because they are delicious, they are super convenient to pop in your mouth, and it is an easy made-from-scratch recipe that will take you less than 30 minutes of hands-on time.  So although they aren't unique, they are quite wonderful!
The idea is pretty simple.  Take your standard granola bar recipe and form them into gnarly-like masses and then enjoy.  I frequently eat half to three-quarters of a granola bar and then it lies sadly in its wrapper, losing freshness by the moment, until the next time I am in the mood for a quick bite (which is not all that frequently).  I am a freshness snob and turn my nose up at day-old, half-eaten food…half eaten granola bar, not my thing.  I adapted a recipe that I really enjoyed from Minimalist Baker to make these bites.  Dates are what hold these magical little bites together.  If you are new to using dates in this way, you are going to be so happy you discovered this.  The combination of nuts and dates tastes like nougat (think Baby Ruth), all-natural plant based nougat that is.  So good!
Enjoy, sweet friends.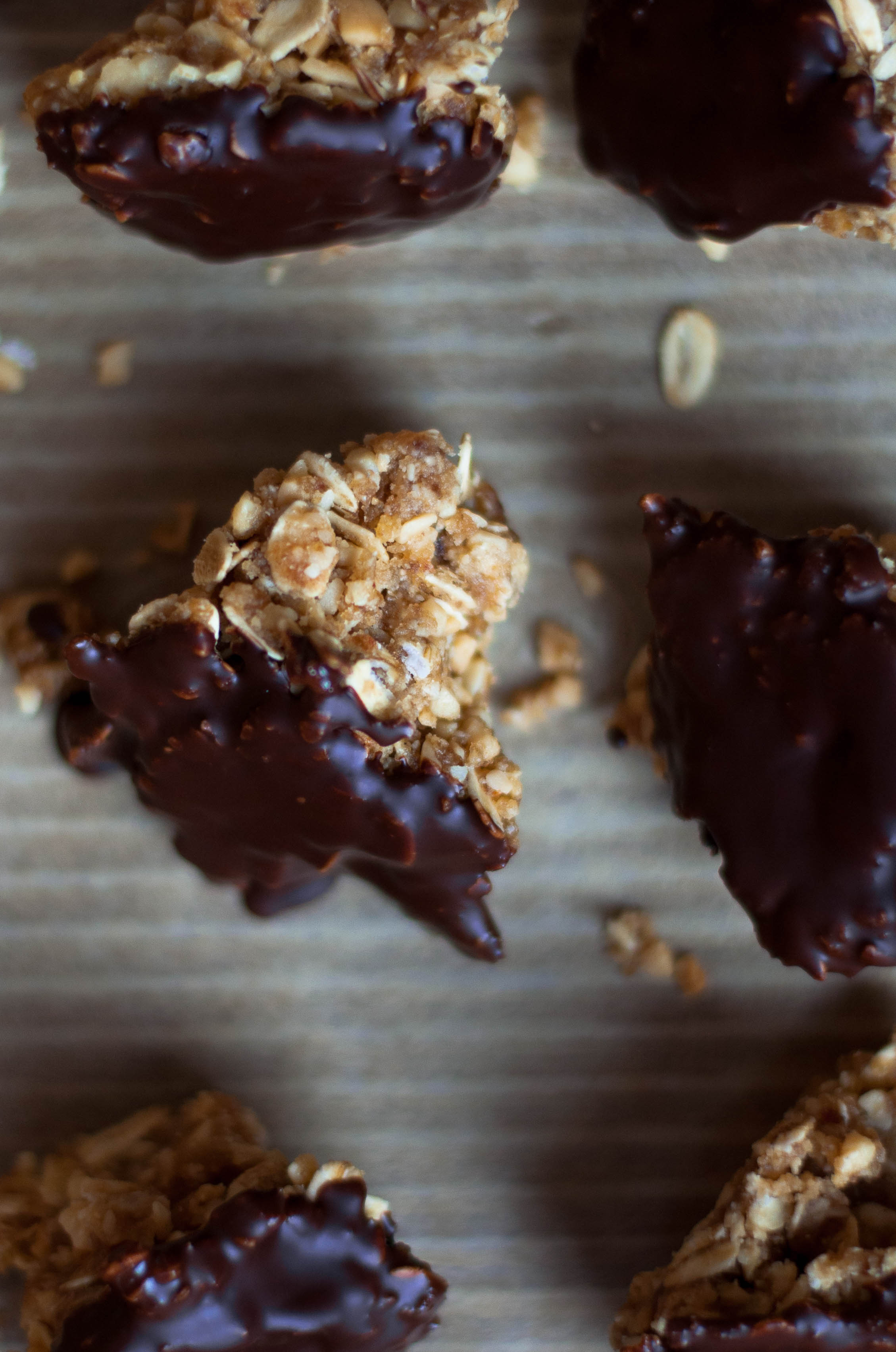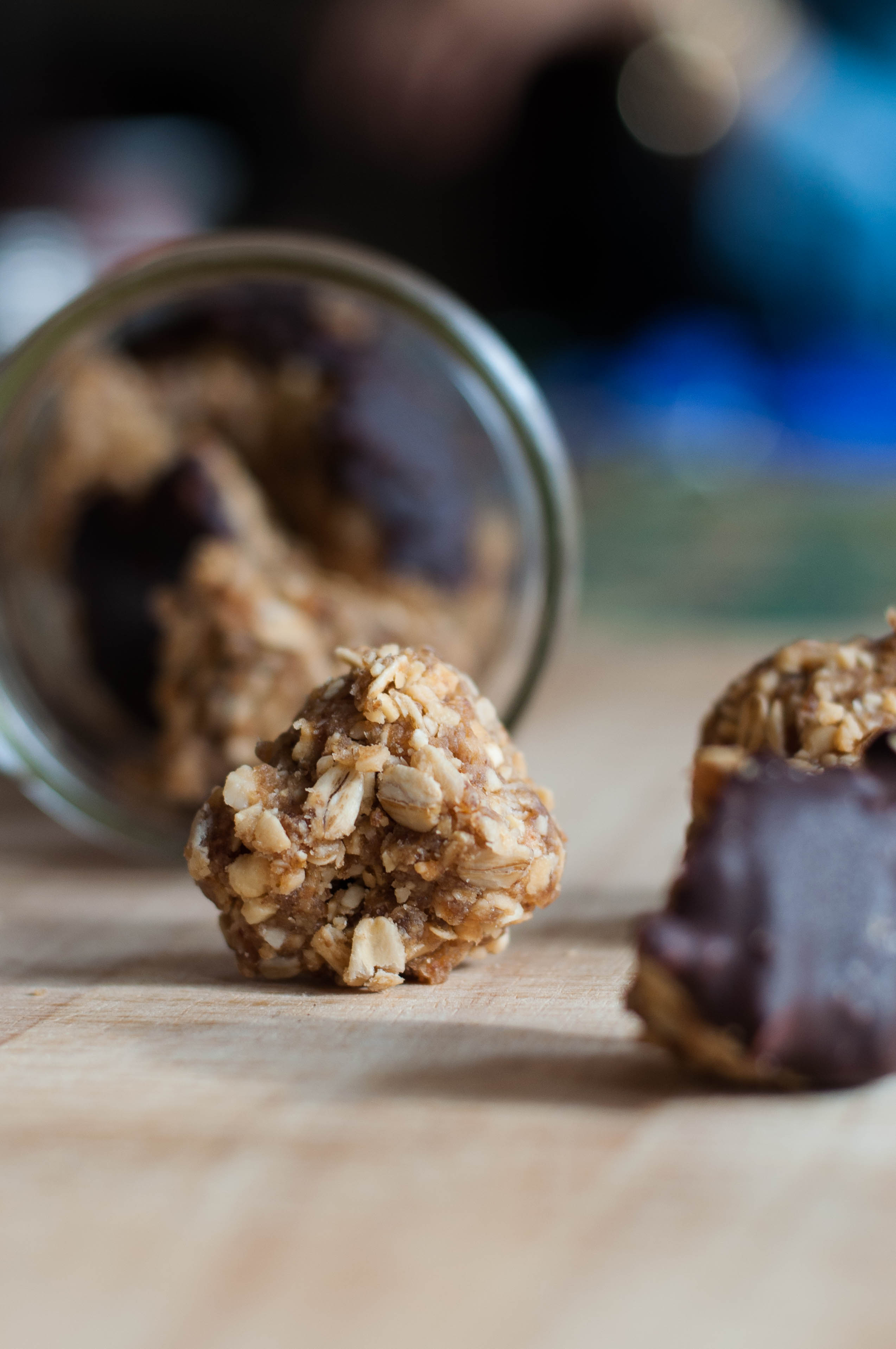 Homemade Peanut Butter & Honey Granola Bar Bites
Ingredients
1 Rounded cup deglet dates (you can substitute medjool, but I strongly prefer deglet, which have a less fruity flavor)
⅛ Cup honey (substitute maple syrup or agave if Vegan)
⅓ Cup Homemade salted peanut butter (or store bought peanut butter that has been microwaved for 10-15 seconds so that it is pourable)
½ Teaspoon vanilla
1 Cup whole roasted peanuts
1 Cup gluten free rolled oats
Salt to taste
1.5 oz dark chocolate bar (I prefer 70% cacao content or above)
Instructions
Place cup of peanuts in food processor and blend until tiny bits remain. Set aside.
Combine the oats and blended peanuts.
Blend dates in food processor until a paste consistency is attained. (The date pieces will probably form into a large ball in the food processor. Continue processing until this formed ball falls apart and becomes a paste.)
Combine your liquid-y peanut butter, honey, and vanilla. Add mixture to oats.
Finally add your processed dates to the oats and mix everything together. If you find it too difficult to stir, roll up your sleeves and mash everything together with your hands. You want a consistent looking mixture.
Using a parchment lined small baking sheet as a tray, gather up clumps of the oat mixture with your fingers. Squeeze the clumps together to form 20 mounds.
Place in the freezer for 30 minutes.
minutes before you remove the granola bites from the freezer, set-up a double boiler and melt your chocolate.
Dip the base of the granola bites in the melted chocolate. I leave half plain and half with chocolate for variety. Place tray of chocolate covered bites in freezer to set for 30 min.
Store in refrigerator or keep for longer in freezer.