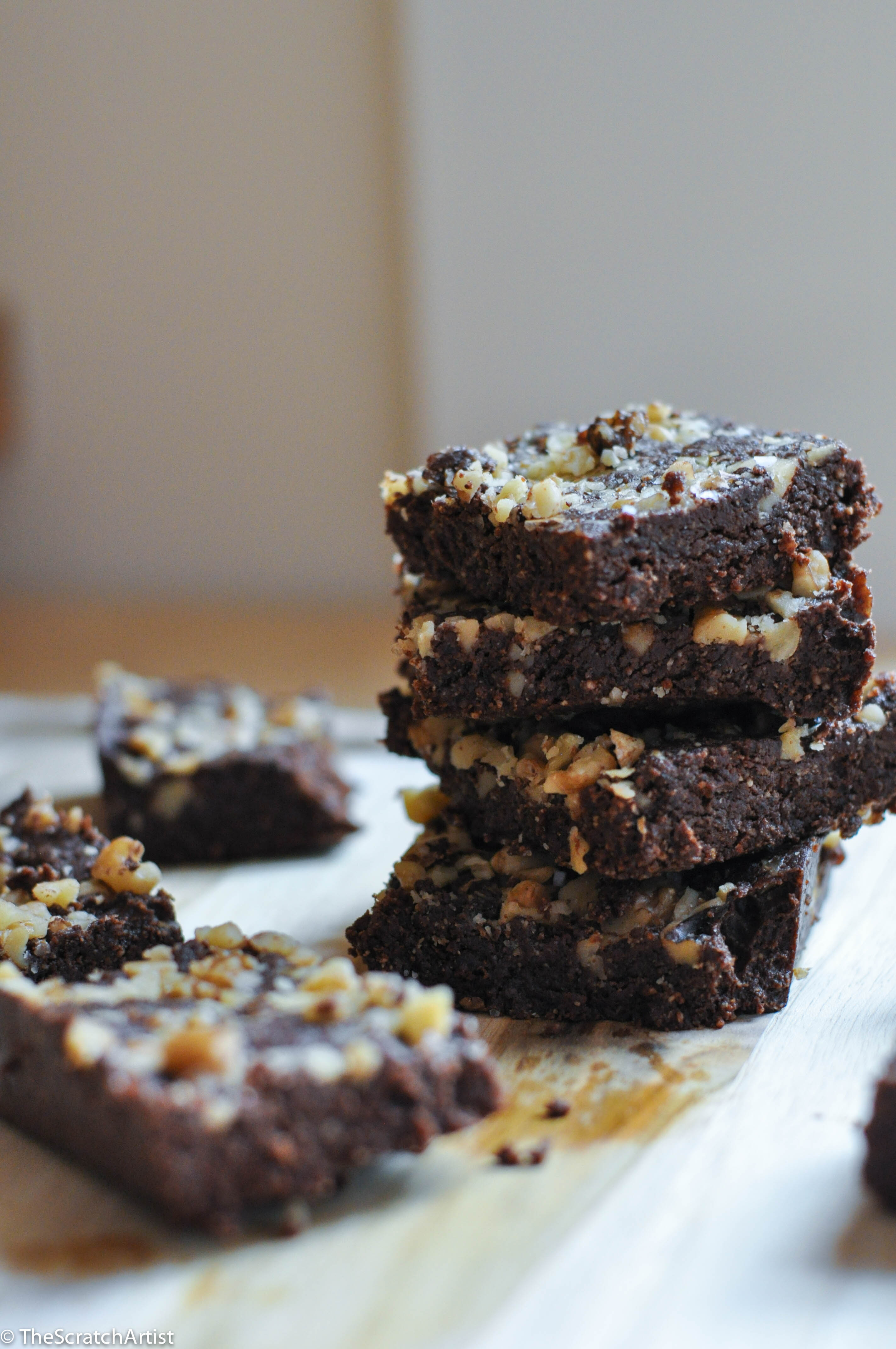 Fudgy date brownies AND some scratching philosophy.  Just want the fudgy brownies?  Scroll down to the bottom of this post for the recipe.  Prepare for your mind to be blown, as in "this is just dates!??"  So healthy.  So good.  So scratchy.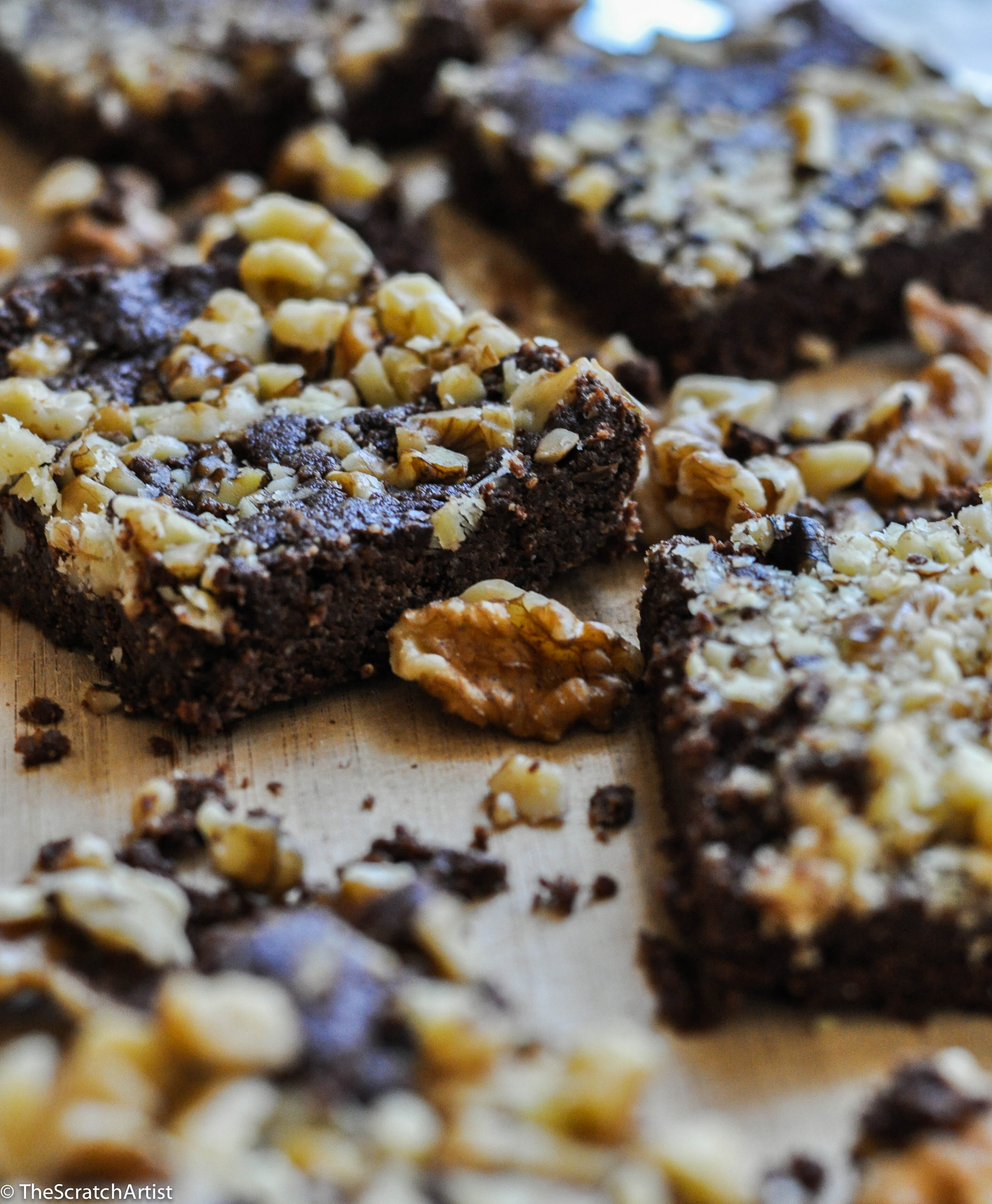 Now for the scratching philosophy:
…  That ellipsis speaks volumes about my internal world at the moment.  SO…what the heck am I going to write about?
I launched this blog about two weeks ago (a little too soon to have writer's block!).  And now I'm feeling a bit like an ellipsis.  The child psychologist in me follows that with, "And what does an ellipsis feel like?" "If an ellipsis were a color, what color would it be?" and other such nonsense.  Excuse me while I go vomit.
Now that the blog is live, I have been doing "live" things.  Looking at other people's blogs, hustling to try and get my blog to even show up on Google, getting SO SUPER excited anytime someone subscribes or leaves a comment or does ANYTHING associated with my blog (thank you!).  And now I feel like  …
And I have a persistent and buzzing question (as in a mosquito in your ear kind of buzz!):
"What am I doing?" or maybe at times "WHAT AM I DOING!?"  Before I tackle this question I definitely need a date brownie.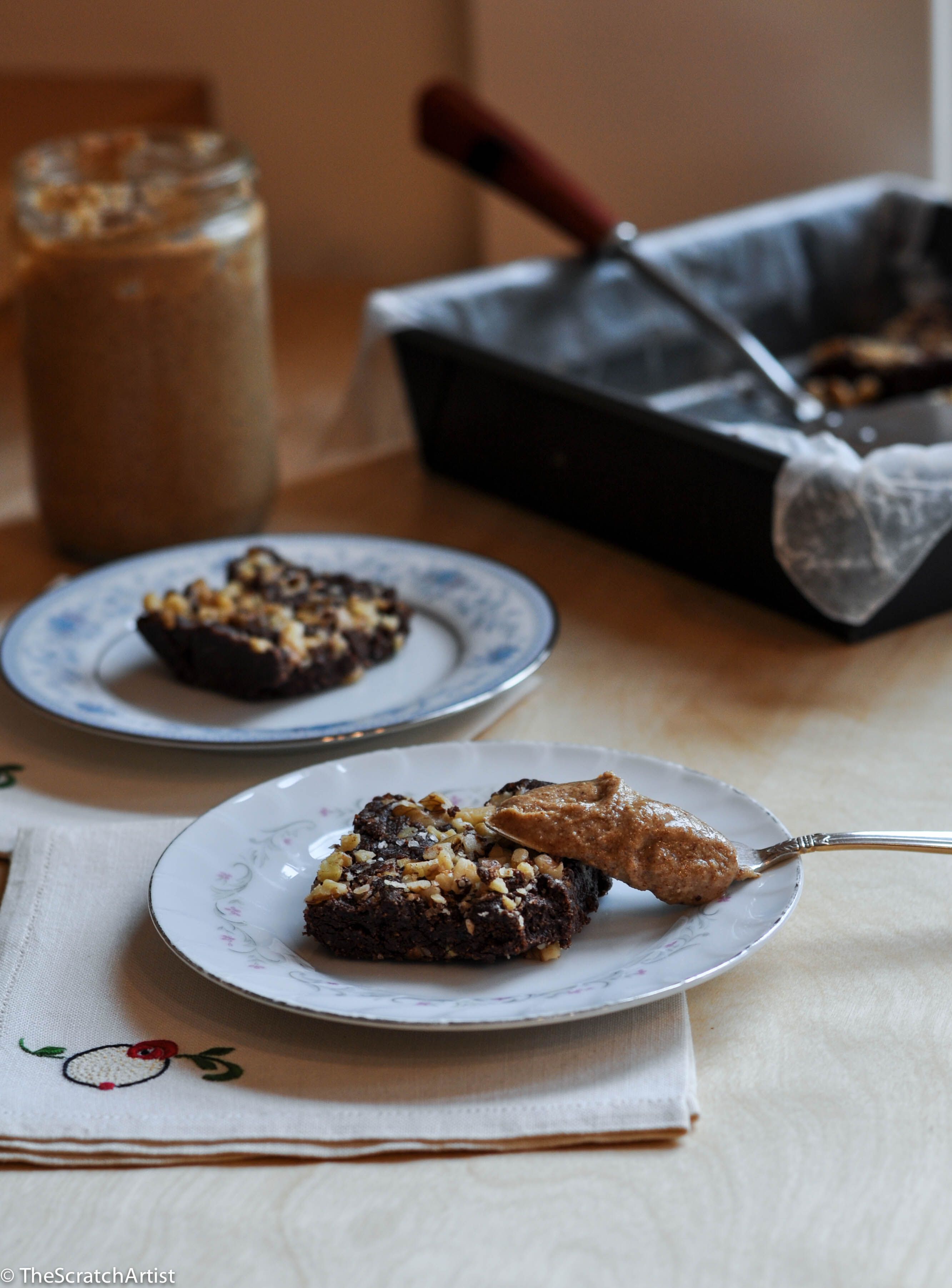 Ok, that helped.  Maybe you should go make these first, then come back and read this.  Too much philosophy without enough chocolate is never a good combination.
Here's my answer:
What I'm doing is endeavoring to create a space where we can come and be inspired, share, and discover the benefits of self-expression.  The philosophy behind scratching has absolutely nothing to do with food.  My thing happens to be food, cooking, and sharing great food with others.  But what this blog is really about, and the space that I am looking to create here, is one of self-expression.
What's your thing or things?  How can we, as a community, work together to bring out in each other a more true and genuine expression of ourselves?  That is what scratching is about.  Find your thing.  Then find a way to put yourself into that thing so entirely that the product you produce is quintessentially you, and then share that thing.  Writing and sharing my experiences of cooking from scratch is my form of self-expression.   What's yours?
Like begets like.  The more true and self-expressed we are, the more likely we are to engender that in our communities.  I think there is tremendous value in self-expression.  I look at it as a pretty simple equation:
Increased Self-expression = Increased Well-being
If you're one of those people who loves your job, you are most likely able to express your essence through your work.  If you find yourself saying, "I can't believe I'm actually being paid for this," you have found a profession that is an expression of who you are.  Your thing is expressed through your work.  You have hit the jackpot.
I certainly did not know what my thing was for many years.  I am 29 now, and I spent far too many years not expressing my thing.  I have no interest in becoming a really, really good example of someone else.  I want to be a really, really good example of me.  Which in fact isn't an example of anything at all but a unique, one and only expression…as is true for all of us.  And it is my hope that this gets paid forward.  I think we all inspire each other.  Sometimes we are inspired to hate; other times we are inspired to be kind.  Our environment affects us.  I am committed to being fully self-expressed, and THAT is what I want to inspire in anyone and everyone I come in contact with.   When I was playing around with the idea of starting this blog, my father gave me a piece of wisdom that I now gather strength from daily, "Sing out Baby June!" (from the 1962 movie, Gypsy)
This is where I want to exert my energy in life.  Finding my song and singing it out.  Assertively, powerfully, and without reservation.  And helping others find and sing their songs.
My ellipsis has turned into an exclamation point.  Self-expression, that's where it's at.  I remember now what I am doing.
Hopefully I've helped define this space/blog and intrigued some of you to stay and participate.  If the philosophy doesn't get you to stay, then I've got these great fudgy date brownies worth hanging around for (Is that extortion?  Bribery?  Both?).  Make and eat a batch of these while you ponder what your thing is.  Not into cooking and making brownies?  Come back to hear more about endeavoring to be self-expressed and finding your thing and helping others find theirs.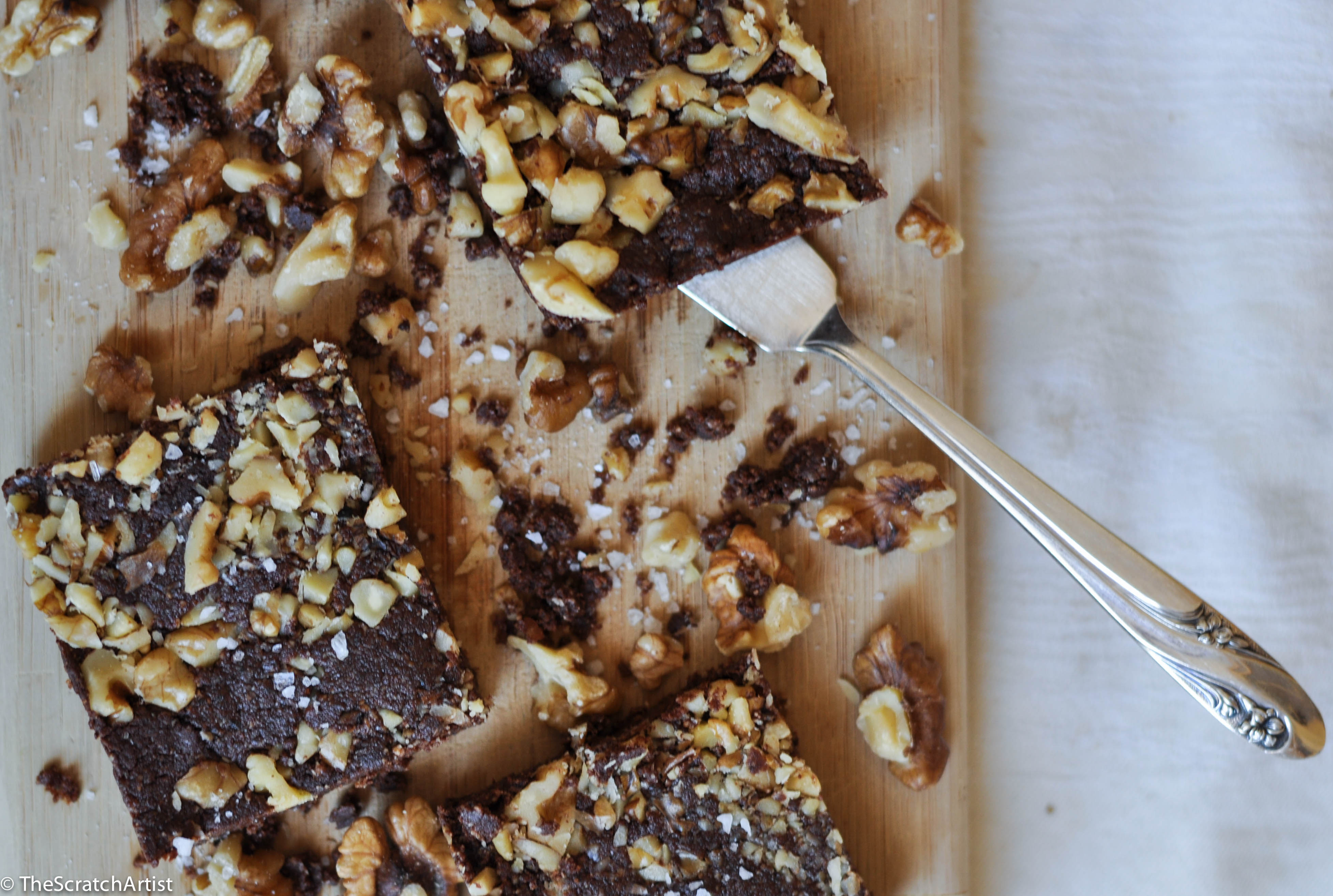 The best way to describe these brownies is to tell you what's not in them:
NO FLOUR
NO SUGAR
NO EGGS
NO DAIRY
NO OIL
NO BAKING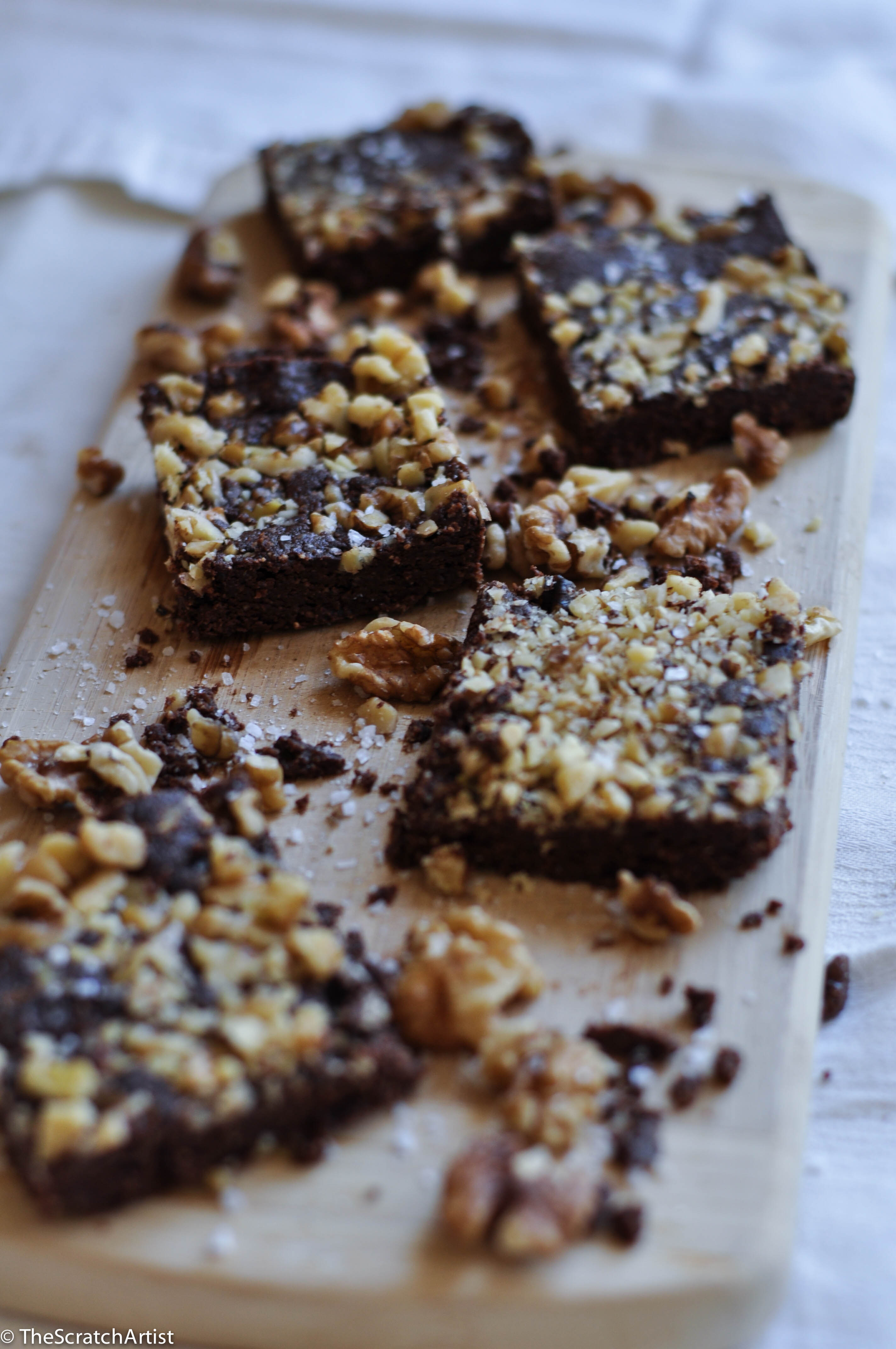 If you are going to make one recipe on this blog and only one, make this one.  I've made these brownies about twenty times and without fail I say the same thing, "I can't believe this is dates!  They taste just like REAL brownies."  These brownies aren't sweetened with dates, they are dates.  Unbelievable.  Enjoy!

Fudgy Date Brownies
Ingredients
2 Cups walnuts
1 Cup roasted and unsalted almonds
½ Cup pecans
1 Cup raw cacao powder (or you could use cocoa powder)*
2 Rounded cups pitted Deglet dates (or Medjool)**
Pinch of large crystal salt (I use a generous pinch, but then again I LOVE SALT)
1 Cup of chopped walnuts to add to the top of your brownies
Instructions
Using a food processor blend your dates until they are in small bits.
Remove the dates from the food processor.
Place walnuts, almonds, pecans, cacao (or cocoa powder) into the food processor. Blend until the nuts are in little bits.
With the blender running, slowly drop in bits of your dates. Continue to add the dates slowly. Observe how your mixture changes to a more crumbly texture. You are aiming for a consistency that will clump in your hands when squeezed.
Once the mixture starts to look like it will clump when pinched, turn off and unplug the food processor and test it out. If your mixture is clumping, remove it from the food processor. If it is still breaking apart when you squeeze it together, add more dates. You might not need the entire 2 cups of dates.
Line a pan that is approximately 9"x 9" with wax paper; this will help you when removing the brownies from the pan once they've set.
Transfer your brownies from the food processor to the prepared pan.
Using your hands, evenly spread the mixture out in the pan. Now pour your cup of walnuts evenly over the brownie mixture.
Press down on the nut-covered brownie mixture firmly with your hands or the back of a spoon. Continue pressing until you have created a compact, single-level layer of brownies.
For a quick set, place these in the freezer for an hour or so before eating. Or place in the refrigerator for about four hours before eating.
Store leftovers in the refrigerator.
Notes
*Cocoa powder is raw cacao roasted. Unfortunately, the roasting decreases its nutritional value. If you google raw cacao you will see a long list of health benefits. Personally, I take all of this type of reporting with a grain of salt. What is healthy today is cancer-causing tomorrow and what is cancer-causing today is healthy tomorrow. It is enough to drive you nuts! I give what my body is telling me is healthy much more weight than what the news is. Regardless of which powder you choose, it will taste delicious.
**I have a VERY strong preference for using Deglet dates. The Medjool dates add a sweetness that make these taste less brownie-like and more date-like. But, if you can't find Deglet dates, use the Medjool.
I first learned of using dates as the base for brownies from
My New Roots
 and
Minimalist Baker
. I was so completely enamored with this novel idea and ingenious use of dates that I made batch after batch experimenting with different flavors and different quantities. The lesson I learned is that these brownies are completely customizable to your taste. My favorite thing to spread on these brownies is homemade almond butter, made the same way as
peanut butter
, just use almonds. Another fabulous combination is, brownie + almond butter + blackberry preserve + salt. I also love adding chocolate chips right into the brownie mixture. Try mint extract. Just drop several drops over a section of your brownie before letting it set. The point is, if you think of it, try it, and it will probably taste good. Get creative!