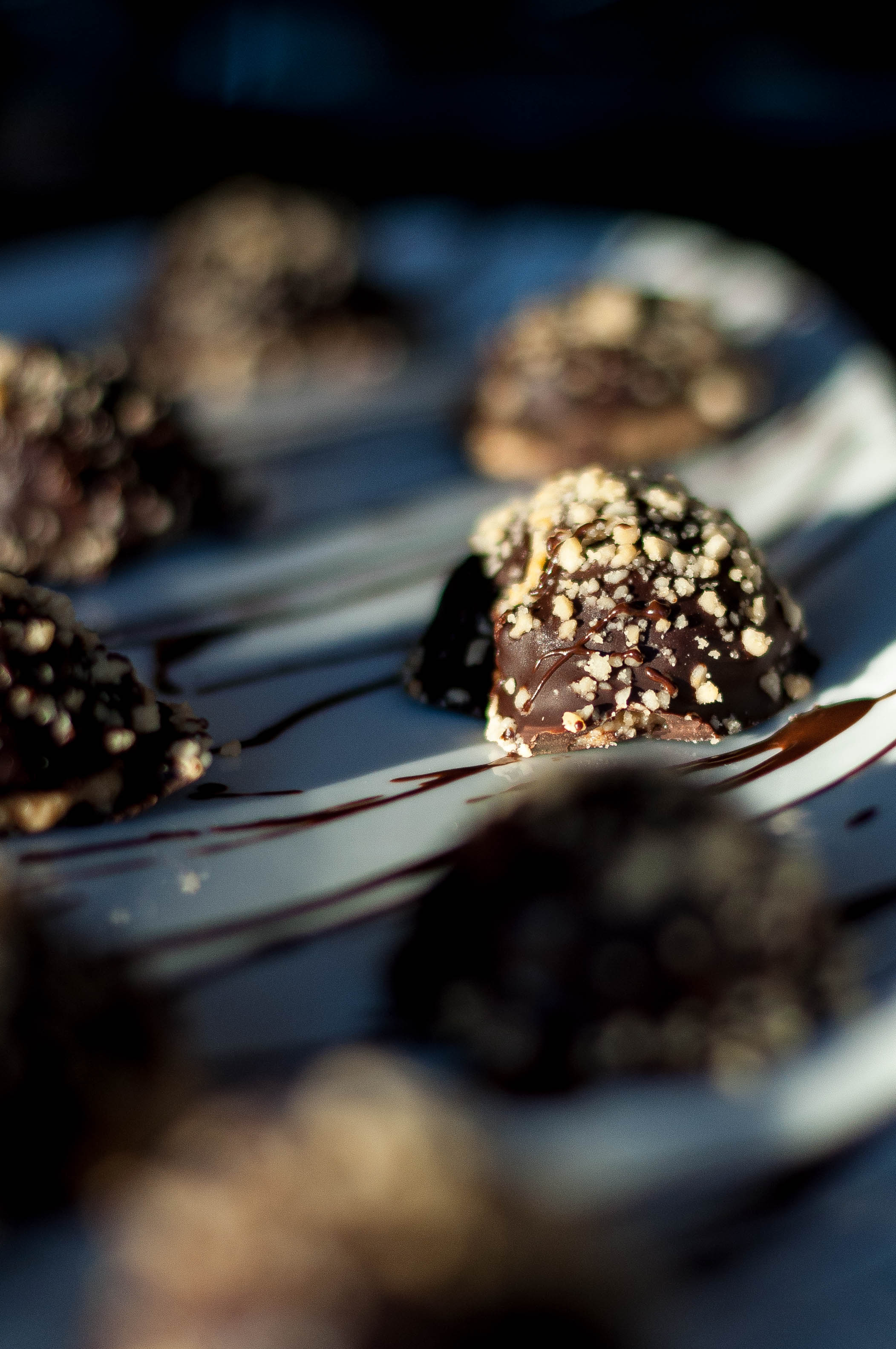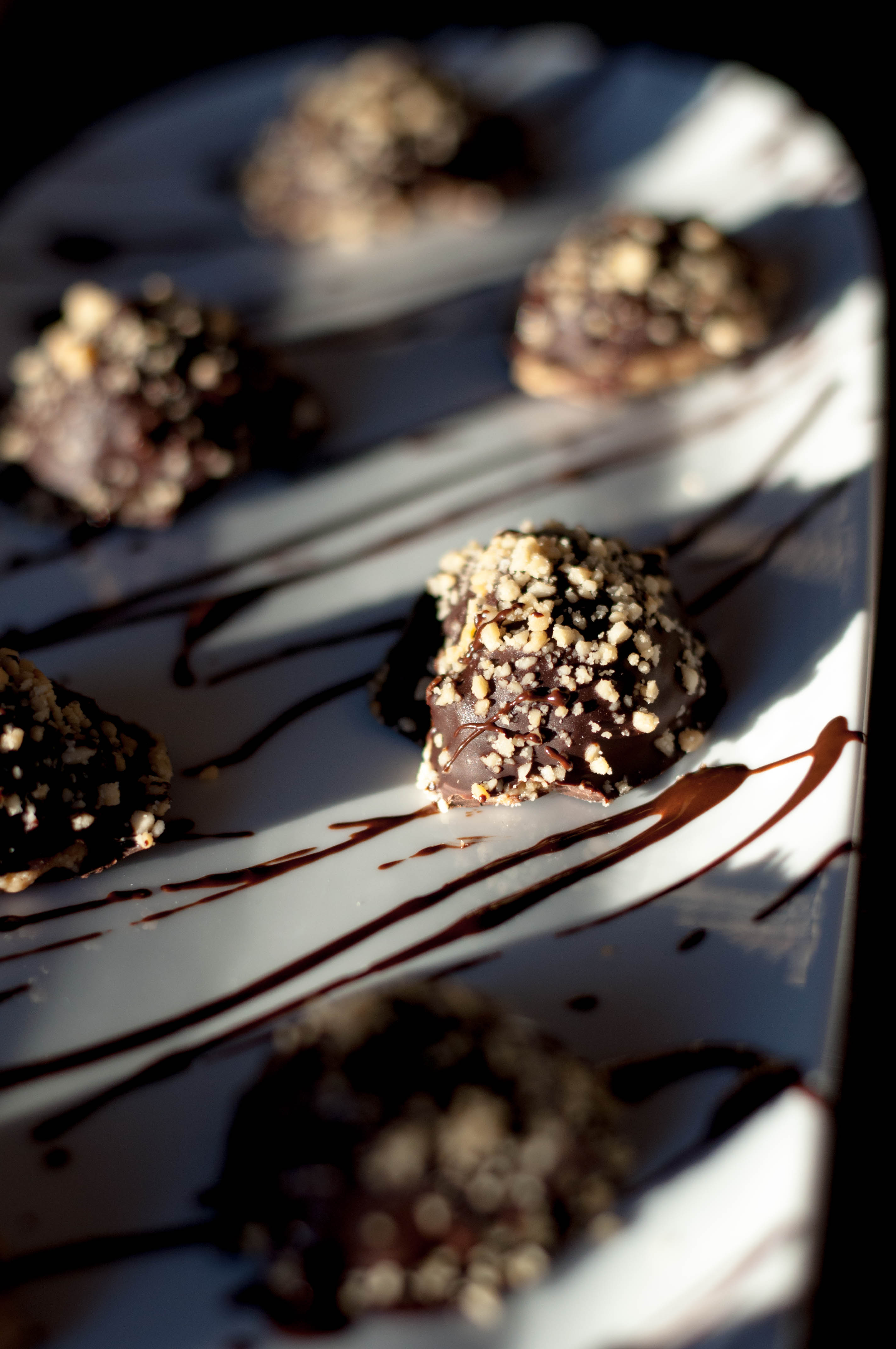 If you ever want to know what goes well with peanut butter, just ask me.  You name it and I've tried it with peanut butter.  There is a TV-news-scroll-type ticker constantly streaming through my thoughts that reads something like, "I wonder how that would taste with peanut butter?" Followed by a reflexive response from my hand to dip-and-discover.  My latest dip-and-discover adventure was cardamom and peanut butter.  You are going to want to get on this train.  It is going places you want to go.  Not only are we combining cardamom and peanut butter, but we are adding chocolate, vanilla, cinnamon, and sea salt.  It's gonna be a good day.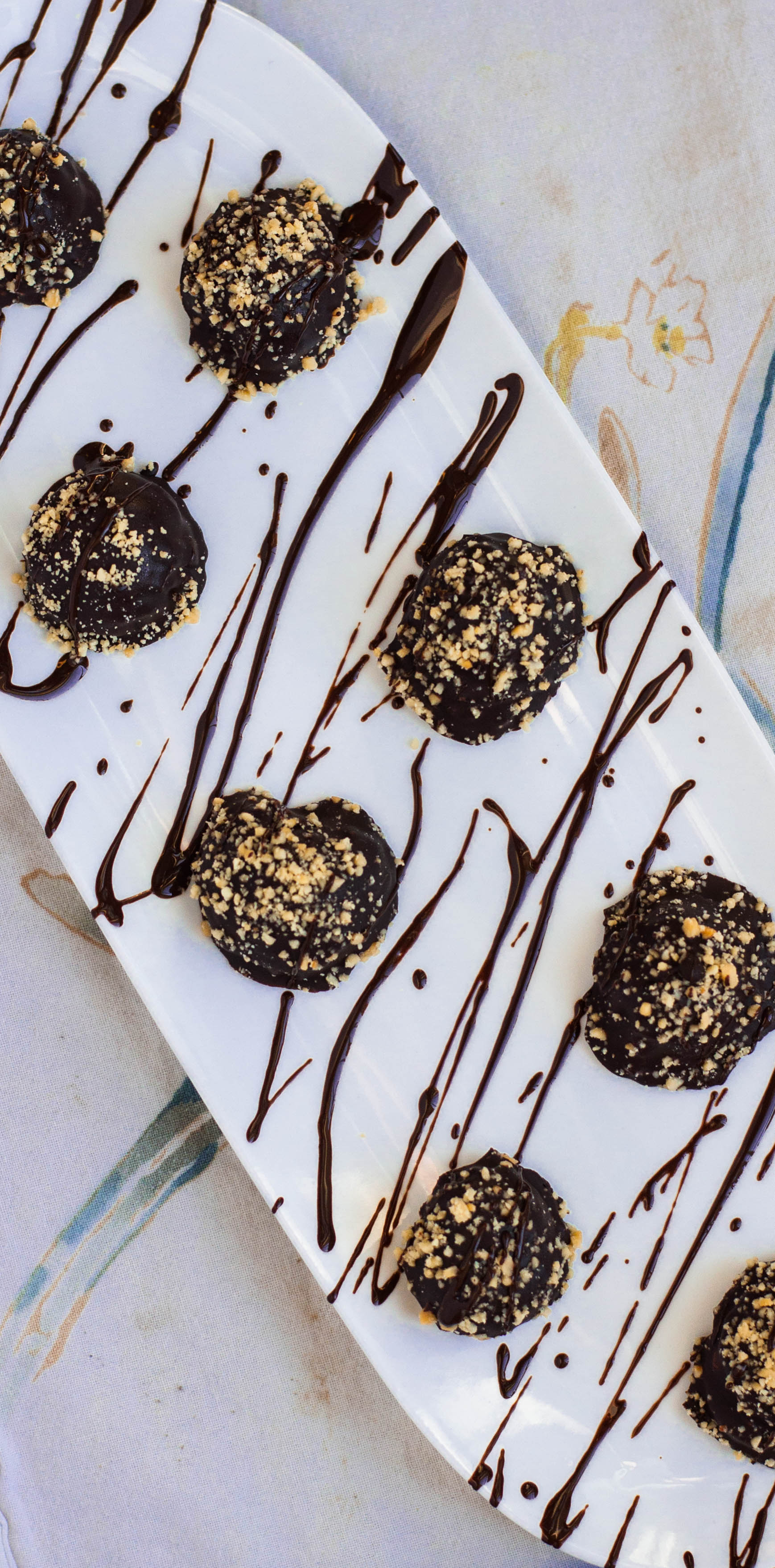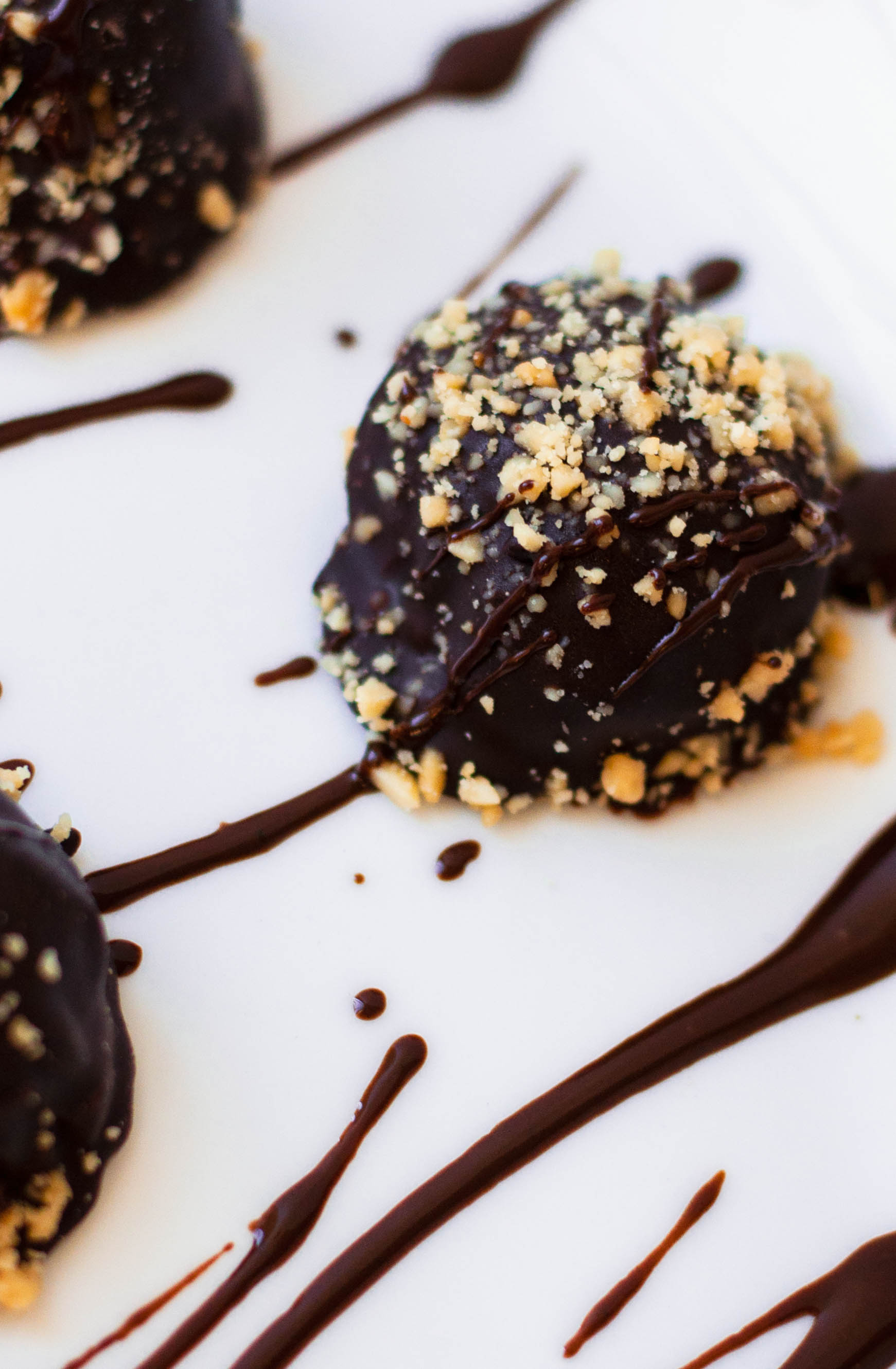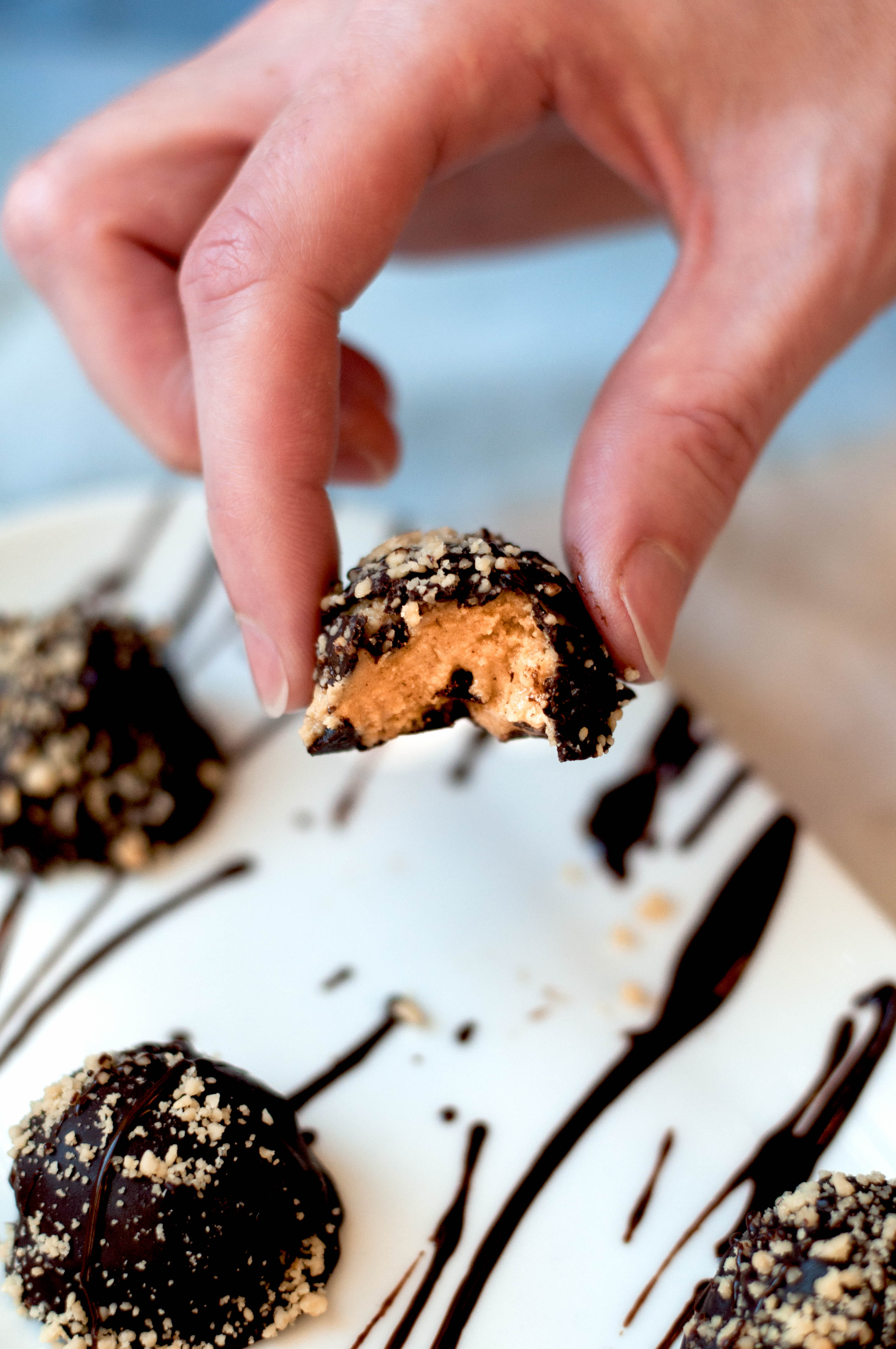 Besides being just a wonderful combination of flavors, these truffles meet another need of mine: healthful eating.  I am always looking to create recipes that incorporate my favorite foods in a way that I consider healthful.  I say I consider healthful deliberately.  I don't ascribe to a model that links increased health to a particular food item.  This model CAN be helpful, but in my experience calling some food items "healthy" and some "unhealthy" is prescribing a one-size-fits-all solution to a many-sizes problem.  "Truffles" and "chocolate" are not traditionally considered healthy foods, but given the way I make them, and the ingredients I use, I consider that they increase my well-being and health.
I believe in active discussions about food and wellness that demand us to find what is healthful for ourselves.  I say active because it requires paying attention to how I feel every day and adjusting my diet as needed.  There is not a one-size-fits-all solution to wellness.  Most of us would agree with this and know it to be true from experience.  But for some reason we don't always act consistent with this wisdom.  I don't know why and I am not going to postulate here, because, oy shut up already!  But, there does seem to be an incredible draw among us to label foods and diets as "healthy" or "not healthy," when in reality what is and is not healthy is a very subjective thing.  In my opinion, there is no such thing as a healthy food, or diet, or exercise, instead there are healthy foods, diets, and exercises for me or you.  What is great for one person might be death dealing to the next.  We've all heard too many health related anecdotes to not incorporate this wisdom into our own lives.
When the media, a friend, or family member seems to have a neatly packaged answer to a question that we are challenged to answer, it seems so much easier to accept that answer rather than confront the challenge of finding our own answers, which will ultimately allow us to build a life that truly works.  Easy in the short term, perhaps, but in the long term very costly.  I am constantly endeavoring to use myself as the primary resource, and how I feel as my guide.  This is certainly not to discount the incredible knowledge and wisdom of friends, family, and professionals.  I gather and learn everything I can from my external world, but it is always a balancing act for me to never lose my own voice and what I believe will work best for me and my life whilst incorporating wisdom and knowledge shared by others.
But back to these truffles, because that's where it's at.  Making your own truffles might sound intimidating.  Fear not.  These are incredibly simple and they are filled with healthy ingredients (hehe, just kidding).  Joking aside, they are made with dark chocolate, which I find to be the perfect dessert, and at times a great headache remedy, homemade peanut butter, which is simply blended peanuts with salt, and four spices; cardamom, vanilla, cinnamon, and salt.  These simple and unadulterated ingredients are just right for my system.  If you pick up truffles/candies from the store (unless you are buying high quality), you are probably ingesting a group of ingredients that are perhaps hard to pronounce and most likely have more sugar and additives than you would care to be aware of.   Plus, and finally, you have the chance to be a household rock star once you whip these up and serve them on a fancy platter.  Go ahead, call yourself a chocolatier.  I do.  And not too many people look at me strange…well, they do, but not for the chocolatier comment.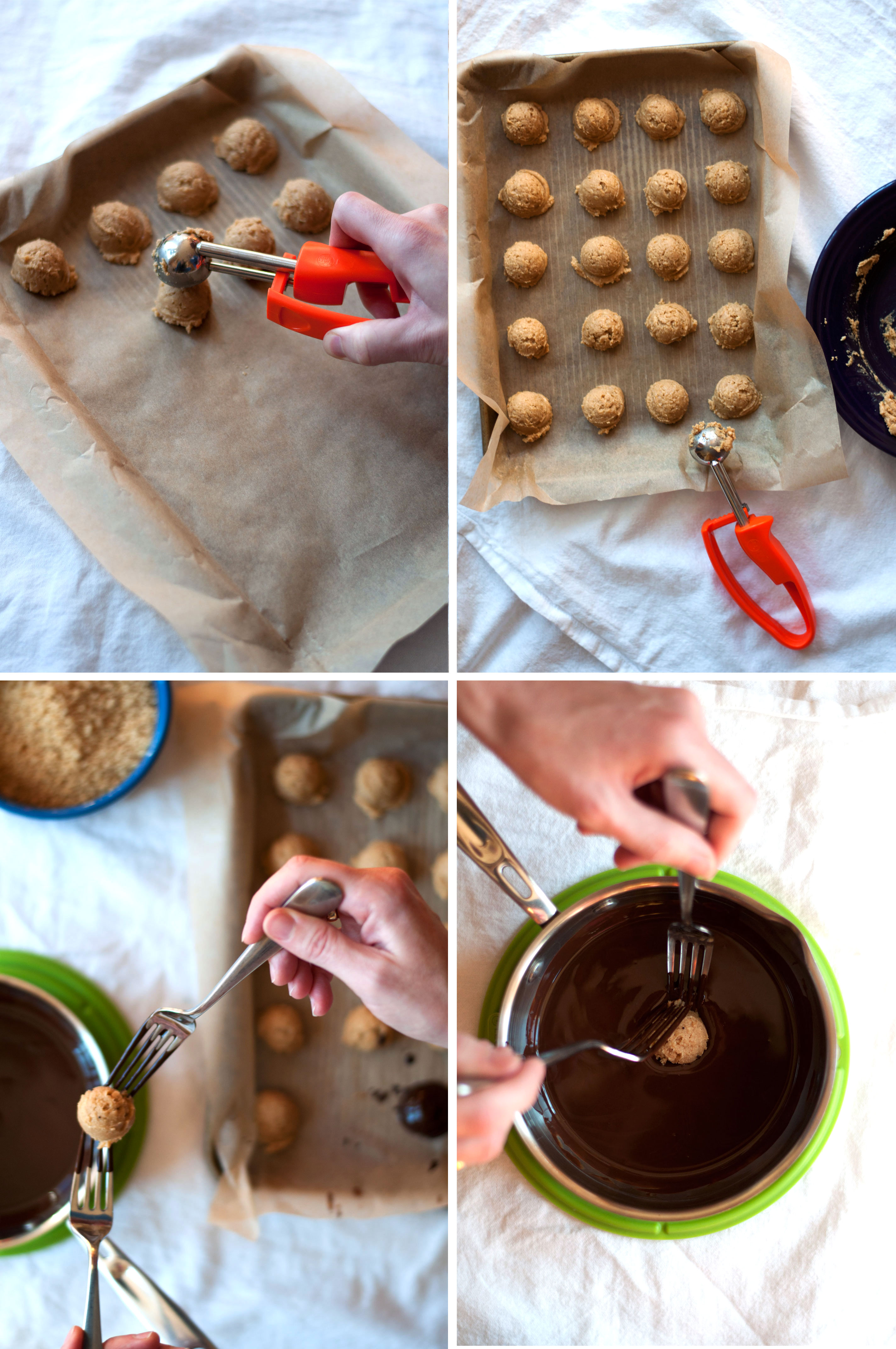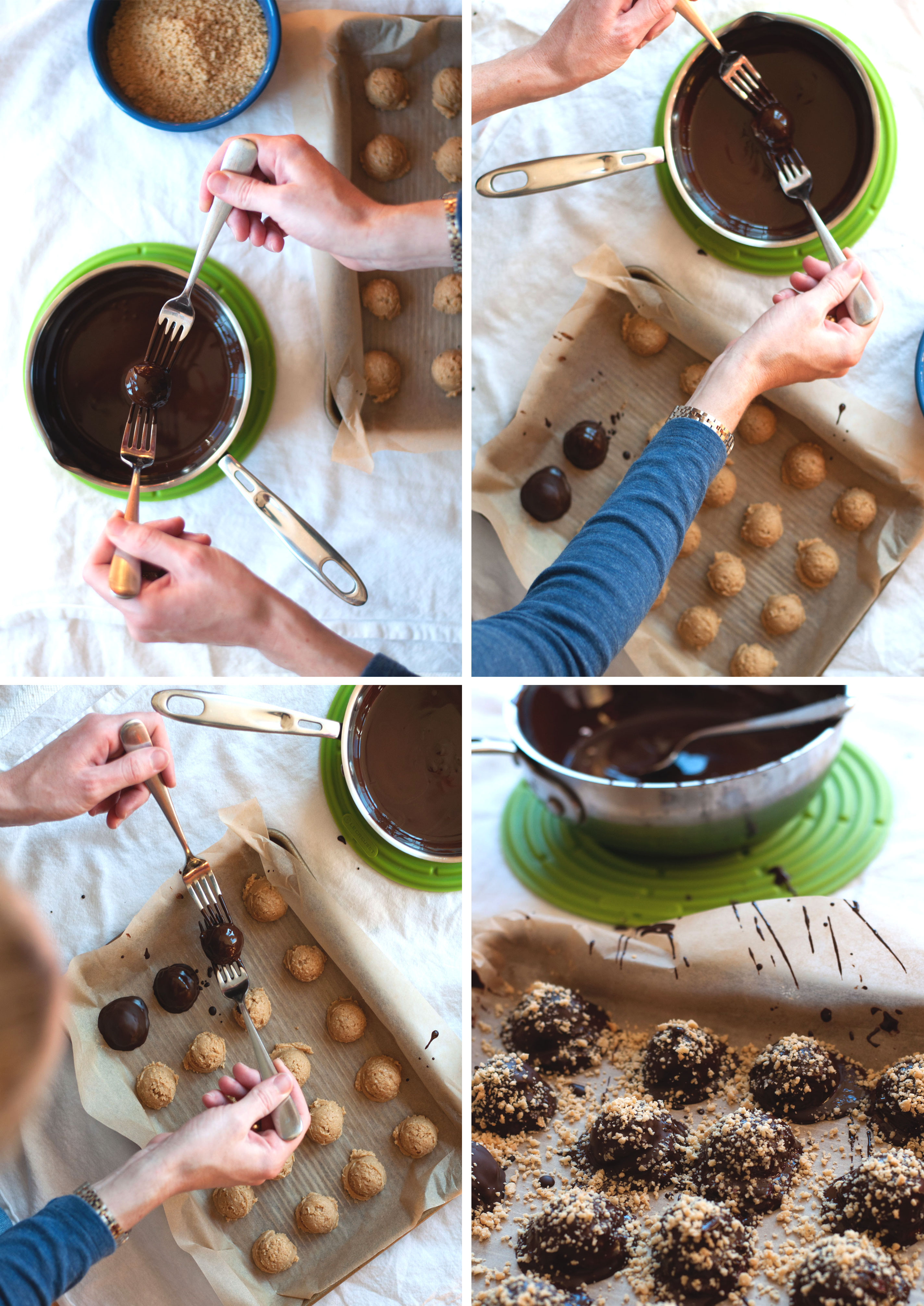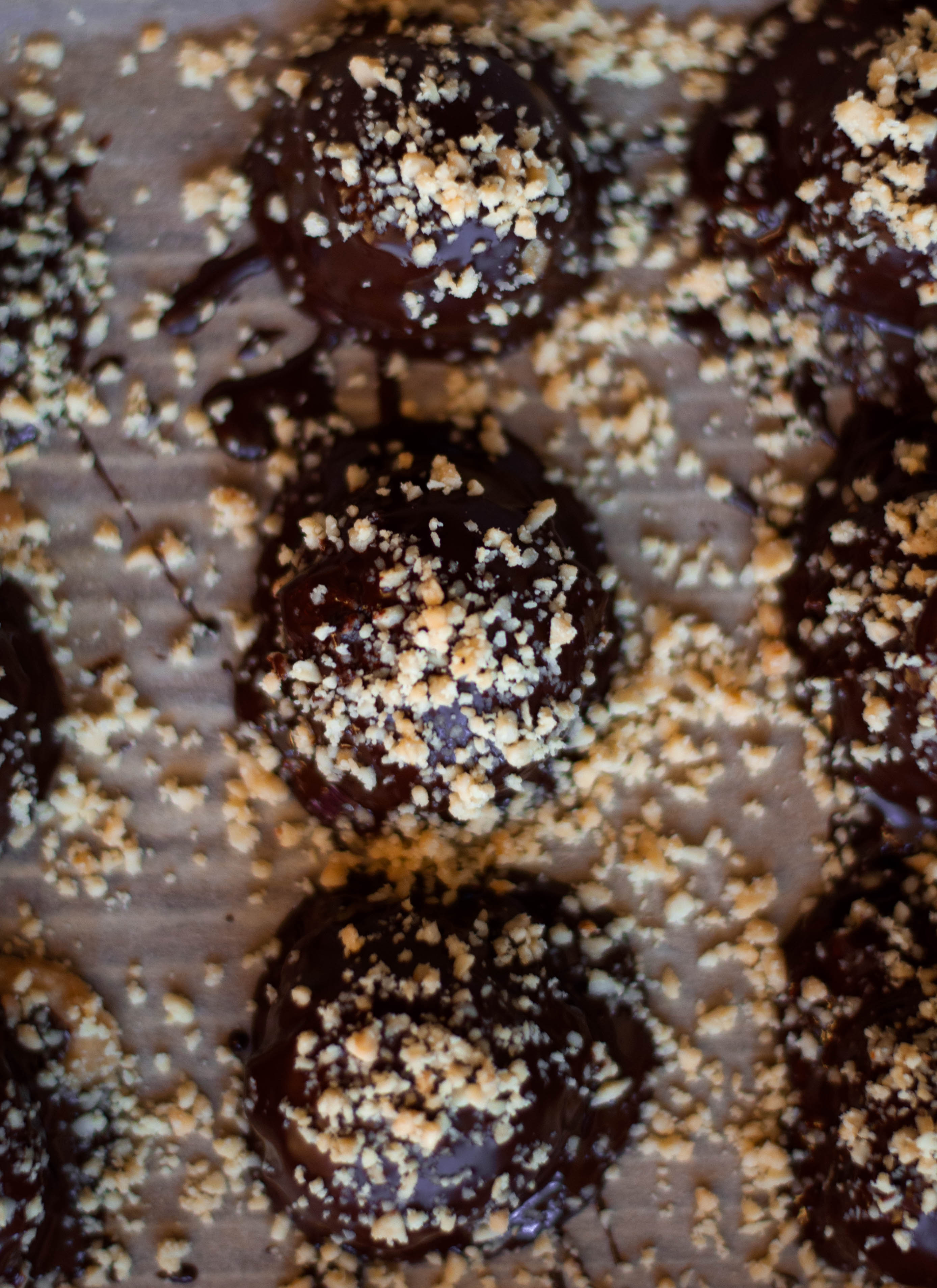 Peanut Butter & Cardamom Dark Chocolate Truffles
Ingredients
1 Cup homemade peanut butter
¾ Cup roasted and unsalted peanuts
1 Teaspoon vanilla
Ground seeds from 1 Cardamom pod, about ⅛ Teaspoon
½ Teaspoon cinnamon
Sea salt to taste
½ Cup dark chocolate chips 69% cocoa
1 Bar 86% Ghiradelli (3.17 oz.)
Instructions
Line a small baking sheet with parchment paper.
In a food processor blend roasted and unsalted peanuts until only crumbs remain.
Measure out 1 cup of homemade peanut butter and mix in your ground cardamom seeds, cinnamon, vanilla, and salt.
Mix in ⅓ cup of the peanut crumbs you just made. Add more crumbs if the mixture is looking at all runny. It should be the consistency of cookie dough. Set the remaining peanut crumbs aside.
Measure out 20 balls of your peanut mixture using a 1¾ teaspoon cookie scoop and place on your prepared sheet. If you don't have a fancy-pants cookie scoop like me, just use two teaspoons and guesstimate the size.
Let the peanut butter balls set in freezer for 30 minutes or longer. The longer you leave them in the freezer the easier they are to work with.
Melt your chocolate over a double boiler. Use any dark chocolate you like.*
Remove peanut butter balls from freezer and one by one drop the balls into your melted chocolate, spooning chocolate over the top with a spoon.
Once covered in chocolate remove ball by balancing it between two forks and place back on the baking sheet. Sprinkle the top with peanut butter crumbs. (Coat with peanut crumbs immediately so that the crumbs stick to the melty chocolate)
Place in freezer to set for an hour. Store leftovers in fridge.
Notes
*You will have extra melted chocolate, however, If you don't use the amount I specify, it is very difficult to coat the peanut butter balls in chocolate. If you have a chocolate mold, pour the leftover chocolate into the mold and set in freezer. That way you don't waste any precious chocolate.