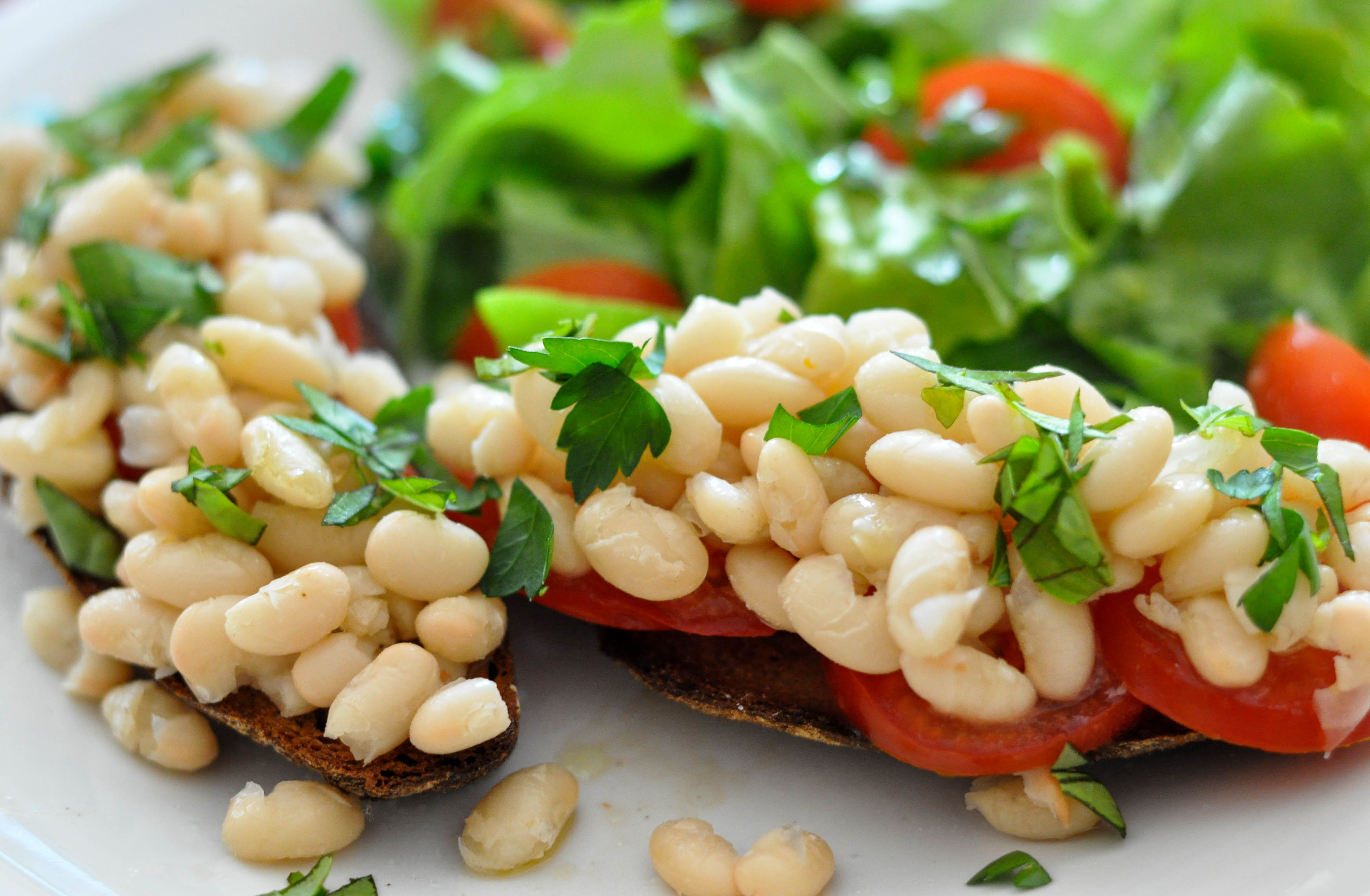 I don't know what technically qualifies as a recipe, but I'm sure this doesn't.  But, it is oh so good and oh so simple (sort of).  If I reflect on my best dining experiences, they have not been intricately crafted dishes with lots of ingredients, but rather fresh and simple dishes with very little seasoning.  It confounds me how overcomplicated recipes can get.
As a rule of thumb, heavily seasoned dishes tend to have less than great starting ingredients.  Great meat, vegetables, etc. need little to no seasoning to knock you off your feet.  When the ingredients are sub-par, we need to spruce them up with spices and seasonings.  Otherwise, pure is best.  A tomato, grown properly and picked at just the right moment, can be eaten like an apple. It needs nothing: no seasoning, no salad dressing, nothing.  Although, a swirl of olive oil and a pinch of large crystal crunchy salt never hurts.
Beans on toast is one of those dishes to make when the planets align and you find yourself in the following situation: you have a loaf of fresh bread cooling, your pot of boiling beans just reached perfection, your garden is full and rich, and you have a handful of parsley and a luscious ripe tomato, freshly picked, sitting on your counter.  This might end up occurring as frequently as a lunar eclipse, but it's worth it.  And its rarity increases its delights.  Once you've experienced this dish with each ingredient is at its peak freshness, you won't want it in any other way.

Beans on Toast
Ingredients
1 Ladle full of fresh beans
1 Piece of toast
1 Large tomato
1 Handful parsley
Large crystal salt
Freshly ground pepper
Your best olive oil for drizzling
Instructions
Slide your bread into the toaster. Let it toast until it is nice and crunchy on the outside.
While your toast is crisping up, slice your tomato and top the slices with your salt and pepper. Set aside.
Coarsely chop your parsley and set aside.
Layer your crispy toast with the sliced tomatoes, then your beans, and sprinkle the parsley over the top.
Drizzle olive oil over your creation and eat!
Now go make another...and another (remember, these ingredients only happen once in a blue moon).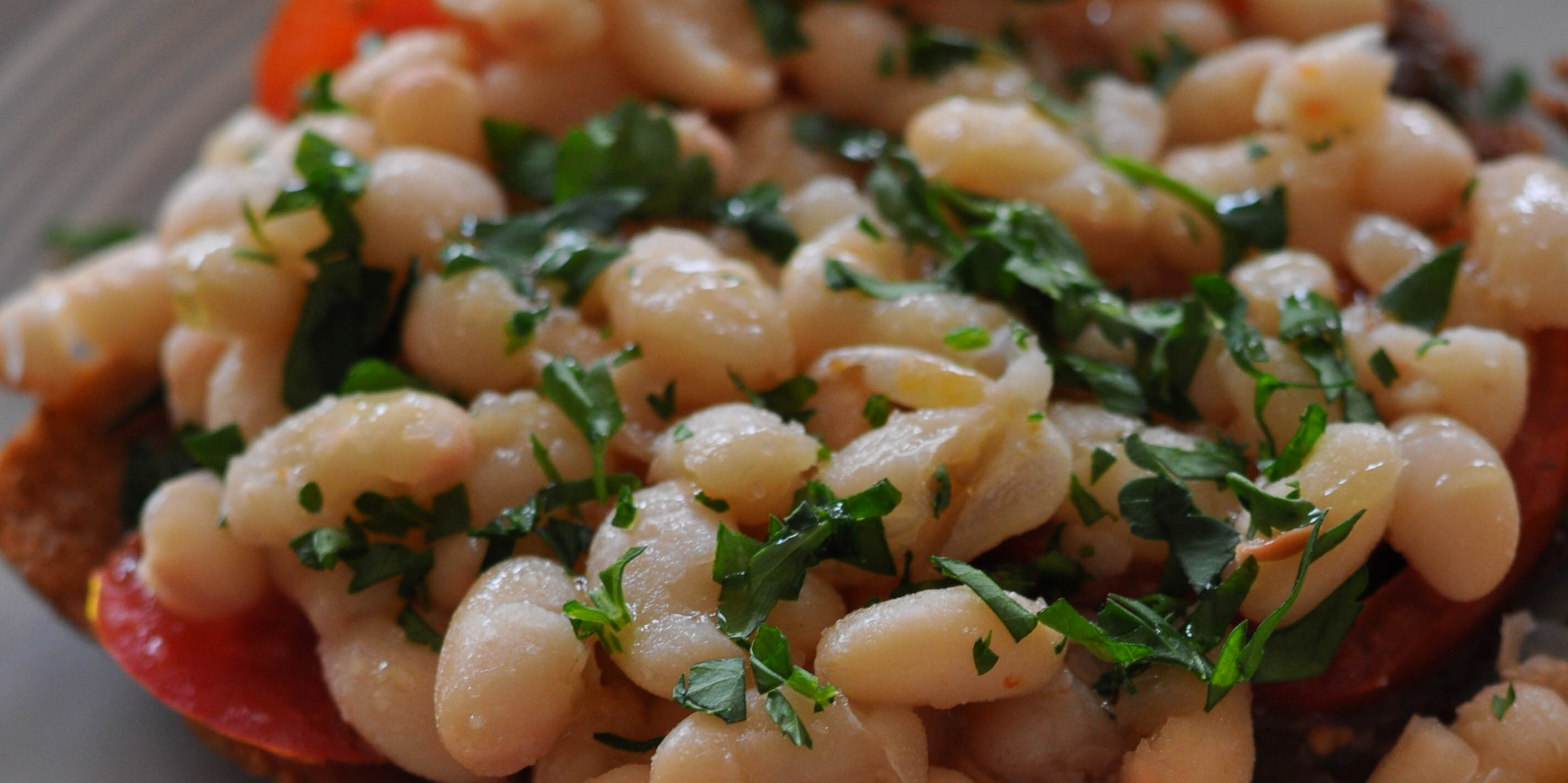 It is wonderful that we, as consumers, can get almost any ingredient ANY time we want.  In the dead of winter we can get strawberries and blueberries and we never want for a banana.  As we all know, this comes at a cost.  I won't get into the environmental and humanitarian issues at play, which are considerable.  Instead, I want to address the loss of that perfect moment.  That moment when things naturally come together and you are there for it.  Perfect seems more perfect at these times.  This is something many of us could learn from farmers and harvesters.  I know I've gotten a small taste of this specific kind of joy from my humble vegetable garden and it is well worth seeking.  Sometimes it is best to enjoy things in their time, not yours.