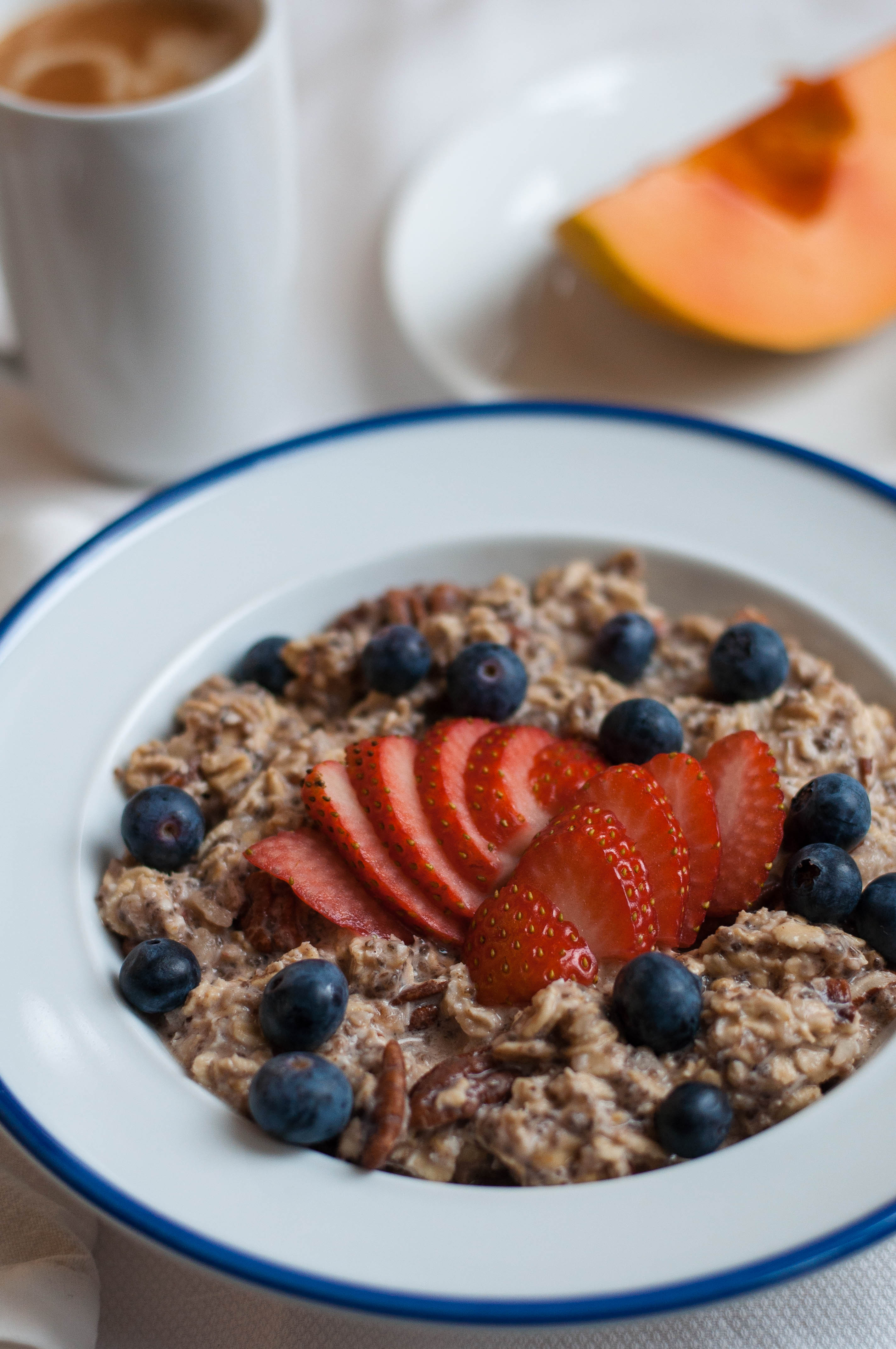 The first time that I saw a bowl of overnight oats my thought was "that looks like a disgusting pile of slop."  Which is basically still what I think when I look at this gloppy mess of ingredients staring up at me from my cereal bowl.  However, as you might have guessed by the fact that I am sharing this recipe, there is a bit more to the story…overnight oats are REALLY freaking good!  So good, in fact, that they can look like a horrid mash of drippy ingredients and I still want to eat it.  You might not all know this about me, but I am an extremely picky and particular eater when it comes to textures.  And gloppy, soupy oats is at the bottom of the totem pole when it comes to textures I enjoy.  They are in fact buried underneath the totem pole…gag reflex beware.   I know I am not doing myself any favors in how I am describing this, but I can't exactly slide a bowl of slop in front of you and not try to explain myself.  If you think it is hard to make it sound appetizing, try styling it for a photo!  Slop in a bowl, slop in a mason jar, slop in mixing bowl, slop as the sunrises…folks, slop is slop!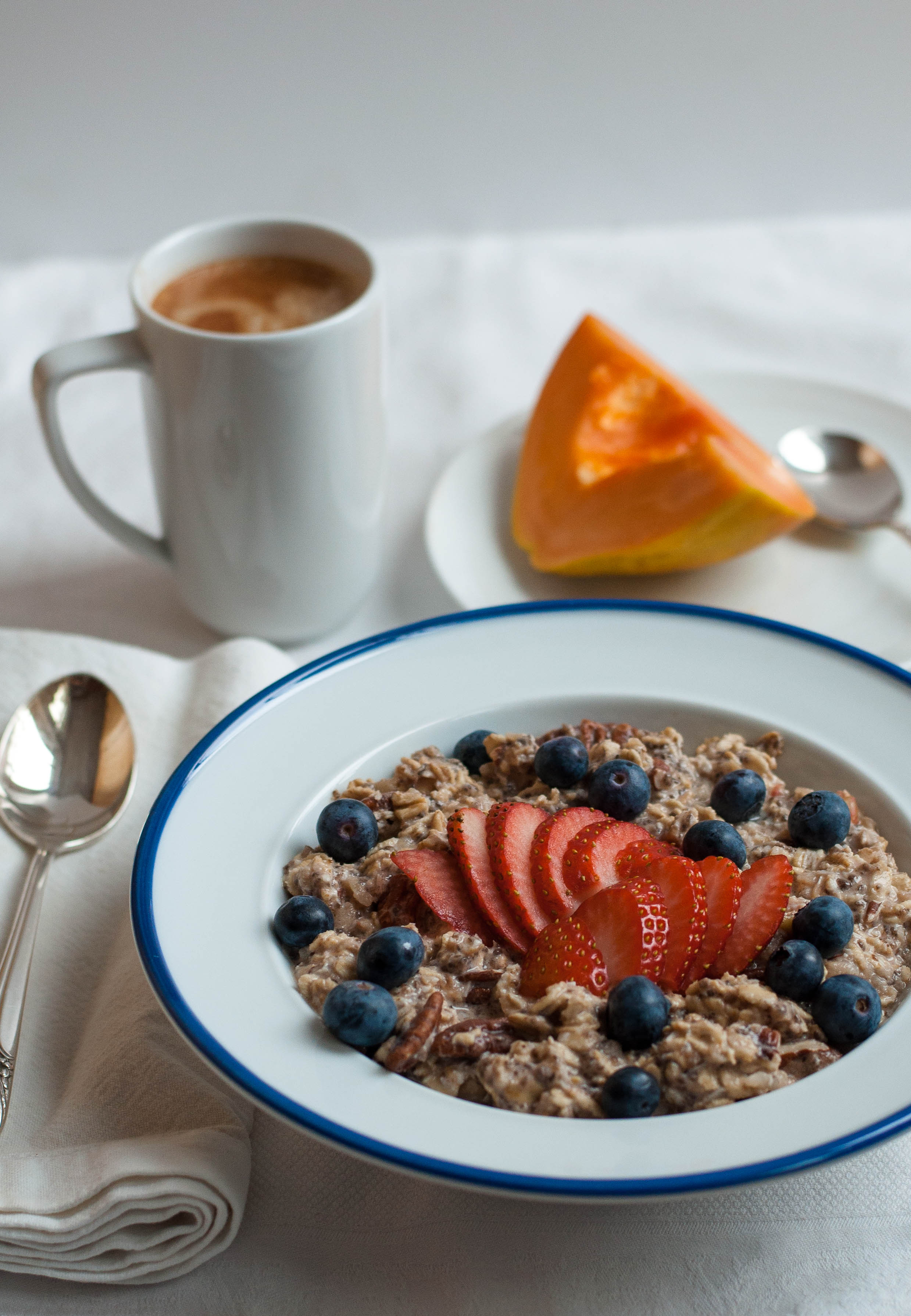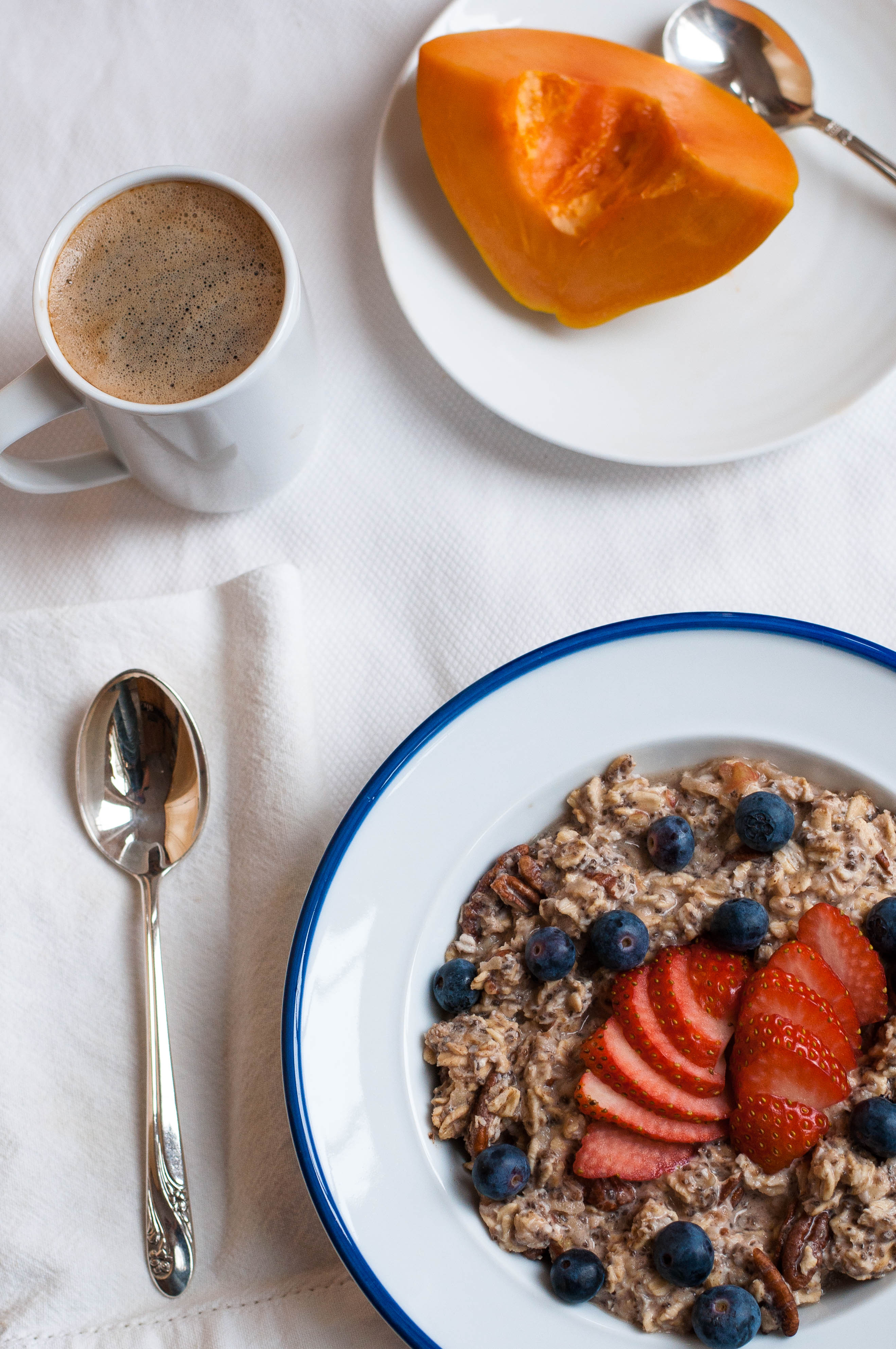 I don't recall how I ever built up the courage to try overnight oats, given my phobia of all things gloppy.  But try I did, and wow!  I get what all the fuss is about.  This is some great tasting slop!  I hope that I haven't completely deterred all of you who have never tried this.  It really is great.  Books cannot always be judged by their cover…or rather oats cannot always be judged by their soupy, mysterious character…or something like that…
So are you really excited to hear why I ever dared to try overnight oats?  I thought so.  Think of the very last place that you would ever want to try a gelatinous, texturally bizarre, soupy, messy, who-the-hell knows what's in this dish, dish?  Did you think of the place?  Yup, a buffet!  Buffets in general freak me out.  All of that food sitting around collecting bacteria…it's just not for me.  But, in some Bermuda-triangle-like scenario I found myself at a buffet and somehow ended up scooping up this mysterious slop into my bowl and actually tasting it.  Despite how much I instinctually wanted to hate it I ended up getting a second helping…that's what buffets are all about, right?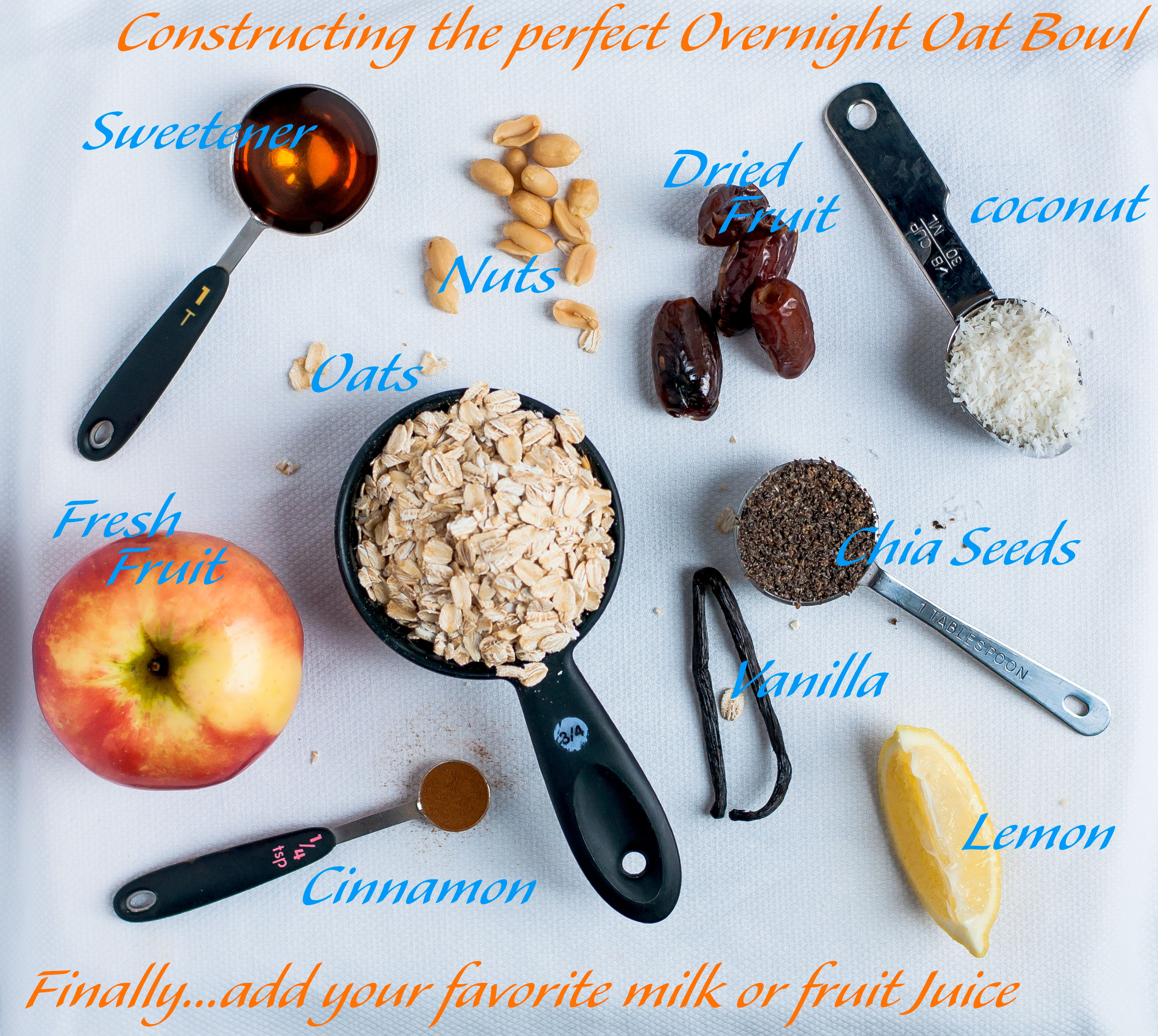 So, these are the most non-disgusting overnight oats I can offer.  I definitely do not go for the really soupy oats.  I want a firm bite with each spoonful.  If soupy breakfast oats are your jam, add more milk or decrease the chia seeds, but please don't tell me you did this, I am already slightly nauseated thinking about that.   Which brings me to another point, regardless of how your breakfast mates might judge you, half the joy and fun of overnight oats is how utterly customizable they are.  I have made many batches of this since my buffet experience and not once have I made it the same way.  In the morning you can add whatever fresh fruit, nuts, nut butters, dried fruits, or whatever else catches your fancy.  This is probably the easiest and most foolproof item you can make from scratch on my site.  I have a specific recipe for you below, but here are some more of my ideas below.  Keep in mind you can add these ingredients to your oats before soaking them or the next morning.  What you choose to soak your oats in is personal taste.  Choose from your favorite milks, juices, water, yogurt, or a mixture.  Experiment and find your perfect combination.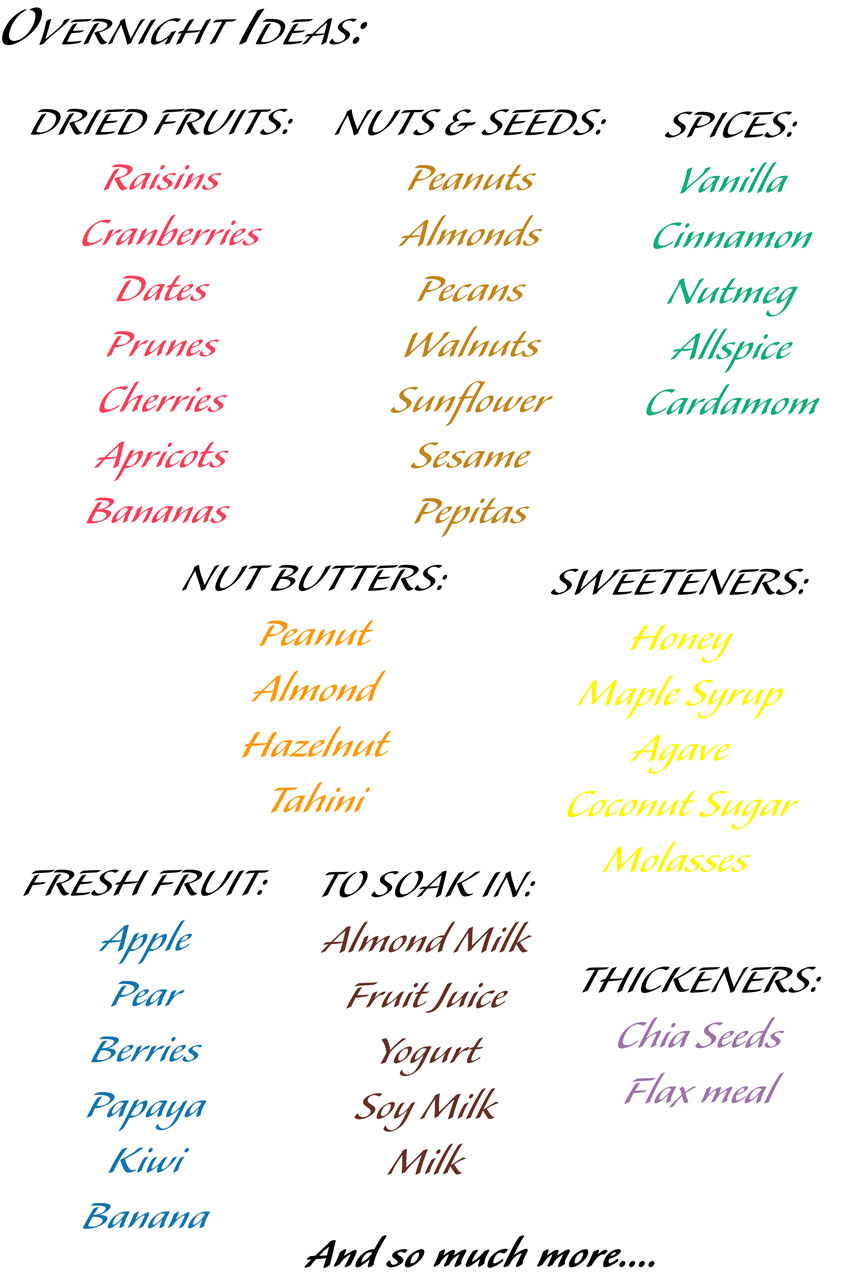 I've never been particularly big on New Year's resolutions.  I'm all in for resolutions in general, but why the once a year build-up?  And why the waiting to make the commitment until New Year's?  If I were to have a New Year's resolution, it would be to do the right thing and resolve to do that right thing exactly when it was right to do it.  I'm not bashing New Year's resolutions; I just wish we treated every day like an opportunity to make the changes we believe will increase our and others' well-being.  Happy New Year, everyone.  I wish you all the healthiest, happiest, and most prosperous of years.
~ Kathryn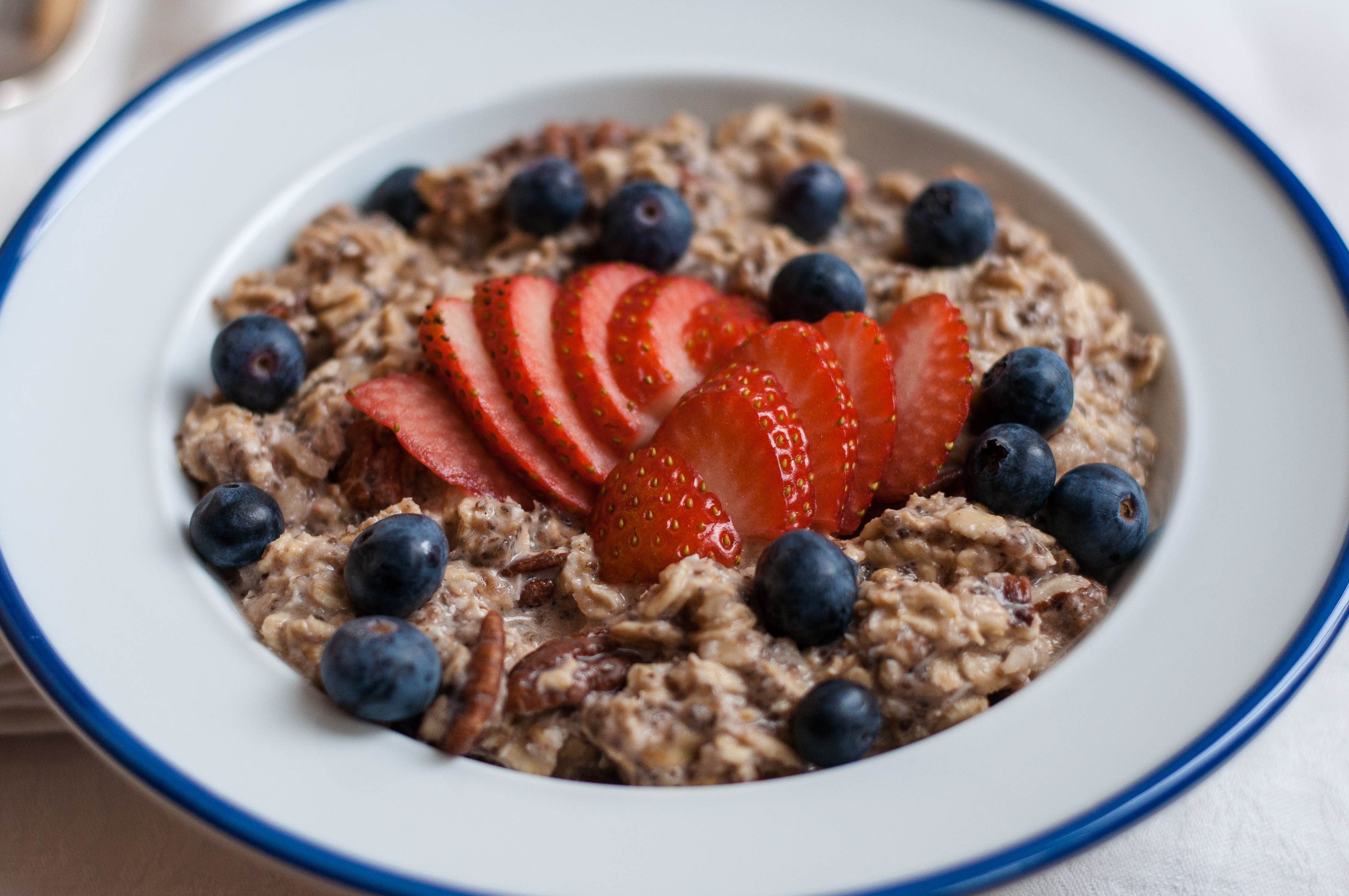 Toasted Overnight Oats Vegan: An Overnight Oat Template
Ingredients
¾ Cup oats (gluten free as needed)
¼ - ½ Cup pecans roughly chopped
¼ Teaspoon cinnamon
1½ Tablespoons chia seeds
1½ Tablespoons unsweetened shredded coconut
¼ Teaspoons salt
1 Cup unsweetened almond milk
1 Tablespoon maple syrup
½ Teaspoon vanilla
1 Lemon wedge juiced
1 Small apple shredded or ½ medium apple shredded
4 Dates chopped into small bits
Fresh fruit for topping in the morning
Instructions
Toast both your oats and pecans using your method of choice: toaster oven, oven, or skillet. The nuts should be nice and fragrant once they are toasted. Let cool before using. You can omit this step I just prefer the flavor of toasted oats and nuts.
In separate bowls mix together all of your dry ingredients and your wet ingredients.
Add shredded apple and dates to wet mixture.
Combine wet and dry ingredients and mix well.
Cover and place in fridge overnight.
Serve with fresh fruit, nut butters, and anything else you would enjoy!