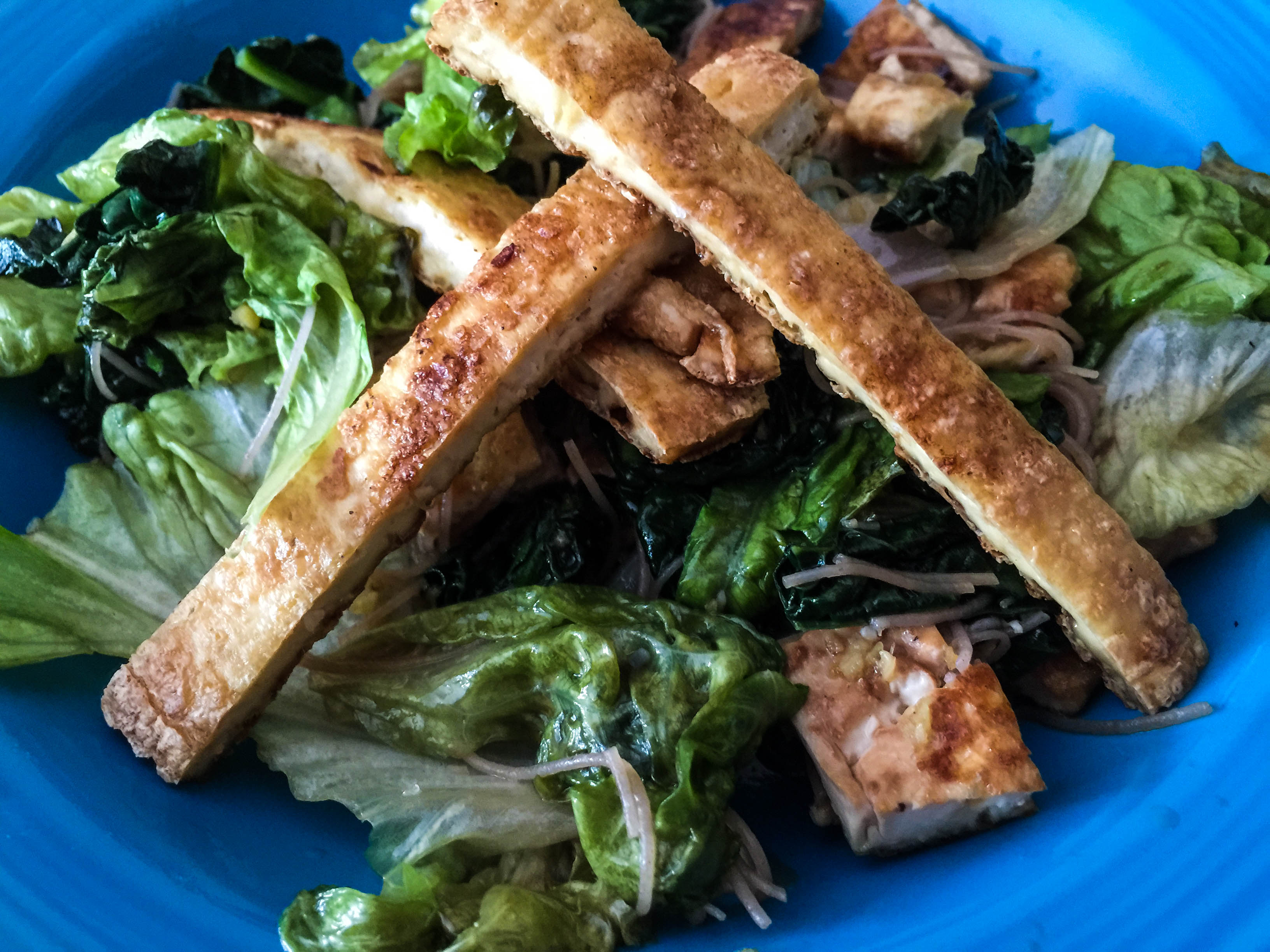 Wait, what?  Salad Stir Fry?  I know, I was perplexed too.  But quickly watch your perplexion turn to a wondrous "hmmm" and then finally to "oh yea!  SALAD STIR FRY!" once you try this.
I found a recipe for salad stir fry while looking for interesting things to do with tofu.  This recipe was adapted from Martha Rose Schulman at the NY Times food blog.  It turned out so good that the next day I had a major yen for it, and quickly made up three more servings leaving out the tofu (the most time consuming component) and it was great.  Salad Stir Fry Round II coming to a blog near you soon…

Salad Stir Fry
Serves 3
Ingredients
Sauce
2 Tablespoons mirin
1 Tablespoon water
1 Tablespoon soy sauce
Stir fry
2 Tablespoons canola oil
10 Oz firm tofu, drained
1½ Teaspoons ginger, minced
2 Large handfuls red leaf lettuce
10 stalks kale, cut and pre-steamed
Salt to taste
Cilantro for garnish
Optional: Brown rice vermicelli
Instructions
Measure out and mix your sauce ingredients together and set aside.
Rinse and drain your tofu. Place it on a clean terry towel and wrap it tightly while pressing on it gently. If your towel gets soaked through, re-wrap your tofu in a clean towel as before. Place on a plate in the fridge for an hour.
Slice the tofu into ¼ thick sheets (you should be creating roughly 4" x 5" tofu rectangles).
Wrap each rectangle in paper towel and place back in fridge for an hour.
Remove tofu from fridge and heat a skillet.
Pour 1 tablespoon of Canola oil into your skillet and let it get very hot. Sprinkle in some salt and pepper.
Place your tofu rectangles into the skillet. Cook until they are nicely browned and have crispy edges.
Remove from pan, let cool, and slice into ½" to ¾" wide sticks. Reserve this pan to warm your tofu before serving.
While the Tofu is cooling, coarsely chop your cilantro and set aside.
Add 1 tablespoon of oil to a wok and heat for about a minute.
Toss your minced ginger into the wok and let cook for about a minute.
Add pre-steamed, but still a little crunchy, kale.
Stir and cook for another minute.
Place the tofu sticks back in the warm skillet to re-warm.
Add two handfuls of lettuce and cooked vermicelli (if using) to wok.
Mix and stir fry until lettuce just begins to wilt.
Add in your sauce.
Stir fry for another 30-60 seconds.
Plate the salads by topping with tofu sticks and diced cilantro.