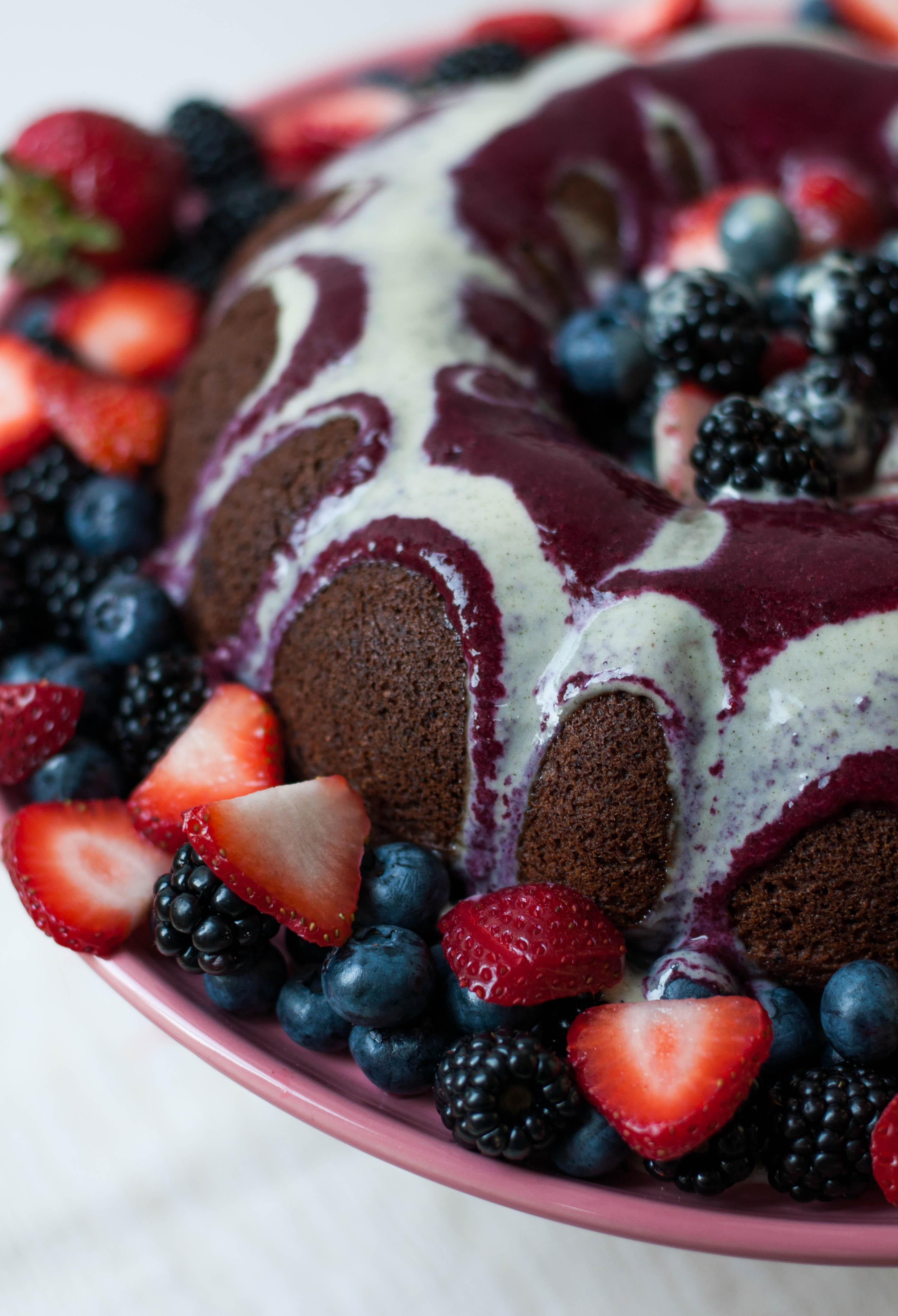 I love making cake.  Really, really love it.  If I were going to go pro, I would open a bakery and make CAKE.  But alas, I don't get to make it often.  Cake is a bit fancy.  It's not everyday.  And things don't get fancy around here very often.  Not to mention, I don't need to have cake lying around every day of the week.  I used to fantasize making cakes and then just giving them away, but then I felt guilty about that.  "Eating all this cake isn't good for me, but here, you have some."  Didn't quite feel right.  So, I mostly just bake cake when I really want to decorate a beautiful edible treat or there's something special going on.  This time it was the former.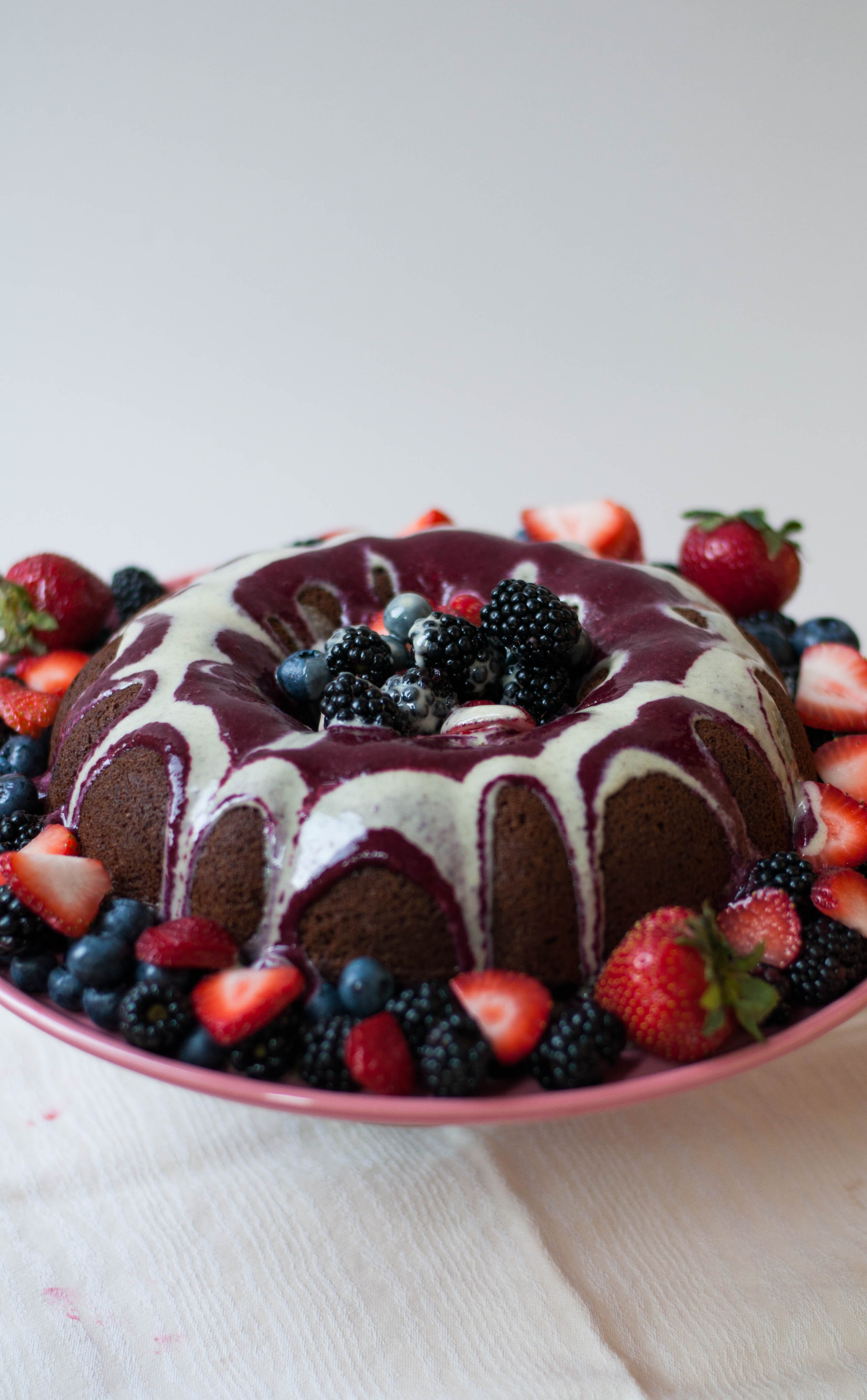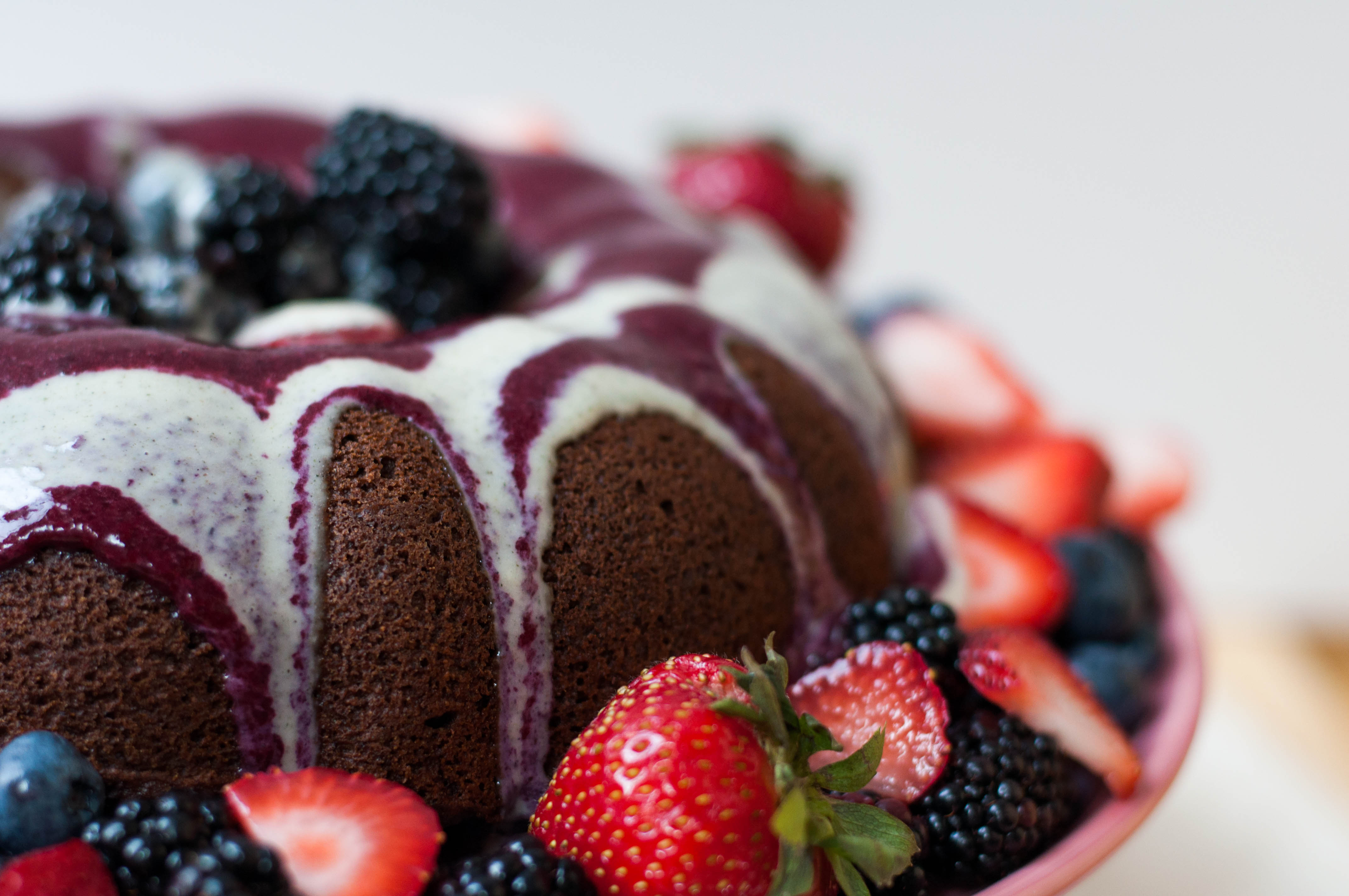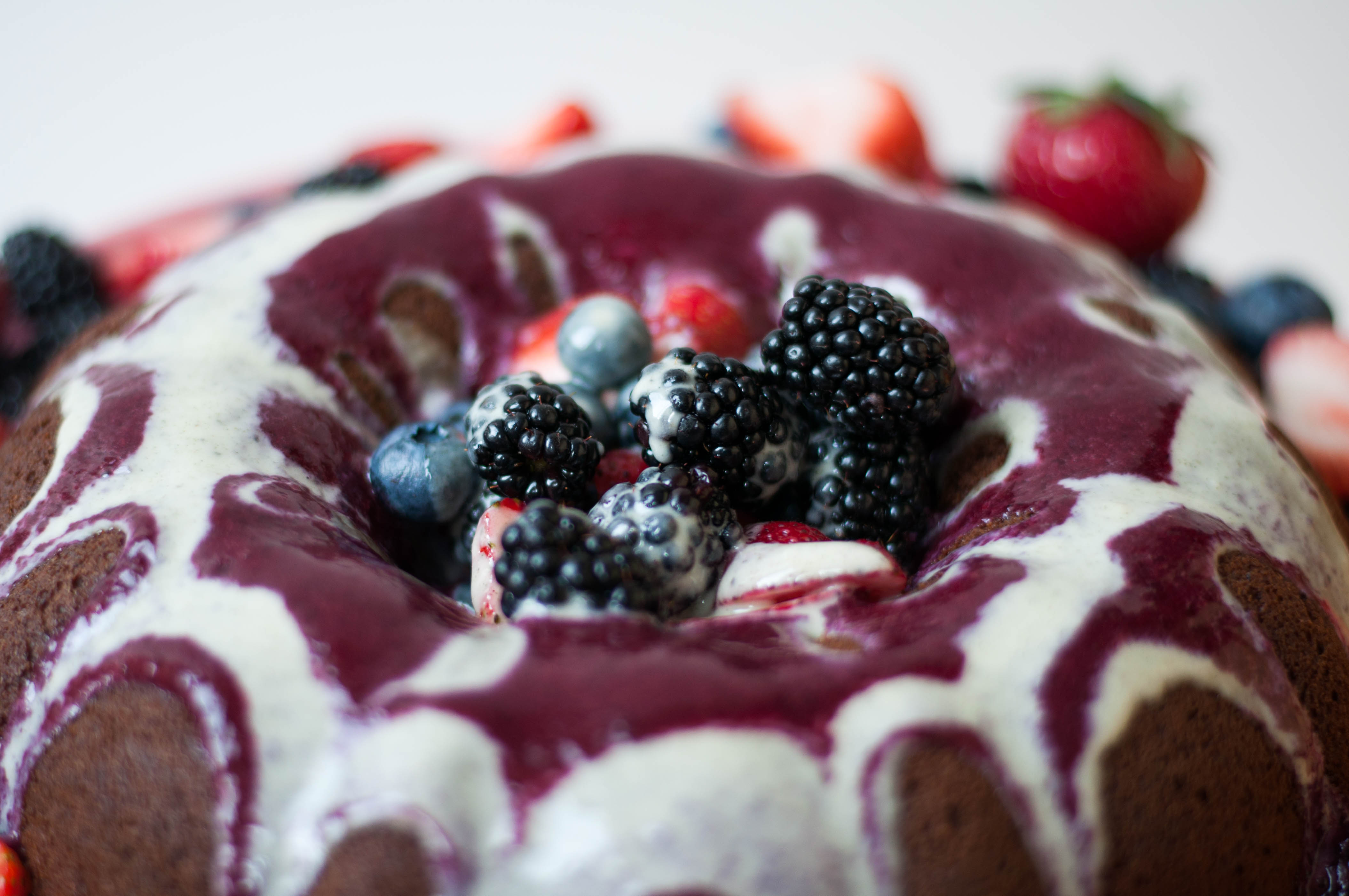 This cake came to me as a lay awake at 2:00 AM.  I was so excited about it that I couldn't fall back to sleep.  (This actually happens to me quite frequently and is super annoying).  I love that great ideas come to me at any time, don't get me wrong, but I end up getting so excited that I am up for hours and HOURS.  Seems counter-productive, but I don't want to look a gift horse in the mouth.  It would be nice if I were the type to get out of bed and execute my ideas at 2:00 AM, but I am decidedly NOT that person.  And I'm pretty sure my family would dagger-eye me back to bed if I started clanking pots and pans at 2:00 AM.
This whole grain cake is made with a roasted blackberry and blueberry puree, covered in fresh fruit, and then topped with two decadent sauces: a white chocolate hemp sauce and a blackberry and blueberry sauce.  Eeeee!  So good.  And only sweetened with maple syrup and honey.  I have tried this cake multiple ways: once with just the berry sauce (great!), once with just the white chocolate sauce (great!), once completely plain with berries (great!), once with greek yogurt as a frosting (excellent!), I think you get my point.  The one aspect of this cake I would not change is the fresh fruit.  In my world, each bite should have a generous portion of fresh fruit!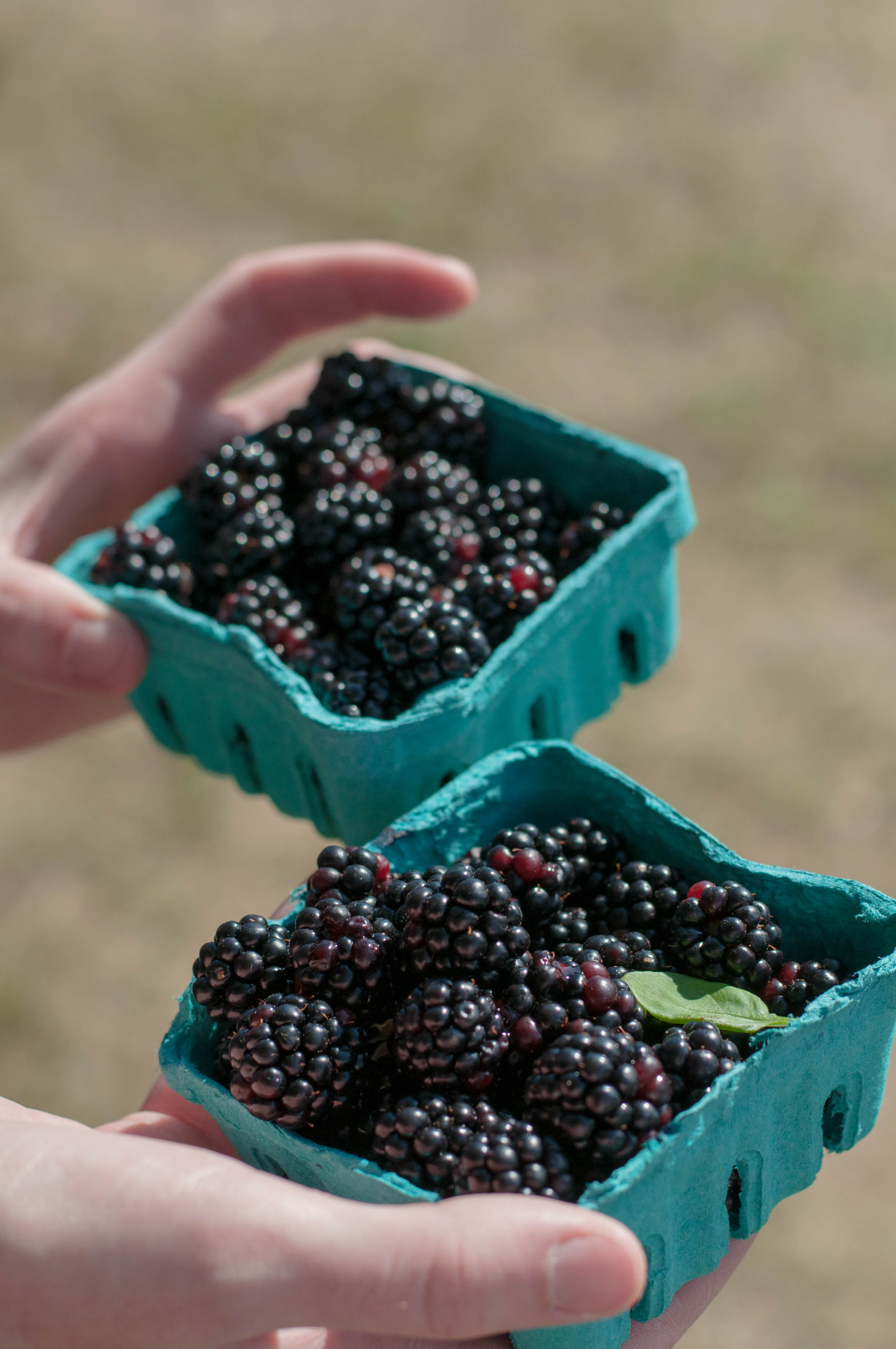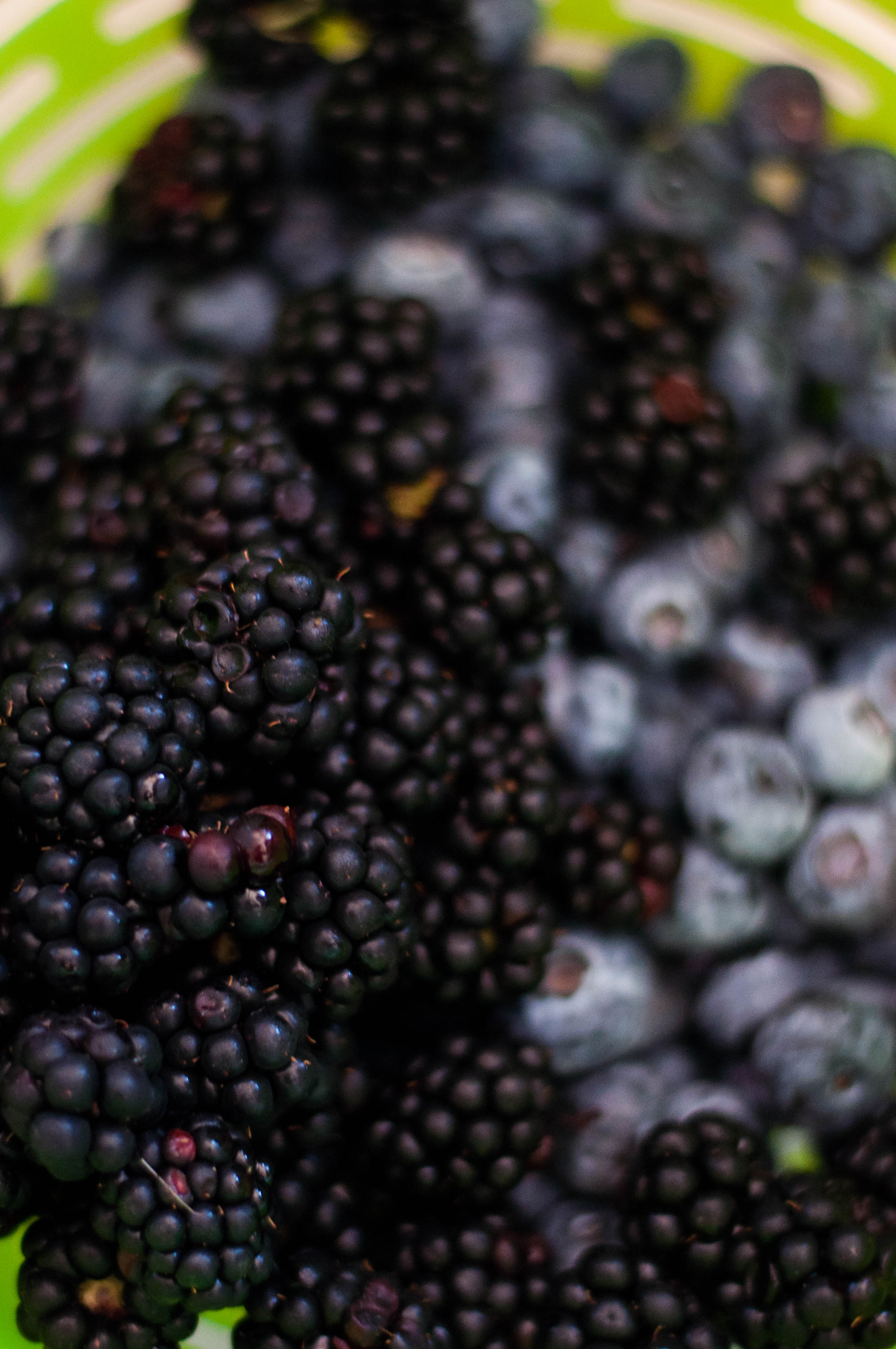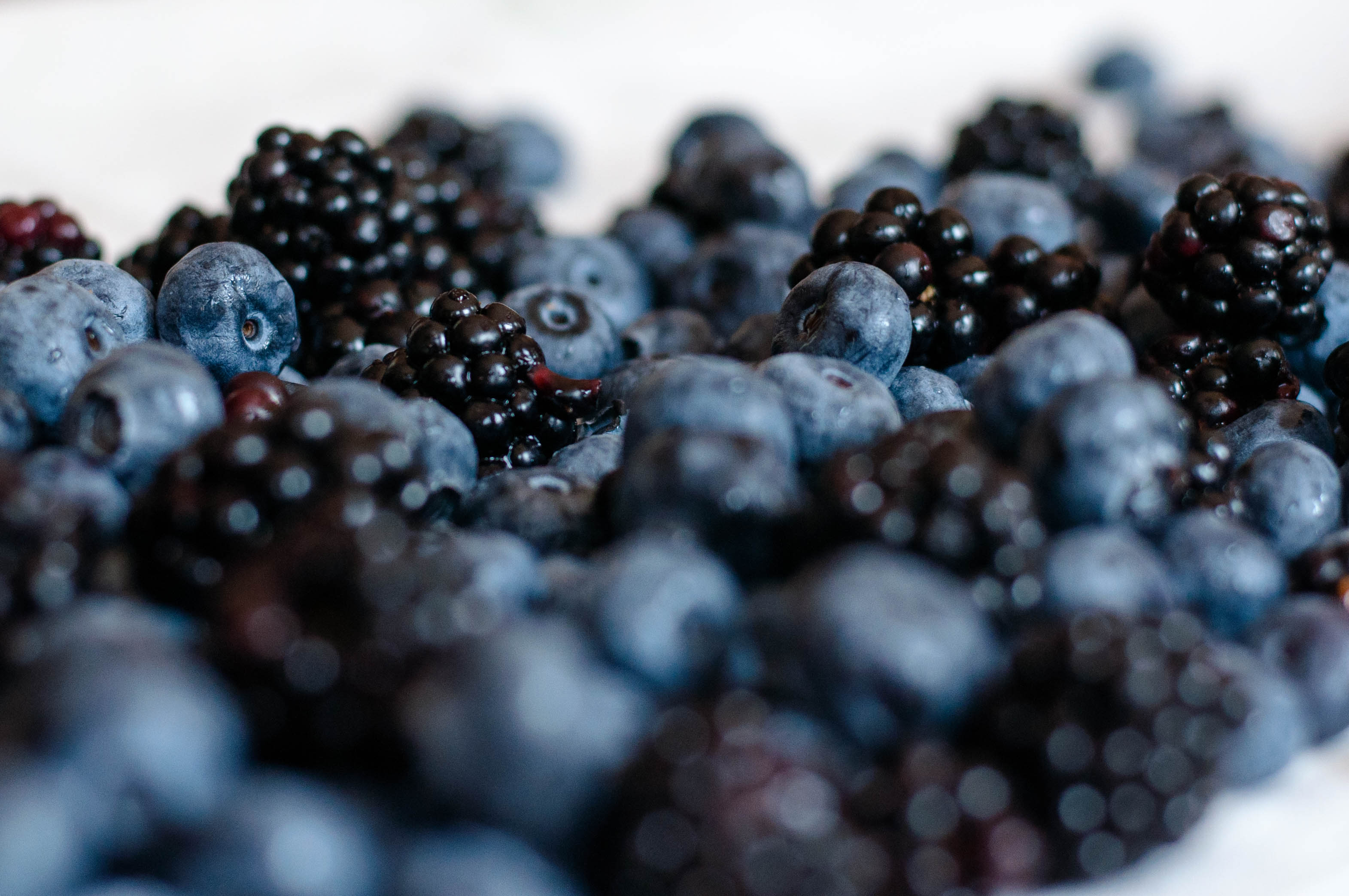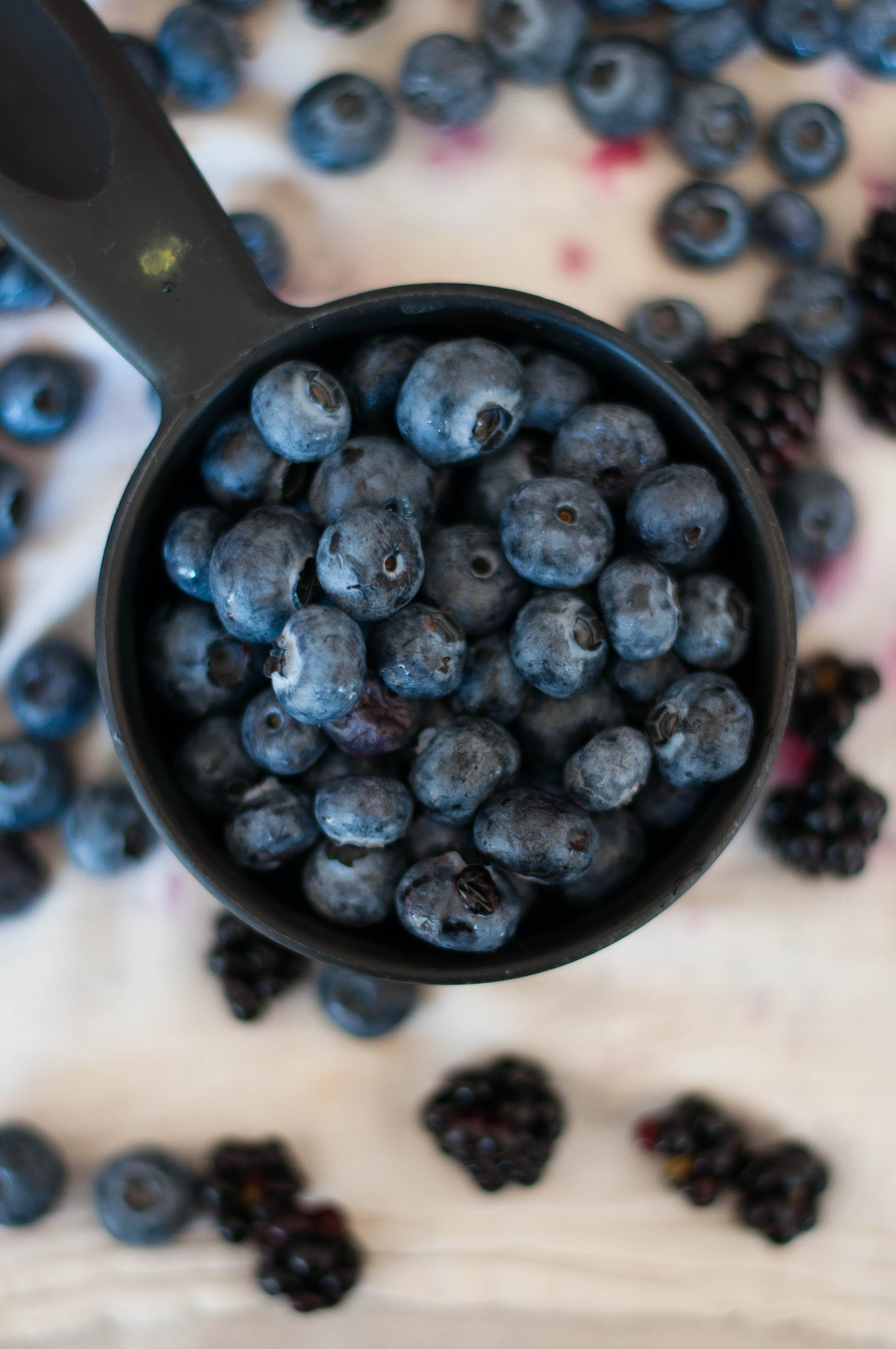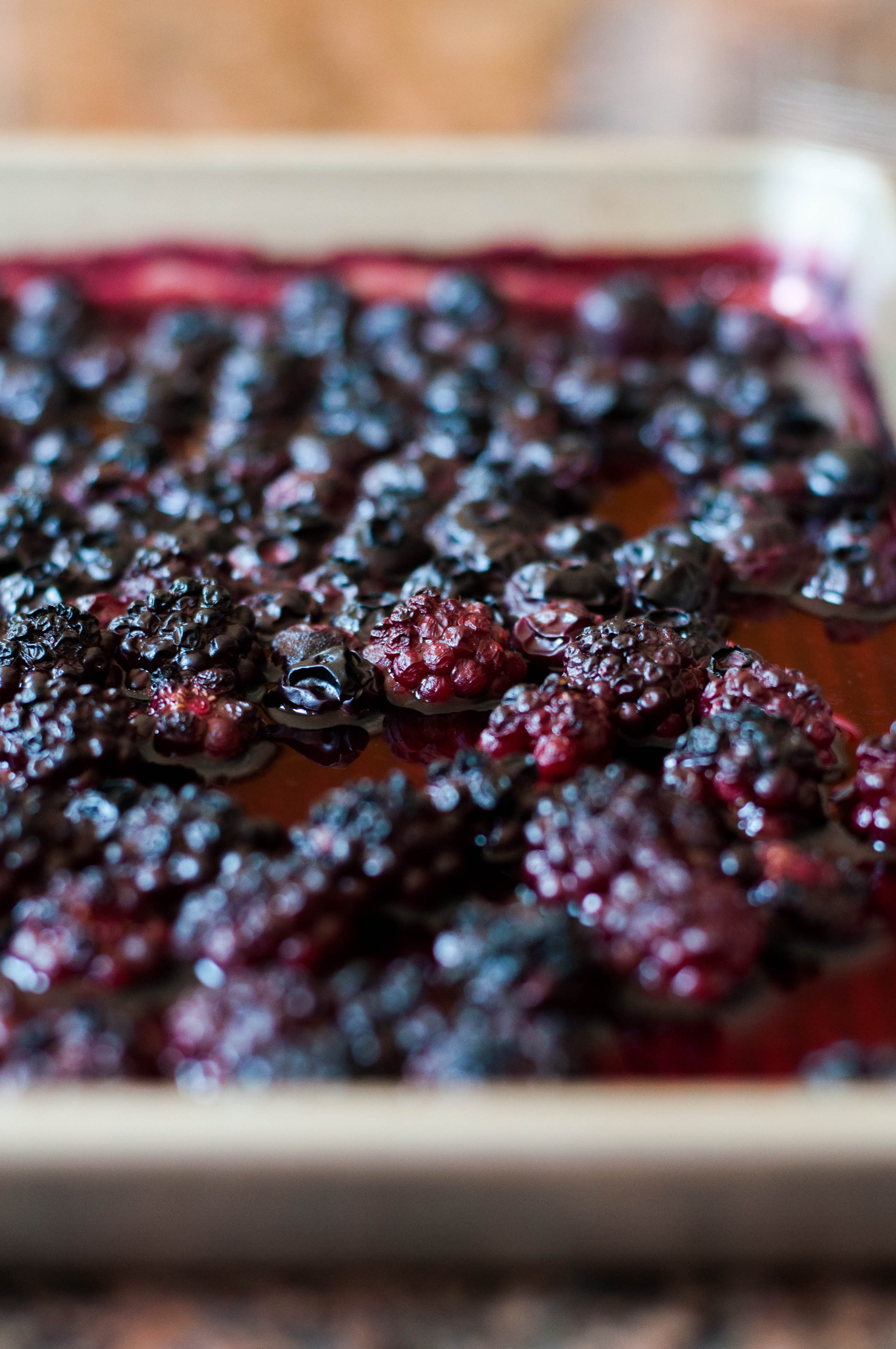 I shared this cake with a new friend of mine and it made me realize, once again, how nervous I get cooking/baking for people I don't know very well.  Do any of you ever get nervous about this?
When I don't know a person's taste preferences, I get really anxious serving them.  And I find myself constantly biting my tongue, working hard not to apologize or give unnecessary explanations about what they are eating.  Such as,  "I added a lot of salt because I love salt, but maybe you don't." " You really don't have to eat this."  "This might not be as sweet as you're used to." And on and on…
In addition to all of the above neuroses, I am also super paranoid when I cook for new people, thinking that they will feel obliged to eat what I made for them.  I frequently feel compelled to say, "Here I made this for you, but you can totally just throw it out if you don't want it."  Which is not quite the sentiment I am going for.  It also makes for a really awkward moment as I am serving something to say, "Don't feel obliged to eat this."  It seems to add a note of severity to an otherwise delightful gathering.
But this time I decided not to do any of this!  As each apology and unnecessary explanation twisted its way to the tip of my tongue, I swallowed it back down.  I did a bit of internal squirming, but I managed to keep my mouth shut, which I was happy about.
The cake was a total success from my perspective.  My sister went nuts for it.  She is the absolute best audience!  She is not the type of person who will eat anything, but if I make it for her she will, and 9.9 times out 10 she loves it.  I don't think I am as good a cook as she is a taster.  But I am grateful to have her tastebuds to please.
I don't want you to feel obligated to make this cake or anything, but here's the recipe (winky face…I haven't kicked the annoying emoji habit yet, either…sorry).

Roasted Blackberry & Blueberry Bundt Cake with White Chocolate Frosting
Ingredients
For the cake:
2½ Cups whole spelt flour
2 Teaspoons baking powder
1 Teaspoon baking soda
½ Teaspoon fine sea salt
¾ Cup maple syrup
1½ Cups blueberry and blackberry puree (2 cups blueberries + 2 cups blackberries + 1½ cups water roasted in oven)
6 Tablespoons ghee melted (90ml) (or substitute coconut oil)
1 Teaspoon apple cider vinegar
Black and blue sauce:
Leftover blackberry and blueberry puree from cake recipe
¼ Teaspoon cinnamon
1 Teaspoon lemon
1 Teaspoon maple syrup
3½ Tablespoons (50g) Cacao butter
½ Cup hemp seeds
2½ Tablespoons raw honey
Seeds from ½ vanilla bean scraped
1 Tablespoon arrowroot powder
Pinch of sea salt
½ Cup water
Instructions
To roast your fruit:
Preheat oven to bake 350F.
Measure fruit and water into a small baking tray and roast in oven for 25-30 minutes or until the fruit is bubbly and oozy.
Leave on counter to cool and allow the juices to thicken (about 30 minutes).
For the cake:
Sift all of your dry ingredients together.
Using a a blender, blend together the roasted fruit and cooking liquid until smooth. Blend very well so that no large blackberry seeds remain*.
Measure out 1½ cups of the berry mixture into a bowl with the other liquid ingredients (except for the apple cider vinegar). Whisk together.
Pour the wet ingredients into the dry ingredients and gently fold together. Whisk gently until you have an even mixture.
Spray your bundt pan with cooking spray.
Mix in the apple cider vinegar just before pouring the batter into your pan.
Bake for forty-minutes at 350F or until a toothpick inserted in the center comes out clean.
Let cool completely.
For the white chocolate hemp sauce:
Melt the cacao butter in a double boiler
Combine melted cacao and remaining ingredients in a blender and blend on high until the sauce is completely smooth.
Store in a glass container in the fridge. If the sauce solidifies melt it again by putting the glass container in a pot of simmering water. If you want to use the sauce immediately, after blending place it in the fridge for 15-20 minutes to allow it to thicken just a bit.
For the black and blue sauce:
Add ¼ teaspoon cinnamon, 1 teaspoon maple syrup, and 1 teaspoon lemon to the leftover blackberry and blueberry puree you made for the cake. Taste and adjust seasoning as needed.
To decorate the cake:
Garnish with fresh fruit and pour on your two sauces in alternating layers.
Notes
This recipe was inspired by the chocolate cake I made from Sarah Britton's cookbook
My New Roots
and
Renée Kemps roasted Plum cupcakes
. The white chocolate hemp sauce is Sarah's recipe. I had never tried or heard of this before and I was quite thrilled with the results. Really bizarrely, this morning when I was looking up Sarah's white chocolate hemp sauce recipe I saw that the cake she used it on came to her in a dream! Mine awoke me at 2:00 AM, what is it with these cakes? Renée gave me the idea to roast fruit and blend them into a cake. If you aren't familiar with either of their work go check them out. They are both such talented and brilliant chefs, recipe creators, and photographers.
*What remains of the blackberry seeds after blending can be filtered out by straining the puree. I didn't do this because the seeds don't bother me.
Now let's decorate this thing!  Decorating cake is ALMOST as good as eating cake, almost…
  
And now for that black and blue sauce…
 
Dig in!