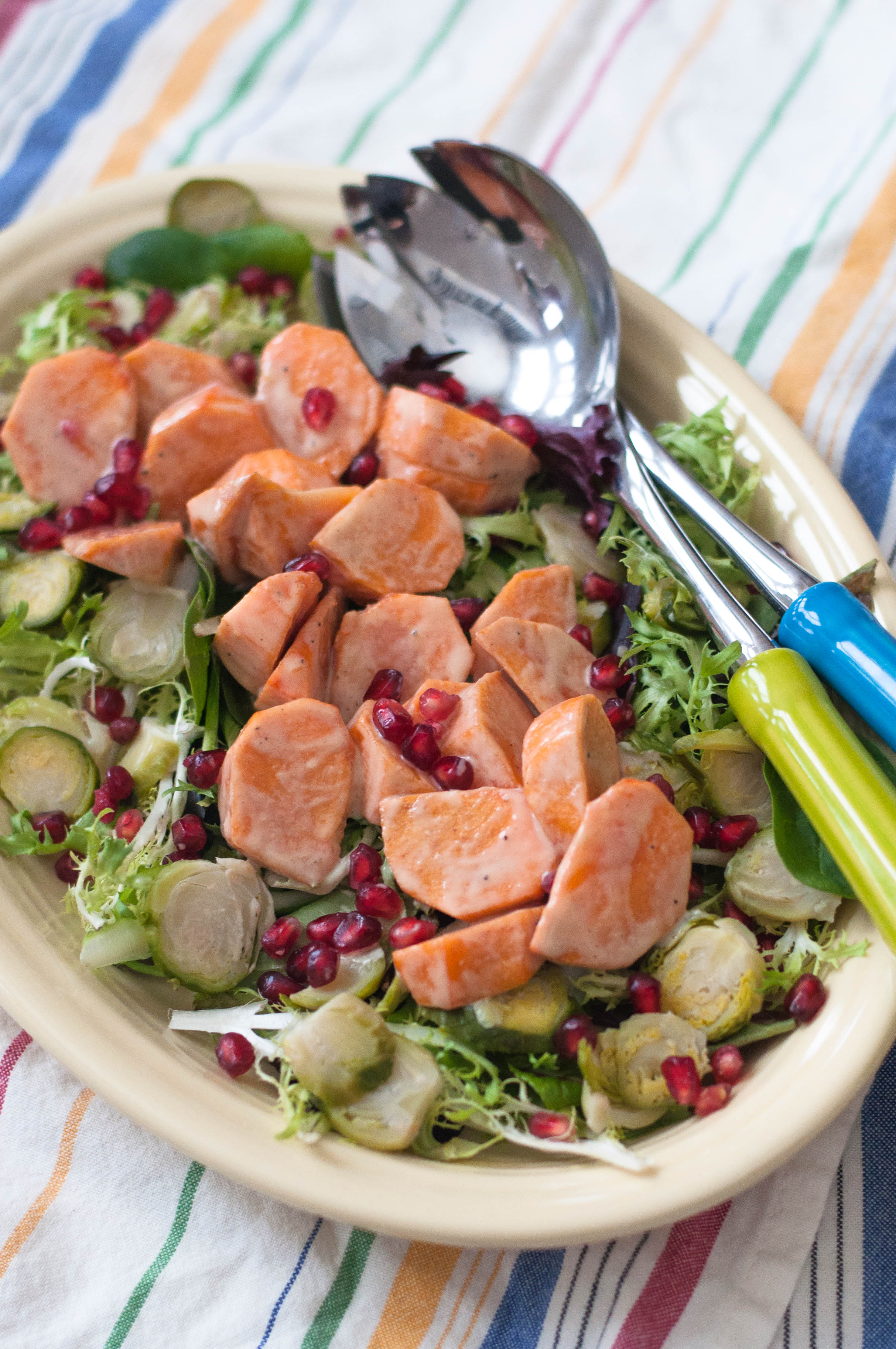 Hurry and gather up the last of the persimmons because this salad should not be missed.  Technically, we should still have persimmons until February, but I have a suspicion that they will soon be gone…maybe it's just because time has been going so incredibly fast for me.  When I was a kid, a week seemed like an eternity.  Now I am hardly done with Monday by the time I am setting my alarm clock on Sunday.  To my great dismay, I fear I might have turned into one of those ridiculous adults that I used to scoff at.  You know, the "where did the time go" types.  Mind you, I have not succumbed to hackneyed expressions about time…but I think them.  Eek!  Case in point, I recently found out that a friend I had lost contact with from High School is pregnant.  When I found out I literally gasped in shock like we were still seventeen.  My scandalized inner voice screamed "Oh no, you got pregnant!"  (Mind you I didn't actually say this…I just thought it and hopefully did not show it on my face.)  She's married and to most normal people this is not a shocking announcement, but somehow the passage of time has been striking me odd.  I don't know how time passing should feel, but so far it has been anything but a linear one-step-in-front-of-the-other process.  It has been a convoluted path with twists and turns…half the time it moves at warp speed the other half it slows to an unbearable pace, and somehow there is yet another half that feels so utterly normal and even paced that I think I just might have figured everything out.  [Nope!]
Even with all of this, I still am quite comforted by the passage of time.  Knowing its constancy is peaceful to me.  Twenty-four hours, every day, no matter what.  And within each of those hours are minutes and seconds to be experienced in limitless ways.  They can be short, long, dull, sharp, and filled with all things beautiful or horrible or both.  Time is life and life is time.  And I am quite appreciative to be able to experience it and marvel at it.  This subject always gets me a bit pensive, and before I get too far away from the matter at hand, we should talk about these persimmons and this incredible salad, not in the least because I am running out of time to write this post!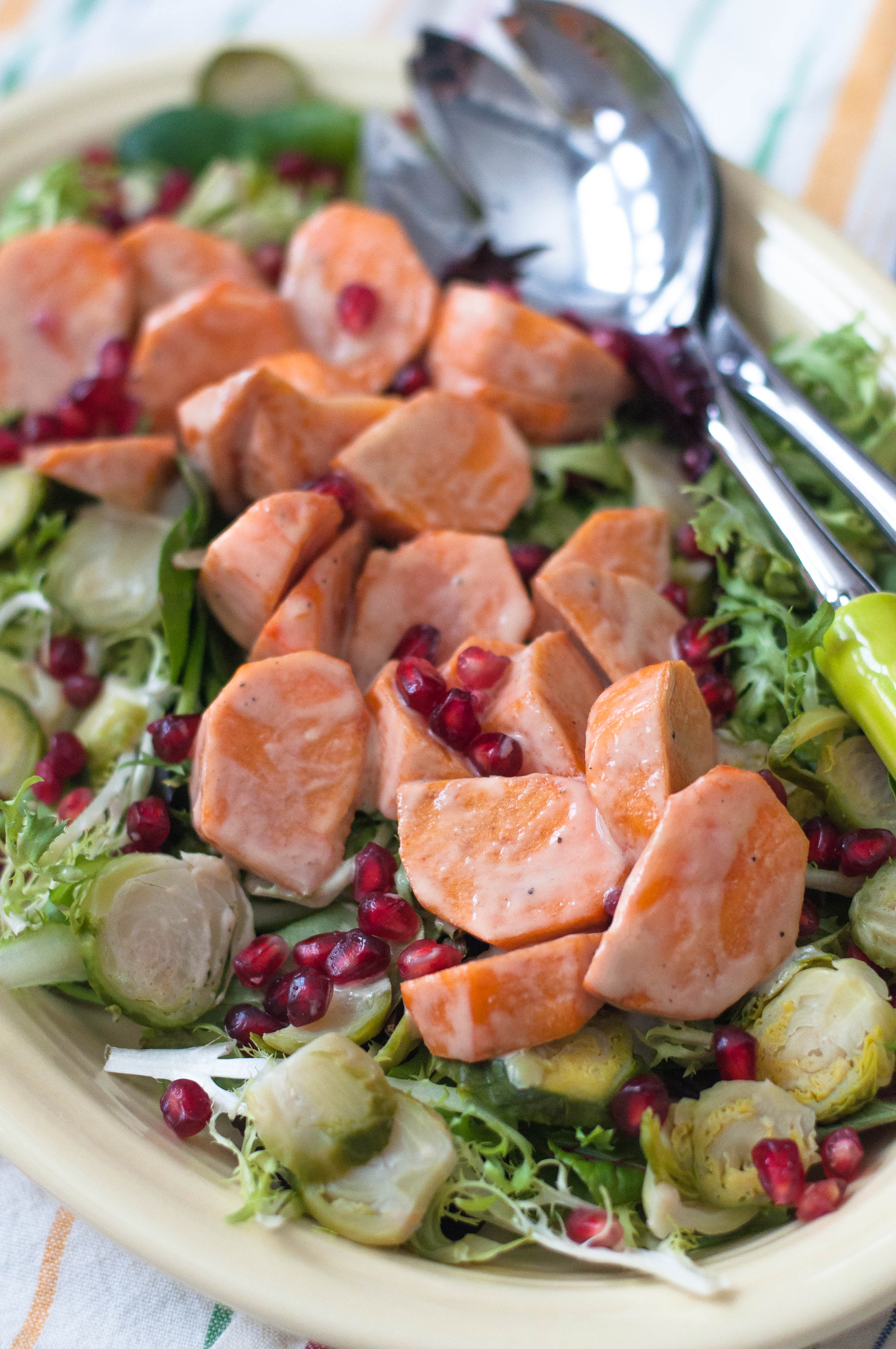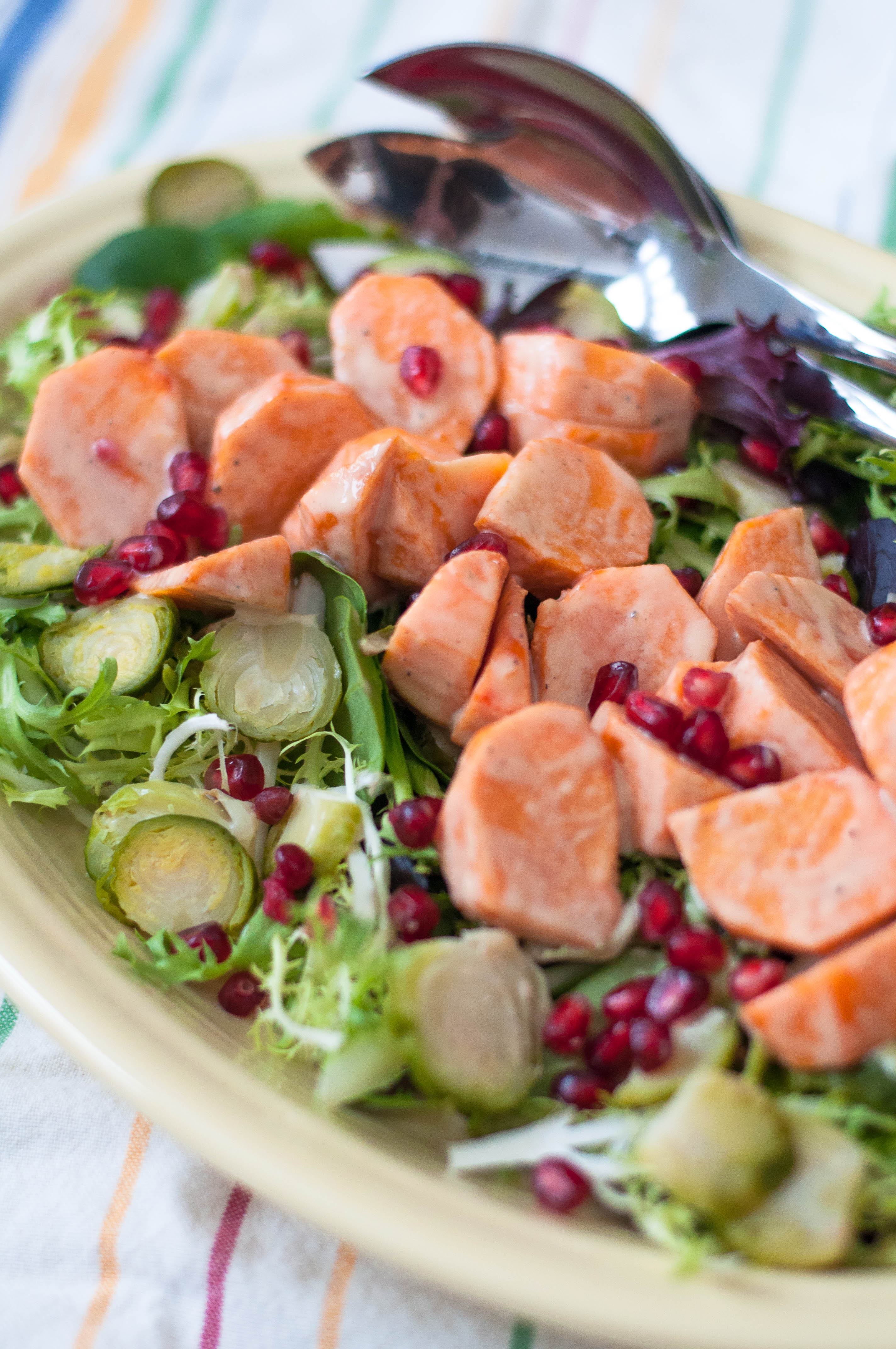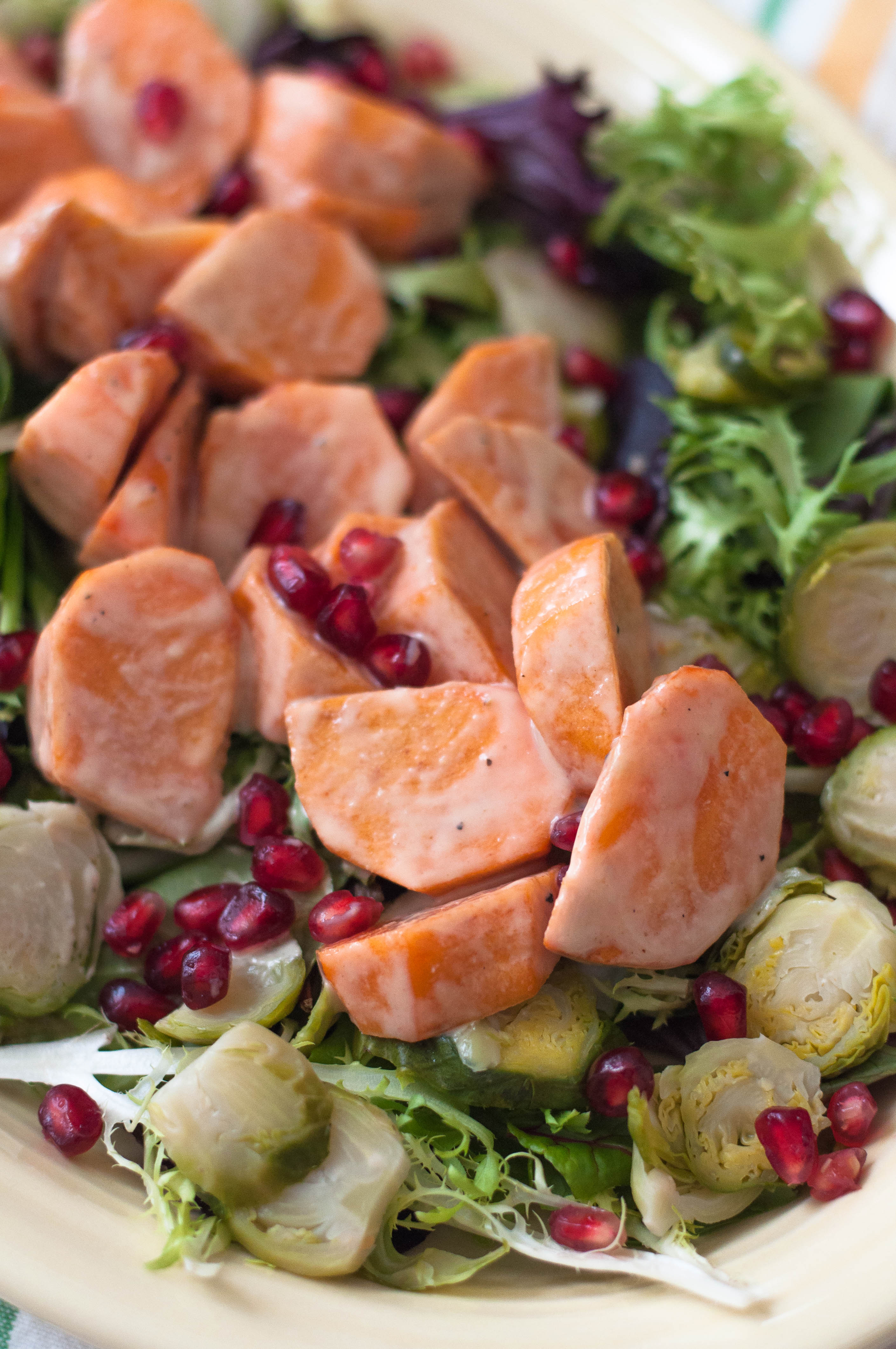 I was perusing some of my favorite cookbooks this weekend looking for inspiration.  After several delightful minutes flipping through Sara Forte's remarkable cookbook The Sprouted Kitchen, I stumbled upon the Salads section.  Her tahini dressing jumped out at me and I instantly thought about pairing it with persimmon.  I love when I'm right.  The flavors together are amazing.  We licked the bowls clean!  I adapted her recipe slightly to fit our tastes by substituting maple syrup for agave and reducing the amount of sweetener.  I also used a sparing amount of pepper rather than the 1/2 teaspoon she calls for.  There are so many wonderful recipes to explore on her blog and she has two cookbooks to lose yourself in (highly recommended!).   I hope you find the time to make this, and if not, I hope you find the time to appreciate time and this magical moment that we are all experiencing together right now.  Have a beautiful week.
~ Kathryn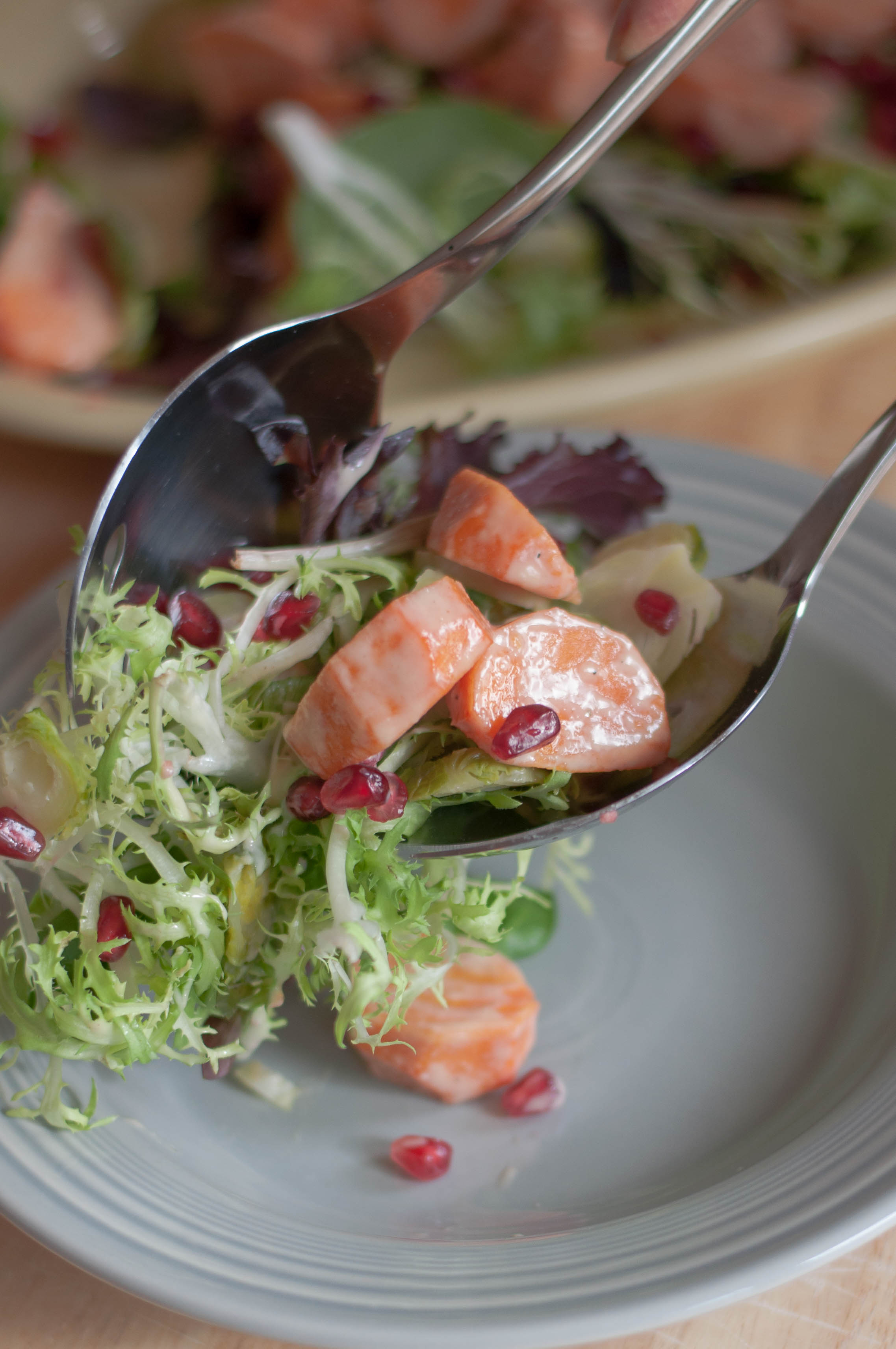 Persimmon & Pomegranate Winter Salad (Maple Lemon Tahini Dressing)
Ingredients
For the salad:
2 Persimmons peeled and sliced into wedges (I used Fuyu)
2 Handfuls frisée
3 Handfuls mixed baby greens
¾ Cup sliced steamed or sautéed brussels sprouts
½ Cup pomegranate arils
For the tahini dressing
¼ Cup tahini
1 Tablespoon extra virgin olive oil
1 Tablespoon maple syrup
3 Tablespoons freshly squeezed lemon juice
½ Teaspoon sea salt
Pinch of freshly ground pepper or more to your taste
Water to thin
Instructions
Wash and thoroughly dry your greens.
Allow your Brussels sprouts to come to room temperature after steaming and slice into thin slivers.
Remove arils from your pomegranate and set aside.
For the dressing:
Combine all of your dressing ingredients mixing well. Depending on how thick your tahini is you may have to stir in some water to achieve a loose salad dressing-like consistency. Add water slowly.