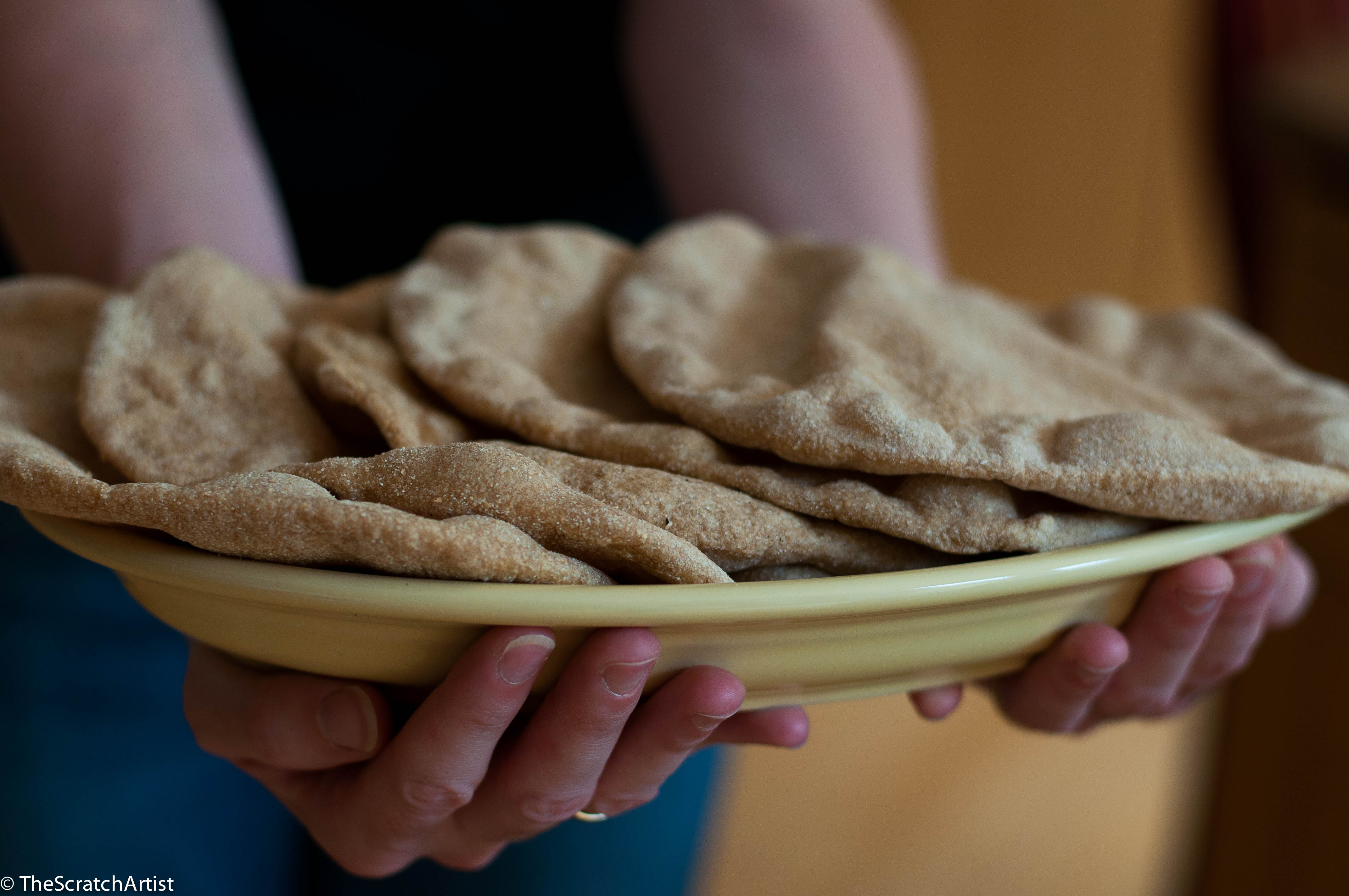 Hello — Good morning.  Good evening.  Good whatever time of day these words are reaching you. Before digging our hands into this pita recipe today, I wanted to thank you for being here.  Right here. Right now.  To read my words.  To connect with me and my food.  You inspire me to keep creating.  To keep expressing myself here.  I am working hard to keep the scale balanced and provide the same inspiration for you that you give me.  It is my aim and deep desire that my space here becomes our space, a place where we form a mutually beneficial community, inspiring one another to express, create, and be whatever brings us the most joy, well being, and satisfaction in our lives.  I am grateful that we have this time together, however fleeting or lasting it may be.  It matters to me.  And I thank you.
Now on to the wonder and glory that is pita bread, which I firmly believe was invented for me.  It's a bread pocket.  Need I say more?  The challenge with pita bread is deciding what to stuff in it?  I know, EVERYTHING.  But specifically, deciding what to cram it full of on any given day (I know, everything) can get overwhelming.  These are the big decisions in my life.  What, oh what, do I put in my pita today!?  I will have a fully formed and thorough answer coming to you this weekend.  I think you will be happy with my choice.  Check back on Saturday.  But first, we must make pita before we can stuff pita.
Homemade pitas, much like homemade tortillas, are absolutely nothing like their store-bought counterparts.  The flavor is richer and the texture is softer and chewier; everything is just better.  Not to mention they are really fun to make!  Look at this GIF to understand why…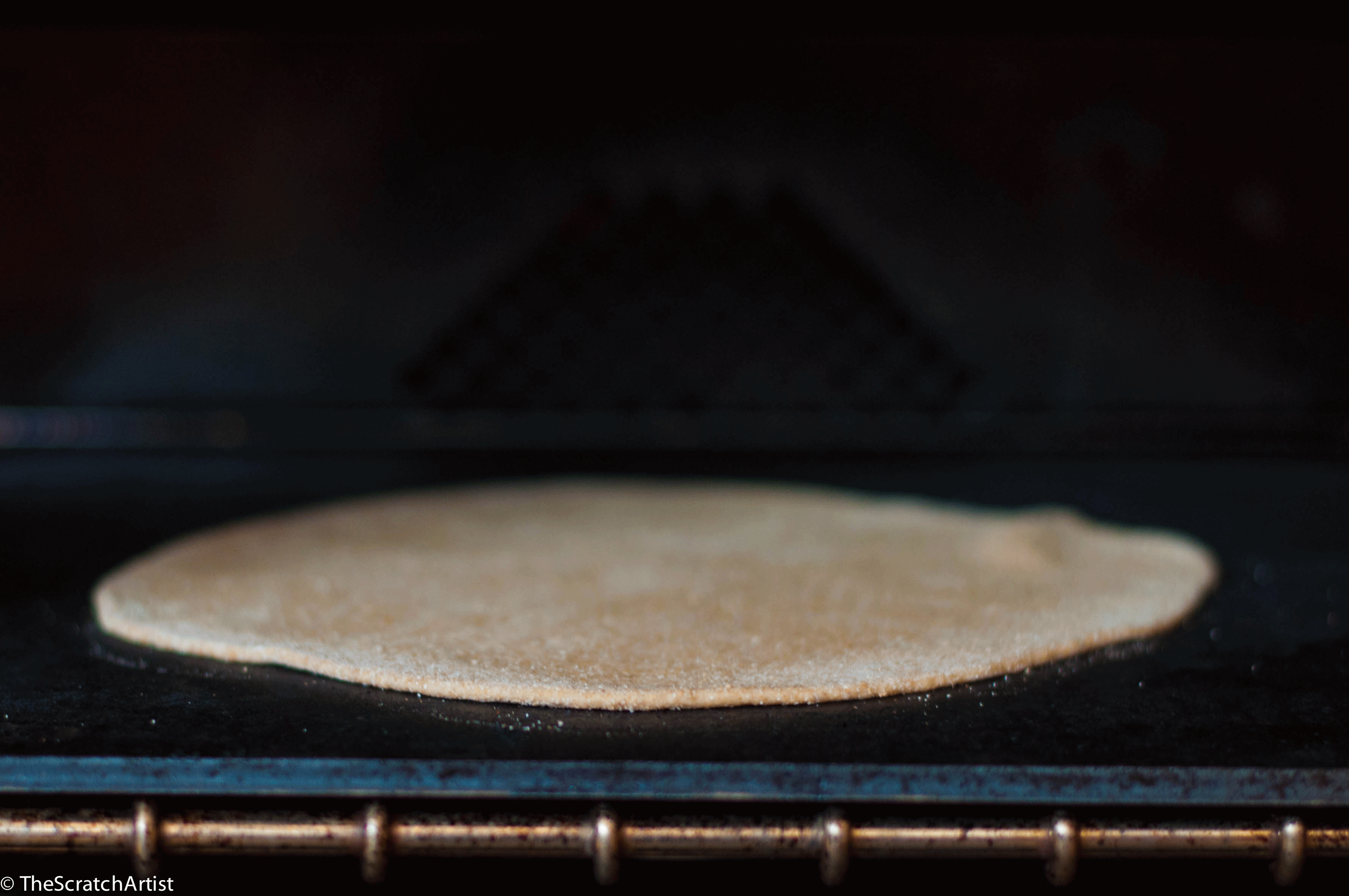 Like I said, SUPER fun!
If you read my about me page, you know the first thing I ever endeavored to bake was pie.  Shortly after that pie, I found a copy of Baking with Julia in my mother's cabinet and quickly decided I needed to bake Every. Single. Recipe.  I'm not even close yet, but I am still dreaming of diving head first into the pastries section.  Despite the fact that I don't eat that kind of food anymore, I do so enjoy making beautiful pastries.  It would be rather anticlimactic not to eat them, don't you think?
If you aren't familiar with the book, it is really worth adding to your collection.  It was written by Dorie Greenspan and is based on Julia Child's Master Chefs television series.   The book compiles recipes for the home cook from the top bakers around the world.  It has become a treasured resource and is practically an heirloom at this point, despite the fact that it was published in 1996.  Our family memories, captured on each sticky and slightly bent page, has me clutch it tightly to my heart as though it were another member of our family and not just a cookbook.  I have pored over it, page by page, on so many occasions, aspiring to make this thing or that thing.  Each section brings back another memory.  The entire bread section, with its pages always lightly dusted with flour, is filled with memories of the semester I took off from college to be with my family.  It was during that time that I learned how to bake bread, braid a challah (p. 93), boil bagels (p. 87), and master the art of kneading.  The cookie section (endearingly named 'The Littlest Cakes') is woven together with memories of my grandfather who knew how to finish a meal.  Always a cookie.  Biscotti (p. 313) and his favorite, Rugelach (p. 325).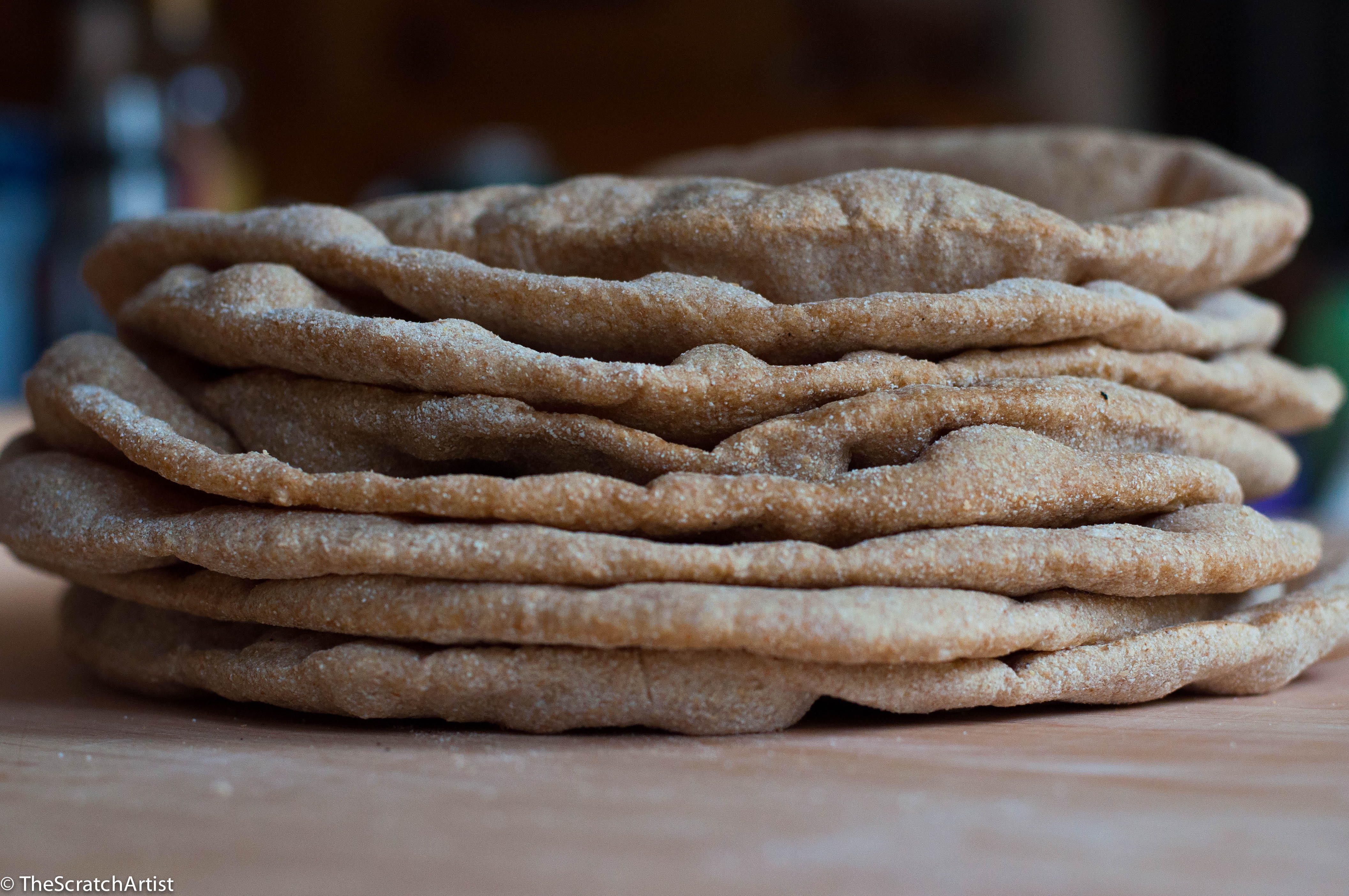 The pitas I am sharing with you today are slightly adapted from the original recipe.  The recipe from the cookbook calls for 2 1/2 cups whole wheat flour and 2 1/2 – 3 1/2 cups all-purpose flour.  I made them using 100% whole grain flour and eliminated the all-purpose flour.  I am also using freshly ground flour – about 50% hard red spring wheat berries and 50% hard white winter wheat berries.  You can substitute pre-ground whole grain flours if you don't have a grain grinder.  I find the freshly ground flour richer and nuttier in flavor.
That's all for now.  Remember to check back on Saturday if you need some pita-stuffing inspiration.  And scroll through the photos beneath the recipe for some step-by-step clues.
~Kathryn

Whole Grain Homemade Pita Bread
Instructions
In a large mixing bowl combine water and SAF yeast.
Add the ground RS wheat one cup at a time, stirring in one direction only. Once all of the flour is added, stir 100 times, or until the mixture is smooth and silky.
Cover tightly with plastic wrap and leave to rest for at least 30 minutes, but ideally 8 hours, in a cool spot in your kitchen or elsewhere. This is the sponge and it will form a bubbly network that indicates the yeast is doing its job. The longer you let it rest, the richer the flavor will be.
At the end of the rest period (your sponge should look bubbly and will be quite watery), sprinkle the salt and drizzle the olive oil over the top.
Begin mixing and add in the WW wheat as you stir, always in the same direction. Continue mixing until the dough becomes too stiff to stir.
Turn the dough out onto a floured work surface and knead until it is smooth and elastic. This should take 8-10 minutes.
Coat the sides of a a large bowl with olive oil and place your kneaded dough into the bowl, rotating it several times to coat it in oil. Cover the bowl tightly with plastic wrap. The dough should have room to double in size.
Let it rise for 2-3 hours or until it has doubled in size.
There are two methods you can use for making pitas: oven or stove top. I find the oven method more predictable and that is the method I am going to share with you today.
About an hour before your dough will be finished rising, preheat the oven to 450F convection bake. If you have a pizza stone or quarry tiles, place them in the oven. Otherwise, you can use a baking sheet (which should be placed in the oven to preheat).
Deflate your dough by dumping it out onto a floured work surface and divide it in half. Leave the half that you are not working with covered.
Cut your first half into eight equal pieces. Form the pieces into tight balls (fast forward video to 6:07 for tutorial). Cover the formed balls loosely with plastic wrap. One at a time, flatten the balls with the palm of your hand and shape into a circle with your fingertips. Using a rolling pin, roll the dough into a circle that is about 8 to 9 inches in diameter and a little less than ¼ inch thick.*
Keep rolled out pitas covered, and do not stack them. Alternately, you can bake the pitas one at a time as you roll them out. I found that I could bake one while rolling out the next pita.
Place as many of the pitas as you can fit onto your preheated pizza stone and bake for 2 - 3 minutes or until they are blown up balloons!
Take them out of the oven and wrap in a clean kitchen towel. Continue this process to make 16 pitas.
Pitas are best on the day you make them but can be stored in the refrigerator for several days or frozen for up to a month. Thaw and reheat on a baking stone.
Notes
Some baking notes: If your pitas do not puff up to a perfect balloon on your first try, don't fret. There are a couple of factors that might cause this. 1. Your oven might not be hot enough (turn up the heat or wait a little longer before trying to cook your next one). 2. The pita might not be rolled out thin enough. Make sure they are not thicker than ¼". 3. Try cooking one pita at a time. And finally, don't toss out any of your failures. They will still taste great even if they aren't perfect pockets. Test out one at a time until you know you have the method down.
*To roll dough out into a prefect circle, roll in only one direction. Turn your dough a quarter turn at every 2-3 passes of the rolling pin. Continue rolling and turning until you have an 8 to 9 inch circle that is a little less than ¼" thick.
**Recipe adapted from
Baking with Julia
by Dorie Greenspan.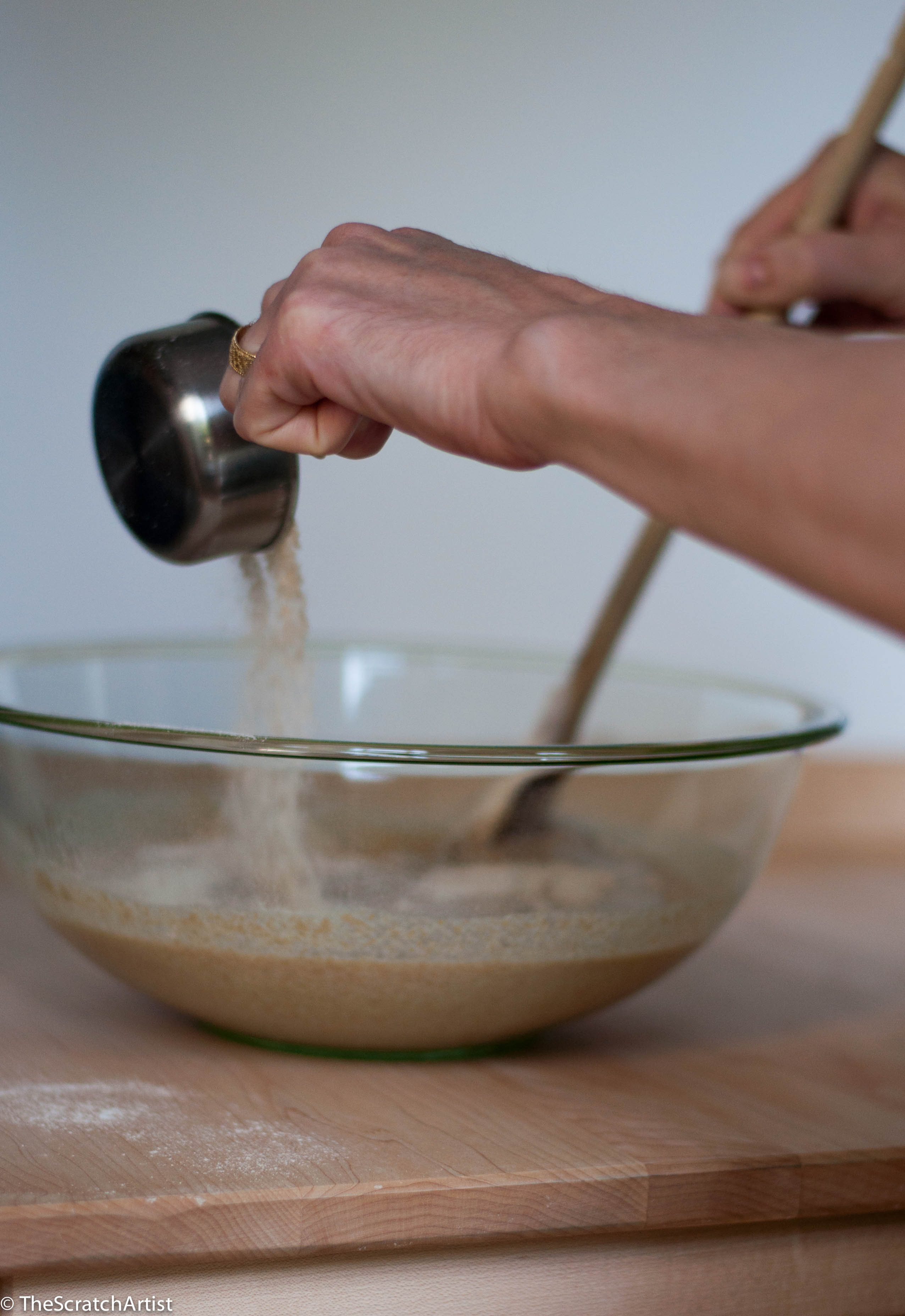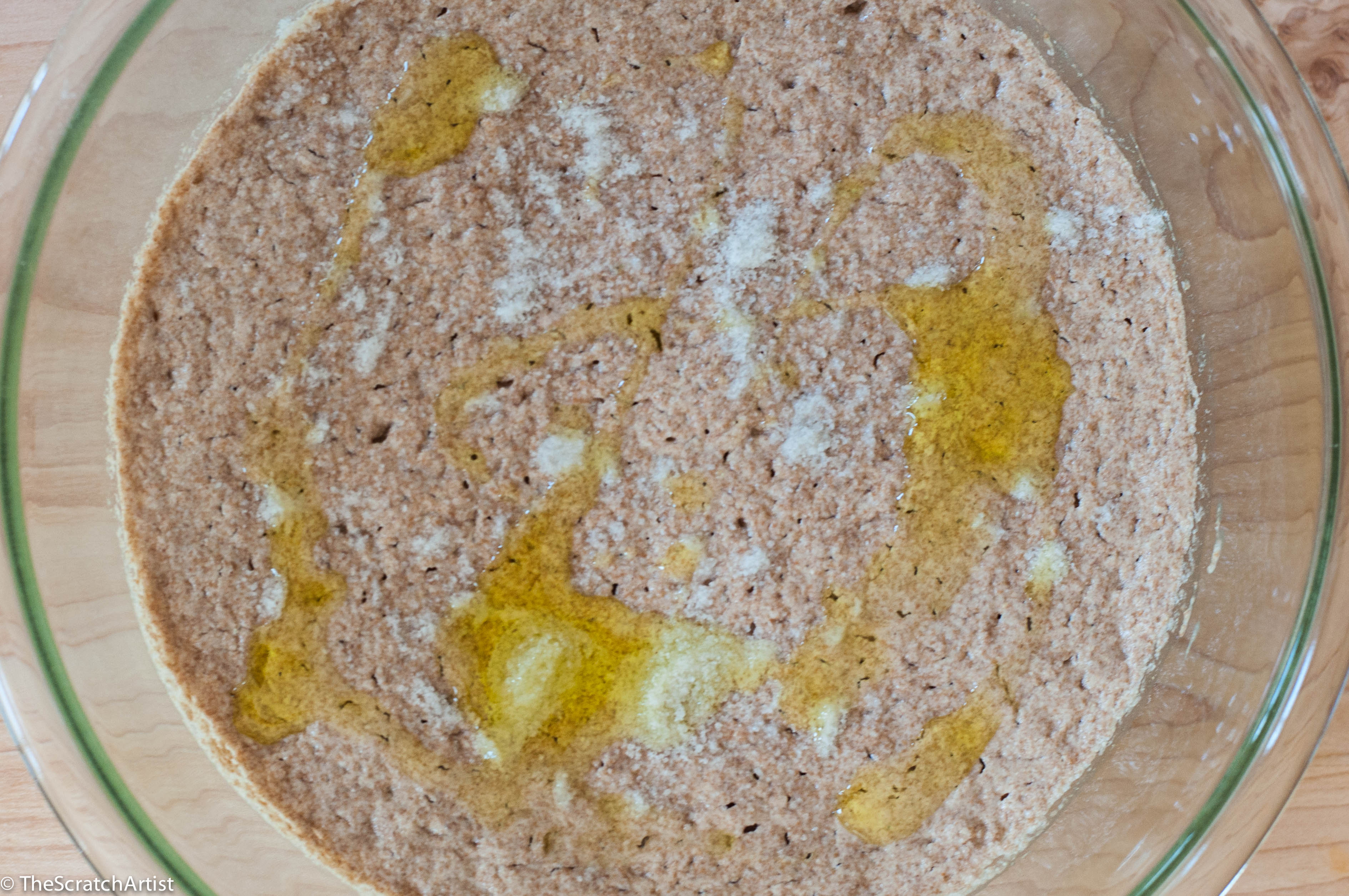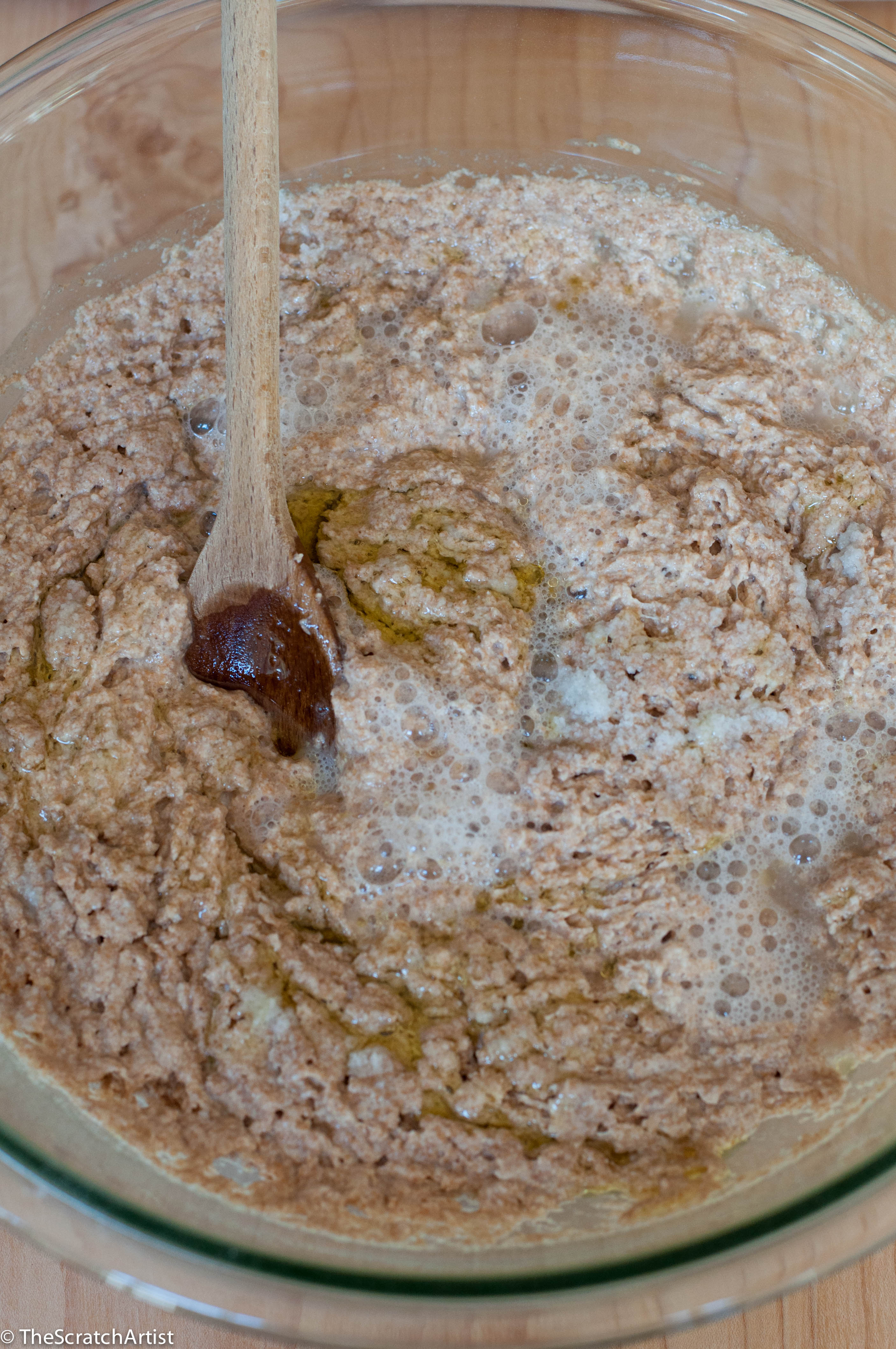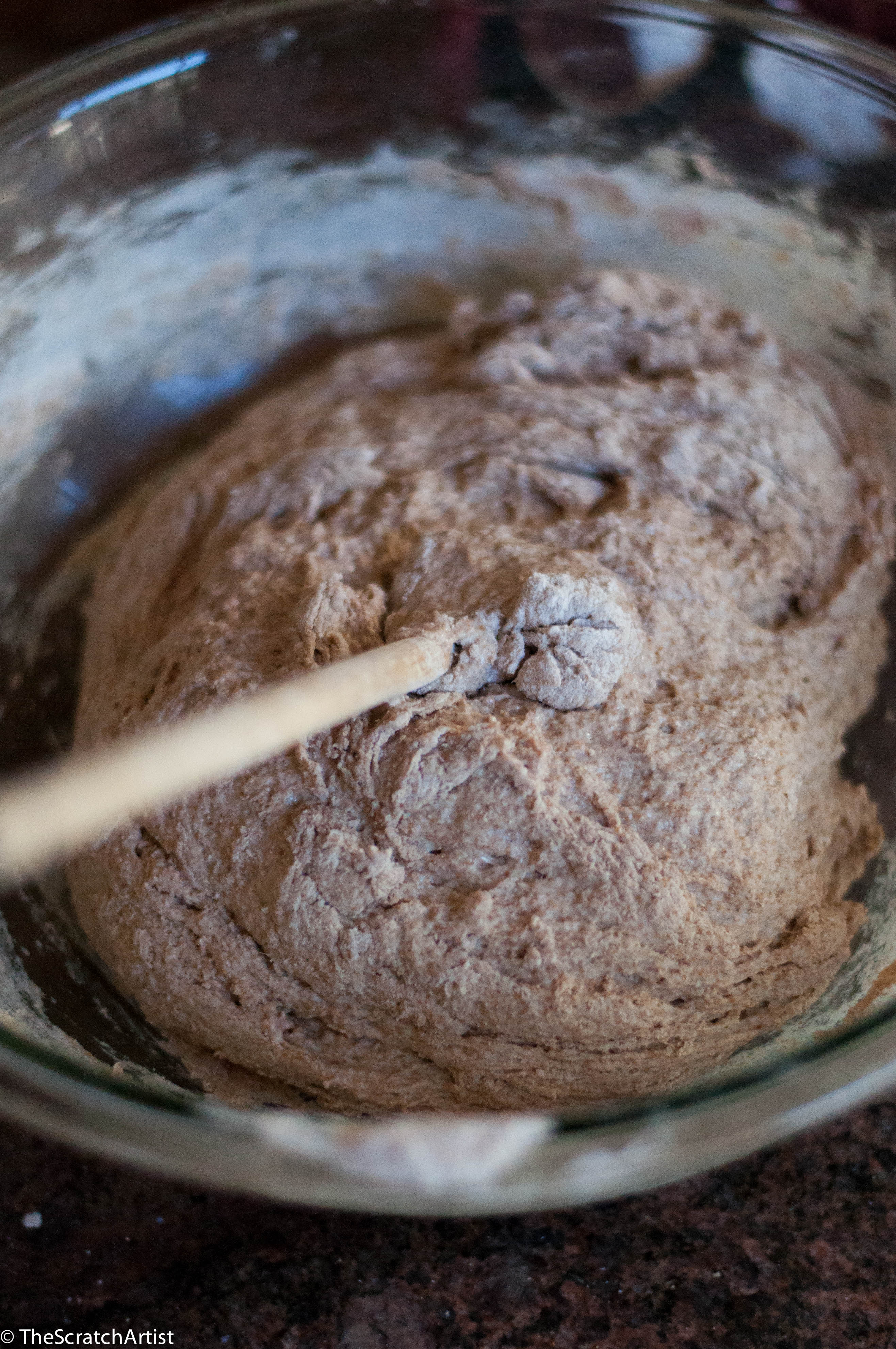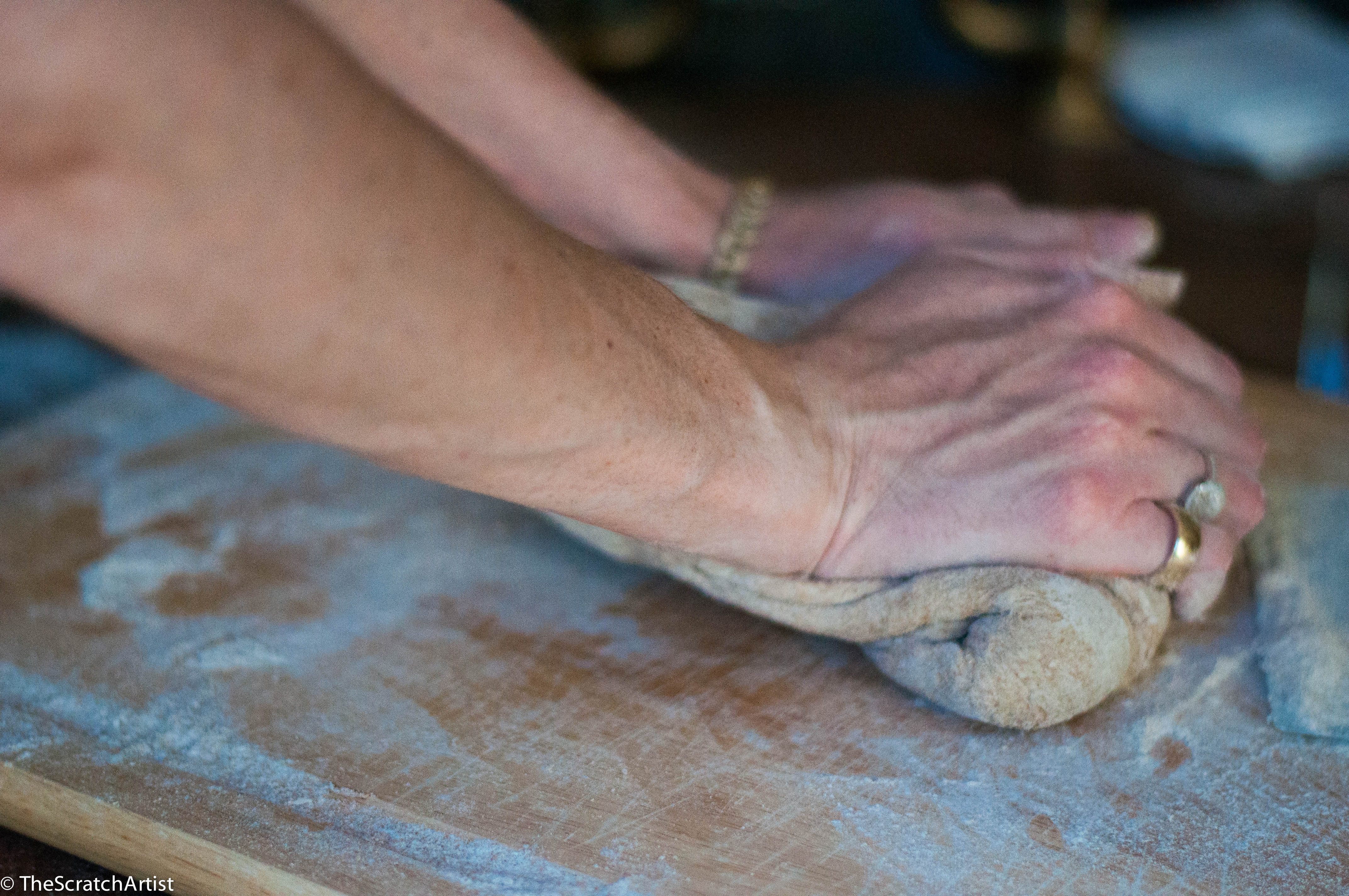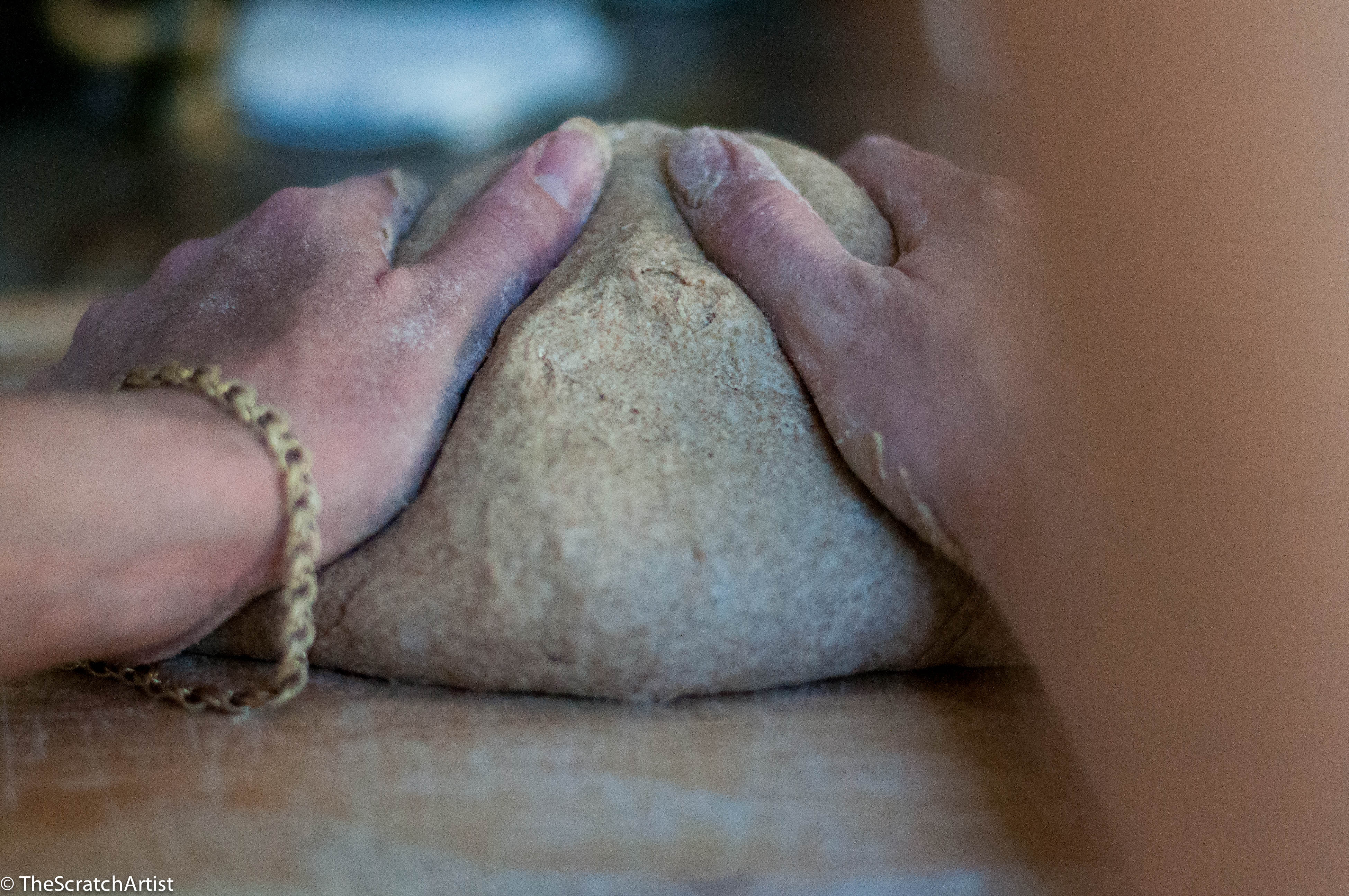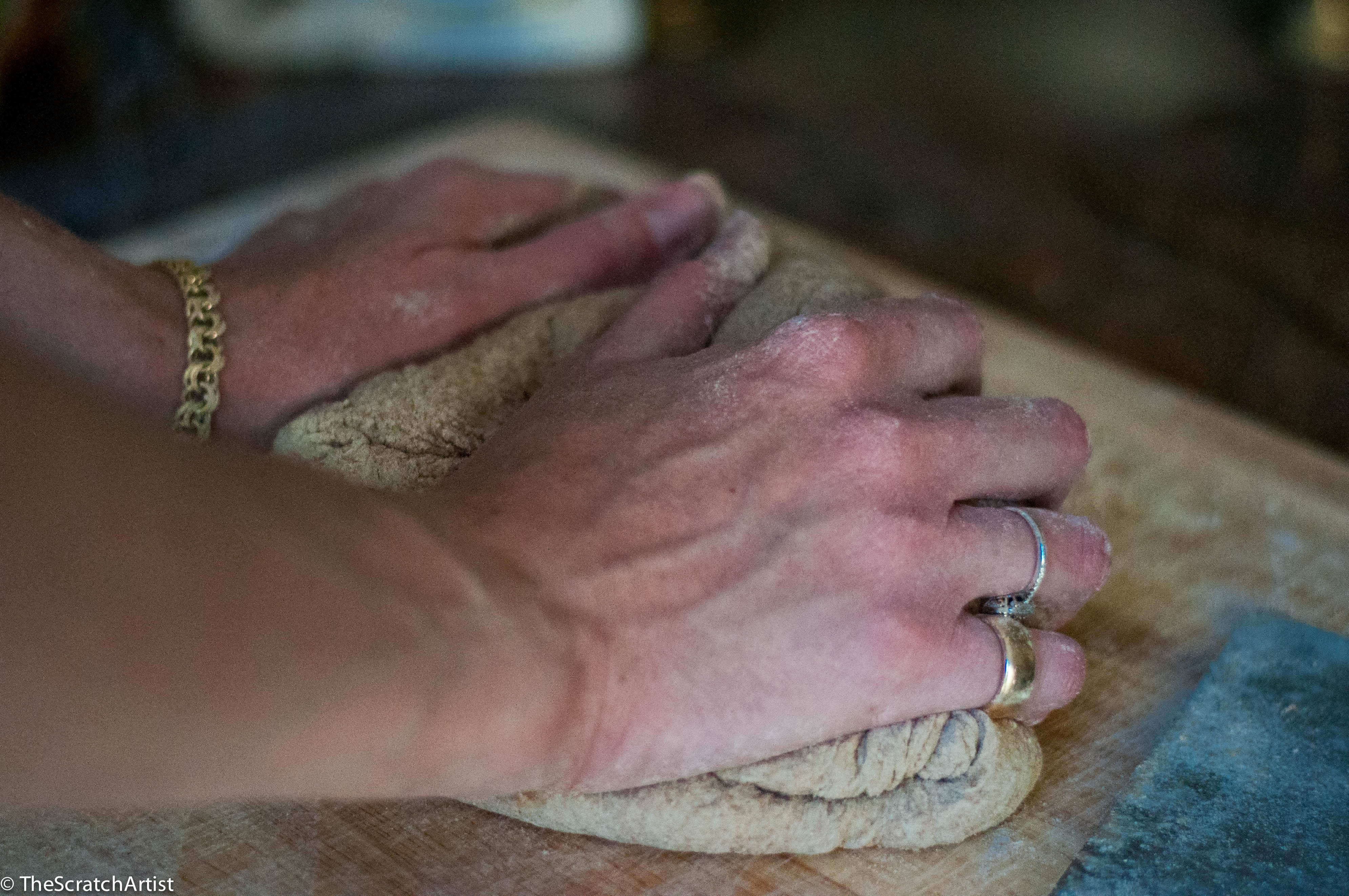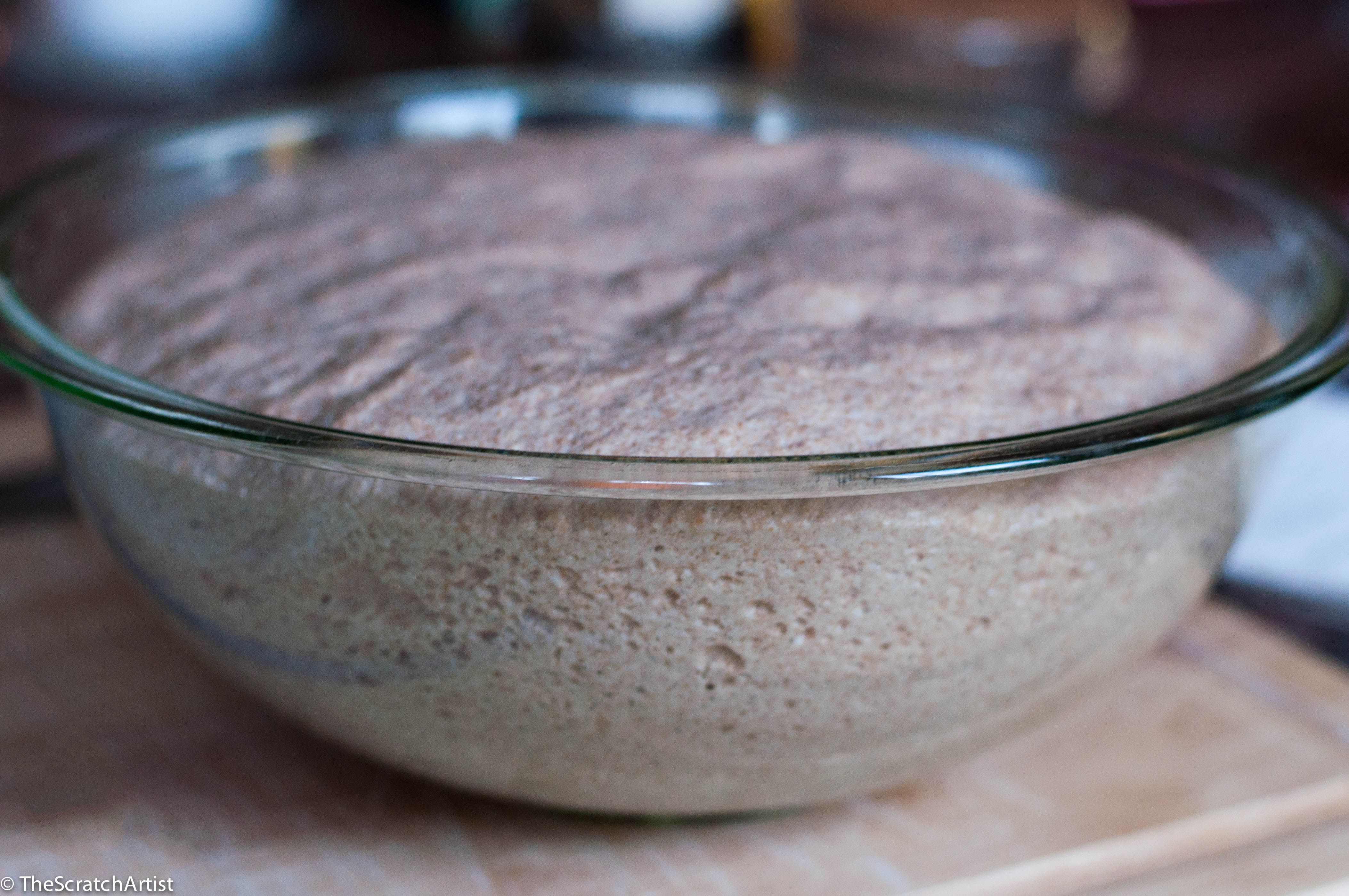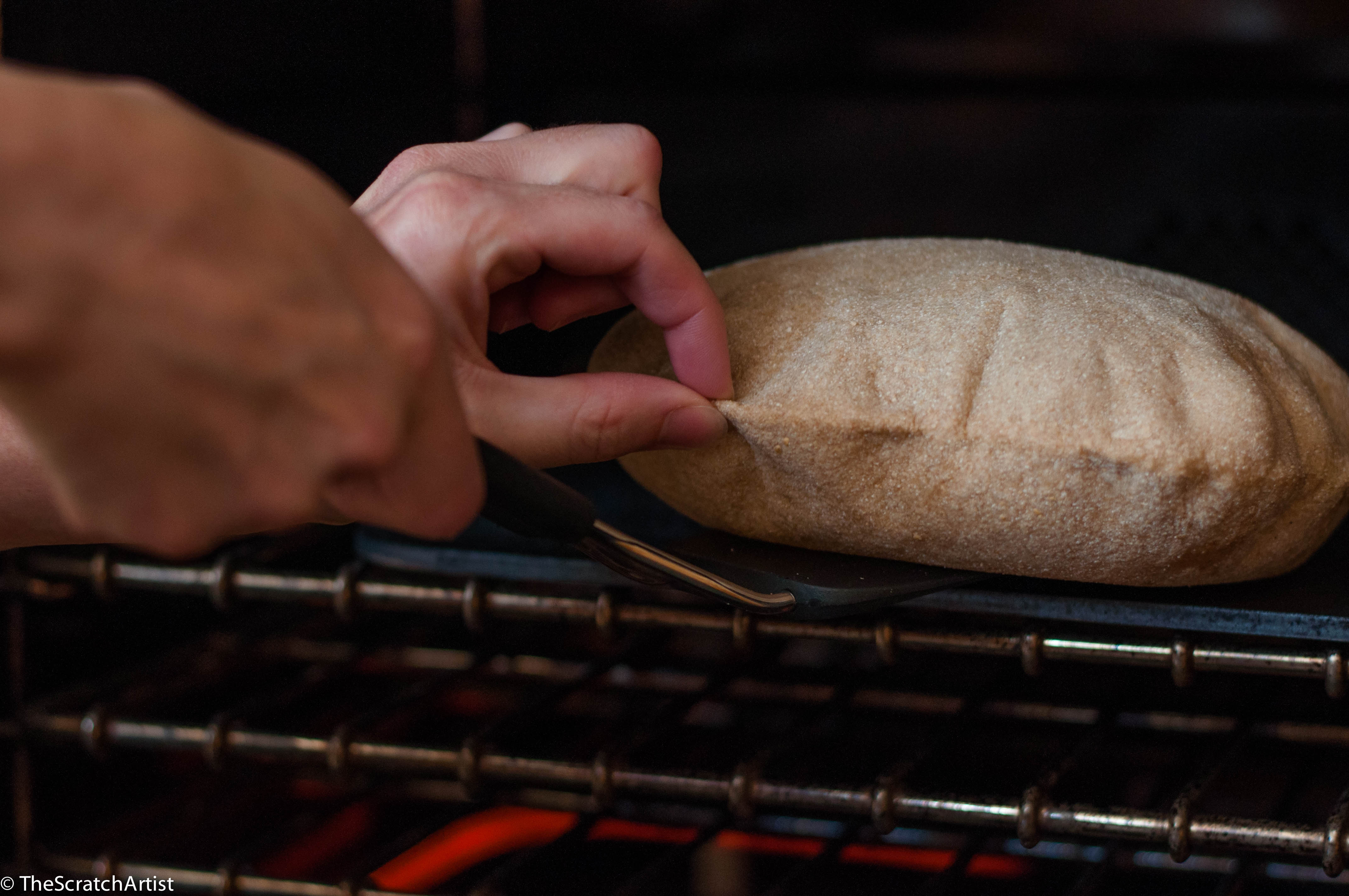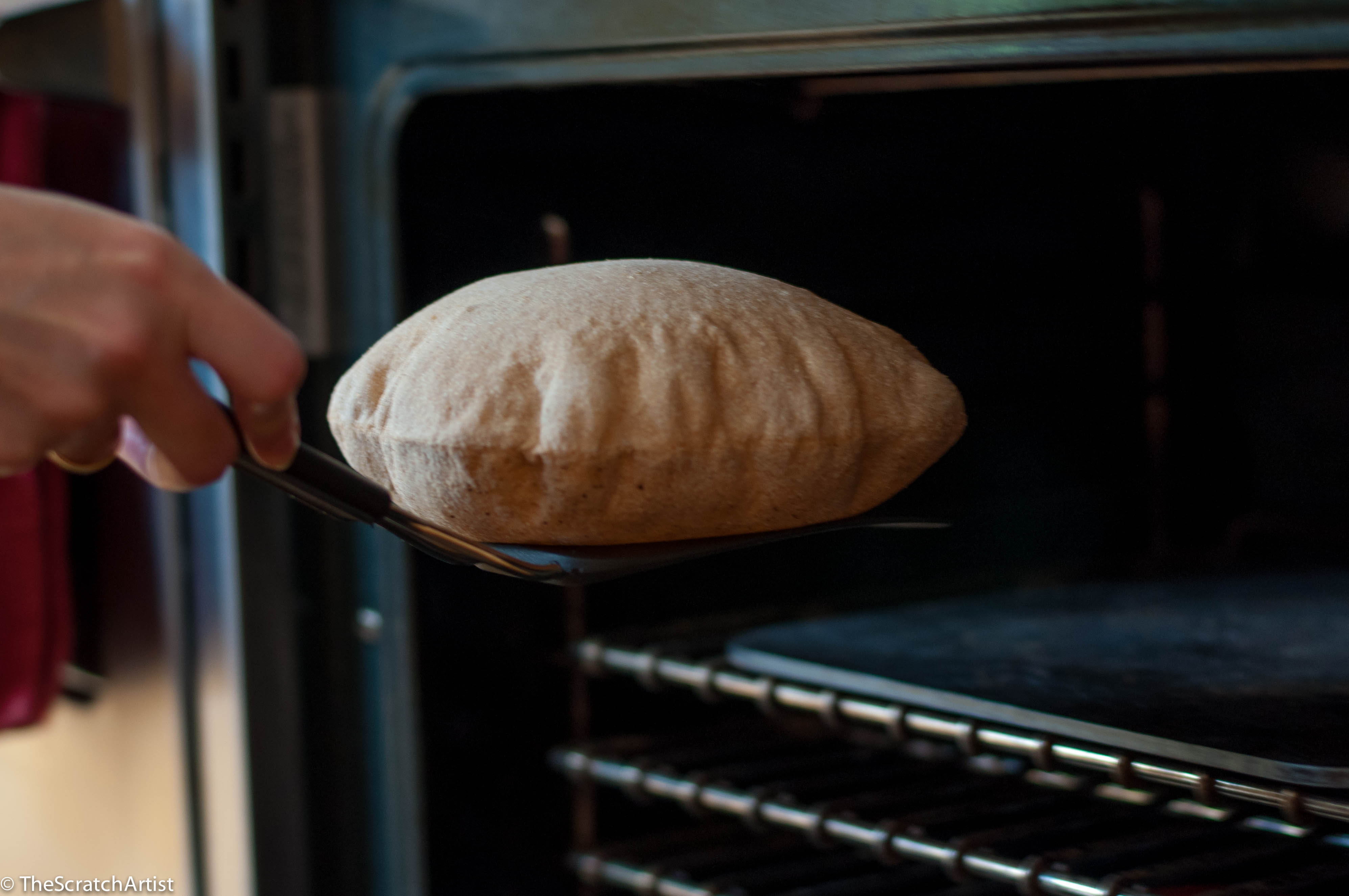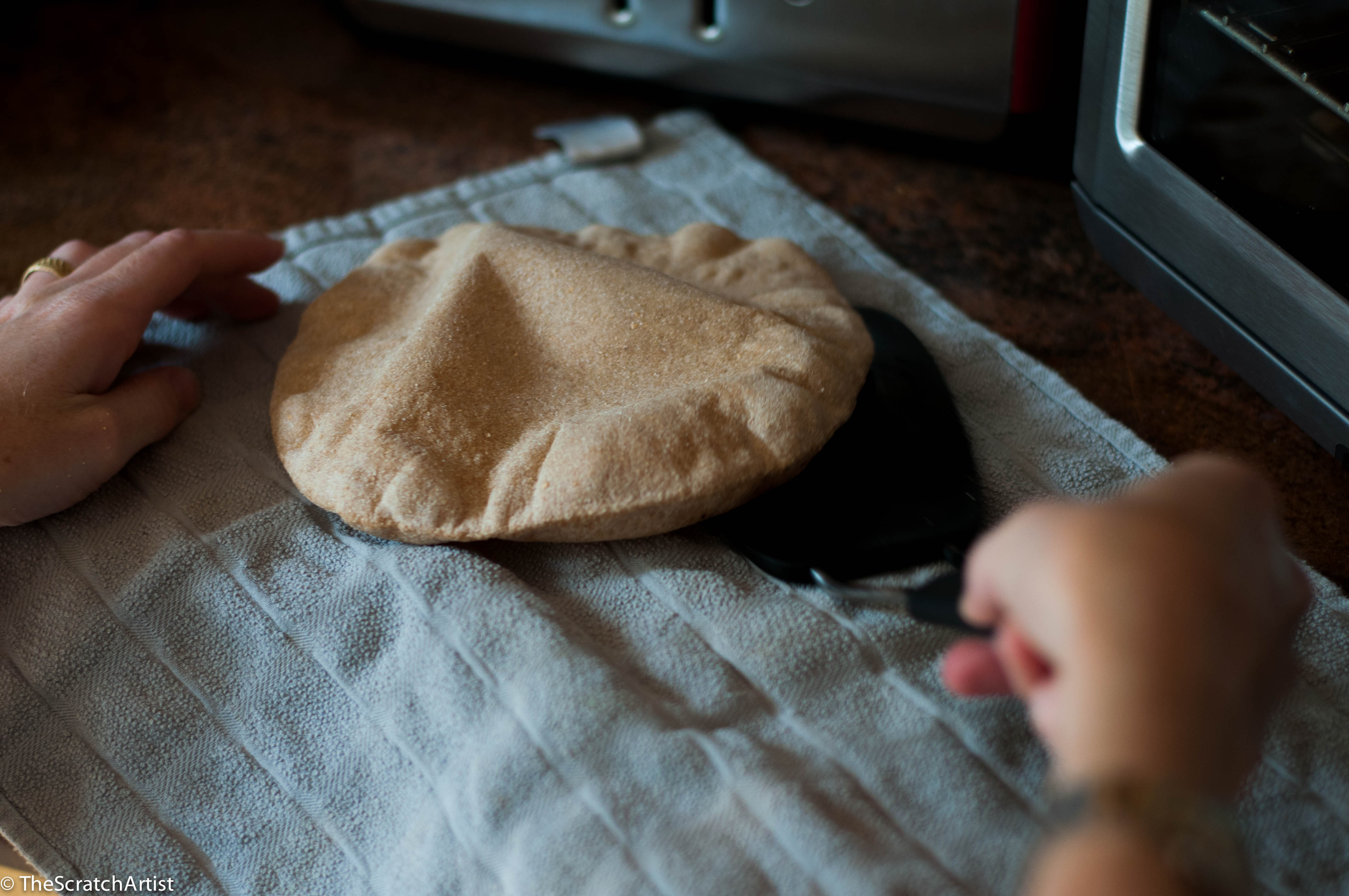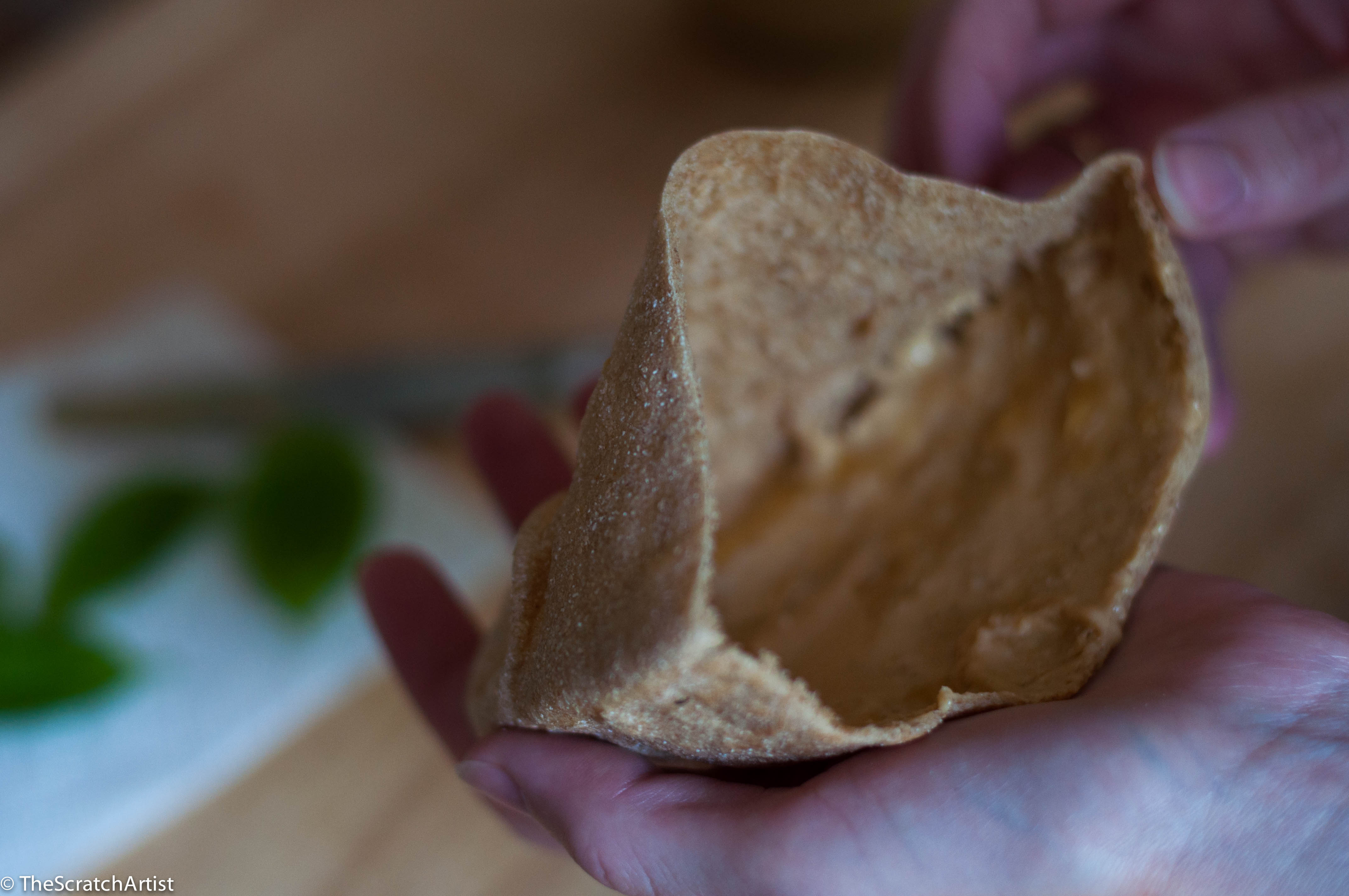 P.S. The opinions expressed here our entirely my own and I receive no monetary compensation for any of the cookbook recommendations I offer.