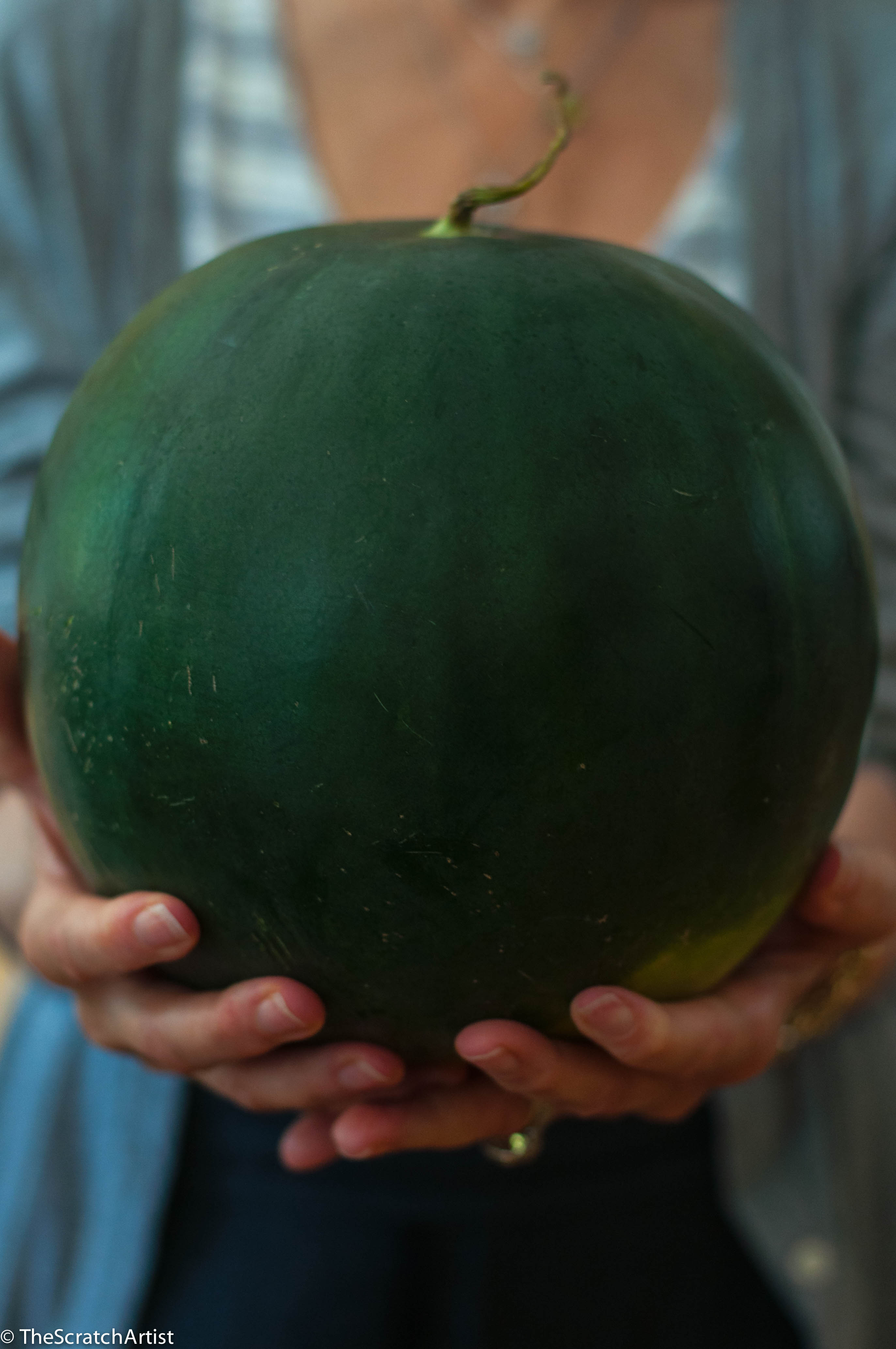 There are two things that are strange about this post:
I don't like watermelon.
I don't drink smoothies.
I just saw you do a double take on the post title and photo.  I like to keep you on your toes.
The unexplainable smoothie started last weekend at the farmers market with a ten pound watermelon and ended with a new Ninja blender.  And everyone kind of hating me 'cause this "Ninja" has no stealth.  It sounds like the house is lifting off every time I turn it on.  Which means that I have to warn everyone before turning it on, at which time they all swiftly lock themselves away.  I've been told multiple times, "It's a good thing I love you, because otherwise…"  Never a good sign.  The Ninja is making me a bit of a pariah…  But the delicious smoothie brings everyone back together.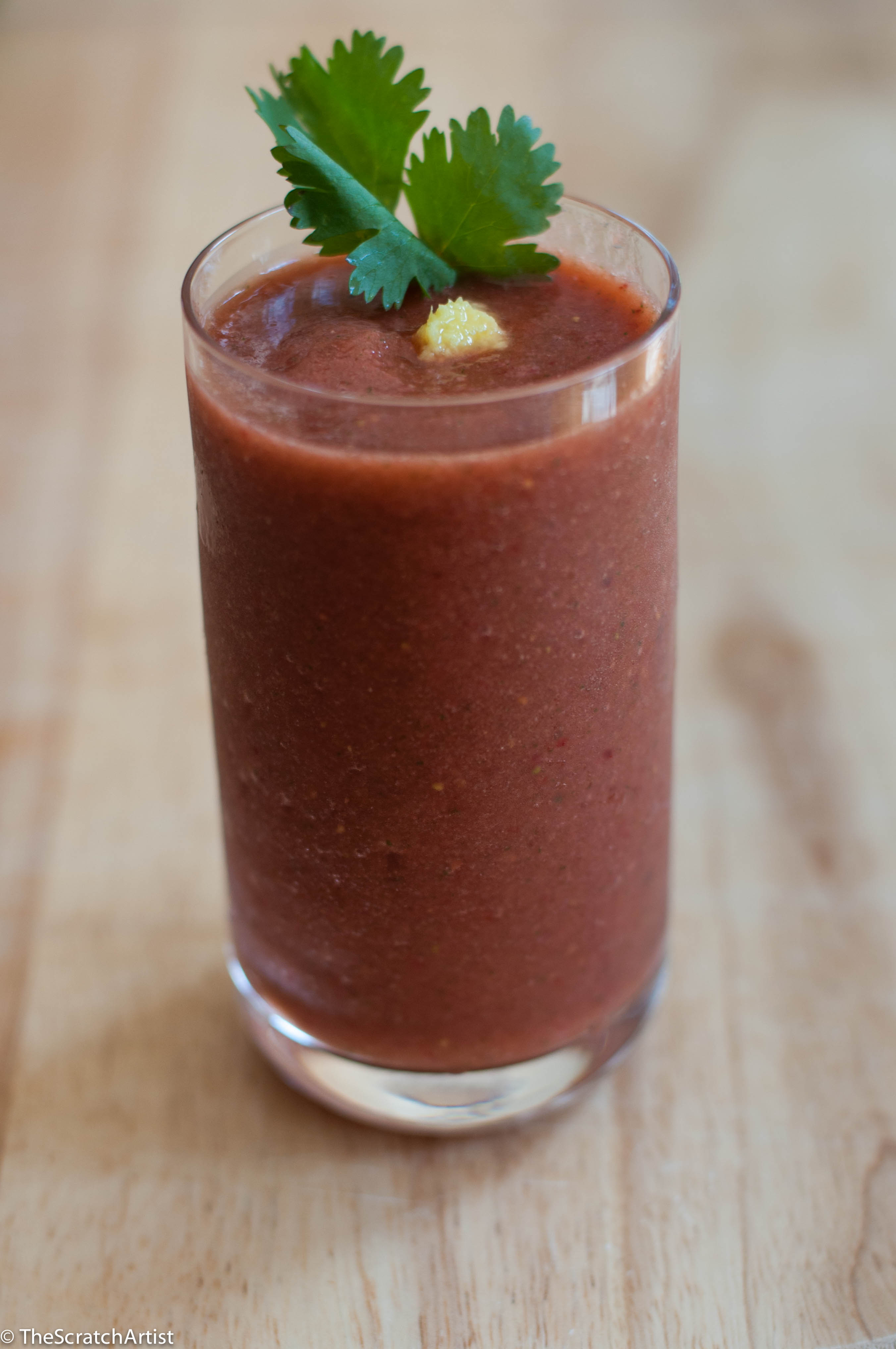 Back to the watermelon.  I have always wanted to be someone who likes watermelon.  The higher you aim the farther you will go, and such.  No dreams are too big for me.  It is such an attractive fruit.  Red and juicy, and you can hold it so elegantly, but we just never clicked. Sigh…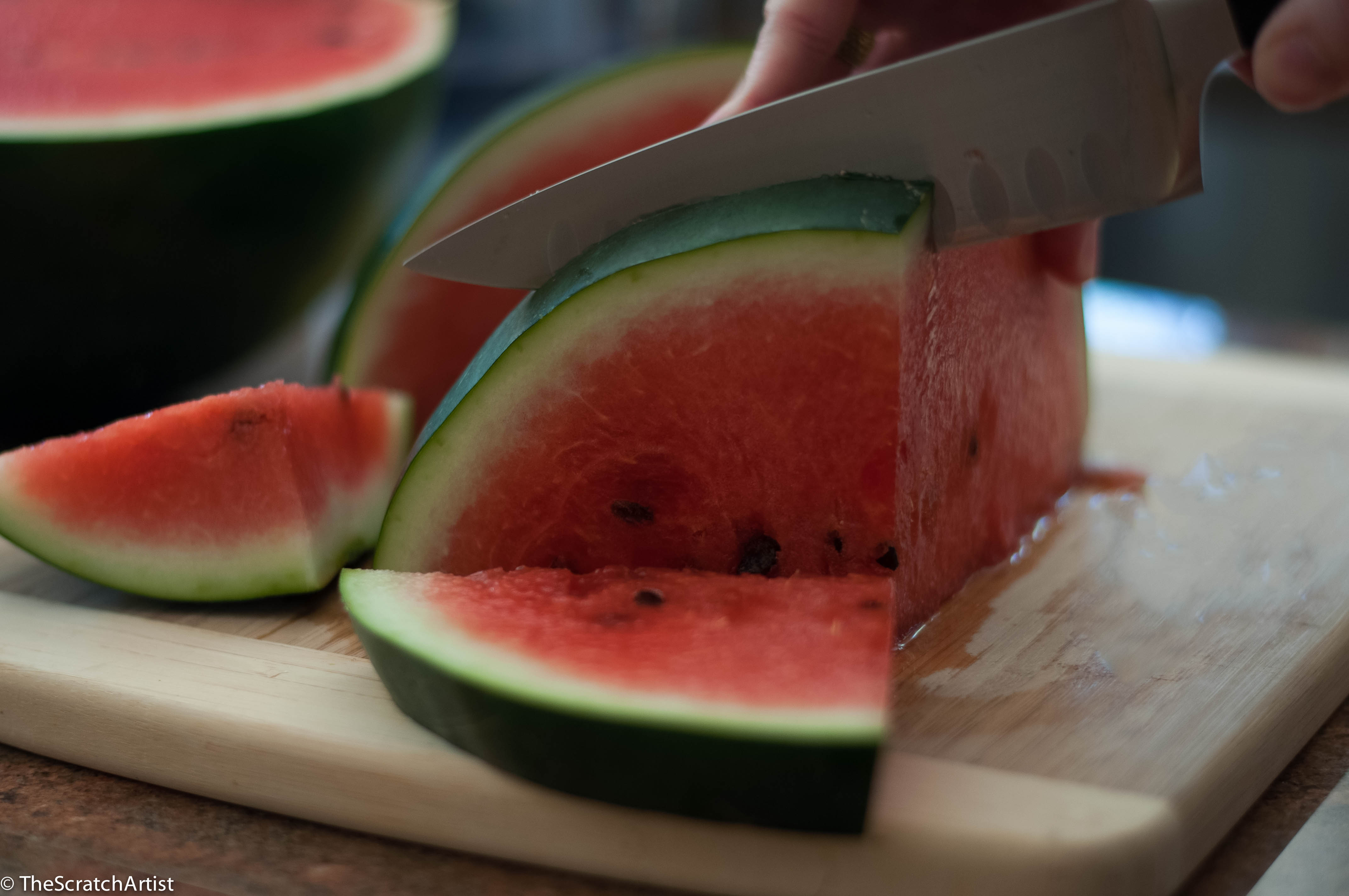 The more I tried to like watermelon, the more watermelon just didn't deliver.  Some of the problem resides in its name.  WATERmelon.  It tastes like water, infused with watery fruit.  And the deep red color tricks me into thinking that it is going to be packed with flavor, and it just isn't.  It's like those marble rye breads that always trick me into thinking they have a big luscious chocolate swirl in them.  No matter how many times I tell myself "there. is. no. chocolate" I am BITTERLY disappointed!  And marble rye is so good!  But when you are expecting it to be chocolate, it is just too big of an adjustment to make!  Especially when you are in a Jewish deli, surrounded by rugelach, and you're really only eating the rye to get to the dessert part of the meal.
So perhaps my dislike of watermelon has to do with false advertising.  Nothing that vibrantly colorful should taste that mild.  However, I did always tell myself that one day, one day I would be a watermelon lover.  Enter the ten pound watermelon that just needed to be purchased.  Whether I was going to eat it or not.  That bad boy needed a home.  Luckily my mother loves watermelon, so I was able to justify my purchase at her expense.
I got this thing home and sliced into it like a samurai and oohed and aahed over the beautiful pinky-red flesh.  This was my time; I could feel it.  I sliced myself a chunk, sunk my hungry teeth in, and YUM, wattttteeerrrmellllon!  You know what?  When you don't bring a whole bunch of baggage about what something should or shouldn't taste like, and you just let yourself experience the thing for what it really is, you can just simply enjoy it.  I wonder if I could apply that to other areas of my life????  Oy!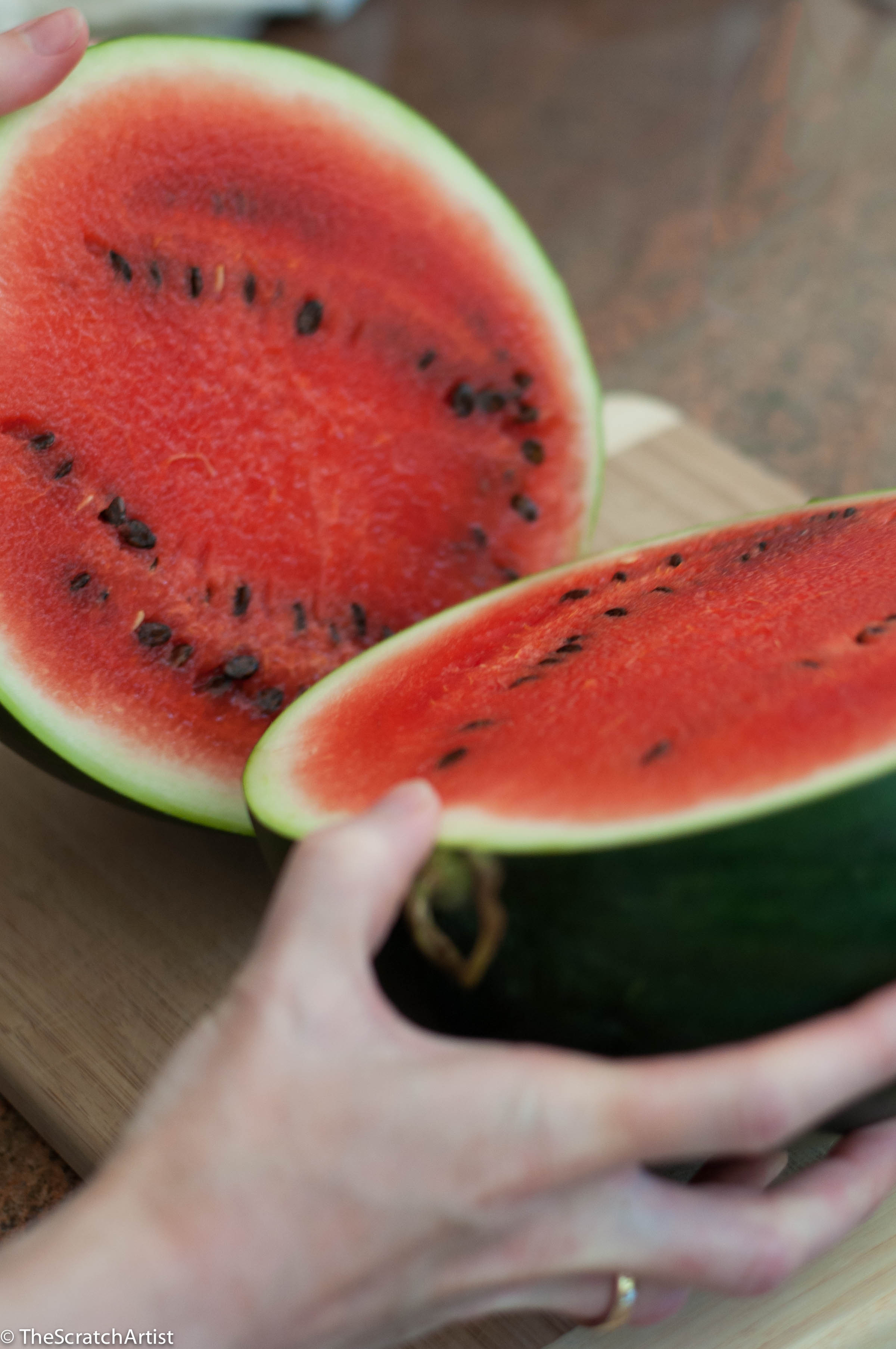 Breaking news: watermelon isn't supposed to taste like berries or stone fruits; it's supposed to taste like watermelon!  You ding-bat!  When I let watermelon just be watermelon, it was quite enjoyable.  It's amazing how our minds and preconceived notions about things can have such a powerful effect on how we experience reality.  As in, sometimes our minds completely take over and we don't see reality for what it is.  AT ALL!  OK, now that the watermelon side of things is explained, let's move on to the more complex, smoothie side of the equation.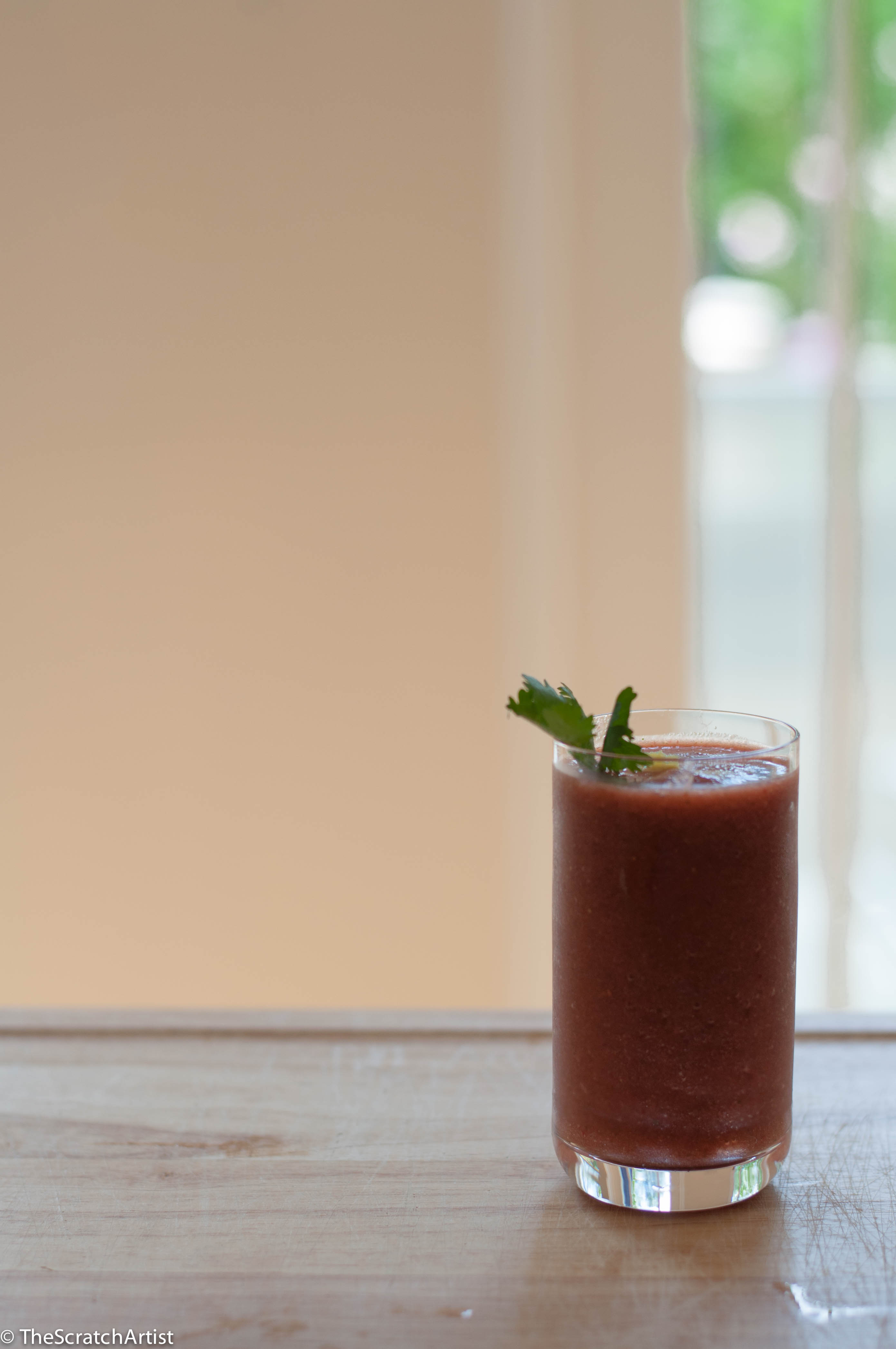 There is precisely one thing that I find acceptable to see in a glass – water.  And even that is a stretch for me.  I am not a particular fan of glasses holding liquid.  Bear with me; there is no way for me to describe my weirdness here in a non-weird way.  I have a really sensitive gag reflex that is on high alert around beverages.  I've been like this since I was a kid.  When I was younger, I couldn't even watch people drink.  It made me nauseated.  Writing this right now, imagining people drinking, I am a little bit nauseated.  I have no idea if I am the only person in the world who is like this or is this is a fringe-y thing that others have too??  I've never met anyone who was like me, but then again I know about twenty people (seriously, I stay home a lot).  If you are out there, let's start a club.
There is one word that may help you understand my sensitivity, but I hesitate to type it because I find it so thoroughly disgusting!  But now that I am thinking it I might as well write it.  Backwash.  Aghh ughhhkk gaahhhk!
I don't know what brought about my sensitivity, but I can't remember a time when I was without it.  When I see soda bottles, juice glasses, sport bottles, any bottles, all I see is backwash.  Disgusting, horrible, germ-y, gross-y spit-up!  And I just want to be so so far away.  All of that old food and gross lip junk all swimming around in those bottles!  OK.  Now I really have to stop because I am going to puke.  Aren't you all a little grossed out, now that I am describing it?  Gahhhggg ughhhkkkkk!
Growing up, I took a very firm stand against drinking anything other than water.  No one could make me drink anything.  I never had soda, juice, or anything like that.  And I cannot tell you how many people tried to get me to drink these things!
"Come on, just one sip."
"You've never tried soda!?  Here, try it!  Come on!"
Why anyone cared whether I drank soda or juice is beyond my understanding.  And I am not talking about mild suggestions to try and get me to imbibe, but a full-court press by people close to me and by total strangers.  I would say, "No, thank you," and we were off to the races!
Exactly what is it to you if I drink those things?  How could my drinking soda possibly make your life any better?  I don't ever remember being peer-pressured to drink alcohol or use drugs, but to drink soda, constantly!  It is so ludicrous, especially now, as an adult, as I reflect back.  And now that I am on the subject and starting to get a little hot under the collar… Why is it so deeply offensive to some people when you decline their offer of food or drink?  Throughout my life I have had to come up with so many stories to help people understand why I don't drink or eat a certain thing.  Why isn't it enough for me just to say "no, thank you"?  Must I tell you my whole life story in order for you to BACK OFF and let me eat and drink as I choose?  Is it all right with you if I just do me?  Or must I drink and behave exactly as you do?!
As a result of these early experiences, I am really sensitive to the way I see parents/grandparents/adults in general, interacting with young children.  It is so common to see adults pushing their food agendas on children.  Eat this.  Finish this.  Try this.
It's oppressive.  And so much of the time, the ones doing the forcing seem to be looking to soothe their own anxieties and not looking to care for the child.  Of course as adults we need to share and educate children about food.  What's to stop a five-year-old from eating only doughnuts unless we make sure that they have a more balanced diet?  But, there is a HUGE difference between educating and sharing healthful, delicious food with youngsters, and forcing them to eat vegetables or whatever food item.  Letting children investigate food and letting their own tastes and preferences evolve naturally is so, so important.  As adults we can all acknowledge some food idiosyncrasies and I think many of those quirks come from horror stories of being forced to eat things we didn't want as youngsters.  At least mine do…
I never particularly considered myself a strong-willed, fiercly-individual, stand-up-for-myself type of youngster, but I never budged an inch in my determination to only drink water.  I never even felt slightly compelled to try any of the beverages that were being pushed on me, which is rather strange because I can remember plenty of times in middle school and high school where I lied about all sorts of things just to think that I fit in and that others liked me.  But drink soda or juice, nope.  Never.  If only I had this resolve about some of the more important things in life!
Oh well.  I guess it gives me character and such.  So why the sudden change of heart?  Be prepared for a completely un-climactic resolution.  I have been so into fruit lately.  Fistfuls of fruit.  And it is oh so hot, so it seemed like a natural thing to want to do.  The day I came up with the idea, I told my sister,  "You're going to be really thrilled and completely shocked when I tell you what I am making us for lunch."  She was.  My one caveat.  My smoothie has to be on the thick side.  Preferably I would like to spoon it out of the glass.  And I definitely do not want to see anyone else drinking it.  GAHK!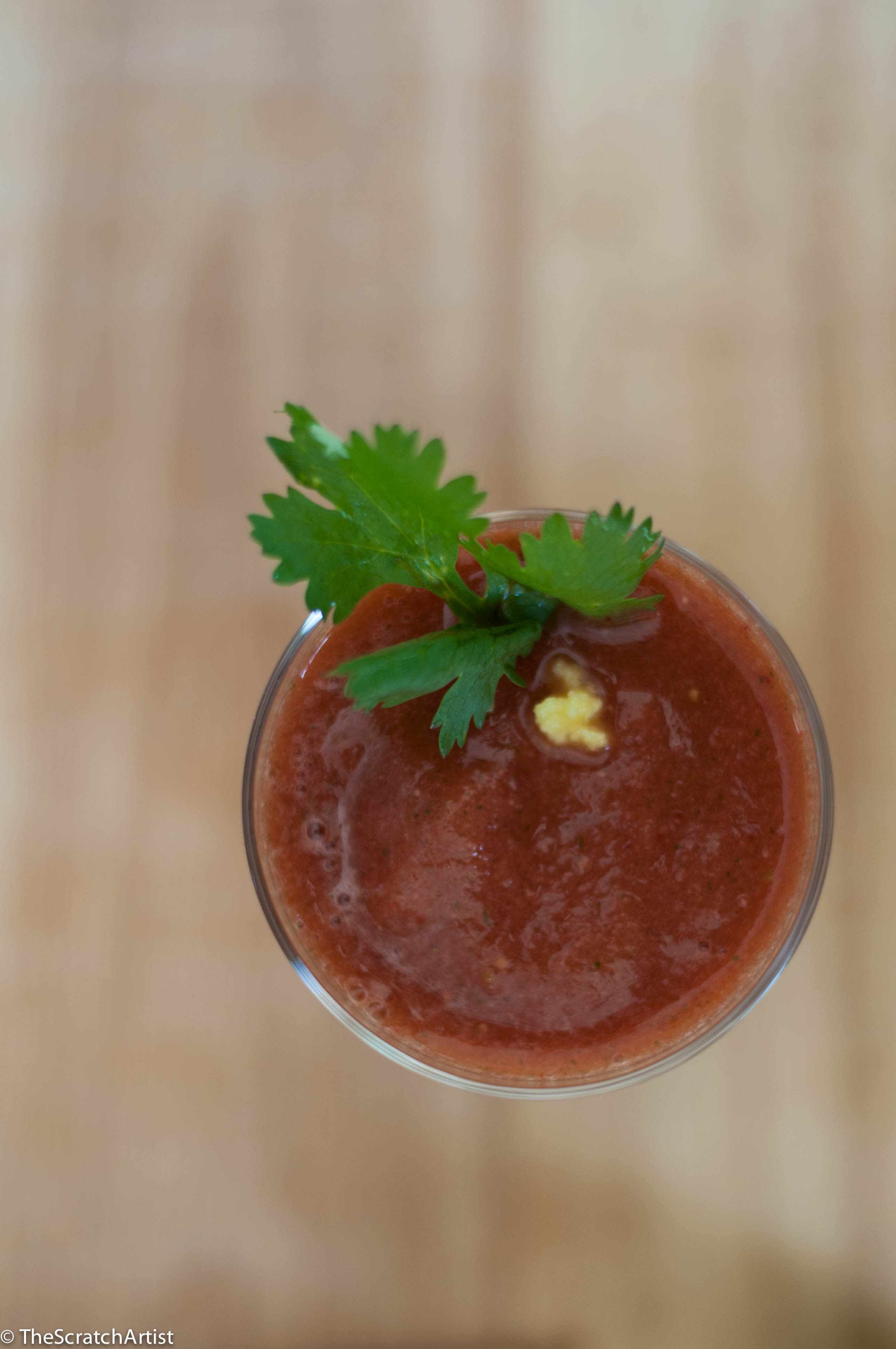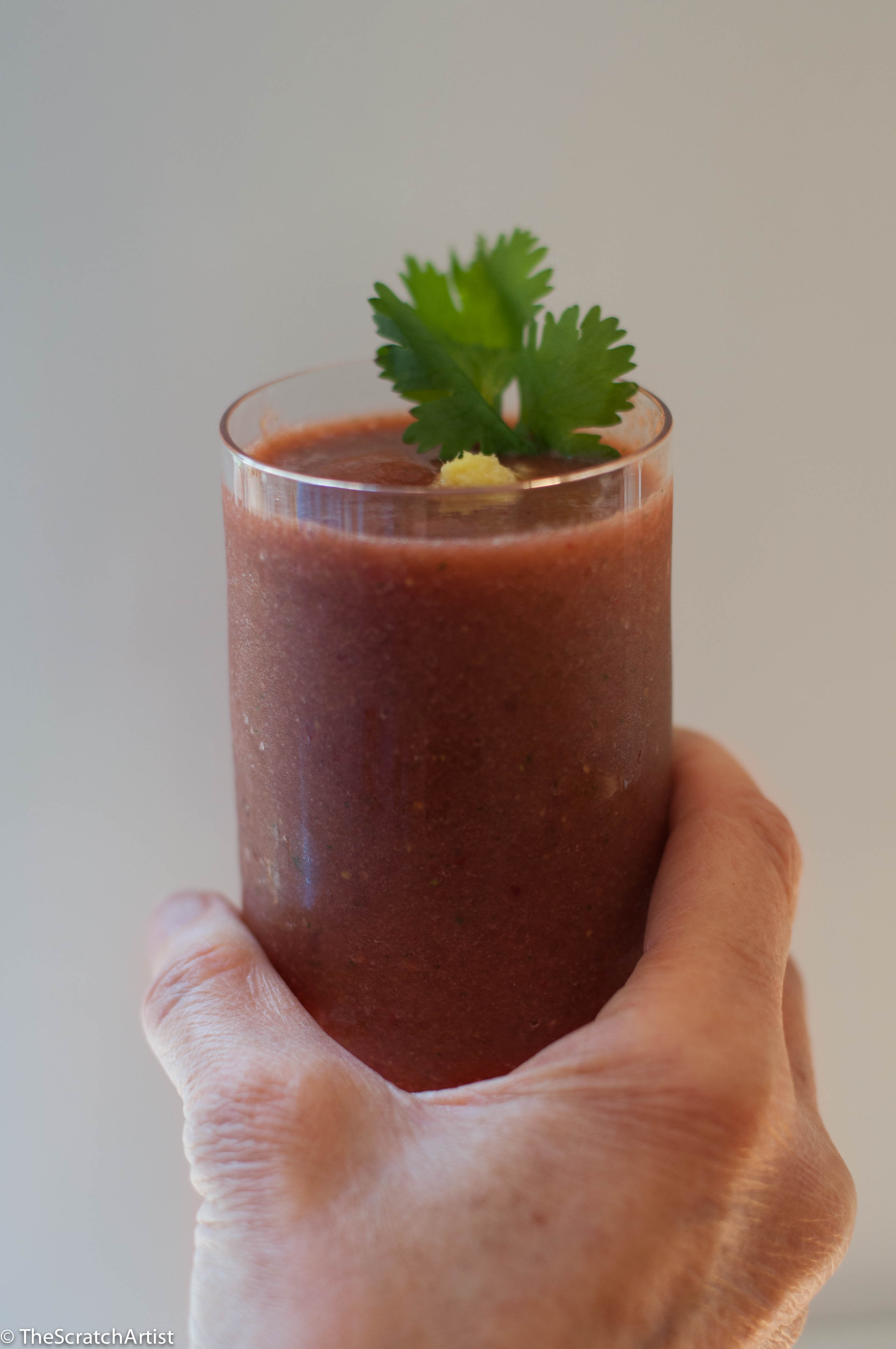 As you should probably know already, I claim no expertise, as this is not only my first time making a smoothie, but also my first time drinking/eating one.  I thought sorbet was a suitable reference point, only no sugar and healthy.
And finally, in case your wondering…I do drink alcohol.  Somehow alcohol completely bypasses my gag reflex, convenient, no?  Like I said, it's really weird!  Or rather, I'm really weird…
Hopefully I haven't completely weirded you all out.  Do you have any food/drink idiosyncrasies?  Has anyone ever tried to bully you into eating or drinking something you didn't want?  I would love to hear your stories.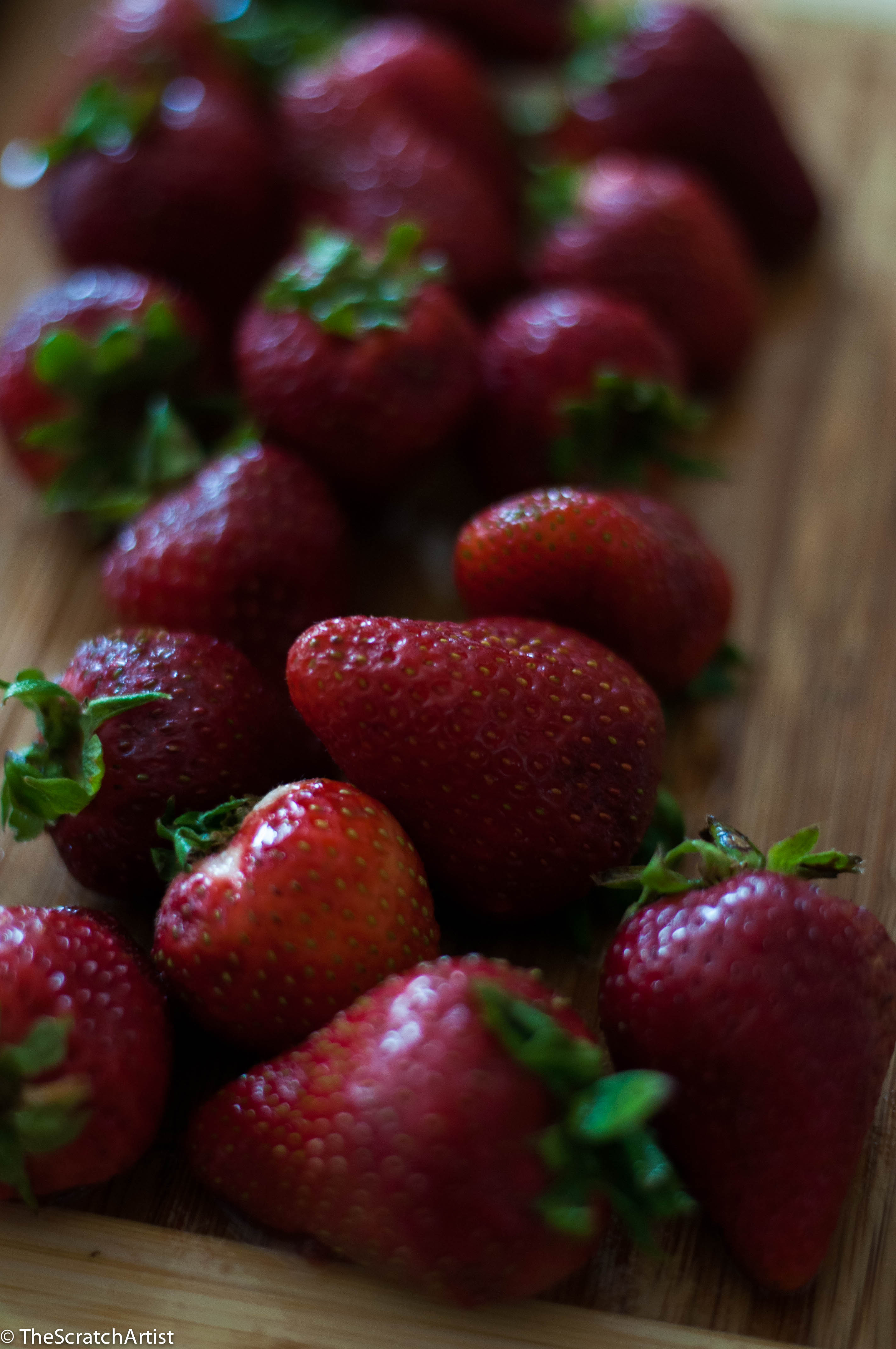 Watermelon, Strawberry & Ginger Smoothies
Ingredients
1 Cup frozen watermelon
½ Cup hulled and sliced ripe strawberries (about 5 strawberries)
¼ - ½ Whole lime (not the juice, the whole lime, peeled)
½ Cup Bosc pear (about ¼ of the pear)
¼ - ½ Teaspoon fresh ground ginger
Handful fresh cilantro
Instructions
Cut up your watermelon into small chunks and freeze for at least 8 hours. Freeze a little more than a cup so you can make flavor adjustments as needed.
Peel your lime, removing all of the pith (the white stuff). Start off by adding ¼ of the lime and add more per your preference. There is a fine line between the perfect amount of lime and too much lime.
Place all of the ingredients into the blender and blend. Taste and adjust as needed.
This smoothie gets most of its sweetness from the strawberries, so make sure they are quite ripe. If needed, you can add sweetener (honey/maple syrup would be nice).
Notes
One thing I've learned about smoothie making is that it is pretty hard to screw up. You can play around with quantities and types of fruit endlessly. The only thing to be mindful of is how liquid/icy your ingredients are going to make your smoothie.