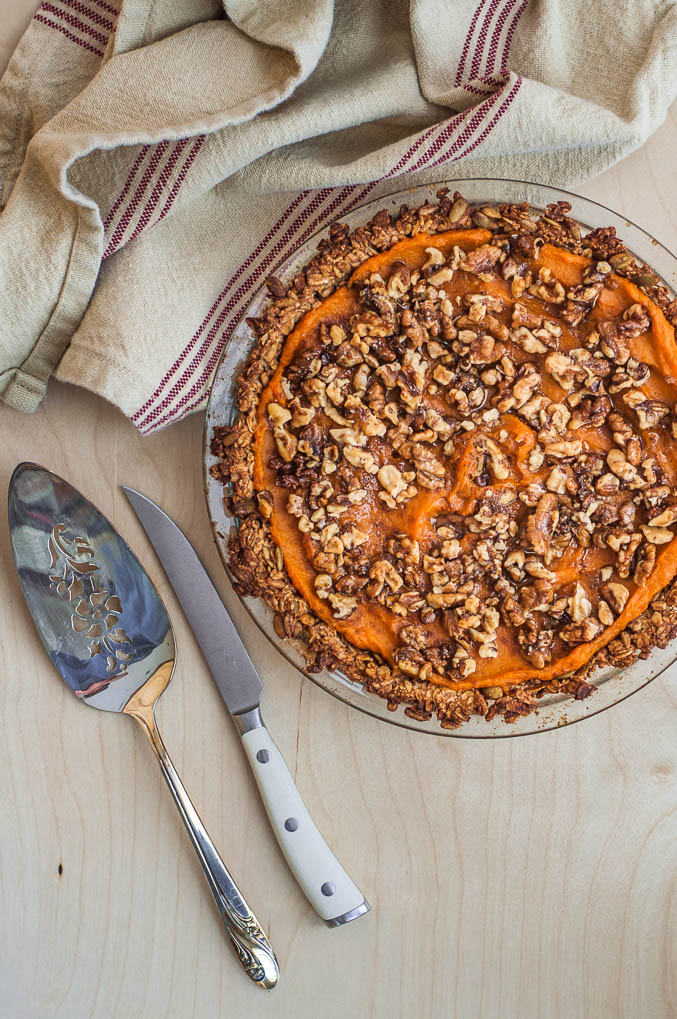 You want some really great pie without all the sugar?  I thought so.  Behold the Fruit Sweetened Sweet Potato Pie.  I am really digging this fruit-sweetened kick I've been on.  If you are trying to get more fruit and less sugar in your diet, I have the answer for you – turn your fruit into dessert.  Win-win.  Examples here, here, and here.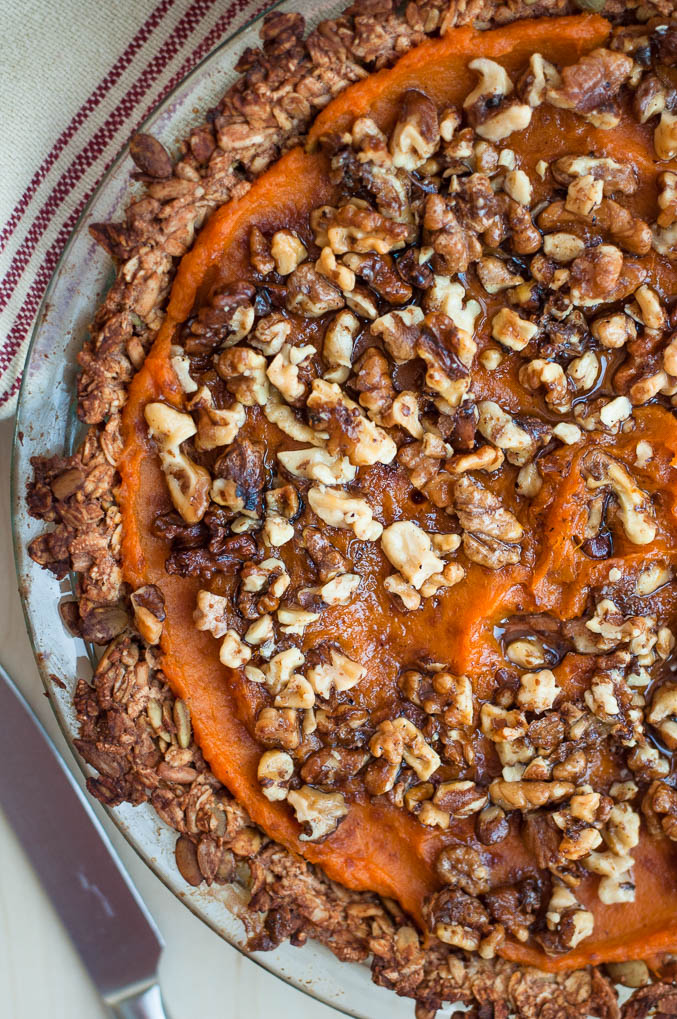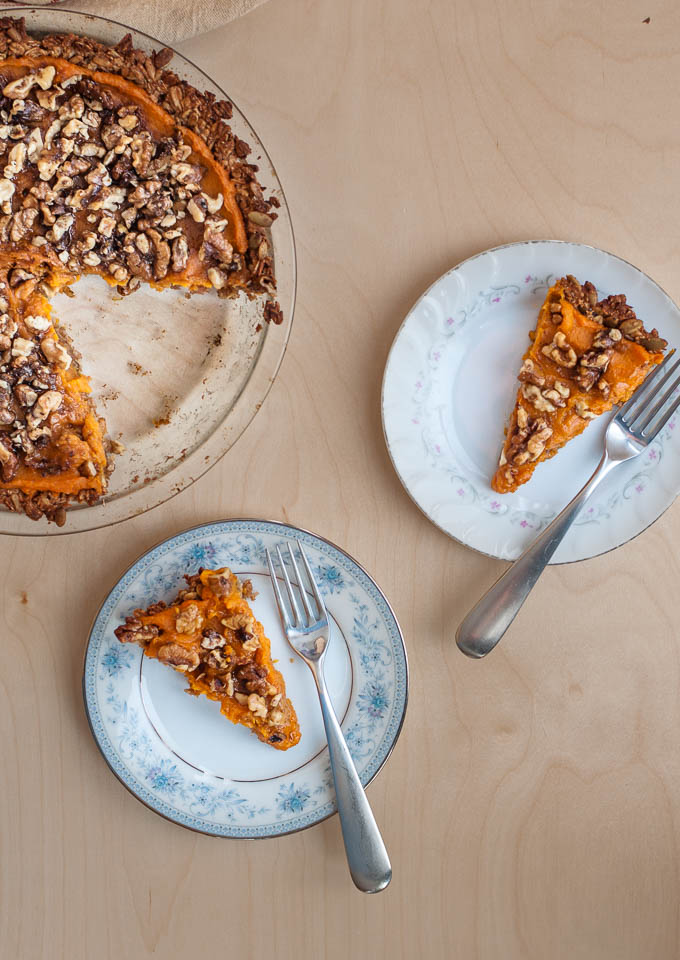 Is it strange that I am sharing this sweet potato pie with you just as spring begins?  To be fair, my feet are still frozen into what feels like permanent icicles as I sit and write this, but still, the calendar says spring, so why am I sharing a quintessential fall/winter recipe?  Let me explain.  You know those tidbits of diet/health advice that you pick up from questionable sources but stick like glue in your subconscious?  Like every time you reach for a banana and subsequently flash on that belly fat ad that pops up on every site??!  [Side note: What's the deal with that?  Has anyone ever clicked it??]
Well, potatoes were the devil's food in what I am now labelling my 'subconscious of misinformation'.  There is a little chalkboard, down in the misguided food-wisdom section of my brain, with the following written: potatoes = obesity.  I've taken an eraser to that board this month.  Potato liberation!  Why now you ask?  I dunno…how's that for an enlightening response??
It simply occurred to me to ask the question, "Why exactly am I not eating potatoes?"  And I found there was really no good answer, which is a euphemistic way of saying I realized I was being an idiot who, like a brainwashed minion, clung on to some ridiculous, years-ago diet trend like it was as viable and well-founded as Einstein's general theory of relativity.  Well, lesson learned…for now.
Am I going to go on all-potato diet?  No.  But I don't think this innocent tuber needs to be harangued by me any longer.  Especially sweet potatoes.  Everyone, and by everyone I mean several of my favorite food bloggers, are always talking, and by always, I mean occasionally, about the amazing properties hidden inside the sweet orange layers of this homely looking root.  I want me some of that goodness!  So, I've been eating sweet potatoes like no one's business and I'm not looking back.  And so far I am keeping obesity at bay, hehe.  Why, oh why, do we make up these cockamamie stories and then treat them like unassailable laws of the universe?!  After a long period of fear and loathing, potatoes and I are walking into the sunset together.
Do any of you have diet/health "tips" that you've held onto without really asking yourself if they are right for you?  I'd love to hear about them.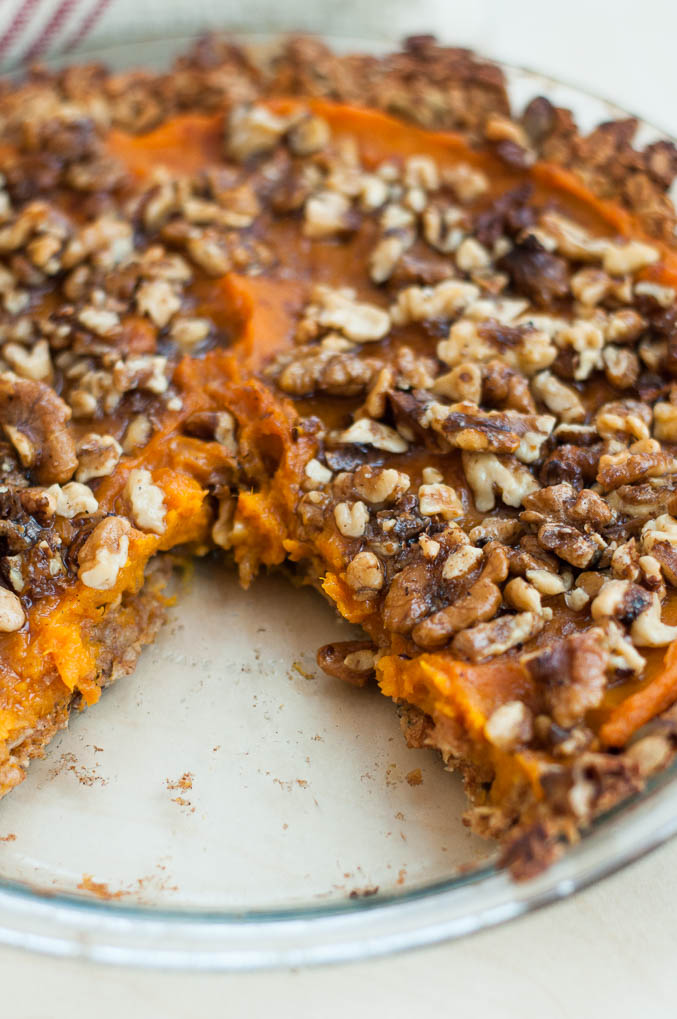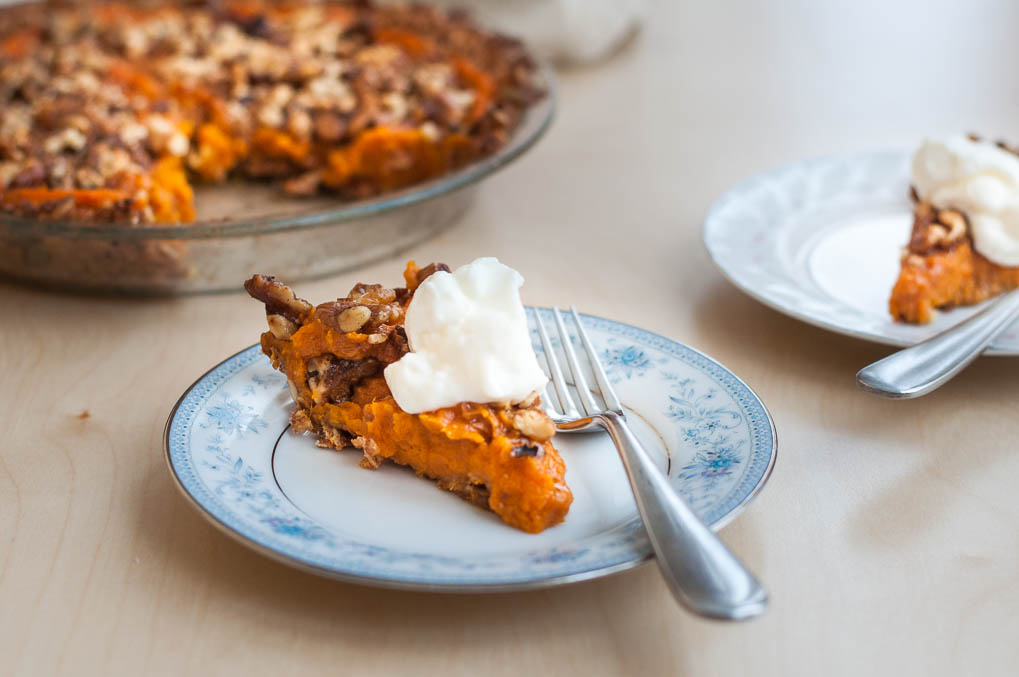 After making this granola, I got to thinking that it would make an excellent pie crust.  I was right.  It doesn't crumble and fall apart.  It is not so dense that you need a jackhammer to get through it.  In a word, it is…perfect.  I tweaked the original granola recipe a bit, substituting apple for banana and modifying the proportions just a bit, but it is still as simple and easy to follow as the original.  Now let's talk about the filling: The sweet potato adds a luscious sweetness all on its own, but for an extra-sweet dessert flavor I added pureed apple to the filling.  Then I "caramelized" some walnuts with coconut oil and created a crunchy, nutty top crust.    Honestly, you could just fill your granola crust with plain sweet potato and you would be happy, trust me.
This pie can be your breakfast, lunch, dinner, and dessert.  You can even do that all in one day if you're like me and you just can't keep your hands off of it.  For an extra-indulgent authentic pie-feel, I threw some homemade greek yogurt* on top.  And that's how you turn your fruit into dessert.
*homemade yogurt, strained so that it is so thick you can spread it on bread, tastes like the most luscious whipped cream, especially when mixed with vanilla.  This ain't your grandma's sad-looking probiotic diet-yogurt (no offense to your grandma).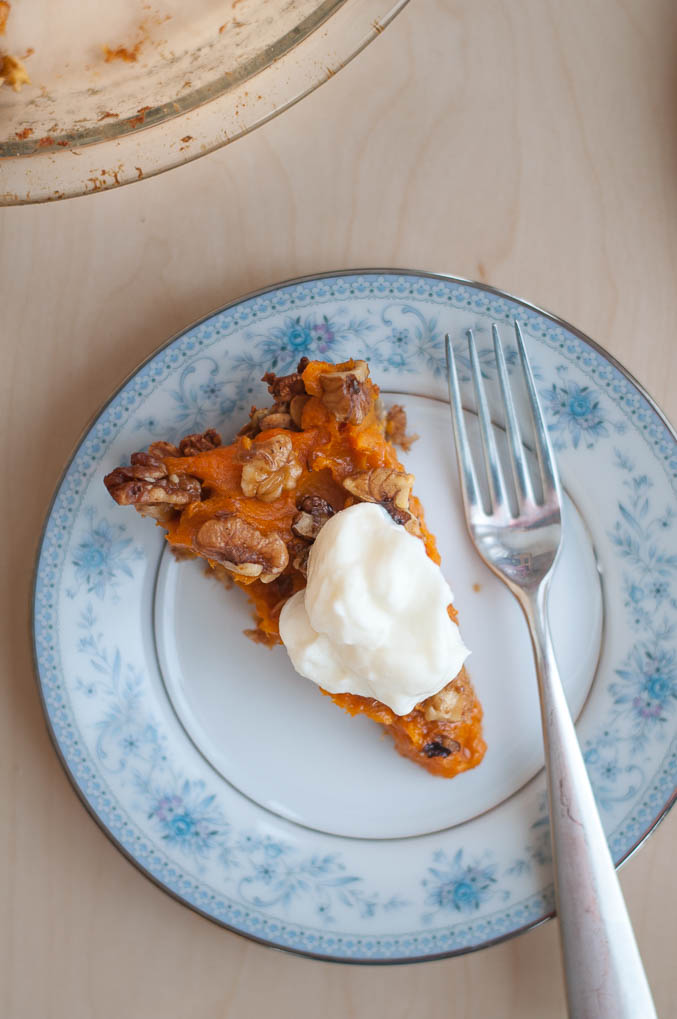 Sweet Potato Pie with Apple & Oat Crust Gluten Free & Sugar Free
Ingredients
For the crust:
2 medium-sized honey crisp apples
A bit less than ¼ cup coconut oil
1 Cup of gluten free rolled oats (or regular rolled oats)
1 Cup of brown rice puffs (plain rice puffs, no sugar or syrup)
¼ Cup pepitas
¼ Cup sunflower seeds
½ Cup shredded unsweetened coconut
1 Teaspoon cinnamon
½ Teaspoon salt
For the filling:
3 medium-sized sweet potatoes
1 Teaspoon cinnamon
1 Teaspoon vanilla
Leftover apple coconut mixture from crust recipe
Optional: Nutmeg, allspice, and/or cardamom
Nut crust:
¾ Cup walnuts roughly chopped
1 Tablespoon coconut oil
optional: 1 Teaspoon coconut sugar
Instructions
Preheat oven to 350F.
Once preheated, place your three potatoes directly on the rack to cook. Place a piece of tinfoil on the shelf under the potatoes (don't allow the tinfoil to touch the potato). Cook for 1½ - 2 hours, until thoroughly soft. This slow cook method makes for a sweeter potato.
Peel, core, and chop your apple in to medium-sized chunks.
Place apple pieces in a small pot with about ¼-1/2" of water. Place over medium heat and cover. Cook for five minutes or so before checking the apples for softness. Continue checking until apples are soft enough to mash with the back of a fork. Continue cooking until you are able to mash the apples enough to make them into an applesauce. Add more water sparingly if it boils away.
While the apples cook, mix together all of the dry ingredients of the crust.
Melt the coconut oil in a small pan.
To a blender add the applesauce and melted coconut oil and blend into a smooth and consistent mixture.
Add ¾ of the apple/coconut mix to the dry pie crust ingredients and mix until completely incorporated.
Place crust mixture in a 9" pie plan and using your hands mold it into the form of the pan. Do not leave any gaps or spaces.
Place in oven alongside your cooking potatoes. Bake for 10 minutes then rotate a half turn. Bake for another 10 minutes and rotate again. Continue baking and rotating in 5 minute increments until the crust is golden brown.
Remove from oven and allow to cool completely.
Filling:
Remove the skin from your cooked potatoes and place innards in a large mixing bowl.
Add remaining filling ingredients and mix with an electric mixer until smooth.
Scoop filling into your chilled pie shell and place in oven (350F) for 10-15 minutes.
Nut Crust:
In a small skillet heat your coconut oil and coconut sugar, if using, until melted. Add your chopped nuts mixing to thoroughly coat nuts. Cook until nuts are strongly fragrant and browning. Be careful not to burn them. Set aside and allow to cool completely. This will leave them nice and crunchy! Sprinkle cooled nuts over pie.