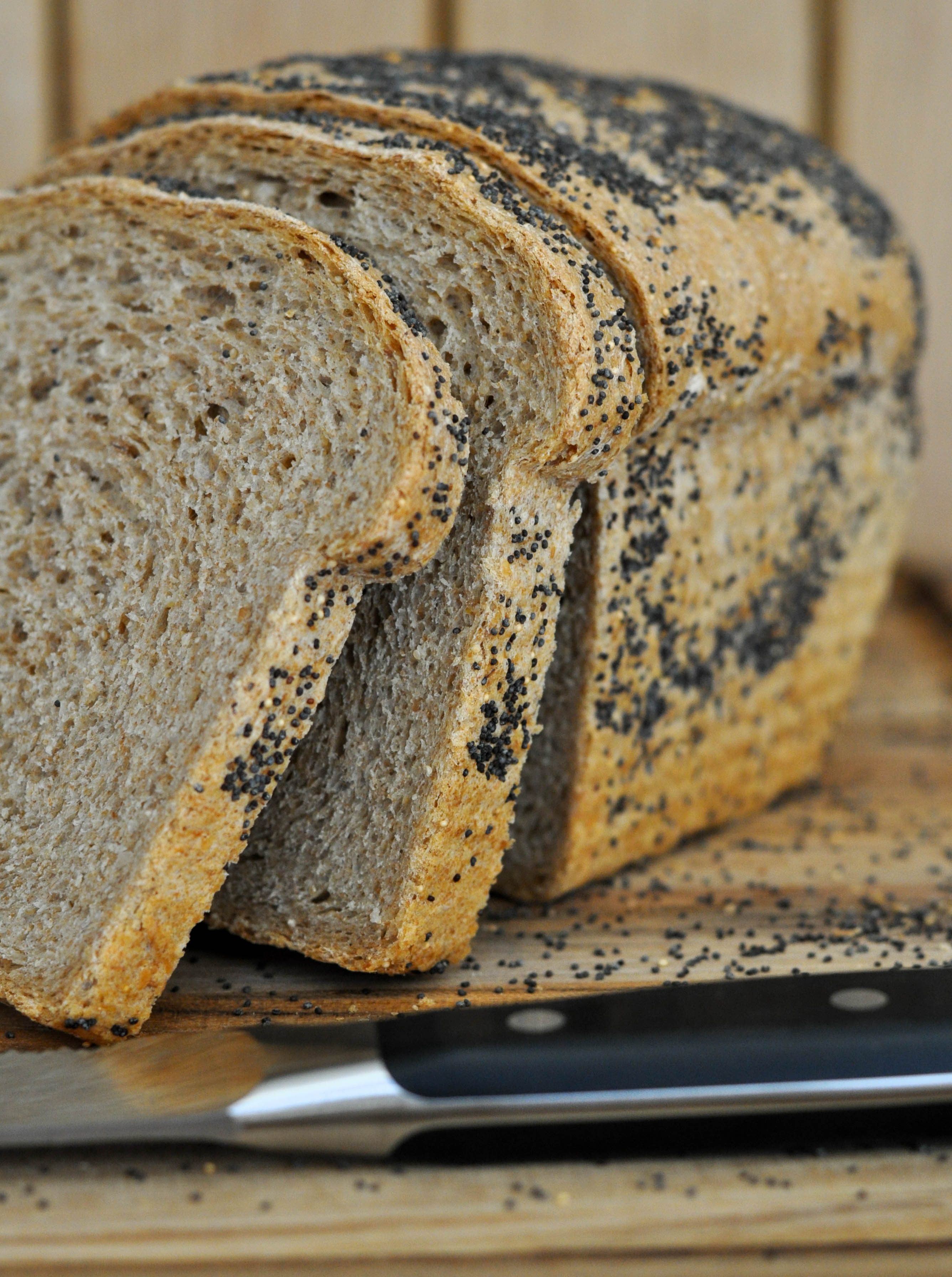 Perfect for sandwiches, eggs, with butter, or just plain!  My father calls this naked bread because he likes to eat it sliced off the loaf, just as is.  This is especially fantastic right after it's baked.  You really shouldn't slice into fresh baked bread until it has COMPLETELY cooled, but who really listens to that tenet of responsible baking?  I know I don't.  That advice is on par with "don't eat the whole bag"…If there is a bag of something, and I've eaten one of that thing, then I'm going to eat the whole bag.  It is just that simple.  This is one of the reasons I never eat anything out of a bag…dangerous territory.  I never understood people who could eat just one…JUST ONE?  Why even bother?  I think there are two different species of humans – those that can have just one and those that cannot even conceive of having just one.  Fundamentally, I can't wrap my head around how someone could genuinely be satisfied with just one potato chip or just one scoop of ice cream.  So what I'm left with is that all you "just one-ers" out there are liars.  LIARS I tell you!  You're not actually satisfied with just one, you just want me to THINK you are!  No one is satisfied with just one!  (Awkward silence)
It's possible I might have some baggage around this issue.  Perhaps I am a bit intense and it is more than possible that I need to retrace my steps and check my logic, but if nothing else, this blog will be an honest one.
When I started eating more rationally, (see my listen-to-yourself eating philosophy) I eliminated almost all packaged food.  No more bags or containers to have just one of!  If I could figure out how to make it myself, I did, and if I couldn't, then I wasn't that interested in it, and the pounds started falling off.
This recipe is adapted from Peter Reinhart's Whole Grain Struan from his book, Whole Grain Breads.  The fun part about this recipe is you can replace or change the quantities of all the grains used.  If you decide to use "harder" grains in this recipe, you will have to cook them first (e.g. quinoa, wheat berries, steel cut oats, brown rice etc…).  Whatever grain you want to use, go for it!  I modified Peter's recipe by using only 110 grams of non-flour grains (he uses 170 grams).  I think increasing the flour content of this bread makes for a chewier more bread-like texture.  This is definitely a recipe that you can modify endlessly.  This can really be a whatever-you-have-in-the-house bread.
In his book, Whole Grain Breads, Peter develops a method for baking whole grain breads that requires a two-day process.  For more of his methodology I recommend buying a copy of his book.  For the purpose of this recipe, just know that the "soaker" and "biga" mentioned in the recipe are simply two different pre-doughs that will rest overnight before being incorporated into your final dough.
The only "problem" I've encountered in making this bread is when I used too much amaranth.  The first time I made this bread, I used amaranth and I loved it.  Hearing my grandmother in my ear, "if one's good, two's better," I added even more amaranth the next time around.  Unfortunately for both of us, this wonderful piece of wisdom does not always apply.  She fell asleep in her Chinese food after taking two pyribenzamine instead of the prescribed one for her allergies and  I  ended up with a loose, unstructured bread.
Otherwise, every combination was better than the next.

Sprouted Whole Wheat Multigrain Amaranth Bread
12 hour soak period, 2 hour rise time, bake time 50 min
Ingredients
Soaker
7 Tablespoons sprouted wheat flour (56.5 grams)
½ Cup white whole wheat (60 grams)
¼ Cup amaranth grain (30 grams)
⅓ Cup rolled oats (40 grams)
⅓ Cup five grain blend (40 grams)*
½ Teaspoon salt (4 grams)
¾ Cup water (170 grams)
Biga
1 Cup sprouted wheat flour (125 grams)
¾ Cup white whole wheat (100 grams)
¼ Teaspoon SAF yeast (1 gram)
¾ Cup bottled water (170 grams)
Final Dough
Soaker
Biga
7 Tablespoons sprouted whole wheat flour (56.5 grams)
⅝ Teaspoon salt (5 grams)
2¼ Teaspoon SAF yeast (7 grams)
1 Tablespoon butter (14 grams)
About 3 Tablespoons poppy seeds (enough to completely cover the top of your dough)
Instructions
Mix soaker ingredients in a bowl until everything is hydrated. Cover with plastic wrap and leave at room temperature for 12 to 24 hours.
Mix biga ingredients with a spoon. Once the dough is too difficult to stir, begin kneading by hand in a large bowl with slightly wet hands. Knead until all the flour is hydrated and the dough is quite sticky. Let rest for five minutes, then resume kneading for another minute with slightly wet hands. The dough should be smooth and tacky but not sticky.
Place in a bowl (large enough to accommodate a moderate rise) and cover tightly with plastic wrap. Keep in fridge for at least 8 hours and up to 3 days.
Two hours before making the final dough, remove the biga from the fridge. The biga should look puffy and if you used a glass bowl you will see lots of air bubbles created by your yeast.
After two hours cut both the biga and soaker into 12 pieces (24 pieces total).
Add remaining ingredients of the final dough (except the poppy seeds) into a large mixing bowl and scatter the cut pieces into the bowl.
Mix all ingredients together. Once it becomes impossible to mix with a spoon, begin kneading by hand in the mixing bowl.
Once you have all of the ingredients combined into one mass, turn the ball of dough out onto a lightly floured work surface. Incorporate as little flour as you need from the work surface. I don't tend to need any extra flour, but I have a well-seasoned kneading board that does not tend to get sticky. The less extra flour you need to add, the better.
Knead for five minutes or until you have a soft, consistent, and slightly tacky dough. If your dough seems too dry, wet your hands and knead with damp hands. Continue adjusting by adding flour and wetting your hands until the dough is consistent, soft, and a bit tacky.**
Let rest for five minutes.
Spray a bowl (one large enough to hold the dough once it has doubled) with oil and set aside.
Return to knead the dough for another minute.
Cut off a small piece of dough and gently stretch it. If the dough does not fall a part when stretched you have nicely developed gluten. If it is tearing when you stretch it, knead it some more and repeat the test.*
Shape the dough into a ball and place it into your prepared bowl. Cover the bowl tightly with plastic wrap or use a bucket with a lid.
Let rise in a warm place (sunny window, proofing oven, turned off oven with light on, etc...) for an hour or until it has nearly doubled.
For a sandwich loaf, flatten your dough into a 9x12 rectangle and roll the dough towards yourself, like you were making a jelly roll. You could also shape your dough into a boule or batard (see finally picture).
Spread out a single layer of poppy seeds wide enough to cover the loaf.
Roll your shaped loaf over the poppy seeds and press gently to get the poppy seeds to stick.
Cover loosely with plastic wrap and let rise again in a warm place for an hour. Turn your oven to bake 425F.
Once nearly doubled, place in oven and turn down temperature to 350F.***
Bake for 20 min and rotate the loaf 180 degrees.
Bake another 20 min.
Remove from oven and gently turn out of pan. Insert thermometer into center of loaf. Once it registers 195F it is done, however, I prefer to bake it until the temperature reaches 200-205F. I like the texture and taste better when it is more well done.
Let cool completely (ahem) and then devour!
Notes
For best results use a scale to measure out your ingredients. It is shocking how inaccurate our measuring cups can be. It is also very difficult to convert from grams to cups/tablespoons/etc. when you are dealing with many different types of ingredients. A cup of flour is not the same as a cup of oats. If you don't have a kitchen scale, you might have to adjust the amount of water you add (more or less depending on how your dough looks). You want everything to be hydrated but the dough should not be wet.
*I bought a five grain mix (rolled oats, barley, rolled wheat, rolled rye and hulled sesame seeds) from Grain Place Foods that I had been using for breakfast cereal. It added great flavor to the bread.
**Bakers frequently reference what is called the windowpane test. If you google this you will find some helpful images that will demonstrate how to do this. I don't put a lot of stock in this test. I have made breads that fail the windowpane test and turn out great.
***if you want an extra crispy crust, or you are baking a boule or batard, preheat your oven with a pizza stone or baking stone. Right before you put your loaf into the oven, place a tray in the top part of your oven and pour 1 cup of hot water into the tray. Close door immediately. I've tried tossing ice cubes onto my oven floor to create steam, but the baking tray method works a lot better and isn't as messy! Working quickly, turn your risen boule or batard gently out onto a floured peel and use a lame (or VERY sharp knife) to score the top. Slide the bread into the oven onto the preheated stone. Turn the oven temperature down to 350F.