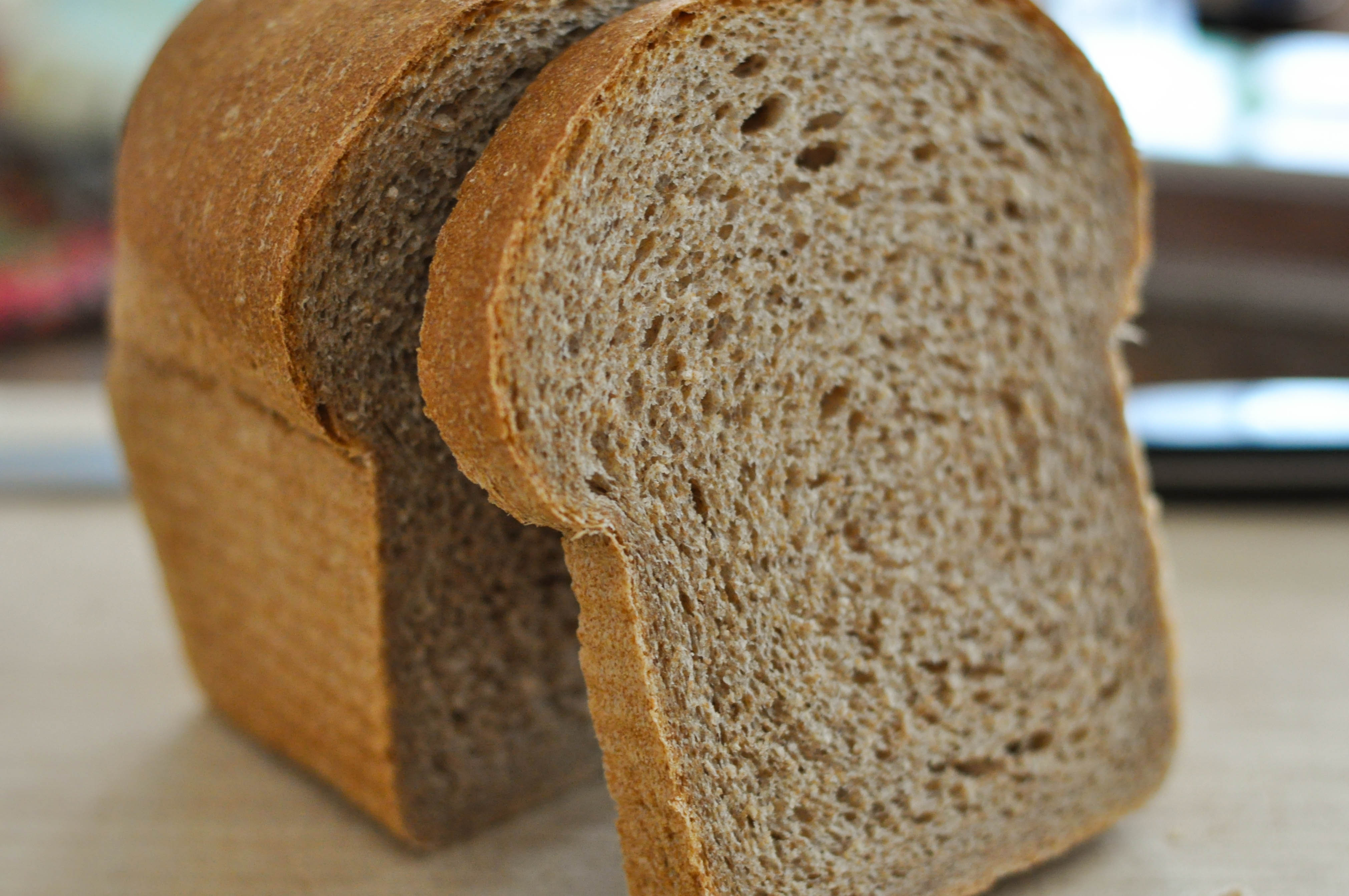 When I was a kid I loved Wonder Bread.  However, my only opportunity to enjoy this fluffy delight was far, far from home.  My mother would sooner have let my seven-year-old self chew tobacco than allow Wonder Bread under her roof.  To my health food and sugar-substitute trained taste buds, Wonder Bread was like a decadent dessert.  This bread is as soft and supple as I remember that bread being.  I call it the "Wonder Bread" of the whole wheat world.
If this recipe doesn't yield you the softest, airiest, most lofty whole wheat bread you ever had, keep working at it and you'll get there.  Baking is one of those skills that requires experience.  You need to learn the textures, the look, and acquire the patience to watch and respond to what the dough is telling you.  Baking requires following a formula, you can't improvise the same way you would in cooking, but ironically, no baking endeavor will be the same twice.  Your biggest factor will be the time it takes for your dough to rise.  Don't get fixated on a precise timing schedule, rather watch the dough and let it tell you when it's done.  This will take time to learn, be patient (it's worth it).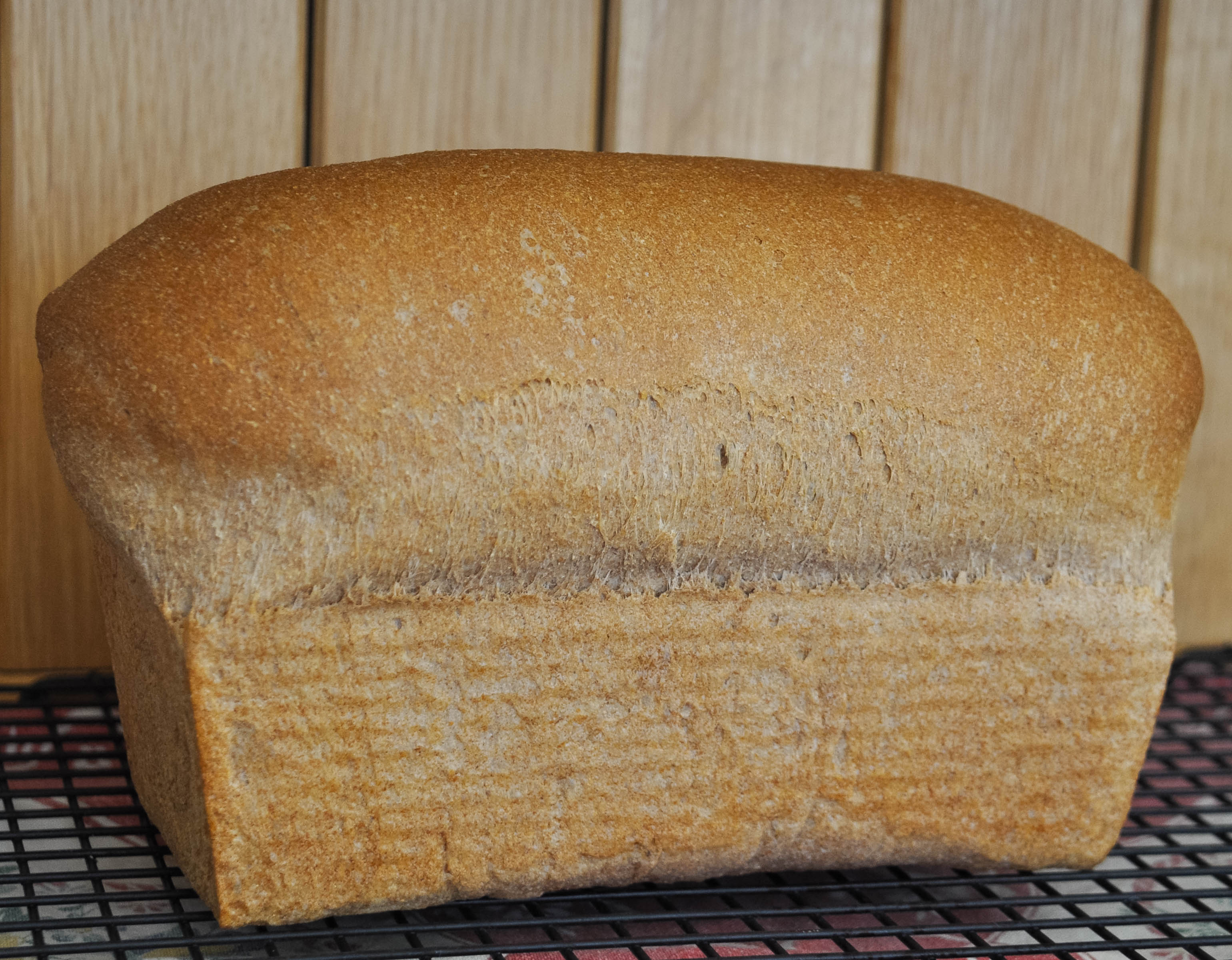 100% Sprouted Wheat Sandwich Bread
This recipe makes two loaves and requires a two-hour rise-time and 30 minutes to bake. See the thumbnail gallery below for a visual guide to the bolded terms in the recipe.
Ingredients
7 Cups sprouted whole wheat flour
1 Tablespoon SAF yeast
2½ Cups bottled water at room temperature
1 Tablespoon kosher salt*
2 Oz. butter (1/4 cup) (Or substitute 3 tablespoons vegetable oil. Be aware that this will decrease the rise and therefore result in a denser bread)
Equipment
Large bowl (at least 4 Qt)
2 Loaf pans (8½ x 4½)**
Digital read thermometer (more accurate than the analog type)
Spray olive oil
Cooling rack
Instructions
Add 3½ cups of flour to your stand mixer with dough hook attached (make sure your mixer 's capacity is large enough to hold 7 cups of flour).
Add yeast to the dry flour. Mix with a spoon to evenly distribute the yeast into the flour.
Add all of the water and let it sit for 1 minute.
Start mixing on lowest setting for 1 minute.
Slooooowly add your remaining 3½ cups of flour (it should take 3-4 minutes to get all the flour added).
Once all the flour has been added, turn the mixer up one speed.
When your dough looks like a shaggy mess, gradually add in your tablespoon of salt. Keep the mixer going on the second speed as you add your salt.
Your dough will start to come together now. Continue mixing until a soft consistent dough is formed. This should be about 3-4 minutes of mixing.
While your mixer is busy getting your dough to come together, measure out your butter into a small dish and microwave for twenty seconds.
This next part takes a bit of faith. Your beautiful looking dough is going to fall apart once you've added the butter. Don't worry, it will come back together.
Add in the butter, ½ tablespoon at a time. The butter is going to make the dough very slippery. You will have to use a rubber spatula to move the dough around in the mixer so that the dough hook can knead it properly. Always shut your machine before doing ANYTHING inside the mixing bowl.
Continue to mix until the dough comes back together.
Once the dough comes back together, remove from bowl and place on a lightly floured work surface.
Briefly (less than a minute) knead the dough; it should feel soft, supple, and the tiniest bit tacky.
Shape the dough into a ball by: a. flattening it into a chubby circle, b. folding left and right sides into center, c. folding top and bottom into center, and d. flipping the dough over (seams underneath) and pulling the dough towards you while gently tucking the dough underneath itself. You may need to remove some of the flour from your work surface so that as you pull the dough towards yourself there is some resistance. If your work surface is too slippery, sprinkle a little water on your dough to make it a bit tacky.***
Lightly spray a large bowl with olive oil. Make sure that it will accommodate the dough once it has nearly doubled in size.
Place your shaped dough into your bow and turn the dough all around so that each side gets covered in oil.
Tightly cover your bowl with plastic wrap. Make sure to really pull the wrap tight. I use a dough bucket that has a tight fitting lid (a good investment).
Let the dough rise for an hour. It should be double in size. If it isn't, let it rise longer. The temperature of your kitchen will really affect the rise time. I have a very sunny spot in my kitchen and it makes a great warm environment for the yeast to do its job.
Once it has doubled in size or nearly doubled, turn it out onto your lightly floured work surface and press it gently to deflate.
Divide the dough in half and set one half aside.
Flatten your remaining half into a large rectangle.
Starting from the side that is furthest from you begin rolling the dough towards you. Apply some force to tuck the roll under on each turn making a tight roll. You want to have a nice tight roll so that you don't get big air pockets in your bread.
When your entire rectangle has been rolled up, you need to pinch the dough together to create a sealed seam.
Repeat for the other half of dough.
Place both rolls into bread pans that have been sprayed with oil.
Cover loosely with plastic wrap and let rise for 60 minutes.
Turn your oven to 375F convection bake.
Check back after about 45 minutes and make sure the plastic wrap is not keeping the dough from rising. If the wrap seems too tight remove it and re-cover loosely.
Once the dough has risen well over the edge of the pan, it is ready to bake.*****
Gently slide it into your preheated oven and bake for 20 minutes.
Rotate your loaves in the oven, and change your oven setting to bake and continue baking for another 10 minutes.******
When the breads have a nice golden crust, remove them from oven and gently tilt them out of their pans. Use an oven mitt so that you don't burn yourself.
Insert your digital thermometer into the center of the base of the bread.
Your bread is done when it's in the 200-205F range.
Put it back in the oven if you are not at temperature yet and check back in several minutes.
Notes
*I have experimented with different salts and I have found kosher salt to produce a more lofty, higher rise.
**I am in love with USA pans and highly recommend buying their 8½" x 4½" bread pans. These pans are just a touch smaller than the traditional 9x5 pans. This allows the bread to rise well above the rim of the pan, creating a well defined and beautiful crust.
***Bread shaping is an art and takes a lot of practice. I recommend watching YouTube videos to start to get the motions right and then you can begin to experiment for yourself. Your technique will affect the rise of your bread and therefore the texture, which ultimately has a big impact on taste.
****If you plan to do a lot of your own baking it makes sense to invest in a digital kitchen scale. Your measurements will be much more accurate, and if you are interested in following a baking formula, you will need one. I purchased mine from Oxo and it has been working great for about seven years.
*****If you don't get an incredible rise the first time you make this bread, don't worry; you'll get there. Temperature will dramatically affect the time it takes for your bread to rise. You can do all sorts of things to create a warmer environment for your bread. I have never had to do anything special to get this dough to rise. On sunny days I leave it to rise in a sunny spot and on cloudy days I let it rise near the preheating oven.
******Everyone's oven is different. If the tops of your breads are getting too brown turn your oven's setting to bake before 20 minutes.
Trial and error, trial and error, and then success!  This bread is so simple, so basic, has so few ingredients, and yet took me three months to perfect.  Sometimes perfection requires getting rid of all of the extra crap that is interfering.  Supposedly, Michelangelo once said that the role of the sculptor was not to create a sculpture out of stone, but rather to reveal the sculpture from out of the stone.  For me, this idea has always been very attractive and humbling.  Beauty exists, and it is our job not to interfere with it.  The raw, basic ingredients we cook with are (hopefully) great.  Our role as cooks, artists, and creators is, quite simply, not to interfere, and to let the integrity of the ingredients that we use sing out.
That is a long way of saying that creating this truly spectacular loaf of bread was an exercise in not interfering.  This dough rejected any and all of my efforts to make it anything other than what it was, a simple, delicious, lofty, airy, soft, and (in my opinion) perfect sandwich bread.
This recipe makes two loaves; as such, I always make it in my stand mixer, else my arms would fall off!  If this is your first time making bread, I would suggest one of my other recipes where you get to knead the dough yourself.  Kneading a dough to completion will teach you more about bread baking than any description ever could.