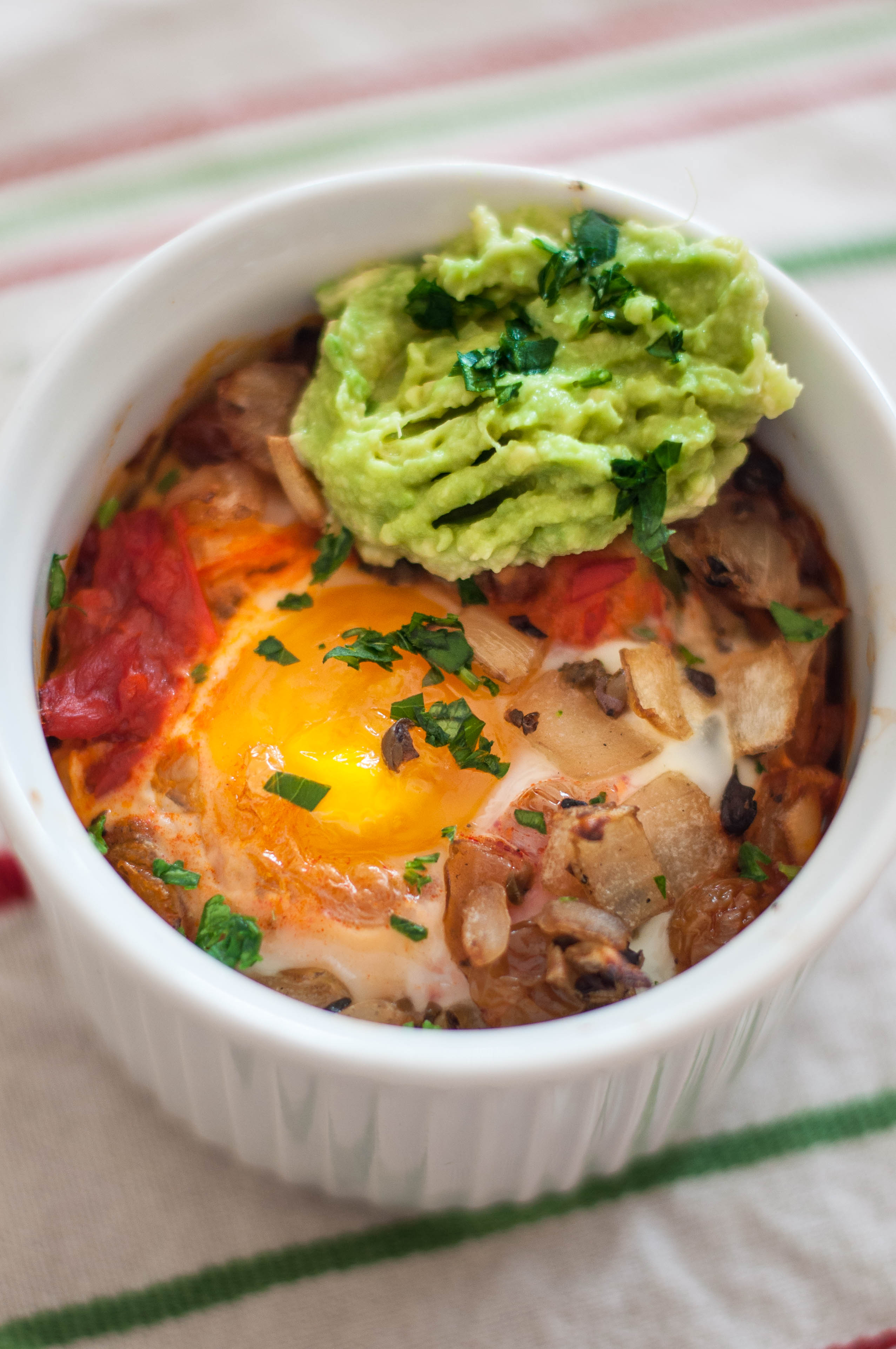 I wrote a whole thing about inspiration for this post.  Then I read it and thought, "What am I talking about?!"  And then I thought ugh, "shut up".  Ya know, said with attitude and all sassy like.  Do you ever hear yourself speaking, or thinking for that matter, and realize, "I need a break from myself?"  There's being you and then there's being you toooo much.  Probably, those who love you find it charming…errr, hopefully.  But you find it utterly charmless.  My inspiration post was quintessentially too me…kind of convoluted, WAY too abstract, and it went on and on annnd on.  I chose to spare us all and inserted the abbreviated version below.
I was inspired to make this recipe by an experience at a local restaurant.  Inspiration is good.  It's elusive.  It can catch you off guard, completely alter your life's direction, and be so utterly absent at other times that you wonder if you will ever have it again.  How do we summon it when we need it?  Can it be summoned?  Does our mood affect our ability to be inspired?  Despite how much I blathered on about it in my original post, I do think it is a really interesting topic and would welcome any thoughts/insights y'all might have.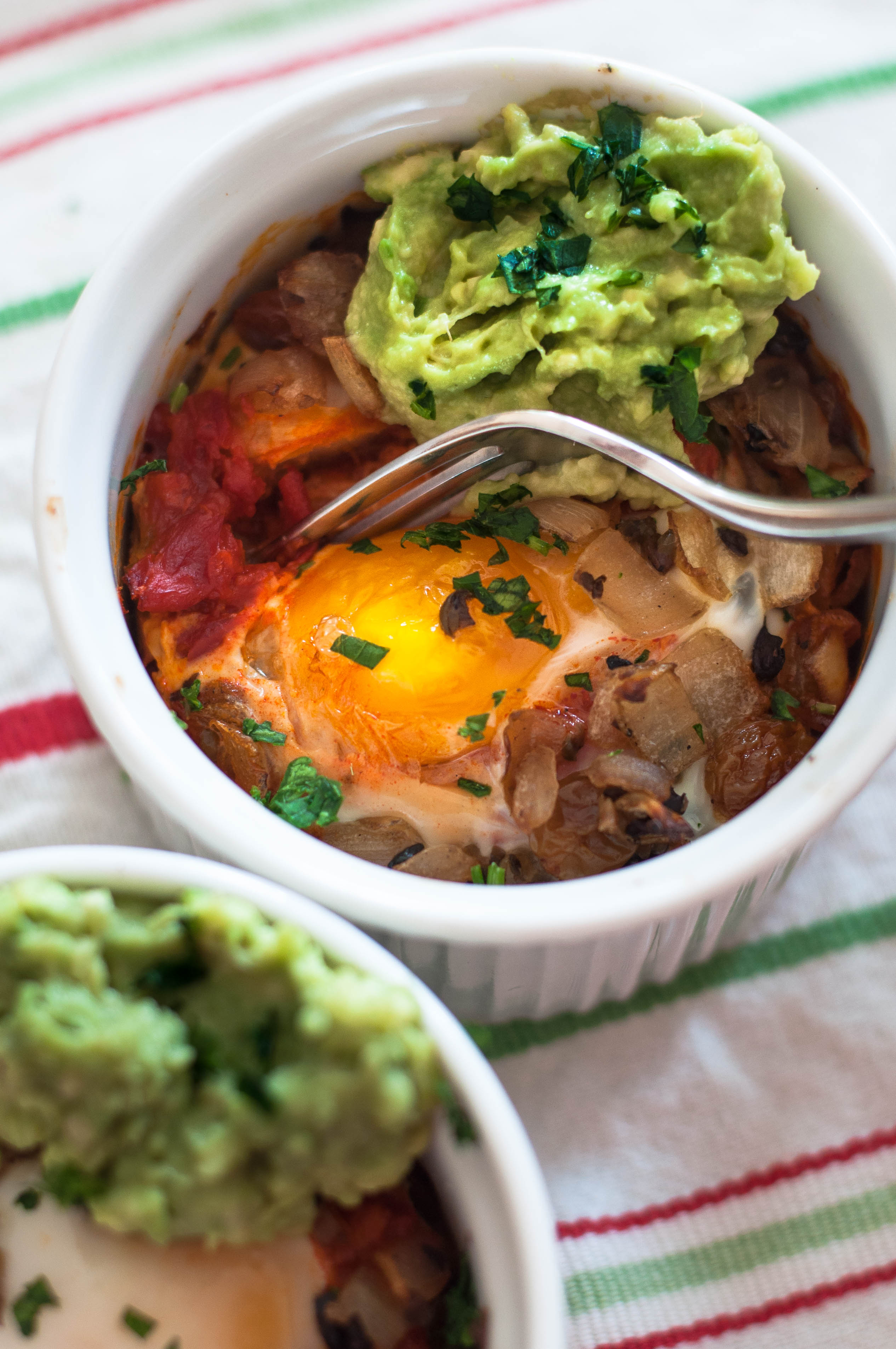 On to the eggs!  Has everyone discovered sunchokes, aka Jerusalem artichokes? I am new to these delectable little roots.  They are the cutest little potato-like vegetables that I don't worry about needing to let out my waistband for.  However faulty that logic might be, I'm sticking with it.  My reasoning for not being concerned about them is not particularly grounded in reality.  And I don't particularly want to Google it and find out that I am wrong…so for now these are miracle vegetables that taste like potato, but are really, really, really good for you…and slimming…and they'll make you live forever.  Please don't make me Google it.
This dish comes together very simply.  Roast your sunchokes, then smash it at the base of an oven-safe dish, cover with onion and olive sauté, a scoop of harissa, and an egg.  Breakfast in one-dish-perfection.  Don't overthink it, just eat it.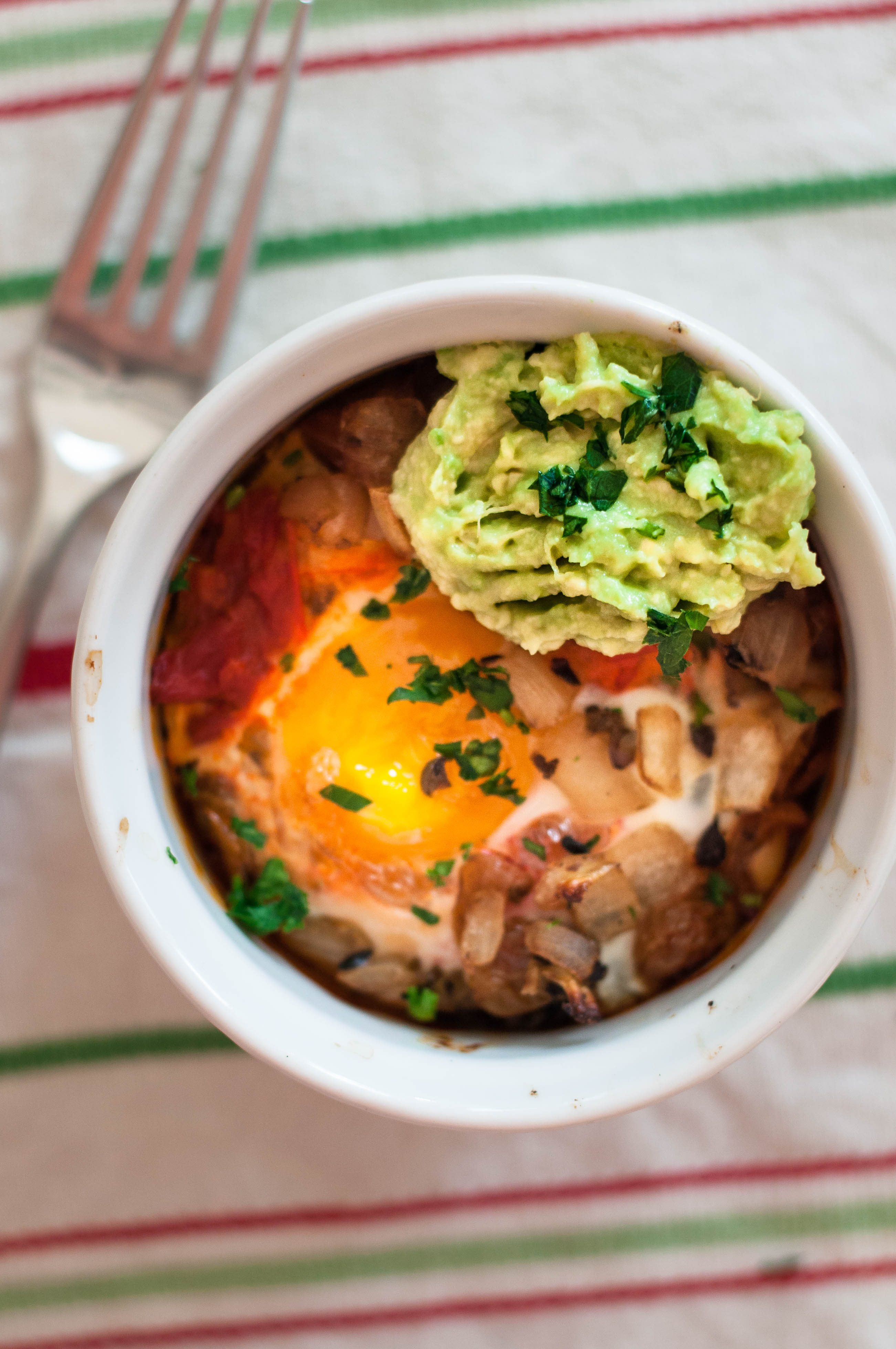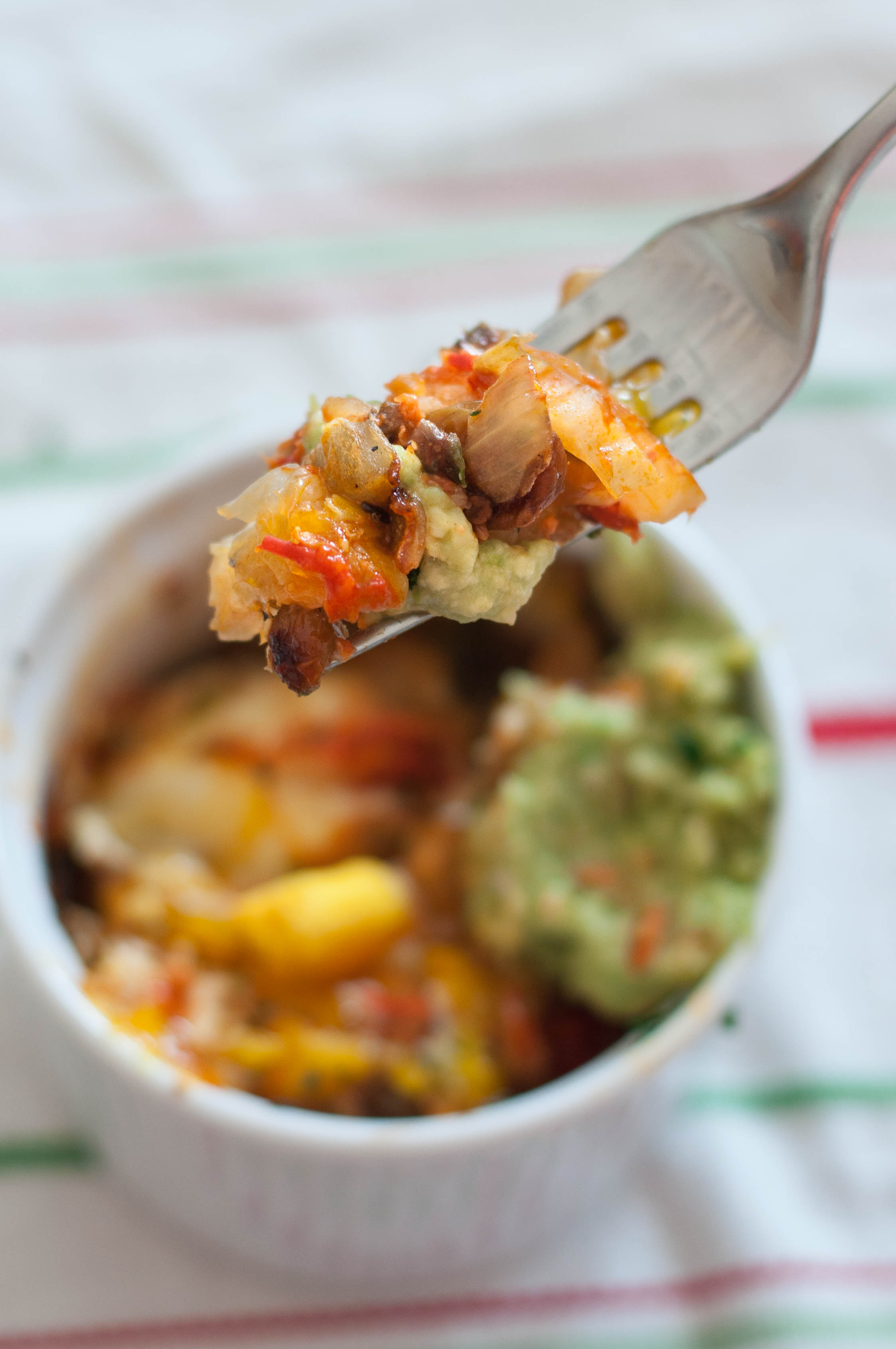 Roasted Sunchokes & Baked Eggs with Olives, Onions, and Plumped Raisins
Ingredients
4 Medium-sized sunchokes
16 Medium-sized olives, whatever mixture you like (I used green and Kalamata), pitted and diced.
½ Sweet onion, diced and sautéed
¼ Cup raisins (regular or golden or a mixture)
1 Tablespoon champagne vinegar
1 Cup Water
Harissa
4 Organic eggs
½ Avocado mashed with your favorite guacamole ingredients (red onion, lime, cilantro, salt, etc..)
Optional: throw in any and all vegetables you enjoy! I used steamed brussels sprouts
Instructions
For the sunchoke and onion sauté (you can make this ahead of time and reserve in refrigerator):
Preheat oven to 350F.
Scrub and thoroughly dry your sunchokes. Rub with a drop of olive oil and a pinch of salt and place on a baking tray. Bake for 15 minutes on convection bake then turn your oven setting to bake and cook for another 45 minutes or until the sunchokes are soft and are easily pierced with a fork. Think potato. If your oven does not have a convection setting, you will have to bake them a little longer.
In a small saucepan or baking dish combine champagne vinegar, water, and raisins. The liquid should cover your raisins, add more water if needed. Place raisins in oven alongside your sunchokes once the oven has been switched off convection. Cook for about 30 minutes or until the raisins have plumped. Drain off any excess water. If the liquid evaporates before the raisins have plumped, add more water.
Dice your onion and sauté until starting to brown. Once browning toss in your diced olives and plumped raisins.
For the baked eggs:
Preheat oven to 400F
Place a cooked sunchoke at the base of a small oven safe ramekin, smash it with the back of a fork, and cover with some of the onion mixture. Scoop in some harissa and any vegetables you choose to use. Cover with more onion mixture and harissa. Finally, crack an egg on top, sprinkle with some salt and pepper and place in oven. Repeat for the remaining 3 sunchokes.
Bake for 20-25 minutes or until egg is cooked to your liking.
Serve with guacamole and more harissa.