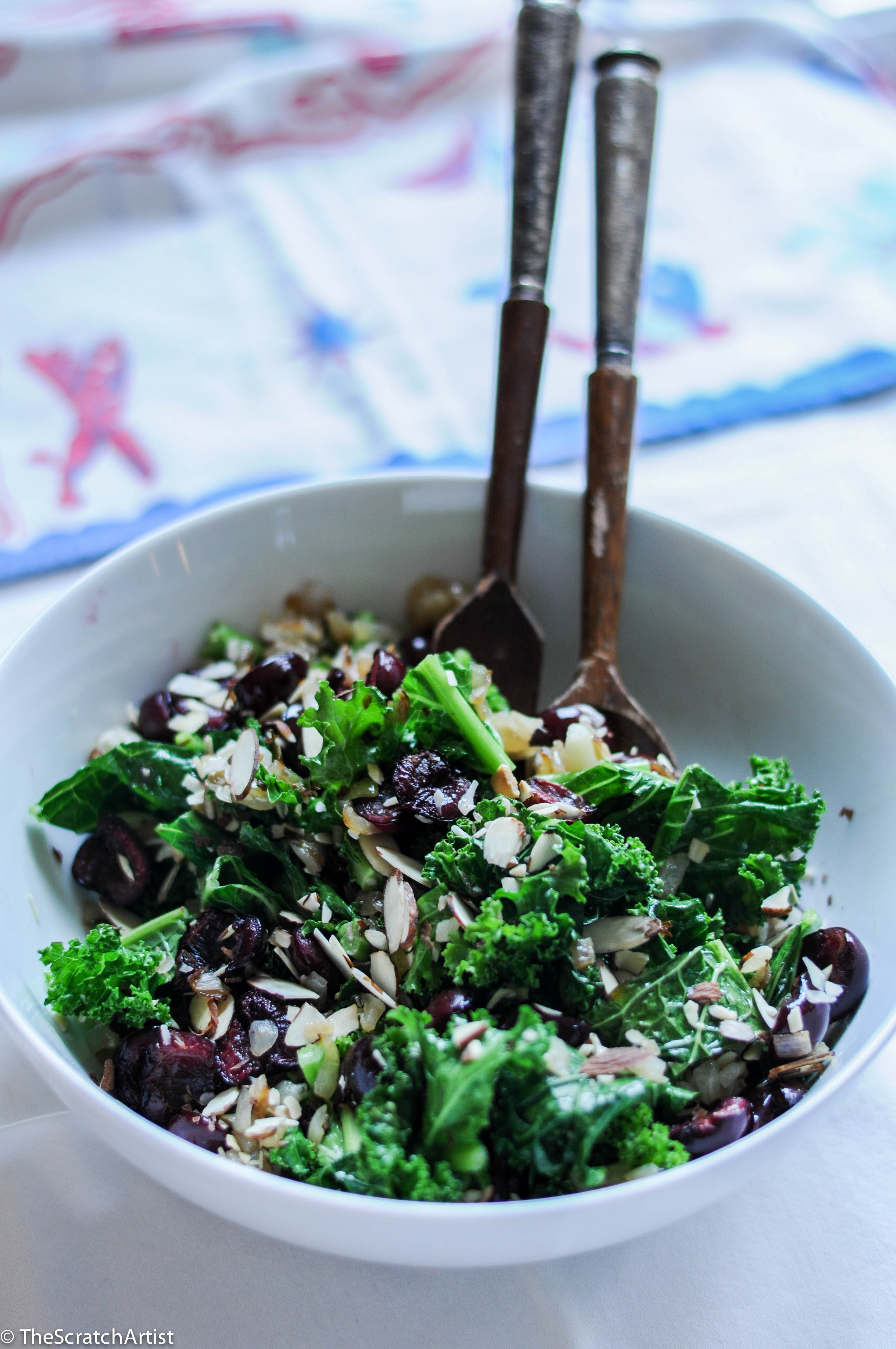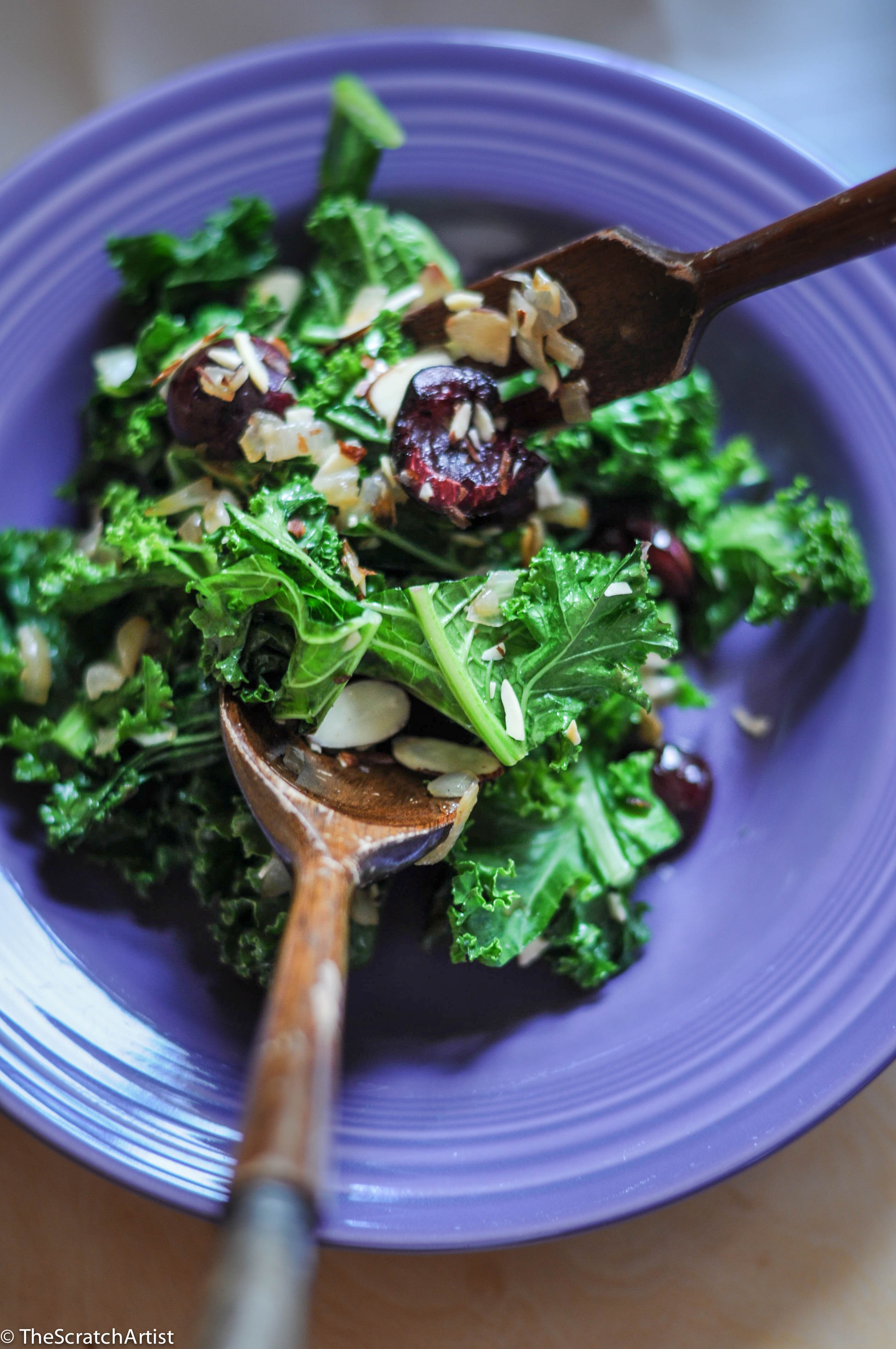 One of the more thrilling aspects of having a vegetable garden is being inspired to create a meal based on the ingredients that we have available.  I find myself asking, "what do we have to harvest today" instead of the more conventional, "what do we want to eat?"  And without fail, what we have to harvest IS what we want to eat.  I'll take OUR kale over the best chocolate cake…well, most days.
It is deeply satisfying to create a meal this way.  This year I have limited garden space, as you can see below.  I work with a local company, Homefront Farmers. They are dedicated to sustainability, education, and of course, great food.  They built these fabulous garden beds for us.  I wanted to make sure, for my first year and experience with vegetable gardens, that I had support so that I wouldn't drive myself nuts trying to figure EVERYTHING out.  Working with Homefront Farmers has been nothing short of perfect from start to finish.  Bravo to them and the excellent service they provide.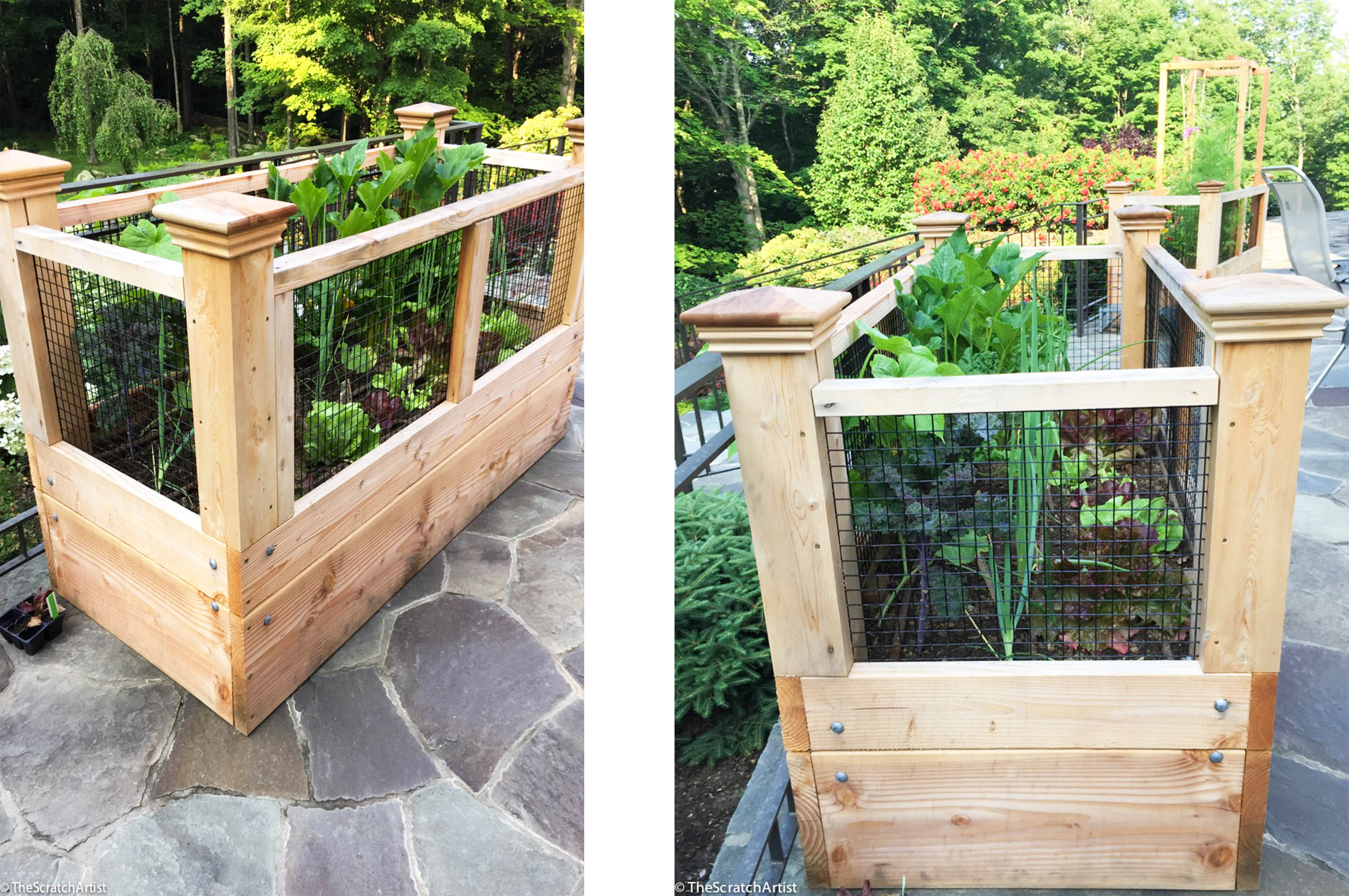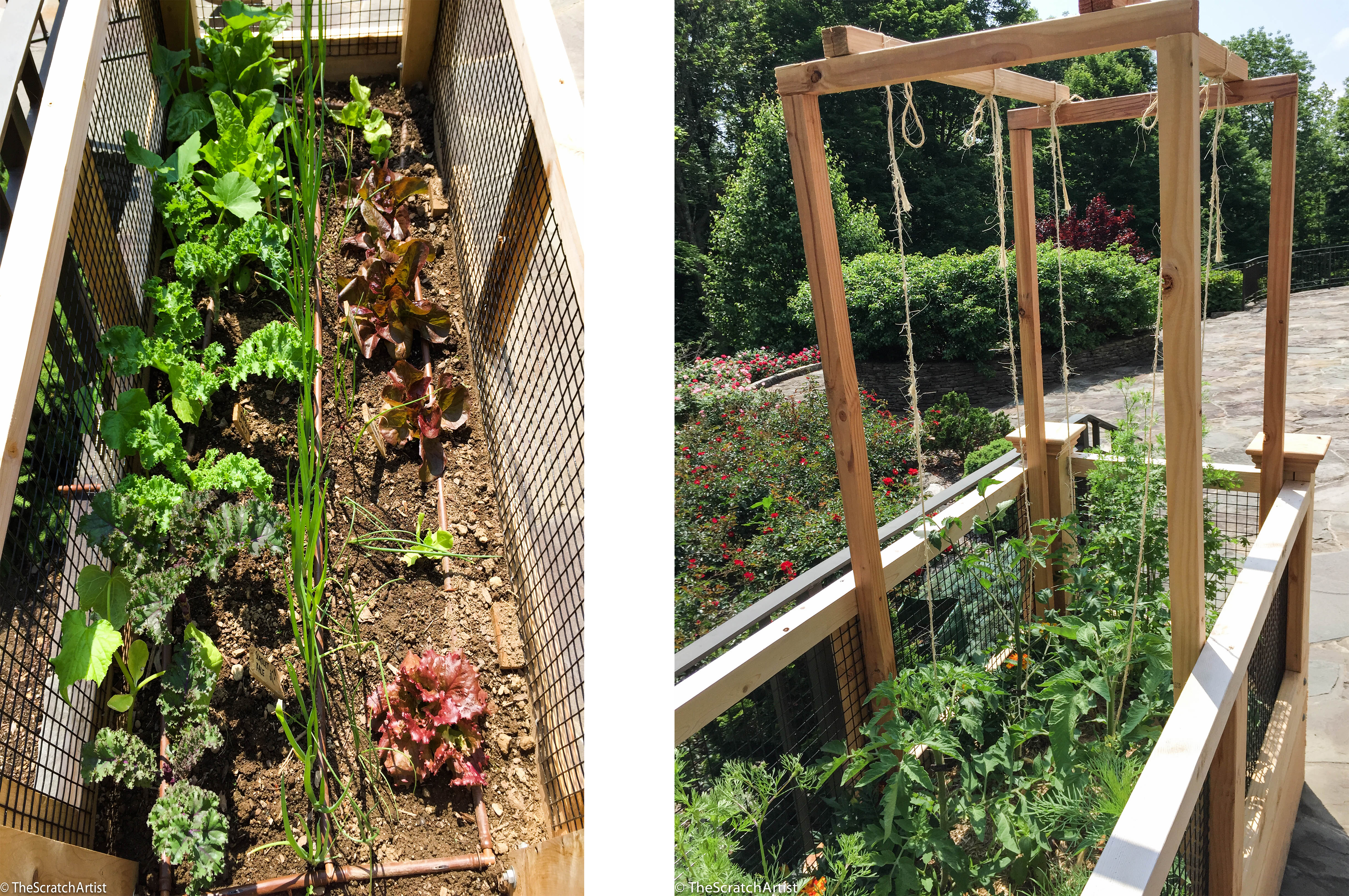 As you can see, there is only so much I can grow!  And that is precisely why I also participate in a CSA-type program called, Mike's Organic Delivery.  Once you get a taste for freshly harvested food, it's tough not to become completely disheartened as you meander through the supermarket vegetable aisle, wincing as your cart squeaks and stalls, looking at plastic wrapped vegetables with expiration dates.
Mike and his team do the ground-work of searching out the best quality local produce.  They then make weekly deliveries of the freshest produce available.  I am not exaggerating when I say the sound of our doorbell on Wednesday mornings (our delivery day) has us all running to the door and craning our necks to see what is in our basket for the week.  All of you other Mike's subscribers and CSA participators  know  exactly what I am talking about!  Here's a photo of the basket we received this week.  And a close-up of the irresistible fresh fruits they delivered.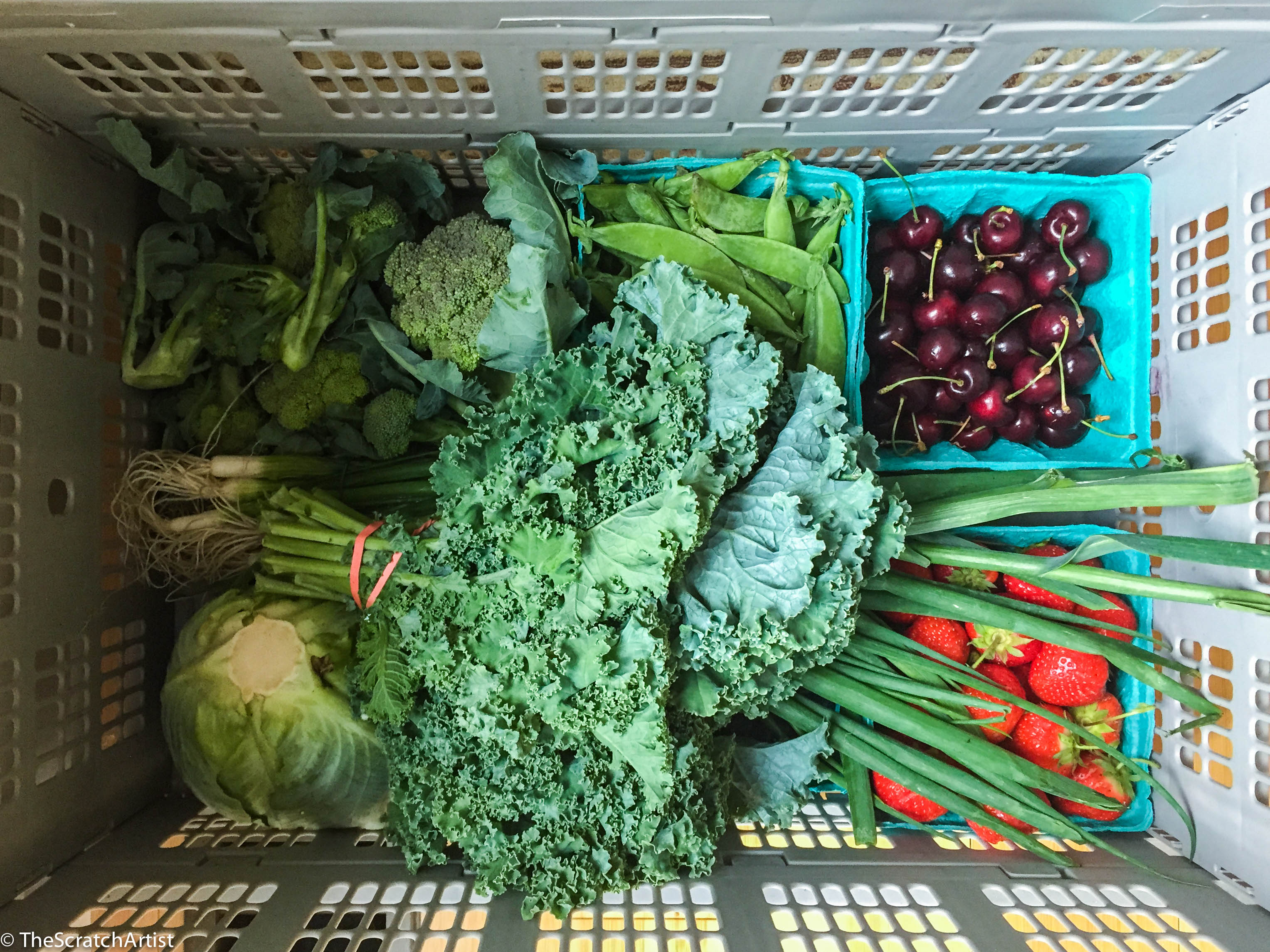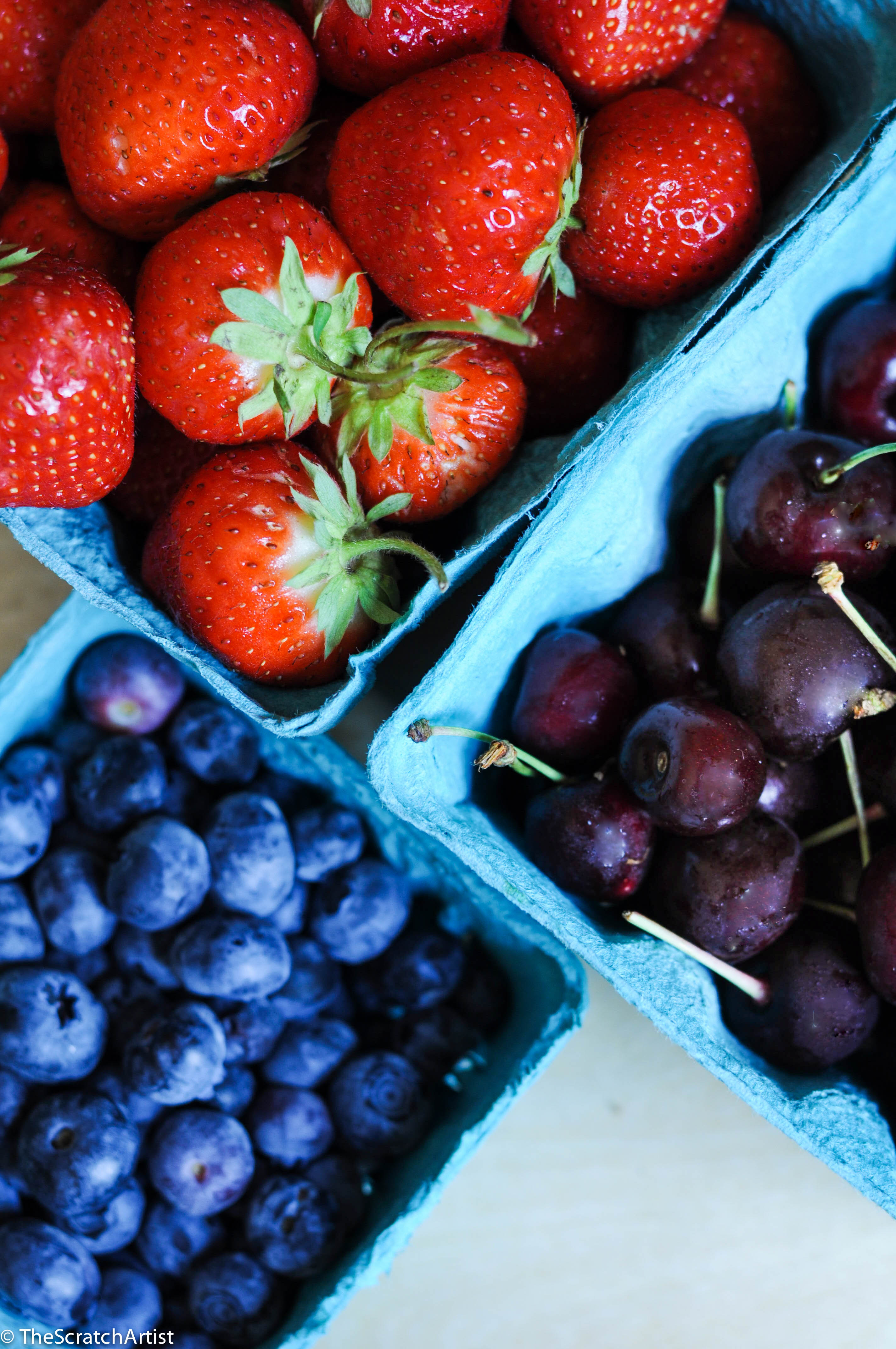 I instantly homed in on the cherries and kale.  I am a sucker for fruit-based salads.  I took a peek out at my garden to see if anything could be harvested and I was thrilled to see my purplette onions were ripe for the picking.  Ha!  I have never used that metaphor when it ACTUALLY applied.  I perused the cupboards and fridge to find what else I could feature in this salad.  Knowing that everyone was going to want more onions than my baby purplettes could provide, I looked at the onions delivered by Mike's the previous week and gave them a quick squeeze test; I was set!  For this salad, I wanted to feature the cherries without any conflicting tastes.  So simple.  So good.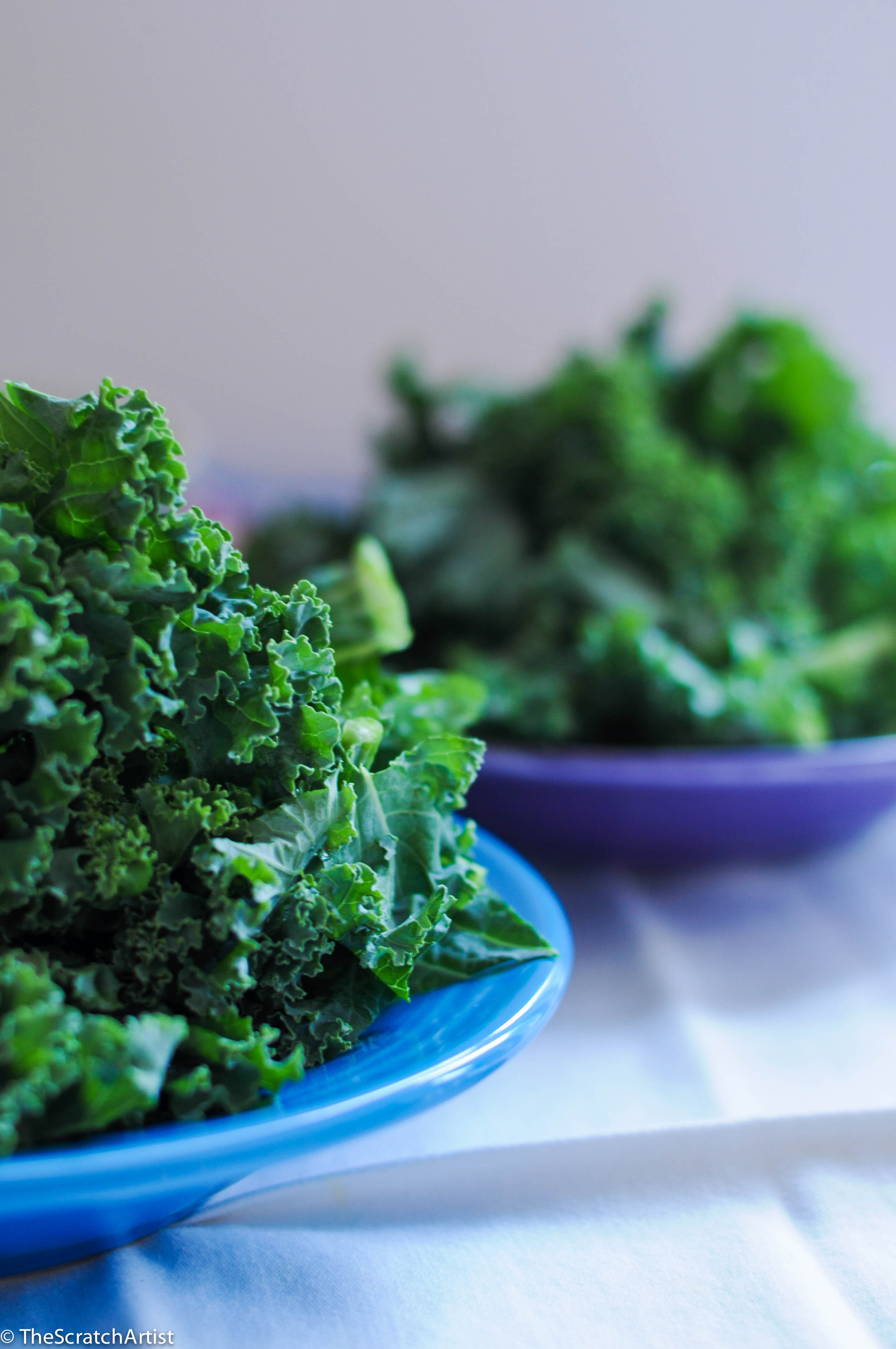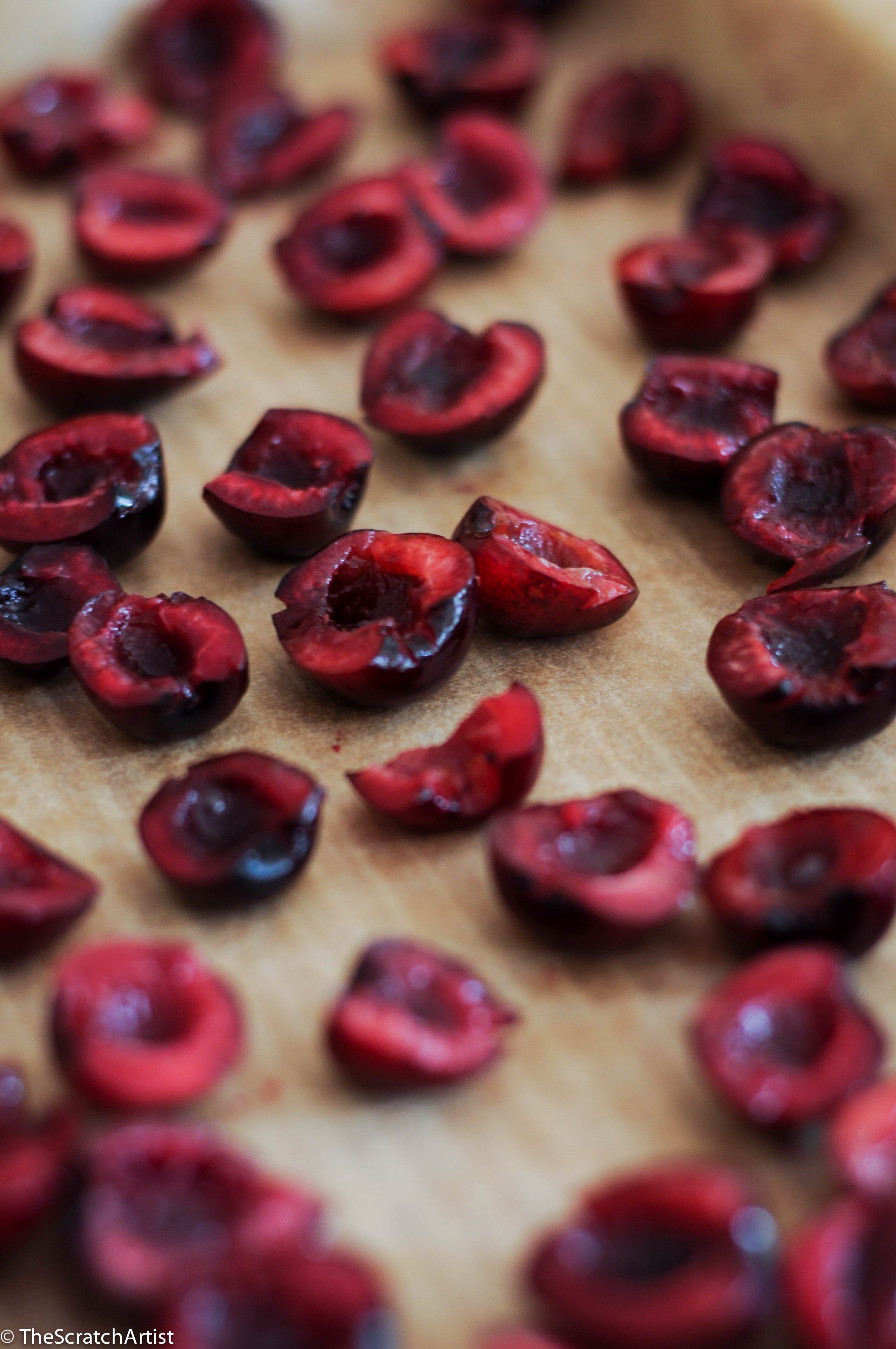 Here's what I created: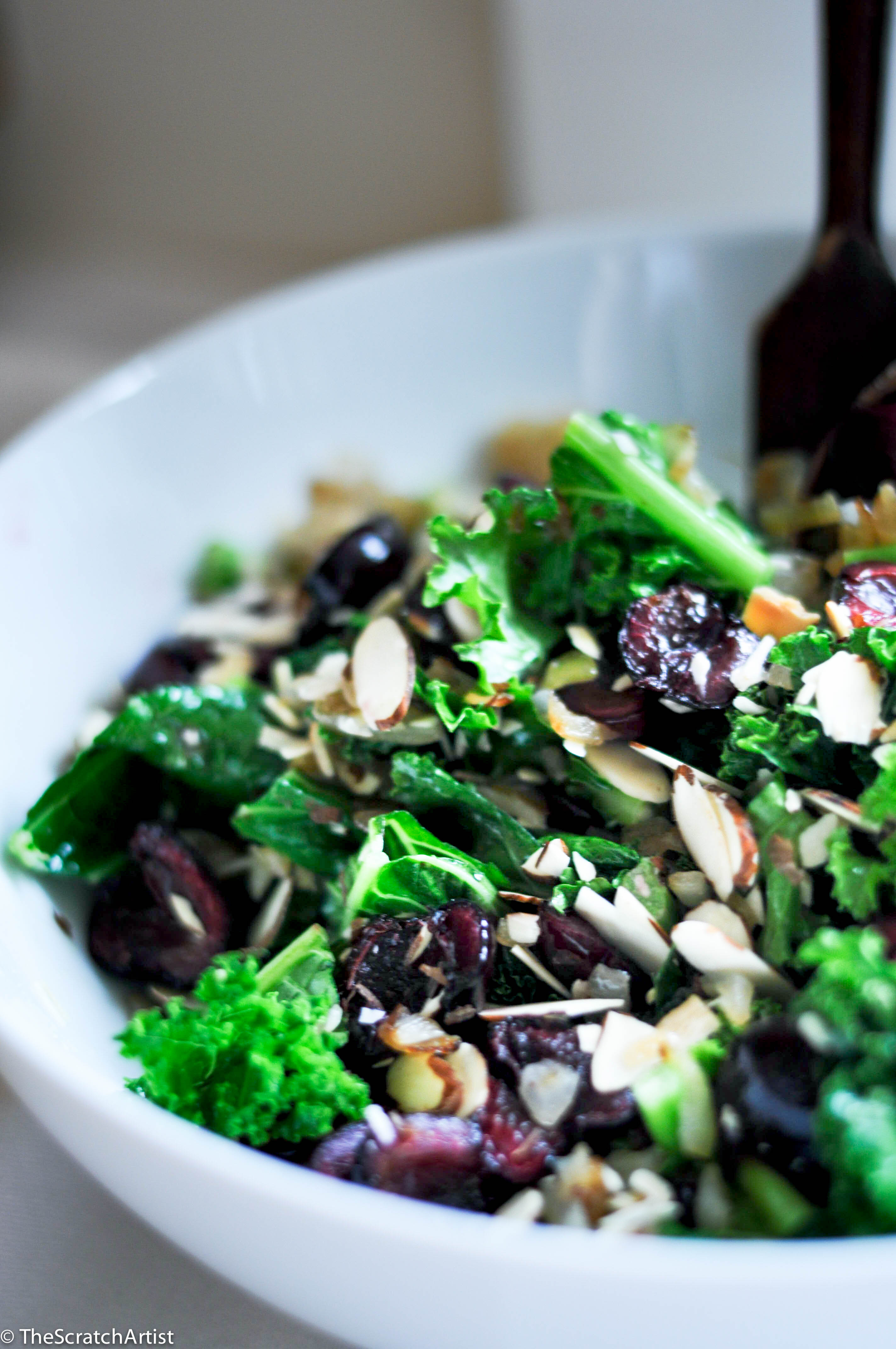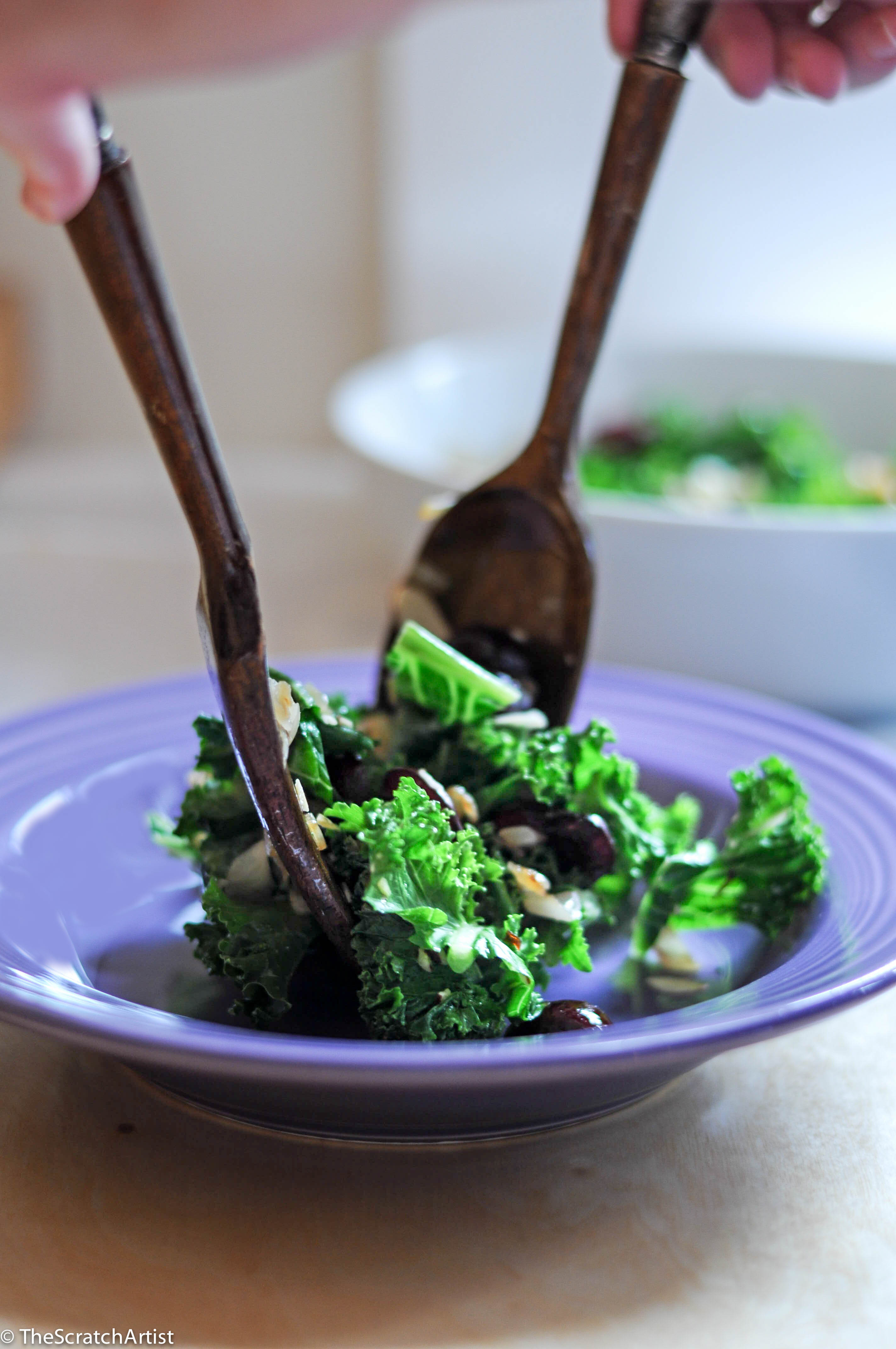 Roasted Cherries and Kale Salad
Ingredients
For the salad
15-20 Leaves of kale
1 Tablespoon olive oil
2 Dozen cherries
4 Purplette onions and/or 1 small onion (shallots would be delicious too)
Toasted almond slices
For the dressing
3 Tablespoons white wine vinegar
1 Tablespoon Grey Poupon Dijon mustard
⅓ Cup olive oil
Splash of maple syrup
Pinch of salt
Pepper to taste
Instructions
Chop your kale and dress with a tablespoon of olive oil. Gently massage the oil into the leaves and set aside.
Preheat a skillet with oil and salt while you dice your onion. Once the oil is nice and hot (it should shimmer), toss your onions into the pan. They should snap and crackle. Stir constantly until the onions start to look translucent, then turn the burner to low and stir every several minutes. Continue cooking until they begin to brown.
Place your almonds on a sheet pan and bake at 350F or in a skillet and toast until they start to brown. They should toast quickly (5-10 minutes). Keep a watchful eye on them; nuts have a nasty habit of burning. Time this so that your almonds have a chance to cool and get crunchy by the time you're ready to serve the salad.
Pit your cherries. See below for the method I used.
Once pitted, slice cherries in half and place on a baking sheet. Give a very light spray of olive oil and a sprinkling of salt. Place in the oven at 350F convection bake for 10 minutes.
I like to put my kale in a skillet for 2-3 minutes on medium heat to further soften the leaves, but you could also eat the kale raw.
To make your dressing, add in all of your ingredients except the oil and whisk together. In a gentle stream, pour in your oil while whisking briskly. You should whisk until you have one consistent mixture; there should be no oil separated out.
Place all of your kale into a large bowl and pour in some of your dressing and massage into the leaves. You will have leftover dressing.
Now place your kale into the dishes you will be serving the salad in and sprinkle the onions, cherries, and almonds over the top.
Notes
Here's a great way to pit cherries if you don't want to buy a cherry pitter:
1. Find an empty bottle, any will do as long as the mouth is not bigger than a cherry.
2. Center a cherry over the mouth of the bottle.
3. Using a straw or thick skewer/chopstick, push the straw through the center of the cherry. The seed will drop into the bottle and your cherry will be pit-less.
*I didn't have a straw to use for this so I used a thick skewer. It worked, but a straw would be better and more precise. I learned this method from Cooks Illustrated.