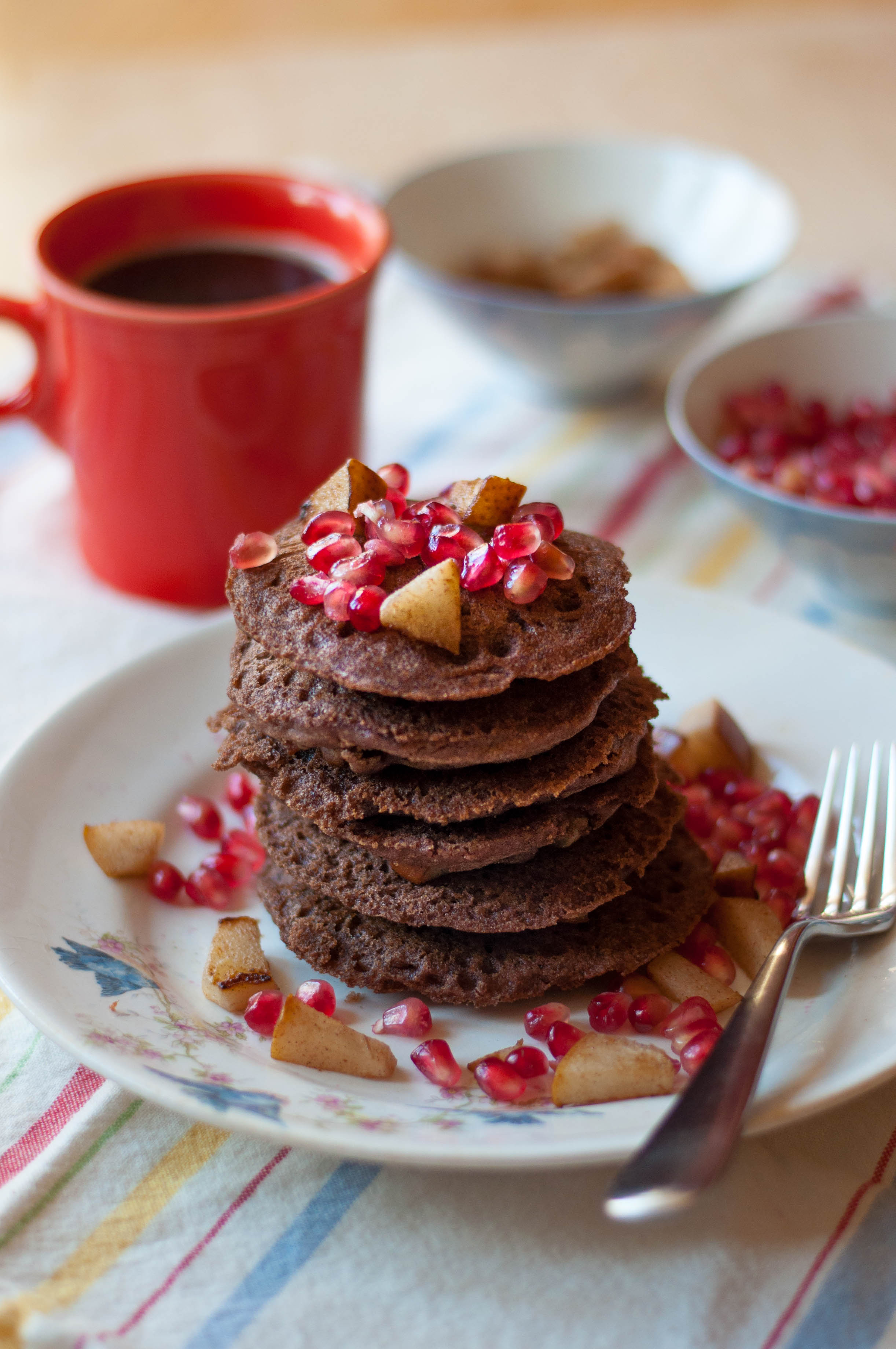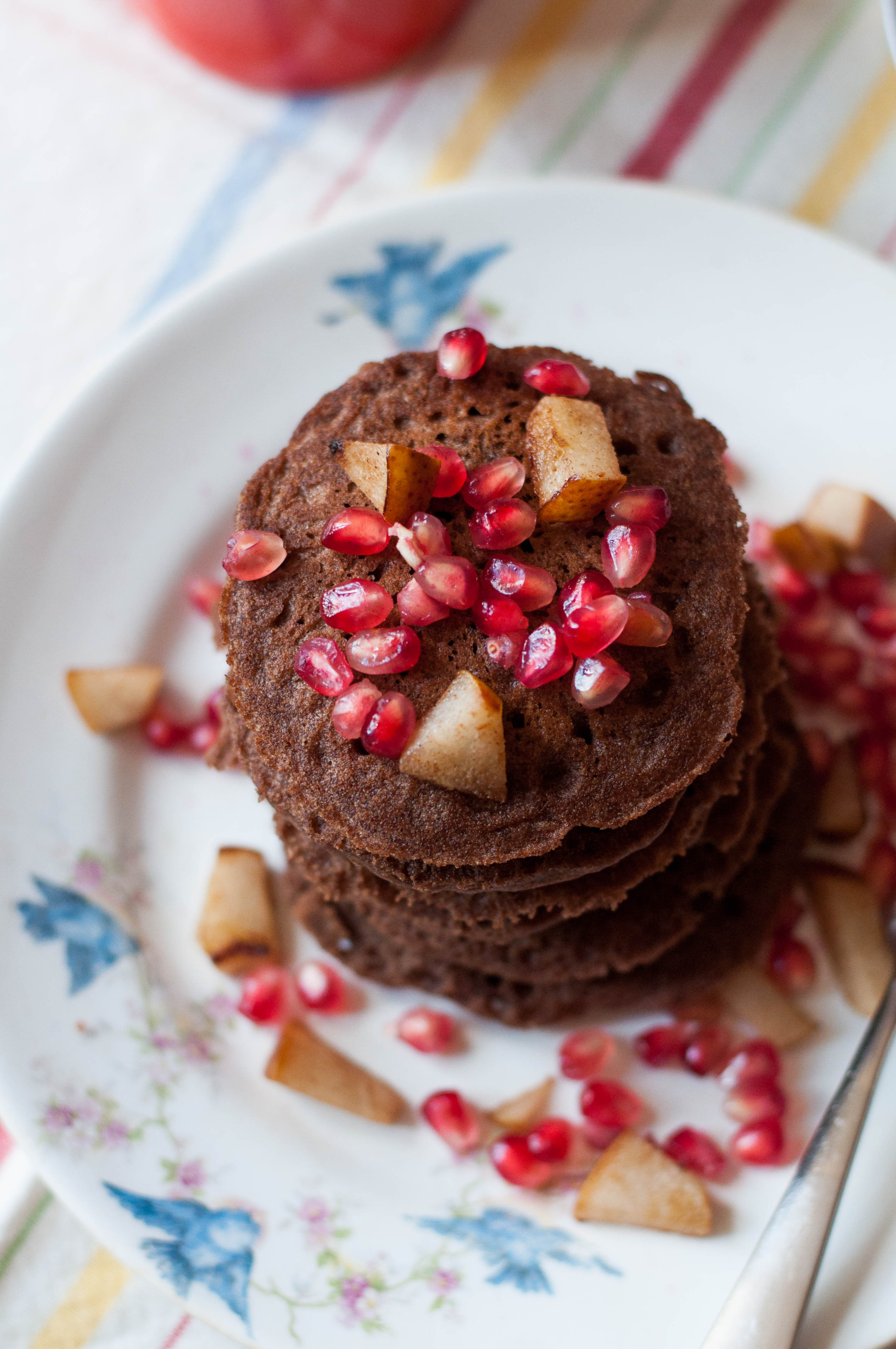 Are you more of a same-breakfast-every-morning type or a stare into the fridge get-creative type in the mornings?  Me, I'm the type who fantasizes about stacks of pancakes, frittatas, french toast, bagels, savory oatmeals, and so, so much more.  I even go so far as to lay out bowls, measuring cups, and a waffle iron the night before.  I drift off to sleep listening to my mind's tastebuds playing with flavor combinations.  Then morning arrives.  And another plan starts to unfold.  Peanut butter.  (Cue dramatic music.)  Ask anyone who knows me what I eat for breakfast and you will receive one answer (probably followed by a snort or scoffing laugh) peanut butter.  Have you ever seen a cat roll around in catnip?  Enough said.
The sound of my alarm clock is like Pavlov's bell, "peanut butter, peanut butter, where is my PEANUT BUTTER!"  Pancakes, yeah right.  Eggs, get away!  Oatmeal, are you kidding?!  Peanut butter.  Just give me all the peanut butter!   For years.  Yes years, I have had basically one breakfast: my own freshly baked bread, homemade peanut butter, honey, and some in-season fruit layered on top.  The idea of not having this amazingly crunchy, sweet, salty goodness is unbearable when I awake.  During the day I am quite confident that tomorrow will be the day I break my breakfast streak and have something different.  Sometimes I tell myself, "it's just one day.  I can go one day without having peanut butter and toast." But when I see that crunchy, crusty bread sitting on the counter, staring me down, and the sleek, golden jar of peanut butter begging to be opened and spooned into my mouth, my knees go weak.  I just can't go one morning without it!  And I no longer want to.  Breakfast creativity go away!  Come to me peanut butter.
At this point I know you must be wondering why I just spent the last two paragraphs talking about peanut butter when I am sharing these teff pancakes today.  I needed you all to understand the significance of this post.  This is not just any stack of pancakes.  This is a new me kind of pancake stack.  I broke my peanut butter on toast streak!  Tastebuds meet teff.  Ceeelebrrrate good times, come on…YaHoo! (Kool & The Gang reference, ya with me)?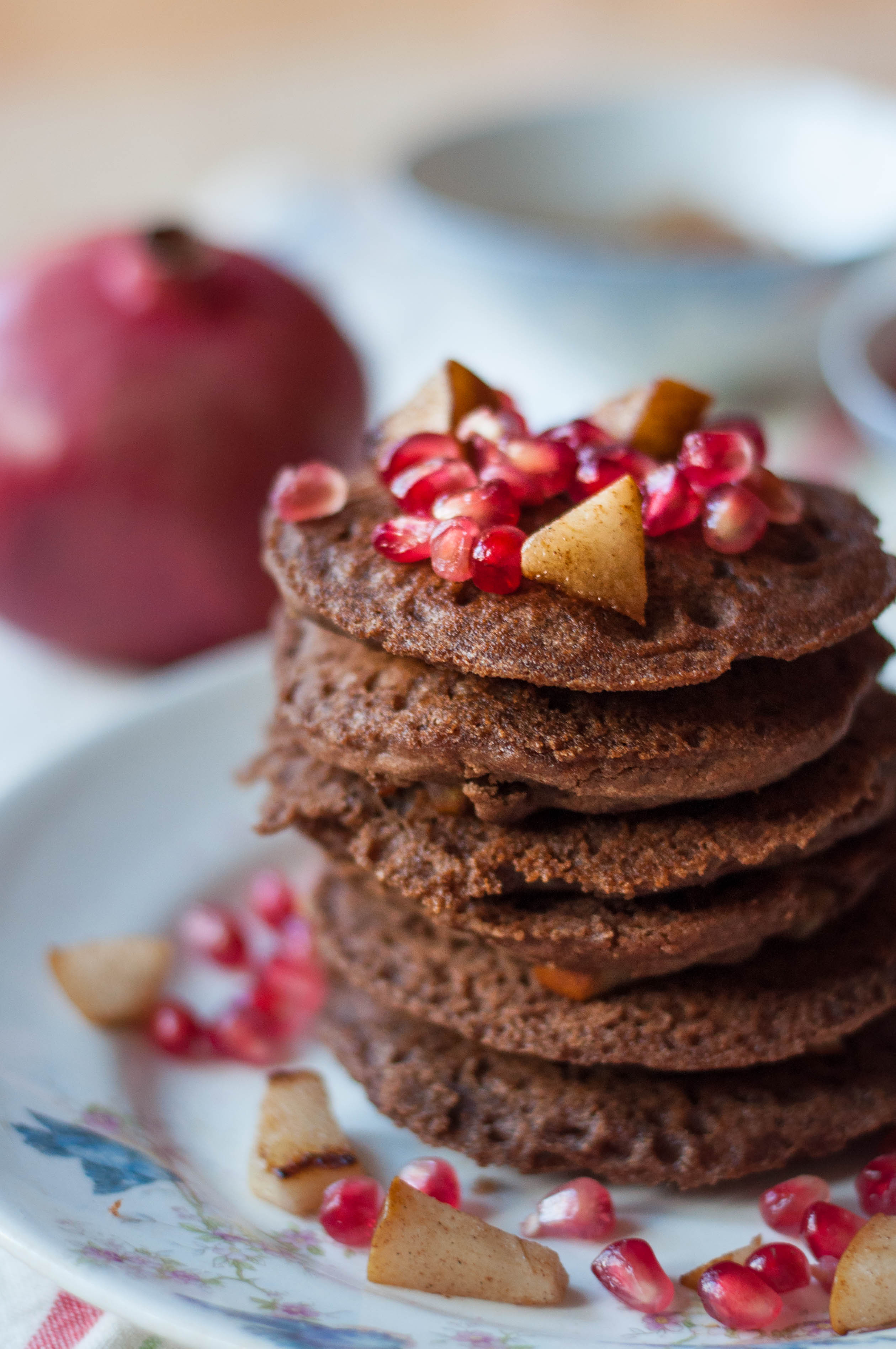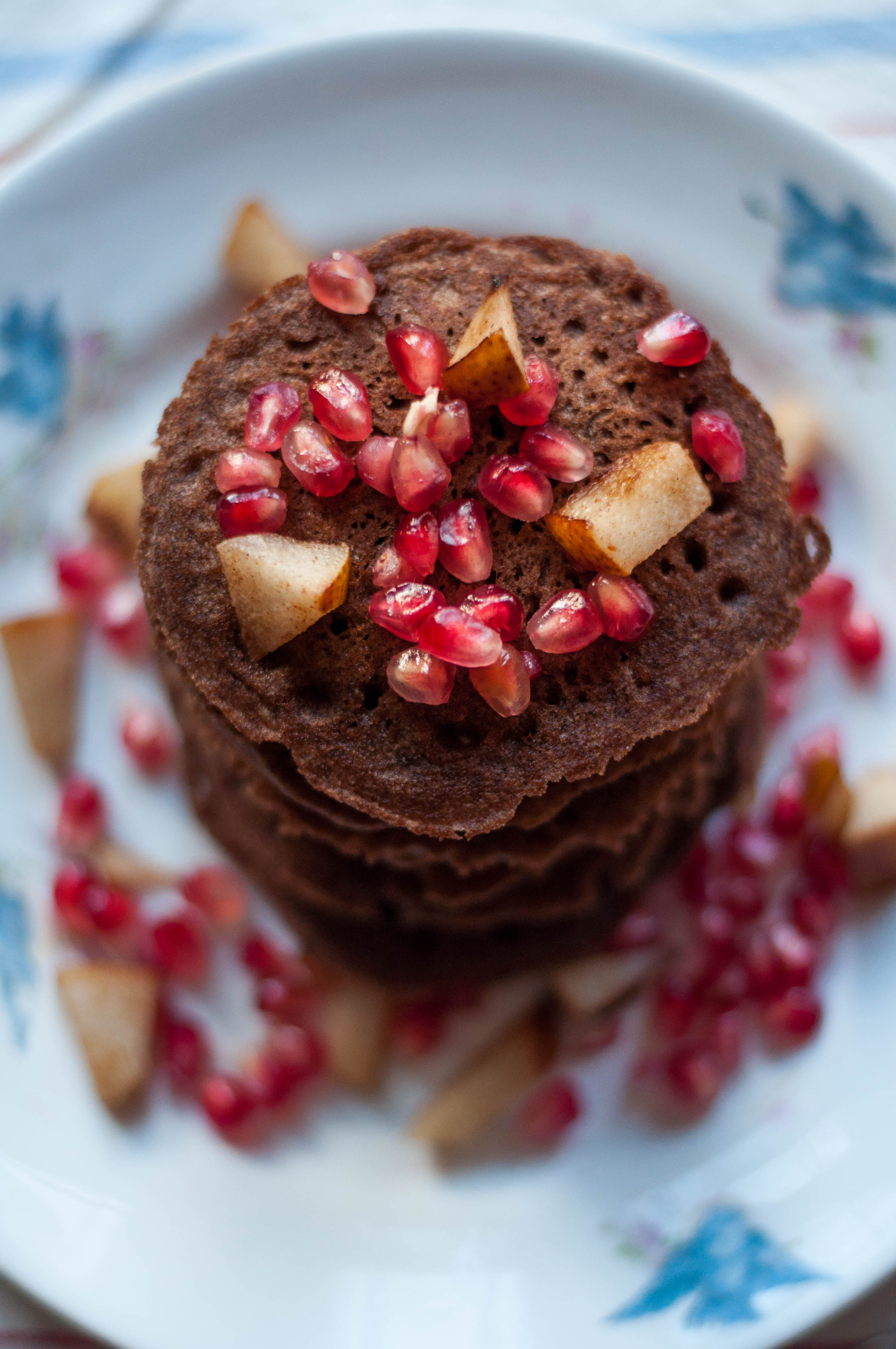 Teff is a weeny little grain with a whole lot of complex and delicious taste.  Have you used teff?  I was recently introduced.  And I have already started several debates as to why this grain is not more widely used and known.  It is gluten free, has a low glycemic-index, it's high in iron, protein, and calcium, and tastes incredible.  Basically, it is a dream grain for those of us who are gluten free, dairy free, and/or vegan.  The high protein and calcium content makes it an ideal source for these nutrients in an untraditional source.  And it doesn't have that weird, what-the-freak-am-I-eating quality that we are all too familiar with.  These pancakes are just good!  They also don't have that "Ughh…I'm so full I can't move" effect of traditional pancakes.  (Full disclosure: I officially broke my peanut butter on toast streak with this oatmeal, but I just about broke out into hives that morning and I ended up eating so much peanut butter and fruit throughout the day that it could not officially be considered a streak-break.  I would rather not relive that experience.  Peanut butter trauma.)
With Thanksgiving approaching in the United States, there is sure to be an abundance of rich and filling meals.  Treat yourself and your families to a batch of these for a restorative, healthy, and wholesome meal.  Not to mention a break from all of the kitchen demands.  These are EASY to pull together.  Top with any fruit or maybe some leftover cranberry sauce??  Just make em'!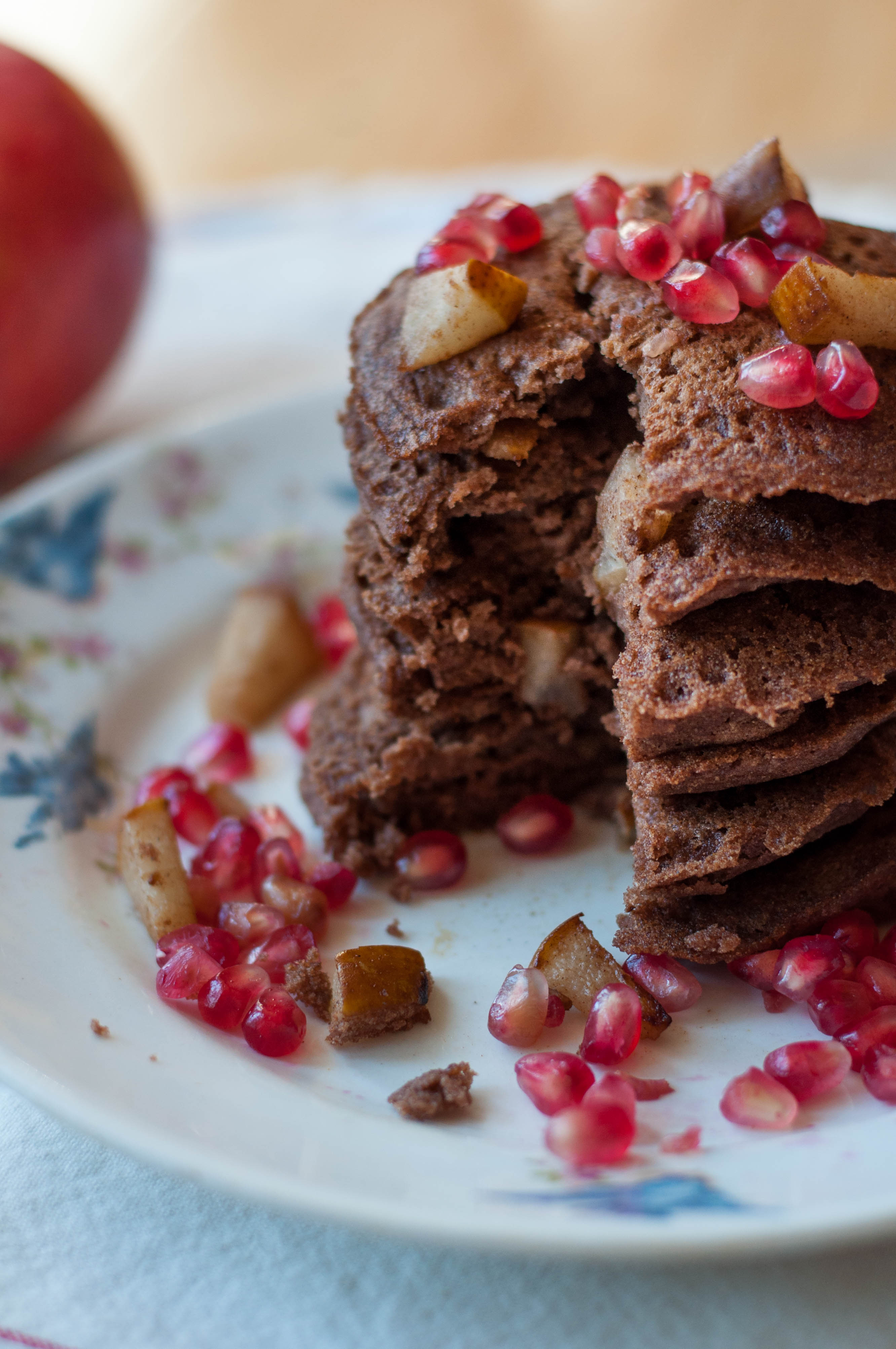 Pomegranate & Pear Teff Pancakes (Gluten Free & Vegan)
Ingredients
¾ Cup whole grain teff flour (plus one tablespoon for thicker pancakes)
½ - 1 Teaspoon baking powder (depending on how fluffy you like them)
½ Teaspoon cinnamon
¼ Teaspoon sea salt
⅔ Cup rice milk (or substitute your favorite nut milk)
1 Tablespoon maple syrup
½ Teaspoon vanilla
Seeds from one pomegranate
1 Bosc pear
Coconut oil for pan
Instructions
Slice your pear into bite sized pieces and toss with a pinch of cinnamon.
Melt a small spoonful of coconut oil in a skillet and briefly sauté the pears until they are warm and slightly softened. Set aside.
Cut pomegranate in fourths and remove seeds, set aside.
In separate bowls, mix together all of your dry ingredients and wet ingredients.
Pour wet ingredients into dry ingredients and whisk to combine.
Melt another small spoonful of coconut oil in a skillet until quite hot.
Pour batter onto pan (about 2-3 tablespoons per pancake).
Scatter sautéed pear pieces over the pancake before flipping. (Mixing the pear into the batter leads to uneven pear distribution).
Flip pancakes once tiny bubbles form and break on the surface.
Cook for several minutes on medium until center is dry.
Serve with remaining chopped pear and pomegranate seeds. Let cool slightly before eating.