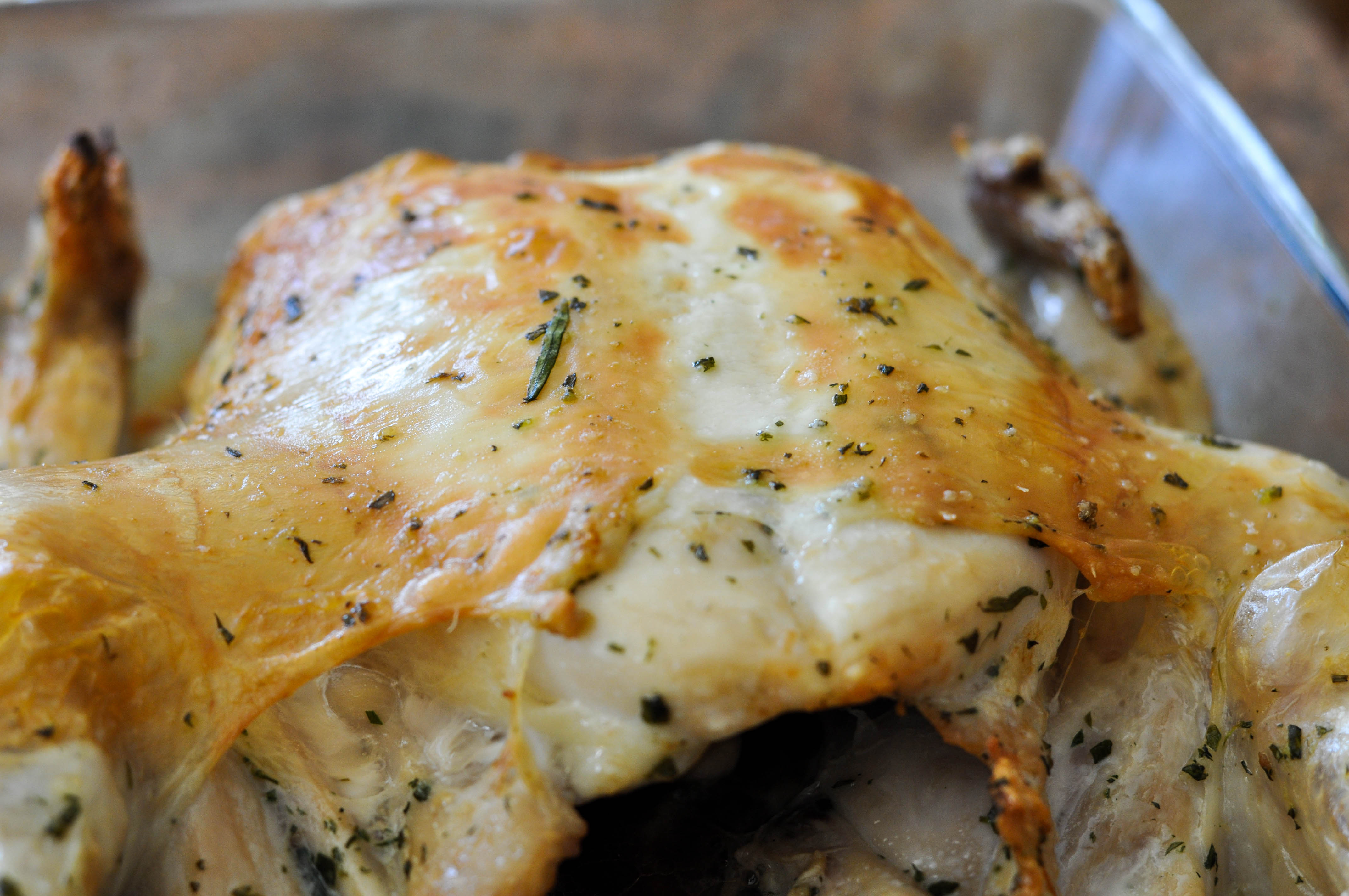 I come from a long line of nervous cooks.  My grandmother knew hot dogs were cooked and safe to eat once they exploded; her chicken was done when there was no moisture left, and the list goes on.  I'm sure you get the point.  I earned my paranoia about food safety honestly.  I've struggled to get over the "eating this might kill you" hump.  And I guess, like anything else (driving, flying, skiing, LIVING), you just have to accept "this might kill you" in order to do the things you want to do.  However, the far more difficult hump for me to get over is the "this might kill someone else" hump, or more poignantly, "I might kill someone by improperly preparing this dish" hump.  And I know, most likely, I would just get someone sick, but I live and worry in the extremes.
The result of all this was a very unpleasant food preparation experience when any meat was involved.  When I did cook it, I had to overcook it to ease my nerves.  The result, an angst-ridden preparation, followed by a dry, tasteless meal.  The joy of cooking!  Hmmmm, what am I missing?
John Wayne once said "courage is being scared to death and saddling up anyway."  With that in my mind, I rolled up my sleeves about a year ago and hit the meats!  I am still more anxious than your average cook (at least I think), but progress is progress!
This chicken rates pretty low on the anxiety meter for two reasons: 1) it is a simple bag-to-pan endeavor, and 2) the cook time is always the same (at least with my oven), which allows me to avoid the dreaded googling experience — where I ask the same question that I have asked a thousand times and have never really gotten an answer that alleviated my concerns: "What temperature should chicken be," or the always entertaining "what indicates clear juices."  I don't know if I just have a drawer full of whacked out thermometers or I am learning disabled when it comes to taking the internal temperature of meats, but I NEVER get a consistent read, or what I consider an accurate reading from these godforsaken things!  Whenever the meat seems cooked, the temperature is always too low, but I think the meat is actually fully cooked!  As far as the juices go, in my world "clear" means clear, not "slightly yellowish, pinkish, brownish," and no matter how much you cook a chicken you aint' gettin' clear liquid!  I should write a cook book for nervous cooks to explain exactly what cooked chicken looks like and feels like because if you are going to wait for "clear" juices you will have to wait until there are no longer any juices in the chicken and believe me, I've been there!
UPDATE:  Turns out my thermometers really were whacked out, go figure?!  Writing this blog made me consider that maybe I wasn't completely nuts and I just needed a new thermometer (well maybe not just).  Sooo, I bought a Thermapen digital thermometer, hands down the best cooking gadget EVER!  I use this to test the temperature of everything now!  Probably a few too many things, but let's not talk about that.  I love this thermometer and it is worth every penny.  I slide this puppy into my chicken and I am happy as a clam when the read out is squarely in the safe zone, according to the FDA (at or above 165F).  I am is still a bit unclear where exactly to stick the thermometer.  I've been sticking my poor chicken all over the place.  Bottom line, it's over 165 no matter where I stick it, and I am a grinning fool.
All the anxiety talk to the side, this chicken is goooooooood!  It smells unbelievably good while cooking and tastes even better!  I wish I could invent a scratch-and-sniff app to go along with the pictures.  No one could resist making this chicken if you could scratch your computer screen and smell it!  Another great feature of this recipe is that, so far, it has been foolproof.  One of the tricks is the size of the chicken.  The smaller the chicken the easier it is to cook without drying it out.

Perfect Roast Chicken
1 hour marinating time, 45 minute cook time
Ingredients
2½ - 3 lb Whole chicken
Glug or two of olive oil
Large pinch of salt
Handful chopped fresh tarragon
Or substitute any rubs you like...
Instructions
An hour before you are ready to start baking (1 hour and 45 minutes before you want dinner), take the chicken out of the fridge.
Clean and trim off the fat and place in roasting pan or Pyrex lasagna-style dish.
Mix together your oil, salt, and fresh tarragon.* The consistency you're looking for is a slightly loose paste. Add more herbs/oil to achieve this. Imagine spreading it over your chicken like a thick lotion or face cream. Set the rub aside.
Pat the chicken dry with a paper towel and apply your rub all over and inside the chicken.
Let it sit out on the counter for an hour (unless it is a really hot day or your kitchen temperature is not conducive to safely leaving the chicken out for this long).
Preheat oven to 450F.
Bake for 35 minutes.
Switch oven to convection bake.
Bake another 10 minutes. Keep a close eye on it. You want the skin to get crisp, but not burn. If the skin is starting to burn, turn the oven back to bake for the remaining time.
Check that the chicken is cooked thoroughly -- whatever that means 🙂 -- and serve.
Notes
*Don't substitute dried tarragon. Fresh cut herbs are much much much better than dried ones.