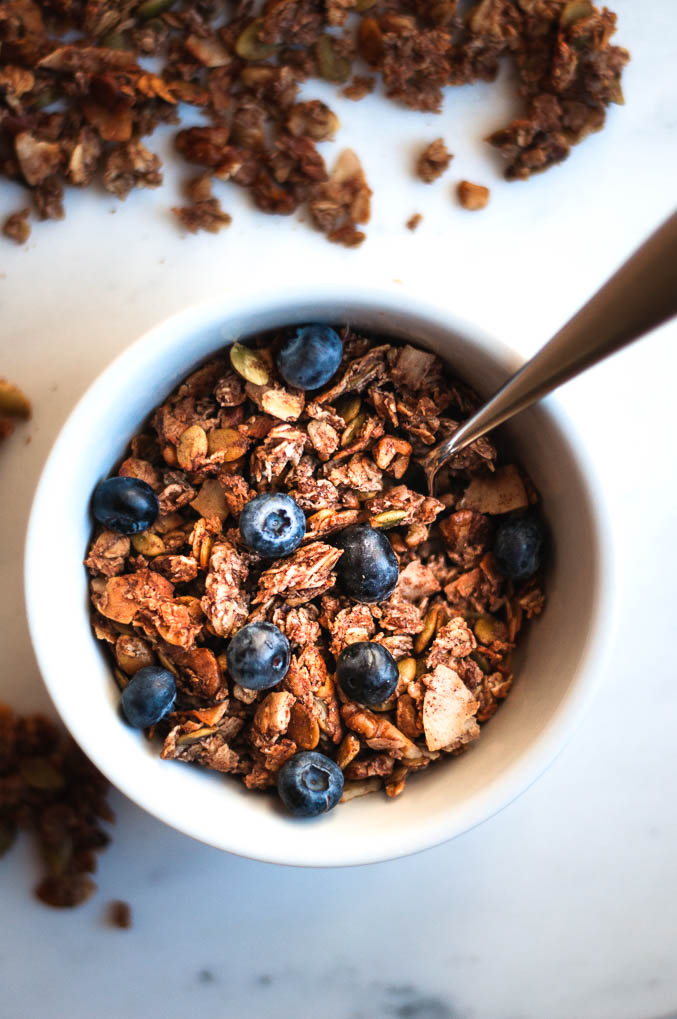 Have you ever been on a cereal binge?  I hate the word binge, but I can't find a better word to describe what happens when I find a new cereal brand and start eating it for all three meals.  Errr, all eight meals.  I use meal rather loosely here.  Meal = fistfuls of cereal followed by handfuls of fruit and/or chocolate, which occasionally find their way into a bowl.   Just pour all of the cereal into a horse feedbag muzzle-thingy and I'll just go around with it fastened to my face all day, how 'bout that?  I'm hoping this is not just a me thing (maybe the muzzle idea is just a me thing, but the rest…anybody??).
I jest, but these kinds of food obsessions can get a bit disturbing.  I always look to find the comedy in it, as my grandmother always said, "If you can't laugh, it is just too bad."  But on a serious note, when you are an extreme person, like myself, portion control is always a conversation, if not aloud, certainly in the privacy of my own mind.  To stay balanced takes effort.  Good effort.  Worthwhile effort.  But effort.  When do I say "enough!"?  How do I determine enough?  When I'm actually full, in a biological sense, or when my mind decides, "that's enough"?
There has been a long-standing joke in my family that you'll know when to stop eating when you are so full that you can no longer move.  This culture has very much influenced my thinking and relationship to food and portion size.  The stomach-to-brain connection that might or might not exist for others is challenging for me to access.  I am always drawn to have more and I balance that with a conscious effort to check in with my body, to pay attention to my thoughts, and to make decisions that will serve me not only in this moment but future moments.  Some of this introspection sounds like this,
"Am I stopping out of a fear for how I will feel if I gain weight?"
"Am I eating to quell a feeling I am looking to avoid?"
"Am I eating to create a feeling?"
"Am I satisfied?"
"Why do I want more?"
I have had the tendency to see my relationship with food/weight/eating as a weakness in my character/personality, but recently I have changed my perspective.  The challenge of finding what is right for me is a worthy one, and makes me a stronger, healthier, more balanced person.  If I resist this challenge with a lamentful, "Why me?  Why do I have to have these struggles?" I am missing the benefits that all challenges bring.  If everything came easily and presented no hurdle I would have no need or reason to develop strength and investigate and come up with new solutions.  Aren't challenges the mother of all invention?  So now I embrace this challenge.  I need to exert effort, constantly question and examine my thinking, and not become complacent.  Having this challenge, dealing with this challenge, makes me who I am, and that's a good thing.  Challenge doesn't have to mean struggle.  Every challenge that I face has the opportunity to make me stronger, more conscious, more able to help another who might be in a similar position.
Speaking of challenge, not eating the entire batch of this granola in one sitting is right up there!  My previous cereal obsessions were most notably Kellogg's Corn Pops and Post Honey Bunches of Oats.  I haven't had Honey Bunches of Oats since the great cereal spree of 2000 (yikes!).   So, what's a soon-to-be-thirty, responsible adult (?) supposed to do when the threat of a cereal rampage is imminent?  Sugar-filled cereals are not as easily metabolized now that I am not eleven and carrying a box of cereal in your purse whilst pulling off professional elegance is not as easy as it sounds (and the muzzle-thing is kinda out of the question, right?).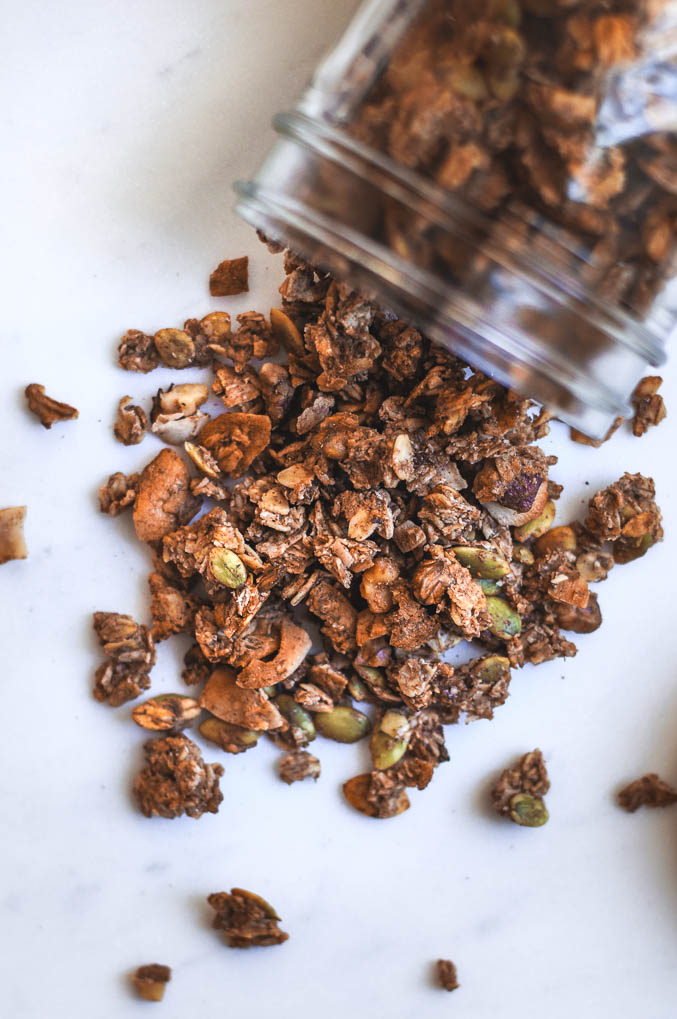 My solution: make my own epic cereal, full of ingredients that have me feel good, and eat it with all the abandon!  Knowing that I am nourishing myself with whole and healthful, to me, ingredients.  And when absolutely necessary, carry it in my purse, like a well put together thirty-something who somehow always has a healthy homemade snack, neatly wrapped, and at the ready when hunger strikes.  Yeah…I got this life thing knocked.  Thirty here I come!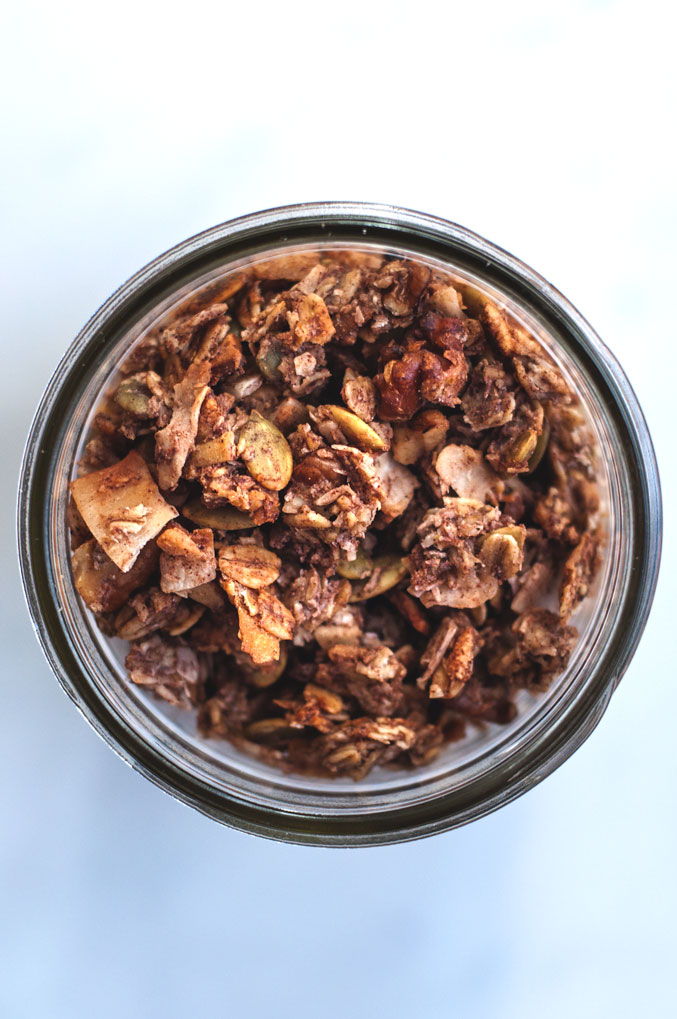 This granola is sweetened with bananas, period.  No sweetener of any kind, other than the natural sugars in the bananas.  I first discovered banana as a viable granola glue after following Sarah Britton's recipe for banana granola.  The banana acts much like egg-white does in traditional granola recipes.  Surprisingly, with a bit of finesse, you can get this granola to cluster and crunch like any traditional recipe.  Side note: Sarah's banana bread granola definitely falls into the category of binge-worthy cereals.  I've already told you how incredible she and her new cookbook are, so in an effort not to make this the Sarah Britton fan page, I leave you with this simple directive: Go get her cookbook and make everything.
Some tasting notes on this granola: it is not as sweet as what you might be used to.  I pair it with fresh fruit; adding even more fresh banana is definitely a great idea, or dark chocolate to round out the flavors.  My absolute favorite way to eat this granola is sprinkled over vanilla homemade yogurt with chopped dark chocolate and mint tea.  So much yum.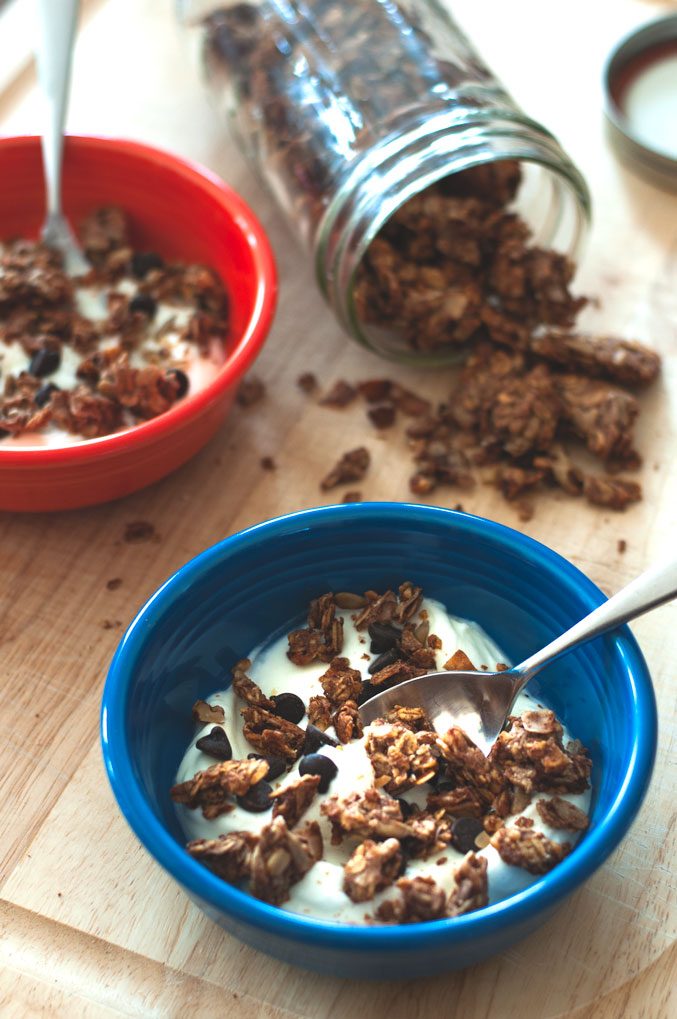 If you are feeling touchy about the lack of sweetener, but like the idea of having a sugar-free granola, start out by using less sweetener than what you are used to, try 1/4 cup, then 1/8 cup of maple syrup, honey, or whatever sweetener you like.  I've been surprised over the years to discover how little sweetener is needed to give a balanced, sweet flavor.  I'll be as bold to say that ALL prepackaged food has substantially more sugar than what you would need to thoroughly enjoy your snack, dessert, etc…   One of the advantages I noticed in reducing/eliminating sweeteners in my recipes is my new-found ability to taste each and every ingredient, individually and distinctly.  When I use an excess amount of sweetener, it ends up dominating the flavor and I miss some of the nuanced flavors of the other ingredients.  Just something to experiment with…both from a taste perspective and from a health perspective.
Fruit Sweetened Banana Walnut Granola - Vegan & Gluten Free
Serving Size ½ cup
Ingredients
2 Very ripe bananas
Scant ¼ cup melted coconut oil
1 Cup Brown Rice Puffs (unsweetened)
1½ Cups gluten free oats
½ Cup unsweetened coconut flakes
½ Cup unsweetened shredded coconut
½ Cup Sunflower seeds (or pumpkin seeds, or a mixture)
½ Cup Chopped walnuts
2 Teaspoons cinnamon
½ Teaspoon sea salt
Instructions
Preheat oven to 350F.
Line a small baking sheet with parchment paper and set aside.
Optional: toast the oats, coconut flakes, and nuts until just starting to brown. Allow to cool before proceeding.
Combine all of your dry ingredients in a large bowl, mixing well.
In a blender combine the bananas and melted coconut oil. Blend until liquified.
Combine banana mixture with dry ingredients and mix until thoroughly combined.
Spread granola mixture onto baking sheet, pressing firmly to pack the granola down (this will help to form chunks). Bake for fifteen minutes or until starting to brown on top. Keep a close eye the first time you make this as browning time can vary per oven.
Remove from oven and start breaking the granola apart into large clumps with a spatula, flipping the chunks over as you go. Bake for another ten minutes (again, the first time you make this check frequently to insure your granola is not getting too brown).
Remove from the oven and break the granola into even smaller pieces flipping the chunks over as you go.
Continue to chop, flip, and bake until the granola is deeply brown and starting to get crunchy. It will get even more crunchy as it cools. If you like bigger chunks stop chopping and only flip the chunks.
To make your granola even crunchier preheat the oven to 350F and place the granola back into the oven in five minute increments, making sure not to burn. Cook until nice and crispy. Remember it will get even crispier as it cools.
Store in an airtight container.
Interested in more from scratch granola recipes?  Click 
here
.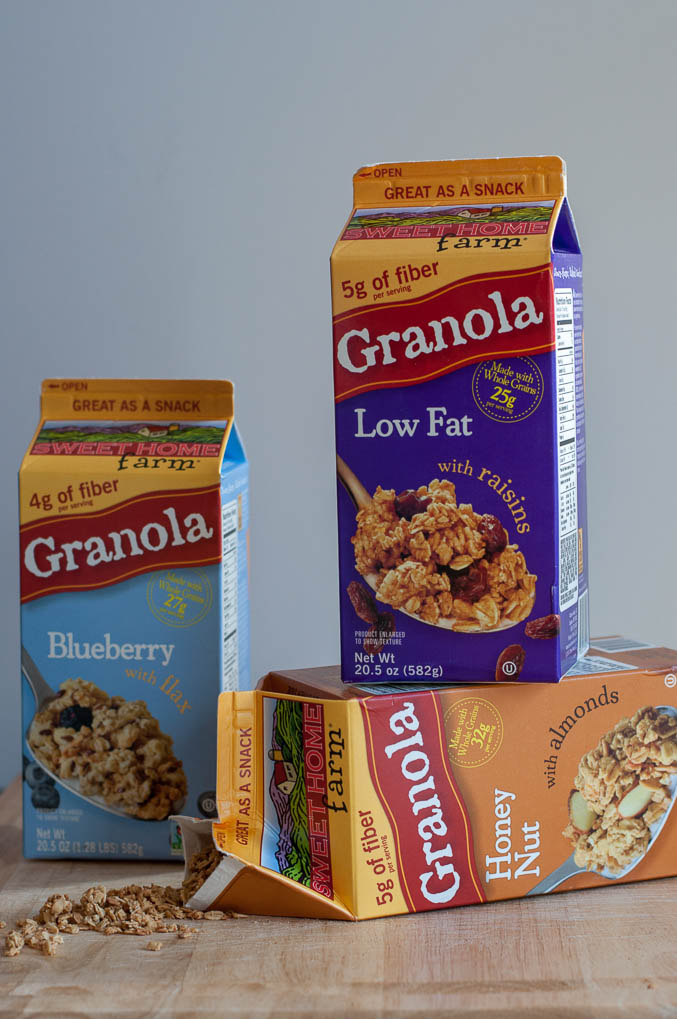 OK, switching gears: One of the perks of being a food blogger is having a brand reach out to you to sample their products.  I was lucky enough to receive three boxes of granola from the folks over at Sweet Home Farm.  And on my first crunchy, clustery, perfect bite I was hooked.  This is a cereal I could eat eight meals a day, e a s y.  I quickly gravitated to their honey almond flavor.   For all of you who like to mix it up, they have six different varieties to chose from (maple pecan, pumpkin flax, low fat, honey nut, french vanilla, and blueberry flax).  I can personally attest to the fabulousness of the blueberry flax, low-fat, and of course the honey almond.  When you are not prepared with your own homemade cereal, Sweet Home Farm granola is a great staple to have in the house.  Not to mention their unique and thoroughly entertaining packaging.  Before I started making all of my own cereal, I would frequently be stuck in front of a cereal box reading and re-reading the dull, semi-obnoxious labels.  Sweet Home Farm knows what's up.  Their labels are really entertaining and cover history, fun facts, recipes, and more.  I won't ruin your joy of discovering this packaging on your own…but I'll leave you with this teaser from their honey nut box: in their lifetime, how much honey do you think one honey bee makes?  Nuh-uh!  The answer is hard to believe.  Check out the answer for yourself by grabbing up some of this granola.
The folks at Sweet Home Farm were generous enough to provide these samples but all opinions expressed here are completely my own.