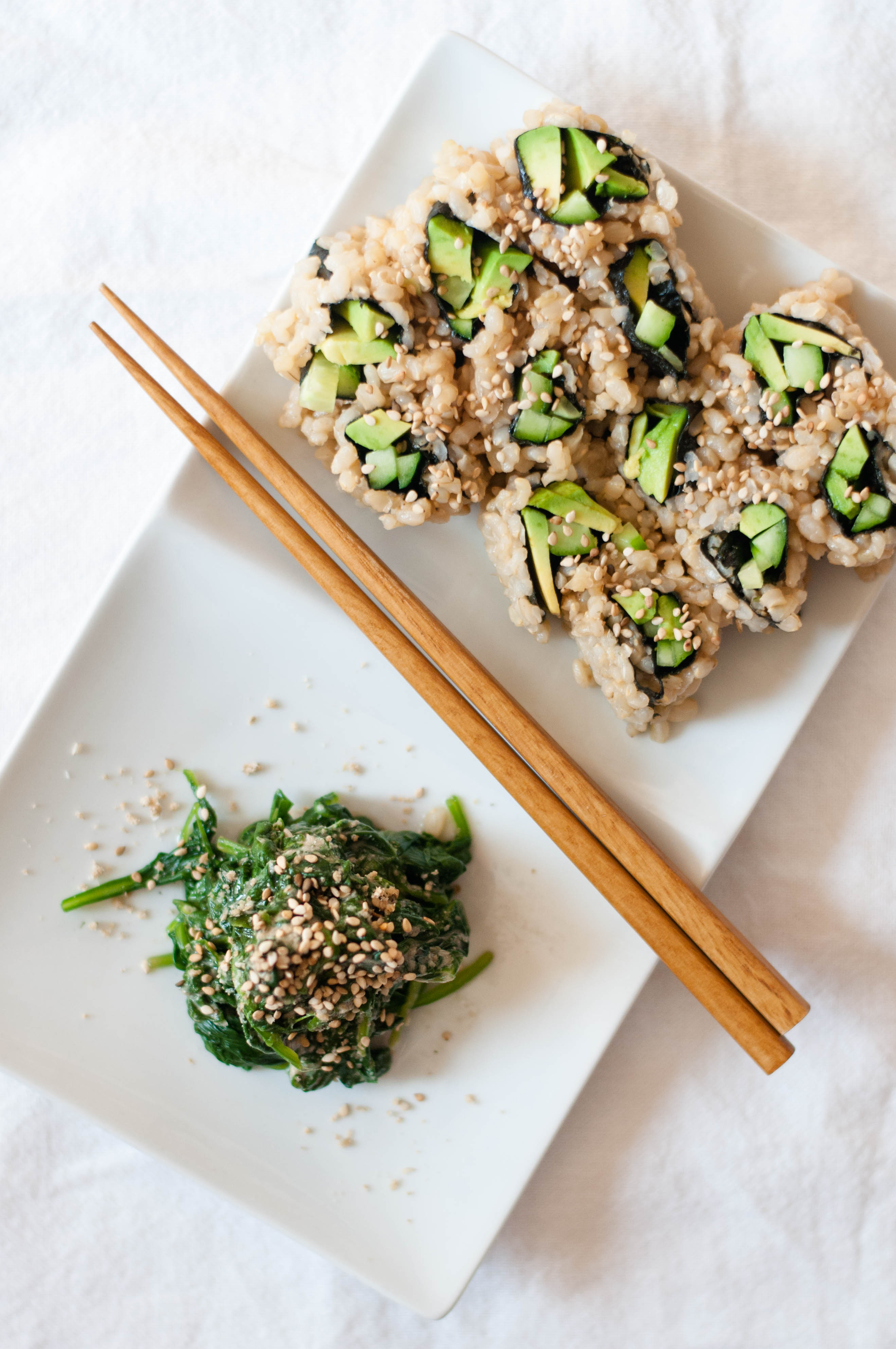 I first had goma-ae, a traditional Japanese side dish of vegetables and sesame dressing, in a restaurant in Santa Fe, New Mexico that has since closed.  It remains my only positive memory of the restaurant that shall remain unnamed, as it was the most bizarre and unwelcoming restaurant…oh, well.  The one positive takeaway is this delicious flavor combination that has remained in my taste-memory for years.  Today I am adding my own twist to this, and serving it alongside a vegetable roll made with brown sushi rice.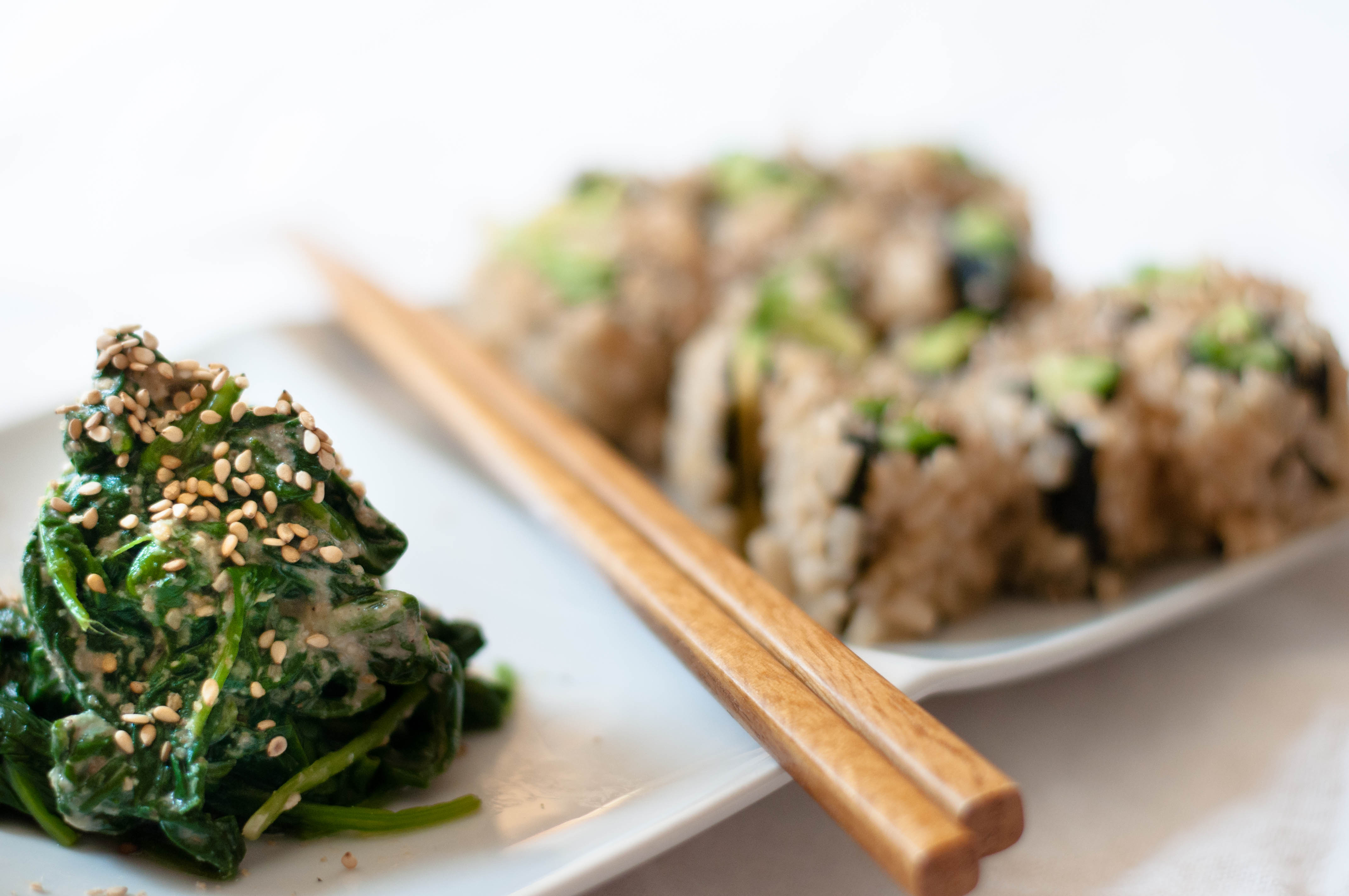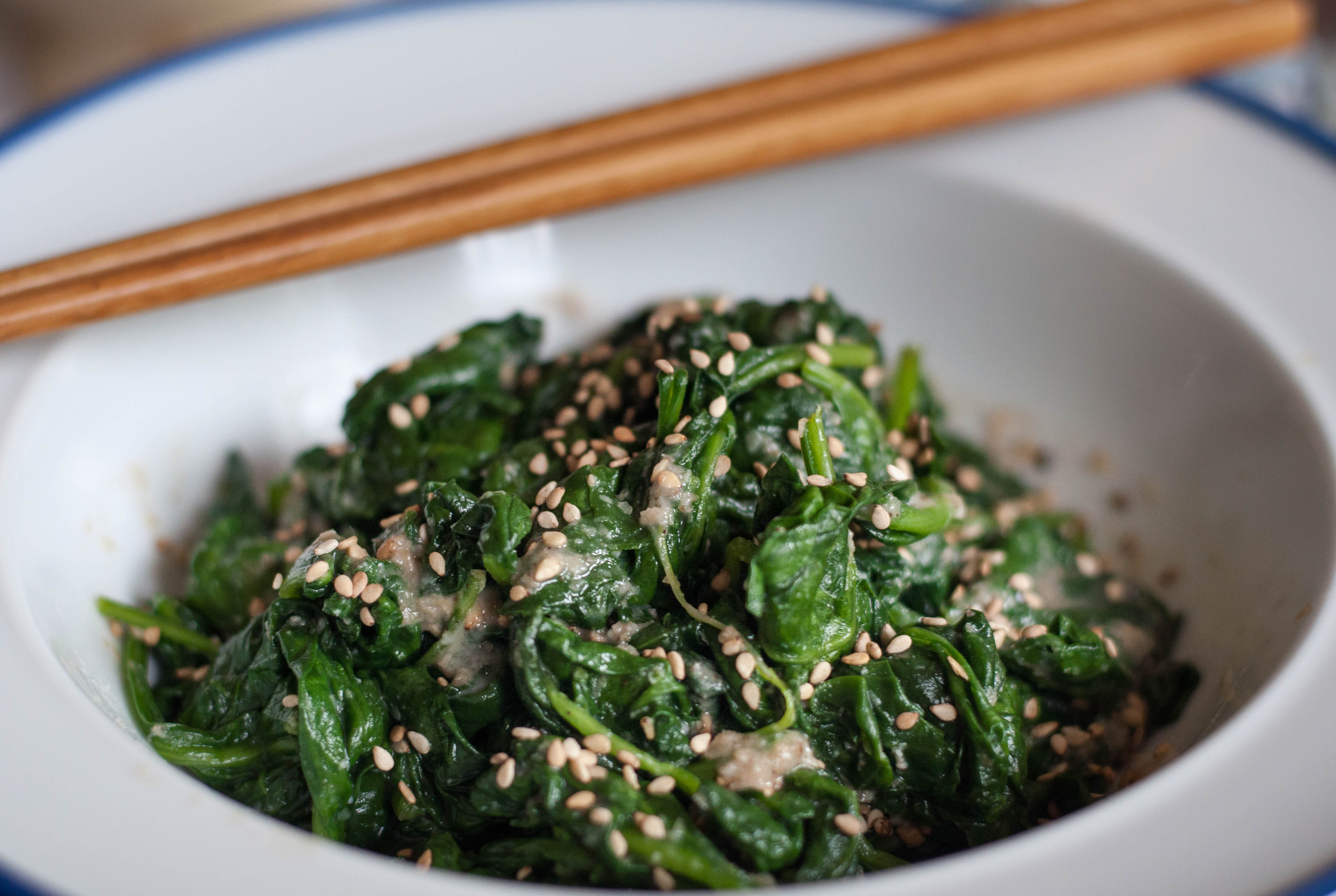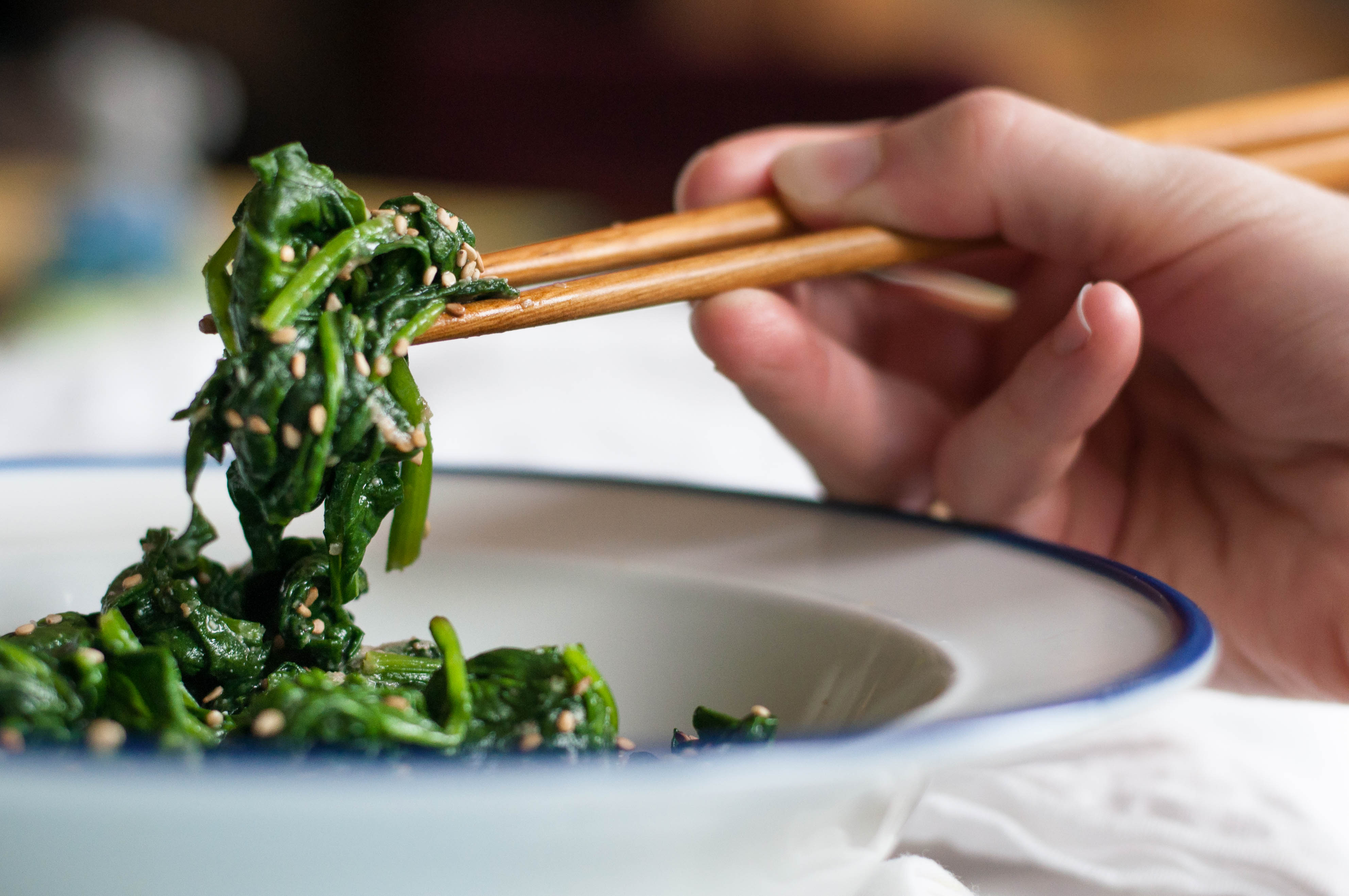 For some reason I had never attempted sushi rice on my own and it was surprisingly simple.  I'm sure that for the authentic, white-rice variety there are traditions and methods that defy the expertise of the home cook.  But I found the method I used produced delicious results.  There is also a really fun part of the recipe when you get to fan the rice as you stir in the sushi vinegar.  How much of an effect this has on the finished product, I don't know, but I guarantee you will feel really chef-y as you fan your rice to remove excess moisture.  And feeling chef-y is at least half the battle to being, in fact, chef-y.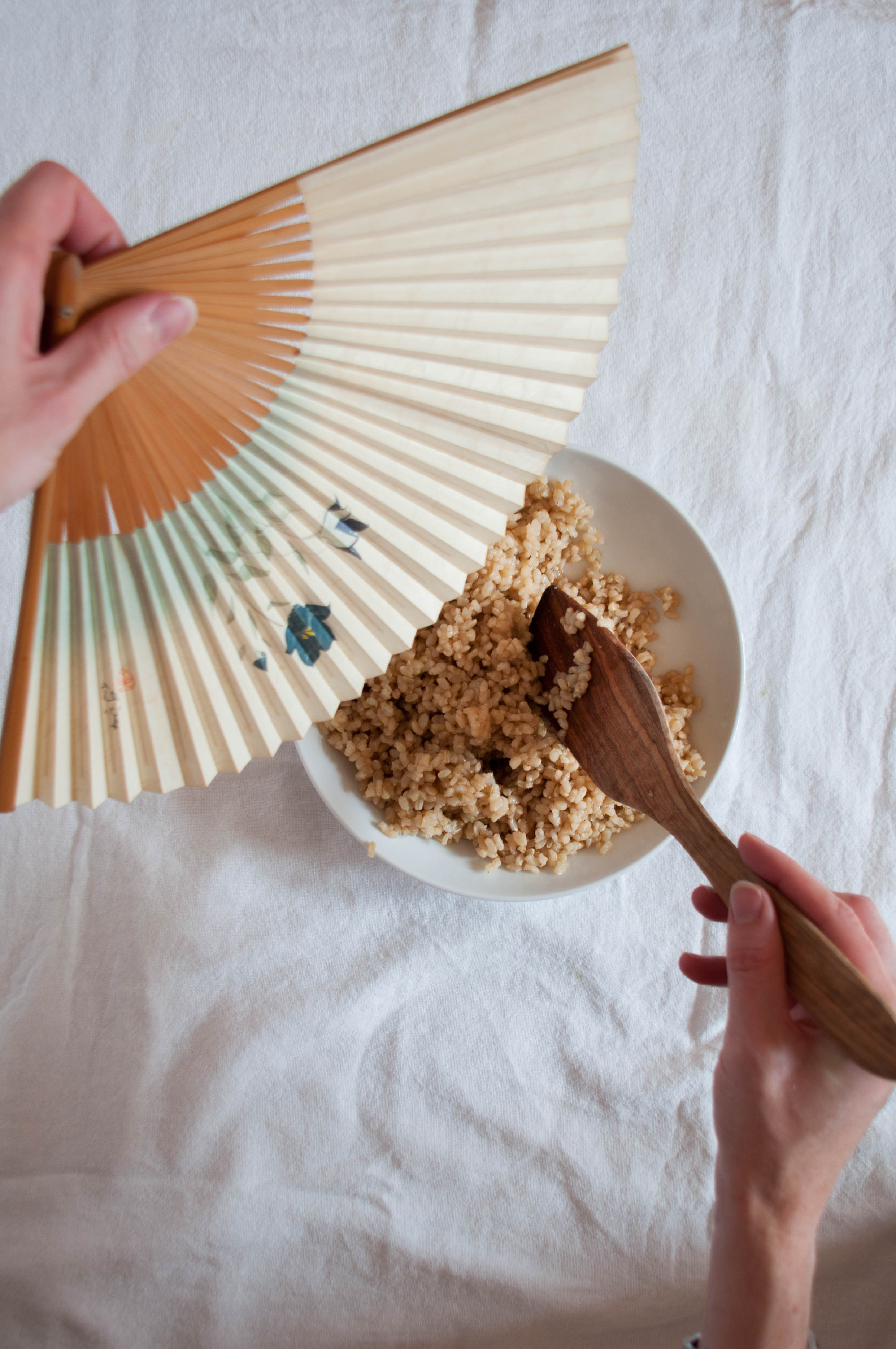 As I understand it, sushi rice is basically seasoned with three things: rice vinegar, sugar, and salt.  These three ingredients combined make up what is called sushi vinegar.  Every chef uses different proportions of these ingredients.  Some add in "secret" or additional ingredients, like konbu (kombu) or mirin, to add distinct or varied flavors. Previously, I had thought sushi rice was much more of a science than an art.  Wrong.  There is a lot of room for creativity and taste preference here.  I prefer a less-sugary rice and have posted my recipe for the sushi vinegar below.   This rice will work well in rolls, but is not going to be sticky enough to make sushi.  I've also added some of my novice tips for rolling sushi.  This is seriously NOT difficult.  My biggest improvement in rolling sushi came from watching the chef anytime I ate at a sushi bar.  Really watch the chef preparing food.  Watch what their hands do.  Watch how they tuck the roll.  Where they lay the ingredients.  How much rice and how much filling ingredient… The more I watched, REALLY watched, the better I got.  My biggest tip, don't get discouraged if your first time rolling is a fail.  Worst comes to worse, roll it like a burrito and enjoy your dinner!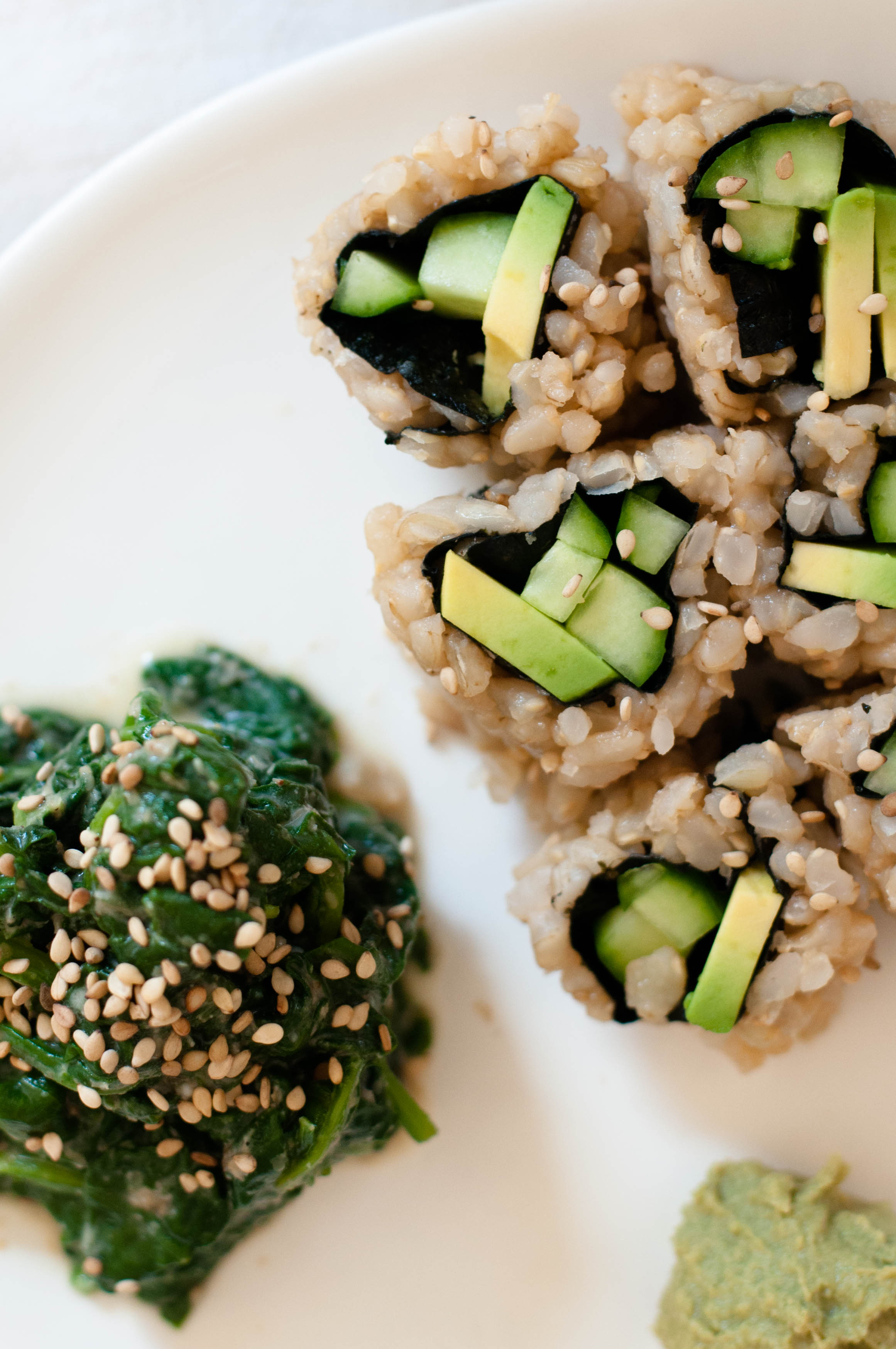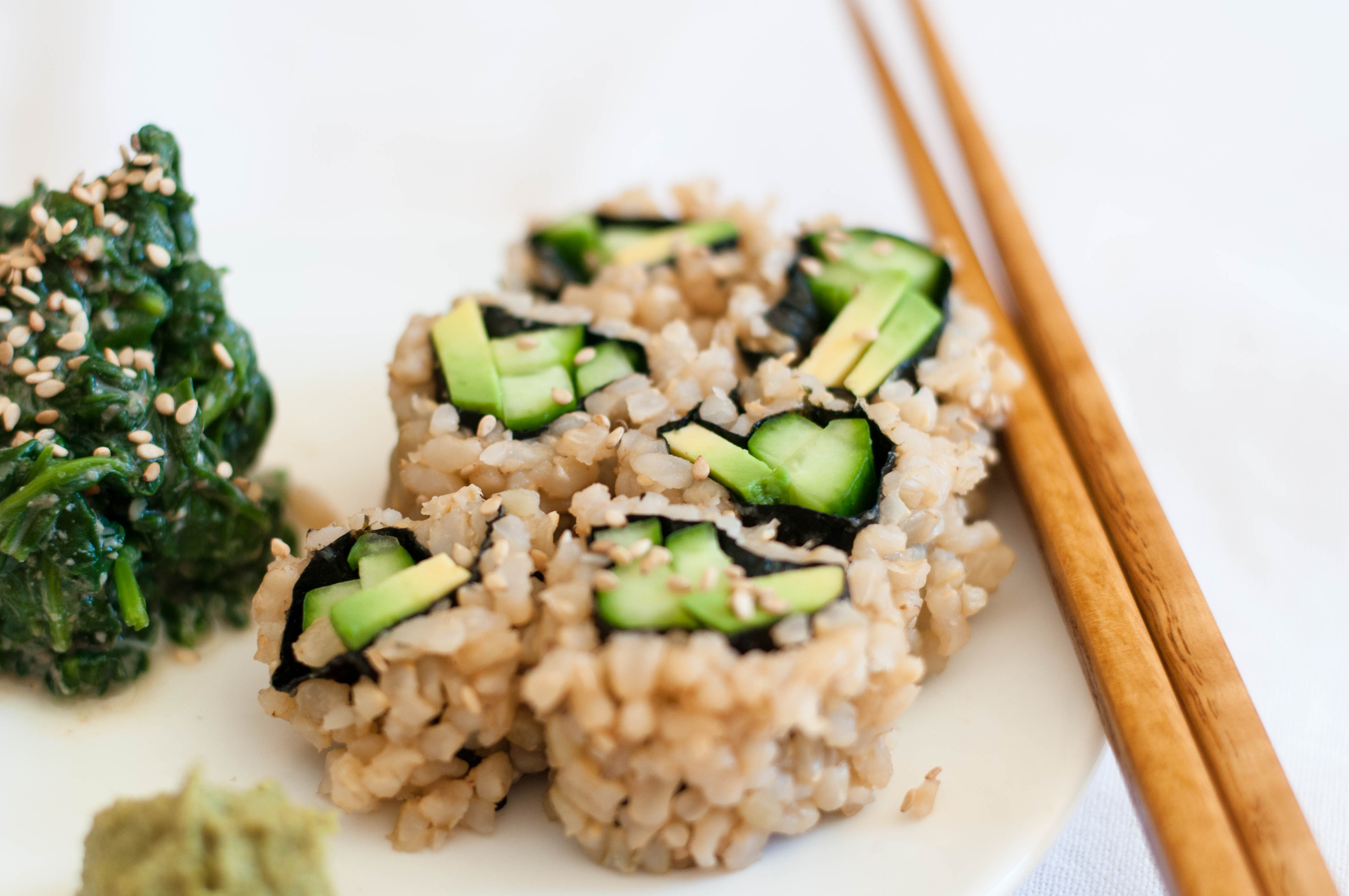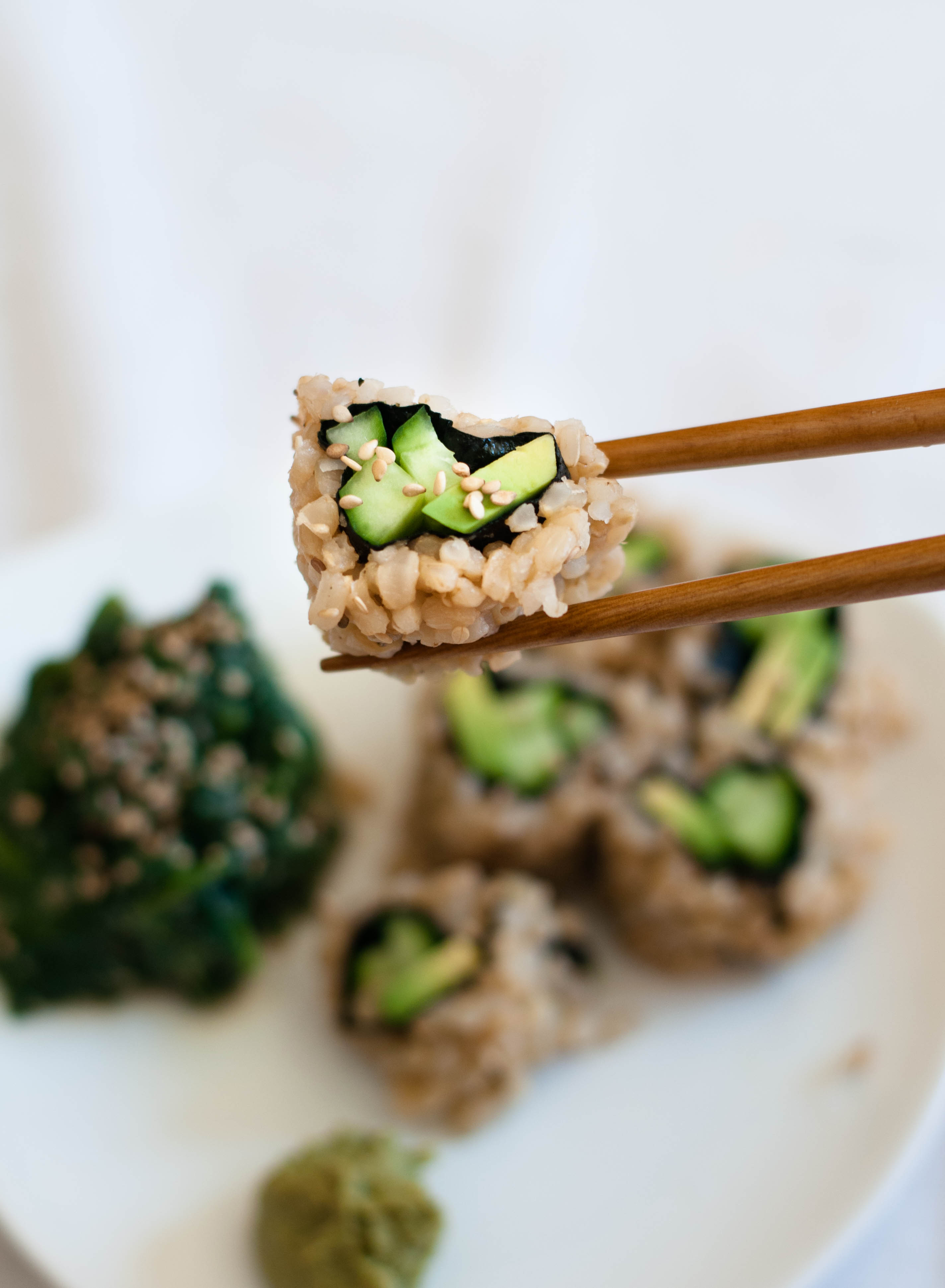 I'm sitting here racking my brain with what else to write for this post.  And I've got nothing.  I've spent the weekend working in the kitchen, thinking up what I hope will be some great fall recipes.  My brain is heading into the work week (It is Sunday as I sit here writing this).  I've got multiple, extremely frustrating, photo shoots under my belt (thank you stormy weather).  And as I sit here and dig through my brain, I have come to the conclusion that I am creatively sapped.  And I've learned that at times like these it is best to take a step back and let things be.  My impulse is to dig in and get it done.  Come up with something great.  Push harder and create something sensational.  But sometimes all of that is in complete opposition to well-being and peace.  One of my biggest challenges has been having the wisdom to know when to just let things be. Knowing the difference between giving up as opposed to accepting that's all I've got right now is certainly a challenge.  But it's a worthy endeavor, because falling on either side of that divide (giving up or pushing too hard) brings dissatisfaction, distress, and unhappiness.  So today, enjoy this delicious asian dish.  Perfect for lunch or a simple dinner.  Clean eating.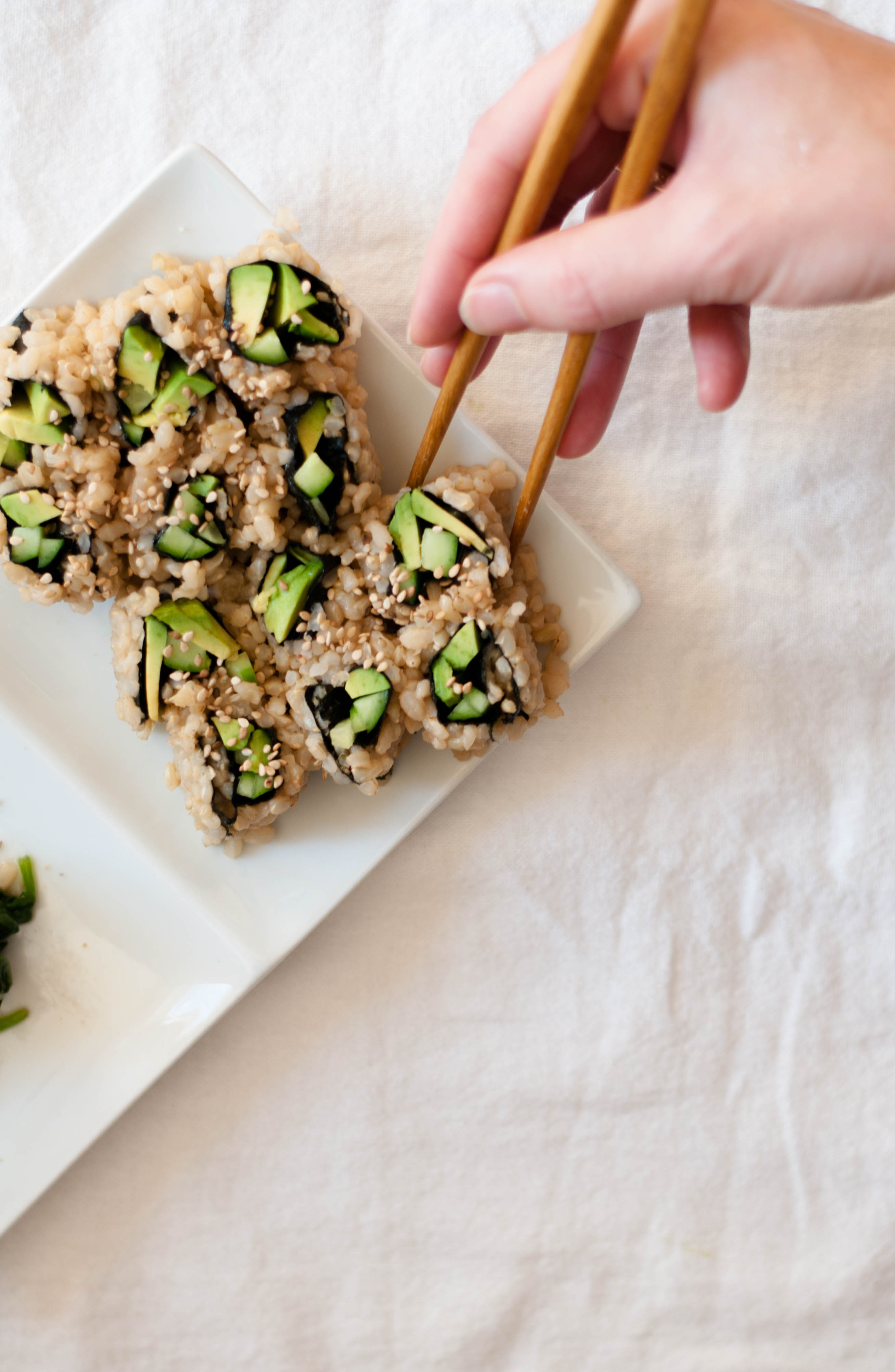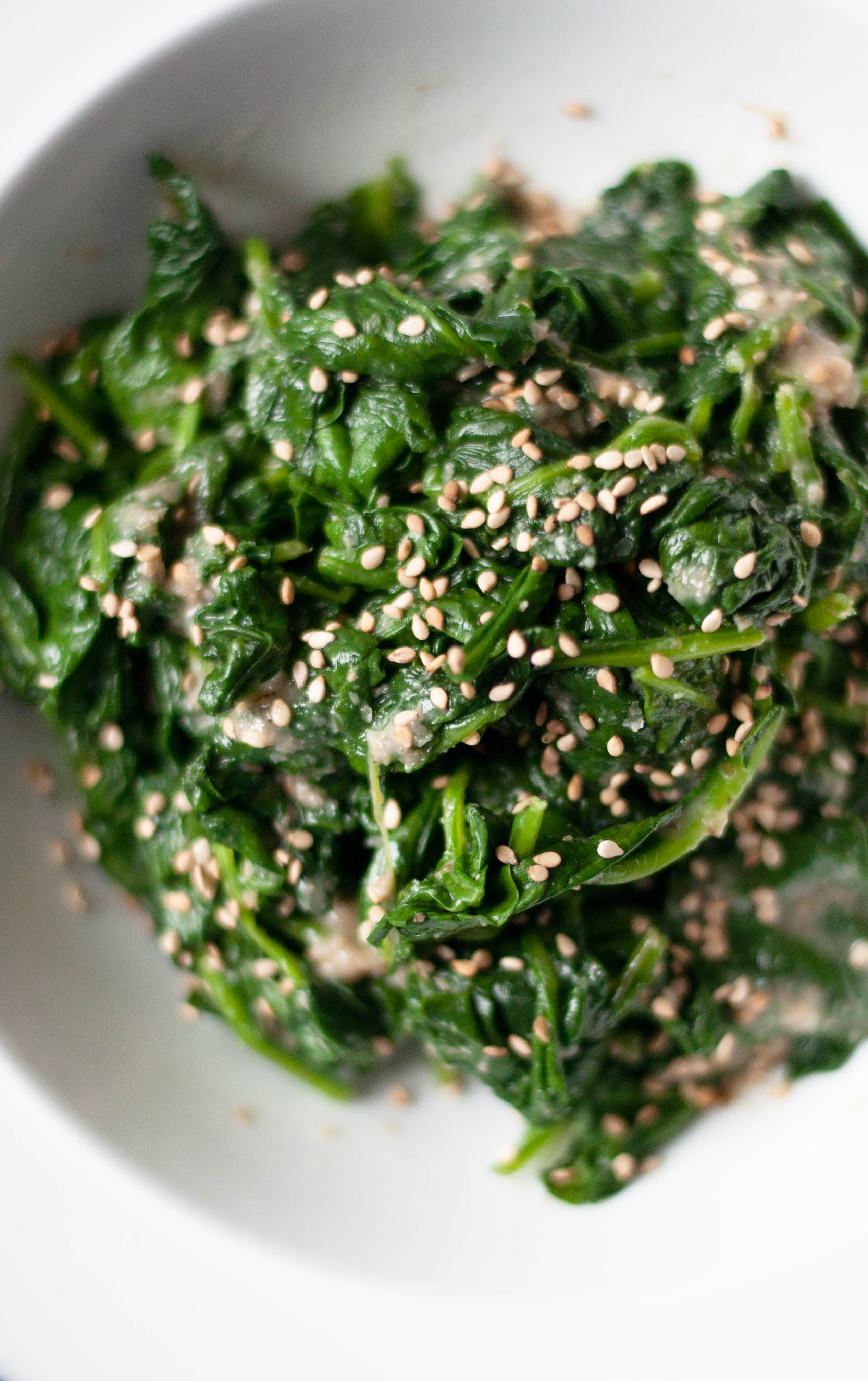 Tips & Tricks:
Don't use too much rice:  Whenever I see photos of home-rolled sushi (or enjoyed them at dinner parties) there is just too much rice.  When placing the rice on your nori sheet you should have one layer of rice, that's it.  Otherwise the texture and flavor of the rice overpowers the other flavors.  You want all of your ingredients to sing in harmony.
Slice your nori sheet in half for sushi rolls:  If you have nori that is perforated ignore the perforations (unless it divides the nori in half).  Slice the Nori with a knife to create two equal sized sheets.  Each 1/2 sheet will create one roll.
Don't overstuff the roll: Less is more.  If you add too much to the roll, it won't seal properly and it will be too large to enjoy as one bite.
Don't be afraid to use some pressure:  Press down firmly as you roll sealing everything tightly together.
Don't give up: Perfecting the sushi roll definitely takes time.  Eat your mistakes and don't get discouraged.  It takes sushi chefs years of training to master this art form.


Sesame Miso Spinach Salad (Goma-ae) & Vegetable Sushi
This recipe will make enough rice for about four sushi rolls and 4 servings of goma-ae
Ingredients
For the Goma-ae
2½ Tablespoon toasted ground sesame seeds
½ Tablespoon rice wine
Drop of maple syrup (to taste)
1 Tablespoon white miso paste
1½ - 2 Tablespoons water
5 Oz package spinach
Whole Sesame seeds (for sprinkling on top)
For the Sushi Vinegar (it is best to use a kitchen scale for accuracy):
¼ Cup rice vinegar (60 g)
2 Tablespoon raw turbinado sugar (25g)
1¼ Teaspoon sea salt (5 g)
For the rice:
⅔ Cup short grain brown rice (this is enough rice to make about 4 rolls)
½ Teaspoon soy sauce (wheat-free tamari for gluten sensitivities)
1 Cup water
For the sushi roll:
2 Small cucumber
1 Avocado
Sesame seeds
2 Nori sheets
Instructions
To make the Rice:
Rinse rice well. Place rice, water, and soy sauce in a pot and bring to boil. Once boiling turn heat down to simmer and cover. Cook for 40 minutes or until the rice is cooked through and no water remains (use a fork to peek at the pot bottom to check if all of the water has been absorbed). Let sit, covered, for ten minutes.
While the rice is cooking, combine rice vinegar, sugar, and sea salt in a saucepan and heat until the sugar and salt have dissolved. Set aside to cool. While your rice is finishing, make the goma-ae.
To make the goma-ae:
Steam spinach, drain well, and place in refrigerator to cool completely. Place a towel around the spinach to allow it to continue draining. If there is too much moisture the sesame dressing won't coat the spinach leaves.
Toast 3-4 tablespoons of unhulled (more nutritious) sesame seeds. While they are still warm grind small batches with a mortar and pestle. If you try to grind too many at once you will reduce the effectiveness of the mortar and pestle. Reserve left over seeds to top the goma-ae and sushi rolls.
Combine ground sesame seeds, rice wine, maple syrup, miso, and water until you have a consistent mixture that is slightly thick but pourable. Add water gradually to achieve this consistency.
Mix sauce into spinach. Use your hands to thoroughly coat the spinach. Steamed spinach has a tendency to clump. Make sure you separate the leaves sufficiently so everything is dressed evenly. Sprinkle whole sesame seeds over the top. Place back in the fridge while you prepare your sushi rice and rolls.
To make the sushi rice:
It is very helpful to have a kitchen scale. A useful guideline for the proportion of sushi vinegar to rice: 12% of the weight of the cooked rice = the amount of sushi vinegar to use. If you don't have a scale and you make the amount of rice that I specify above, you are going to need about ⅓ cup of sushi vinegar. Taste and adjust as necessary. While the rice is warm the taste of the vinegar will be stronger, so keep that in mind.
To mix the sushi vinegar into the rice, stir and fan the rice. This will help remove excess moisture from the rice. Continue mixing until all of the sushi vinegar is incorporated (1-2 minutes).
To assemble the sushi roll:
Cover a sushi mat completely (front and back) with plastic wrap.
Slice a sheet of nori in half. Place ½ sheet toward the base of the mat. Cover the sheet with a single layer of room temperature rice. Gently flip the sheet over (rice touching plastic wrap and nori facing you).*
On the lower third of the nori sheet place your sliced avocado and cucumber. About three pieces of each. If you like spice, you can add a line of wasabi before rolling.
Roll gently, but firmly, pushing down as you roll forward. Slice your roll in half, then slice each section into thirds. Use a sharp knife and slice in one definitive slice. It helps if the cutting edge of the blade is slightly wet.
Sprinkle sesame seeds on top of the rolls and serve with wasabi, soy sauce, and goma-ae.
Notes
Some helpful links I used to create my sushi vinegar and rice
here
and
here
.
*This preparation is for an "inside-out" roll where the rice is on the outside of the nori. If you want to make a roll with nori on the outside don't flip the nori sheet over. If this is your first time rolling sushi, I recommend making it with the rice inside.