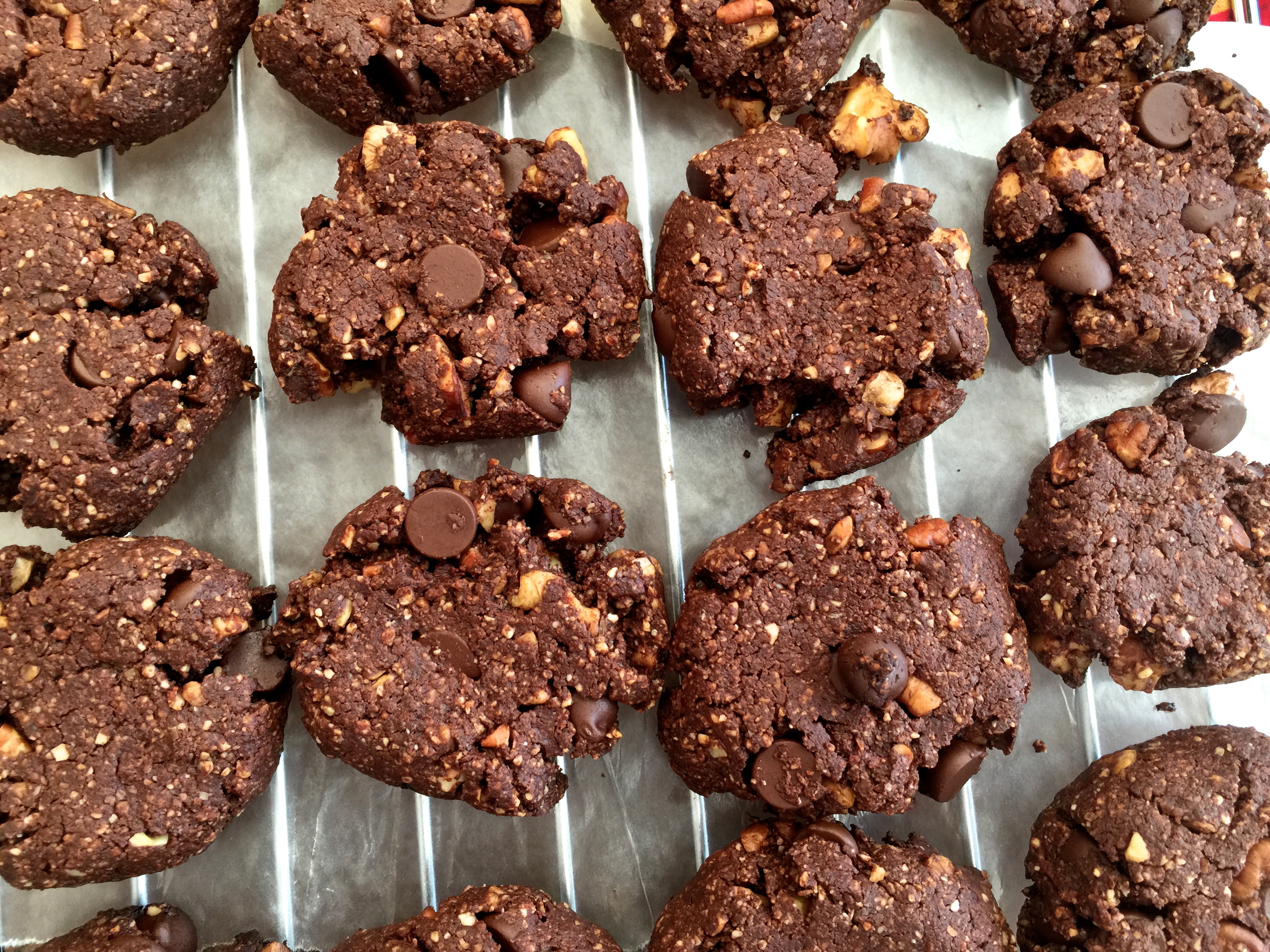 I woke up this morning and thought, "how can I make my dairy free chocolate chip cookies even better?"  CHOCOLATE.  Apparently chocolate IS the answer to every question.  Or at least it's the answer to every question worth asking.   The cookies came out great and SUPER chocolatey.  I like my chocolate dark, VERY dark.  If you are a milk chocolate lover, you're going to want to up the sugar and/or reduce the cocoa.  I might add however, that if you are a milk chocolate lover experiment with coming over to the dark side.  I developed my love for dark chocolate over time and now I eat chocolate with no concern about health or weight gain.  In fact, I not only am not concerned about how much dark chocolate I eat, but I think the amount I eat is good for me, and consider it one of the essential components of my diet, like fruits, vegetables, etc.  It's the red wine of the dessert world.  Enjoy the recipe and venture out of your sugar comfort zone if this pushes you past your outer limits.  You'd be surprised at how little sugar (or sweetener) you need to satisfy your desire for something sweet.  I know I was!

Gluten-Free, Dairy-Free, and Vegan Double Chocolate Chip Cookies
15-minute bake time Makes 16 cookies
Ingredients
1¼ Cup almond meal
½ Cup diced walnuts
⅓ Cup cocoa powder
½ Teaspoon cinnamon
¼ Cup chocolate chips (heaping)
½ Teaspoon salt
4 Tablespoons raw sugar
1 Flax egg (1 tablespoon flaxseed meal mixed with 2½ tablespoon cool water)
3 Tablespoon canola oil
1 Teaspoon vanilla
Instructions
Preheat oven to 350F.
Combine dry ingredients well.
Prepare flax egg by combining 1 tablespoon flax meal with 2½ tablespoons of water. Let sit for five minutes to thicken.
Whisk the wet ingredients into the flax egg.
Add the wet ingredients to the dry ingredients.
Mix until everything comes together.
Roll the dough into 1" balls.
Lay the balls out on cookie sheet and press them down gently with the back of spoon.
Bake for fifteen minutes or until edges are crisp and browning.
Notes
A real egg can be substituted for the flax egg.