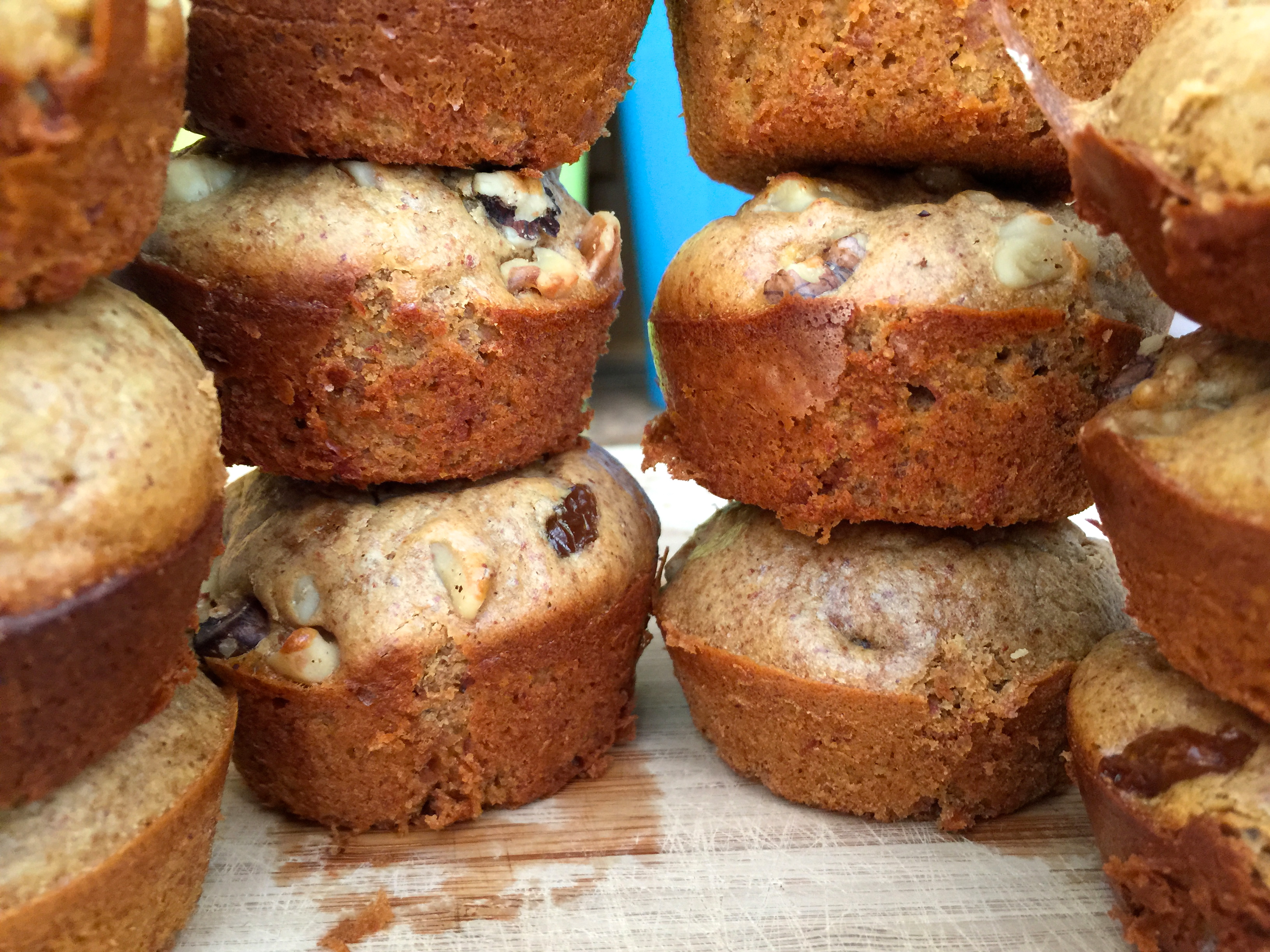 When I make foods that are allergy conscious/friendly, I adhere to a fundamental principle: the food has to be delicious, regardless of how allergy-free it is.  I never want to hear someone say "this is good for not having sugar"  or, these are good for not having whatever ingredient happens to be left out.   The food has to be good, period.  These muffins fit the bill.  I would bring these to any muffin baking contest and pit them against their all-purpose flour, sugary relatives.  Be prepared to hear "these don't have ANY flour!"
I make these for my mother who is very conscious to balance her sugar and carbohydrate intake to prevent diabetes.  These muffins have a perfect protein to carbohydrate balance and they are very low in sugar.  And, as an extra benefit, they freeze well so you don't have to eat the whole batch at once, although you might want to 🙂 .  Thaw them on the countertop and pop into the toaster or microwave if you want them warm and luscious.

Gluten-Free Almond Butter & Banana Muffins
Bake time 15 minutes
Ingredients
1 cup smooth unsalted almond butter (Follow the same instructions for homemade peanut butter to make your own)
2 Bananas
2 Eggs
1½ Teaspoons vanilla
1 Tablespoon molasses (or sweetener of your choice)
½ Teaspoon baking powder
½ Teaspoon sea salt
2 Tablespoons ground flaxseeds
½ Teaspoon cinnamon
½ Cup golden raisins
1 Cup walnuts or pecans (or ½ a cup of each)
Optional: Dark chocolate chips
Instructions
Before doing anything, turn your oven on to 400F bake.
While the oven is preheating, put all of the ingredients above into one bowl (except for the walnuts, raisins, and chocolate chips). There's no need to separate ingredients and gently fold them together...no delicate ingredients here!
Once everything is added to the bowl, use a hand-held mixer to blend everything very well until all the chunky bits of banana are smooth.
Pour your batter into an oil-sprayed or paper-lined muffin pan.
Now for customizing your muffins: add the raisins, walnuts, and chocolate chips in whatever quantities and mixtures you like into each muffin. Stir the ingredients into each muffin with a small spoon.*
Bake the muffins for 15 minutes or until a toothpick inserted comes out clean and they are nicely browned.
Notes
*I like adding the "toppings" after the batter is in the pan so that no muffin gets gypped. I experimented with five different varieties: plain, raisin, walnut, raisin-walnut, and chocolate chip. They were all great. You can use this batter as the base for hundreds of muffin varieties. The great thing about making muffins is you can make 12 different types of muffins per batch. I love experimenting and also customizing for my family. Everyone likes something different and specific. My grandfather used to say, "what do you think this is, a restaurant?" when one of us would request something different from what was being served. In our house the resounding answer to that question is, "yes!" I have been known to make four completely different meals for dinner and I love doing it. I want everyone to have exactly what they want, no compromise.