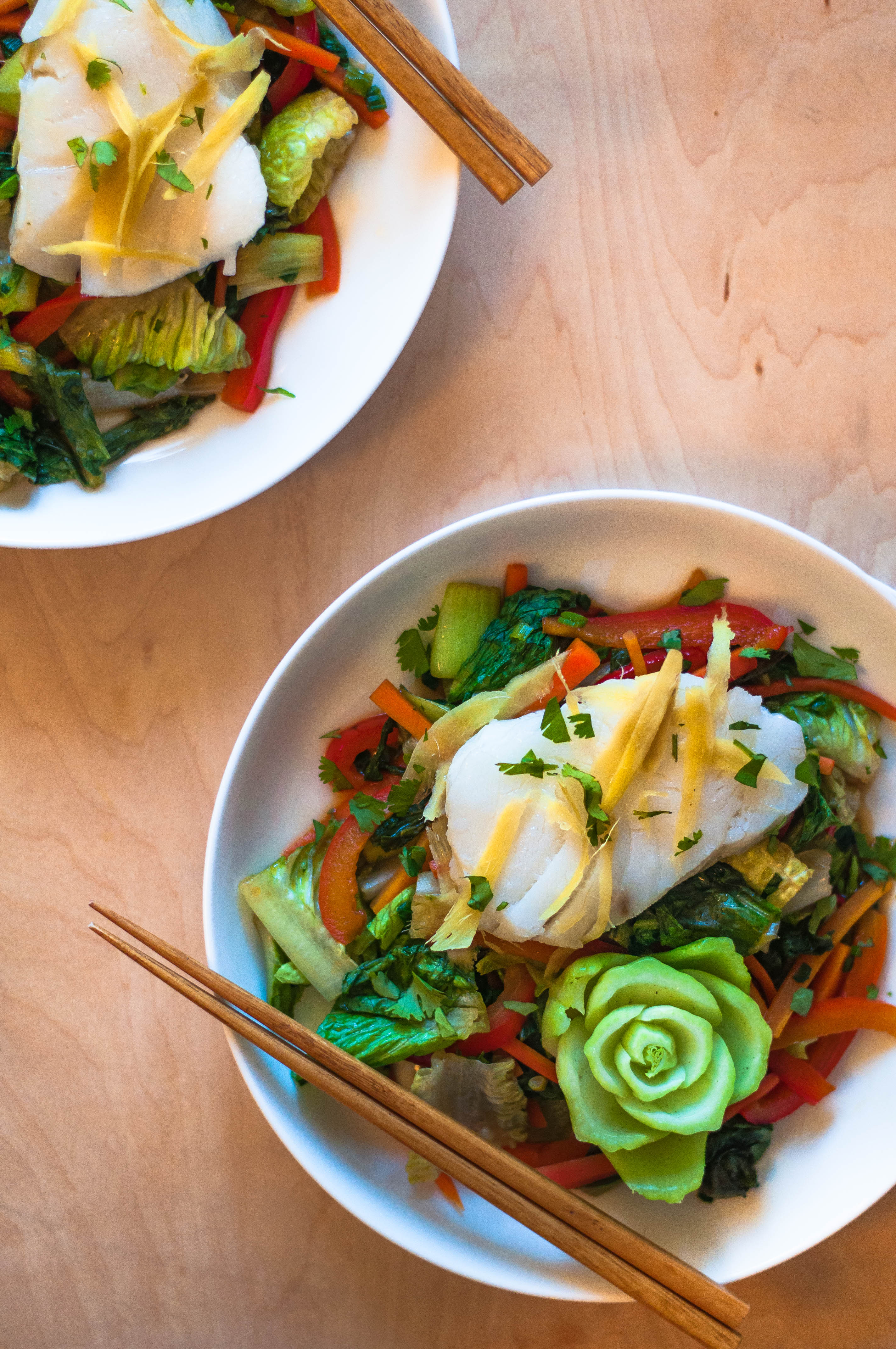 It's been awhile since I posted a recipe using an animal protein on the blog.   I am a bit trepidatious in sharing it.  I think many of you dear readers are either vegan or vegetarian.  Although that could be a wildly inaccurate assumption.  Let me know in the comments!  Hopefully this recipe can be adapted to your purposes (exchange tofu for fish, yum!).
The reason I don't have many recipes for meat is simply because I tend not to eat it.  I am a carbohydrate, fruit, and vegetable loving kinda girl.  My eating ratios are on the caliber of one loaf of bread per bite of meat.  I could eat endless amounts of carbohydrates without feeling full, but after just a few bites of steak I am ready to throw in the towel.  This seems to be changing though.  I have recently been seeking out more protein-rich foods to recover from a more intensive workout routine, and I've been gravitating towards more conventional proteins.  It's been eggs in the morning and fish and vegetables in the evening these past few weeks.  This dish is outrageously good and pretty simple to put together (especially if you prep your vegetables in advance).  Something magical happens when you steam with ginger.  1+1 no longer equals 2.  The flavor of the ginger elevates the dish past what seems reasonable.  If you don't believe me, try it yourself!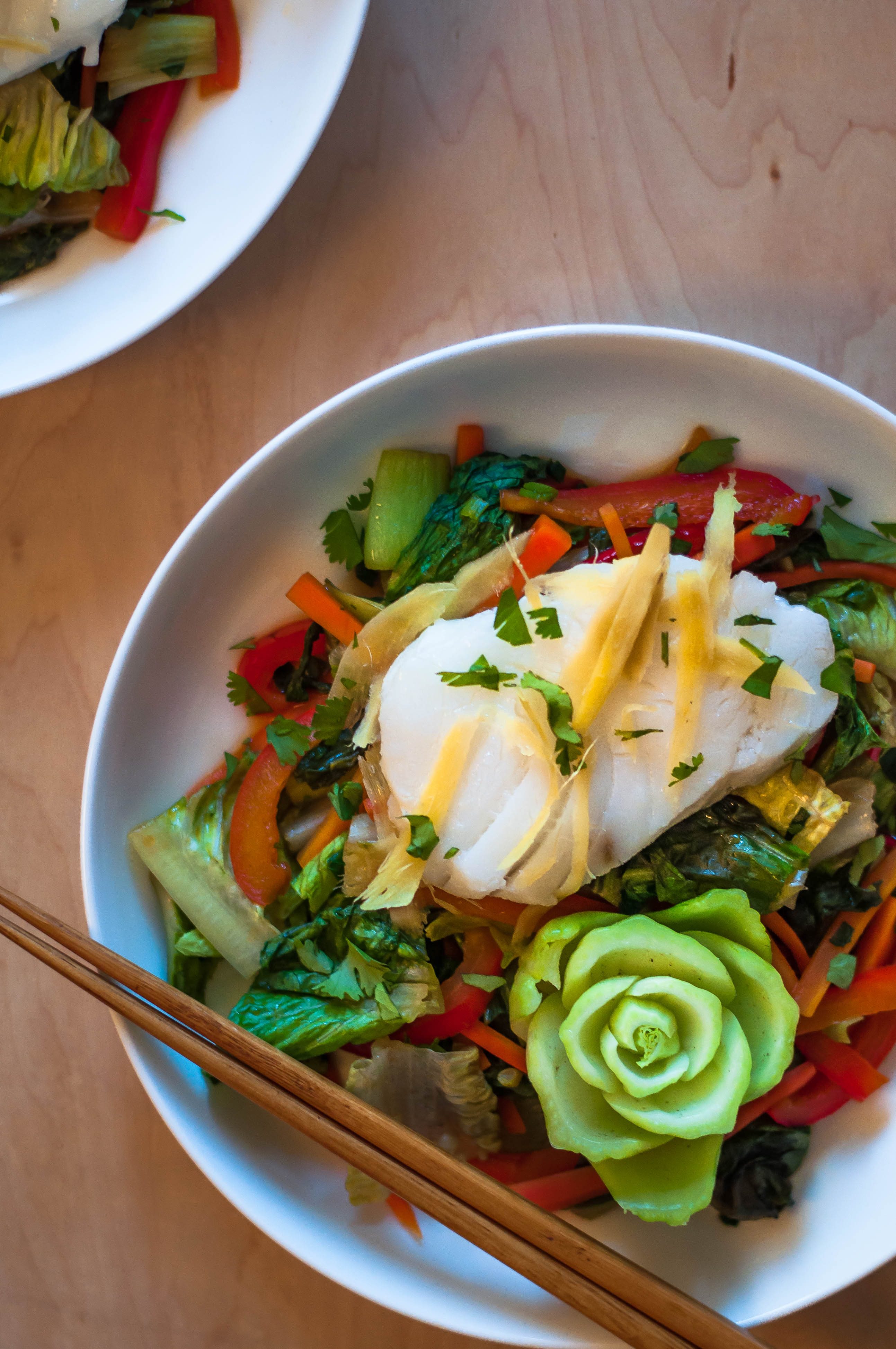 Remember a few months back when I wrote about my fraught relationship with all things in the fitness category?  ALL THINGS.  Well, it's been about four months since that post, and my commitment to earnestly experiment and explore my own fitness and my mindset about fitness.  I've been on the mat, treadmill, bike, or whatever 5-6 days a week since then.  Exploring new areas I had never dared peek at before (circuit training, yoga, weight lifting…).  Yup.  I pretty much look like a greek goddess at this point…cue giant eye roll emoji…and then depressed sad face emoji.  Hehe, just kidding.  It's not about how you look…except sometimes, when you get all excited that you actually have defined MUSCLES!
In my first post about this, I wrote about looking to transform my experience of exercise from a means to an end into something to enjoy in and of itself.  This has been a challenge.  Especially in those more demanding workouts.  Enjoy burpees?  Enjoy mountain climbers?  Perhaps defining the word enjoy in the context of fitness would be useful.  I use it to mean finding satisfaction and peace in the activity, as opposed to gritting my teeth, huffing, puffing, and praying it will end soon.  My perspective and endeavor is essentially to be here now.  Don't grit your teeth hoping for a good result, but enjoy the process of getting to that good result.  Whether it be a fitness goal, career goal, relationship goal, or any kind of result you are looking for.  Can we make the process as enjoyable as the result?  This is also my philosophy with cooking (scratching) and this blog.  If the process is not enjoyable then you are spending a good portion of your life not happy, satisfied, or well…and that's not for me.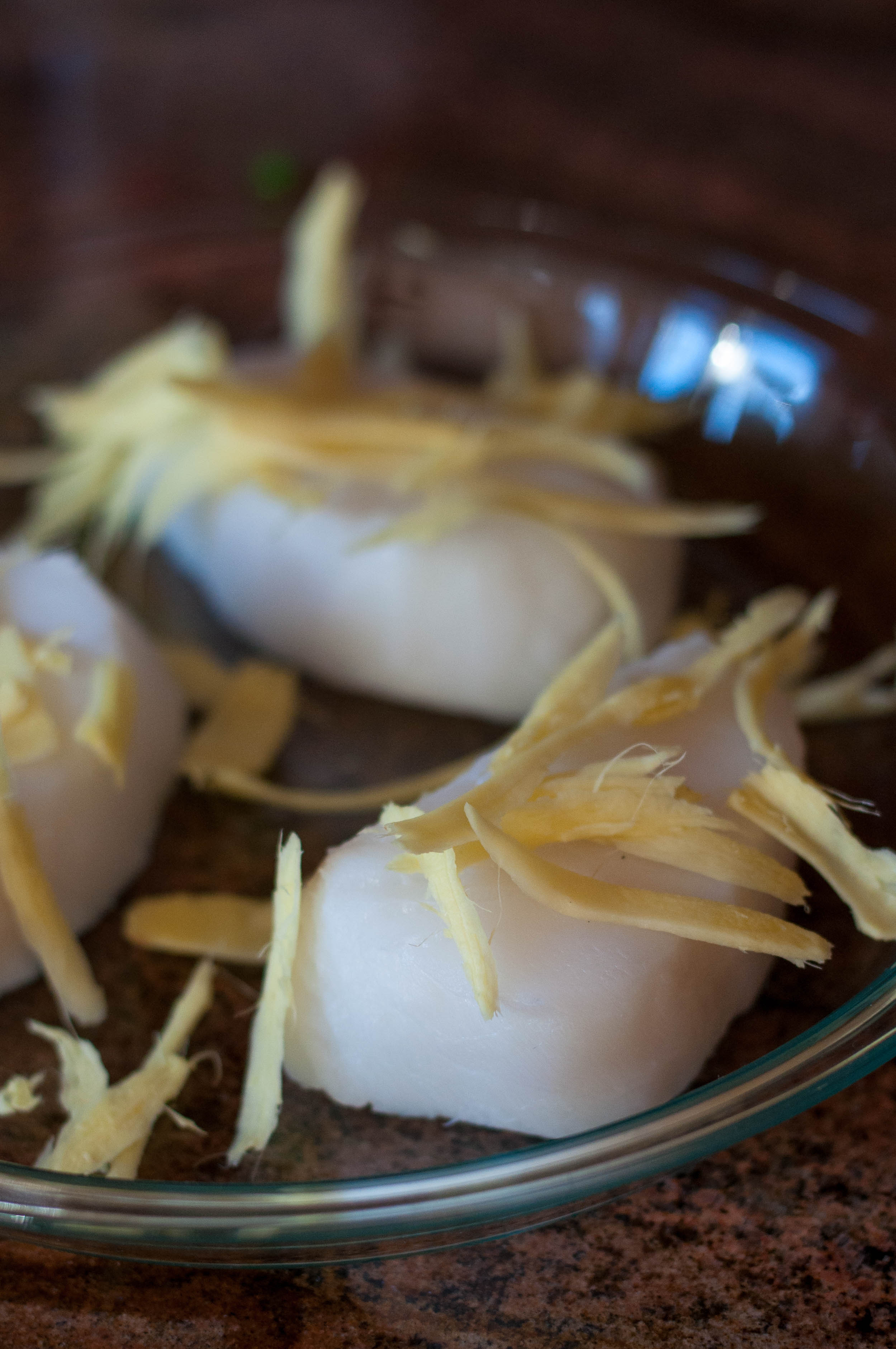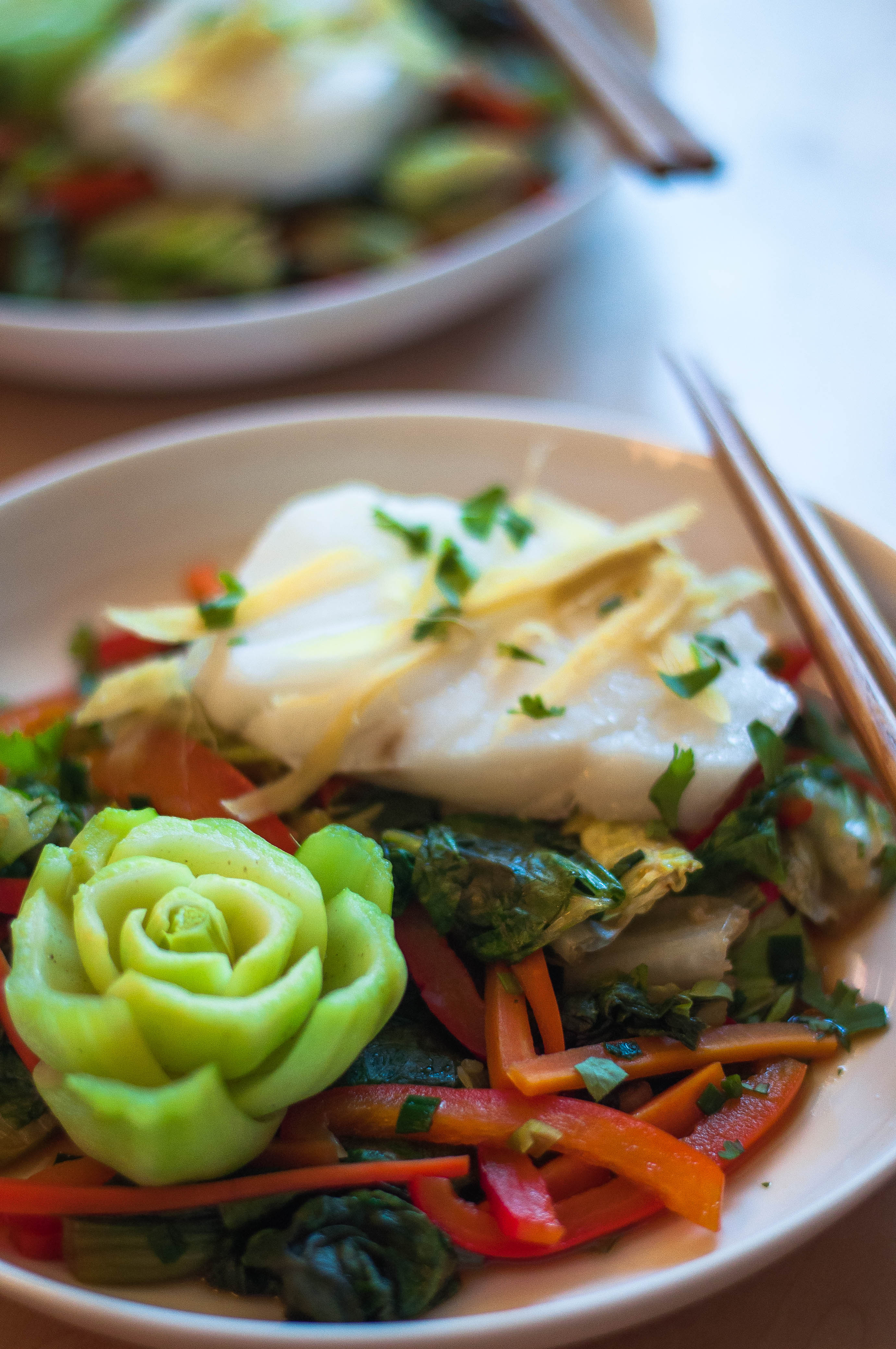 Setting the intention to be satisfied and find joy/peace/well-being in running, weight lifting…or doing a billion squats…has made the experience of physical exertion different than it has ever been.  That I am not successful in this endeavor all the time is not as significant to me as the journey and continued challenge to create that relationship.  Can I create harmony in my workout today?  This challenge is what keeps me excited and keeps me coming back for more.    It's easy to be well and satisfied while enjoying a delicious meal, or sitting with loved ones enjoying a movie.  Try being that way on your 15th squat after a 2 mile run.  Yeah, not so easy.  I love the mental challenge that physical exertion creates.  Being balanced and well mentally while my body experiences an array of demanding sensations is not so easy for me.  But this is the first time in my life I can truly say I enjoy my workout routines.  All the time?  No.  While I'm doing them?  Certainly not always.  But I enjoy the challenge of marrying mind and body.  And every day is another opportunity to increase my proficiency.
So, onward an upward!  For those interested, I have been following two online exercise programs, details below, as well as my own cardio program of running, spinning, and using a Nordic Track ski machine.
Yoga with Adriene:  I appreciate Adriene's steadfast voice to "find what feels good;" much of her philosophy with her yoga practice is similar to my philosophy here.  Be self-expressed in all of your endeavors (i.e. create food from scratch…express yourself from scratch).  Her calling/demand is to find ways to express YOU through exercise, yoga.  I have been following her for several months now and have increased my physical awareness tremendously.  Following her videos makes it very easy to enjoy the process.  My body and mind feel good and my well-being is enhanced after a session with Adriene.  Plus she makes me laugh.  She is like that friend in high school you just can't stop giggling with.  One knowing glance and the two of you crack up.
Tone It Up:  If you are looking for an intense full-body experience you can find it with Karena and Katrina.   When I first started working out with them, I frequently found myself saying, "are you kidding me?!" (as I peeled my sweaty self up from the ground).  However, I persevered and now really love their workouts (mainly because of my friend Sara, from the blog Cake Over Steak, who introduced me to them, and never stopped encouraging me and suggesting different videos for me to try!  Thanks Sara!).  I am currently following along with their 8 week challenge and I've been really eye-of-the-tiger about it.  Check out some of their workouts and you'll understand what I mean.
Be well and enjoy!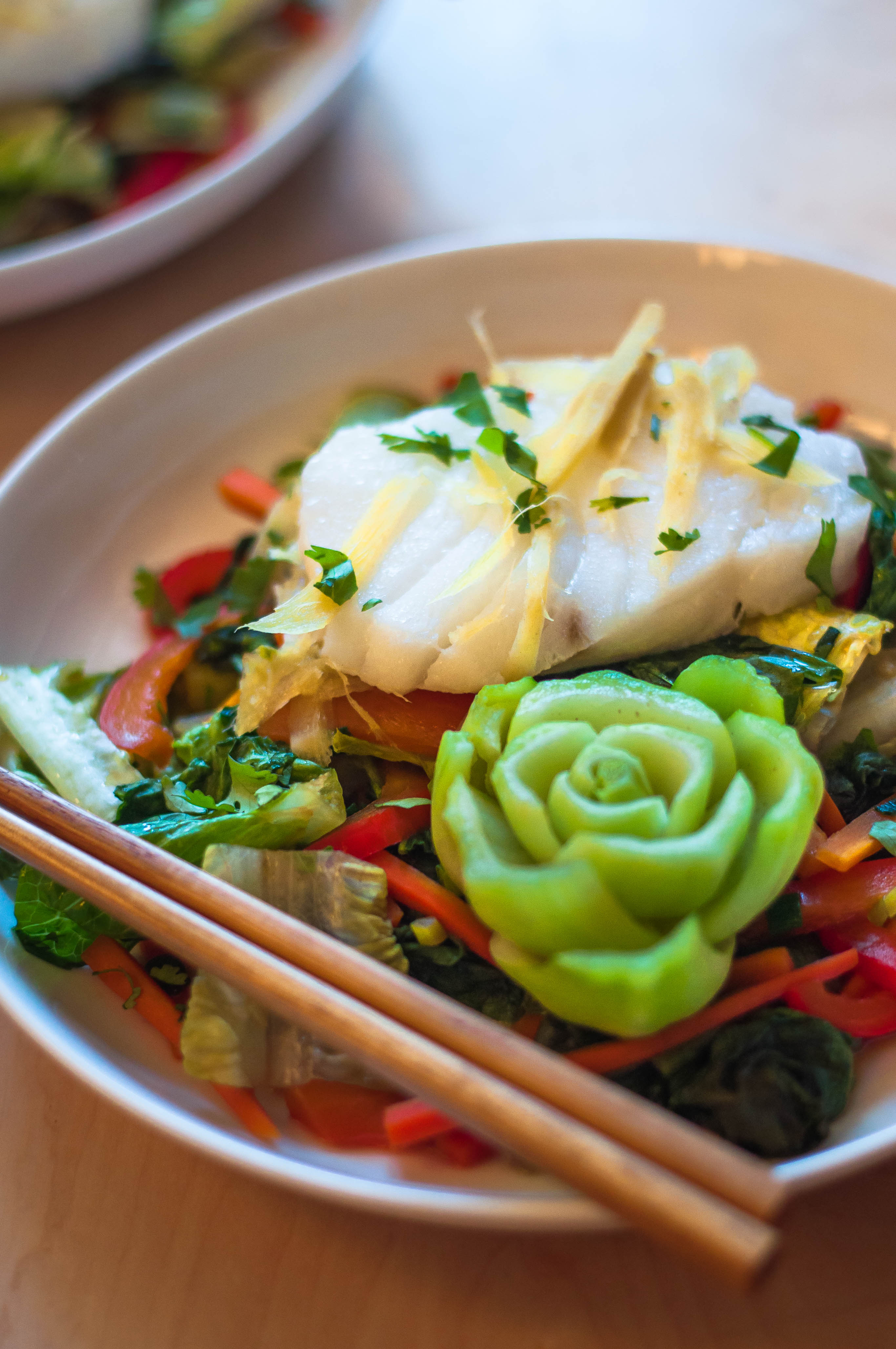 Ginger Steamed Cod with Stir Fried Salad
Ingredients
For the fish:
¾ lb Black Cod divided into three ¼lb pieces
⅓ Cup fresh ginger shavings (use a vegetable peeler to create very thin ginger pieces)
Salt
For the stir fried salad:
2 Large carrots
2 Heads of romaine
2 Medium-sized bok choy (pre-steamed)*
1 Red bell pepper
1 Bunch of scallions
For the sauce:
1 Tablespoon water
1 Tablespoon soy sauce
2 Tablespoons mirin
Instructions
Prepare a large stock pot with a steamer tray in the base of the pot. Remove the center peg from the steamer so that you can lay a pie plate flat on top of the steamer.
Julienne your carrots and peppers, dice your scallions, and chop your romaine into large chunky pieces in advance so that you can start cooking them as soon as you begin steaming your fish.
Fill your pot with water until just below the steamer. Bring water to boil.
Clean and dry your fish and place on a pie plate or similar dish that will fit into your prepared pot. Sprinkle your ginger shavings over the fish, covering evenly.
Once water is boiling carefully place the pie plate of prepared fish into your stock pot and cover pot with lid. The fish should cook undisturbed for 15-20 minutes depending on how thick your pieces are. Check for doneness by gently separating the fish and peeking inside to see that there is no translucency.
Immediately after you begin steaming your fish, heat a wok with a tablespoon of olive oil. Once hot, toss in your carrots and peppers. Season with salt and pepper. Cook until they just start to get soft. Add your pre steamed bok choy and diced scallions.
When the fish is about 2 minutes from being done add the romaine and sauce to the wok. Cook until the lettuce just starts to get soft, about two minutes. Taste and adjust seasoning as needed.
Plate your salad and place fish a top.**
Notes
*To create the pretty flower shaped rosettes with your bok choy, slice a very thin piece off of the base of the bok choy then cut the remaining stem about and 1" to 1½" from the base. Steam these "rosettes" whole.
**I serve the fish with the shredded ginger on top, but eating this much ginger could be quite intense if you are not accustomed to it. The ginger can be removed before plating.