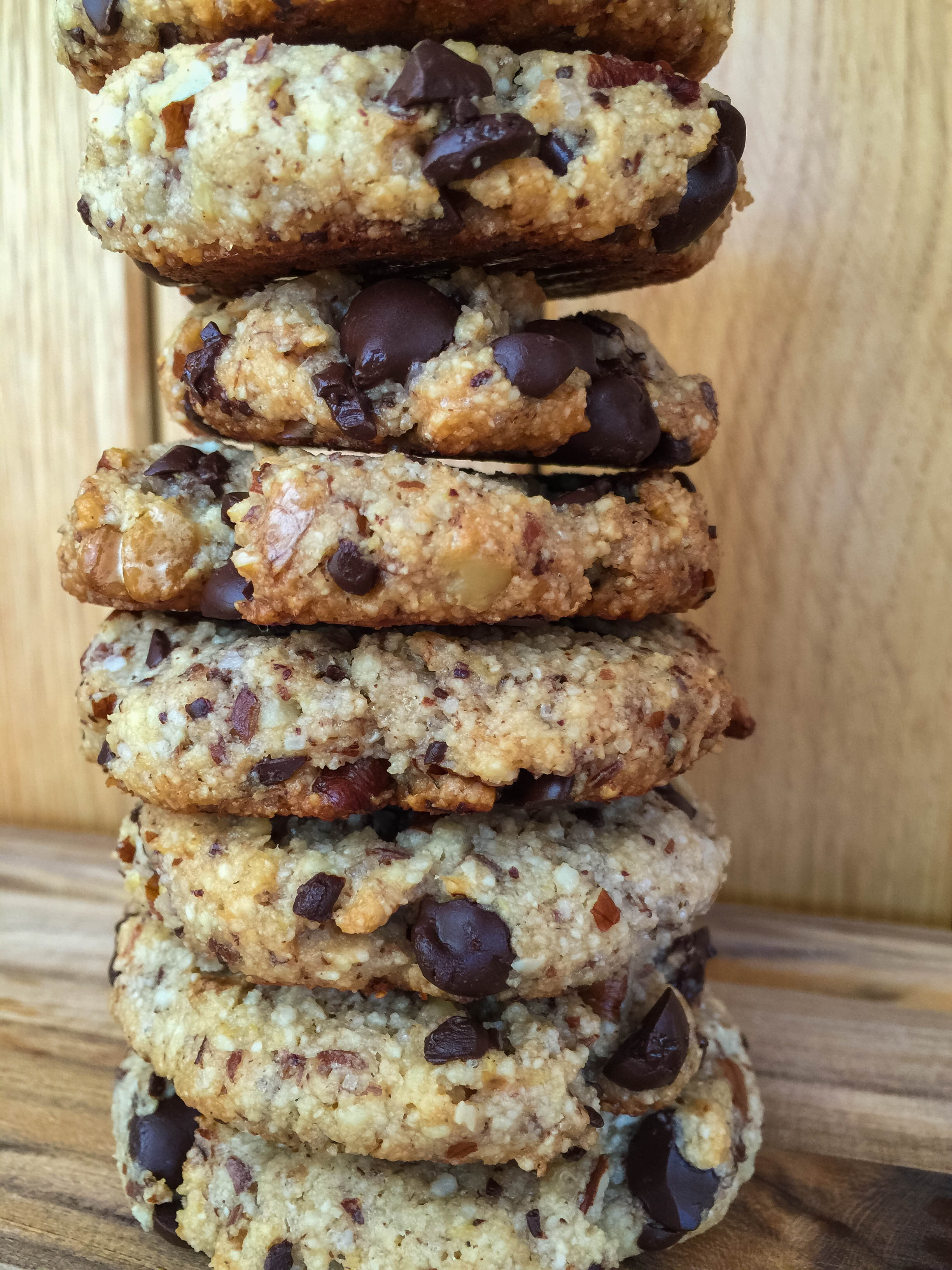 I don't know why I am even bothering to write anything on this post other than the ingredients.  With these cookies on your screen, I know you don't care what I have to say…just give me the recipe!  Right?
Gluten Free, Dairy Free & Vegan Chocolate Chip Cookies
15 minute bake time Makes 16 cookies
Ingredients
1¼ Cup almond meal
¼ Cup chopped pecans
¼ Cup chopped walnuts
½ Teaspoon baking powder
¼ Cup coarsely chopped chocolate chips (the higher the cocoa percentage the better)
½ Teaspoon cinnamon
¼ Teaspoon sea salt
3 Tablespoons raw sugar
1 Flax egg (1 tablespoon flax meal mixed with 2½ tablespoon cool water)*
3 Tablespoons canola oil
½ Teaspoon vanilla
Instructions
Preheat oven to 375F.**
Prepare flax egg by combining 1 tablespoon flax meal with 2½ tablespoons of water. Let sit for five minutes so it can thicken up a bit.
Combine all dry ingredients and mix them together well.
Add vanilla and oil to flax egg and whisk together.
Pour liquid ingredients over dry ingredients and mix until well incorporated.
Roll dough into 1" balls and place on a baking sheet (no spray needed if using a nonstick pan).
Gently flatten each ball with the back of your spoon.
Slide into oven and immediately turn the temperature down to 350F.
Bake 15 minutes or until they are golden brown.
Notes
A real egg can be substituted for the flax egg.
*I learned the recipe I use for flax eggs at
theminimalistbaker
it works great!
**The base of these cookies will brown quicker than the top. If you are questioning whether they are done, take a spatula and lift one cookie gently. The bottoms should be a deep golden brown.
I chopped up my chocolate chips coarsely.  I really love having chocolate in every bite.  Having a mixture of flaky pieces and big chunks ensures a balanced distribution so that you never waste a bite!  Make sure to mix everything well.  A secret to great baking results is evenly distributed ingredients.  Have you ever bitten into a home baked good to find a clump of baking soda? (Gahk!  Don't be that baker!).
A word to the wise: let them cool on a wire rack before eating them ALLLL (not worth a belly ache…although it almost is).  Be prepared to make these again tomorrow.  We didn't have any left after the first night!  These go down smooooth!
These are great as is, but if you love warm cookies, stick any leftovers in the toaster oven before eating and you will be in heaven.
Try playing around with the amount of sugar.  I have used less than 3 Tablespoons with success.
If you get tired of these (as if) or you want a mega-chocolatey experience try my Double Chocolate Chip version.