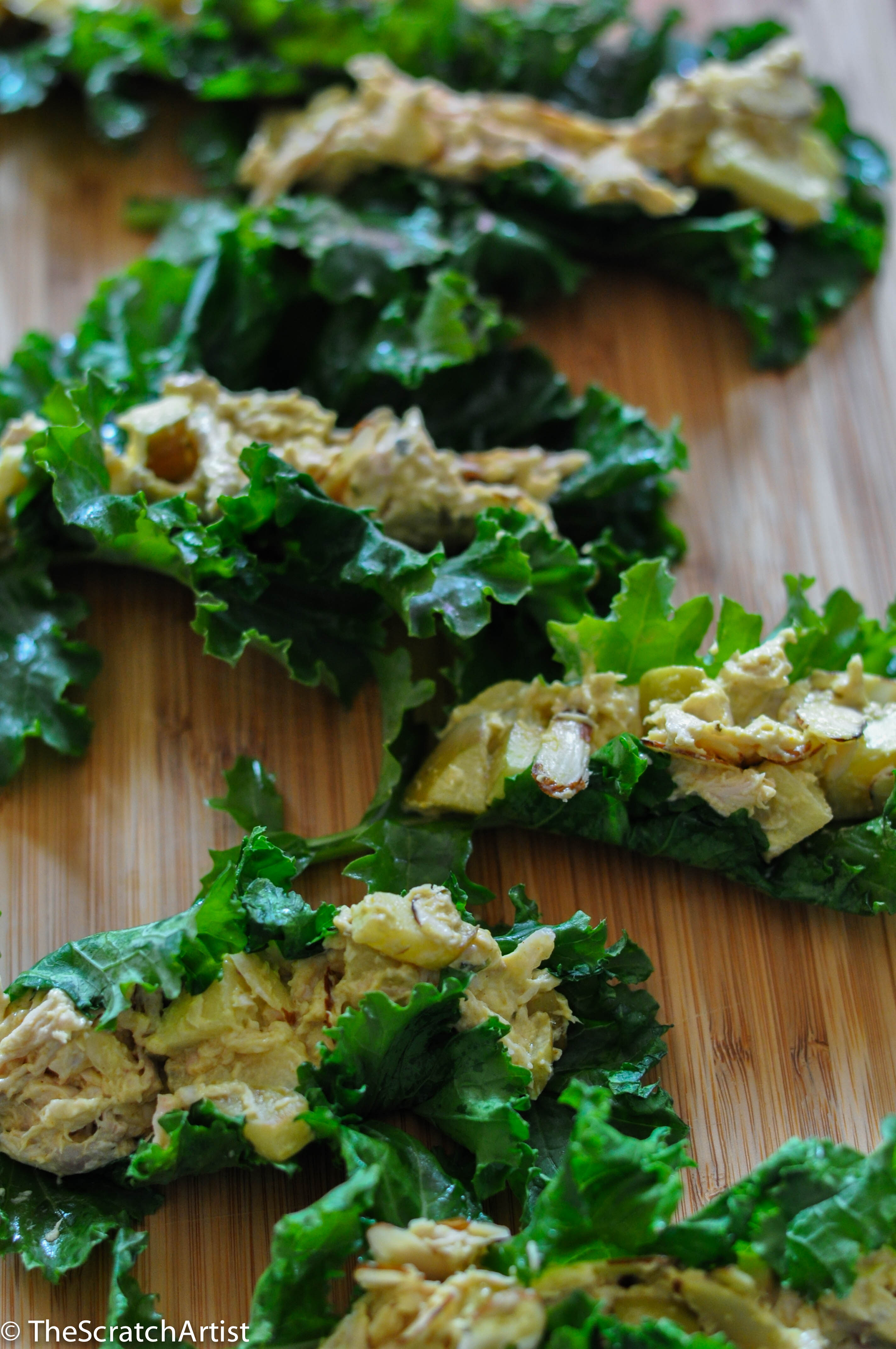 Leftover chicken, a garden overflowing with kale, a yen for curry, and a nitwit who bought too many apples at the grocery store.
What is Curry Chicken Salad Kale Wrappers for lunch!
Is there anyone else out there who feels positively bullied and harangued by their vegetable garden?  Now that I say that out loud, I probably am the only one, because that sounds pretty strange.
The vegetables grow and grow and grow and I harvest and harvest and harvest, and they grow some more, harvest-grow, harvest-grow.  It gets to the point that if I eat anything else, I feel terribly guilty.  There is a constant record repeating in my brain, "I've gotta eat the vegetables, I've gotta eat the vegetables."  Leave it to me to be stressed about my vegetable garden.
So, it's Sunday and it's lunchtime and my kale is stressing me out.  So, I look into my fridge to find something to put on the kale and I am presented with even more neglected food to feel guilty about.
I have a chicken that has been eaten practically down to the bone, but there is still plenty of edible meat on there!  I have a vegetable drawer with more apples than I will, or even can, eat.  And to top it all off, I'm in the mood for curry.  Oy!
I've spent years trying to be a less-stressed person.  Less stressed about, well about everything.  The fact is, I'm a stress-y person and as such I stress over little and big things.  After years of trying to be calm and not get "worked-up," I realized all my "stress" created many of the things I love in life.  My stress makes me conscientious, aware, alert, improvement-oriented, and many other things.  So I started welcoming and loving my stress.
This particular Sunday, my stress created one incredibly good lunch!  These wrappers disappeared as quick as I set them down on the table.  I was out picking more kale before lunch was over.

Curry Chicken Salad Kale Wrappers
Serves 3
Ingredients
6 Kale leaves, washed and dried
1¾ Cups shredded chicken (I had a leftover whole roast chicken that I pillaged. If you don't have leftovers, cook up some skinless chicken breasts)
½ - ¾ Medium-size apple, sliced into bite-size pieces
⅓ Cup toasted sliced almonds
Dressing
¼ Cup Vegenaise sandwich spread (or substitute mayonnaise of your choice)
1 Teaspoon curry powder
¾ Teaspoon freshly grated ginger (or 1¼ teaspoons dried ground ginger powder)**
¼ Teaspoon turmeric
Pinch Salt
Fresh ground pepper
Instructions
Using a fork, strip off the chicken remaining on the bones of your roast chicken. If you are using chicken breasts, shred the same way. Set aside.
Lightly spray your kale leaves with olive oil and massage gently. Set aside.
Slice your apple and sauté in a seasoned cast iron skillet for about five minutes. If you don't have a cast iron skillet, use any skillet you have, but bear in mind that you might have to lightly spray your pan with oil so that the apples don't stick.
While the apples are cooking, toast your almonds. Watch them VERY closely or they WILL burn.
Using a very handy ginger grater or a microplane, grate your ginger. It should be like a paste when you are through grating.
In a small bowl, mix together the Vegenaise, curry, ginger, turmeric, and salt. Taste test and adjust as necessary.
Mix dressing into the shredded chicken.
Add sautéed apples and mix thoroughly. Set aside.
Lay your kale leaves in the pan where you sautéed your apples (assuming it is still warm). Swap bottom and top leaves after a minute. Remove leaves from pan after a total of two minutes. Be very careful not to let them wilt.*
Sprinkle your sliced almonds into the chicken salad and gently stir.
Spoon the chicken salad onto the kale leaves. Think of the kale as a hot dog bun and your chicken salad as the hot dog.
Top with fresh ground pepper.
Enjoy!
Notes
*This step isn't necessary. If you like your kale raw, it will taste delicious without any cooking (but you should massage with olive oil regardless of the cooking). Warming them slightly on the pan brings out a nice flavor and makes the kale a bit easier to eat.
**The freshly grated ginger will give this dressing a nice kick. If you prefer a milder flavor, add in the ginger gradually to find the right balance for your taste buds.
A local restaurant,
Bernards
, makes a great version of this chicken salad as a welcome. They serve it in an endive leaf, which is also quite delicious.