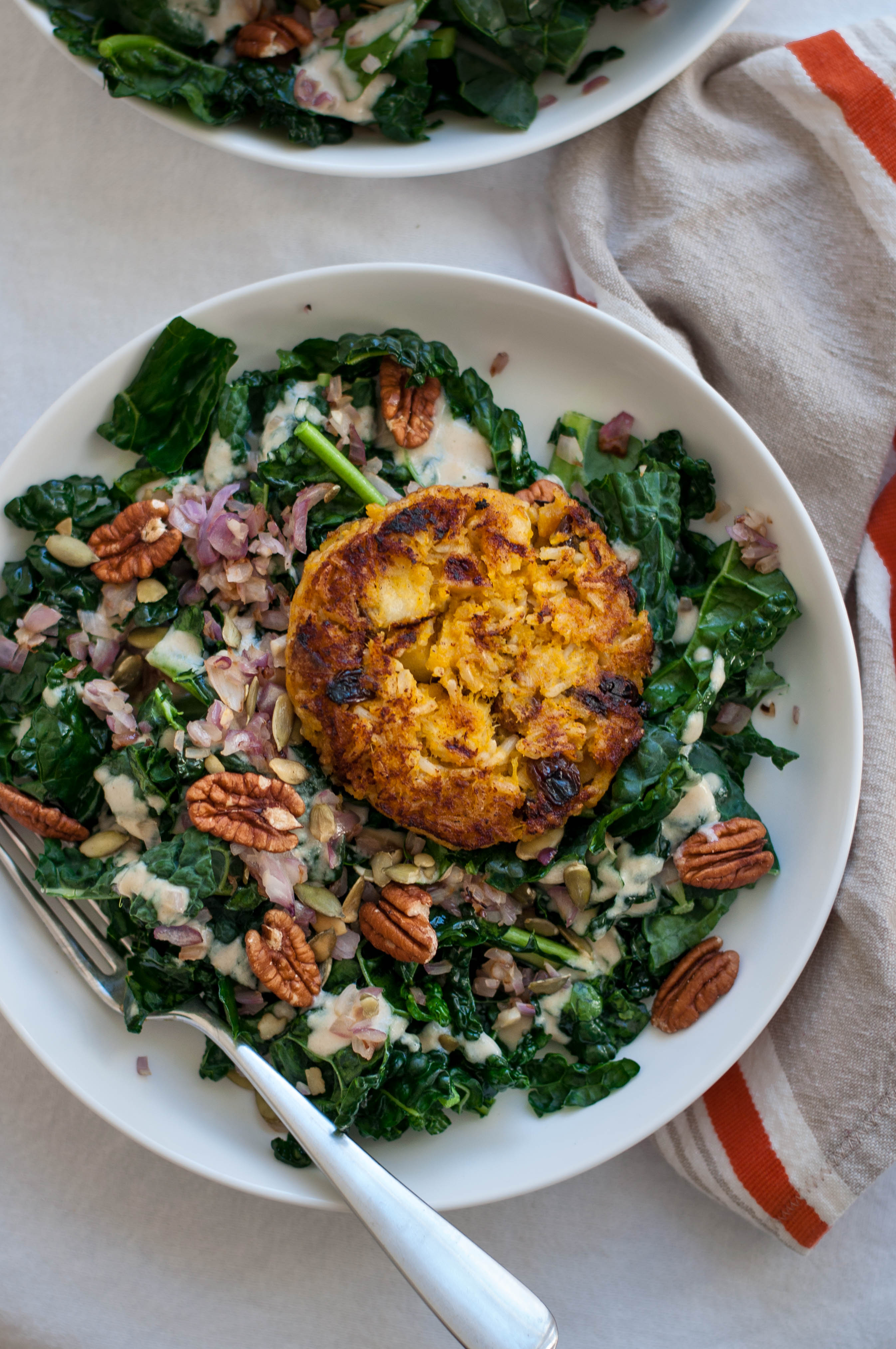 Curry and pumpkin and kale, OH MY!  This flavor combination blows my mind.  One bite into this salad is like Dorothy's first step into Oz.  A bit dramatic, yes, but for me, that's what it was like.  I learned from google that curry and pumpkin are a well known flavor combination.  I discovered them quite serendipitously.  If you are a loyal canned pumpkin consumer, then you might not know that fresh pumpkin is actually a very subtle flavor.  Canned pumpkin is usually a combination of squash and pumpkin or sometimes just squash.   It is a challenge to get a pure pumpkin flavor into a dish, unless scooping roast pumpkin straight out of its shell and into my mouth counts as a dish.  In which case, let's call eating peanut butter straight from the jar dinner.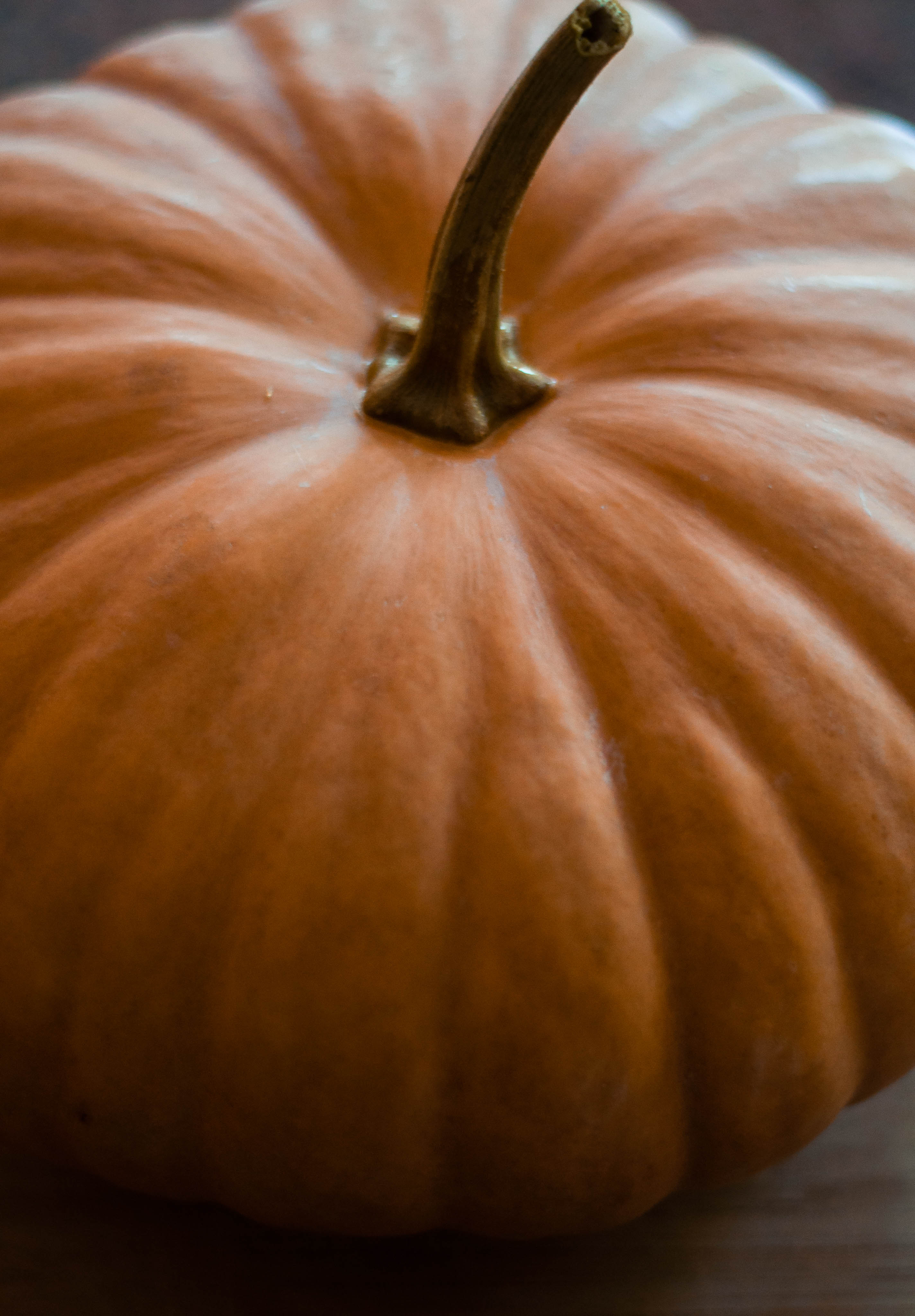 So I had my mission: create a delicious, fresh-pumpkin dish that ACTUALLY tastes like pumpkin.  The first stop on my quest was my spice drawer.  After being sidetracked momentarily by my three containers of partially used chives (Is it a universal law that every spice drawer/cabinet/shelf be cluttered with half-used spices in varying multiples?  Maybe it's just me?), once my spice-drawer-overwhelm passed, I zeroed in on my curry powder.  I sprinkled it into my roasted pumpkin, swirled my fork around, and WOW, that is one great flavor combination!  The curry exposes and enhances the pumpkin flavor.  I could see the yellow brick road unfolding in front of me (har-har).
I headed to my fridge, mashed some other ingredients together and voila, pumpkin patties.  Then I went back to the drawing board and tried to make my empty-the-fridge-dinner into something that could be recreated.  Behold pumpkin patch patties.  Full of fall produce and spices and definitely full of genuine pumpkin taste!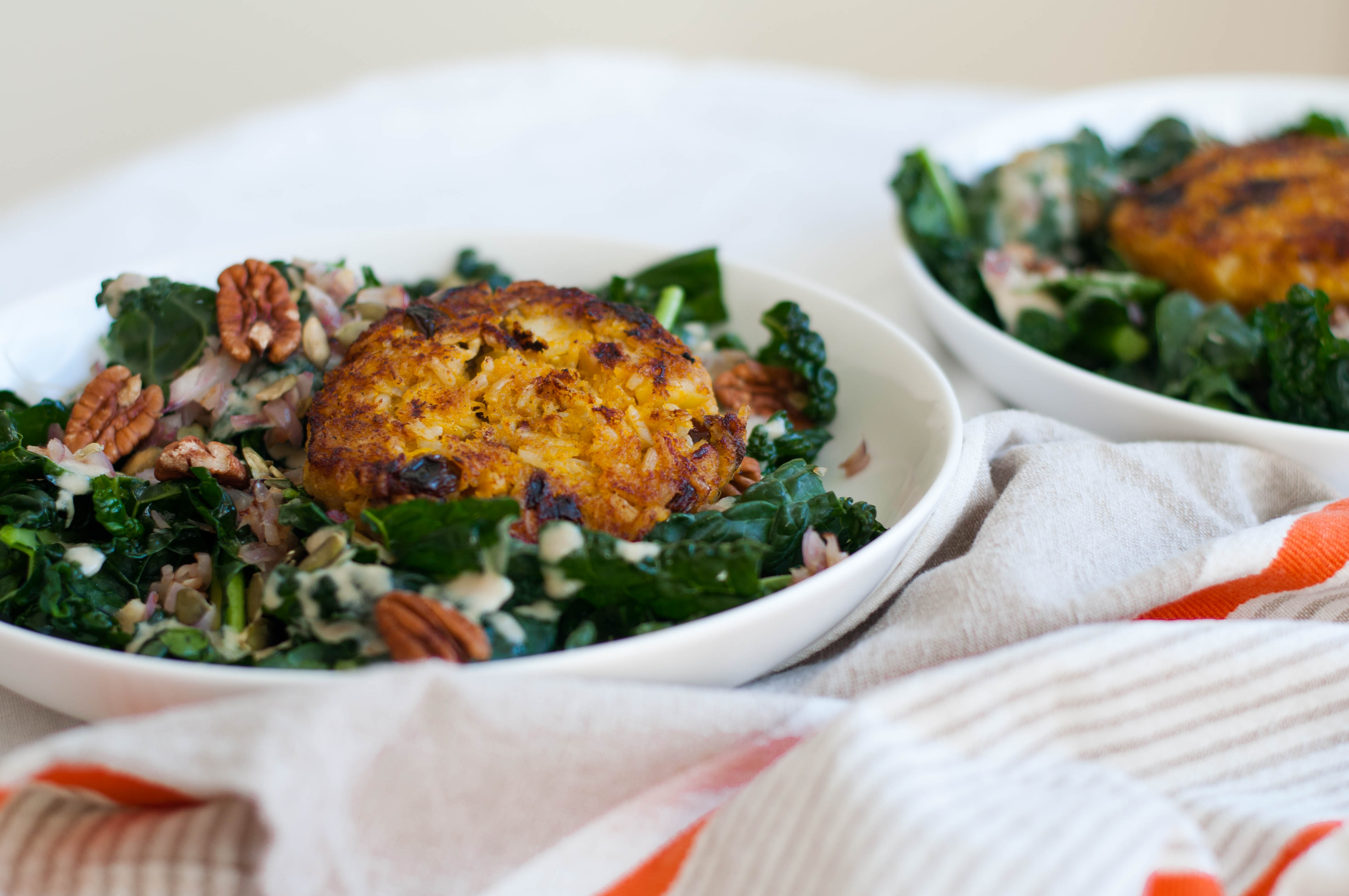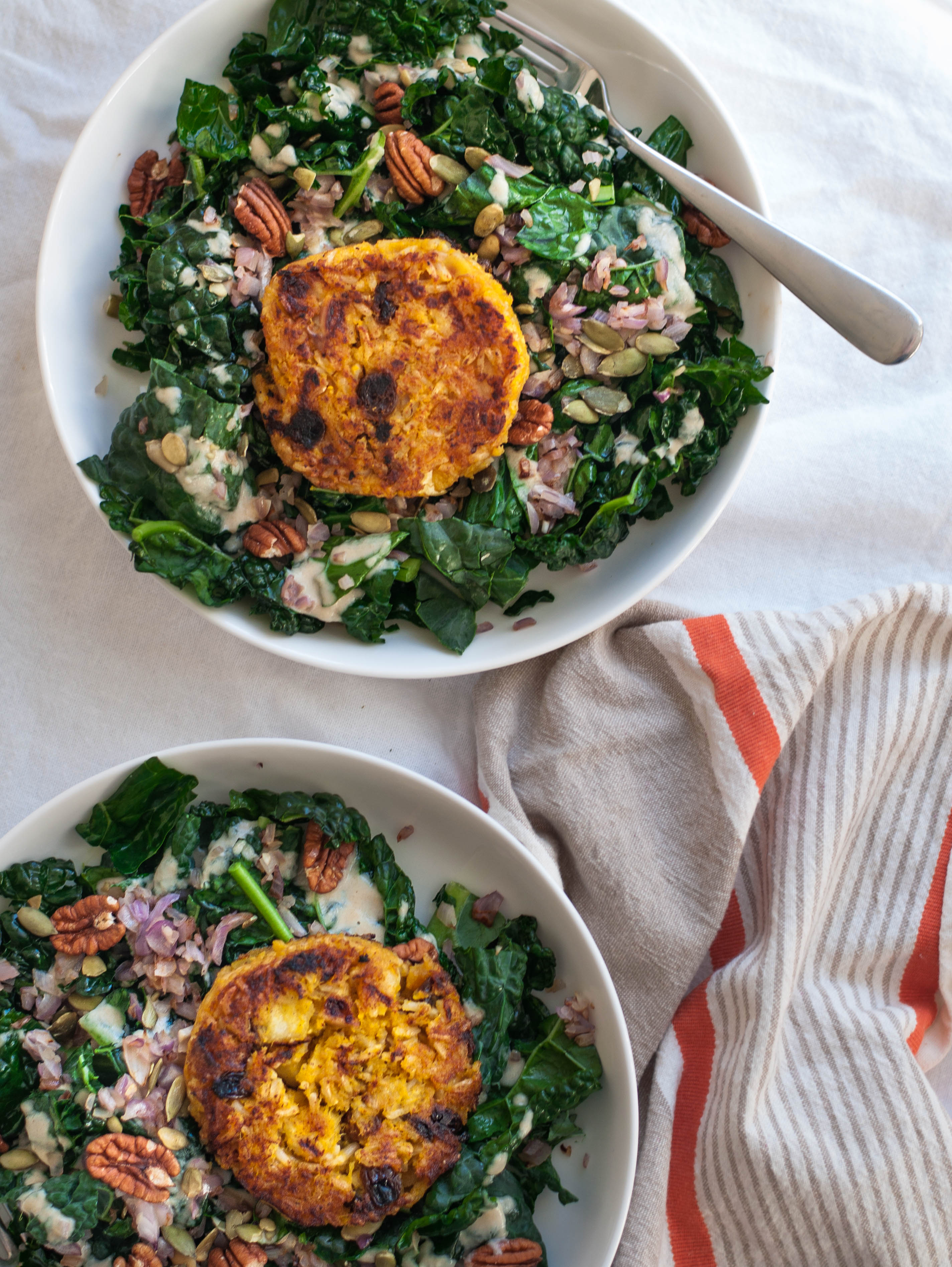 I'm always endeavoring to share something in my posts that you will find useful.  I work to have my recipe and thoughts connect in a linear or semi-linear way, but pumpkin patties?  I'm drawing a blank.  Regardless, I do want to share something that might make you pause and think for a moment…about your life, about what you want to be doing and being.  But then I think, "Am I trying too hard?"  "Should I just post these recipes and zip it?"  I don't know.  But finding my way and voice requires that I do what I think is right when I think it's right.  And for now it seems right to share not just my recipes but my thoughts.
I find the sharing and enjoyment of food one of the quickest ways to truly connect with another.  It is a time and place when we are less guarded and our pretenses are lowered.  Catch a person just at the moment when they taste something delicious and I think you glimpse a deeper layer of who they are.  Engaging our taste buds can be a transcendent experience.  Why do so many reach for food when they are sad or angry?  When we want to celebrate life, we make and eat food!  Our experience of food and nourishment is powerful.
Part of why I created this blog was to share my love of creating food.  My love of nourishing myself and those around me with food made from scratch.  I can't help but share this love with everyone I know.  This blog was created because I ran out of people to share it with in 'real' life.  I need this space in order to share my passion.  Not just for food, but for my love of creating food.
It makes me sad when I hear people say that they hate to cook.  My instantaneous impulse it to take them by the hand and bring them into my kitchen so that we can cook together.  The following thought might sound really arrogant, but I truly don't believe that anyone could hate cooking.  If you proclaim that you hate cooking, take a look at what cooking represents to you.  Is it a reminder of something?  Is it associated with obligations and overflowing to-do lists?  There are very few of us who had idyllic childhoods where food was something unequivocally enjoyable.  All of our stories and remembrances impact how we approach cooking and food today.  But those stories and memories aren't cooking, they are what we have made of cooking.
How could creating nourishment for yourself and/or others ever be hated?  Or for that matter even neutral?   That we have the ability to take ingredients from this incredible planet and turn them into nourishment to fuel our lives is incredible all on its own.  And with cooking, we can actually manipulate these ingredients to create delicious sensations in our mouth that are powerfully enjoyable.  So powerful that at times we are brought to tears or overcome with child-like laughter.  This is something that could be hated??  I don't think so.  We all have baggage in our lives.  "Stuff" that we carry with us that colors our realities.  I'm in the baggage removal business.  I don't want anyone to miss out on the beautiful and spiritual experience of cooking and enjoying food.  This blog is my way of saying come into my kitchen and have what I am having.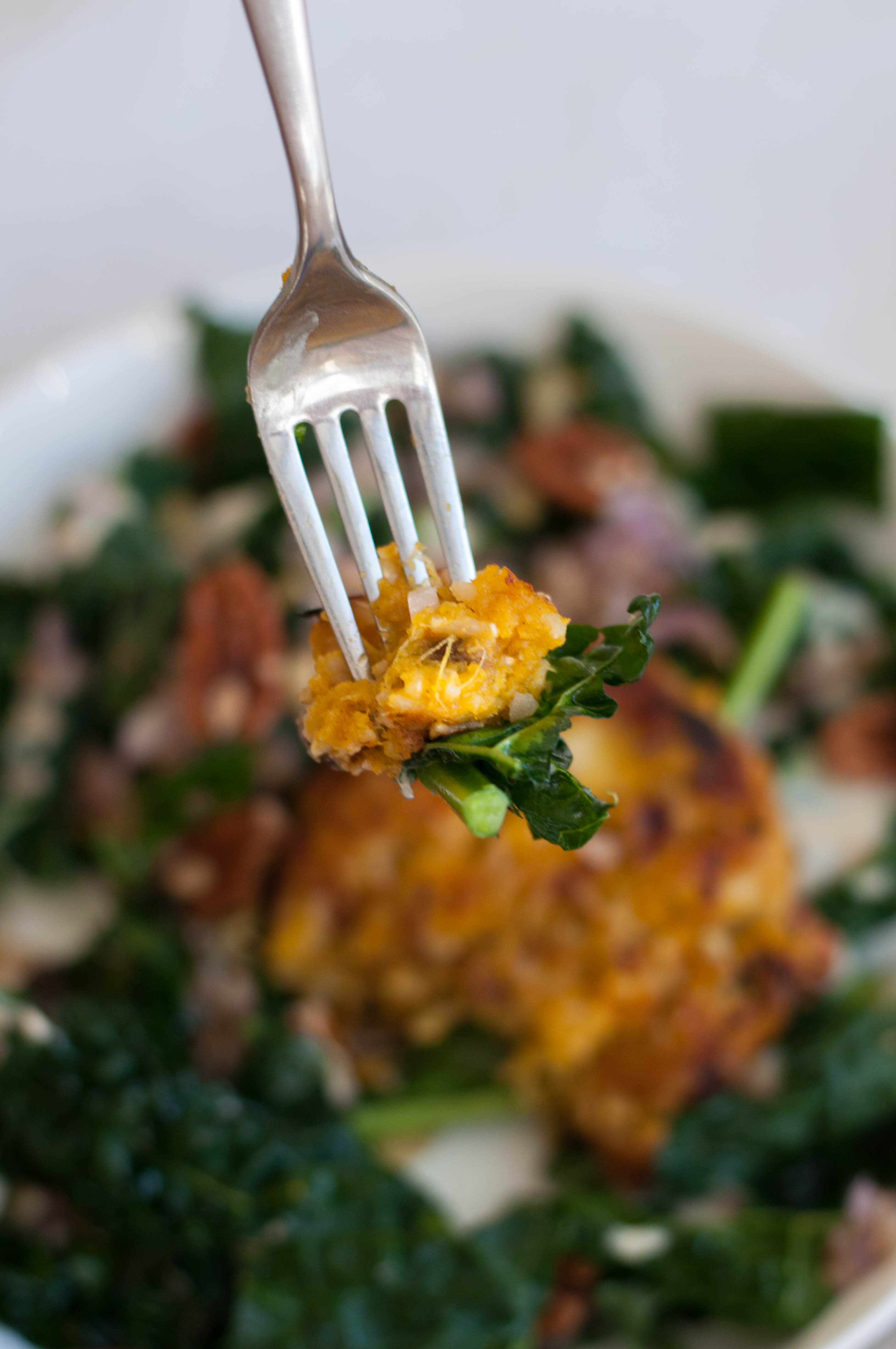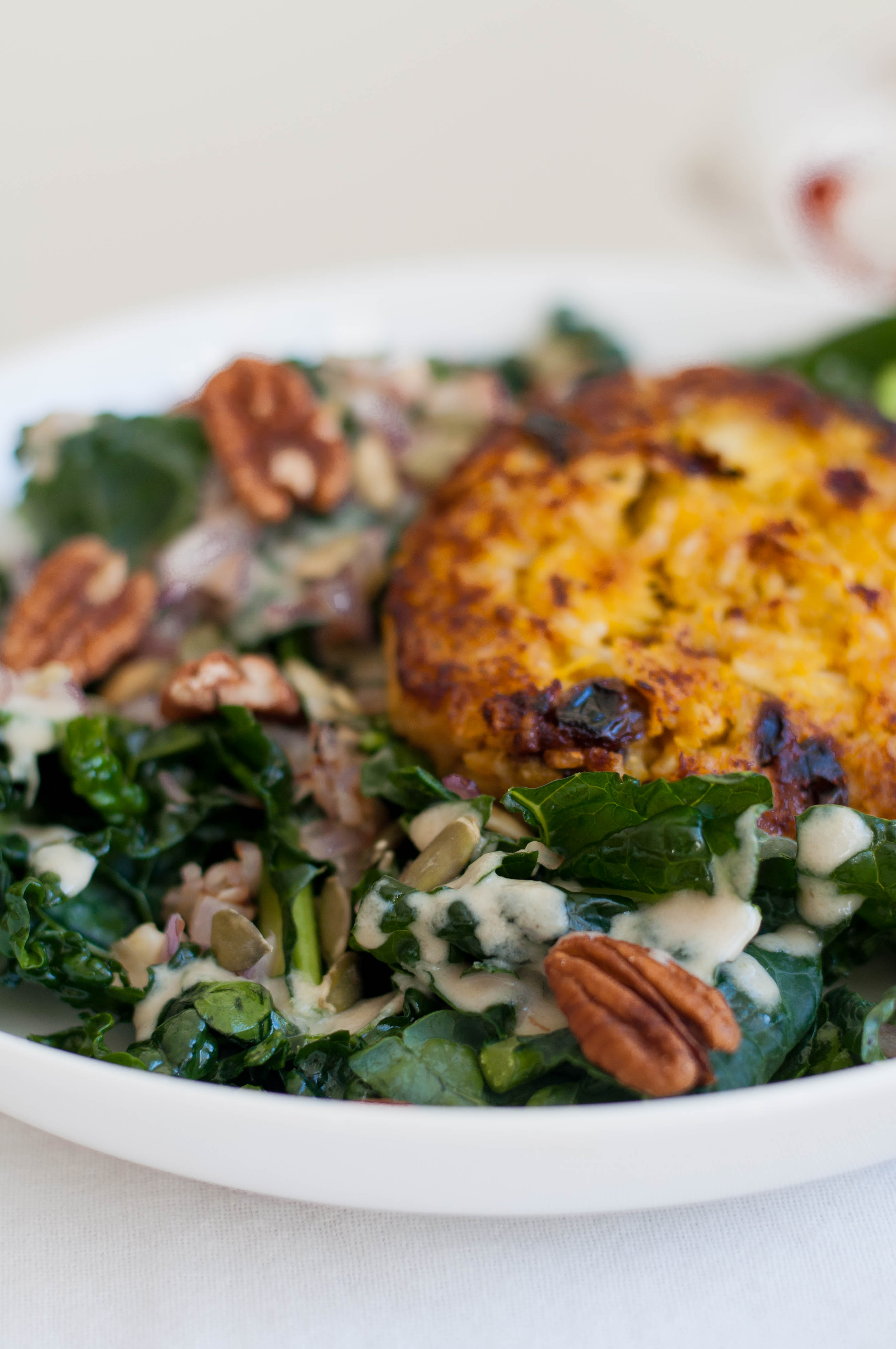 Curried Pumpkin Patch Patties with Tahini Dressing
Ingredients
For the pumpkin patties:
1 Cup fresh roasted pumpkin*
¼ Teaspoon cinnamon
¼ Teaspoon curry
¼ Teaspoon cumin
¼ Teaspoon + a pinch sea salt
¼ Teaspoon freshly ground ginger (use a microplane or ginger grinder)
¾ Cup cooked brown Jasmine rice
½ Cup chopped honey crisp apple
¼ Cup golden raisins
For the salad:
4+ Cups lacinato kale (3/4 of a standard bunch of kale)
1 Shallot diced and sautéed
Handful of pepitas (pumpkin seeds)
Handful of pecans
Optional: Chopped apple
For the dressing:
¼ Cup tahini
1 Tablespoon freshly squeezed lemon
1 Tablespoon white miso paste
½ -1 Tablespoon maple syrup (depending on how sweet you like it)
Pinch of salt
¼ Cup warm water
Instructions
For the pumpkin patties:
Roast your pumpkin at 375F for about 45 minutes. The size of your pumpkin will determine the amount of roasting time needed. It is cooked when the flesh yields easily to an inserted fork.
Combine pumpkin and spices. Because of the wide variety and varying flavor qualities of pumpkin available, make sure to test and adjust the seasoning to your liking.*
Add remaining pumpkin patty ingredients and mix well to combine.
To form the patty shape I line the lid of a jumbo sized jar (3.5" diameter) with plastic wrap. If you don't have a lid large enough, you can form the patties in your hands.
Preheat a skillet until it is VERY hot. Drop in a tablespoon of oil (it should shimmer) then place your patties onto the pan.
Cook until both sides are golden.
For the dressing:
Combine all of the ingredients except for the water.
Slowly pour water into the dressing mixing with a fork until desired consistency is reached. Add more water if necessary.
Taste and adjust as necessary. The dressing on its own is not particularly sweet but in conjunction with the other salad ingredients it is perfectly balanced.
Put it all together:
Wash and chop your kale.
Once completely dry, massage ½ tablespoon of olive oil and some salt into your kale. Set aside.
Dice and sauté shallots.
Layer salad as follows: kale, shallots, pecans, and pepitas. Pour on dressing and slide your pumpkin patty on top.
Enjoy!
Notes
The quality of your fresh pumpkin MATTERS! There are a lot of varieties out there to chose from. I think the biggest factor in finding a great one is to learn where it came from and who's growing it. I love the French cheese pumpkin variety. If you can't get your hands on one of these you can use a sugar pumpkin, but be mindful that the flavor and intensity of pumpkin flavor will vary from pumpkin to pumpkin. A reliable and sweet flavored pumpkin, Kabocha (technically squash, but then again, so is pumpkin), can also be used in this recipe; the result will be a sweeter patty.