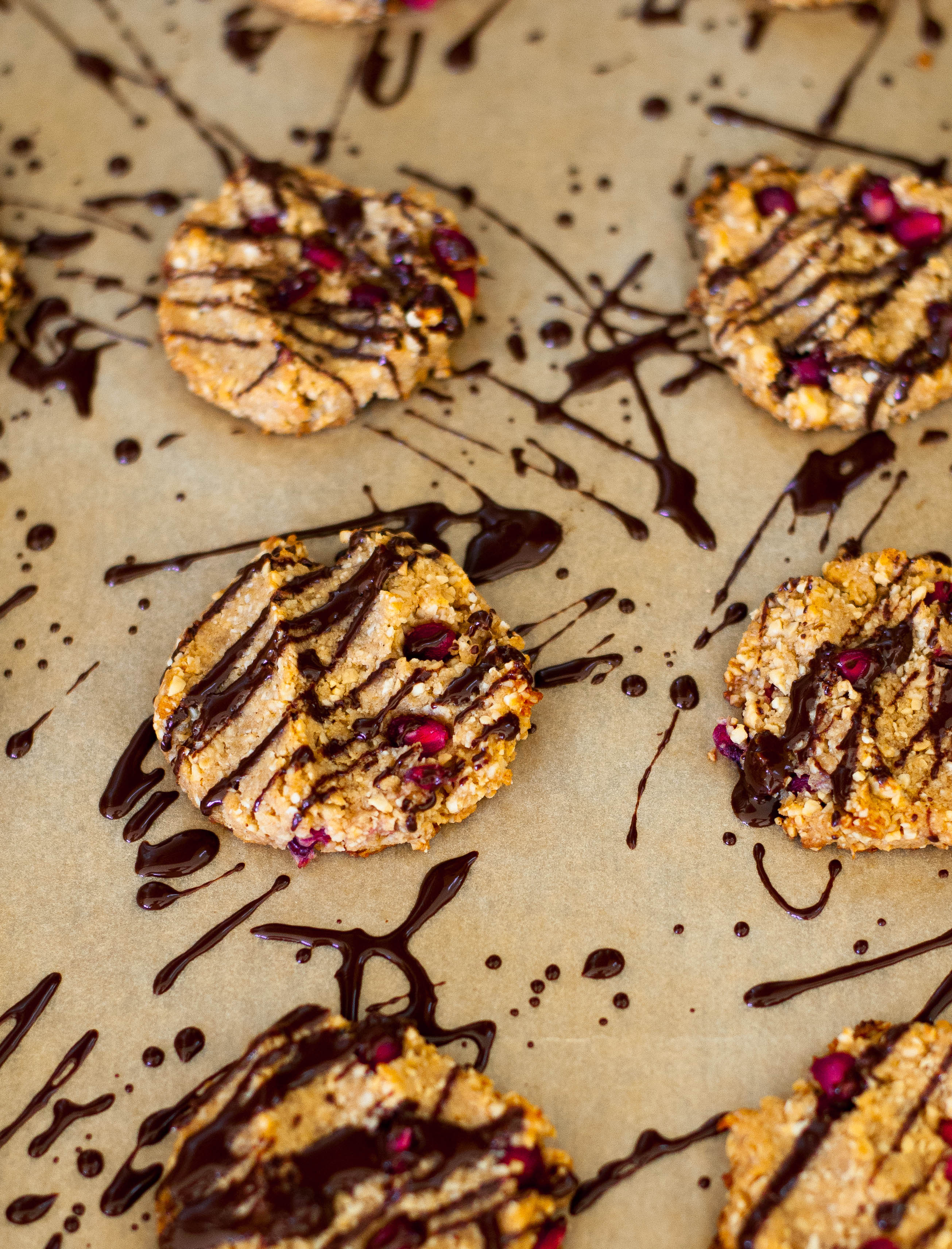 I ate the entire batch of these in one day.  Eeek!  To be fair, my sister ate half of them, OK a quarter of them…OK, she had one.  I made them in the morning and I swear there was some kind of beacon on them…allll throughout the day, I would inexplicably find myself in the kitchen popping these into my mouth!  You know what is really good with peanut butter cookies?  Peanut butter.  I ate them standing at my kitchen counter (of course) with an open jar of homemade peanut butter and a spoon.  Dip, bite, dip, bite…and occasionally I added more chocolate to the mix.  Am I idiosyncratic to eat dessert standing up?  I always eat it standing up.  I think there is some conversation in my head that I'm just gonna have a quick nosh…nothing too serious.  Then I end up standing there eating an entire spread of desserts like I am at a resort buffet.  One taste inspires the next and on and on; what can I say?  You can't have peanut butter without chocolate.  And then once you have the chocolate you need more peanut butter…am I alone in this??  Maybe I should just sit the heck down and have a rational dessert.  Something to consider…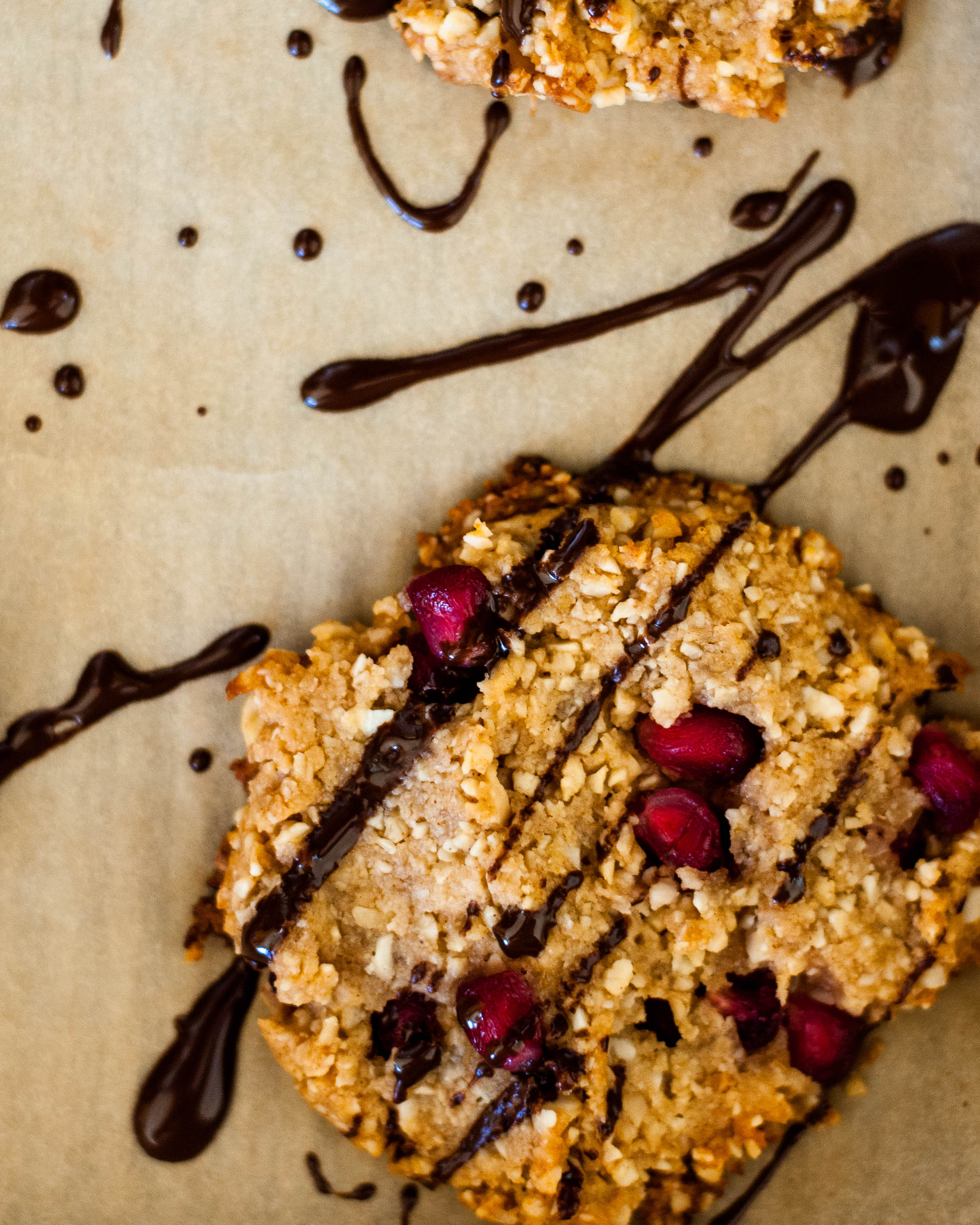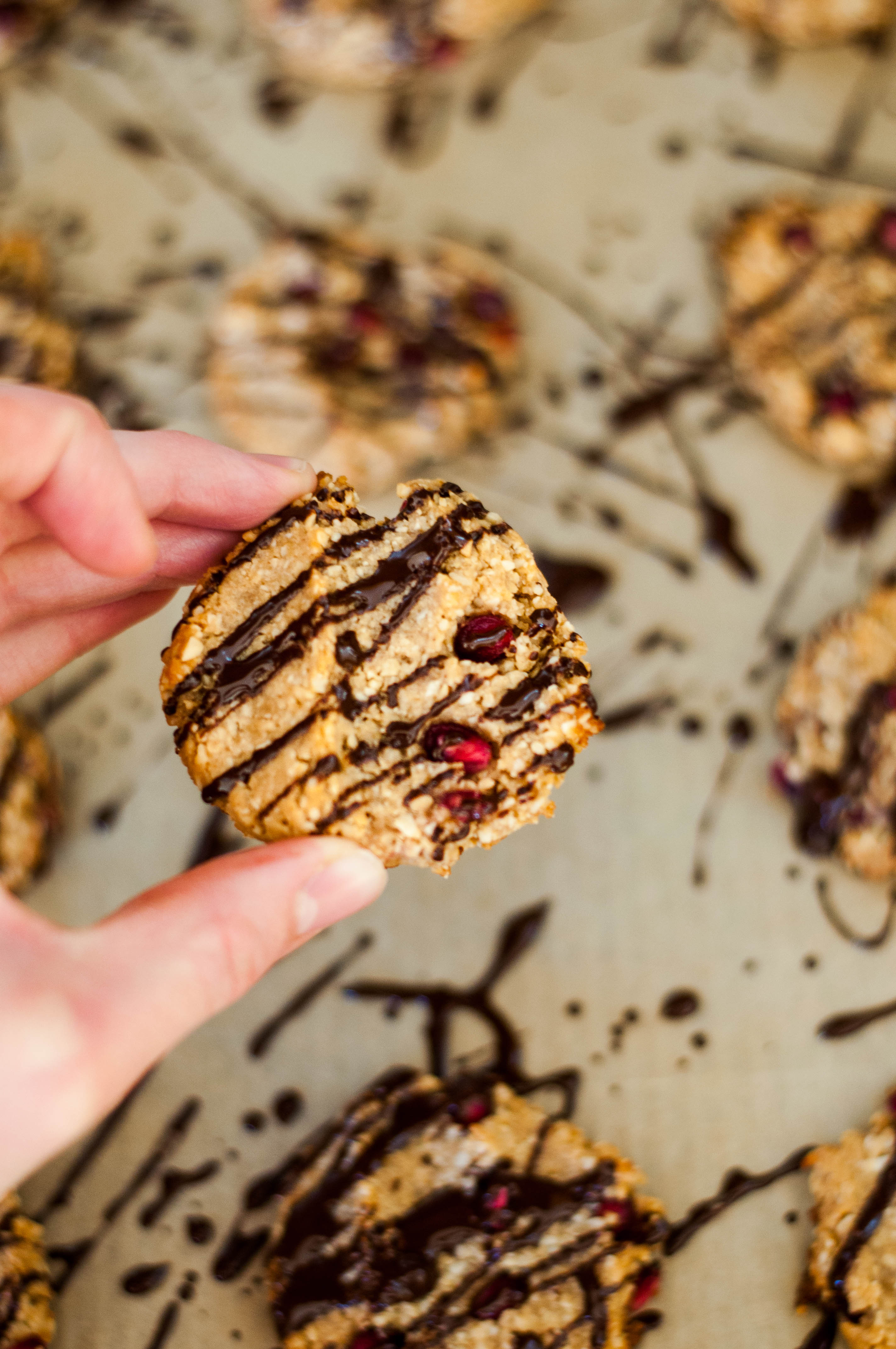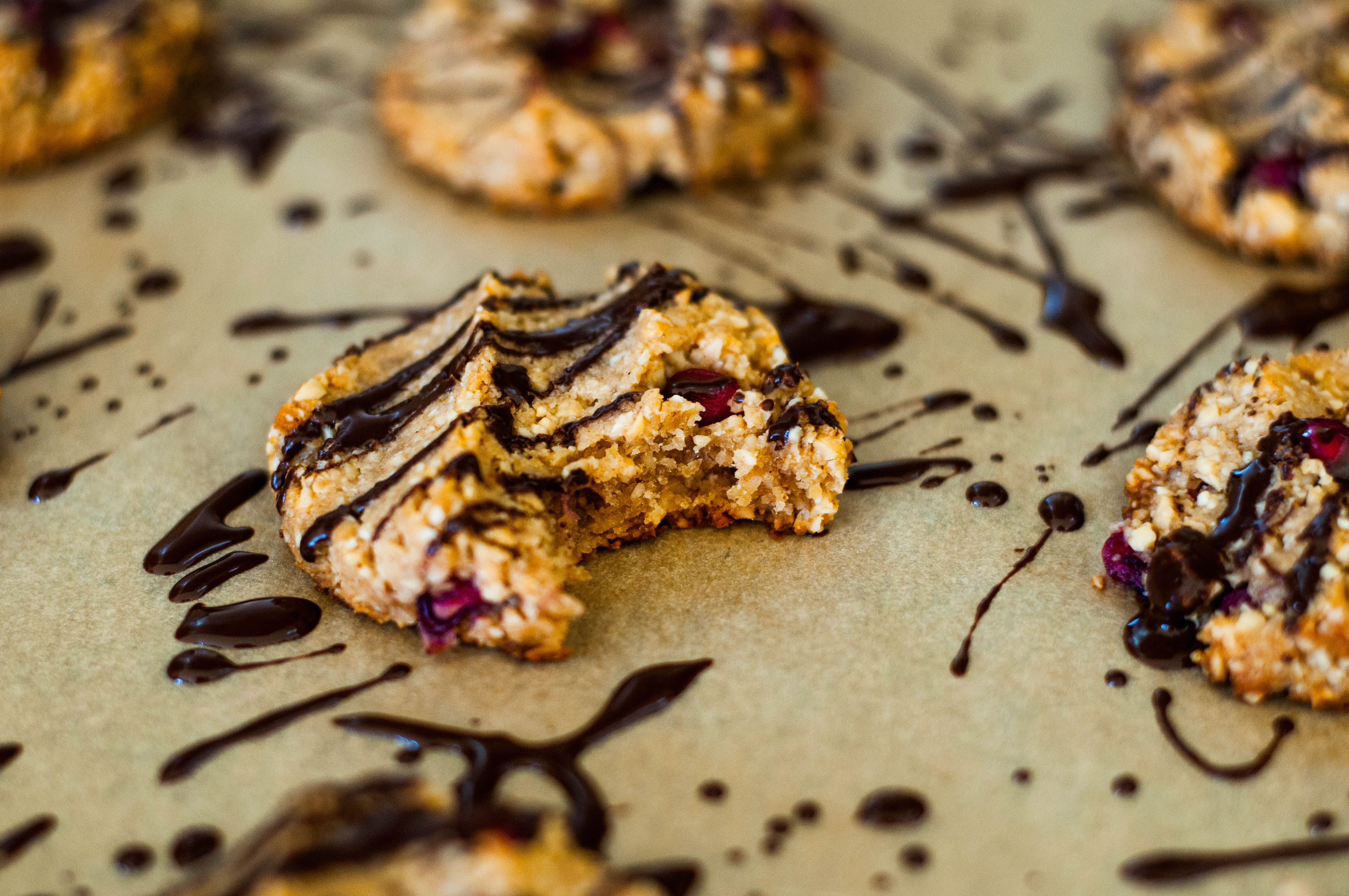 But these cookies!  They are SO GOOD!  The tart pomegranate combined with the honeyed peanut butter is heaven.  The thing I love most is that these cookies are basically just peanuts!  Just a little flax meal to bind them and a couple of spices and that's it!  So instead of standing at your counter eating Planters by the handful (always avoiding that gargantuan brazil nut) have these cookies!  They are gluten free, refined sugar free, and vegan!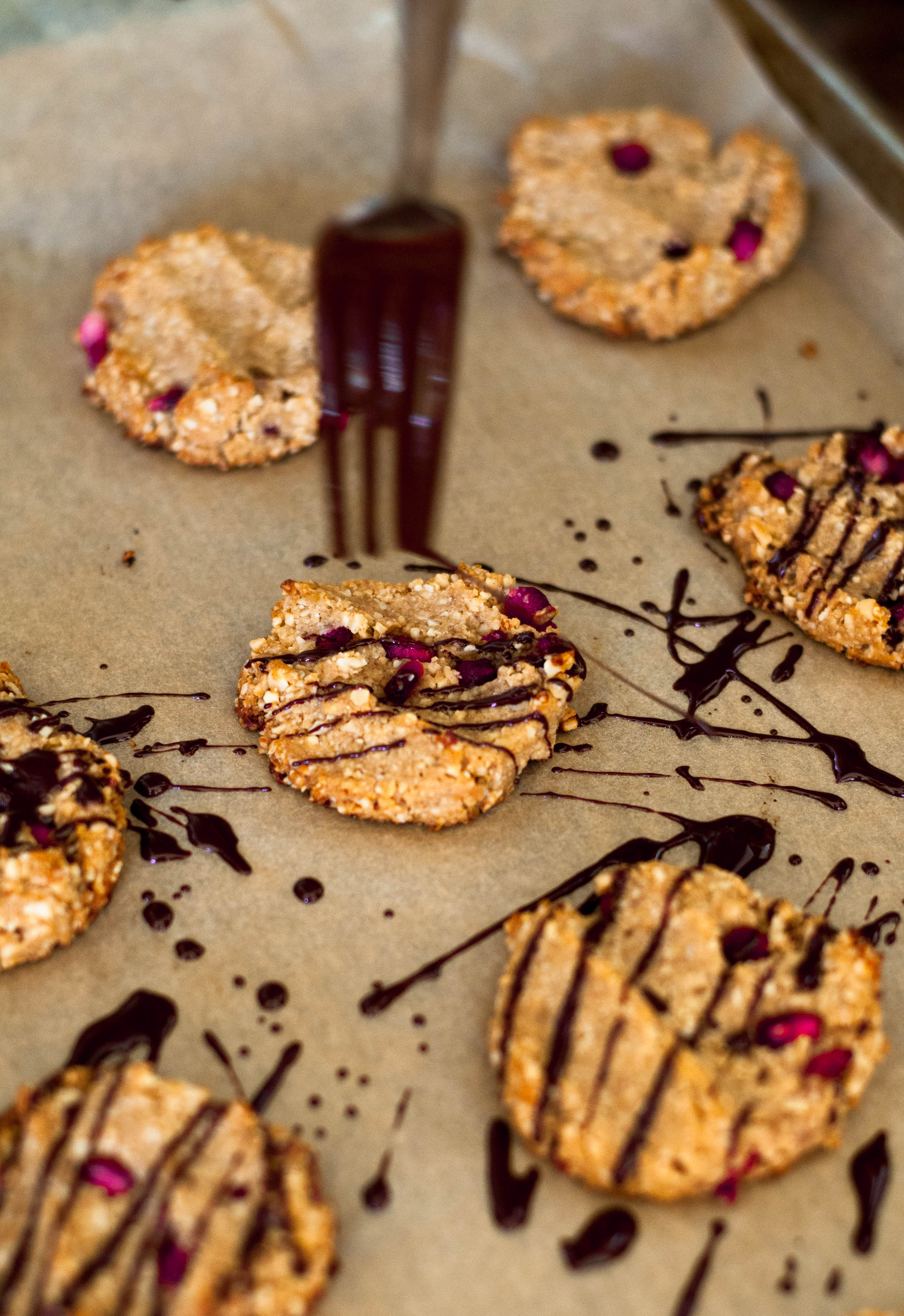 I made this last month and held them back until now…A true test of will!  I wanted you all to pit them against your normal Christmas cookie fare.  These are going to satisfy gluten free and vegan palates, the red pop of the pomegranate makes them look festive and seasonal, and they are not loaded with sugar.  In fact there is no refined sugar in them.  Add these to your platter…but maybe don't eat them RIGHT after you have a sugar cookie…'cause the contrast is going to be jarring!  Have you ever had grapefruit after eating a very sweet fruit, and you practically die from tartness…yet that same grapefruit eaten on its own is remarkably sweet??  That's the situation here.
Enjoy, enjoy!  Let me know how they turn out.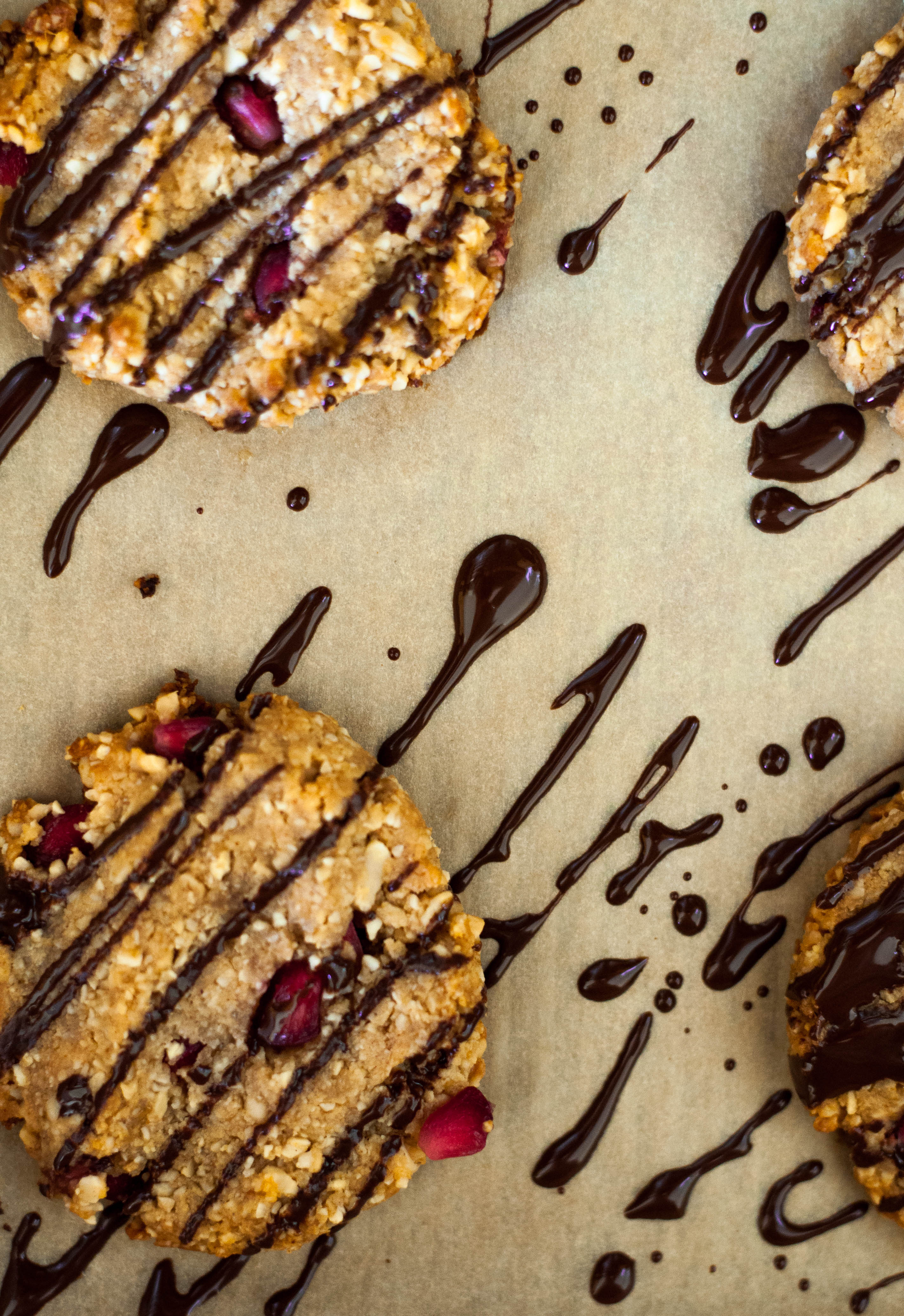 Peanut Butter Pomegranate Cookies
Ingredients
1½ Cups ground roasted and unsalted peanuts
½ Teaspoon baking powder
⅓ Cup homemade peanut butter (if you use a store bought variety that isn't very liquidy you might have to add more coconut oil to the dough)
~ ¼ Teaspoon salt (adjust saltiness based on your taste preference)
2 Tablespoons honey
1 Flax egg (1 Tablespoon water + 2½ tablespoons flax meal)
1 Tablespoon melted coconut oil
1 Teaspoon vanilla
½ Teaspoon cinnamon
½ Cup pomegranate arils
Topping sauce:
Handful of chocolate chips
Scoop of coconut oil
Instructions
Preheat oven to 375F bake.
Chop 2 cups worth of shelled roasted and unsalted peanuts in a food processor until you have little bits of peanuts remaining, it should be the consistency of meal. This should yield 1½ cups of ground peanuts. Blend more peanuts if necessary.
Combine all of the wet and all of the dry ingredients separately, then mix them together.
Add pomegranates to dough and mix well.
Using a cookie dough scoop or two teaspoons measure out 12 cookie balls onto a baking sheet.
Using the palm of your hand gently flatten each cookie.
Place cookies in oven and reduce oven temperature to 350F.
Bake for 10-15 minutes until cookie base has browned.
For topping:
Melt chocolate chips and coconut oil in microwave in 30 second intervals until melted.
Dip the tines of a fork into the melted chocolate and drizzle over baked cookies in a zigzag pattern.
Store in an airtight container. If they lose their crispiness pop them in a toaster oven to freshen.