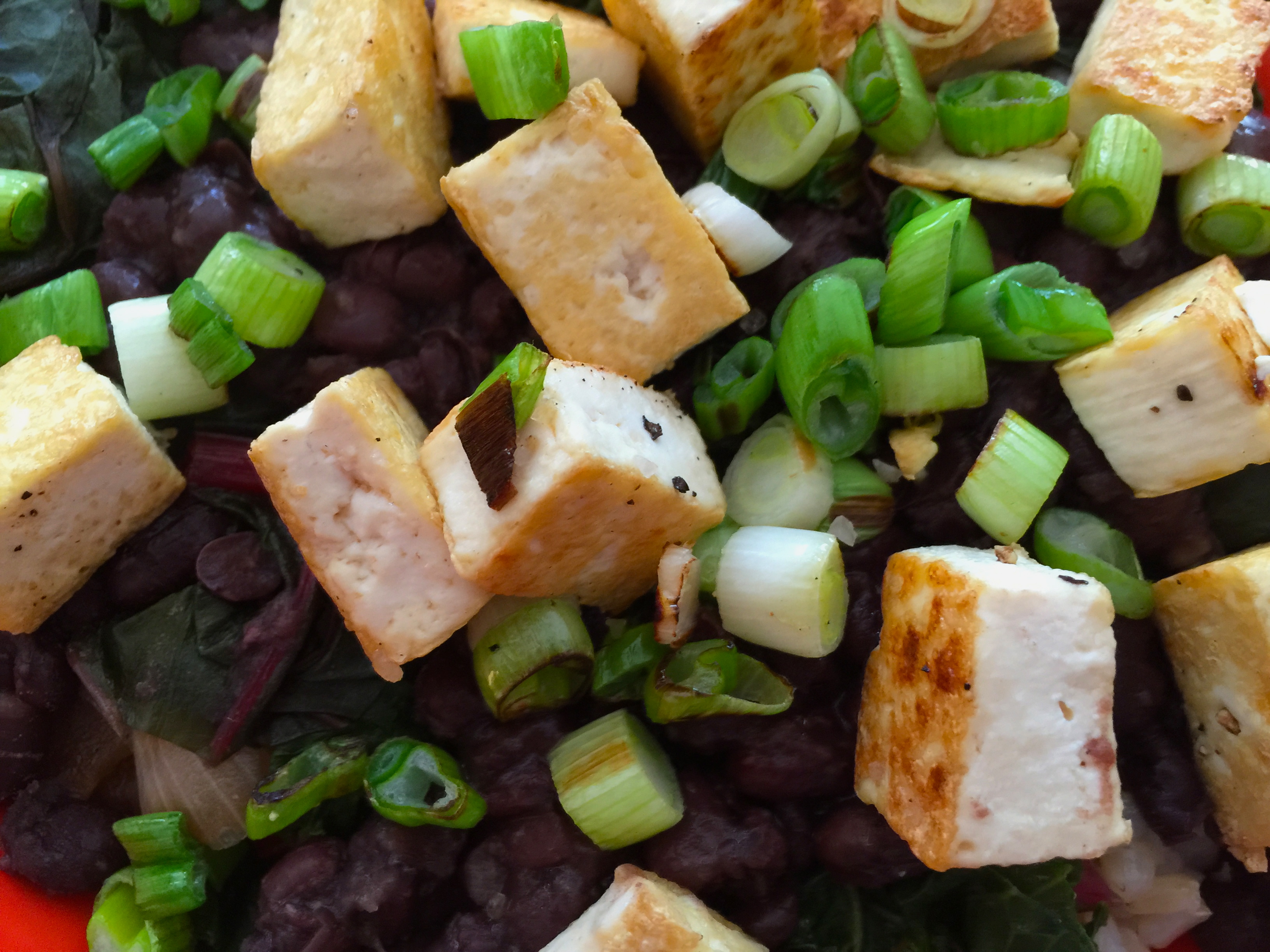 The first time I ever had adzuki beans, they were strewn over balls of vanilla ice cream; they were warm, and clinging to the melting mounds of ice cream like hot fudge.  Sweet, rich, subtly nutty, and a perfect complement to the creaminess of ice cream.  They remained in my dessert repertoire for years, until recently when I saw them in the bulk section at Whole Foods.
Instant inspiration!  Adzuki beans, they're not just for dessert anymore… (perhaps I was the only one out of the loop on that one, but hey, better late to the show then never).  My first experiment with these delightful red beans was in this tofu and steamed vegetable bowl.
Adzuki Bean and Vegetable Bowl
Ingredients
Dried adzuki beans (or azuki beans, they are the same thing)*
½ Red onion
Firm tofu
Greens (Bok Choy, Kale, Spinach, Swiss chard all work great)
Short grain brown rice**
Sweet or Yellow onion
Scallions
Whole peppercorns
Sea salt
Olive oil
Optional toppings: Sesame seeds, pine nuts
Instructions
This recipe is more of a "get it," then go off and create your own version, rather than a formula for you to follow. As such, I am not going to break out the instructions as I usually do for my recipes. If you read the full post you will have a VERY clear understanding how to make this dish and hopefully the confidence to add in the things that you love in the quantities that you love. I thoroughly enjoy reading/watching how people prepare food and seeing the ingredients they use and then doing my own thing in the kitchen. If you are a person who loves referring to instructions while you cook, try doing without this time, and see what the experience is like. As my grandfather always said, "try it, you might like it."
Notes
*The quantities of each of these ingredients is dependent upon how many people you are cooking for. It is helpful to know that 1 cup of dried beans yields 2½ cups of cooked beans. You can see from the photos how I portioned out 1 serving, but again that will vary depending who you are cooking for and how hungry you/they are.
**I have found the most important factor in getting fluffy, perfect rice is letting it sit covered at the end of its cook time. Once you turn the burner off and taste that the rice is cooked, fluff it (pick it up gently, rotating down to the base of the pot with your fork). Put the lid back on immediately and keep it covered and you will have beautifully fluffy, and most importantly, delicious rice.Here's a detailed description of how I created this dish:
Rinse your beans in a strainer and pick out any and all non-bean intruders.  Soak the dried adzuki beans for two to three hours (leaving about 2 inches of water above the beans).  After several hours, pour the soaked beans back into the strainer and give them one last rinse.  Once rinsed, pour them into a lidded pot and cover with about 2 inches of water.  Place your pot on the burner with a medium high light.  Sprinkle in some salt and toss in half a red onion.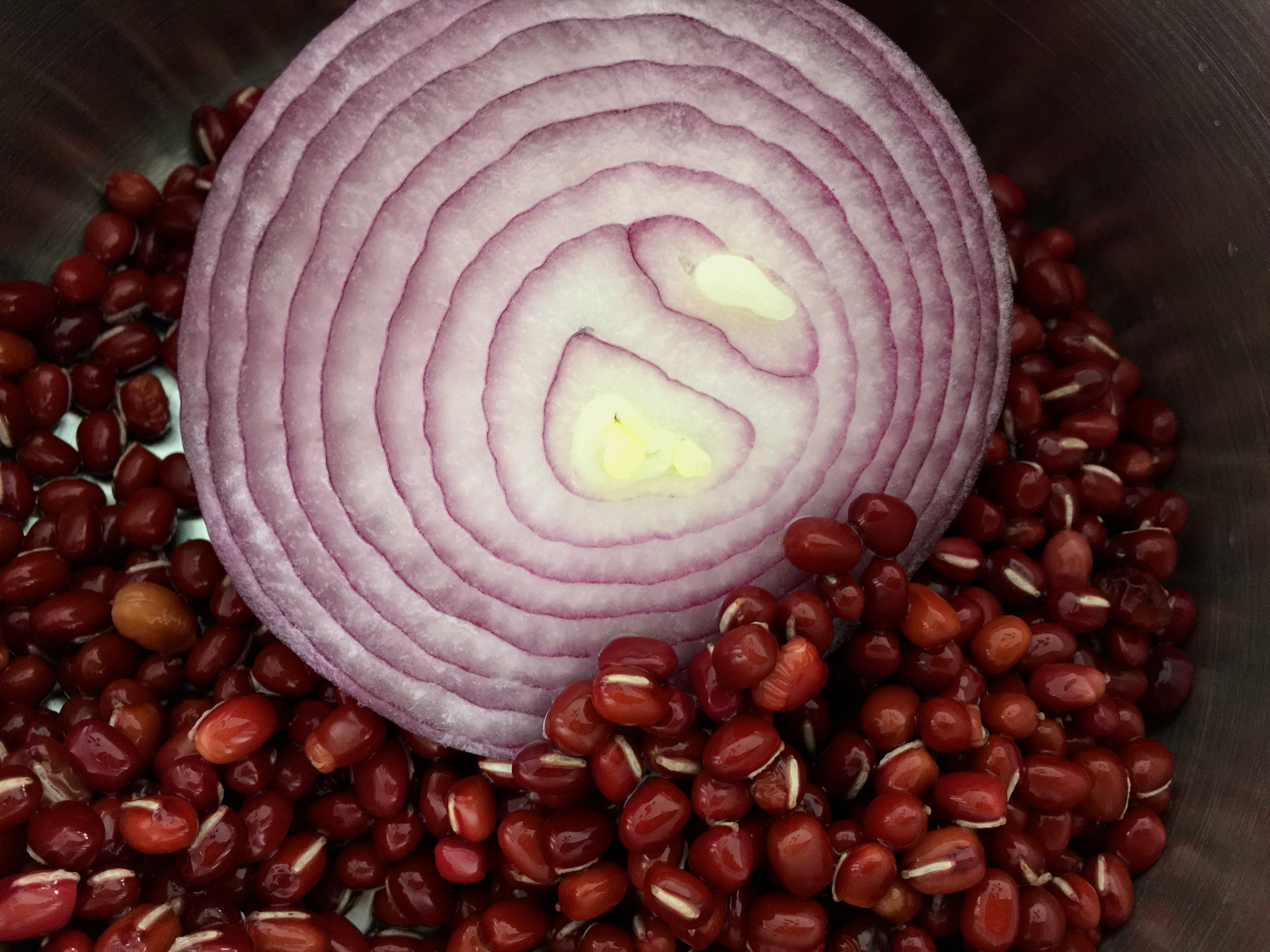 Once the beans are boiling, turn the heat down to low and cover, leaving the lid slightly tilted to let steam out.  At this point you might have a bit of white foam forming, ladle that off and discard.  This is also a good time to taste the water and add more salt if needed.
The beans will cook for about three hours at this point.  You should check and stir them every 30 minutes or so and add more water to the pot if it boils down.  Start checking the firmness of the beans about an hour and half into the process.  They will probably still be hard at this point (the timing is erratic depending on the beans themselves, your burner temperatur, type of pot, and unknown factors dictated by who knows what).   You will know they are done when they gently dissolve in your mouth.  They should not taste at all chalky.
It is difficult to get the timing of the beans synchronized with the rest of the components of the dish, so I like to wait until the beans are done (or very nearly) before starting the rest of the meal.  The beans will stay nice and warm in their pot and they are easy enough to warm up in the microwave if you make them in advance and refrigerate them.
When you think there is about an hour of cook time left on your beans (or an hour before you plan to eat), take out your extra firm tofu and cut into 1/4″ thick rectangles (again, how many slices you take of your tofu will depend on how many people you are cooking for AND how big their appetite is 🙂 .  I portioned out one and a half slices per person).
Take these pieces and wrap in paper towels or cloth towels.  Press out the water and then place them in fresh dry towels pressing out even more liquid.  Place the tofu, wrapped in towels, back in the fridge.
This is a good time to start your brown rice.  Just follow the package instructions for the quantity you are making.
OK…Now for the vegetables.  Slice your sweet onion into strips or whatever shape and size you most enjoy eating (I like long skinny strips).  Pour about one-half to one tablespoon of extra virgin olive oil into a skillet (I like cooking in Lodge cast iron pans).  How much oil you use is strictly a preference, which is why I don't like to give quantities.  Just in case any reader is completely new to sautéing, one-half to one tablespoon for one large onion is a good place to start in determining how much oil you like.  I tend to use oil sparingly.  I REALLY don't like oily food and who needs the extra fat?  As a tip, you can always add more, but once added, oil sticks to your food for good!
Make sure your pan is hot before adding your onions.  I turn the burner on high until the oil starts to shimmer, then add salt just before tossing in the onions.  The onions should crackle and sizzle once added to the pan.  Be extra attentive to the onions, stirring them very frequently until they start to brown.  Once they are browning nicely, turn the burner down to medium low (you don't want them to get any burn marks. If that starts to happen turn your burner temperature down a bit).  Once the burner is at medium low, stir them less frequently and cook until all the onions are nicely browned and caramelized.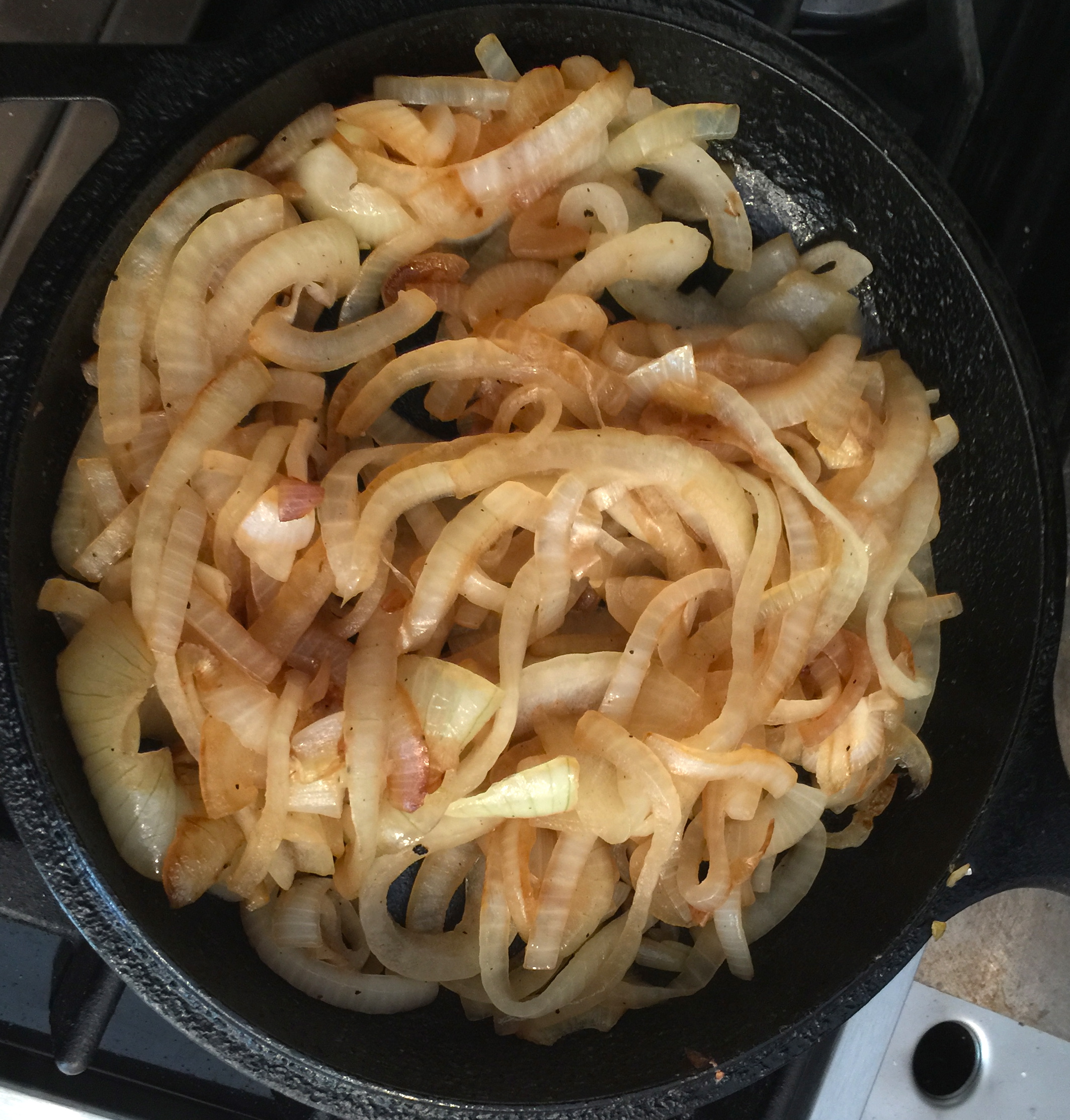 Rinse your scallions well and chop into little ringlets.  Set these aside.
While the onions are cooking, take your tofu out of the fridge and cut it into cubes.  Spray the cubes with olive oil and season with freshly ground pepper and salt.  Freshly grinding your pepper makes a big difference in taste.  Toss gently to coat all of the pieces.  Let them sit for at least 10 minutes before cooking.
Your tofu and your steamed vegetables will cook in just about the same amount of time, so start them at the same time.
First I will explain how I cook the tofu.  Spray a little oil into your skillet and get it very hot (this is one of the reasons I like Lodge cast iron pans – you don't have to worry about ruining your pan by getting it too hot.  I also get nervous about the nonstick pans leaking whatever makes them nonstick.  With Lodge pans, there are no worries.)  Once the pan is piping hot, toss your tofu in.  Leave it undisturbed for several minutes then shift it around in the pan to get the other sides to brown.  Drop the flame height of your burner if things are getting too hot and burning.  You want to create a nice crunchy brown crust.  When they seem close to completion, move some of the tofu aside and throw in your scallions so that they get very lightly cooked.  The scallions should cook for about 3 minutes.  Make sure to toss the scallions around occasionally so that all of sides get cooked and nothing burns.  Alternatively, you could eat the scallions raw.  Sometimes they don't agree with me when I eat them raw (meaning I can taste them for days afterward, if you know what I mean) so I always give them a flash cooking, and then I have no problems.
Now for your greens – with these you have a lot of options.  I steamed some swiss chard, but spinach, bok choy, or kale would be equally delicious.  The swiss chard isn't usually my favorite because it can be a bit bitter, but I was in the mood for a more pungent-tasting vegetable.
Grab a handful of your greens and place them in a lidded skillet (remember to use twice as much as you think you will need.  The volume of your vegetables decreases DRAMATICALLY once steamed).  Toss in a pinch of salt and about a tablespoon of water.  Set on burner with a medium light and keep covered.  Every three minutes or so, toss the greens with a pair of tongs.  Once the vegetables start to get soft, start tasting them, and remove from heat when they are steamed to your liking.  My tastes change daily…sometimes I like a really quick steam which gives a crunchier more raw-tasting vegetable and sometimes I like them to be more thoroughly steamed which makes them softer and gives a more gentle flavor.
You should time it so that you are ready to plate everything by the time the steamed vegetables and tofu are done.  I layered everything as follows:
Rice on the bottom.  Followed by onions, then your steamed green, then adzuki beans, then tofu, and finally garnish the whole dish with scallions.  I love salt and as such, I sprinkled the top with salt.  But, to each their own.  Chacun à son goût.
Enjoy!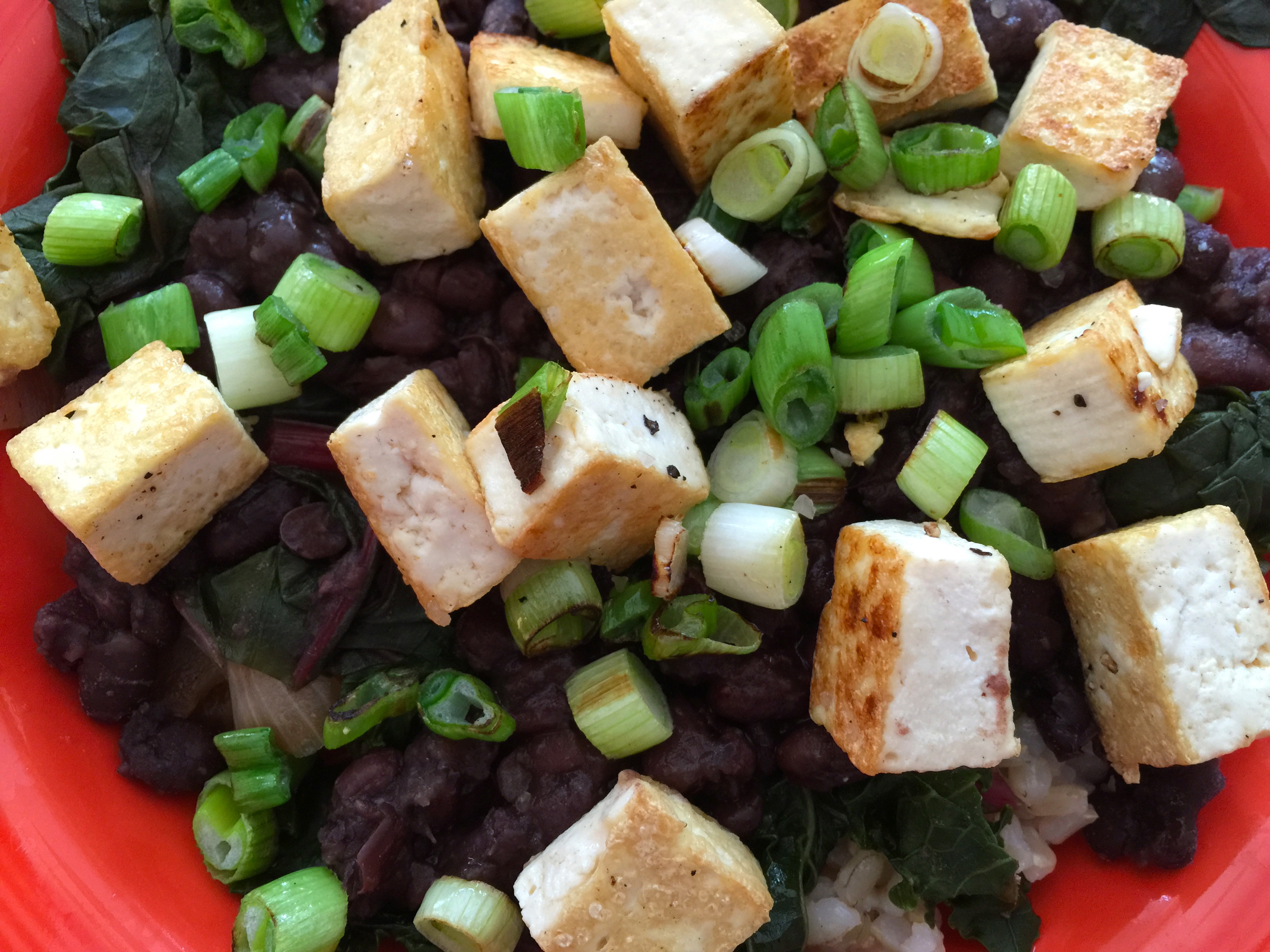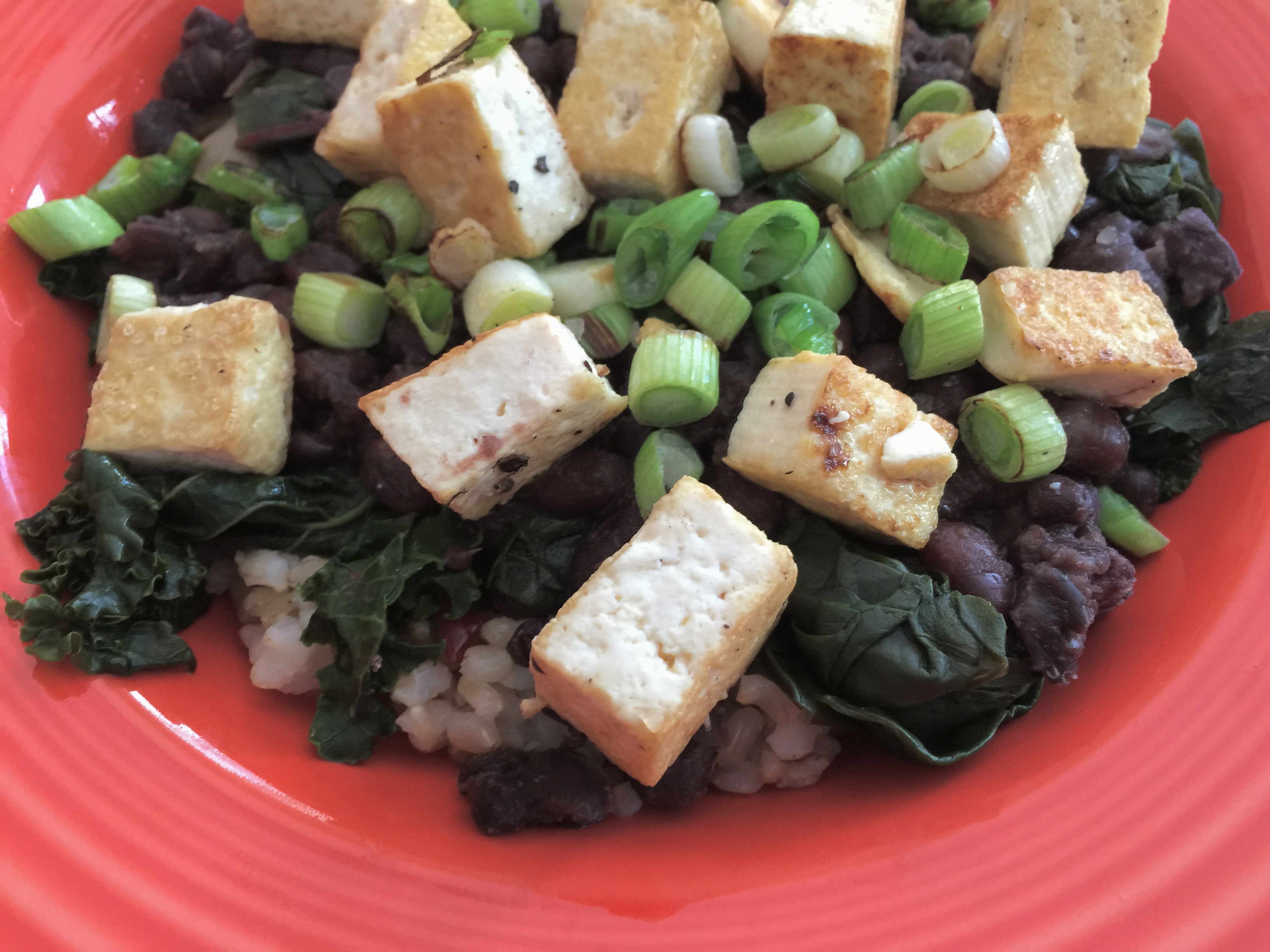 The second time I made this I deleted the rice and added chunky cut cucumber and sesame seeds to the top. SUPER good! It was more of a filling lunch or light dinner.