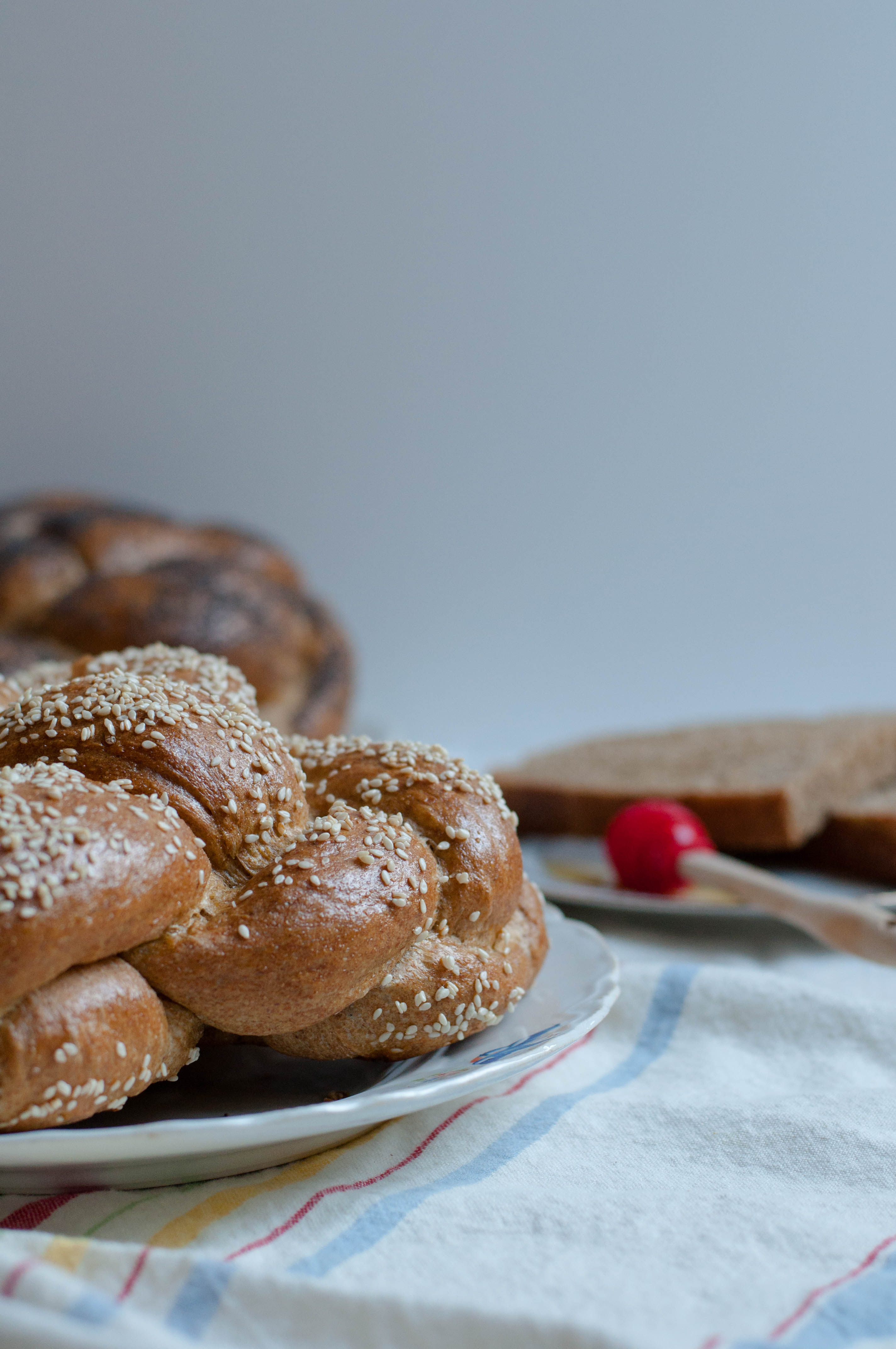 When I have an idea for a post I usually have a good sense of what I want to write, but this post has been a real challenge.  As I sit here thinking about what to write, I am filled with emotion.  I can't quite put my finger on the cause of the emotion.  But tears fill my eyes.  Much like with my stalled writing, they don't pour down my cheeks,  but rather sit at the edge of my lids, not knowing where to go.  I don't want to ramble on, treating this space like a personal diary.  Because it is certainly not that.  But there is so much of my life story wrapped up in making challah that it is hard to pull out and isolate a strand that I can write about succinctly.
Maybe the best way for us to enjoy this is to make this bread together.  Bread baking is something to be experienced, not just thought about.  Much of the emotion this holiday and this bread stirs in me is connected to tradition.  Specifically, how deeply connected I feel to those I love when I am braiding a challah, setting a holiday table, lighting candles, and toasting to happiness and health.  This is what matters in life.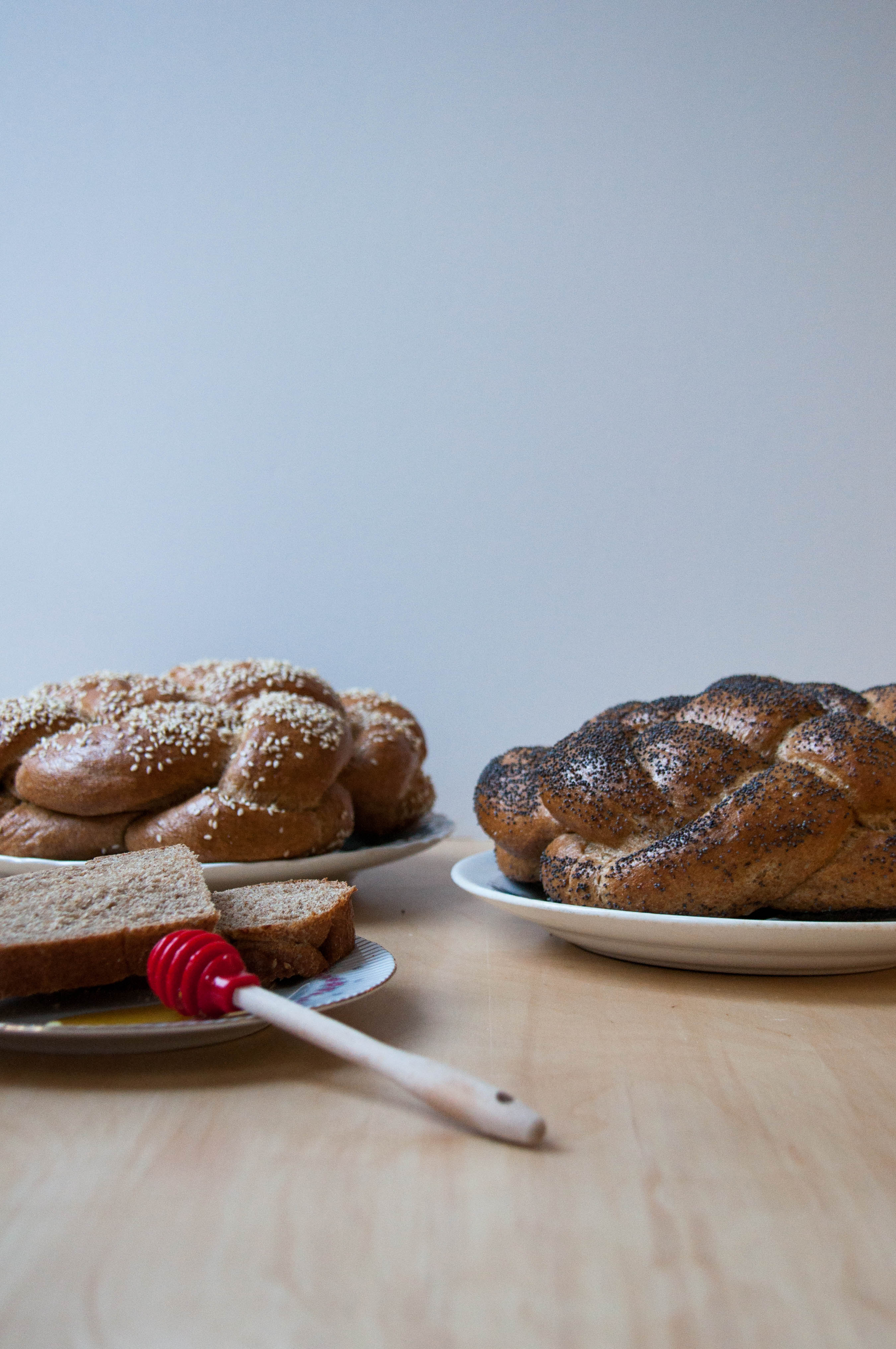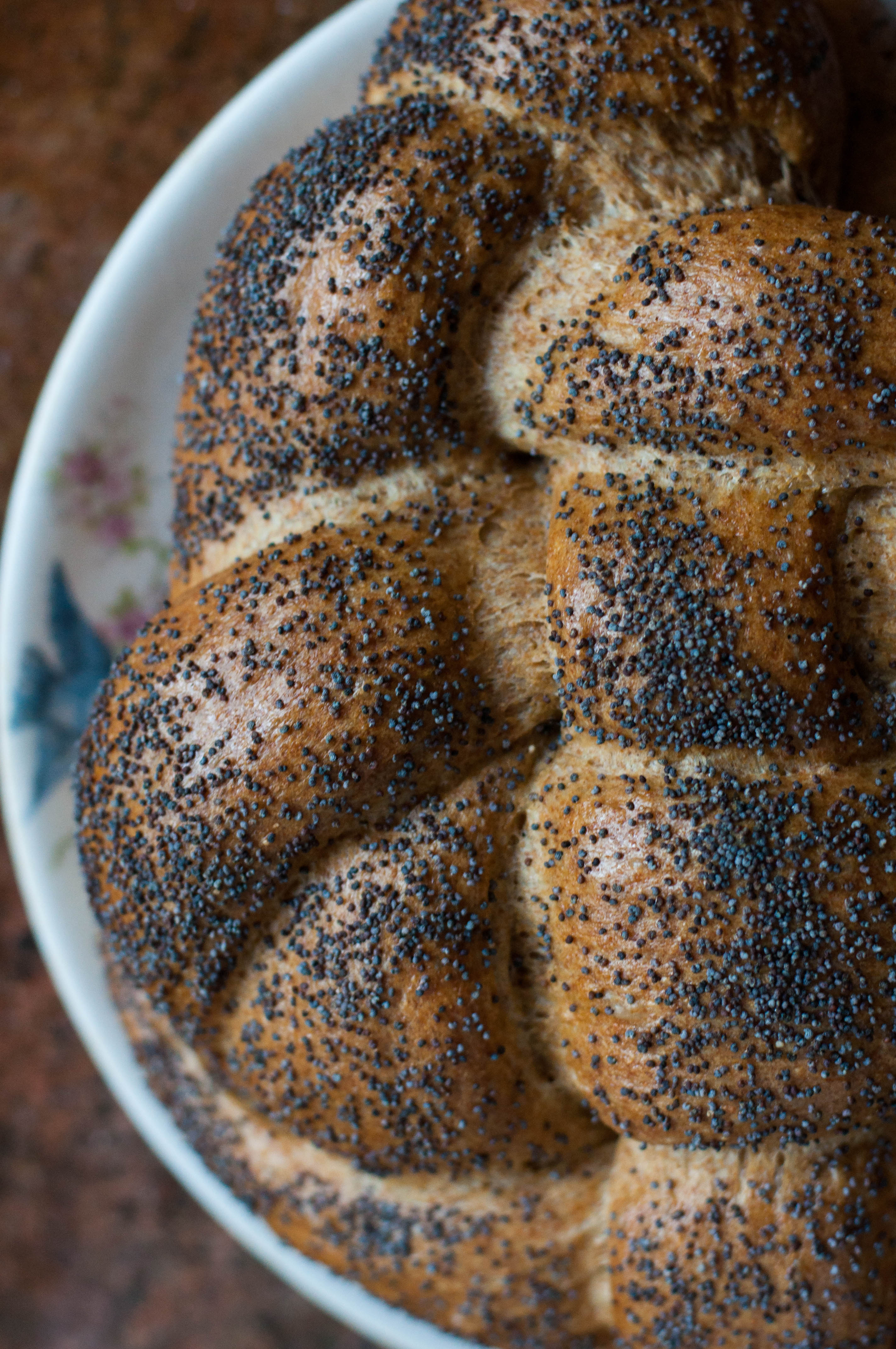 Tradition and bread baking are woven together.  Flour, water, and yeast.  That's all anyone has ever needed to make bread.  Bread is alive, and it lives in shared recipes, floured hands, carefully tended ingredients, and early morning rituals.  Every time I bake, I am connected to this.  The experience can be overwhelming at times.  Particularly so when I am baking for a holiday.  I know my bread is going to nourish those I love as we enjoy a gratitude-filled meal.  I know each braid of the challah holds generations of great joys and horrible grief.  I know I am a part of this tradition and that I am as essential to its continuation as those who came before me, which is profoundly humbling.  This is when it gets challenging to write or speak commensurate with how I feel.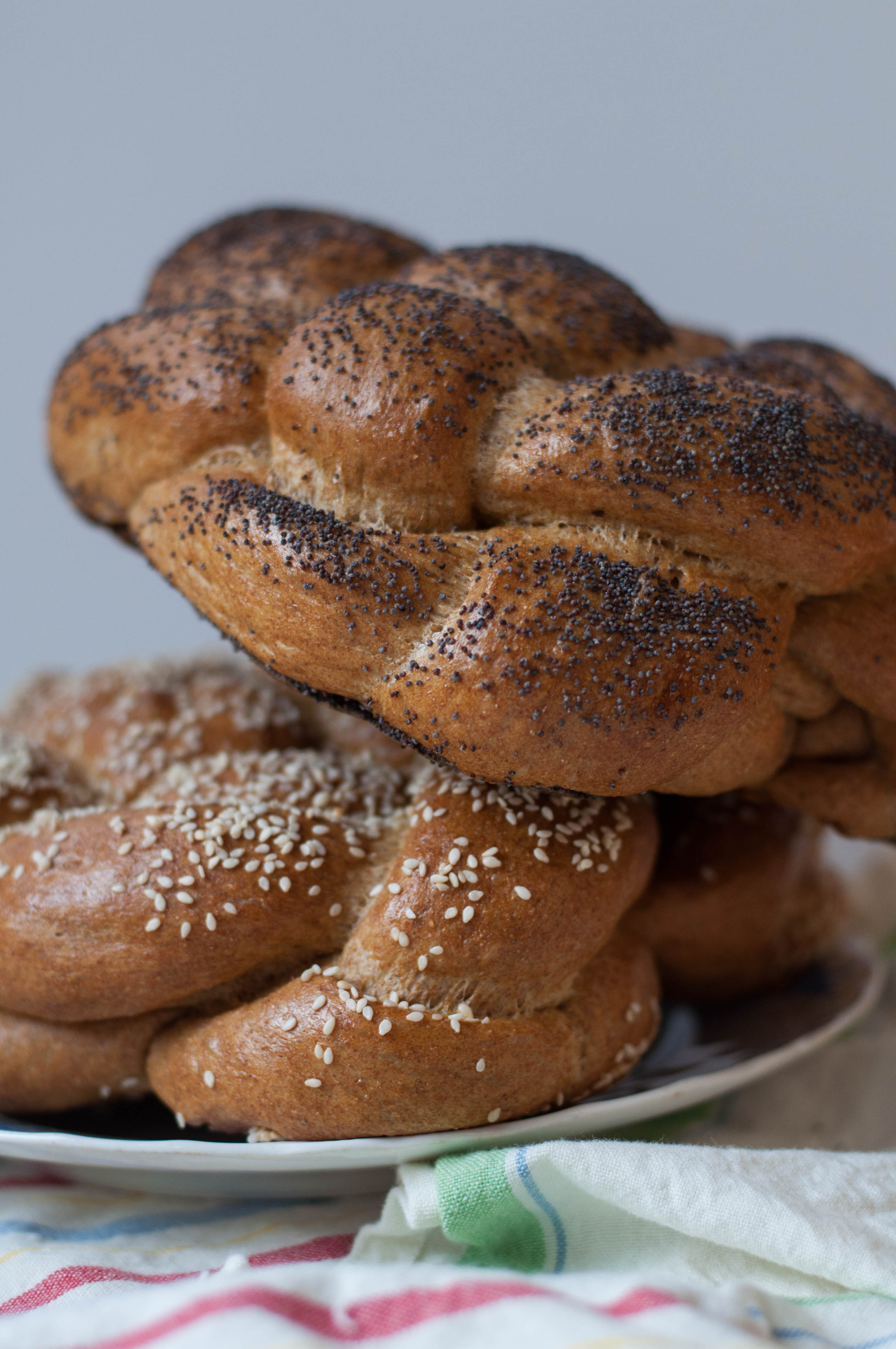 As I am sure you can tell, there are many more personal details to this story and to the significance of this bread and holiday.  For now let's make this bread together and I'll find a way to share it all with you one day.
I fantasized getting a bit snazzy with my challah this Rosh Hashanah, but as you can tell from reading the above, I am a girl of tradition.  If you are interested in some amazingly creative and fun challah recipes, check out the Incredible food blog, My Name is Yeh.  Her work is amazing and she knows what she's doing with challah!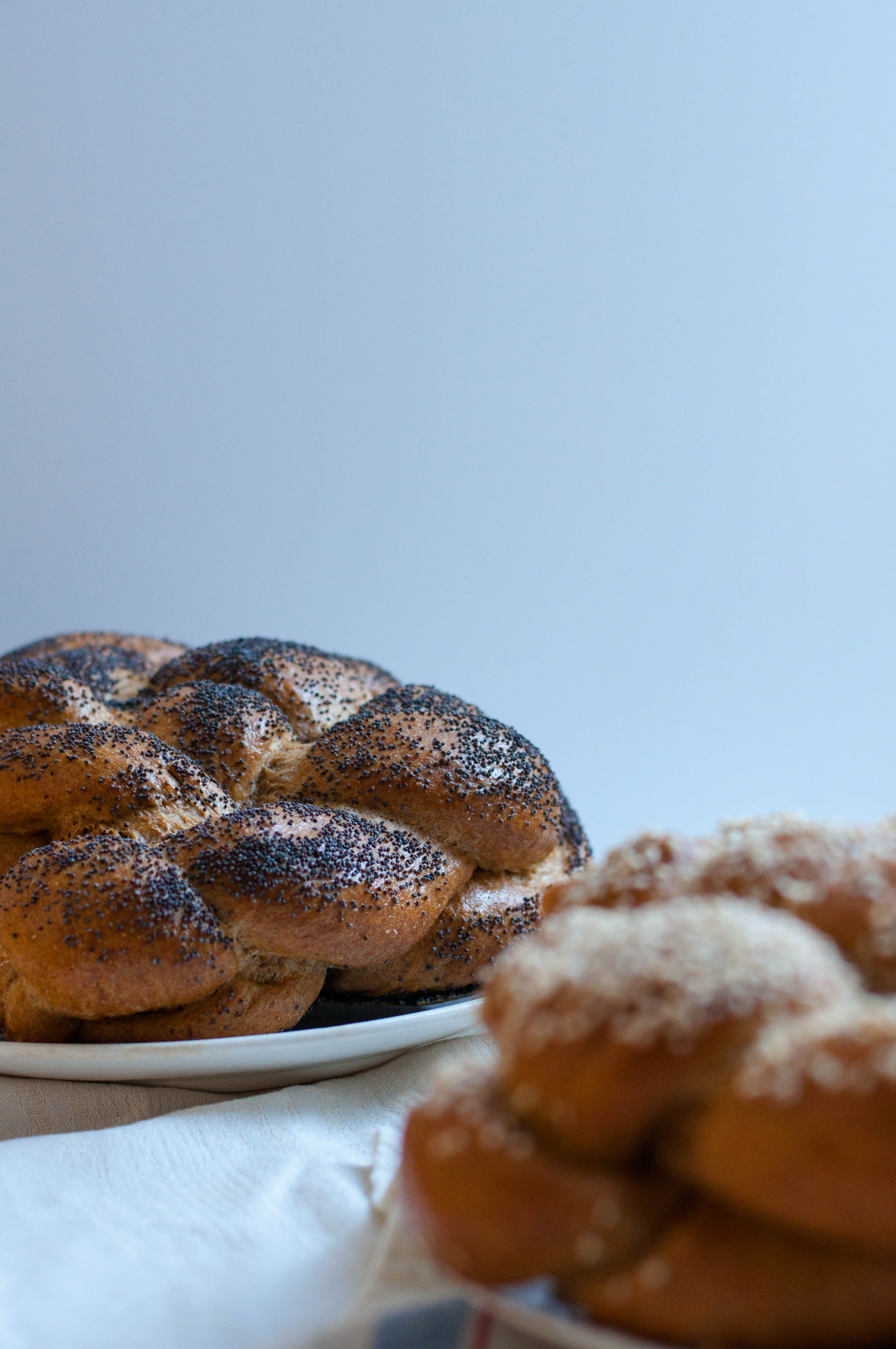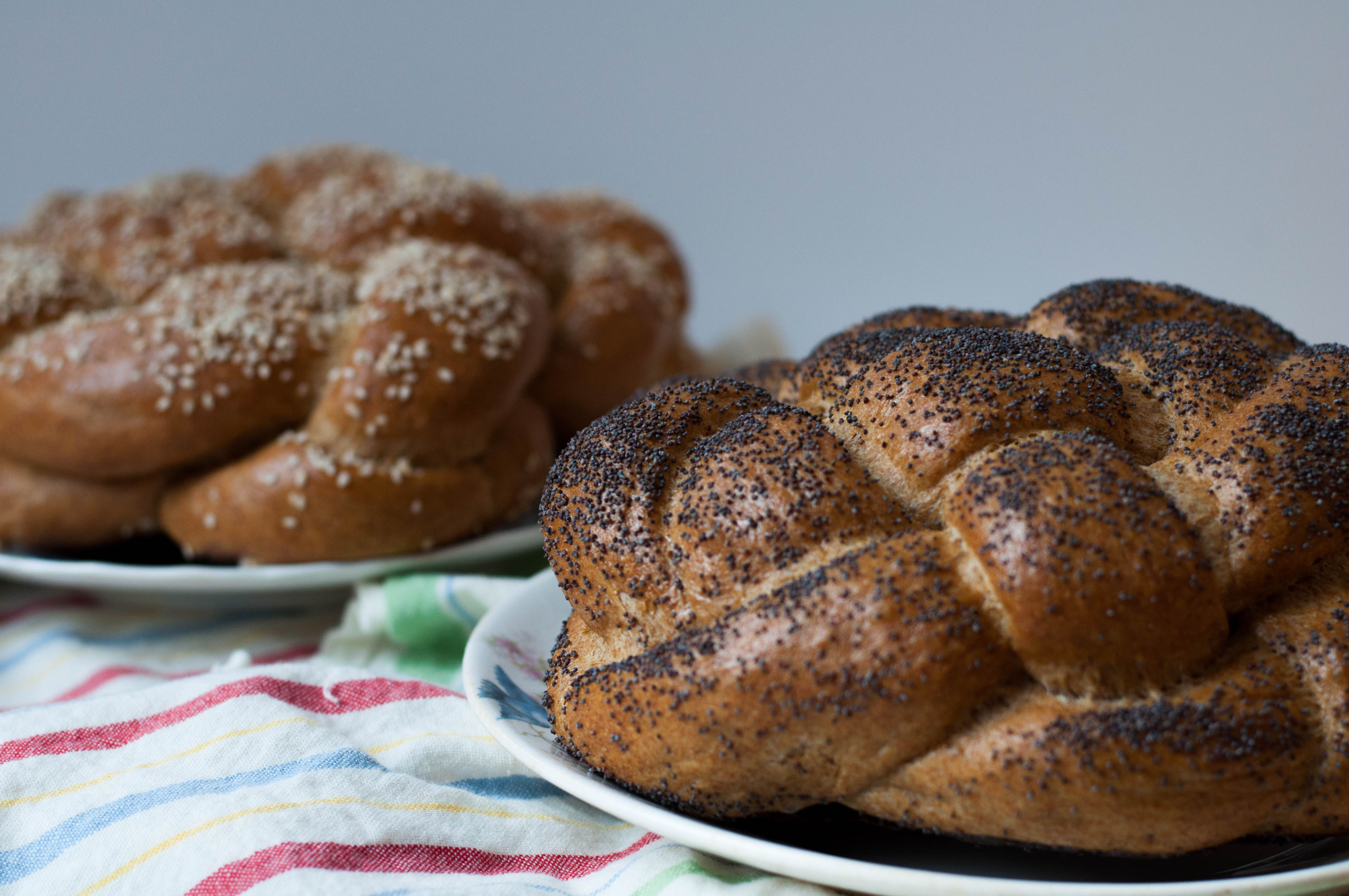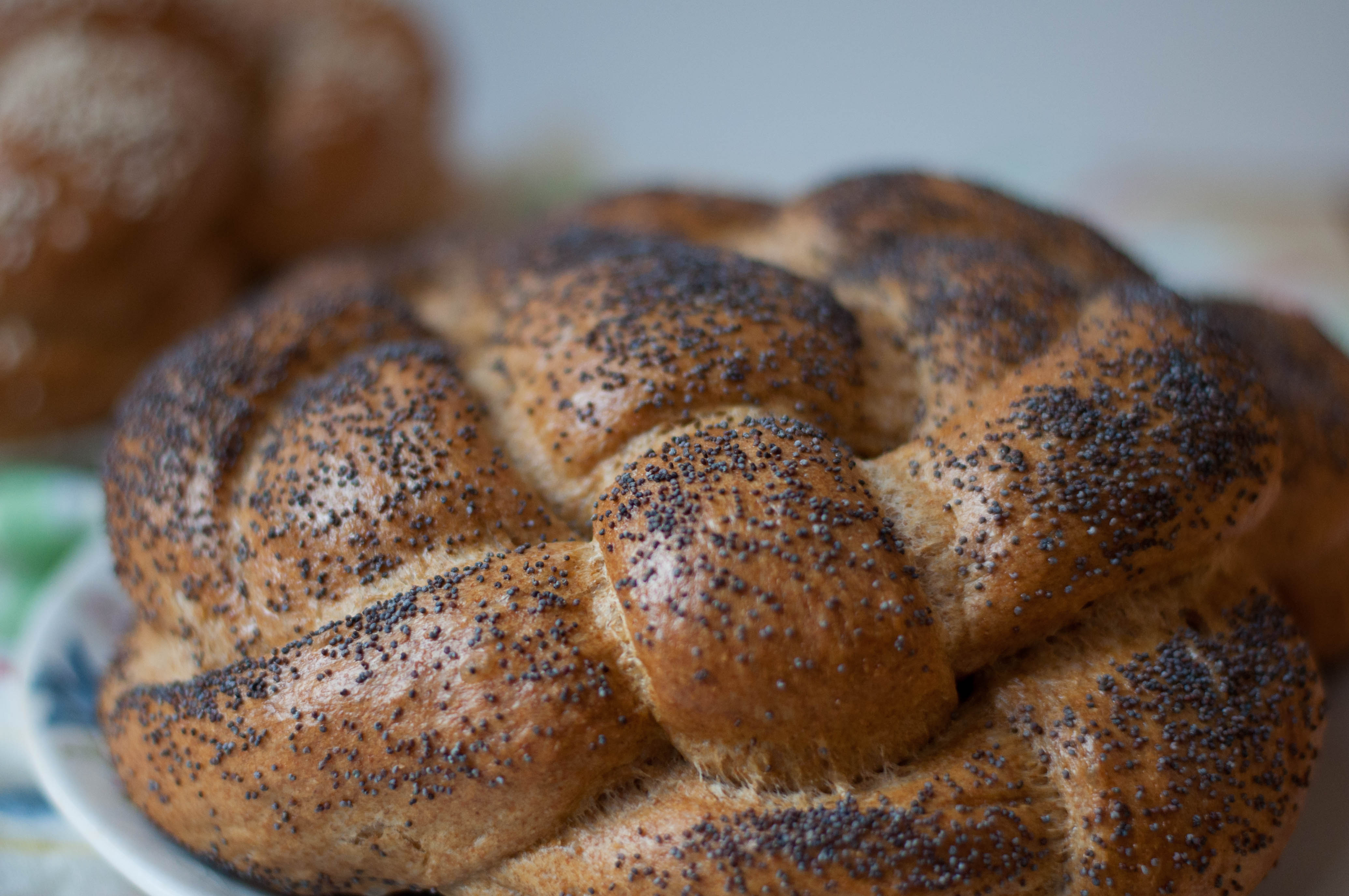 And about that braid…I hope you are not expecting me to explain how to do this in words, because that's not happening.  I found a great video that I told my sister to watch so that she could explain it to me.  One thing that you should know about me is that I am HORRIBLE at figuring out anything puzzle-like.  It is pretty sad/funny.  My sister is a genius at it.  After years of feeling like a moron because I was so defeatingly miserable at getting my brain to work in this way, I finally decided to just send all things puzzle-like my sister's way.  Problem solved.
For forever I have made the Challah recipe from Baking with Julia, but I recently switched over to making Peter Reinhart's version, which is 100% whole grain.  I have modified the recipe very slightly.  I use sprouted whole grain flour, which I think has a milder flavor and doesn't have as strong a bite as whole wheat flour can have.  You could use white whole wheat flour and/or a combination of any three of these flours.  I have also omitted the sweetener from his recipe.  I never use any sweetener in my breads.  I think 95% of the world disagrees with me on this point, but I just don't think sweetener is needed.  I love the taste of whole grains and don't want them masked or altered by the sweetener.  But that's just me, so I left the sweetener in the recipe as an option.
In his book, Whole Grain Breads, Peter develops a method for baking whole grain breads that requires a two-day process.  For more of his methodology, I recommend buying a copy of his book.  For the purpose of this recipe, just know that the "soaker" and "biga" mentioned in the recipe are simply two different pre-doughs that will rest overnight before being incorporated into your final dough.  I have another version of his bread posted here.
I'm sure you don't need tips on how to eat this bread, but I'm going to give them anyway.  Butter & honey – YES!  Any kind of sandwich – but of course!  French toast – obviously.  In big chunks just ripped off the loaf while preparing dinner – just saying…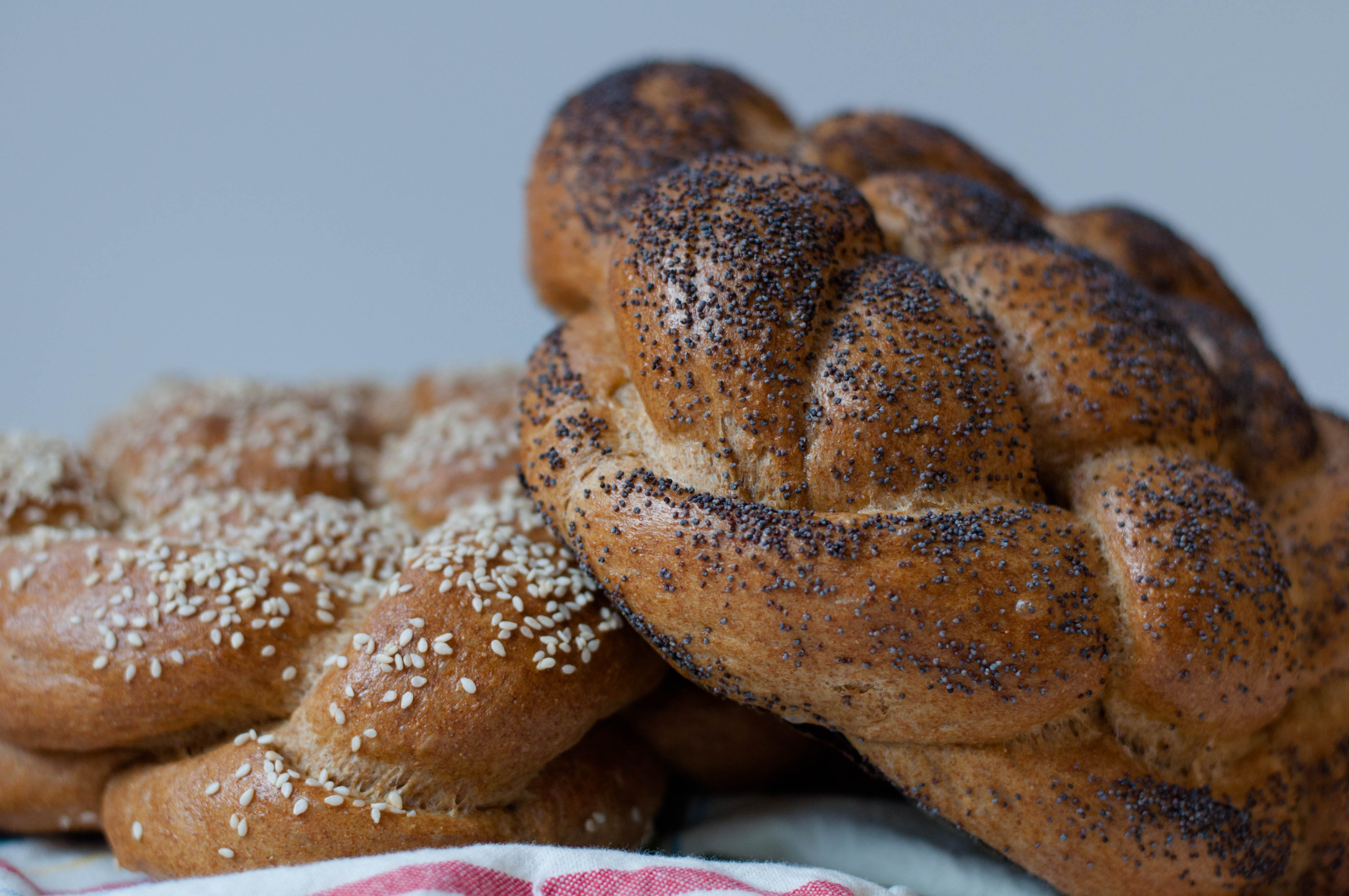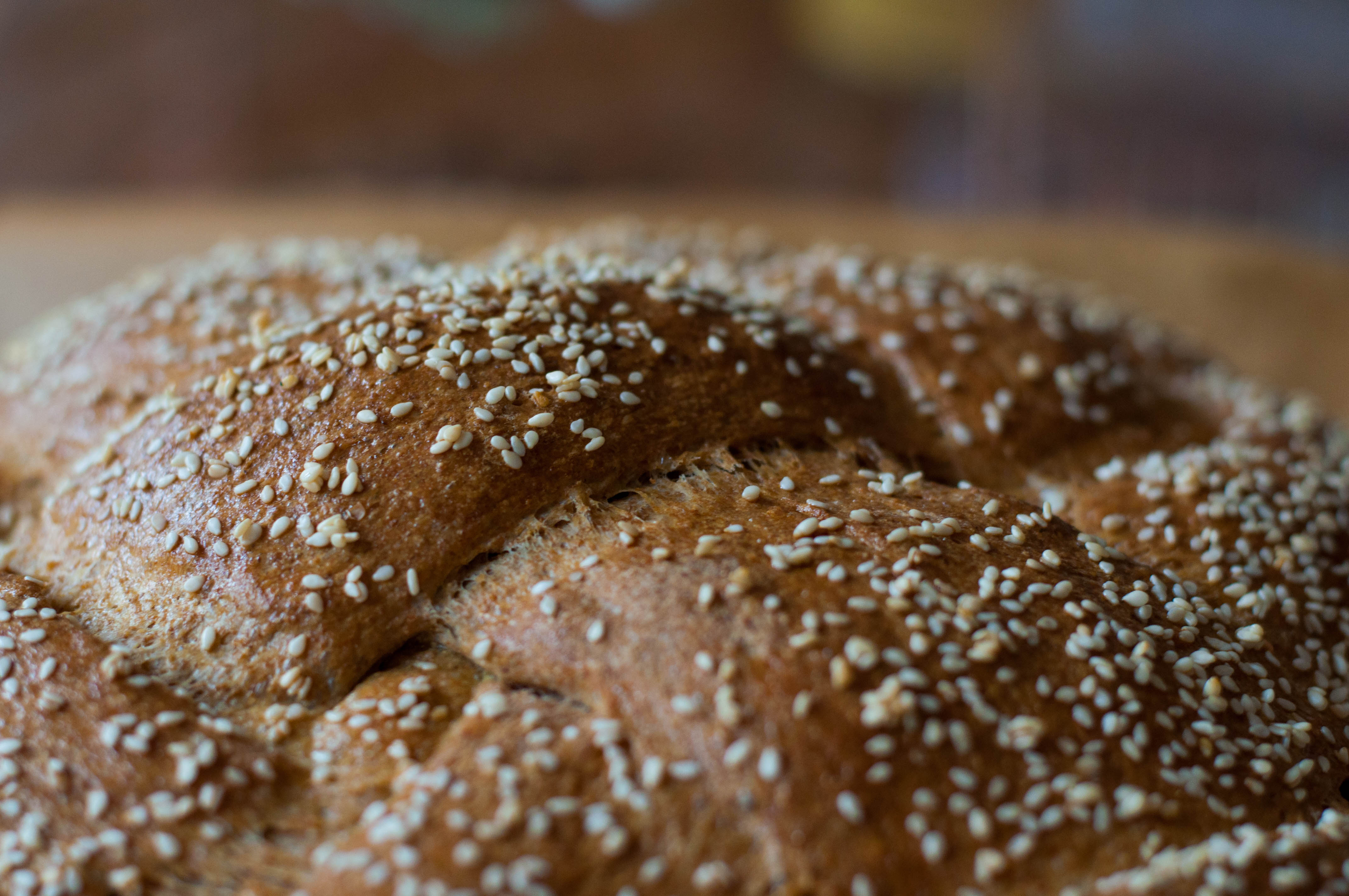 Whole Grain Challah (Happy New Year!)
Ingredients
Soaker:
227 Grams sprouted whole wheat flour (1¾ cups)
4 Grams salt (1/2 teaspoon)
170 Grams filtered water (3/4 cup)
Biga:
227 Grams sprouted whole wheat flour (1¾ cups)
1 Gram SAF yeast (1/4 teaspoon)
113 Grams filtered water (1/2 cup)
28.5 Grams vegetable oil (2 tablespoons)
1 Large egg
4 Egg yolks
Final Dough:
Soaker
Biga
56.5 Grams sprouted whole wheat flour (7 Tablespoons)
5 Grams salt (5/8 teaspoon)
7 Grams SAF yeast (2¼ teaspoons)
28.5 Grams vegetable oil (2 tablespoons)
Optional: 28.5 Grams honey or sugar (2 tablespoons)
Egg wash:
1 Egg beaten + 1 Tablespoon of water and a pinch of salt
Toppings:
Sesame seeds, poppy seeds, or any kind of seed you like!
Instructions
I HIGHLY recommend buying a food scale if you are serious about making bread. It is very challenging if not impossible to be accurate when using measuring cups.
To make the soaker:
Mix all soaker ingredients together until the flour is completely hydrated. You may have to use your hands to incorporate all of the flour, but don't knead it. Cover loosely with plastic wrap and leave at room temperature for 12 to 24 hours.
To make the biga:
Briefly whisk eggs then combine all biga ingredients. Stir until the dough is uniform (about 2-4 minutes). The dough will be quite loose and VERY sticky. Allow to rest for five minutes.
Mix for another minute, then transfer to a large clean bowl. (This bowl will be used to mix the final dough so make sure it is at least double the size of the biga). Cover tightly with plastic wrap and place in fridge for at least 8 hours and up to 3 days.
To make the final dough:
Remove the biga from the fridge two hours before beginning. Divide soaker into 12 equal pieces and add to the bowl with the biga, along with the remaining final dough ingredients.
Mix with a large wooden spoon (or similar) working to incorporate all of the ingredients. Once the dough starts to come together, remove it from the bowl and begin kneading it on a well floured surface.
Continue kneading, adding extra flour as needed until you achieve a smooth, elastic dough. In the beginning the dough will be sticky. Keep adding more flour and kneading until it is no longer sticky. This should take about 5-10 minutes.
Let the dough rest for five minutes. Oil a large bowl with cooking spray (one that will allow the dough to double in size) and set aside.
Resume kneading for another minute. The dough should feel soft, supple, and slightly tacky, but not sticky. Continue kneading and adding flour or a sprinkling of water if needed.*
Place dough in the oiled bowl and cover tightly with plastic wrap.
Allow to rise at room temperature until it is has nearly doubled in size (about 45 minutes to an hour).
To make two round challah:
Line a baking sheet with parchment paper. Set aside.
Place risen dough onto lightly floured work surface and divide in half. Working with one half, cut the dough into three equal pieces.
Roll each piece into a long rope measuring about 24" long. Cut each of these pieces in half. Roll them out again so that they are about 12-14" long.**
Braid as per the instructions in this video.
Place braided loaves on the parchment lined baking sheet. Brush your challahs with the egg wash, coating evenly. Cover loosely with plastic wrap. Preheat oven to 400F Bake.
Let rise for 30 minutes.
Apply another coat of egg wash and sprinkle on toppings of your choice. Let rise for an additional 15 minutes uncovered (the bread should have roughly doubled in size).
Place in oven and reduce oven heat to 325F.
Bake for 20 minutes.
Rotate pan 180 degrees and bake another 20 minutes.
If you notice that your breads are not browning as you would like, turn your oven to convection bake for the last 5 minutes of baking time. Keep a close eye so that the tops don't burn.
The internal temperature of your bread should be in the 195F - 200F range. Continue baking until this temperature is reached.
Let cool completely before slicing (OK, you can break off a piece and eat it now if you must)
Notes
*If you're thinking "I don't know if this looks right" or "this isn't right," don't give up. Move on to the next step and see how your bread turns out. If I threw in the towel everytime I thought something didn't look or feel right, I would be hungry. Very, very hungry. Bread making is learned by feel. You get a sense of what the dough should feel and look like after making many, many loaves. If your dough ever doesn't feel right, keep making it anyway to learn from the result. You will gain confidence after each and every loaf (hopefully). And if not, send me a message and I will help.
**For one large challah do not divide your dough in half. Simply make six long ropes about 24" and braid as per video instructions.
L'Shana Tovah!  Year 5776 is going to be our best yet.
~ Kathryn
Here are some prep photos…