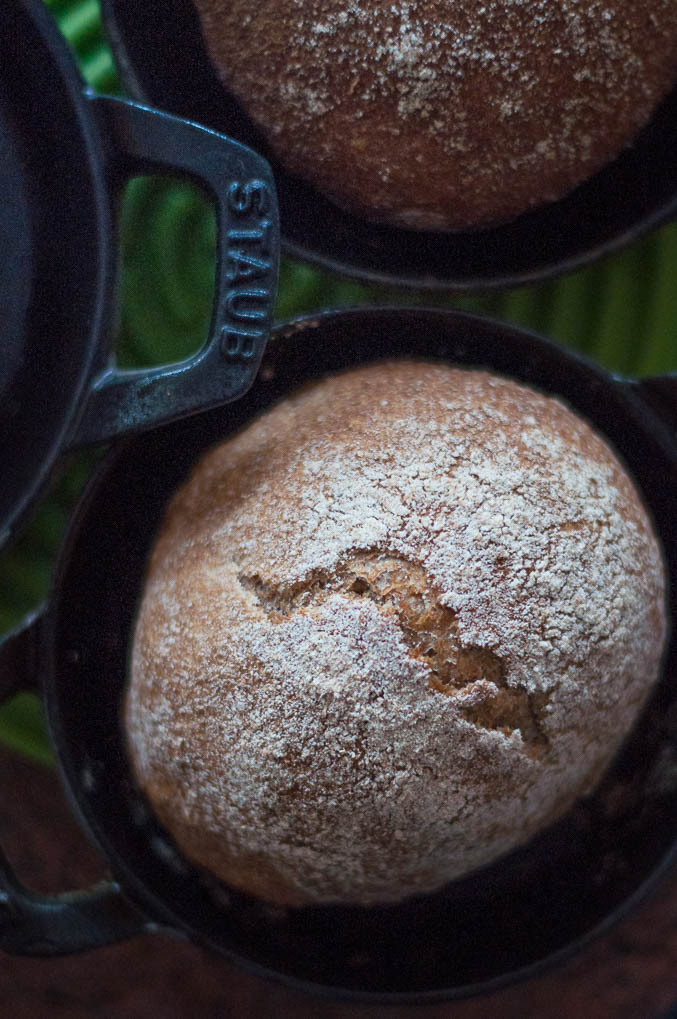 Remember this bread?  If I could shout my love for this bread from the rooftops, I would.  And then I would probably be carted away.  Because you are supposed to shout the names of lovers from rooftops, not carbohydrates.  Oh well…I LOVE YOU NO KNEAD SPROUTED WHEAT BREAD!  I love you so, so much!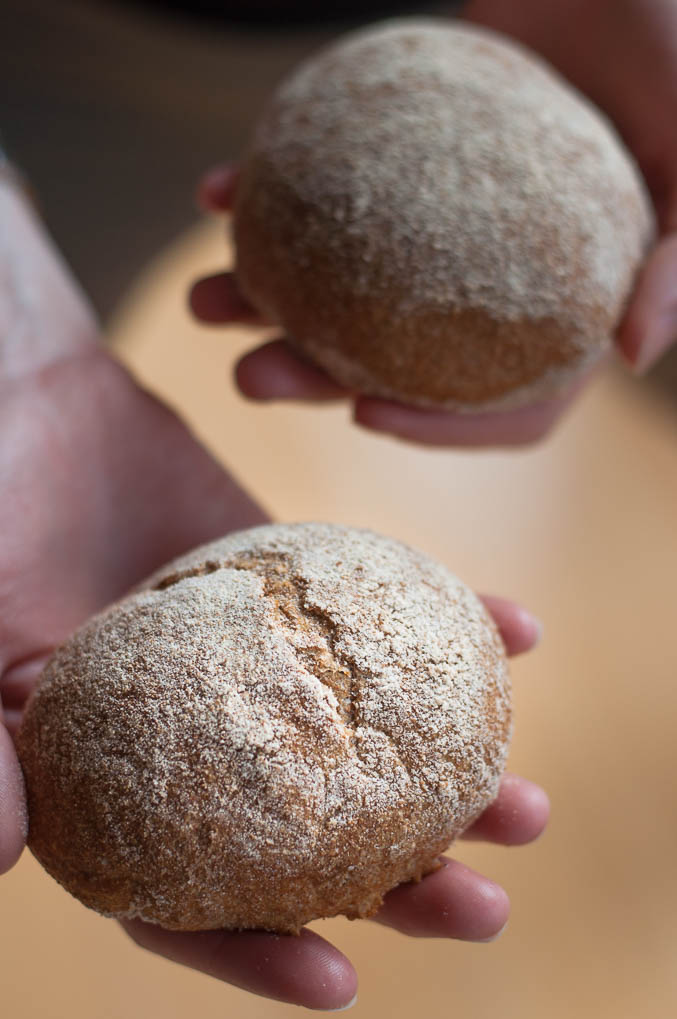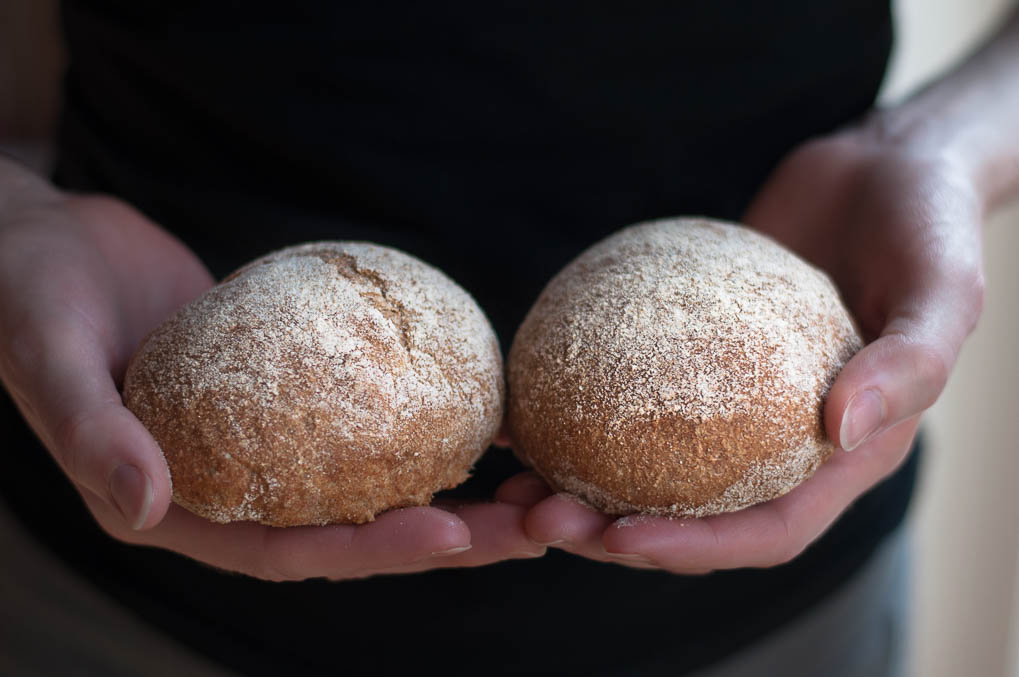 It is THE bread in our house.  No other bread competes.  Its crust is crackly and crunchy, its interior is perfectly chewy and soft, and the flavor is uncannily rich and nuanced despite the fact it has ONLY four ingredients.  It's the best thing that has ever come out of my oven…and I make a mean pie, so that's saying something.  And now I've made it into rolls!  If, like me, you are a seeker of 100% whole grain sprouted products, these rolls are what you have always wanted, never found, and will soon (hopefully) have coming out of your oven.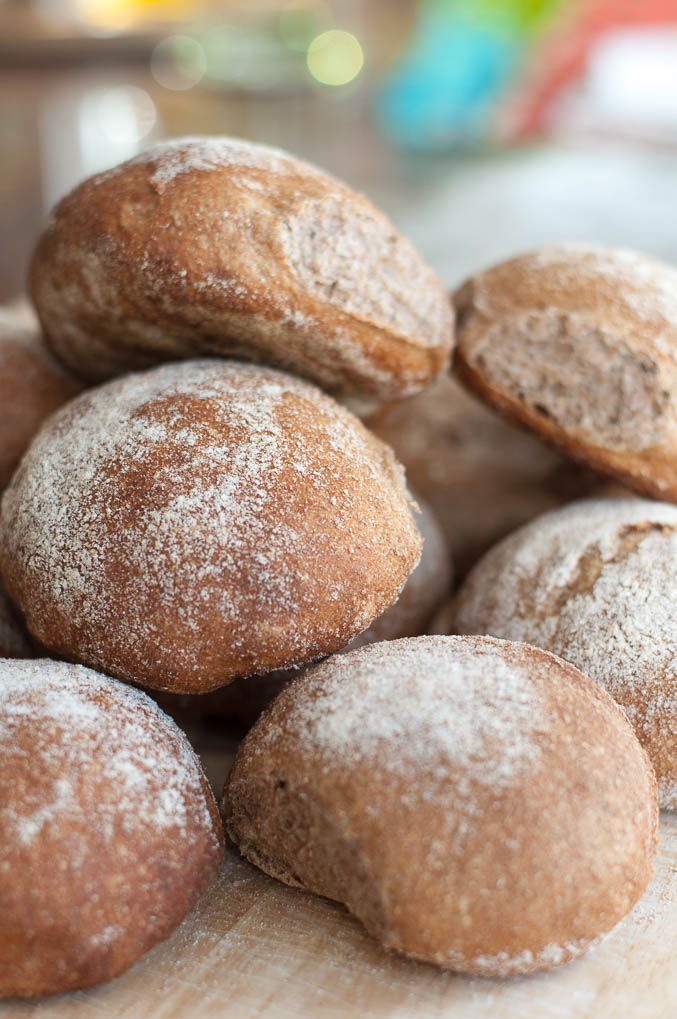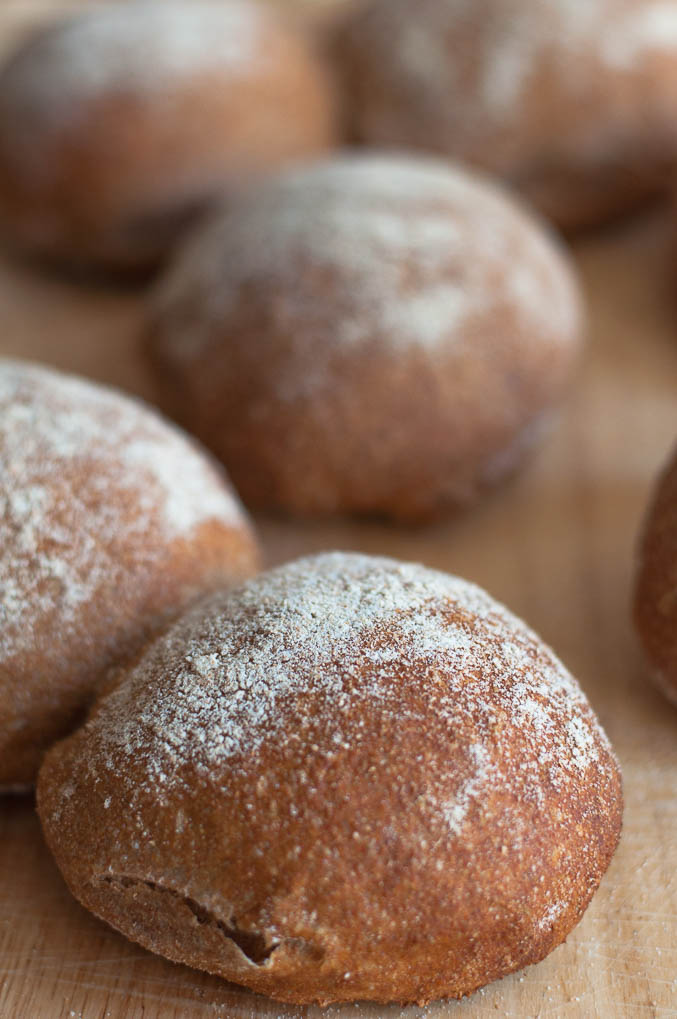 Turning this original recipe into rolls was a pretty obvious progression.  The crusty ends, affectionately known as "the butts" around these parts, are the crown jewels of taste and texture.  There is always a lively debate around here as to who gets the butt.  I don't know why we debate this every morning; the result is always the same.  Like an edible version of the game hot potato, we pass the peanut-butter-slathered "butt" around the table until the last crumb is inhaled.  This is actually nothing like the game hot potato, but you get the point.  So, how does one make a bread with more butts?  Rolls!  Each roll is essentially all butt.  Insert all applicable puns [here].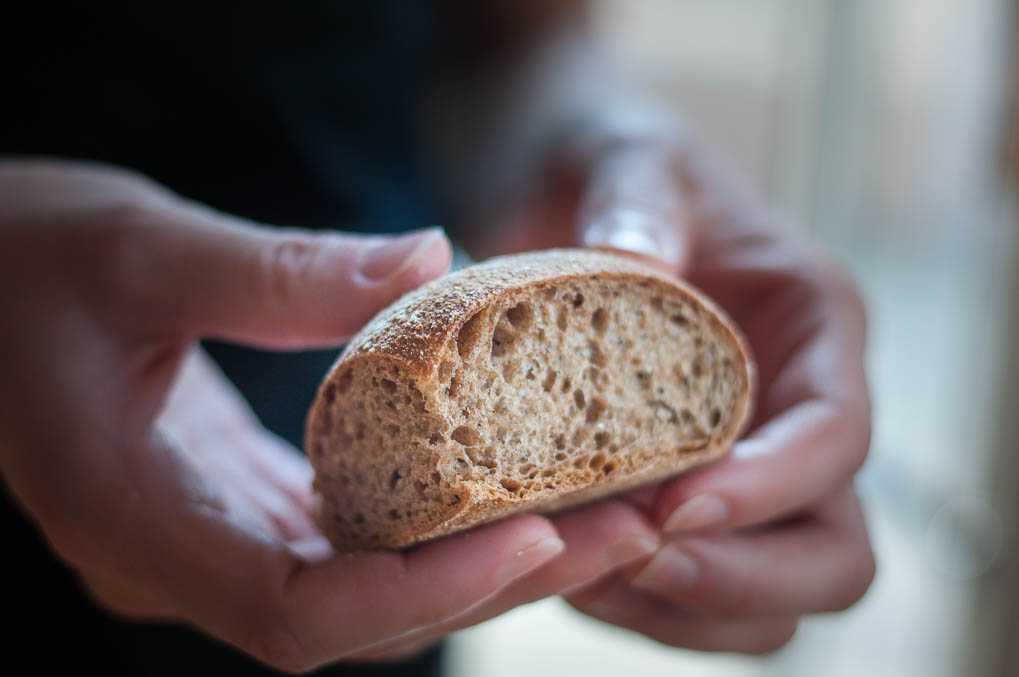 If I were a better photographer, I would have shared an image of what my kitchen looked like when I pulled the latest "batch" of this bread from my oven.  I make five batches of this bread at a time, which is the maximum pot-occupancy of my oven.  At 4:30PM, when these came out of the oven, it looked like I was running a small bakery.  I had full-sized boules, buns, batards, and everything in between cooling on wire racks and filling our home with the most mouth-watering, when's dinner, kind-of-smell.  It was heaven.
Once cooled, I wrap the breads in plastic wrap and place them in a freezer-safe Ziplock.  And voila, fresh, home baked bread for a month.  If I were to make a guide for transitioning into making more of your food from scratch, step 1 would be making large-batch recipes to save time and step 2 would be turning your freezer into your homemade cupboard.  Freezing is absolutely key to being able to make your food from scratch whilst also not dedicating your entire life to being in the kitchen eyeballs deep in flour.  At the moment, my freezer is filled with the following homemade deliciousness: beans, whole grain tortillas, three kinds of bread (1, 2, 3), burritos, pancakes, cookies, chicken, waffles, granola bars, and the list goes on.  If you want to start eating more of your own food, and don't consider you have the time, discover your freezer.  It will be your best friend.  You will never regret eating your homemade frozen waffle over an Eggo.  I promise.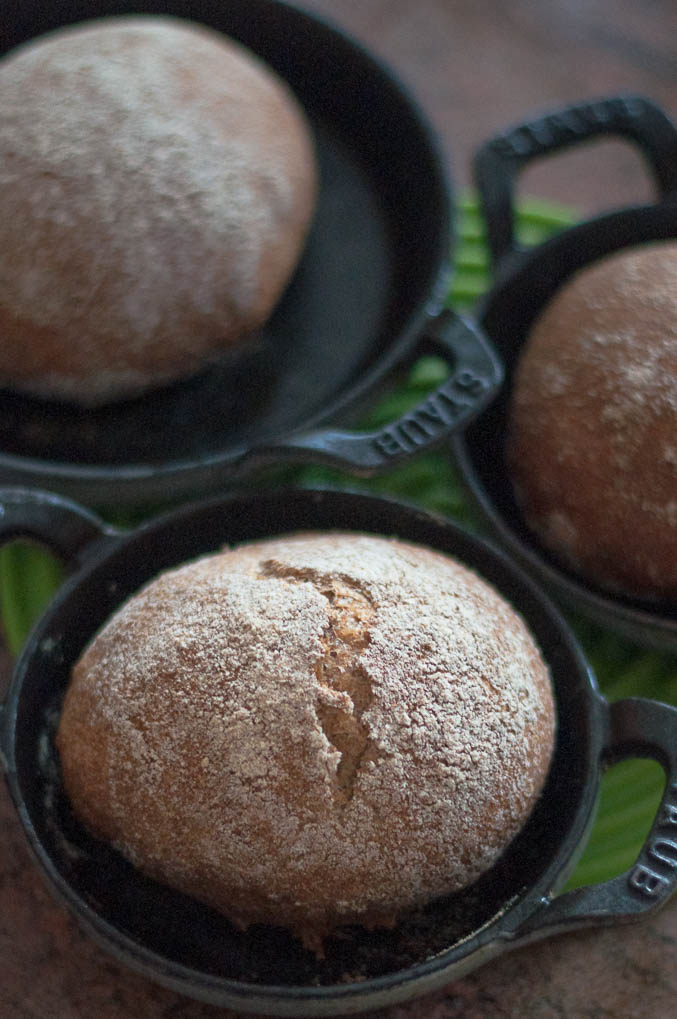 Whole Grain No Knead Sprouted Wheat Dinner Rolls
7-hour rise-time, 25 minute bake-time
Instructions
These rolls can either be baked in a covered crock pot or in an open skillet. Select a skillet or pot that will hold six rolls (or several skillets/pots if you don't have one that is large enough). Place the skillet in the oven and preheat oven to 475F Bake.
Before setting your dough up for its last rise, divide the dough into six equal-sized pieces (or more if you want smaller rolls).
Shaping the dough:
Flour a large platter or pie plate* and set aside.
Keep everything, both the surface you are working on and your hands, well floured. A bench knife is a must for making the rolls as it is too sticky to handle.
Shape each piece into a flat, but chubby circle.
Fold the top part of the circle (side furthest from you) down halfway, press firmly to make the seam.
Fold both the left and right sides into the center pressing firmly.
Fold the bottom of the circle over all of the seams you just created.
Using the bench knife, flip the roll over and repeatedly pull the dough towards you, creating a tight round ball.
Watch this video (fast forward to 1:35) for help in shaping your rolls, think mini-boule.
Place shaped dough onto the prepared platter, insuring the base of the roll is well floured so it does not stick. Leave space between each roll to allow them to rise.
Sprinkle flour over the tops of your shaped dough so that they don't stick to each other once risen. Cover loosely with plastic wrap.
Allow to rise for 45 minutes to an hour or until the dough has roughly doubled in size.
Carefully remove the preheated skillet or crock pot from the oven and spray generously with olive oil.
With well floured hands, work quickly and carefully to gently pick up one roll at a time and place onto the skillet.
Place in oven and cook for 25-35 minutes or until internal temperature reaches 200-205F. If using a crock pot, cover before placing in oven
Notes
*the pie plate might not be large enough to fit all six rolls. If needed, let your sixth roll rise on a separate plate.